Here are the 40 most important bible scriptures on cursing.
Ephesians 4:29
Let no corrupting talk come out of your mouths, but only such as is good for building up, as fits the occasion, that it may give grace to those who hear.
Ephesians 5:4
Let there be no filthiness nor foolish talk nor crude joking, which are out of place, but instead let there be thanksgiving.
James 1:26
If anyone thinks he is religious and does not bridle his tongue but deceives his heart, this person's religion is worthless.
Colossians 3:8
But now you must put them all away: anger, wrath, malice, slander, and obscene talk from your mouth.
Luke 6:28
"Bless those who curse you, pray for those who abuse you."
1 Peter 1:15
But as he who called you is holy, you also be holy in all your conduct.
1 Peter 3:10
For "Whoever desires to love life and see good days, let him keep his tongue from evil and his lips from speaking deceit."
2 Timothy 2:16
But avoid irreverent babble, for it will lead people into more and more ungodliness.
2 Timothy 3:2
For people will be lovers of self, lovers of money, proud, arrogant, abusive, disobedient to their parents, ungrateful, unholy.
Colossians 4:6
Let your speech always be gracious, seasoned with salt, so that you may know how you ought to answer each person.
Deuteronomy 5:11
You shall not take the name of the Lord your God in vain, for the Lord will not hold him guiltless who takes his name in vain.
Exodus 20:7
"You shall not take the name of the Lord your God in vain, for the Lord will not hold him guiltless who takes his name in vain."
Hosea 4:2
There is swearing, lying, murder, stealing, and committing adultery; they break all bounds, and bloodshed follows bloodshed.
James 3:10
From the same mouth come blessing and cursing. My brothers, these things ought not to be so.
James 5:12
But above all, my brothers, do not swear, either by heaven or by earth or by any other oath, but let your "yes" be yes and your "no" be no, so that you may not fall under condemnation.
Leviticus 19:12
"You shall not swear by my name falsely, and so profane the name of your God: I am the Lord."
Leviticus 19:14
"You shall not curse the deaf or put a stumbling block before the blind, but you shall fear your God: I am the Lord."
Leviticus 20:9
"For anyone who curses his father or his mother shall surely be put to death; he has cursed his father or his mother; his blood is upon him."
Leviticus 24:15
"And speak to the people of Israel, saying, 'Whoever curses his God shall bear his sin.'"
Luke 6:45
"The good person out of the good treasure of his heart produces good, and the evil person out of his evil treasure produces evil, for out of the abundance of the heart his mouth speaks."
Matthew 12:36
"I tell you, on the day of judgment people will give account for every careless word they speak."
Matthew 15:11
"It is not what goes into the mouth that defiles a person, but what comes out of the mouth; this defiles a person."
Matthew 5:22
"But I say to you that everyone who is angry with his brother will be liable to judgment; whoever insults his brother will be liable to the council; and whoever says, 'You fool!' will be liable to the hell of fire."
Matthew 5:34
"But I say to you, Do not take an oath at all, either by heaven, for it is the throne of God."
Matthew 5:37
"Let what you say be simply 'Yes' or 'No'; anything more than this comes from evil."
Numbers 23:8
How can I curse whom God has not cursed? How can I denounce whom the Lord has not denounced?
Philippians 4:8
Finally, brothers, whatever is true, whatever is honorable, whatever is just, whatever is pure, whatever is lovely, whatever is commendable, if there is any excellence, if there is anything worthy of praise, think about these things.
Proverbs 15:1
A soft answer turns away wrath, but a harsh word stirs up anger.
Proverbs 15:4
A gentle tongue is a tree of life, but perverseness in it breaks the spirit.
Proverbs 18:21
Death and life are in the power of the tongue, and those who love it will eat its fruits.
Proverbs 21:23
Whoever keeps his mouth and his tongue keeps himself out of trouble.
Proverbs 26:2
Like a sparrow in its flitting, like a swallow in its flying, a curse that is causeless does not alight.
Proverbs 4:24
Put away from you crooked speech, and put devious talk far from you.
Psalm 10:7
His mouth is filled with cursing and deceit and oppression; under his tongue are mischief and iniquity.
Psalm 109:17
He loved to curse; let curses come upon him! He did not delight in blessing; may it be far from him!
Psalm 109:18
He clothed himself with cursing as his coat; may it soak into his body like water, like oil into his bones!
Psalm 19:14
Let the words of my mouth and the meditation of my heart be acceptable in your sight, O Lord, my rock and my redeemer.
Romans 12:14
Bless those who persecute you; bless and do not curse them.
Romans 12:2
Do not be conformed to this world, but be transformed by the renewal of your mind, that by testing you may discern what is the will of God, what is good and acceptable and perfect.
Romans 3:14
Their mouth is full of curses and bitterness.

More Bible Verses that Will Move You
50 Most Powerful Scriptures on Faith
60 Transcendent Verses on Trust
50 Strong Scriptures on Perseverance
68 Powerful Verses on Forgiveness
40 Uplifting Scriptures on Patience
Add Our Infographic Below to Your Pinterest Board
Hit the pin button below to add our infographic, with all the verses, to one of your Pinterest boards.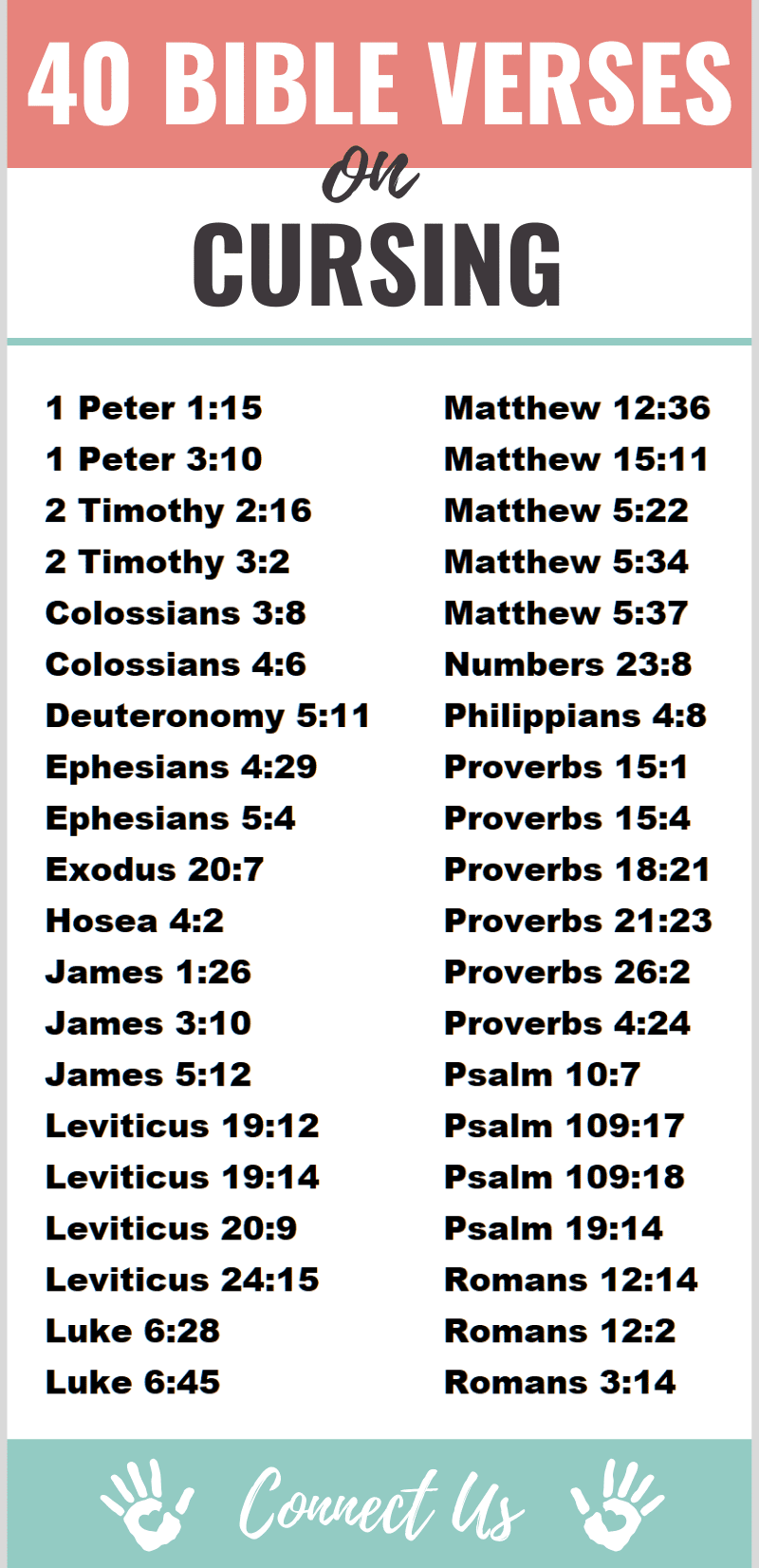 Author Bio
Natalie Regoli is a child of God, devoted wife, and mother of two boys. She has a Master's Degree in Law from The University of Texas. Natalie has been published in several national journals and has been practicing law for 18 years.