Here are the 40 most important Bible scriptures on giving to the poor.
Proverbs 19:17
Whoever is generous to the poor lends to the Lord, and he will repay him for his deed.
Hebrews 13:16
Do not neglect to do good and to share what you have, for such sacrifices are pleasing to God.
Luke 6:38
"Give, and it will be given to you. Good measure, pressed down, shaken together, running over, will be put into your lap. For with the measure you use it will be measured back to you."
Acts 20:35
In all things I have shown you that by working hard in this way we must help the weak and remember the words of the Lord Jesus, how he himself said, "It is more blessed to give than to receive."
2 Corinthians 9:7
Each one must give as he has decided in his heart, not reluctantly or under compulsion, for God loves a cheerful giver.
1 John 3:17
But if anyone has the world's goods and sees his brother in need, yet closes his heart against him, how does God's love abide in him?
1 Timothy 5:8
But if anyone does not provide for his relatives, and especially for members of his household, he has denied the faith and is worse than an unbeliever.
1 Timothy 6:10
For the love of money is a root of all kinds of evils. It is through this craving that some have wandered away from the faith and pierced themselves with many pangs.
2 Corinthians 8:12
For if the readiness is there, it is acceptable according to what a person has, not according to what he does not have.
2 Corinthians 8:5
And this, not as we expected, but they gave themselves first to the Lord and then by the will of God to us.
2 Corinthians 8:9
For you know the grace of our Lord Jesus Christ, that though he was rich, yet for your sake he became poor, so that you by his poverty might become rich.
Deuteronomy 15:10
You shall give to him freely, and your heart shall not be grudging when you give to him, because for this the Lord your God will bless you in all your work and in all that you undertake.
Deuteronomy 15:11
For there will never cease to be poor in the land. Therefore I command you, You shall open wide your hand to your brother, to the needy and to the poor, in your land.
Deuteronomy 26:12
When you have finished paying all the tithe of your produce in the third year, which is the year of tithing, giving it to the Levite, the sojourner, the fatherless, and the widow, so that they may eat within your towns and be filled.
Ephesians 4:28
Let the thief no longer steal, but rather let him labor, doing honest work with his own hands, so that he may have something to share with anyone in need.
Esther 9:22
As the days on which the Jews got relief from their enemies, and as the month that had been turned for them from sorrow into gladness and from mourning into a holiday; that they should make them days of feasting and gladness, days for sending gifts of food to one another and gifts to the poor.
Galatians 2:10
Only, they asked us to remember the poor, the very thing I was eager to do.
Isaiah 58:10
If you pour yourself out for the hungry and satisfy the desire of the afflicted, then shall your light rise in the darkness and your gloom be as the noonday.
James 1:17
Every good gift and every perfect gift is from above, coming down from the Father of lights with whom there is no variation or shadow due to change.
James 1:27
Religion that is pure and undefiled before God, the Father, is this: to visit orphans and widows in their affliction, and to keep oneself unstained from the world.
Luke 12:33
"Sell your possessions, and give to the needy. Provide yourselves with moneybags that do not grow old, with a treasure in the heavens that does not fail, where no thief approaches and no moth destroys."
Luke 3:11
And he answered them, "Whoever has two tunics is to share with him who has none, and whoever has food is to do likewise."
Malachi 3:10
"Bring the full tithe into the storehouse, that there may be food in my house. And thereby put me to the test, says the Lord of hosts, if I will not open the windows of heaven for you and pour down for you a blessing until there is no more need."
Matthew 19:21
Jesus said to him, "If you would be perfect, go, sell what you possess and give to the poor, and you will have treasure in heaven; and come, follow me."
Matthew 25:40
"And the King will answer them, 'Truly, I say to you, as you did it to one of the least of these my brothers, you did it to me.'"
Matthew 5:42
"Give to the one who begs from you, and do not refuse the one who would borrow from you."
Matthew 6:24
"No one can serve two masters, for either he will hate the one and love the other, or he will be devoted to the one and despise the other. You cannot serve God and money."
Proverbs 14:21
Whoever despises his neighbor is a sinner, but blessed is he who is generous to the poor.
Proverbs 14:31
Whoever oppresses a poor man insults his Maker, but he who is generous to the needy honors him.
Proverbs 21:13
Whoever closes his ear to the cry of the poor will himself call out and not be answered.
Proverbs 22:9
Whoever has a bountiful eye will be blessed, for he shares his bread with the poor.
Proverbs 28:27
Whoever gives to the poor will not want, but he who hides his eyes will get many a curse.
Proverbs 28:8
Whoever multiplies his wealth by interest and profit gathers it for him who is generous to the poor.
Proverbs 3:27
Do not withhold good from those to whom it is due, when it is in your power to do it.
Psalm 112:9
He has distributed freely; he has given to the poor; his righteousness endures forever; his horn is exalted in honor.
Psalm 113:7
He raises the poor from the dust and lifts the needy from the ash heap.
Psalm 24:1
A Psalm of David. The earth is the Lord's and the fullness thereof, the world and those who dwell therein.
Psalm 82:3
Give justice to the weak and the fatherless; maintain the right of the afflicted and the destitute.
Romans 12:13
Contribute to the needs of the saints and seek to show hospitality.
Romans 12:8
The one who exhorts, in his exhortation; the one who contributes, in generosity; the one who leads, with zeal; the one who does acts of mercy, with cheerfulness.
More Bible Verses that Will Move You
50 Most Powerful Scriptures on Faith
60 Transcendent Verses on Trust
50 Strong Scriptures on Perseverance
68 Powerful Verses on Forgiveness
40 Uplifting Scriptures on Patience
Add Our Infographic Below to Your Pinterest Board
Hit the pin button below to add our infographic, with all the verses, to one of your Pinterest boards.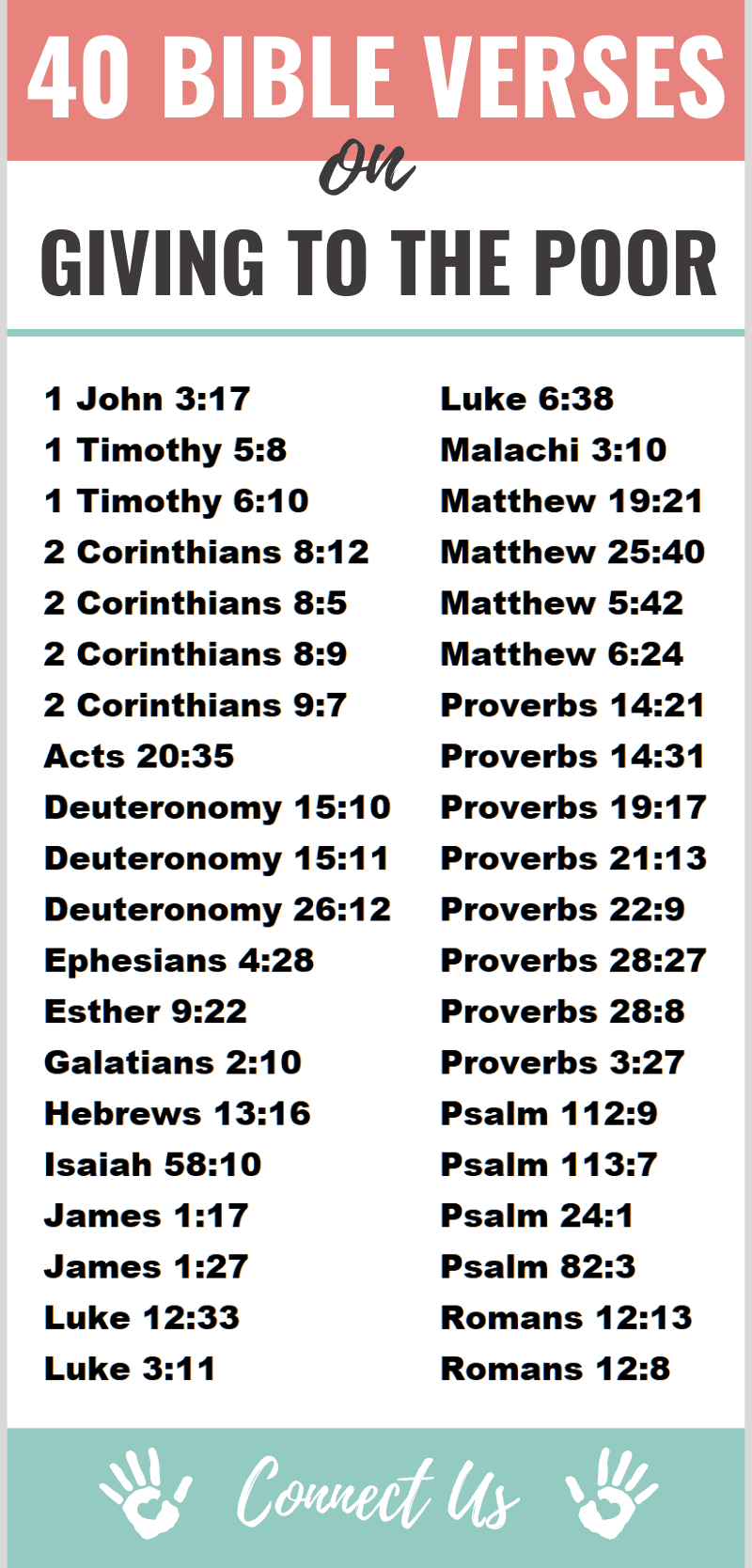 Author Bio
Natalie Regoli is a child of God, devoted wife, and mother of two boys. She has a Master's Degree in Law from The University of Texas. Natalie has been published in several national journals and has been practicing law for 18 years.