Here are the 40 most important Bible scriptures on God's sovereignty.
Psalm 115:3
Our God is in the heavens; he does all that he pleases.
Daniel 4:35
All the inhabitants of the earth are accounted as nothing, and he does according to his will among the host of heaven and among the inhabitants of the earth; and none can stay his hand or say to him, "What have you done?"
Ephesians 1:11
In him we have obtained an inheritance, having been predestined according to the purpose of him who works all things according to the counsel of his will.
Psalm 135:6
Whatever the Lord pleases, he does, in heaven and on earth, in the seas and all deeps.
Proverbs 21:1
The king's heart is a stream of water in the hand of the Lord; he turns it wherever he will.
1 Chronicles 29:11
Yours, O Lord, is the greatness and the power and the glory and the victory and the majesty, for all that is in the heavens and in the earth is yours. Yours is the kingdom, O Lord, and you are exalted as head above all.
1 Timothy 6:15
Which he will display at the proper time—he who is the blessed and only Sovereign, the King of kings and Lord of lords.
2 Chronicles 20:6
And said, "O Lord, God of our fathers, are you not God in heaven? You rule over all the kingdoms of the nations. In your hand are power and might, so that none is able to withstand you."
Acts 13:48
And when the Gentiles heard this, they began rejoicing and glorifying the word of the Lord, and as many as were appointed to eternal life believed.
Acts 2:23
This Jesus, delivered up according to the definite plan and foreknowledge of God, you crucified and killed by the hands of lawless men.
Colossians 1:16
For by him all things were created, in heaven and on earth, visible and invisible, whether thrones or dominions or rulers or authorities—all things were created through him and for him.
Deuteronomy 32:39
"'See now that I, even I, am he, and there is no god beside me; I kill and I make alive; I wound and I heal; and there is none that can deliver out of my hand."
Deuteronomy 8:18
You shall remember the Lord your God, for it is he who gives you power to get wealth, that he may confirm his covenant that he swore to your fathers, as it is this day.
Exodus 4:11
Then the Lord said to him, "Who has made man's mouth? Who makes him mute, or deaf, or seeing, or blind? Is it not I, the Lord?"
Genesis 1:1
In the beginning, God created the heavens and the earth.
Genesis 50:20
As for you, you meant evil against me, but God meant it for good, to bring it about that many people should be kept alive, as they are today.
Isaiah 14:24
The Lord of hosts has sworn: "As I have planned, so shall it be, and as I have purposed, so shall it stand."
Isaiah 14:27
For the Lord of hosts has purposed, and who will annul it? His hand is stretched out, and who will turn it back?
Isaiah 43:13
"Also henceforth I am he; there is none who can deliver from my hand; I work, and who can turn it back?"
Isaiah 45:7
"I form light and create darkness, I make well-being and create calamity, I am the Lord, who does all these things."
Isaiah 46:10
"Declaring the end from the beginning and from ancient times things not yet done, saying, 'My counsel shall stand, and I will accomplish all my purpose.'"
Jeremiah 10:23
I know, O Lord, that the way of man is not in himself, that it is not in man who walks to direct his steps.
Jeremiah 32:27
"Behold, I am the Lord, the God of all flesh. Is anything too hard for me?"
Job 42:2
I know that you can do all things, and that no purpose of yours can be thwarted.
John 6:37
"All that the Father gives me will come to me, and whoever comes to me I will never cast out."
John 6:44
"No one can come to me unless the Father who sent me draws him. And I will raise him up on the last day."
John 6:65
And he said, "This is why I told you that no one can come to me unless it is granted him by the Father."
Lamentations 3:37
Who has spoken and it came to pass, unless the Lord has commanded it?
Matthew 19:26
But Jesus looked at them and said, "With man this is impossible, but with God all things are possible."
Philippians 1:6
And I am sure of this, that he who began a good work in you will bring it to completion at the day of Jesus Christ.
Proverbs 16:33
The lot is cast into the lap, but its every decision is from the Lord.
Proverbs 16:4
The Lord has made everything for its purpose, even the wicked for the day of trouble.
Proverbs 16:9
The heart of man plans his way, but the Lord establishes his steps.
Proverbs 19:21
Many are the plans in the mind of a man, but it is the purpose of the Lord that will stand.
Psalm 103:19
The Lord has established his throne in the heavens, and his kingdom rules over all.
Romans 11:36
For from him and through him and to him are all things. To him be glory forever. Amen.
Romans 8:28
And we know that for those who love God all things work together for good, for those who are called according to his purpose.
Romans 9:11
Though they were not yet born and had done nothing either good or bad—in order that God's purpose of election might continue, not because of works but because of him who calls.
Romans 9:18
So then he has mercy on whomever he wills, and he hardens whomever he wills.
Romans 9:21
Has the potter no right over the clay, to make out of the same lump one vessel for honorable use and another for dishonorable use?
More Bible Verses that Will Move You
50 Most Powerful Scriptures on Faith
60 Transcendent Verses on Trust
50 Strong Scriptures on Perseverance
68 Powerful Verses on Forgiveness
40 Uplifting Scriptures on Patience
Add Our Infographic Below to Your Pinterest Board
Hit the pin button below to add our infographic, with all the verses, to one of your Pinterest boards.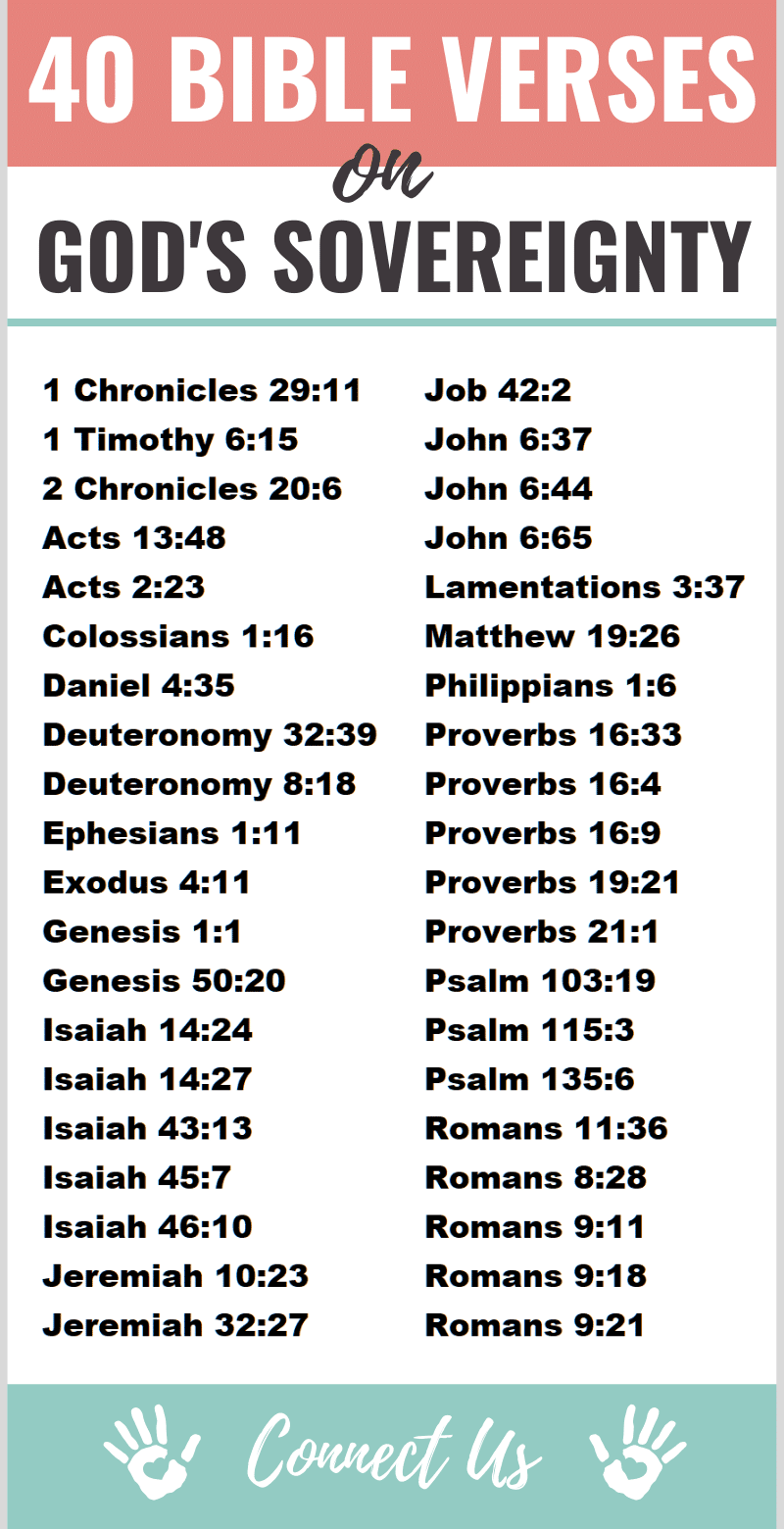 Author Bio
Natalie Regoli is a child of God, devoted wife, and mother of two boys. She has a Master's Degree in Law from The University of Texas. Natalie has been published in several national journals and has been practicing law for 18 years.