Here are the 40 most important Bible scriptures on parenting.
Ephesians 6:4
Fathers, do not provoke your children to anger, but bring them up in the discipline and instruction of the Lord.
Proverbs 22:6
Train up a child in the way he should go; even when he is old he will not depart from it.
Colossians 3:21
Fathers, do not provoke your children, lest they become discouraged.
Proverbs 13:24
Whoever spares the rod hates his son, but he who loves him is diligent to discipline him.
Psalm 127:3
Behold, children are a heritage from the Lord, the fruit of the womb a reward.
1 John 1:9
If we confess our sins, he is faithful and just to forgive us our sins and to cleanse us from all unrighteousness.
1 Peter 4:8
Above all, keep loving one another earnestly, since love covers a multitude of sins.
1 Peter 5:3
Not domineering over those in your charge, but being examples to the flock.
1 Timothy 3:4
He must manage his own household well, with all dignity keeping his children submissive.
1 Timothy 5:8
But if anyone does not provide for his relatives, and especially for members of his household, he has denied the faith and is worse than an unbeliever.
2 Corinthians 12:14
Here for the third time I am ready to come to you. And I will not be a burden, for I seek not what is yours but you. For children are not obligated to save up for their parents, but parents for their children.
2 Timothy 3:16
All Scripture is breathed out by God and profitable for teaching, for reproof, for correction, and for training in righteousness.
Colossians 3:20
Children, obey your parents in everything, for this pleases the Lord.
Deuteronomy 11:19
You shall teach them to your children, talking of them when you are sitting in your house, and when you are walking by the way, and when you lie down, and when you rise.
Deuteronomy 4:9
Only take care, and keep your soul diligently, lest you forget the things that your eyes have seen, and lest they depart from your heart all the days of your life. Make them known to your children and your children's children.
Deuteronomy 6:7
You shall teach them diligently to your children, and shall talk of them when you sit in your house, and when you walk by the way, and when you lie down, and when you rise.
Ephesians 5:21
Submitting to one another out of reverence for Christ.
Ephesians 6:1
Children, obey your parents in the Lord, for this is right.
Ephesians 6:2
"Honor your father and mother,"-this is the first commandment with a promise.
Exodus 20:12
"Honor your father and your mother, that your days may be long in the land that the Lord your God is giving you."
Genesis 18:19
"For I have chosen him, that he may command his children and his household after him to keep the way of the Lord by doing righteousness and justice, so that the Lord may bring to Abraham what he has promised him."
Hebrews 12:11
For the moment all discipline seems painful rather than pleasant, but later it yields the peaceful fruit of righteousness to those who have been trained by it.
Isaiah 38:19
The living, the living, he thanks you, as I do this day; the father makes known to the children your faithfulness.
Joel 1:3
Tell your children of it, and let your children tell their children, and their children to another generation.
Luke 1:17
And he will go before him in the spirit and power of Elijah, to turn the hearts of the fathers to the children, and the disobedient to the wisdom of the just, to make ready for the Lord a people prepared.
Mark 9:42
"Whoever causes one of these little ones who believe in me to sin, it would be better for him if a great millstone were hung around his neck and he were thrown into the sea."
Matthew 6:34
"Therefore do not be anxious about tomorrow, for tomorrow will be anxious for itself. Sufficient for the day is its own trouble."
Proverbs 10:1
The proverbs of Solomon. A wise son makes a glad father, but a foolish son is a sorrow to his mother.
Proverbs 19:18
Discipline your son, for there is hope; do not set your heart on putting him to death.
Proverbs 22:15
Folly is bound up in the heart of a child, but the rod of discipline drives it far from him.
Proverbs 23:13
Do not withhold discipline from a child; if you strike him with a rod, he will not die.
Proverbs 23:22
Listen to your father who gave you life, and do not despise your mother when she is old.
Proverbs 29:15
The rod and reproof give wisdom, but a child left to himself brings shame to his mother.
Proverbs 29:17
Discipline your son, and he will give you rest; he will give delight to your heart.
Proverbs 3:12
For the Lord reproves him whom he loves, as a father the son in whom he delights.
Psalm 103:13
As a father shows compassion to his children, so the Lord shows compassion to those who fear him.
Psalm 119:1
Blessed are those whose way is blameless, who walk in the law of the Lord!
Psalm 78:4
We will not hide them from their children, but tell to the coming generation the glorious deeds of the Lord, and his might, and the wonders that he has done.
Titus 2:4
And so train the young women to love their husbands and children.
Titus 2:7
Show yourself in all respects to be a model of good works, and in your teaching show integrity, dignity.
More Bible Verses that Will Move You
50 Most Powerful Scriptures on Faith
60 Transcendent Verses on Trust
50 Strong Scriptures on Perseverance
68 Powerful Verses on Forgiveness
40 Uplifting Scriptures on Patience
Add Our Infographic Below to Your Pinterest Board
Hit the pin button below to add our infographic, with all the verses, to one of your Pinterest boards.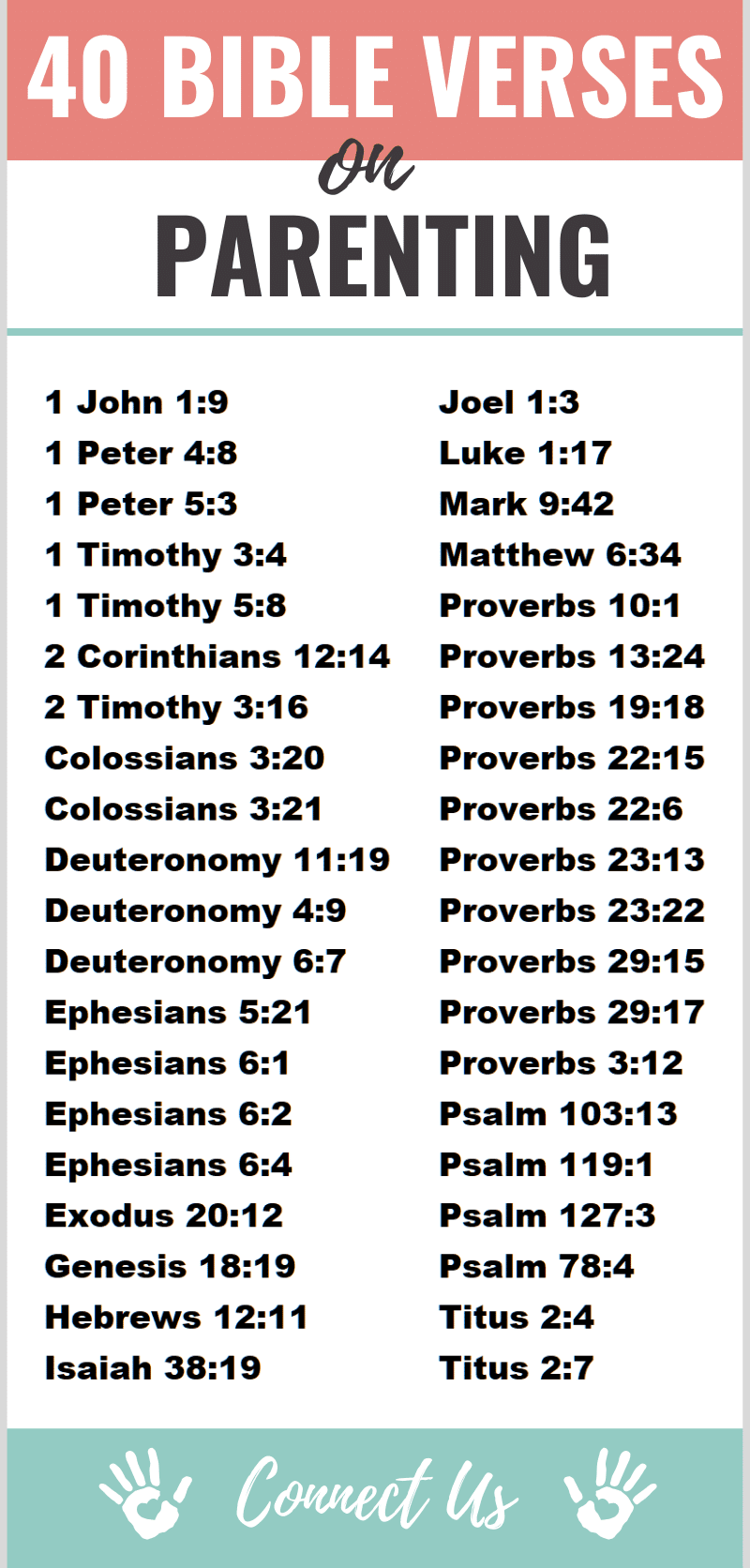 Author Bio
Natalie Regoli is a child of God, devoted wife, and mother of two boys. She has a Master's Degree in Law from The University of Texas. Natalie has been published in several national journals and has been practicing law for 18 years.