The word "power" occurs 263 times in the Bible. The infographic below identifies the points of each occurrence. This graphic presentation starts with Genesis in the top left and concludes with Revelation in the bottom right.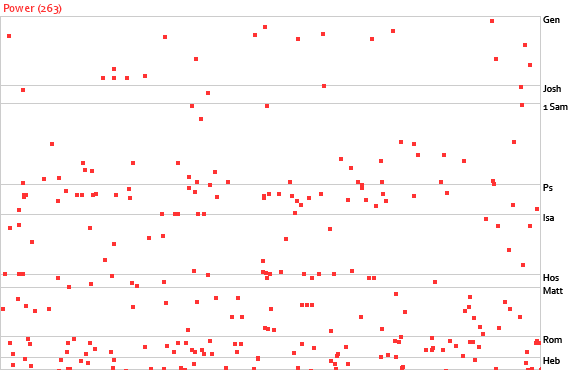 Here are the 40 most important Bible scriptures on power.
2 Timothy 1:7
For God gave us a spirit not of fear but of power and love and self-control.
Acts 1:8
But you will receive power when the Holy Spirit has come upon you, and you will be my witnesses in Jerusalem and in all Judea and Samaria, and to the end of the earth.
Philippians 4:13
I can do all things through him who strengthens me.
Luke 10:19
"Behold, I have given you authority to tread on serpents and scorpions, and over all the power of the enemy, and nothing shall hurt you."
Ephesians 6:10
Finally, be strong in the Lord and in the strength of his might.
1 Chronicles 16:11
Seek the Lord and his strength; seek his presence continually!
1 Corinthians 1:18
For the word of the cross is folly to those who are perishing, but to us who are being saved it is the power of God.
1 Corinthians 2:5
That your faith might not rest in the wisdom of men but in the power of God.
1 Corinthians 4:20
For the kingdom of God does not consist in talk but in power.
1 Corinthians 6:14
And God raised the Lord and will also raise us up by his power.
1 Thessalonians 1:5
Because our gospel came to you not only in word, but also in power and in the Holy Spirit and with full conviction. You know what kind of men we proved to be among you for your sake.
2 Corinthians 12:9
But he said to me, "My grace is sufficient for you, for my power is made perfect in weakness." Therefore I will boast all the more gladly of my weaknesses, so that the power of Christ may rest upon me.
2 Corinthians 13:11
Finally, brothers, rejoice. Aim for restoration, comfort one another, agree with one another, live in peace; and the God of love and peace will be with you.
2 Corinthians 13:4
For he was crucified in weakness, but lives by the power of God. For we also are weak in him, but in dealing with you we will live with him by the power of God.
2 Corinthians 6:7
By truthful speech, and the power of God; with the weapons of righteousness for the right hand and for the left.
2 Peter 1:3
His divine power has granted to us all things that pertain to life and godliness, through the knowledge of him who called us to his own glory and excellence.
2 Timothy 1:8
Therefore do not be ashamed of the testimony about our Lord, nor of me his prisoner, but share in suffering for the gospel by the power of God.
Acts 10:38
How God anointed Jesus of Nazareth with the Holy Spirit and with power. He went about doing good and healing all who were oppressed by the devil, for God was with him.
Colossians 1:11
May you be strengthened with all power, according to his glorious might, for all endurance and patience with joy.
Ephesians 1:19
And what is the immeasurable greatness of his power toward us who believe, according to the working of his great might.
Ephesians 3:16
That according to the riches of his glory he may grant you to be strengthened with power through his Spirit in your inner being.
Ephesians 3:20
Now to him who is able to do far more abundantly than all that we ask or think, according to the power at work within us.
Hebrews 1:3
He is the radiance of the glory of God and the exact imprint of his nature, and he upholds the universe by the word of his power. After making purification for sins, he sat down at the right hand of the Majesty on high.
Hebrews 4:12
For the word of God is living and active, sharper than any two-edged sword, piercing to the division of soul and of spirit, of joints and of marrow, and discerning the thoughts and intentions of the heart.
Isaiah 26:4
Trust in the Lord forever, for the Lord God is an everlasting rock.
Isaiah 41:10
"Fear not, for I am with you; be not dismayed, for I am your God; I will strengthen you, I will help you, I will uphold you with my righteous right hand."
James 1:21
Therefore put away all filthiness and rampant wickedness and receive with meekness the implanted word, which is able to save your souls.
James 1:22
But be doers of the word, and not hearers only, deceiving yourselves.
John 3:16
For God so loved the world, that he gave his only Son, that whoever believes in him should not perish but have eternal life.
Luke 11:20
"But if it is by the finger of God that I cast out demons, then the kingdom of God has come upon you."
Luke 24:49
"And behold, I am sending the promise of my Father upon you. But stay in the city until you are clothed with power from on high."
Matthew 19:26
But Jesus looked at them and said, "With man this is impossible, but with God all things are possible."
Matthew 28:18
And Jesus came and said to them, "All authority in heaven and on earth has been given to me."
Proverbs 18:21
Death and life are in the power of the tongue, and those who love it will eat its fruits.
Psalm 68:35
Awesome is God from his sanctuary; the God of Israel—he is the one who gives power and strength to his people. Blessed be God!
Psalm 89:13
You have a mighty arm; strong is your hand, high your right hand.
Revelation 11:17
Saying, "We give thanks to you, Lord God Almighty, who is and who was, for you have taken your great power and begun to reign."
Romans 1:16
For I am not ashamed of the gospel, for it is the power of God for salvation to everyone who believes, to the Jew first and also to the Greek.
Romans 1:20
For his invisible attributes, namely, his eternal power and divine nature, have been clearly perceived, ever since the creation of the world, in the things that have been made. So they are without excuse.
Romans 15:13
May the God of hope fill you with all joy and peace in believing, so that by the power of the Holy Spirit you may abound in hope.
More Bible Verses that Will Move You
50 Most Powerful Scriptures on Faith
60 Transcendent Verses on Trust
50 Strong Scriptures on Perseverance
68 Powerful Verses on Forgiveness
40 Uplifting Scriptures on Patience
Add Our Infographic Below to Your Pinterest Board
Hit the pin button below to add our infographic, with all the verses, to one of your Pinterest boards.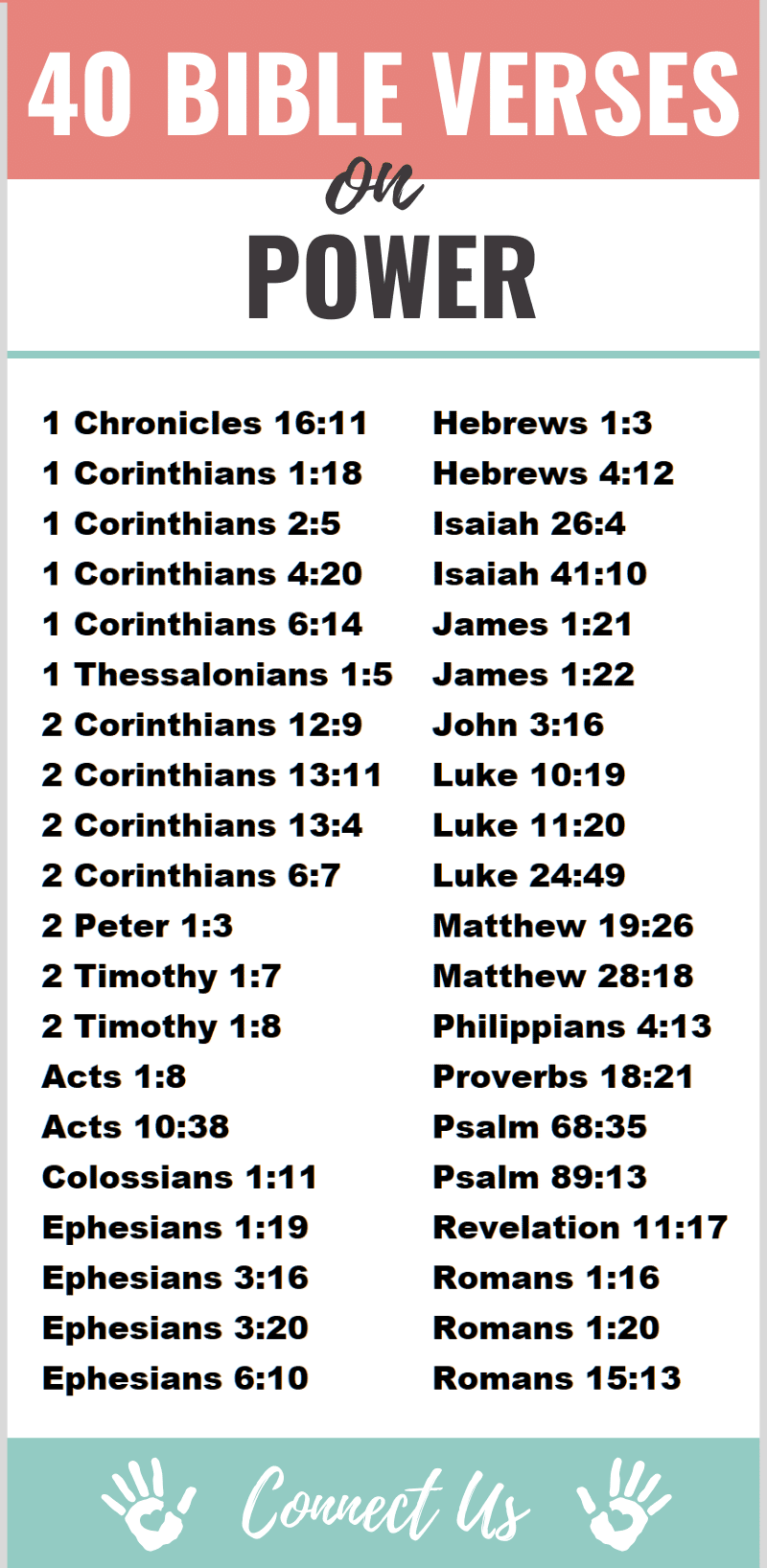 Author Bio
Natalie Regoli is a child of God, devoted wife, and mother of two boys. She has a Master's Degree in Law from The University of Texas. Natalie has been published in several national journals and has been practicing law for 18 years.