The word sin is found 1,363 times in the Old and New Testament. The image below reveals the locations of each occurrence. This cool graph starts with Genesis in the top left and ends with Revelation in the bottom right.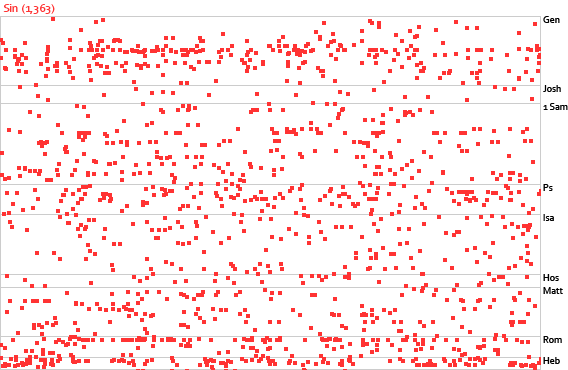 Here are the 40 most important Bible scriptures on sin.
James 4:17
So whoever knows the right thing to do and fails to do it, for him it is sin.
Romans 6:23
For the wages of sin is death, but the free gift of God is eternal life in Christ Jesus our Lord.
Romans 3:23
For all have sinned and fall short of the glory of God.
Psalm 51:5
Behold, I was brought forth in iniquity, and in sin did my mother conceive me.
1 Corinthians 10:13
No temptation has overtaken you that is not common to man. God is faithful, and he will not let you be tempted beyond your ability, but with the temptation he will also provide the way of escape, that you may be able to endure it.
1 John 1:9
If we confess our sins, he is faithful and just to forgive us our sins and to cleanse us from all unrighteousness.
1 John 3:4
Everyone who makes a practice of sinning also practices lawlessness; sin is lawlessness.
1 John 3:8
Whoever makes a practice of sinning is of the devil, for the devil has been sinning from the beginning. The reason the Son of God appeared was to destroy the works of the devil.
1 John 5:17
All wrongdoing is sin, but there is sin that does not lead to death.
1 Peter 2:24
He himself bore our sins in his body on the tree, that we might die to sin and live to righteousness. By his wounds you have been healed.
2 Corinthians 5:17
Therefore, if anyone is in Christ, he is a new creation. The old has passed away; behold, the new has come.
2 Corinthians 5:21
For our sake he made him to be sin who knew no sin, so that in him we might become the righteousness of God.
2 Timothy 2:19
But God's firm foundation stands, bearing this seal: "The Lord knows those who are his," and, "Let everyone who names the name of the Lord depart from iniquity."
Ecclesiastes 7:20
Surely there is not a righteous man on earth who does good and never sins.
Galatians 5:16
But I say, walk by the Spirit, and you will not gratify the desires of the flesh.
Genesis 2:17
"But of the tree of the knowledge of good and evil you shall not eat, for in the day that you eat of it you shall surely die."
Genesis 4:7
"If you do well, will you not be accepted? And if you do not do well, sin is crouching at the door. Its desire is for you, but you must rule over it."
Hebrews 10:26
For if we go on sinning deliberately after receiving the knowledge of the truth, there no longer remains a sacrifice for sins.
Isaiah 1:18
"Come now, let us reason together," says the Lord: "though your sins are like scarlet, they shall be as white as snow; though they are red like crimson, they shall become like wool."
Isaiah 59:2
But your iniquities have made a separation between you and your God, and your sins have hidden his face from you so that he does not hear.
Isaiah 64:6
We have all become like one who is unclean, and all our righteous deeds are like a polluted garment. We all fade like a leaf, and our iniquities, like the wind, take us away.
James 1:14
But each person is tempted when he is lured and enticed by his own desire.
James 1:15
Then desire when it has conceived gives birth to sin, and sin when it is fully grown brings forth death.
James 4:7
Submit yourselves therefore to God. Resist the devil, and he will flee from you.
Jeremiah 17:9
The heart is deceitful above all things, and desperately sick; who can understand it?
Job 15:14
What is man, that he can be pure? Or he who is born of a woman, that he can be righteous?
John 3:16
For God so loved the world, that he gave his only Son, that whoever believes in him should not perish but have eternal life.
John 3:3
Jesus answered him, "Truly, truly, I say to you, unless one is born again he cannot see the kingdom of God."
John 5:14
Afterward Jesus found him in the temple and said to him, "See, you are well! Sin no more, that nothing worse may happen to you."
John 8:34
Jesus answered them, "Truly, truly, I say to you, everyone who commits sin is a slave to sin."
Matthew 5:28
"But I say to you that everyone who looks at a woman with lustful intent has already committed adultery with her in his heart."
Matthew 5:48
"You therefore must be perfect, as your heavenly Father is perfect."
Numbers 32:23
But if you will not do so, behold, you have sinned against the Lord, and be sure your sin will find you out.
Proverbs 28:13
Whoever conceals his transgressions will not prosper, but he who confesses and forsakes them will obtain mercy.
Proverbs 8:13
The fear of the Lord is hatred of evil. Pride and arrogance and the way of evil and perverted speech I hate.
Psalm 107:20
He sent out his word and healed them, and delivered them from their destruction.
Psalm 51:10
Create in me a clean heart, O God, and renew a right spirit within me.
Revelation 21:8
"But as for the cowardly, the faithless, the detestable, as for murderers, the sexually immoral, sorcerers, idolaters, and all liars, their portion will be in the lake that burns with fire and sulfur, which is the second death."
Romans 14:23
But whoever has doubts is condemned if he eats, because the eating is not from faith. For whatever does not proceed from faith is sin.
Romans 5:12
Therefore, just as sin came into the world through one man, and death through sin, and so death spread to all men because all sinned.
More Bible Verses that Will Move You
50 Most Powerful Scriptures on Faith
60 Transcendent Verses on Trust
50 Strong Scriptures on Perseverance
68 Powerful Verses on Forgiveness
40 Uplifting Scriptures on Patience
Add Our Infographic Below to Your Pinterest Board
Hit the pin button below to add our infographic, with all the verses, to one of your Pinterest boards.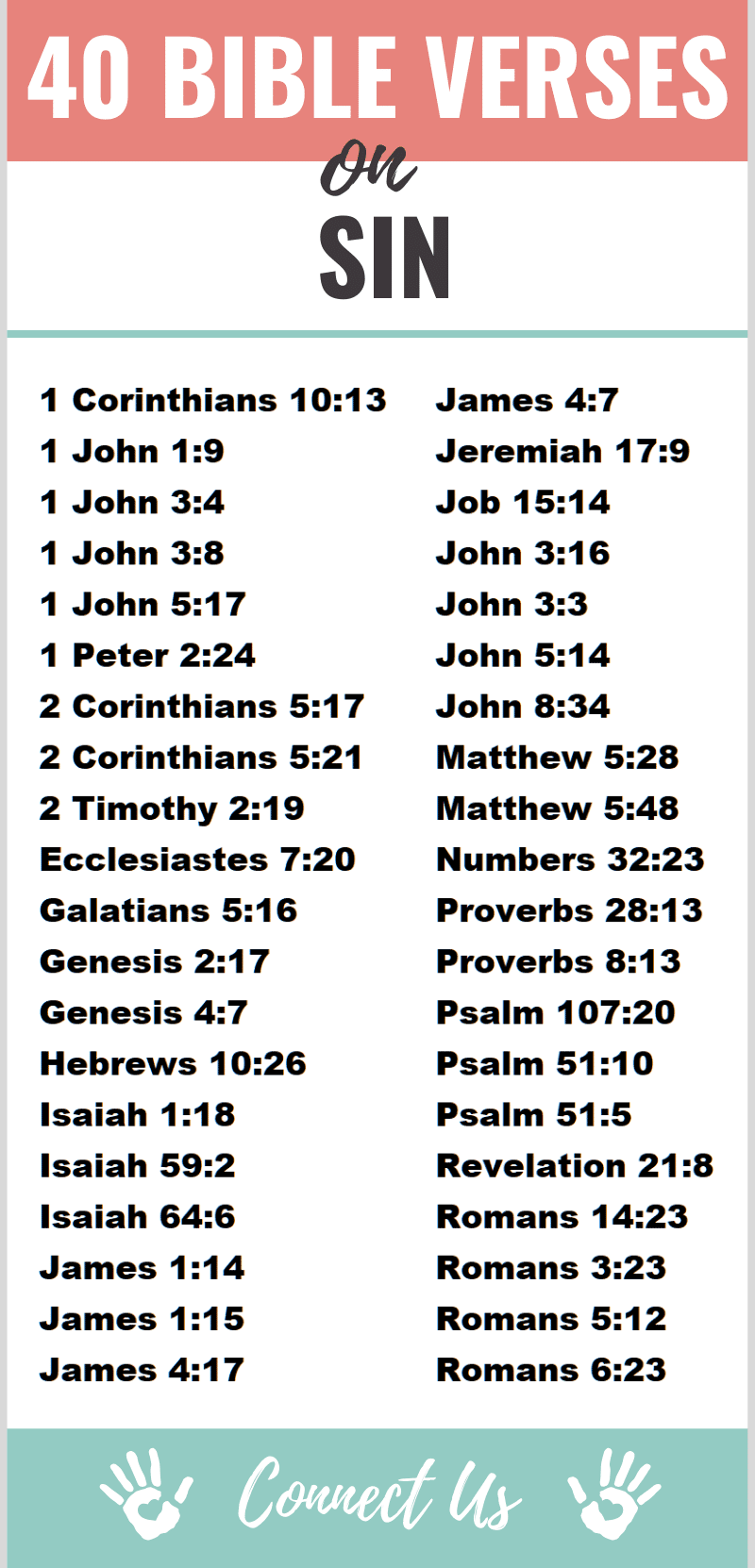 Author Bio
Natalie Regoli is a child of God, devoted wife, and mother of two boys. She has a Master's Degree in Law from The University of Texas. Natalie has been published in several national journals and has been practicing law for 18 years.