Here are the 40 most inspiring Bible scriptures on addiction.
1 Corinthians 10:13
No temptation has overtaken you that is not common to man. God is faithful, and he will not let you be tempted beyond your ability, but with the temptation he will also provide the way of escape, that you may be able to endure it.
1 Peter 5:8
Be sober-minded; be watchful. Your adversary the devil prowls around like a roaring lion, seeking someone to devour.
1 John 2:16
For all that is in the world—the desires of the flesh and the desires of the eyes and pride in possessions—is not from the Father but is from the world.
1 Corinthians 15:33
Do not be deceived: "Bad company ruins good morals."
1 Peter 5:10
And after you have suffered a little while, the God of all grace, who has called you to his eternal glory in Christ, will himself restore, confirm, strengthen, and establish you.
1 Corinthians 3:16
Do you not know that you are God's temple and that God's Spirit dwells in you?
1 Corinthians 3:17
If anyone destroys God's temple, God will destroy him. For God's temple is holy, and you are that temple.
1 Corinthians 5:11
But now I am writing to you not to associate with anyone who bears the name of brother if he is guilty of sexual immorality or greed, or is an idolater, reviler, drunkard, or swindler—not even to eat with such a one.
1 Corinthians 6:12
"All things are lawful for me," but not all things are helpful. "All things are lawful for me," but I will not be enslaved by anything.
1 Corinthians 6:18
Flee from sexual immorality. Every other sin a person commits is outside the body, but the sexually immoral person sins against his own body.
1 John 3:8
Whoever makes a practice of sinning is of the devil, for the devil has been sinning from the beginning. The reason the Son of God appeared was to destroy the works of the devil.
1 Peter 2:11
Beloved, I urge you as sojourners and exiles to abstain from the passions of the flesh, which wage war against your soul.
2 Corinthians 5:17
Therefore, if anyone is in Christ, he is a new creation. The old has passed away; behold, the new has come.
2 Peter 2:19
They promise them freedom, but they themselves are slaves of corruption. For whatever overcomes a person, to that he is enslaved.
2 Timothy 1:7
For God gave us a spirit not of fear but of power and love and self-control.
2 Timothy 2:22
So flee youthful passions and pursue righteousness, faith, love, and peace, along with those who call on the Lord from a pure heart.
2 Timothy 2:26
And they may come to their senses and escape from the snare of the devil, after being captured by him to do his will.
Colossians 3:5
Put to death therefore what is earthly in you: sexual immorality, impurity, passion, evil desire, and covetousness, which is idolatry.
Ephesians 5:18
And do not get drunk with wine, for that is debauchery, but be filled with the Spirit.
Galatians 5:1
For freedom Christ has set us free; stand firm therefore, and do not submit again to a yoke of slavery.
Galatians 5:16
But I say, walk by the Spirit, and you will not gratify the desires of the flesh.
Hebrews 2:18
For because he himself has suffered when tempted, he is able to help those who are being tempted.
Hosea 4:11
Whoredom, wine, and new wine, which take away the understanding.
Isaiah 40:31
But they who wait for the Lord shall renew their strength; they shall mount up with wings like eagles; they shall run and not be weary; they shall walk and not faint.
Isaiah 5:11
Woe to those who rise early in the morning, that they may run after strong drink, who tarry late into the evening as wine inflames them!
James 4:7
Submit yourselves therefore to God. Resist the devil, and he will flee from you.
John 8:34
Jesus answered them, "Truly, truly, I say to you, everyone who commits sin is a slave to sin."
John 8:36
"So if the Son sets you free, you will be free indeed."
Luke 7:47
"Therefore I tell you, her sins, which are many, are forgiven—for she loved much. But he who is forgiven little, loves little."
Matthew 18:7
"Woe to the world for temptations to sin! For it is necessary that temptations come, but woe to the one by whom the temptation comes!"
Matthew 5:28
"But I say to you that everyone who looks at a woman with lustful intent has already committed adultery with her in his heart."
Matthew 6:13
"And lead us not into temptation, but deliver us from evil."
Philippians 4:13
I can do all things through him who strengthens me.
Proverbs 20:1
Wine is a mocker, strong drink a brawler, and whoever is led astray by it is not wise.
Proverbs 23:20
Be not among drunkards or among gluttonous eaters of meat.
Proverbs 6:27
Can a man carry fire next to his chest and his clothes not be burned?
Psalm 50:15
"And call upon me in the day of trouble; I will deliver you, and you shall glorify me."
Romans 13:14
But put on the Lord Jesus Christ, and make no provision for the flesh, to gratify its desires.
Romans 6:16
Do you not know that if you present yourselves to anyone as obedient slaves, you are slaves of the one whom you obey, either of sin, which leads to death, or of obedience, which leads to righteousness?
Titus 2:12
Training us to renounce ungodliness and worldly passions, and to live self-controlled, upright, and godly lives in the present age.
More Bible Verses that Will Move You
50 Most Powerful Scriptures on Faith
60 Transcendent Verses on Trust
50 Strong Scriptures on Perseverance
68 Powerful Verses on Forgiveness
40 Uplifting Scriptures on Patience
Add Our Infographic Below to Your Pinterest Board
Hit the pin button below to add our infographic, with all the verses, to one of your Pinterest boards.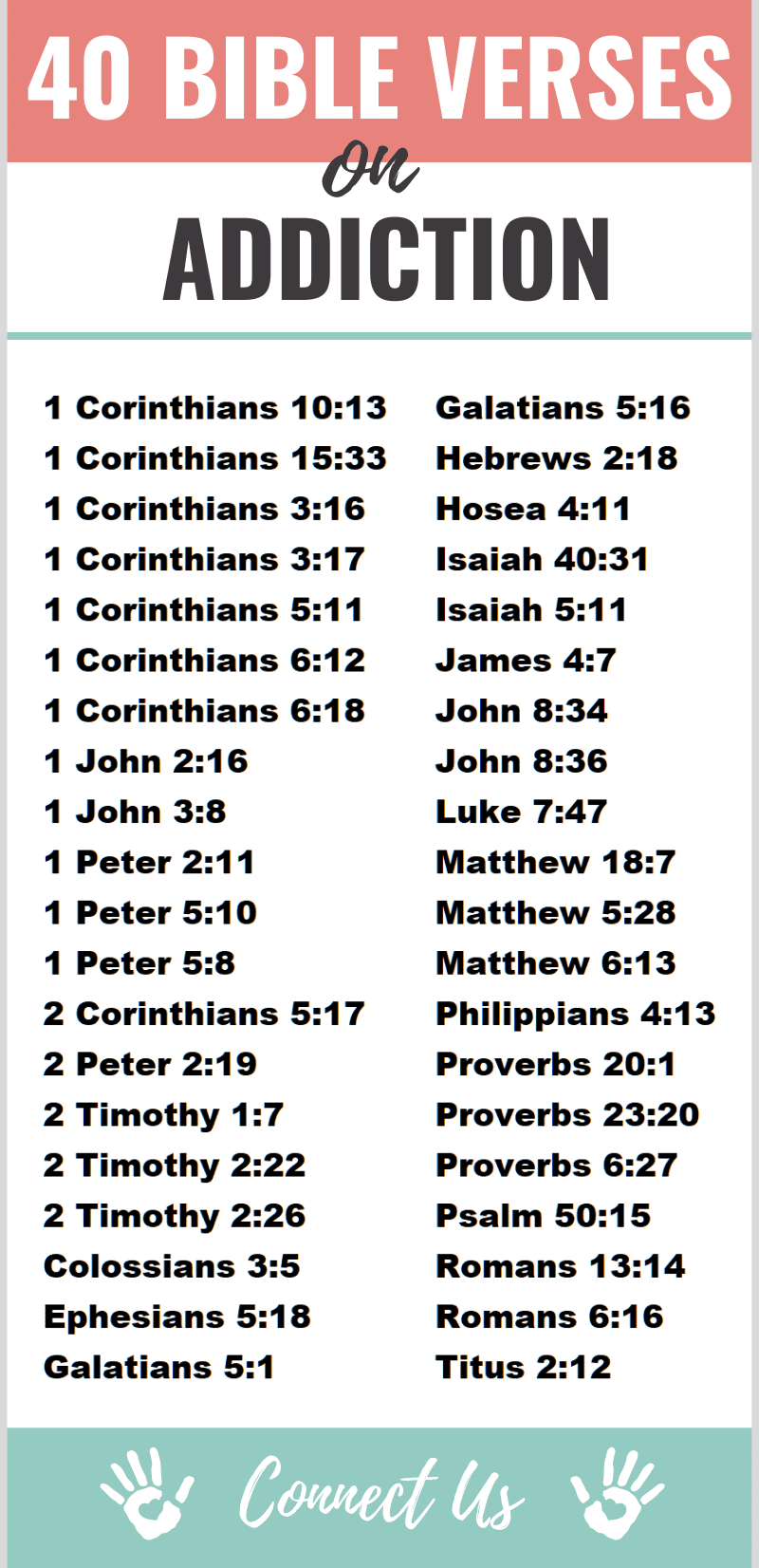 Author Bio
Natalie Regoli is a child of God, devoted wife, and mother of two boys. She has a Master's Degree in Law from The University of Texas. Natalie has been published in several national journals and has been practicing law for 18 years.