Here are the 40 most powerful Bible scriptures on trials.
James 1:12
Blessed is the man who remains steadfast under trial, for when he has stood the test he will receive the crown of life, which God has promised to those who love him.
1 Corinthians 10:13
No temptation has overtaken you that is not common to man. God is faithful, and he will not let you be tempted beyond your ability, but with the temptation he will also provide the way of escape, that you may be able to endure it.
Romans 8:28
And we know that for those who love God all things work together for good, for those who are called according to his purpose.
John 16:33
"I have said these things to you, that in me you may have peace. In the world you will have tribulation. But take heart; I have overcome the world."
Romans 8:18
For I consider that the sufferings of this present time are not worth comparing with the glory that is to be revealed to us.
1 Chronicles 28:20
Then David said to Solomon his son, "Be strong and courageous and do it. Do not be afraid and do not be dismayed, for the Lord God, even my God, is with you. He will not leave you or forsake you, until all the work for the service of the house of the Lord is finished."
1 John 4:18
There is no fear in love, but perfect love casts out fear. For fear has to do with punishment, and whoever fears has not been perfected in love.
1 Peter 1:6
In this you rejoice, though now for a little while, if necessary, you have been grieved by various trials.
1 Peter 4:12
Beloved, do not be surprised at the fiery trial when it comes upon you to test you, as though something strange were happening to you.
1 Peter 4:19
Therefore let those who suffer according to God's will entrust their souls to a faithful Creator while doing good.
1 Peter 5:10
And after you have suffered a little while, the God of all grace, who has called you to his eternal glory in Christ, will himself restore, confirm, strengthen, and establish you.
1 Thessalonians 4:4
That each one of you know how to control his own body in holiness and honor.
2 Corinthians 5:7
For we walk by faith, not by sight.
2 Peter 2:9
Then the Lord knows how to rescue the godly from trials, and to keep the unrighteous under punishment until the day of judgment.
2 Thessalonians 1:4
Therefore we ourselves boast about you in the churches of God for your steadfastness and faith in all your persecutions and in the afflictions that you are enduring.
2 Timothy 2:12
If we endure, we will also reign with him; if we deny him, he also will deny us.
2 Timothy 3:12
Indeed, all who desire to live a godly life in Christ Jesus will be persecuted.
Acts 14:22
Strengthening the souls of the disciples, encouraging them to continue in the faith, and saying that through many tribulations we must enter the kingdom of God.
Deuteronomy 13:3
You shall not listen to the words of that prophet or that dreamer of dreams. For the Lord your God is testing you, to know whether you love the Lord your God with all your heart and with all your soul.
Galatians 2:20
I have been crucified with Christ. It is no longer I who live, but Christ who lives in me. And the life I now live in the flesh I live by faith in the Son of God, who loved me and gave himself for me.
Galatians 6:9
And let us not grow weary of doing good, for in due season we will reap, if we do not give up.
Genesis 22:1
After these things God tested Abraham and said to him, "Abraham!" And he said, "Here am I."
Hebrews 2:10
For it was fitting that he, for whom and by whom all things exist, in bringing many sons to glory, should make the founder of their salvation perfect through suffering.
Hebrews 4:15
For we do not have a high priest who is unable to sympathize with our weaknesses, but one who in every respect has been tempted as we are, yet without sin.
James 1:2
Count it all joy, my brothers, when you meet trials of various kinds.
James 4:7
Submit yourselves therefore to God. Resist the devil, and he will flee from you.
James 5:13
Is anyone among you suffering? Let him pray. Is anyone cheerful? Let him sing praise.
Job 3:24
For my sighing comes instead of my bread, and my groanings are poured out like water.
Job 4:5
But now it has come to you, and you are impatient; it touches you, and you are dismayed.
John 7:51
"Does our law judge a man without first giving him a hearing and learning what he does?"
Luke 22:28
"You are those who have stayed with me in my trials."
Matthew 11:28
"Come to me, all who labor and are heavy laden, and I will give you rest."
Matthew 19:26
But Jesus looked at them and said, "With man this is impossible, but with God all things are possible."
Philippians 1:29
For it has been granted to you that for the sake of Christ you should not only believe in him but also suffer for his sake.
Philippians 4:13
I can do all things through him who strengthens me.
Revelation 2:10
"Do not fear what you are about to suffer. Behold, the devil is about to throw some of you into prison, that you may be tested, and for ten days you will have tribulation. Be faithful unto death, and I will give you the crown of life."
Revelation 3:10
"Because you have kept my word about patient endurance, I will keep you from the hour of trial that is coming on the whole world, to try those who dwell on the earth."
Revelation 3:19
"Those whom I love, I reprove and discipline, so be zealous and repent."
Revelation 3:21
"The one who conquers, I will grant him to sit with me on my throne, as I also conquered and sat down with my Father on his throne."
Romans 12:12
Rejoice in hope, be patient in tribulation, be constant in prayer.
More Bible Verses that Will Move You
50 Most Powerful Scriptures on Faith
60 Transcendent Verses on Trust
50 Strong Scriptures on Perseverance
68 Powerful Verses on Forgiveness
40 Uplifting Scriptures on Patience
Add Our Infographic Below to Your Pinterest Board
Hit the pin button below to add our infographic, with all the verses, to one of your Pinterest boards.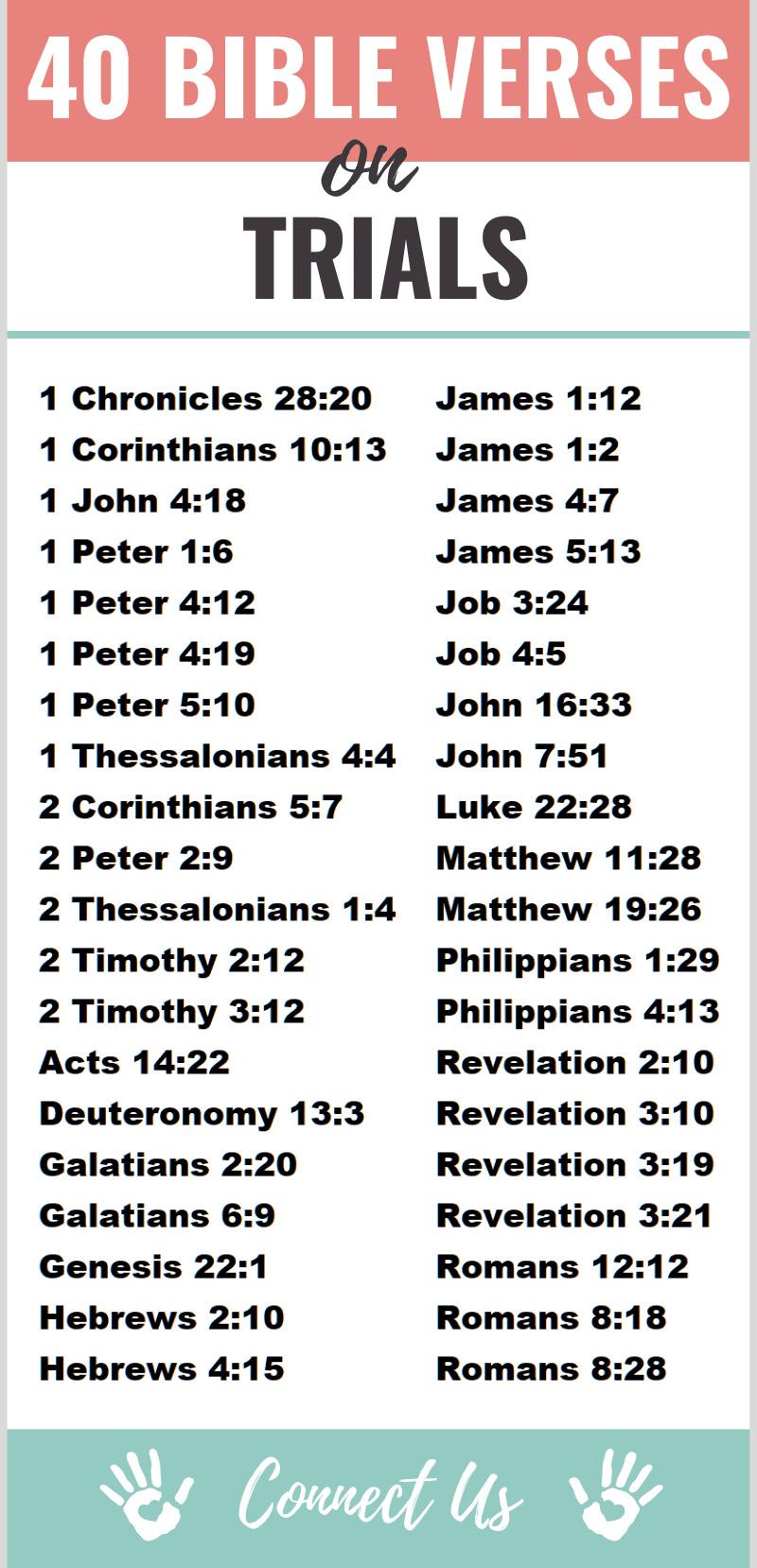 Author Bio
Natalie Regoli is a child of God, devoted wife, and mother of two boys. She has a Master's Degree in Law from The University of Texas. Natalie has been published in several national journals and has been practicing law for 18 years.