Here are the 40 most powerful Bible scriptures on debt.
Proverbs 22:7
The rich rules over the poor, and the borrower is the slave of the lender.
Romans 13:8
Owe no one anything, except to love each other, for the one who loves another has fulfilled the law.
Psalm 37:21
The wicked borrows but does not pay back, but the righteous is generous and gives.
Romans 13:7
Pay to all what is owed to them: taxes to whom taxes are owed, revenue to whom revenue is owed, respect to whom respect is owed, honor to whom honor is owed.
Luke 14:28
"For which of you, desiring to build a tower, does not first sit down and count the cost, whether he has enough to complete it?"
1 Corinthians 10:13
No temptation has overtaken you that is not common to man. God is faithful, and he will not let you be tempted beyond your ability, but with the temptation he will also provide the way of escape, that you may be able to endure it.
1 Timothy 5:8
But if anyone does not provide for his relatives, and especially for members of his household, he has denied the faith and is worse than an unbeliever.
1 Timothy 6:10
For the love of money is a root of all kinds of evils. It is through this craving that some have wandered away from the faith and pierced themselves with many pangs.
2 Kings 4:7
She came and told the man of God, and he said, "Go, sell the oil and pay your debts, and you and your sons can live on the rest."
Colossians 2:14
By canceling the record of debt that stood against us with its legal demands. This he set aside, nailing it to the cross.
Deuteronomy 15:6
For the Lord your God will bless you, as he promised you, and you shall lend to many nations, but you shall not borrow, and you shall rule over many nations, but they shall not rule over you.
Deuteronomy 28:12
The Lord will open to you his good treasury, the heavens, to give the rain to your land in its season and to bless all the work of your hands. And you shall lend to many nations, but you shall not borrow.
Ecclesiastes 5:10
He who loves money will not be satisfied with money, nor he who loves wealth with his income; this also is vanity.
Ecclesiastes 5:4
When you vow a vow to God, do not delay paying it, for he has no pleasure in fools. Pay what you vow.
Ecclesiastes 5:5
It is better that you should not vow than that you should vow and not pay.
Exodus 22:25
"If you lend money to any of my people with you who is poor, you shall not be like a moneylender to him, and you shall not exact interest from him."
Hebrews 13:5
Keep your life free from love of money, and be content with what you have, for he has said, "I will never leave you nor forsake you."
Luke 12:59
"I tell you, you will never get out until you have paid the very last penny."
Luke 16:10
"One who is faithful in a very little is also faithful in much, and one who is dishonest in a very little is also dishonest in much."
Luke 16:11
"If then you have not been faithful in the unrighteous wealth, who will entrust to you the true riches?"
Luke 16:13
"No servant can serve two masters, for either he will hate the one and love the other, or he will be devoted to the one and despise the other. You cannot serve God and money."
Luke 6:30
"Give to everyone who begs from you, and from one who takes away your goods do not demand them back."
Luke 6:38
"Give, and it will be given to you. Good measure, pressed down, shaken together, running over, will be put into your lap. For with the measure you use it will be measured back to you."
Malachi 3:10
"Bring the full tithe into the storehouse, that there may be food in my house. And thereby put me to the test," says the Lord of hosts, "if I will not open the windows of heaven for you and pour down for you a blessing until there is no more need."
Matthew 22:21
They said, "Caesar's." Then he said to them, "Therefore render to Caesar the things that are Caesar's, and to God the things that are God's."
Matthew 25:27
"Then you ought to have invested my money with the bankers, and at my coming I should have received what was my own with interest."
Matthew 5:42
"Give to the one who begs from you, and do not refuse the one who would borrow from you."
Matthew 6:12
"And forgive us our debts, as we also have forgiven our debtors."
Matthew 6:24
"No one can serve two masters, for either he will hate the one and love the other, or he will be devoted to the one and despise the other. You cannot serve God and money."
Matthew 6:33
"But seek first the kingdom of God and his righteousness, and all these things will be added to you."
Philippians 4:19
And my God will supply every need of yours according to his riches in glory in Christ Jesus.
Proverbs 11:15
Whoever puts up security for a stranger will surely suffer harm, but he who hates striking hands in pledge is secure.
Proverbs 13:11
Wealth gained hastily will dwindle, but whoever gathers little by little will increase it.
Proverbs 13:22
A good man leaves an inheritance to his children's children, but the sinner's wealth is laid up for the righteous.
Proverbs 17:18
One who lacks sense gives a pledge and puts up security in the presence of his neighbor.
Proverbs 21:20
Precious treasure and oil are in a wise man's dwelling, but a foolish man devours it.
Proverbs 22:26
Be not one of those who give pledges, who put up security for debts.
Proverbs 3:27
Do not withhold good from those to whom it is due, when it is in your power to do it.
Romans 5:8
But God shows his love for us in that while we were still sinners, Christ died for us.
Romans 6:23
For the wages of sin is death, but the free gift of God is eternal life in Christ Jesus our Lord.
More Bible Verses that Will Move You
50 Most Powerful Scriptures on Faith
60 Transcendent Verses on Trust
50 Strong Scriptures on Perseverance
68 Powerful Verses on Forgiveness
40 Uplifting Scriptures on Patience
Add Our Infographic Below to Your Pinterest Board
Hit the pin button below to add our infographic, with all the verses, to one of your Pinterest boards.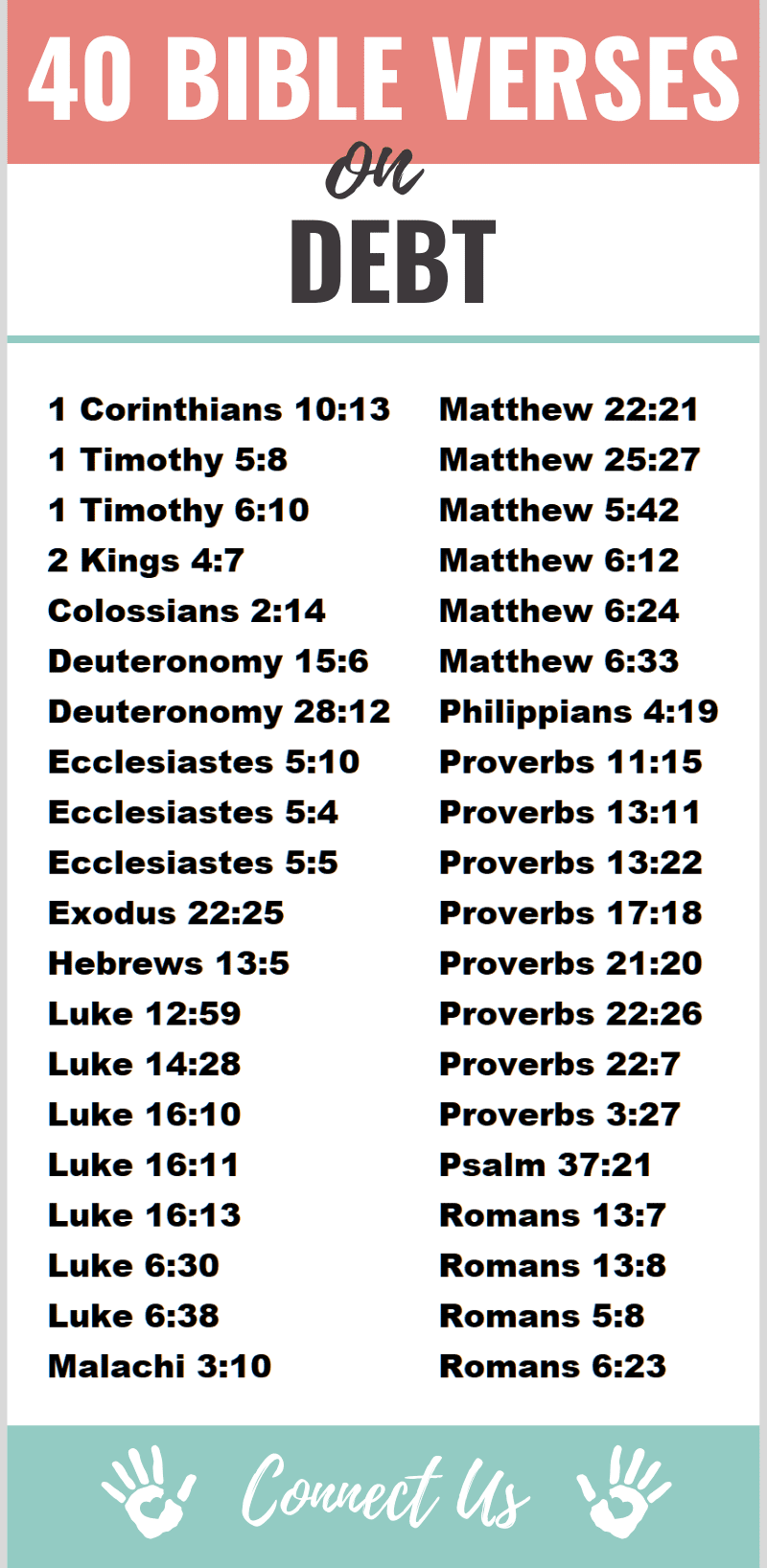 Author Bio
Natalie Regoli is a child of God, devoted wife, and mother of two boys. She has a Master's Degree in Law from The University of Texas. Natalie has been published in several national journals and has been practicing law for 18 years.