Here are the 40 most powerful Bible scriptures on fighting.
Matthew 18:15
"If your brother sins against you, go and tell him his fault, between you and him alone. If he listens to you, you have gained your brother."
Romans 12:17
Repay no one evil for evil, but give thought to do what is honorable in the sight of all.
Proverbs 17:14
The beginning of strife is like letting out water, so quit before the quarrel breaks out.
Psalm 144:1
Of David. Blessed be the Lord, my rock, who trains my hands for war, and my fingers for battle;
1 Thessalonians 5:9
For God has not destined us for wrath, but to obtain salvation through our Lord Jesus Christ,
1 Corinthians 9:26
So I do not run aimlessly; I do not box as one beating the air.
1 John 1:9
If we confess our sins, he is faithful and just to forgive us our sins and to cleanse us from all unrighteousness.
1 John 4:1
Beloved, do not believe every spirit, but test the spirits to see whether they are from God, for many false prophets have gone out into the world.
1 John 5:4
For everyone who has been born of God overcomes the world. And this is the victory that has overcome the world—our faith.
1 Thessalonians 4:17
Then we who are alive, who are left, will be caught up together with them in the clouds to meet the Lord in the air, and so we will always be with the Lord.
1 Timothy 3:3
Not a drunkard, not violent but gentle, not quarrelsome, not a lover of money.
1 Timothy 6:12
Fight the good fight of the faith. Take hold of the eternal life to which you were called and about which you made the good confession in the presence of many witnesses.
2 Peter 3:9
The Lord is not slow to fulfill his promise as some count slowness, but is patient toward you, not wishing that any should perish, but that all should reach repentance.
2 Timothy 4:7
I have fought the good fight, I have finished the race, I have kept the faith.
3 John 1:2
Beloved, I pray that all may go well with you and that you may be in good health, as it goes well with your soul.
Deuteronomy 3:22
You shall not fear them, for it is the Lord your God who fights for you.
Ecclesiastes 3:8
A time to love, and a time to hate; a time for war, and a time for peace.
Ephesians 4:31
Let all bitterness and wrath and anger and clamor and slander be put away from you, along with all malice.
Ephesians 6:12
For we do not wrestle against flesh and blood, but against the rulers, against the authorities, against the cosmic powers over this present darkness, against the spiritual forces of evil in the heavenly places.
Ephesians 6:13
Therefore take up the whole armor of God, that you may be able to withstand in the evil day, and having done all, to stand firm.
Exodus 14:14
The Lord will fight for you, and you have only to be silent.
Galatians 5:15
But if you bite and devour one another, watch out that you are not consumed by one another.
James 1:12
Blessed is the man who remains steadfast under trial, for when he has stood the test he will receive the crown of life, which God has promised to those who love him.
John 18:36
Jesus answered, "My kingdom is not of this world. If my kingdom were of this world, my servants would have been fighting, that I might not be delivered over to the Jews. But my kingdom is not from the world."
Judges 5:8
When new gods were chosen, then war was in the gates. Was shield or spear to be seen among forty thousand in Israel?
Luke 15:7
"Just so, I tell you, there will be more joy in heaven over one sinner who repents than over ninety-nine righteous persons who need no repentance."
Matthew 24:6
"And you will hear of wars and rumors of wars. See that you are not alarmed, for this must take place, but the end is not yet."
Matthew 7:12
"So whatever you wish that others would do to you, do also to them, for this is the Law and the Prophets."
Nehemiah 4:11
And our enemies said, "They will not know or see till we come among them and kill them and stop the work."
Proverbs 11:16
A gracious woman gets honor, and violent men get riches.
Proverbs 28:25
A greedy man stirs up strife, but the one who trusts in the Lord will be enriched.
Psalm 140:2
Who plan evil things in their heart and stir up wars continually.
Revelation 17:8
The beast that you saw was, and is not, and is about to rise from the bottomless pit and go to destruction. And the dwellers on earth whose names have not been written in the book of life from the foundation of the world will marvel to see the beast, because it was and is not and is to come.
Revelation 21:4
"'He will wipe away every tear from their eyes, and death shall be no more, neither shall there be mourning, nor crying, nor pain anymore, for the former things have passed away.'"
Revelation 7:3
Saying, "Do not harm the earth or the sea or the trees, until we have sealed the servants of our God on their foreheads."
Romans 8:28
And we know that for those who love God all things work together for good, for those who are called according to his purpose.
Romans 8:31
What then shall we say to these things? If God is for us, who can be against us?
Romans 8:7
For the mind that is set on the flesh is hostile to God, for it does not submit to God's law; indeed, it cannot.
Titus 3:10
As for a person who stirs up division, after warning him once and then twice, have nothing more to do with him,
Zephaniah 2:8
"I have heard the taunts of Moab and the revilings of the Ammonites, how they have taunted my people and made boasts against their territory."
More Bible Verses that Will Move You
50 Most Powerful Scriptures on Faith
60 Transcendent Verses on Trust
50 Strong Scriptures on Perseverance
68 Powerful Verses on Forgiveness
40 Uplifting Scriptures on Patience
Add Our Infographic Below to Your Pinterest Board
Hit the pin button below to add our infographic, with all the verses, to one of your Pinterest boards.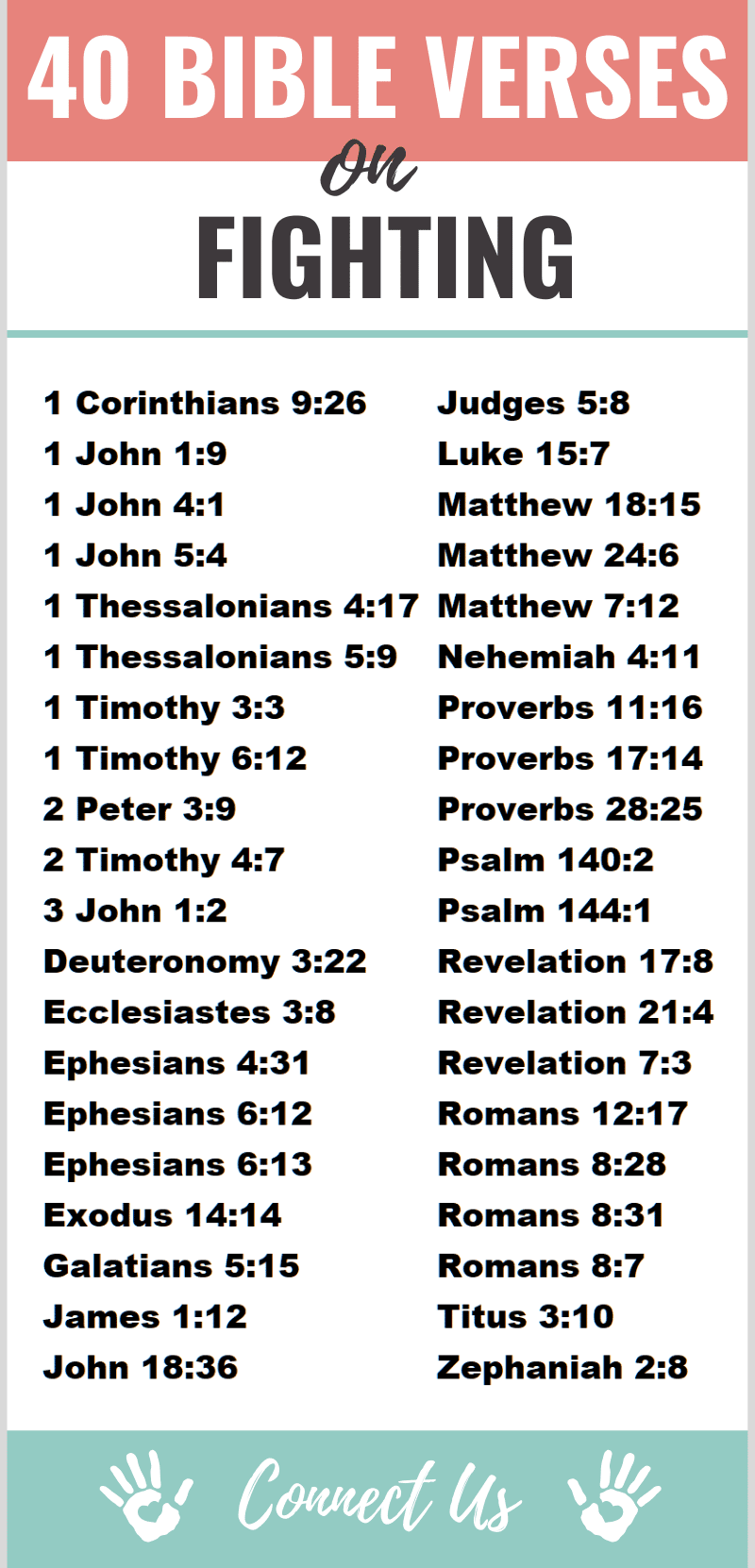 Author Bio
Natalie Regoli is a child of God, devoted wife, and mother of two boys. She has a Master's Degree in Law from The University of Texas. Natalie has been published in several national journals and has been practicing law for 18 years.