The word "commit" occurs 164 times in the Bible. The infographic below identifies the points of each occurrence. This graphic presentation starts with Genesis in the top left and concludes with Revelation in the bottom right.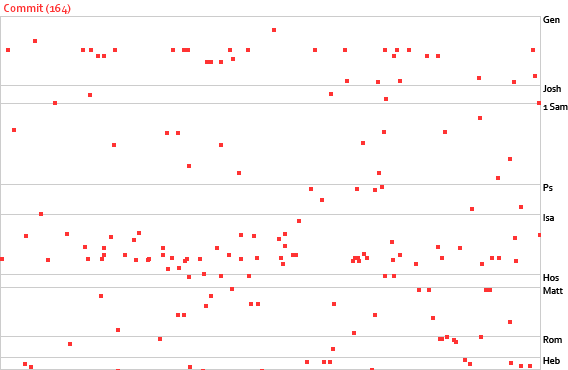 Here are the 40 strongest Bible scriptures on commitment.
Luke 17:32
"Remember Lot's wife."
Psalm 37:5
Commit your way to the Lord; trust in him, and he will act.
Numbers 30:2
If a man vows a vow to the Lord, or swears an oath to bind himself by a pledge, he shall not break his word. He shall do according to all that proceeds out of his mouth.
Proverbs 16:3
Commit your work to the Lord, and your plans will be established.
1 Kings 8:61
Let your heart therefore be wholly true to the Lord our God, walking in his statutes and keeping his commandments, as at this day.
1 John 1:9
If we confess our sins, he is faithful and just to forgive us our sins and to cleanse us from all unrighteousness.
1 John 3:11
For this is the message that you have heard from the beginning, that we should love one another.
1 John 3:16
By this we know love, that he laid down his life for us, and we ought to lay down our lives for the brothers.
1 John 4:20
If anyone says, "I love God," and hates his brother, he is a liar; for he who does not love his brother whom he has seen cannot love God whom he has not seen.
1 John 4:8
Anyone who does not love does not know God, because God is love.
1 John 5:3
For this is the love of God, that we keep his commandments. And his commandments are not burdensome.
1 Peter 2:11
Beloved, I urge you as sojourners and exiles to abstain from the passions of the flesh, which wage war against your soul.
1 Peter 2:24
He himself bore our sins in his body on the tree, that we might die to sin and live to righteousness. By his wounds you have been healed.
1 Peter 2:9
But you are a chosen race, a royal priesthood, a holy nation, a people for his own possession, that you may proclaim the excellencies of him who called you out of darkness into his marvelous light.
2 Chronicles 16:9
For the eyes of the Lord run to and fro throughout the whole earth, to give strong support to those whose heart is blameless toward him. You have done foolishly in this, for from now on you will have wars.
2 Corinthians 5:19
That is, in Christ God was reconciling the world to himself, not counting their trespasses against them, and entrusting to us the message of reconciliation.
2 Timothy 1:12
Which is why I suffer as I do. But I am not ashamed, for I know whom I have believed, and I am convinced that he is able to guard until that Day what has been entrusted to me.
2 Timothy 2:22
So flee youthful passions and pursue righteousness, faith, love, and peace, along with those who call on the Lord from a pure heart.
2 Timothy 4:7
I have fought the good fight, I have finished the race, I have kept the faith.
Acts 2:42
And they devoted themselves to the apostles' teaching and the fellowship, to the breaking of bread and the prayers.
Colossians 3:23
Whatever you do, work heartily, as for the Lord and not for men.
Deuteronomy 27:10
You shall therefore obey the voice of the Lord your God, keeping his commandments and his statutes, which I command you today.
Deuteronomy 6:5
You shall love the Lord your God with all your heart and with all your soul and with all your might.
Deuteronomy 7:9
Know therefore that the Lord your God is God, the faithful God who keeps covenant and steadfast love with those who love him and keep his commandments, to a thousand generations.
Ephesians 2:8
For by grace you have been saved through faith. And this is not your own doing; it is the gift of God.
Ephesians 4:1
I therefore, a prisoner for the Lord, urge you to walk in a manner worthy of the calling to which you have been called.
Exodus 19:8
All the people answered together and said, "All that the Lord has spoken we will do." And Moses reported the words of the people to the Lord.
Galatians 2:20
I have been crucified with Christ. It is no longer I who live, but Christ who lives in me. And the life I now live in the flesh I live by faith in the Son of God, who loved me and gave himself for me.
Galatians 5:22
But the fruit of the Spirit is love, joy, peace, patience, kindness, goodness, faithfulness.
Galatians 6:9
And let us not grow weary of doing good, for in due season we will reap, if we do not give up.
Genesis 2:24
Therefore a man shall leave his father and his mother and hold fast to his wife, and they shall become one flesh.
Hebrews 10:25
Not neglecting to meet together, as is the habit of some, but encouraging one another, and all the more as you see the Day drawing near.
James 5:12
But above all, my brothers, do not swear, either by heaven or by earth or by any other oath, but let your "yes" be yes and your "no" be no, so that you may not fall under condemnation.
John 14:15
"If you love me, you will keep my commandments."
John 15:5
"I am the vine; you are the branches. Whoever abides in me and I in him, he it is that bears much fruit, for apart from me you can do nothing."
John 3:16
For God so loved the world, that he gave his only Son, that whoever believes in him should not perish but have eternal life.
John 8:12
Again Jesus spoke to them, saying, "I am the light of the world. Whoever follows me will not walk in darkness, but will have the light of life."
Jude 1:3
Beloved, although I was very eager to write to you about our common salvation, I found it necessary to write appealing to you to contend for the faith that was once for all delivered to the saints.
Luke 16:13
"No servant can serve two masters, for either he will hate the one and love the other, or he will be devoted to the one and despise the other. You cannot serve God and money."
Luke 23:46
Then Jesus, calling out with a loud voice, said, "Father, into your hands I commit my spirit!" And having said this he breathed his last.
Luke 9:62
Jesus said to him, "No one who puts his hand to the plow and looks back is fit for the kingdom of God."
Matthew 22:37
And he said to him, "You shall love the Lord your God with all your heart and with all your soul and with all your mind."
Matthew 6:33
"But seek first the kingdom of God and his righteousness, and all these things will be added to you."
Philippians 4:7
And the peace of God, which surpasses all understanding, will guard your hearts and your minds in Christ Jesus.
Psalm 31:5
Into your hand I commit my spirit; you have redeemed me, O Lord, faithful God.
Revelation 1:1
The revelation of Jesus Christ, which God gave him to show to his servants the things that must soon take place. He made it known by sending his angel to his servant John.
Romans 12:2
Do not be conformed to this world, but be transformed by the renewal of your mind, that by testing you may discern what is the will of God, what is good and acceptable and perfect.
Romans 5:8
But God shows his love for us in that while we were still sinners, Christ died for us.
Romans 6:13
Do not present your members to sin as instruments for unrighteousness, but present yourselves to God as those who have been brought from death to life, and your members to God as instruments for righteousness.
Romans 6:17
But thanks be to God, that you who were once slaves of sin have become obedient from the heart to the standard of teaching to which you were committed.
More Bible Verses that Will Move You
50 Most Powerful Scriptures on Faith
60 Transcendent Verses on Trust
50 Strong Scriptures on Perseverance
68 Powerful Verses on Forgiveness
40 Uplifting Scriptures on Patience
Add Our Infographic Below to Your Pinterest Board
Hit the pin button below to add our infographic, with all the verses, to one of your Pinterest boards.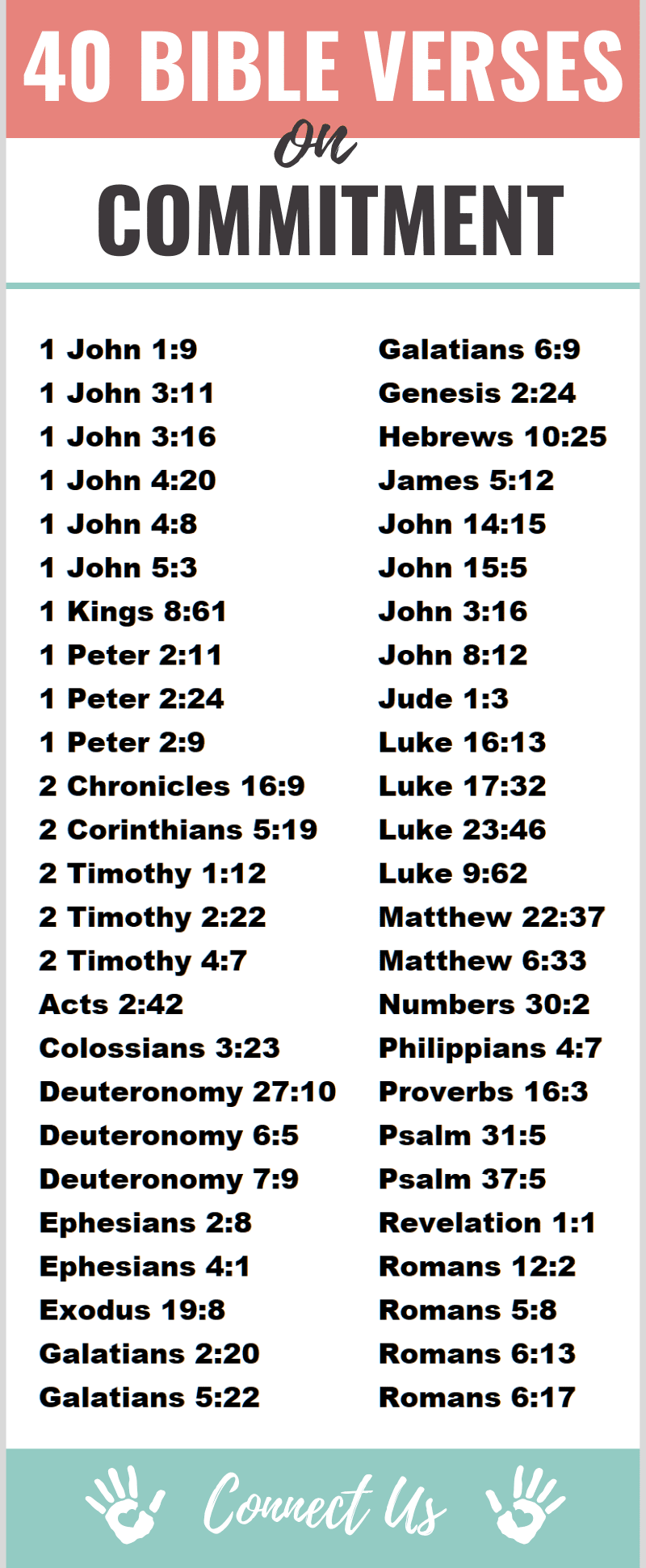 Author Bio
Natalie Regoli is a child of God, devoted wife, and mother of two boys. She has a Master's Degree in Law from The University of Texas. Natalie has been published in several national journals and has been practicing law for 18 years.