Here are the 40 most transcendent Bible scriptures on courage.
Joshua 1:9
"Have I not commanded you? Be strong and courageous. Do not be frightened, and do not be dismayed, for the Lord your God is with you wherever you go."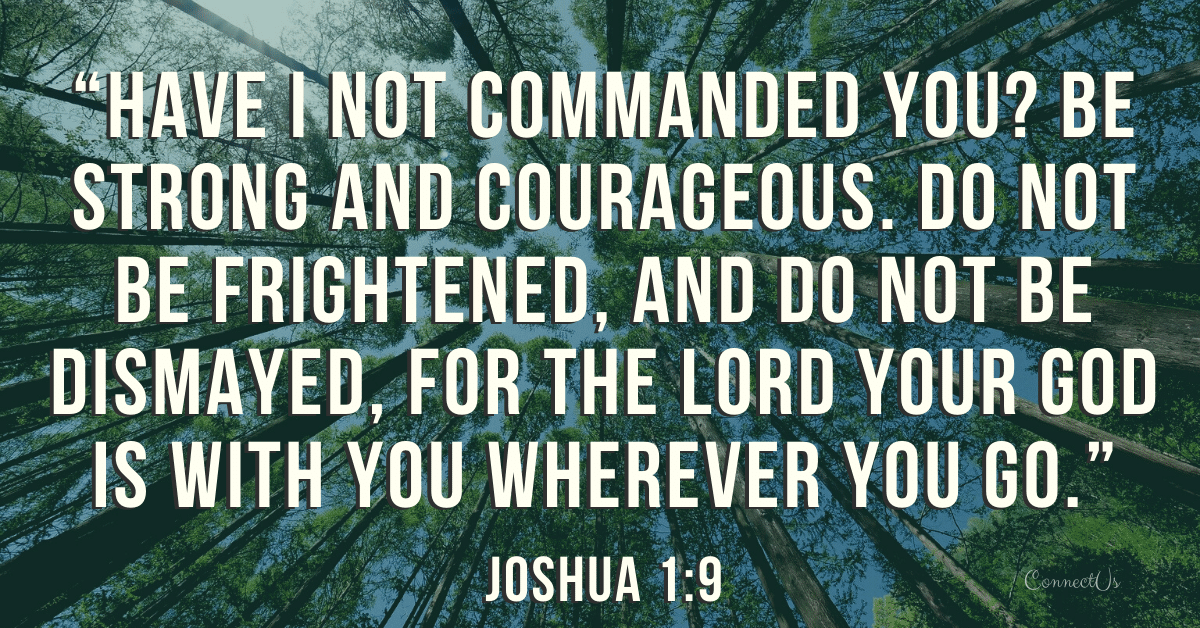 Deuteronomy 31:6
Be strong and courageous. Do not fear or be in dread of them, for it is the Lord your God who goes with you. He will not leave you or forsake you.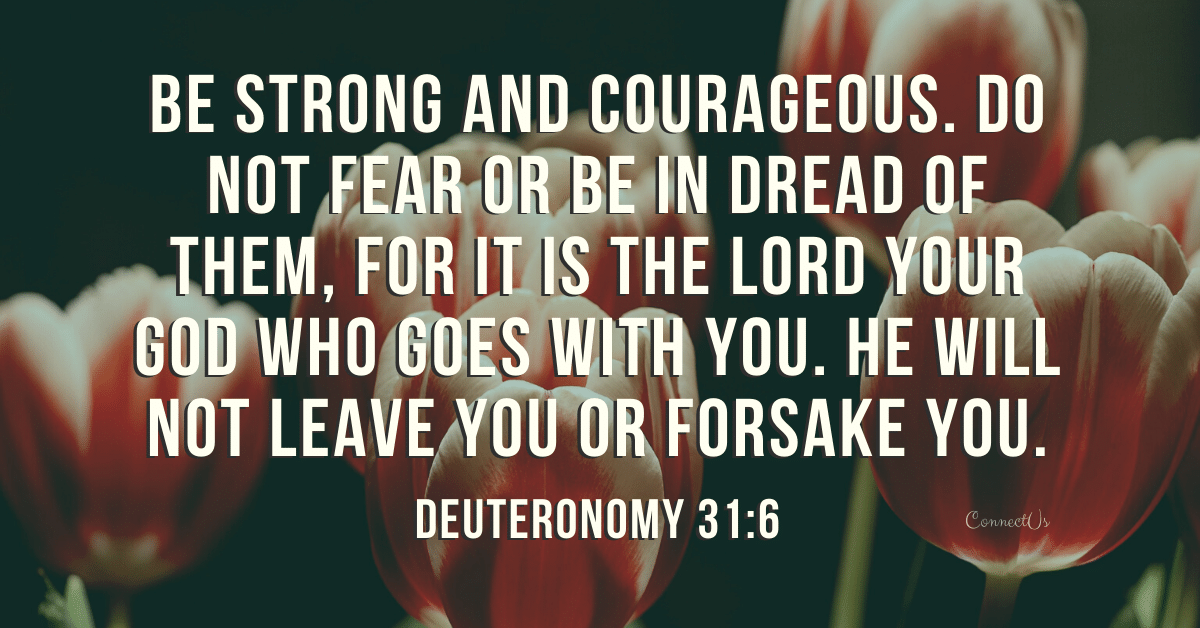 2 Timothy 1:7
For God gave us a spirit not of fear but of power and love and self-control.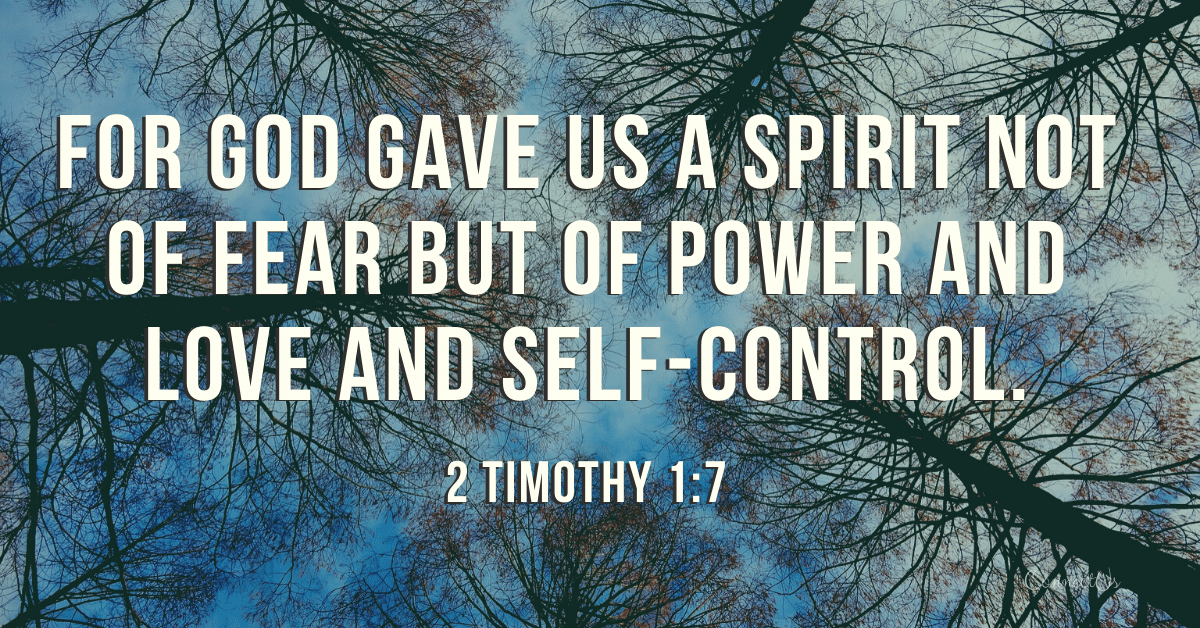 1 Corinthians 16:13
Be watchful, stand firm in the faith, act like men, be strong.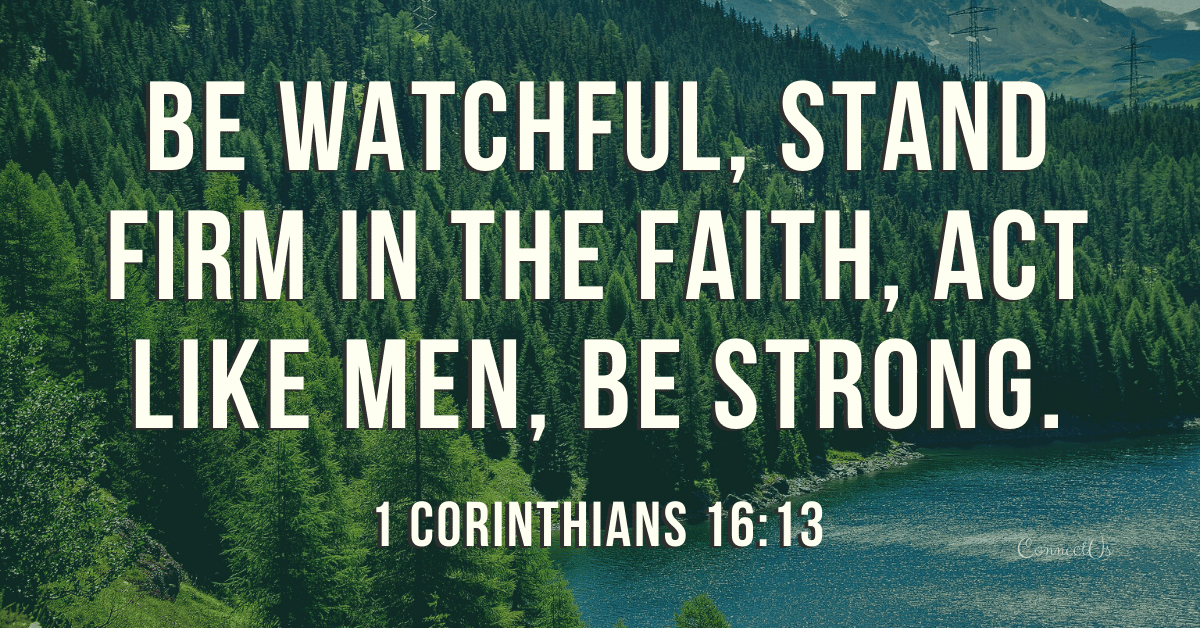 Psalm 27:14
Wait for the Lord; be strong, and let your heart take courage; wait for the Lord!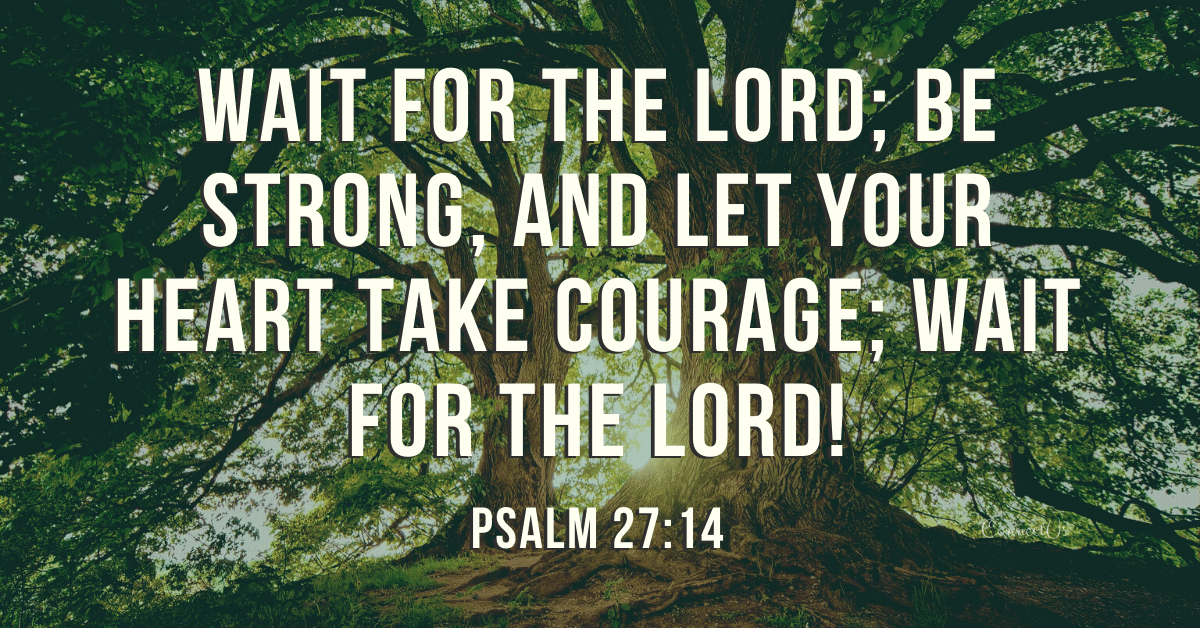 1 Chronicles 16:11
Seek the Lord and his strength; seek his presence continually!
1 Chronicles 22:13
Then you will prosper if you are careful to observe the statutes and the rules that the Lord commanded Moses for Israel. Be strong and courageous. Fear not; do not be dismayed.
1 Chronicles 28:20
Then David said to Solomon his son, "Be strong and courageous and do it. Do not be afraid and do not be dismayed, for the Lord God, even my God, is with you. He will not leave you or forsake you, until all the work for the service of the house of the Lord is finished."
1 Corinthians 10:13
No temptation has overtaken you that is not common to man. God is faithful, and he will not let you be tempted beyond your ability, but with the temptation he will also provide the way of escape, that you may be able to endure it.
1 Corinthians 15:58
Therefore, my beloved brothers, be steadfast, immovable, always abounding in the work of the Lord, knowing that in the Lord your labor is not in vain.
1 John 4:18
There is no fear in love, but perfect love casts out fear. For fear has to do with punishment, and whoever fears has not been perfected in love.
1 Kings 2:2
I am about to go the way of all the earth. Be strong, and show yourself a man.
2 Chronicles 32:7
Be strong and courageous. Do not be afraid or dismayed before the king of Assyria and all the horde that is with him, for there are more with us than with him.
2 Chronicles 32:8
With him is an arm of flesh, but with us is the Lord our God, to help us and to fight our battles. And the people took confidence from the words of Hezekiah king of Judah.
2 Corinthians 5:8
Yes, we are of good courage, and we would rather be away from the body and at home with the Lord.
2 Samuel 10:12
Be of good courage, and let us be courageous for our people, and for the cities of our God, and may the Lord do what seems good to him.
Acts 4:13
Now when they saw the boldness of Peter and John, and perceived that they were uneducated, common men, they were astonished. And they recognized that they had been with Jesus.
Acts 4:20
For we cannot but speak of what we have seen and heard.
Deuteronomy 31:23
And the Lord commissioned Joshua the son of Nun and said, "Be strong and courageous, for you shall bring the people of Israel into the land that I swore to give them. I will be with you."
Ephesians 6:10
Finally, be strong in the Lord and in the strength of his might.
Ezra 10:4
"Arise, for it is your task, and we are with you; be strong and do it."
Galatians 6:9
And let us not grow weary of doing good, for in due season we will reap, if we do not give up.
Hebrews 13:5
Keep your life free from love of money, and be content with what you have, for he has said, "I will never leave you nor forsake you."
Hebrews 13:6
So we can confidently say, "The Lord is my helper; I will not fear; what can man do to me?"
Isaiah 12:2
Behold, God is my salvation; I will trust, and will not be afraid; for the Lord God is my strength and my song, and he has become my salvation.
Isaiah 41:10
Fear not, for I am with you; be not dismayed, for I am your God; I will strengthen you, I will help you, I will uphold you with my righteous right hand.
Isaiah 54:4
Fear not, for you will not be ashamed; be not confounded, for you will not be disgraced; for you will forget the shame of your youth, and the reproach of your widowhood you will remember no more.
Jeremiah 29:11
"For I know the plans I have for you, declares the Lord, plans for welfare and not for evil, to give you a future and a hope."
John 14:27
"Peace I leave with you; my peace I give to you. Not as the world gives do I give to you. Let not your hearts be troubled, neither let them be afraid."
John 16:33
"I have said these things to you, that in me you may have peace. In the world you will have tribulation. But take heart; I have overcome the world."
Joshua 1:18
Whoever rebels against your commandment and disobeys your words, whatever you command him, shall be put to death. Only be strong and courageous.
Joshua 1:6
"Be strong and courageous, for you shall cause this people to inherit the land that I swore to their fathers to give them."
Joshua 10:25
And Joshua said to them, "Do not be afraid or dismayed; be strong and courageous. For thus the Lord will do to all your enemies against whom you fight."
Luke 12:4
"I tell you, my friends, do not fear those who kill the body, and after that have nothing more that they can do."
Mark 5:36
But overhearing what they said, Jesus said to the ruler of the synagogue, "Do not fear, only believe."
Matthew 10:28
"And do not fear those who kill the body but cannot kill the soul. Rather fear him who can destroy both soul and body in hell."
Matthew 14:29
He said, "Come." So Peter got out of the boat and walked on the water and came to Jesus.
Matthew 17:20
He said to them, "Because of your little faith. For truly, I say to you, if you have faith like a grain of mustard seed, you will say to this mountain, 'Move from here to there,' and it will move, and nothing will be impossible for you."
Numbers 13:30
But Caleb quieted the people before Moses and said, "Let us go up at once and occupy it, for we are well able to overcome it."
Philippians 1:27
Only let your manner of life be worthy of the gospel of Christ, so that whether I come and see you or am absent, I may hear of you that you are standing firm in one spirit, with one mind striving side by side for the faith of the gospel.
More Bible Verses that Will Move You
50 Most Powerful Scriptures on Faith
60 Transcendent Verses on Trust
50 Strong Scriptures on Perseverance
68 Powerful Verses on Forgiveness
40 Uplifting Scriptures on Patience
Add Our Infographic Below to Your Pinterest Board
Hit the pin button below to add our infographic, with all the verses, to one of your Pinterest boards.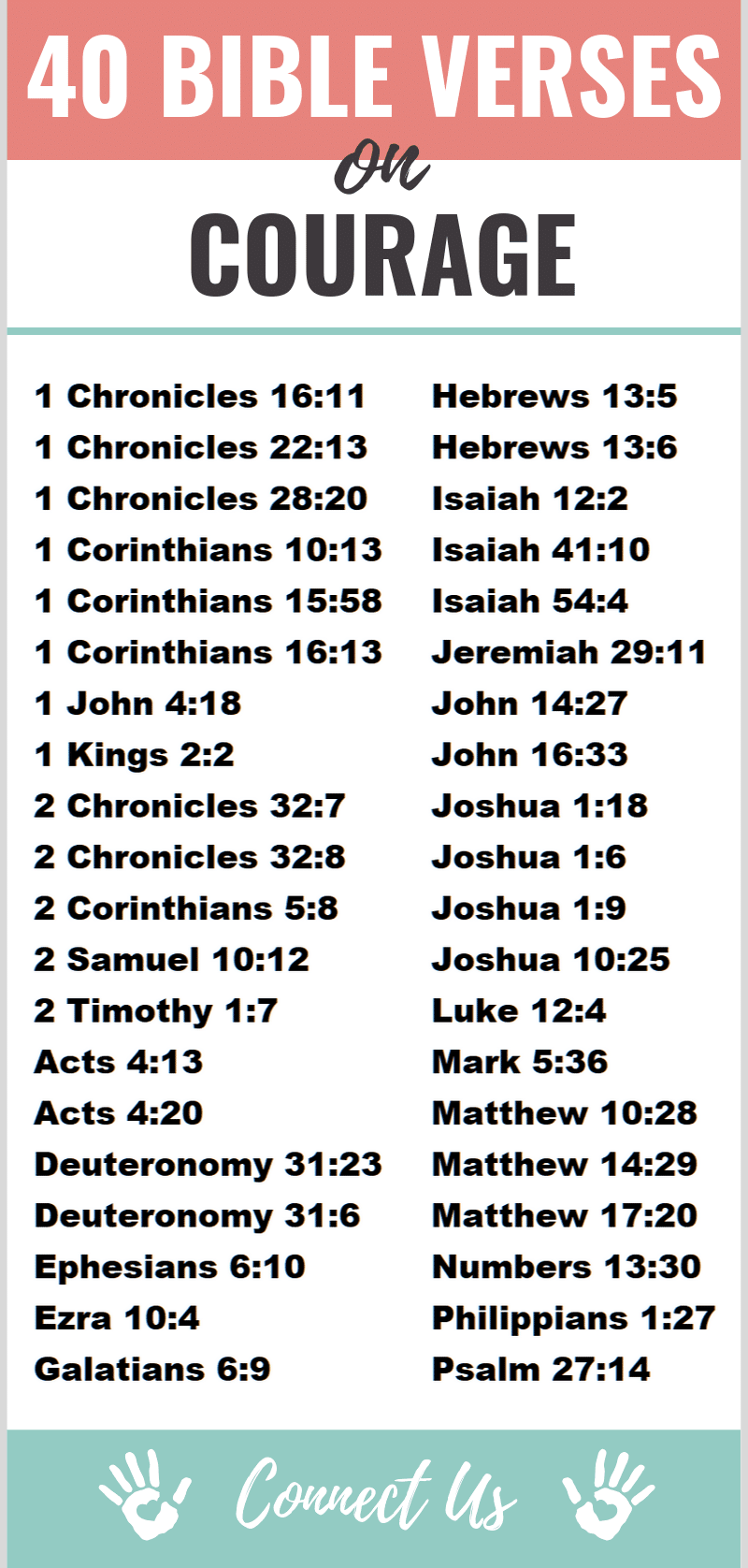 Author Bio
Natalie Regoli is a child of God, devoted wife, and mother of two boys. She has a Master's Degree in Law from The University of Texas. Natalie has been published in several national journals and has been practicing law for 18 years.