The word "eternal" appears 76 times throughout the books of the Bible. The graph below shows the locations of each appearance. It begins with Genesis in the top left and concludes with Revelation in the bottom right.
Here are the 40 most transcendent Bible scriptures on eternal life.
John 3:16
For God so loved the world, that he gave his only Son, that whoever believes in him should not perish but have eternal life.
Romans 6:23
For the wages of sin is death, but the free gift of God is eternal life in Christ Jesus our Lord.
John 17:3
"And this is eternal life, that they know you the only true God, and Jesus Christ whom you have sent."
Matthew 25:46
"And these will go away into eternal punishment, but the righteous into eternal life."
Romans 10:13
For "everyone who calls on the name of the Lord will be saved."
1 John 1:9
If we confess our sins, he is faithful and just to forgive us our sins and to cleanse us from all unrighteousness.
1 John 2:25
And this is the promise that he made to us—eternal life.
1 John 2:27
But the anointing that you received from him abides in you, and you have no need that anyone should teach you. But as his anointing teaches you about everything, and is true, and is no lie—just as it has taught you, abide in him.
1 John 5:11
And this is the testimony, that God gave us eternal life, and this life is in his Son.
1 John 5:13
I write these things to you who believe in the name of the Son of God that you may know that you have eternal life.
1 John 5:20
And we know that the Son of God has come and has given us understanding, so that we may know him who is true; and we are in him who is true, in his Son Jesus Christ. He is the true God and eternal life.
1 Timothy 1:16
But I received mercy for this reason, that in me, as the foremost, Jesus Christ might display his perfect patience as an example to those who were to believe in him for eternal life.
1 Timothy 6:12
Fight the good fight of the faith. Take hold of the eternal life to which you were called and about which you made the good confession in the presence of many witnesses.
2 Peter 3:9
The Lord is not slow to fulfill his promise as some count slowness, but is patient toward you, not wishing that any should perish, but that all should reach repentance.
2 Thessalonians 1:9
They will suffer the punishment of eternal destruction, away from the presence of the Lord and from the glory of his might.
Acts 2:27
For you will not abandon my soul to Hades, or let your Holy One see corruption.
Acts 24:15
Having a hope in God, which these men themselves accept, that there will be a resurrection of both the just and the unjust.
Acts 4:12
And there is salvation in no one else, for there is no other name under heaven given among men by which we must be saved."
Hebrews 9:27
And just as it is appointed for man to die once, and after that comes judgment.
John 1:12
"But to all who did receive him, who believed in his name, he gave the right to become children of God."
John 10:10
"The thief comes only to steal and kill and destroy. I came that they may have life and have it abundantly."
John 14:23
Jesus answered him, "If anyone loves me, he will keep my word, and my Father will love him, and we will come to him and make our home with him."
John 14:6
Jesus said to him, "I am the way, and the truth, and the life. No one comes to the Father except through me."
John 3:36
"Whoever believes in the Son has eternal life; whoever does not obey the Son shall not see life, but the wrath of God remains on him."
John 4:14
"But whoever drinks of the water that I will give him will never be thirsty again. The water that I will give him will become in him a spring of water welling up to eternal life."
John 5:24
"Truly, truly, I say to you, whoever hears my word and believes him who sent me has eternal life. He does not come into judgment, but has passed from death to life."
John 6:27
"Do not labor for the food that perishes, but for the food that endures to eternal life, which the Son of Man will give to you. For on him God the Father has set his seal."
John 6:40
"For this is the will of my Father, that everyone who looks on the Son and believes in him should have eternal life, and I will raise him up on the last day."
John 6:47
"Truly, truly, I say to you, whoever believes has eternal life."
John 8:44
"You are of your father the devil, and your will is to do your father's desires. He was a murderer from the beginning, and has nothing to do with the truth, because there is no truth in him. When he lies, he speaks out of his own character, for he is a liar and the father of lies."
Luke 23:43
And he said to him, "Truly, I say to you, today you will be with me in Paradise."
Matthew 10:28
"And do not fear those who kill the body but cannot kill the soul. Rather fear him who can destroy both soul and body in hell."
Matthew 6:24
"No one can serve two masters, for either he will hate the one and love the other, or he will be devoted to the one and despise the other. You cannot serve God and money."
Philippians 3:21
Who will transform our lowly body to be like his glorious body, by the power that enables him even to subject all things to himself.
Proverbs 3:6
In all your ways acknowledge him, and he will make straight your paths.
Psalm 49:15
But God will ransom my soul from the power of Sheol, for he will receive me. Selah.
Revelation 2:11
"He who has an ear, let him hear what the Spirit says to the churches. The one who conquers will not be hurt by the second death."
Revelation 20:6
Blessed and holy is the one who shares in the first resurrection! Over such the second death has no power, but they will be priests of God and of Christ, and they will reign with him for a thousand years.
Revelation 21:8
"But as for the cowardly, the faithless, the detestable, as for murderers, the sexually immoral, sorcerers, idolaters, and all liars, their portion will be in the lake that burns with fire and sulfur, which is the second death."
Romans 5:21
So that, as sin reigned in death, grace also might reign through righteousness leading to eternal life through Jesus Christ our Lord.
More Bible Verses that Will Move You
50 Most Powerful Scriptures on Faith
60 Transcendent Verses on Trust
50 Strong Scriptures on Perseverance
68 Powerful Verses on Forgiveness
40 Uplifting Scriptures on Patience
Add Our Infographic Below to Your Pinterest Board
Hit the pin button below to add our infographic, with all the verses, to one of your Pinterest boards.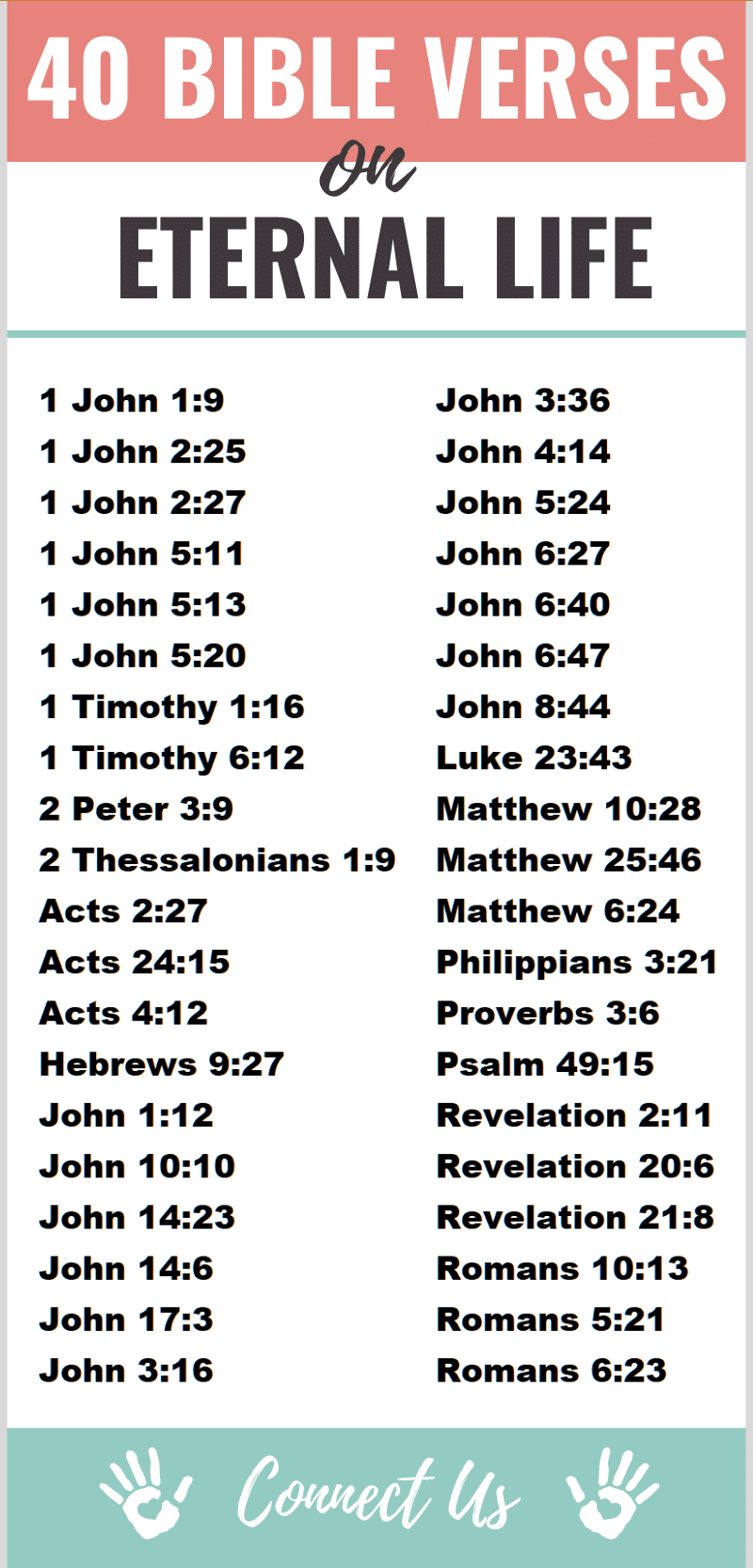 Author Bio
Natalie Regoli is a child of God, devoted wife, and mother of two boys. She has a Master's Degree in Law from The University of Texas. Natalie has been published in several national journals and has been practicing law for 18 years.