Here are the 40 most transcendent Bible scriptures on God's provision.
Philippians 4:19
And my God will supply every need of yours according to his riches in glory in Christ Jesus.
2 Corinthians 9:8
And God is able to make all grace abound to you, so that having all sufficiency in all things at all times, you may abound in every good work.
Matthew 7:11
"If you then, who are evil, know how to give good gifts to your children, how much more will your Father who is in heaven give good things to those who ask him!"
Psalm 34:10
The young lions suffer want and hunger; but those who seek the Lord lack no good thing.
Psalm 37:25
I have been young, and now am old, yet I have not seen the righteous forsaken or his children begging for bread.
1 John 1:9
If we confess our sins, he is faithful and just to forgive us our sins and to cleanse us from all unrighteousness.
1 Timothy 5:8
But if anyone does not provide for his relatives, and especially for members of his household, he has denied the faith and is worse than an unbeliever.
2 Peter 1:3
His divine power has granted to us all things that pertain to life and godliness, through the knowledge of him who called us to his own glory and excellence.
3 John 1:2
Beloved, I pray that all may go well with you and that you may be in good health, as it goes well with your soul.
Deuteronomy 11:14
He will give the rain for your land in its season, the early rain and the later rain, that you may gather in your grain and your wine and your oil.
Deuteronomy 28:12
The Lord will open to you his good treasury, the heavens, to give the rain to your land in its season and to bless all the work of your hands. And you shall lend to many nations, but you shall not borrow.
Exodus 14:22
And the people of Israel went into the midst of the sea on dry ground, the waters being a wall to them on their right hand and on their left.
Genesis 3:21
And the Lord God made for Adam and for his wife garments of skins and clothed them.
Genesis 9:3
"Every moving thing that lives shall be food for you. And as I gave you the green plants, I give you everything."
Hebrews 13:5
Keep your life free from love of money, and be content with what you have, for he has said, "I will never leave you nor forsake you."
Jeremiah 29:11
"For I know the plans I have for you," declares the Lord, "plans for welfare and not for evil, to give you a future and a hope."
Job 38:41
Who provides for the raven its prey, when its young ones cry to God for help, and wander about for lack of food?
John 10:10
"The thief comes only to steal and kill and destroy. I came that they may have life and have it abundantly."
John 21:6
He said to them, "Cast the net on the right side of the boat, and you will find some." So they cast it, and now they were not able to haul it in, because of the quantity of fish.
Luke 12:24
"Consider the ravens: they neither sow nor reap, they have neither storehouse nor barn, and yet God feeds them. Of how much more value are you than the birds!"
Luke 12:7
"Why, even the hairs of your head are all numbered. Fear not; you are of more value than many sparrows."
Luke 6:38
"Give, and it will be given to you. Good measure, pressed down, shaken together, running over, will be put into your lap. For with the measure you use it will be measured back to you."
Malachi 3:10
"Bring the full tithe into the storehouse, that there may be food in my house. And thereby put me to the test, says the Lord of hosts, if I will not open the windows of heaven for you and pour down for you a blessing until there is no more need."
Matthew 11:28
"Come to me, all who labor and are heavy laden, and I will give you rest."
Matthew 21:22
"And whatever you ask in prayer, you will receive, if you have faith."
Matthew 6:26
"Look at the birds of the air: they neither sow nor reap nor gather into barns, and yet your heavenly Father feeds them. Are you not of more value than they?"
Matthew 6:33
"But seek first the kingdom of God and his righteousness, and all these things will be added to you."
Matthew 7:7
"Ask, and it will be given to you; seek, and you will find; knock, and it will be opened to you."
Nehemiah 6:9
For they all wanted to frighten us, thinking, "Their hands will drop from the work, and it will not be done." But now, O God, strengthen my hands.
Philippians 1:6
And I am sure of this, that he who began a good work in you will bring it to completion at the day of Jesus Christ.
Philippians 4:6
Do not be anxious about anything, but in everything by prayer and supplication with thanksgiving let your requests be made known to God.
Proverbs 10:22
The blessing of the Lord makes rich, and he adds no sorrow with it.
Proverbs 3:5
Trust in the Lord with all your heart, and do not lean on your own understanding.
Psalm 111:5
He provides food for those who fear him; he remembers his covenant forever.
Psalm 132:15
I will abundantly bless her provisions; I will satisfy her poor with bread.
Psalm 23:1
A Psalm of David. The Lord is my shepherd; I shall not want.
Psalm 46:1
To the choirmaster. Of the Sons of Korah. According to Alamoth. A Song. God is our refuge and strength, a very present help in trouble.
Psalm 65:9
You visit the earth and water it; you greatly enrich it; the river of God is full of water; you provide their grain, for so you have prepared it.
Psalm 81:10
I am the Lord your God, who brought you up out of the land of Egypt. Open your mouth wide, and I will fill it.
Romans 8:32
He who did not spare his own Son but gave him up for us all, how will he not also with him graciously give us all things?
More Bible Verses that Will Move You
50 Most Powerful Scriptures on Faith
60 Transcendent Verses on Trust
50 Strong Scriptures on Perseverance
68 Powerful Verses on Forgiveness
40 Uplifting Scriptures on Patience
Add Our Infographic Below to Your Pinterest Board
Hit the pin button below to add our infographic, with all the verses, to one of your Pinterest boards.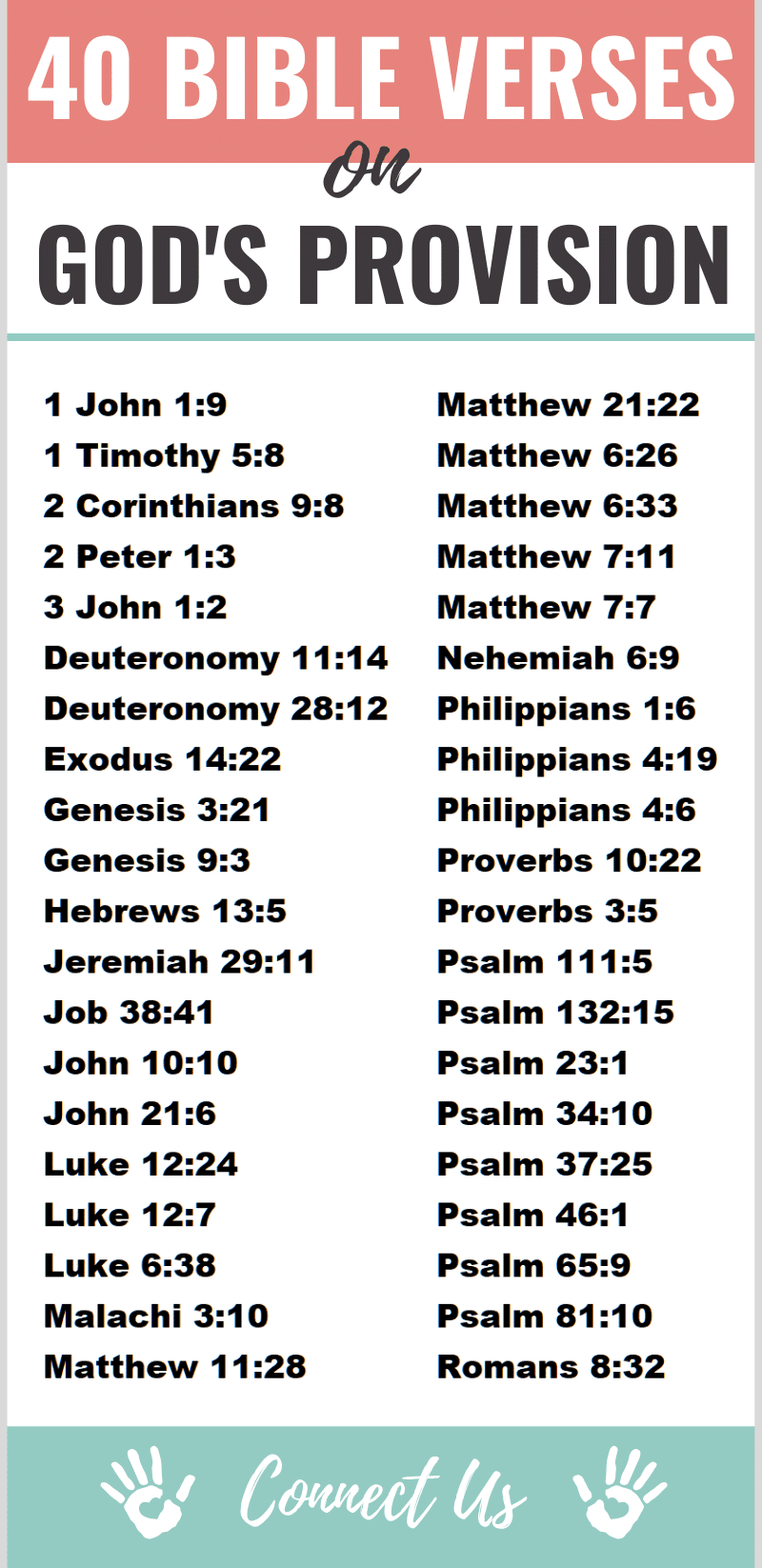 Author Bio
Natalie Regoli is a child of God, devoted wife, and mother of two boys. She has a Master's Degree in Law from The University of Texas. Natalie has been published in several national journals and has been practicing law for 18 years.