Here are the 40 most transcendent Bible scriptures on safety and protection.
Psalm 4:8
In peace I will both lie down and sleep; for you alone, O Lord, make me dwell in safety.
Proverbs 18:10
The name of the Lord is a strong tower; the righteous man runs into it and is safe.
Psalm 91:14
Because he holds fast to me in love, I will deliver him; I will protect him, because he knows my name.
Psalm 91:2
I will say to the Lord, "My refuge and my fortress, my God, in whom I trust."
Psalm 91:1
He who dwells in the shelter of the Most High will abide in the shadow of the Almighty.
1 Peter 5:7
Casting all your anxieties on him, because he cares for you.
2 Thessalonians 3:3
But the Lord is faithful. He will establish you and guard you against the evil one.
2 Timothy 1:7
For God gave us a spirit not of fear but of power and love and self-control.
Daniel 6:22
My God sent his angel and shut the lions' mouths, and they have not harmed me, because I was found blameless before him; and also before you, O king, I have done no harm."
Isaiah 26:4
Trust in the Lord forever, for the Lord God is an everlasting rock.
Isaiah 41:10
"Fear not, for I am with you; be not dismayed, for I am your God; I will strengthen you, I will help you, I will uphold you with my righteous right hand."
Isaiah 54:17
"No weapon that is fashioned against you shall succeed, and you shall confute every tongue that rises against you in judgment. This is the heritage of the servants of the Lord and their vindication from me," declares the Lord.
James 5:16
Therefore, confess your sins to one another and pray for one another, that you may be healed. The prayer of a righteous person has great power as it is working.
John 14:27
"Peace I leave with you; my peace I give to you. Not as the world gives do I give to you. Let not your hearts be troubled, neither let them be afraid."
John 3:16
For God so loved the world, that he gave his only Son, that whoever believes in him should not perish but have eternal life.
Joshua 1:9
"Have I not commanded you? Be strong and courageous. Do not be frightened, and do not be dismayed, for the Lord your God is with you wherever you go."
Luke 21:18
"But not a hair of your head will perish."
Proverbs 1:33
"But whoever listens to me will dwell secure and will be at ease, without dread of disaster."
Proverbs 3:23
Then you will walk on your way securely, and your foot will not stumble.
Proverbs 3:24
If you lie down, you will not be afraid; when you lie down, your sleep will be sweet.
Proverbs 3:26
For the Lord will be your confidence and will keep your foot from being caught.
Psalm 112:7
He is not afraid of bad news; his heart is firm, trusting in the Lord.
Psalm 121:8
The Lord will keep your going out and your coming in from this time forth and forevermore.
Psalm 18:2
The Lord is my rock and my fortress and my deliverer, my God, my rock, in whom I take refuge, my shield, and the horn of my salvation, my stronghold.
Psalm 18:30
This God—his way is perfect; the word of the Lord proves true; he is a shield for all those who take refuge in him.
Psalm 27:1
Of David. The Lord is my light and my salvation; whom shall I fear? The Lord is the stronghold of my life; of whom shall I be afraid?
Psalm 3:5
I lay down and slept; I woke again, for the Lord sustained me.
Psalm 34:7
The angel of the Lord encamps around those who fear him, and delivers them.
Psalm 46:1
To the choirmaster. Of the Sons of Korah. According to Alamoth. A Song. God is our refuge and strength, a very present help in trouble.
Psalm 5:11
But let all who take refuge in you rejoice; let them ever sing for joy, and spread your protection over them, that those who love your name may exult in you.
Psalm 56:3
When I am afraid, I put my trust in you.
Psalm 57:1
To the choirmaster: according to Do Not Destroy. A Miktam of David, when he fled from Saul, in the cave. Be merciful to me, O God, be merciful to me, for in you my soul takes refuge; in the shadow of your wings I will take refuge, till the storms of destruction pass by.
Psalm 91:10
No evil shall be allowed to befall you, no plague come near your tent.
Psalm 91:15
When he calls to me, I will answer him; I will be with him in trouble; I will rescue him and honor him.
Psalm 91:4
He will cover you with his pinions, and under his wings you will find refuge; his faithfulness is a shield and buckler.
Psalm 91:5
You will not fear the terror of the night, nor the arrow that flies by day.
Psalm 91:7
A thousand may fall at your side, ten thousand at your right hand, but it will not come near you.
Psalm 91:9
Because you have made the Lord your dwelling place— the Most High, who is my refuge.
Romans 3:23
For all have sinned and fall short of the glory of God.
Romans 8:28
And we know that for those who love God all things work together for good, for those who are called according to his purpose.
More Bible Verses that Will Move You
50 Most Powerful Scriptures on Faith
60 Transcendent Verses on Trust
50 Strong Scriptures on Perseverance
68 Powerful Verses on Forgiveness
40 Uplifting Scriptures on Patience
Add Our Infographic Below to Your Pinterest Board
Hit the pin button below to add our infographic, with all the verses, to one of your Pinterest boards.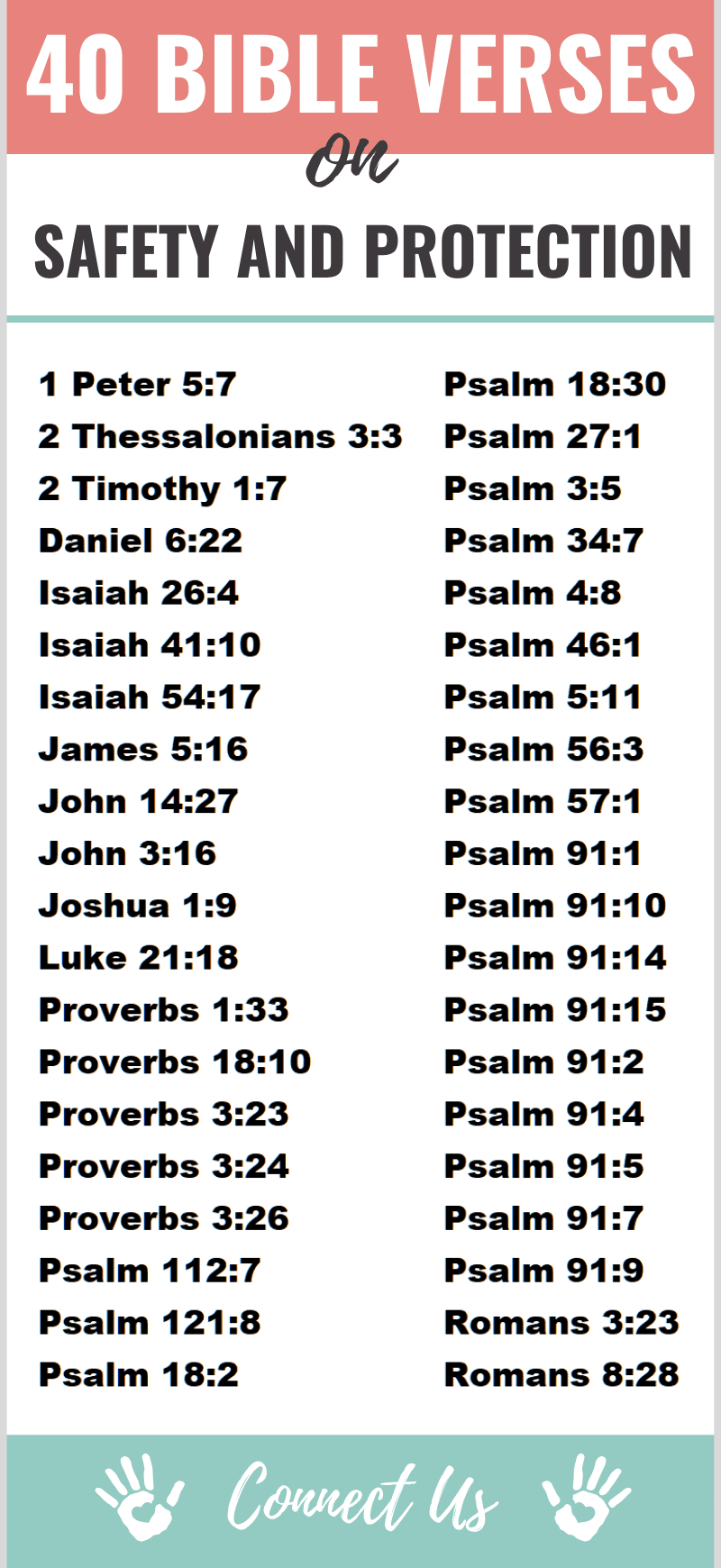 Author Bio
Natalie Regoli is a child of God, devoted wife, and mother of two boys. She has a Masters Degree in Law from The University of Texas. Natalie has been published in several national journals and has been practicing law for 18 years. If you would like to reach out to contact Natalie, then go here to
send her a message
.