Here are the 40 most uplifting Bible scriptures on God's goodness.
Psalm 34:8
Oh, taste and see that the Lord is good! Blessed is the man who takes refuge in him!
Romans 8:28
And we know that for those who love God all things work together for good, for those who are called according to his purpose.
Romans 2:4
Or do you presume on the riches of his kindness and forbearance and patience, not knowing that God's kindness is meant to lead you to repentance?
Psalm 31:19
Oh, how abundant is your goodness, which you have stored up for those who fear you and worked for those who take refuge in you, in the sight of the children of mankind!
Exodus 33:19
And he said, "I will make all my goodness pass before you and will proclaim before you my name 'The Lord.' And I will be gracious to whom I will be gracious, and will show mercy on whom I will show mercy."
1 Chronicles 16:34
Oh give thanks to the Lord, for he is good; for his steadfast love endures forever!
1 John 1:9
If we confess our sins, he is faithful and just to forgive us our sins and to cleanse us from all unrighteousness.
1 Peter 2:3
If indeed you have tasted that the Lord is good.
1 Timothy 4:4
For everything created by God is good, and nothing is to be rejected if it is received with thanksgiving.
2 Timothy 3:16
All Scripture is breathed out by God and profitable for teaching, for reproof, for correction, and for training in righteousness.
Acts 10:38
How God anointed Jesus of Nazareth with the Holy Spirit and with power. He went about doing good and healing all who were oppressed by the devil, for God was with him.
Ephesians 5:9
For the fruit of light is found in all that is good and right and true.
Exodus 34:6
The Lord passed before him and proclaimed, "The Lord, the Lord, a God merciful and gracious, slow to anger, and abounding in steadfast love and faithfulness."
Galatians 5:22
But the fruit of the Spirit is love, joy, peace, patience, kindness, goodness, faithfulness.
Galatians 6:10
So then, as we have opportunity, let us do good to everyone, and especially to those who are of the household of faith.
Genesis 1:10
God called the dry land Earth, and the waters that were gathered together he called Seas. And God saw that it was good.
Genesis 1:31
And God saw everything that he had made, and behold, it was very good. And there was evening and there was morning, the sixth day.
Genesis 1:4
And God saw that the light was good. And God separated the light from the darkness.
Hosea 3:5
Afterward the children of Israel shall return and seek the Lord their God, and David their king, and they shall come in fear to the Lord and to his goodness in the latter days.
James 1:17
Every good gift and every perfect gift is from above, coming down from the Father of lights with whom there is no variation or shadow due to change.
Jeremiah 29:11
"For I know the plans I have for you," declares the Lord, "plans for welfare and not for evil, to give you a future and a hope."
John 3:16
For God so loved the world, that he gave his only Son, that whoever believes in him should not perish but have eternal life.
Mark 10:18
And Jesus said to him, "Why do you call me good? No one is good except God alone."
Matthew 7:11
"If you then, who are evil, know how to give good gifts to your children, how much more will your Father who is in heaven give good things to those who ask him!"
Micah 6:8
He has told you, O man, what is good; and what does the Lord require of you but to do justice, and to love kindness, and to walk humbly with your God?
Nahum 1:7
The Lord is good, a stronghold in the day of trouble; he knows those who take refuge in him.
Philippians 4:13
I can do all things through him who strengthens me.
Psalm 106:1
Praise the Lord! Oh give thanks to the Lord, for he is good, for his steadfast love endures forever!
Psalm 107:1
Oh give thanks to the Lord, for he is good, for his steadfast love endures forever!
Psalm 119:68
You are good and do good; teach me your statutes.
Psalm 145:9
The Lord is good to all, and his mercy is over all that he has made.
Psalm 23:6
Surely goodness and mercy shall follow me all the days of my life, and I shall dwell in the house of the Lord forever.
Psalm 27:13
I believe that I shall look upon the goodness of the Lord in the land of the living!
Psalm 52:1
To the choirmaster. A Maskil of David, when Doeg, the Edomite, came and told Saul, "David has come to the house of Ahimelech." Why do you boast of evil, O mighty man? The steadfast love of God endures all the day.
Psalm 65:4
Blessed is the one you choose and bring near, to dwell in your courts! We shall be satisfied with the goodness of your house, the holiness of your temple!
Psalm 84:11
For the Lord God is a sun and shield; the Lord bestows favor and honor. No good thing does he withhold from those who walk uprightly.
Psalm 86:5
For you, O Lord, are good and forgiving, abounding in steadfast love to all who call upon you.
Romans 11:22
Note then the kindness and the severity of God: severity toward those who have fallen, but God's kindness to you, provided you continue in his kindness. Otherwise you too will be cut off.
Romans 12:9
Let love be genuine. Abhor what is evil; hold fast to what is good.
Romans 15:14
I myself am satisfied about you, my brothers, that you yourselves are full of goodness, filled with all knowledge and able to instruct one another.
More Bible Verses that Will Move You
50 Most Powerful Scriptures on Faith
60 Transcendent Verses on Trust
50 Strong Scriptures on Perseverance
68 Powerful Verses on Forgiveness
40 Uplifting Scriptures on Patience
Add Our Infographic Below to Your Pinterest Board
Hit the pin button below to add our infographic, with all the verses, to one of your Pinterest boards.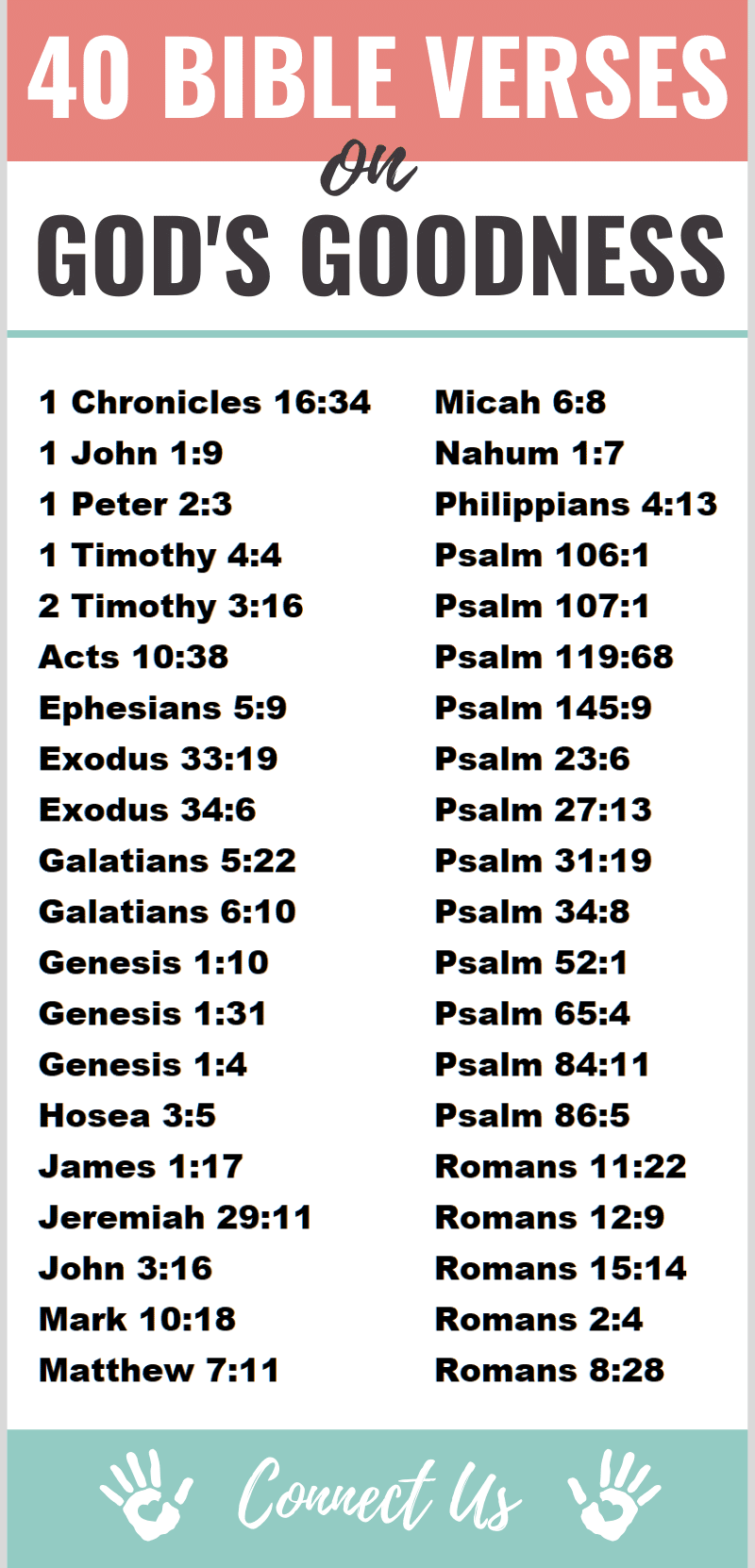 Author Bio
Natalie Regoli is a child of God, devoted wife, and mother of two boys. She has a Master's Degree in Law from The University of Texas. Natalie has been published in several national journals and has been practicing law for 18 years.