The word "change" occurs 67 times in the Bible. The infographic below identifies the points of each occurrence. This graphic presentation starts with Genesis in the top left and concludes with Revelation in the bottom right.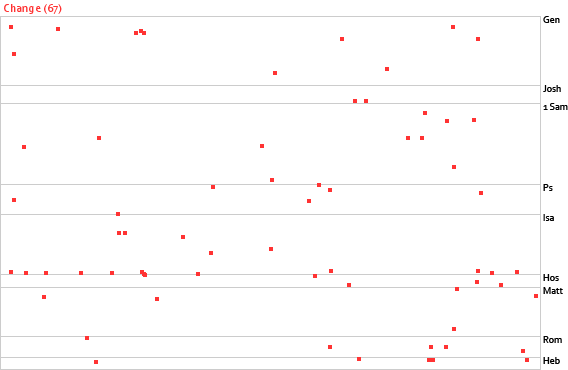 Here are the 50 most comforting Bible scriptures on change.
Hebrews 13:8
Jesus Christ is the same yesterday and today and forever.
Joshua 1:9
"Have I not commanded you? Be strong and courageous. Do not be frightened, and do not be dismayed, for the Lord your God is with you wherever you go."
Jeremiah 29:11
"For I know the plans I have for you," declares the Lord, "plans for welfare and not for evil, to give you a future and a hope."
Ecclesiastes 3:1
For everything there is a season, and a time for every matter under heaven.
Deuteronomy 31:6
Be strong and courageous. Do not fear or be in dread of them, for it is the Lord your God who goes with you. He will not leave you or forsake you.
1 Corinthians 15:33
Do not be deceived: "Bad company ruins good morals."
1 Corinthians 15:51
Behold! I tell you a mystery. We shall not all sleep, but we shall all be changed.
1 Corinthians 6:11
And such were some of you. But you were washed, you were sanctified, you were justified in the name of the Lord Jesus Christ and by the Spirit of our God.
1 John 1:9
If we confess our sins, he is faithful and just to forgive us our sins and to cleanse us from all unrighteousness.
1 John 2:24
Let what you heard from the beginning abide in you. If what you heard from the beginning abides in you, then you too will abide in the Son and in the Father.
1 John 4:4
Little children, you are from God and have overcome them, for he who is in you is greater than he who is in the world.
2 Corinthians 5:17
Therefore, if anyone is in Christ, he is a new creation. The old has passed away; behold, the new has come.
2 Peter 3:9
The Lord is not slow to fulfill his promise as some count slowness, but is patient toward you, not wishing that any should perish, but that all should reach repentance.
Acts 16:31
And they said, "Believe in the Lord Jesus, and you will be saved, you and your household."
Acts 17:30
The times of ignorance God overlooked, but now he commands all people everywhere to repent.
Acts 2:38
And Peter said to them, "Repent and be baptized every one of you in the name of Jesus Christ for the forgiveness of your sins, and you will receive the gift of the Holy Spirit."
Colossians 3:10
And have put on the new self, which is being renewed in knowledge after the image of its creator.
Daniel 4:16
Let his mind be changed from a man's, and let a beast's mind be given to him; and let seven periods of time pass over him.
Daniel 7:25
He shall speak words against the Most High, and shall wear out the saints of the Most High, and shall think to change the times and the law; and they shall be given into his hand for a time, times, and half a time.
Galatians 1:8
But even if we or an angel from heaven should preach to you a gospel contrary to the one we preached to you, let him be accursed.
Galatians 2:20
I have been crucified with Christ. It is no longer I who live, but Christ who lives in me. And the life I now live in the flesh I live by faith in the Son of God, who loved me and gave himself for me.
Hebrews 7:12
For when there is a change in the priesthood, there is necessarily a change in the law as well.
Hebrews 7:21
But this one was made a priest with an oath by the one who said to him: "The Lord has sworn and will not change his mind, 'You are a priest forever.'"
James 1:17
Every good gift and every perfect gift is from above, coming down from the Father of lights with whom there is no variation or shadow due to change.
Jeremiah 13:23
Can the Ethiopian change his skin or the leopard his spots? Then also you can do good who are accustomed to do evil.
Jeremiah 2:11
Has a nation changed its gods, even though they are no gods? But my people have changed their glory for that which does not profit.
Job 14:14
If a man dies, shall he live again? All the days of my service I would wait, till my renewal should come.
John 1:3
All things were made through him, and without him was not any thing made that was made.
John 5:8
Jesus said to him, "Get up, take up your bed, and walk."
Luke 13:3
"No, I tell you; but unless you repent, you will all likewise perish."
Malachi 3:6
"For I the Lord do not change; therefore you, O children of Jacob, are not consumed."
Matthew 24:35
"Heaven and earth will pass away, but my words will not pass away."
Numbers 23:19
God is not man, that he should lie, or a son of man, that he should change his mind. Has he said, and will he not do it? Or has he spoken, and will he not fulfill it?
Philippians 1:6
And I am sure of this, that he who began a good work in you will bring it to completion at the day of Jesus Christ.
Philippians 3:21
Who will transform our lowly body to be like his glorious body, by the power that enables him even to subject all things to himself.
Philippians 4:13
I can do all things through him who strengthens me.
Proverbs 18:15
An intelligent heart acquires knowledge, and the ear of the wise seeks knowledge.
Proverbs 19:2
Desire without knowledge is not good, and whoever makes haste with his feet misses his way.
Psalm 102:26
They will perish, but you will remain; they will all wear out like a garment. You will change them like a robe, and they will pass away.
Psalm 119:105
Your word is a lamp to my feet and a light to my path.
Psalm 18:2
The Lord is my rock and my fortress and my deliverer, my God, my rock, in whom I take refuge, my shield, and the horn of my salvation, my stronghold.
Psalm 51:10
Create in me a clean heart, O God, and renew a right spirit within me.
Psalm 55:19
God will give ear and humble them, he who is enthroned from of old, Selah because they do not change and do not fear God.
Psalm 90:2
Before the mountains were brought forth, or ever you had formed the earth and the world, from everlasting to everlasting you are God.
Revelation 21:5
And he who was seated on the throne said, "Behold, I am making all things new." Also he said, "Write this down, for these words are trustworthy and true."
Revelation 21:7
The one who conquers will have this heritage, and I will be his God and he will be my son.
Romans 12:2
Do not be conformed to this world, but be transformed by the renewal of your mind, that by testing you may discern what is the will of God, what is good and acceptable and perfect.
Romans 6:23
For the wages of sin is death, but the free gift of God is eternal life in Christ Jesus our Lord.
Romans 8:28
And we know that for those who love God all things work together for good, for those who are called according to his purpose.
Titus 3:5
He saved us, not because of works done by us in righteousness, but according to his own mercy, by the washing of regeneration and renewal of the Holy Spirit.
More Bible Verses that Will Move You
50 Most Powerful Scriptures on Faith
60 Transcendent Verses on Trust
50 Strong Scriptures on Perseverance
68 Powerful Verses on Forgiveness
40 Uplifting Scriptures on Patience
Add Our Infographic Below to Your Pinterest Board
Hit the pin button below to add our infographic, with all the verses, to one of your Pinterest boards.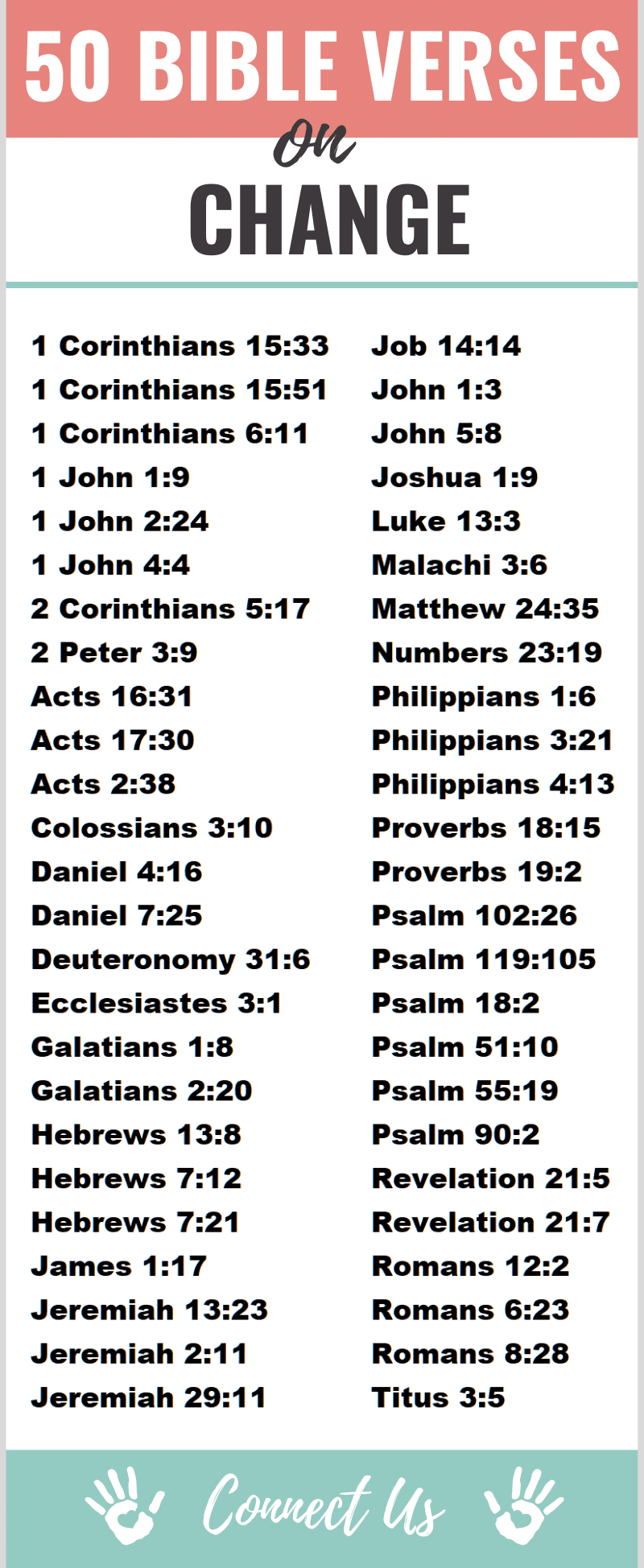 Author Bio
Natalie Regoli is a child of God, devoted wife, and mother of two boys. She has a Master's Degree in Law from The University of Texas. Natalie has been published in several national journals and has been practicing law for 18 years.