Here are the 50 most compelling Bible scriptures on greed.
1 Timothy 6:10
For the love of money is a root of all kinds of evils. It is through this craving that some have wandered away from the faith and pierced themselves with many pangs.
1 Timothy 6:9
But those who desire to be rich fall into temptation, into a snare, into many senseless and harmful desires that plunge people into ruin and destruction.
Proverbs 28:25
A greedy man stirs up strife, but the one who trusts in the Lord will be enriched.
Hebrews 13:5
Keep your life free from love of money, and be content with what you have, for he has said, "I will never leave you nor forsake you."
Luke 12:15
And he said to them, "Take care, and be on your guard against all covetousness, for one's life does not consist in the abundance of his possessions."
1 Corinthians 5:11
But now I am writing to you not to associate with anyone who bears the name of brother if he is guilty of sexual immorality or greed, or is an idolater, reviler, drunkard, or swindler—not even to eat with such a one.
1 Corinthians 6:10
Nor thieves, nor the greedy, nor drunkards, nor revilers, nor swindlers will inherit the kingdom of God.
1 John 2:16
For all that is in the world—the desires of the flesh and the desires of the eyes and pride in possessions—is not from the Father but is from the world.
1 Peter 5:2
Shepherd the flock of God that is among you, exercising oversight, not under compulsion, but willingly, as God would have you; not for shameful gain, but eagerly.
1 Thessalonians 2:5
For we never came with words of flattery, as you know, nor with a pretext for greed—God is witness.
1 Timothy 6:6
Now there is great gain in godliness with contentment.
2 Corinthians 9:7
Each one must give as he has decided in his heart, not reluctantly or under compulsion, for God loves a cheerful giver.
2 Peter 2:14
They have eyes full of adultery, insatiable for sin. They entice unsteady souls. They have hearts trained in greed. Accursed children!
2 Peter 2:3
And in their greed they will exploit you with false words. Their condemnation from long ago is not idle, and their destruction is not asleep.
Colossians 3:5
Put to death therefore what is earthly in you: sexual immorality, impurity, passion, evil desire, and covetousness, which is idolatry.
Ecclesiastes 5:10
He who loves money will not be satisfied with money, nor he who loves wealth with his income; this also is vanity.
Ephesians 5:3
But sexual immorality and all impurity or covetousness must not even be named among you, as is proper among saints.
Ephesians 5:5
For you may be sure of this, that everyone who is sexually immoral or impure, or who is covetous (that is, an idolater), has no inheritance in the kingdom of Christ and God.
Isaiah 56:11
"The dogs have a mighty appetite; they never have enough. But they are shepherds who have no understanding; they have all turned to their own way, each to his own gain, one and all."
James 4:3
You ask and do not receive, because you ask wrongly, to spend it on your passions.
Jeremiah 6:13
"For from the least to the greatest of them, everyone is greedy for unjust gain; and from prophet to priest, everyone deals falsely."
John 12:6
He said this, not because he cared about the poor, but because he was a thief, and having charge of the moneybag he used to help himself to what was put into it.
Luke 11:39
And the Lord said to him, "Now you Pharisees cleanse the outside of the cup and of the dish, but inside you are full of greed and wickedness."
Mark 7:22
"Coveting, wickedness, deceit, sensuality, envy, slander, pride, foolishness."
Mark 8:36
"For what does it profit a man to gain the whole world and forfeit his soul?"
Matthew 13:44
"The kingdom of heaven is like treasure hidden in a field, which a man found and covered up. Then in his joy he goes and sells all that he has and buys that field."
Matthew 19:21
Jesus said to him, "If you would be perfect, go, sell what you possess and give to the poor, and you will have treasure in heaven; and come, follow me."
Matthew 23:25
"Woe to you, scribes and Pharisees, hypocrites! For you clean the outside of the cup and the plate, but inside they are full of greed and self-indulgence."
Matthew 6:24
"No one can serve two masters, for either he will hate the one and love the other, or he will be devoted to the one and despise the other. You cannot serve God and money."
Matthew 6:33
"But seek first the kingdom of God and his righteousness, and all these things will be added to you."
Philippians 4:6
Do not be anxious about anything, but in everything by prayer and supplication with thanksgiving let your requests be made known to God.
Proverbs 1:19
Such are the ways of everyone who is greedy for unjust gain; it takes away the life of its possessors.
Proverbs 11:24
One gives freely, yet grows all the richer; another withholds what he should give, and only suffers want.
Proverbs 11:28
Whoever trusts in his riches will fall, but the righteous will flourish like a green leaf.
Proverbs 11:6
The righteousness of the upright delivers them, but the treacherous are taken captive by their lust.
Proverbs 13:11
Wealth gained hastily will dwindle, but whoever gathers little by little will increase it.
Proverbs 14:31
Whoever oppresses a poor man insults his Maker, but he who is generous to the needy honors him.
Proverbs 15:27
Whoever is greedy for unjust gain troubles his own household, but he who hates bribes will live.
Proverbs 20:21
An inheritance gained hastily in the beginning will not be blessed in the end.
Proverbs 21:26
All day long he craves and craves, but the righteous gives and does not hold back.
Proverbs 22:1
A good name is to be chosen rather than great riches, and favor is better than silver or gold.
Proverbs 22:9
Whoever has a bountiful eye will be blessed, for he shares his bread with the poor.
Proverbs 23:4
Do not toil to acquire wealth; be discerning enough to desist.
Proverbs 28:22
A stingy man hastens after wealth and does not know that poverty will come upon him.
Psalm 10:3
For the wicked boasts of the desires of his soul, and the one greedy for gain curses and renounces the Lord.
Psalm 119:36
Incline my heart to your testimonies, and not to selfish gain!
Psalm 37:21
The wicked borrows but does not pay back, but the righteous is generous and gives.
Psalm 62:10
Put no trust in extortion; set no vain hopes on robbery; if riches increase, set not your heart on them.
Romans 1:29
They were filled with all manner of unrighteousness, evil, covetousness, malice. They are full of envy, murder, strife, deceit, maliciousness. They are gossips.
Titus 1:7
For an overseer, as God's steward, must be above reproach. He must not be arrogant or quick-tempered or a drunkard or violent or greedy for gain.
More Bible Verses that Will Move You
50 Most Powerful Scriptures on Faith
60 Transcendent Verses on Trust
50 Strong Scriptures on Perseverance
68 Powerful Verses on Forgiveness
40 Uplifting Scriptures on Patience
Add Our Infographic Below to Your Pinterest Board
Hit the pin button below to add our infographic, with all the verses, to one of your Pinterest boards.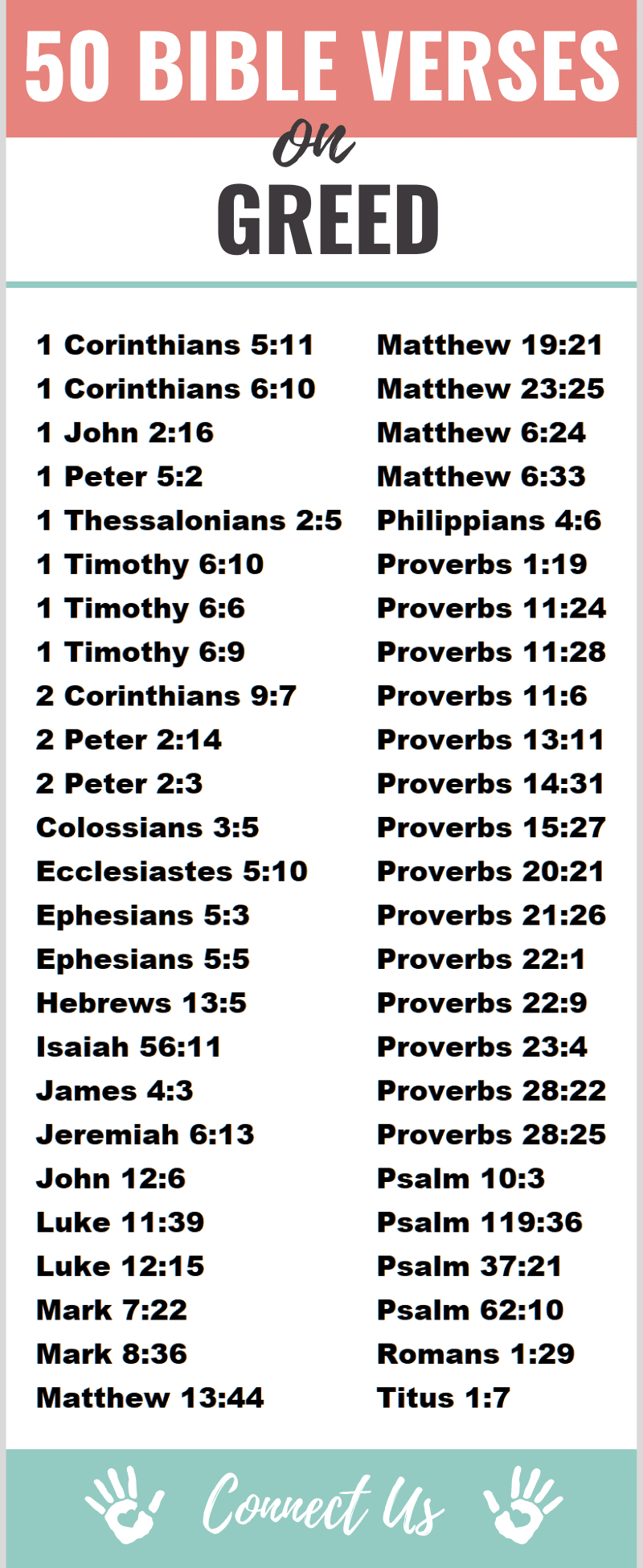 Author Bio
Natalie Regoli is a child of God, devoted wife, and mother of two boys. She has a Master's Degree in Law from The University of Texas. Natalie has been published in several national journals and has been practicing law for 18 years.