Here are the 50 most encouraging Bible scriptures on emotions.
Proverbs 29:11
A fool gives full vent to his spirit, but a wise man quietly holds it back.
Proverbs 15:18
A hot-tempered man stirs up strife, but he who is slow to anger quiets contention.
Romans 12:2
Do not be conformed to this world, but be transformed by the renewal of your mind, that by testing you may discern what is the will of God, what is good and acceptable and perfect.
Ecclesiastes 3:4
A time to weep, and a time to laugh; a time to mourn, and a time to dance.
Joshua 1:9
"Have I not commanded you? Be strong and courageous. Do not be frightened, and do not be dismayed, for the Lord your God is with you wherever you go."
1 Corinthians 14:33
For God is not a God of confusion but of peace. As in all the churches of the saints.
1 John 3:15
Everyone who hates his brother is a murderer, and you know that no murderer has eternal life abiding in him.
1 John 4:16
So we have come to know and to believe the love that God has for us. God is love, and whoever abides in love abides in God, and God abides in him.
1 Peter 5:7
Casting all your anxieties on him, because he cares for you.
2 Corinthians 10:5
We destroy arguments and every lofty opinion raised against the knowledge of God, and take every thought captive to obey Christ.
2 Corinthians 5:7
For we walk by faith, not by sight.
2 Timothy 1:7
For God gave us a spirit not of fear but of power and love and self-control.
Colossians 2:8
See to it that no one takes you captive by philosophy and empty deceit, according to human tradition, according to the elemental spirits of the world, and not according to Christ.
Colossians 3:15
And let the peace of Christ rule in your hearts, to which indeed you were called in one body. And be thankful.
Colossians 3:2
Set your minds on things that are above, not on things that are on earth.
Ephesians 4:26
Be angry and do not sin; do not let the sun go down on your anger.
Ephesians 5:15
Look carefully then how you walk, not as unwise but as wise.
Ephesians 6:13
Therefore take up the whole armor of God, that you may be able to withstand in the evil day, and having done all, to stand firm.
Exodus 33:19
And he said, "I will make all my goodness pass before you and will proclaim before you my name 'The Lord.' And I will be gracious to whom I will be gracious, and will show mercy on whom I will show mercy."
Galatians 5:22
But the fruit of the Spirit is love, joy, peace, patience, kindness, goodness, faithfulness.
Galatians 6:9
And let us not grow weary of doing good, for in due season we will reap, if we do not give up.
Genesis 1:27
So God created man in his own image, in the image of God he created him; male and female he created them.
Genesis 6:6
And the Lord was sorry that he had made man on the earth, and it grieved him to his heart.
Hebrews 10:23
Let us hold fast the confession of our hope without wavering, for he who promised is faithful.
Isaiah 30:15
For thus said the Lord God, the Holy One of Israel, "In returning and rest you shall be saved; in quietness and in trust shall be your strength." But you were unwilling.
Isaiah 62:5
For as a young man marries a young woman, so shall your sons marry you, and as the bridegroom rejoices over the bride, so shall your God rejoice over you.
James 1:20
For the anger of man does not produce the righteousness of God.
Jeremiah 17:9
The heart is deceitful above all things, and desperately sick; who can understand it?
Jeremiah 31:3
The Lord appeared to him from far away. "I have loved you with an everlasting love; therefore I have continued my faithfulness to you."
Jeremiah 32:41
"I will rejoice in doing them good, and I will plant them in this land in faithfulness, with all my heart and all my soul."
John 11:35
Jesus wept.
John 14:1
"Let not your hearts be troubled. Believe in God; believe also in me."
John 15:5
"I am the vine; you are the branches. Whoever abides in me and I in him, he it is that bears much fruit, for apart from me you can do nothing."
John 3:16
For God so loved the world, that he gave his only Son, that whoever believes in him should not perish but have eternal life.
Mark 10:21
And Jesus, looking at him, loved him, and said to him, "You lack one thing: go, sell all that you have and give to the poor, and you will have treasure in heaven; and come, follow me."
Matthew 10:28
"And do not fear those who kill the body but cannot kill the soul. Rather fear him who can destroy both soul and body in hell."
Matthew 20:34
And Jesus in pity touched their eyes, and immediately they recovered their sight and followed him.
Philippians 4:13
I can do all things through him who strengthens me.
Proverbs 15:13
A glad heart makes a cheerful face, but by sorrow of heart the spirit is crushed.
Proverbs 16:32
Whoever is slow to anger is better than the mighty, and he who rules his spirit than he who takes a city.
Proverbs 25:28
A man without self-control is like a city broken into and left without walls.
Proverbs 28:26
Whoever trusts in his own mind is a fool, but he who walks in wisdom will be delivered.
Proverbs 4:23
Keep your heart with all vigilance, for from it flow the springs of life.
Psalm 11:5
The Lord tests the righteous, but his soul hates the wicked and the one who loves violence.
Psalm 119:105
Your word is a lamp to my feet and a light to my path.
Romans 1:16
For I am not ashamed of the gospel, for it is the power of God for salvation to everyone who believes, to the Jew first and also to the Greek.
Romans 12:15
Rejoice with those who rejoice, weep with those who weep.
Romans 12:9
Let love be genuine. Abhor what is evil; hold fast to what is good.
Romans 8:28
And we know that for those who love God all things work together for good, for those who are called according to his purpose.
Romans 8:6
For to set the mind on the flesh is death, but to set the mind on the Spirit is life and peace.
More Bible Verses that Will Move You
50 Most Powerful Scriptures on Faith
60 Transcendent Verses on Trust
50 Strong Scriptures on Perseverance
68 Powerful Verses on Forgiveness
40 Uplifting Scriptures on Patience
Add Our Infographic Below to Your Pinterest Board
Hit the pin button below to add our infographic, with all the verses, to one of your Pinterest boards.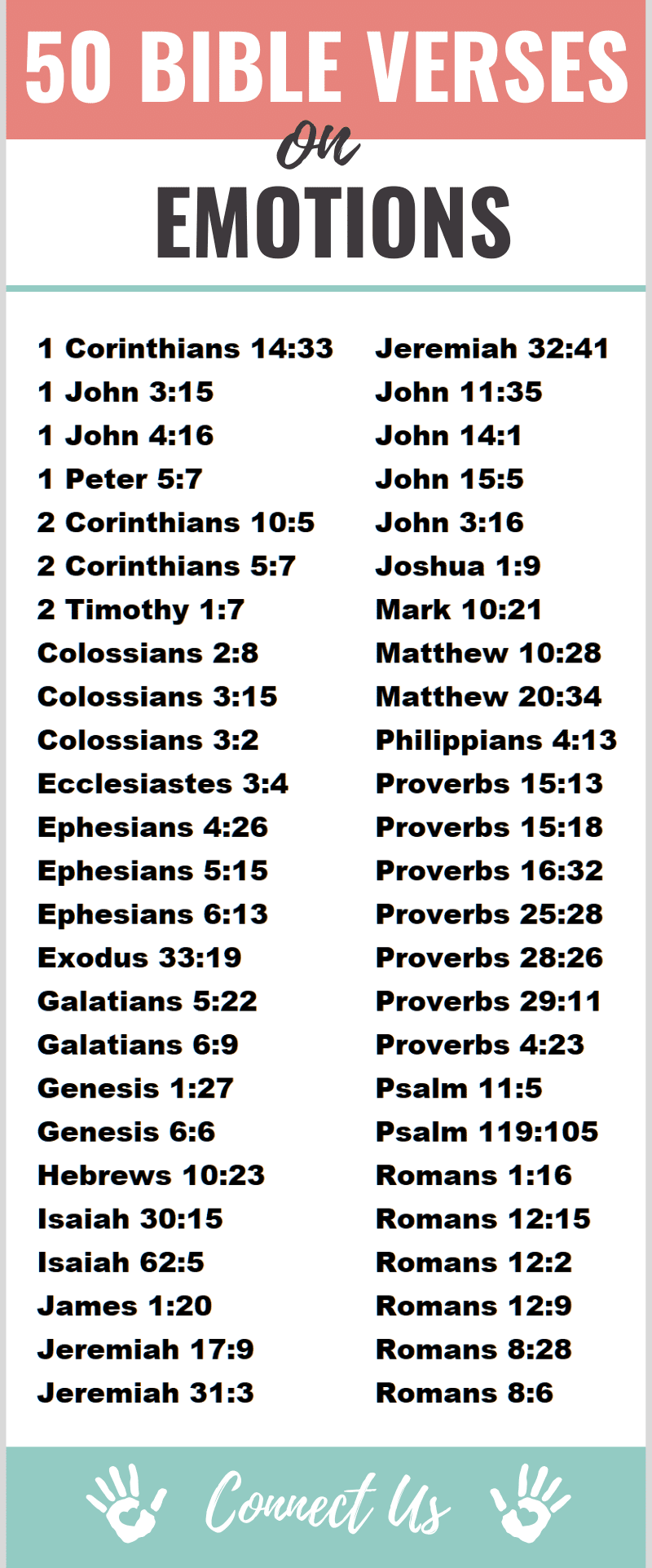 Author Bio
Natalie Regoli is a child of God, devoted wife, and mother of two boys. She has a Master's Degree in Law from The University of Texas. Natalie has been published in several national journals and has been practicing law for 18 years.