Here are 50 good Bible scriptures on Thanksgiving.
1 Thessalonians 5:18
Give thanks in all circumstances; for this is the will of God in Christ Jesus for you.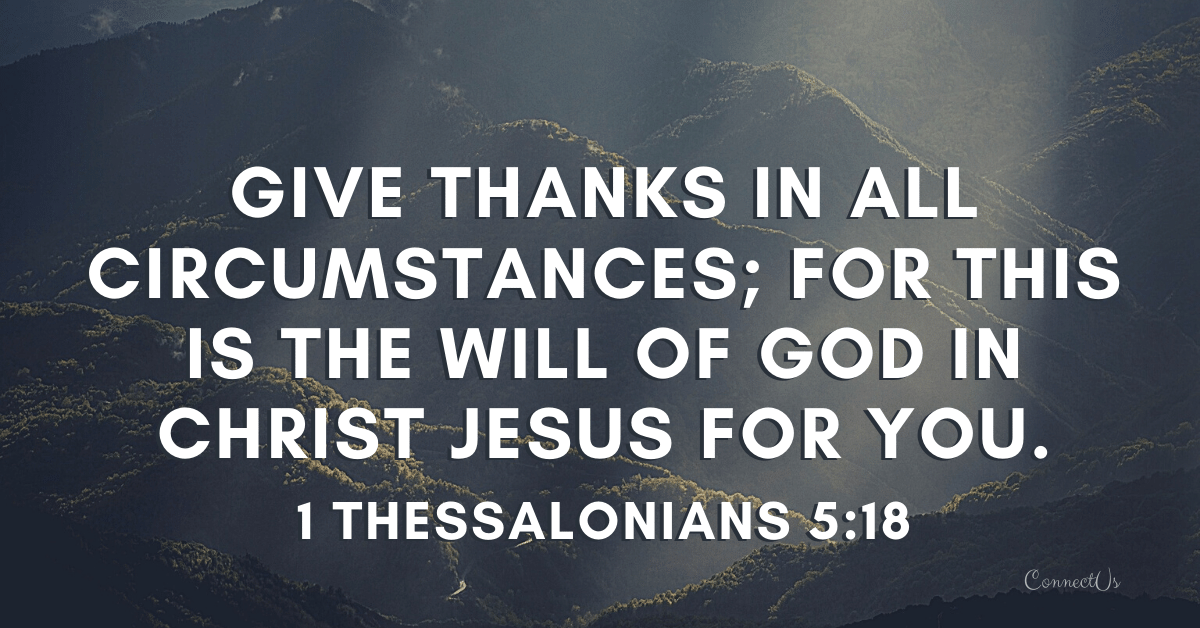 Psalm 107:1
Oh give thanks to the Lord, for he is good, for his steadfast love endures forever!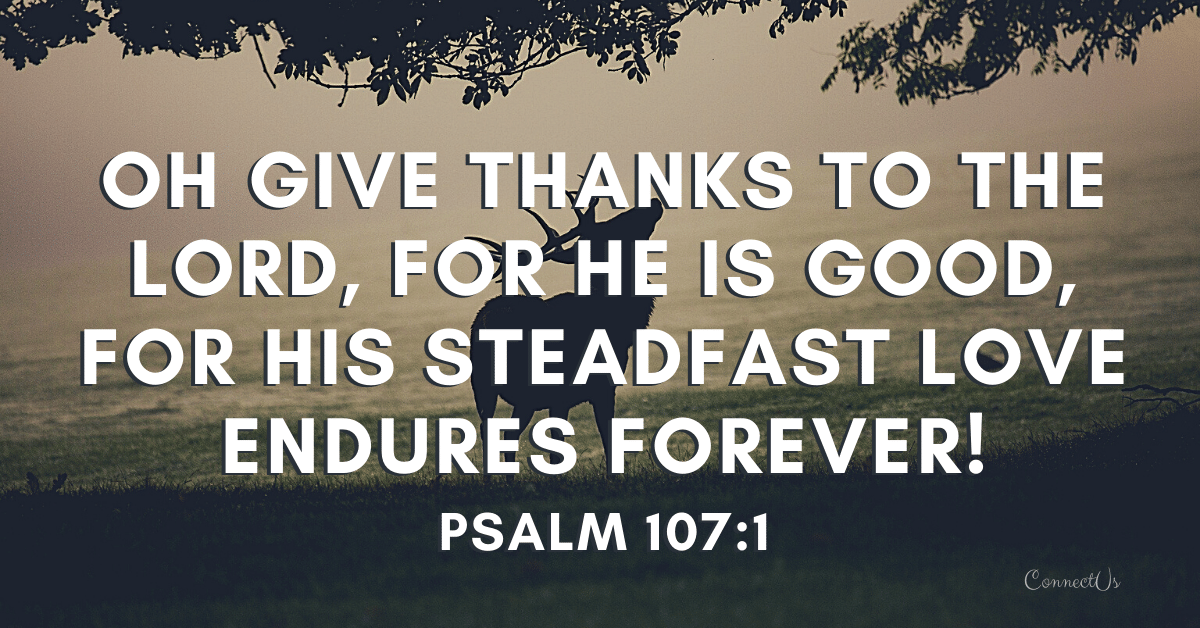 Philippians 4:6
Do not be anxious about anything, but in everything by prayer and supplication with thanksgiving let your requests be made known to God.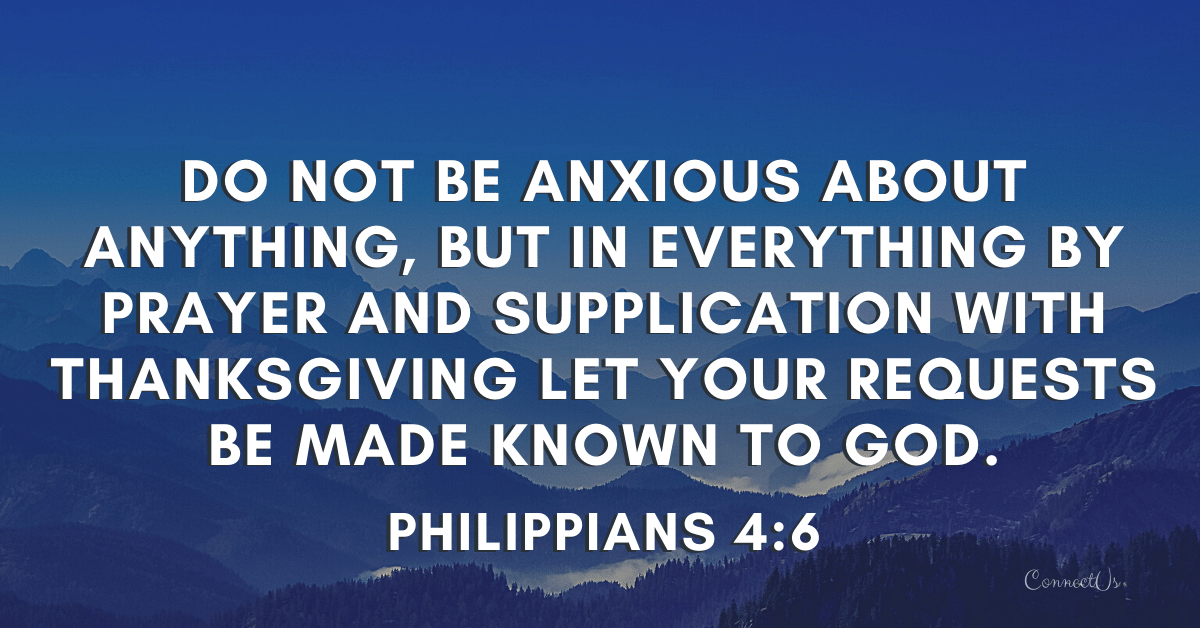 Psalm 7:17
I will give to the Lord the thanks due to his righteousness, and I will sing praise to the name of the Lord, the Most High.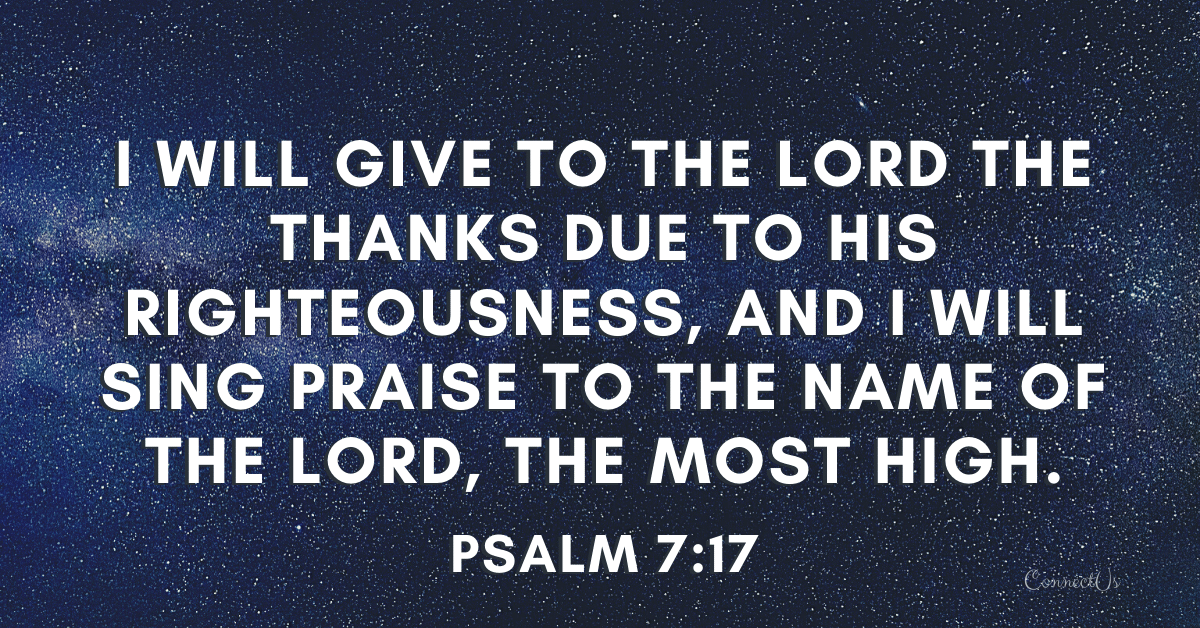 Ephesians 5:20
Giving thanks always and for everything to God the Father in the name of our Lord Jesus Christ.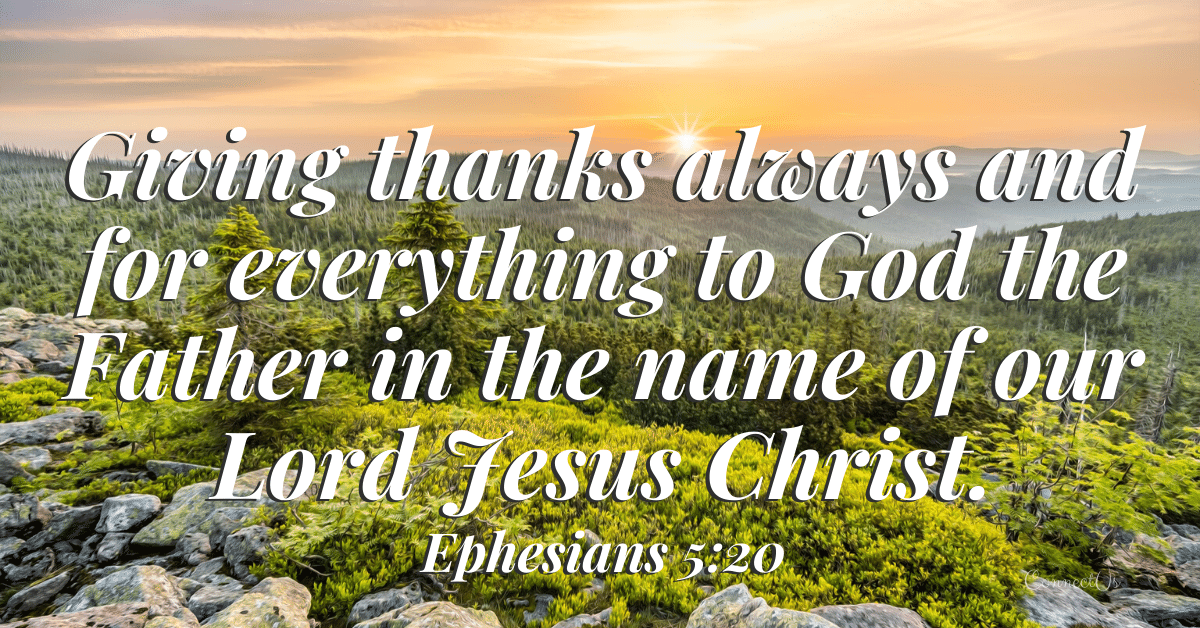 1 Chronicles 16:34
Oh give thanks to the Lord, for he is good; for his steadfast love endures forever!
1 Chronicles 16:8
Oh give thanks to the Lord; call upon his name; make known his deeds among the peoples!
1 Chronicles 29:13
And now we thank you, our God, and praise your glorious name.
1 Corinthians 1:4
I give thanks to my God always for you because of the grace of God that was given you in Christ Jesus.
1 Corinthians 15:57
But thanks be to God, who gives us the victory through our Lord Jesus Christ.
1 Thessalonians 1:2
We give thanks to God always for all of you, constantly mentioning you in our prayers.
1 Timothy 2:1
First of all, then, I urge that supplications, prayers, intercessions, and thanksgivings be made for all people.
2 Corinthians 2:14
But thanks be to God, who in Christ always leads us in triumphal procession, and through us spreads the fragrance of the knowledge of him everywhere.
2 Corinthians 4:15
For it is all for your sake, so that as grace extends to more and more people it may increase thanksgiving, to the glory of God.
2 Corinthians 9:11
You will be enriched in every way to be generous in every way, which through us will produce thanksgiving to God.
2 Corinthians 9:15
Thanks be to God for his inexpressible gift!
Colossians 3:15
And let the peace of Christ rule in your hearts, to which indeed you were called in one body. And be thankful.
Colossians 3:17
And whatever you do, in word or deed, do everything in the name of the Lord Jesus, giving thanks to God the Father through him.
Colossians 4:2
Continue steadfastly in prayer, being watchful in it with thanksgiving.
Daniel 2:23
To you, O God of my fathers, I give thanks and praise, for you have given me wisdom and might, and have now made known to me what we asked of you, for you have made known to us the king's matter.
Daniel 6:10
When Daniel knew that the document had been signed, he went to his house where he had windows in his upper chamber open toward Jerusalem. He got down on his knees three times a day and prayed and gave thanks before his God, as he had done previously.
Ephesians 5:4
Let there be no filthiness nor foolish talk nor crude joking, which are out of place, but instead let there be thanksgiving.
Hebrews 12:28
Therefore let us be grateful for receiving a kingdom that cannot be shaken, and thus let us offer to God acceptable worship, with reverence and awe.
Hebrews 13:15
Through him then let us continually offer up a sacrifice of praise to God, that is, the fruit of lips that acknowledge his name.
Isaiah 12:4
And you will say in that day: "Give thanks to the Lord, call upon his name, make known his deeds among the peoples, proclaim that his name is exalted."
James 1:17
Every good gift and every perfect gift is from above, coming down from the Father of lights with whom there is no variation or shadow due to change.
Jeremiah 30:19
Out of them shall come songs of thanksgiving, and the voices of those who celebrate. I will multiply them, and they shall not be few; I will make them honored, and they shall not be small.
Jeremiah 33:11
The voice of mirth and the voice of gladness, the voice of the bridegroom and the voice of the bride, the voices of those who sing, as they bring thank offerings to the house of the Lord: "Give thanks to the Lord of hosts, for the Lord is good, for his steadfast love endures forever!" "For I will restore the fortunes of the land as at first," says the Lord.
John 6:11
Jesus then took the loaves, and when he had given thanks, he distributed them to those who were seated. So also the fish, as much as they wanted.
Jonah 2:9
But I with the voice of thanksgiving will sacrifice to you; what I have vowed I will pay. Salvation belongs to the Lord!
Lamentations 3:23
They are new every morning; great is your faithfulness.
Luke 6:38
"Give, and it will be given to you. Good measure, pressed down, shaken together, running over, will be put into your lap. For with the measure you use it will be measured back to you."
Psalm 100:4
Enter his gates with thanksgiving, and his courts with praise! Give thanks to him; bless his name!
Psalm 103:2
Bless the Lord, O my soul, and forget not all his benefits.
Psalm 105:1
Oh give thanks to the Lord; call upon his name; make known his deeds among the peoples!
Psalm 106:1
Praise the Lord! Oh give thanks to the Lord, for he is good, for his steadfast love endures forever!
Psalm 116:12
What shall I render to the Lord for all his benefits to me?
Psalm 136:1
Give thanks to the Lord, for he is good, for his steadfast love endures forever.
Psalm 147:7
Sing to the Lord with thanksgiving; make melody to our God on the lyre!
Psalm 28:7
The Lord is my strength and my shield; in him my heart trusts, and I am helped; my heart exults, and with my song I give thanks to him.
Psalm 31:19
Oh, how abundant is your goodness, which you have stored up for those who fear you and worked for those who take refuge in you, in the sight of the children of mankind!
Psalm 35:18
I will thank you in the great congregation; in the mighty throng I will praise you.
Psalm 50:14
Offer to God a sacrifice of thanksgiving, and perform your vows to the Most High.
Psalm 69:30
I will praise the name of God with a song; I will magnify him with thanksgiving.
Psalm 75:1
To the choirmaster: according to Do Not Destroy. A Psalm of Asaph. A Song. We give thanks to you, O God; we give thanks, for your name is near. We recount your wondrous deeds.
Psalm 95:2
Let us come into his presence with thanksgiving; let us make a joyful noise to him with songs of praise!
Revelation 11:17
Saying, "We give thanks to you, Lord God Almighty, who is and who was, for you have taken your great power and begun to reign."
Revelation 7:12
Saying, "Amen! Blessing and glory and wisdom and thanksgiving and honor and power and might be to our God forever and ever! Amen."
Romans 1:8
First, I thank my God through Jesus Christ for all of you, because your faith is proclaimed in all the world.
Romans 12:1
I appeal to you therefore, brothers, by the mercies of God, to present your bodies as a living sacrifice, holy and acceptable to God, which is your spiritual worship.
More Bible Verses that Will Move You
50 Most Powerful Scriptures on Faith
60 Transcendent Verses on Trust
50 Strong Scriptures on Perseverance
68 Powerful Verses on Forgiveness
40 Uplifting Scriptures on Patience
Add Our Infographic Below to Your Pinterest Board
Hit the pin button below to add our infographic, with all the verses, to one of your Pinterest boards.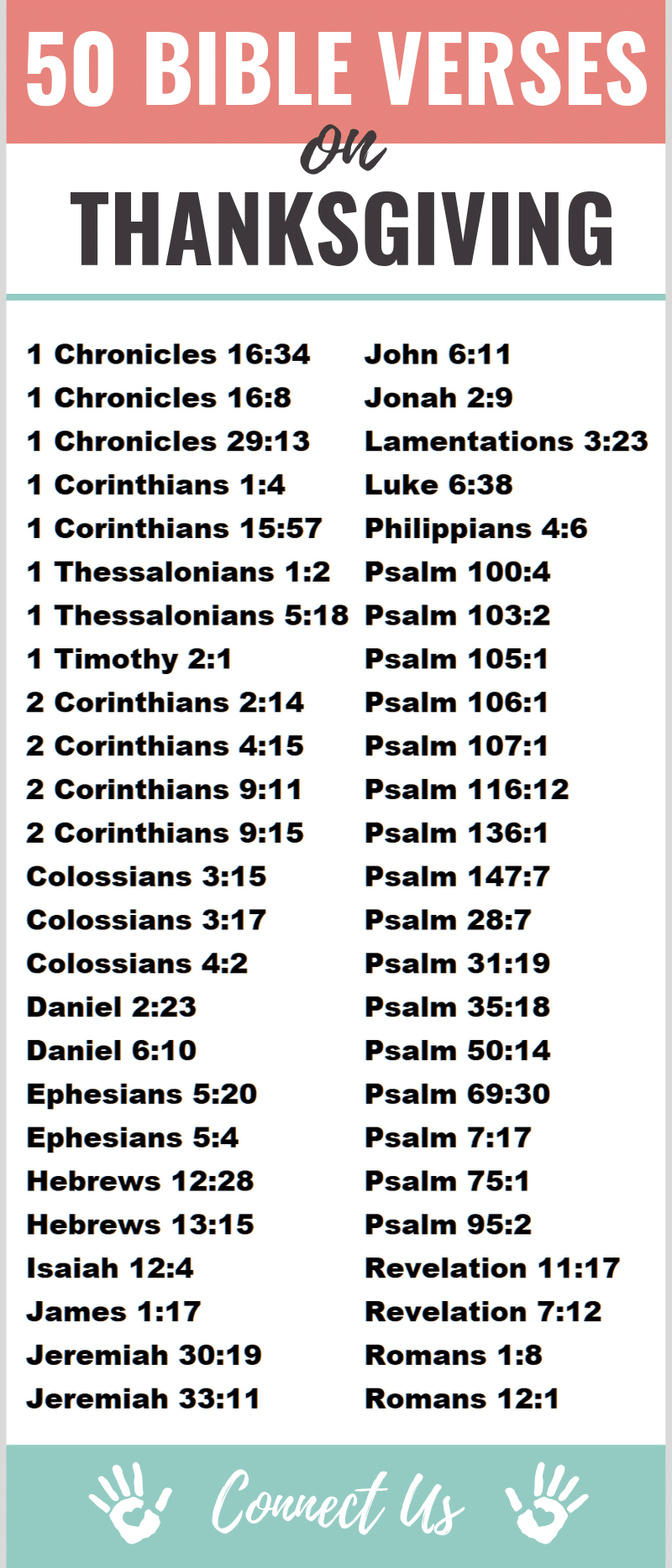 Author Bio
Natalie Regoli is a child of God, devoted wife, and mother of two boys. She has a Master's Degree in Law from The University of Texas. Natalie has been published in several national journals and has been practicing law for 18 years.