The word "friend" appears 118 times throughout the books of the Bible. The graph below shows the locations of each appearance. It begins with Genesis in the top left and concludes with Revelation in the bottom right.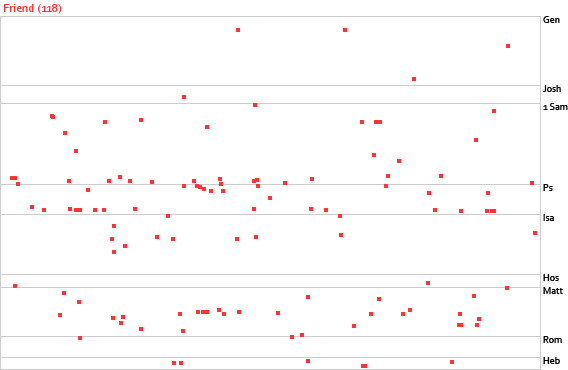 Here are the 50 most important Bible scriptures on loyalty.
Proverbs 18:24
A man of many companions may come to ruin, but there is a friend who sticks closer than a brother.
Proverbs 17:17
A friend loves at all times, and a brother is born for adversity.
Matthew 26:35
Peter said to him, "Even if I must die with you, I will not deny you!" And all the disciples said the same.
Proverbs 21:21
Whoever pursues righteousness and kindness will find life, righteousness, and honor.
Matthew 18:15
"If your brother sins against you, go and tell him his fault, between you and him alone. If he listens to you, you have gained your brother."
1 Corinthians 13:7
Love bears all things, believes all things, hopes all things, endures all things.
1 Corinthians 4:2
Moreover, it is required of stewards that they be found trustworthy.
1 John 3:24
Whoever keeps his commandments abides in God, and God in him. And by this we know that he abides in us, by the Spirit whom he has given us.
2 Peter 2:10
And especially those who indulge in the lust of defiling passion and despise authority. Bold and willful, they do not tremble as they blaspheme the glorious ones.
2 Samuel 15:21
But Ittai answered the king, "As the Lord lives, and as my lord the king lives, wherever my lord the king shall be, whether for death or for life, there also will your servant be."
2 Timothy 2:13
If we are faithless, he remains faithful— for he cannot deny himself.
Acts 5:29
But Peter and the apostles answered, "We must obey God rather than men."
Amos 2:4
Thus says the Lord: "For three transgressions of Judah, and for four, I will not revoke the punishment, because they have rejected the law of the Lord, and have not kept his statutes, but their lies have led them astray, those after which their fathers walked."
Deuteronomy 7:9
Know therefore that the Lord your God is God, the faithful God who keeps covenant and steadfast love with those who love him and keep his commandments, to a thousand generations.
Ecclesiastes 10:4
If the anger of the ruler rises against you, do not leave your place, for calmness will lay great offenses to rest.
Ecclesiastes 8:2
I say: Keep the king's command, because of God's oath to him.
Ezra 6:10
That they may offer pleasing sacrifices to the God of heaven and pray for the life of the king and his sons.
Ezra 7:26
Whoever will not obey the law of your God and the law of the king, let judgment be strictly executed on him, whether for death or for banishment or for confiscation of his goods or for imprisonment.
Galatians 5:22
But the fruit of the Spirit is love, joy, peace, patience, kindness, goodness, faithfulness.
Hebrews 10:23
Let us hold fast the confession of our hope without wavering, for he who promised is faithful.
Hebrews 11:1
Now faith is the assurance of things hoped for, the conviction of things not seen.
Job 23:2
Today also my complaint is bitter; my hand is heavy on account of my groaning.
John 14:15
"If you love me, you will keep my commandments."
John 14:6
Jesus said to him, "I am the way, and the truth, and the life. No one comes to the Father except through me."
John 15:13
"Greater love has no one than this, that someone lay down his life for his friends."
John 16:13
"When the Spirit of truth comes, he will guide you into all the truth, for he will not speak on his own authority, but whatever he hears he will speak, and he will declare to you the things that are to come."
John 3:16
For God so loved the world, that he gave his only Son, that whoever believes in him should not perish but have eternal life.
John 8:12
Again Jesus spoke to them, saying, "I am the light of the world. Whoever follows me will not walk in darkness, but will have the light of life."
Joshua 24:15
And if it is evil in your eyes to serve the Lord, choose this day whom you will serve, whether the gods your fathers served in the region beyond the River, or the gods of the Amorites in whose land you dwell. But as for me and my house, we will serve the Lord.
Luke 1:37
"For nothing will be impossible with God."
Matthew 26:33
Peter answered him, "Though they all fall away because of you, I will never fall away."
Matthew 6:24
"No one can serve two masters, for either he will hate the one and love the other, or he will be devoted to the one and despise the other. You cannot serve God and money."
Numbers 31:41
And Moses gave the tribute, which was the contribution for the Lord, to Eleazar the priest, as the Lord commanded Moses.
Obadiah 1:12
But do not gloat over the day of your brother in the day of his misfortune; do not rejoice over the people of Judah in the day of their ruin; do not boast in the day of distress.
Philippians 4:3
Yes, I ask you also, true companion, help these women, who have labored side by side with me in the gospel together with Clement and the rest of my fellow workers, whose names are in the book of life.
Proverbs 17:11
An evil man seeks only rebellion, and a cruel messenger will be sent against him.
Proverbs 20:28
Steadfast love and faithfulness preserve the king, and by steadfast love his throne is upheld.
Proverbs 20:6
Many a man proclaims his own steadfast love, but a faithful man who can find?
Proverbs 24:21
My son, fear the Lord and the king, and do not join with those who do otherwise.
Proverbs 25:19
Trusting in a treacherous man in time of trouble is like a bad tooth or a foot that slips.
Proverbs 27:10
Do not forsake your friend and your father's friend, and do not go to your brother's house in the day of your calamity. Better is a neighbor who is near than a brother who is far away.
Proverbs 27:17
Iron sharpens iron, and one man sharpens another.
Proverbs 3:3
Let not steadfast love and faithfulness forsake you; bind them around your neck; write them on the tablet of your heart.
Psalm 78:8
And that they should not be like their fathers, a stubborn and rebellious generation, a generation whose heart was not steadfast, whose spirit was not faithful to God.
Revelation 2:10
Do not fear what you are about to suffer. Behold, the devil is about to throw some of you into prison, that you may be tested, and for ten days you will have tribulation. Be faithful unto death, and I will give you the crown of life.
Revelation 2:2
"'I know your works, your toil and your patient endurance, and how you cannot bear with those who are evil, but have tested those who call themselves apostles and are not, and found them to be false.'"
Romans 1:16
For I am not ashamed of the gospel, for it is the power of God for salvation to everyone who believes, to the Jew first and also to the Greek.
Romans 13:1
Let every person be subject to the governing authorities. For there is no authority except from God, and those that exist have been instituted by God.
Ruth 1:16
But Ruth said, "Do not urge me to leave you or to return from following you. For where you go I will go, and where you lodge I will lodge. Your people shall be my people, and your God my God."
Titus 3:1
Remind them to be submissive to rulers and authorities, to be obedient, to be ready for every good work.
More Bible Verses that Will Move You
50 Most Powerful Scriptures on Faith
60 Transcendent Verses on Trust
50 Strong Scriptures on Perseverance
68 Powerful Verses on Forgiveness
40 Uplifting Scriptures on Patience
Add Our Infographic Below to Your Pinterest Board
Hit the pin button below to add our infographic, with all the verses, to one of your Pinterest boards.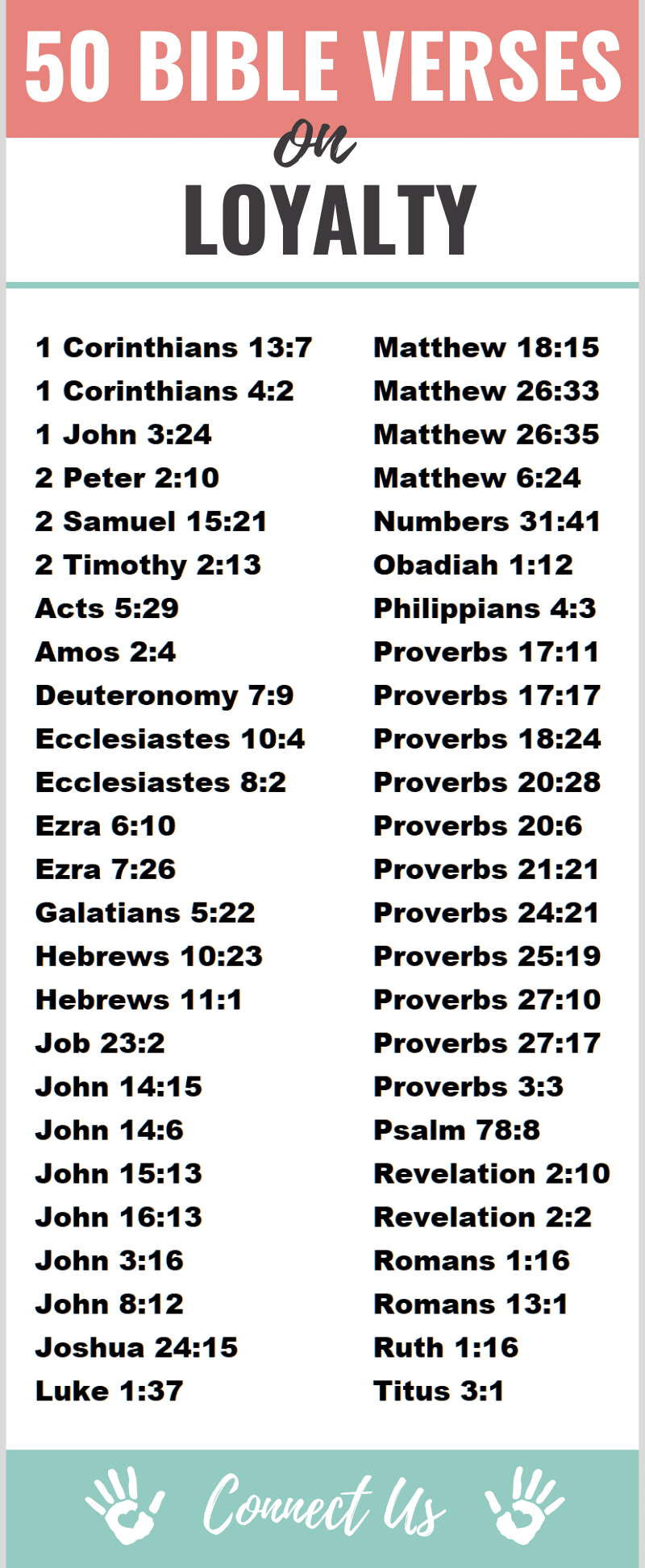 Author Bio
Natalie Regoli is a child of God, devoted wife, and mother of two boys. She has a Master's Degree in Law from The University of Texas. Natalie has been published in several national journals and has been practicing law for 18 years.