The word Jesus is found 1,176 times in the Old and New Testament. The image below reveals the locations of each occurrence. This cool graph starts with Genesis in the top left and ends with Revelation in the bottom right.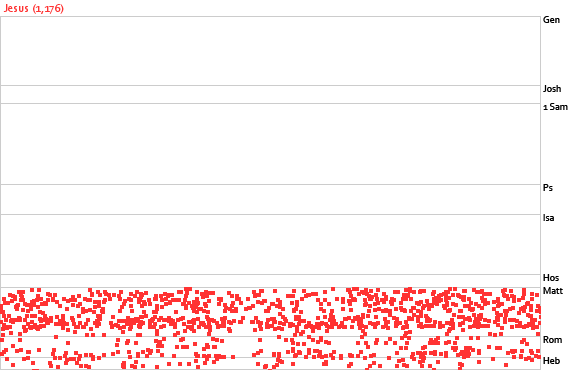 Here are the 50 most mighty Bible scriptures on the name of Jesus.
Acts 4:12
And there is salvation in no one else, for there is no other name under heaven given among men by which we must be saved.
John 14:6
Jesus said to him, "I am the way, and the truth, and the life. No one comes to the Father except through me."
John 14:13
"Whatever you ask in my name, this I will do, that the Father may be glorified in the Son."
Luke 10:17
The seventy-two returned with joy, saying, "Lord, even the demons are subject to us in your name!"
Romans 10:13
For "Everyone who calls on the name of the Lord will be saved."
1 Corinthians 6:11
And such were some of you. But you were washed, you were sanctified, you were justified in the name of the Lord Jesus Christ and by the Spirit of our God.
1 John 2:1
My little children, I am writing these things to you so that you may not sin. But if anyone does sin, we have an advocate with the Father, Jesus Christ the righteous.
1 Timothy 2:5
For there is one God, and there is one mediator between God and men, the man Christ Jesus.
Acts 2:38
And Peter said to them, "Repent and be baptized every one of you in the name of Jesus Christ for the forgiveness of your sins, and you will receive the gift of the Holy Spirit."
Acts 22:16
And now why do you wait? Rise and be baptized and wash away your sins, calling on his name.
Acts 3:6
But Peter said, "I have no silver and gold, but what I do have I give to you. In the name of Jesus Christ of Nazareth, rise up and walk!"
Acts 4:30
While you stretch out your hand to heal, and signs and wonders are performed through the name of your holy servant Jesus.
Acts 8:12
But when they believed Philip as he preached good news about the kingdom of God and the name of Jesus Christ, they were baptized, both men and women.
Colossians 1:16
For by him all things were created, in heaven and on earth, visible and invisible, whether thrones or dominions or rulers or authorities—all things were created through him and for him.
Exodus 3:14
God said to Moses, "I am who I am." And he said, "Say this to the people of Israel, 'I am has sent me to you.'"
Genesis 3:15
"I will put enmity between you and the woman, and between your offspring and her offspring; he shall bruise your head, and you shall bruise his heel."
Hebrews 1:6
And again, when he brings the firstborn into the world, he says, "Let all God's angels worship him."
Hebrews 12:2
Looking to Jesus, the founder and perfecter of our faith, who for the joy that was set before him endured the cross, despising the shame, and is seated at the right hand of the throne of God.
Hebrews 3:1
Therefore, holy brothers, you who share in a heavenly calling, consider Jesus, the apostle and high priest of our confession.
Isaiah 26:4
Trust in the Lord forever, for the Lord God is an everlasting rock.
Isaiah 7:14
Therefore the Lord himself will give you a sign. Behold, the virgin shall conceive and bear a son, and shall call his name Immanuel.
Isaiah 9:6
For to us a child is born, to us a son is given; and the government shall be upon his shoulder, and his name shall be called Wonderful Counselor, Mighty God, Everlasting Father, Prince of Peace.
Jeremiah 10:6
There is none like you, O Lord; you are great, and your name is great in might.
John 1:1
"In the beginning was the Word, and the Word was with God, and the Word was God."
John 1:14
"And the Word became flesh and dwelt among us, and we have seen his glory, glory as of the only Son from the Father, full of grace and truth."
John 1:29
The next day he saw Jesus coming toward him, and said, "Behold, the Lamb of God, who takes away the sin of the world!"
John 1:3
"All things were made through him, and without him was not any thing made that was made."
John 10:11
"I am the good shepherd. The good shepherd lays down his life for the sheep."
John 11:25
Jesus said to her, "I am the resurrection and the life. Whoever believes in me, though he die, yet shall he live."
John 14:14
"If you ask me anything in my name, I will do it."
John 15:1
"I am the true vine, and my Father is the vinedresser."
John 16:26
"In that day you will ask in my name, and I do not say to you that I will ask the Father on your behalf."
John 3:16
For God so loved the world, that he gave his only Son, that whoever believes in him should not perish but have eternal life.
John 3:18
"Whoever believes in him is not condemned, but whoever does not believe is condemned already, because he has not believed in the name of the only Son of God."
John 8:12
Again Jesus spoke to them, saying, "I am the light of the world. Whoever follows me will not walk in darkness, but will have the light of life."
John 8:58
Jesus said to them, "Truly, truly, I say to you, before Abraham was, I am."
Mark 16:17
"And these signs will accompany those who believe: in my name they will cast out demons; they will speak in new tongues."
Matthew 1:21
"She will bear a son, and you shall call his name Jesus, for he will save his people from their sins."
Matthew 1:23
"Behold, the virgin shall conceive and bear a son, and they shall call his name Immanuel" (which means, God with us).
Matthew 28:18
And Jesus came and said to them, "All authority in heaven and on earth has been given to me."
Matthew 28:19
"Go therefore and make disciples of all nations, baptizing them in the name of the Father and of the Son and of the Holy Spirit."
Proverbs 18:10
The name of the Lord is a strong tower; the righteous man runs into it and is safe.
Psalm 68:4
Sing to God, sing praises to his name; lift up a song to him who rides through the deserts; his name is the Lord; exult before him!
Revelation 1:5
And from Jesus Christ the faithful witness, the firstborn of the dead, and the ruler of kings on earth. To him who loves us and has freed us from our sins by his blood.
Revelation 1:8
"I am the Alpha and the Omega," says the Lord God, "who is and who was and who is to come, the Almighty."
Revelation 19:16
On his robe and on his thigh he has a name written, King of kings and Lord of lords.
Revelation 22:13
"I am the Alpha and the Omega, the first and the last, the beginning and the end."
Revelation 22:16
"I, Jesus, have sent my angel to testify to you about these things for the churches. I am the root and the descendant of David, the bright morning star."
Revelation 5:5
And one of the elders said to me, "Weep no more; behold, the Lion of the tribe of Judah, the Root of David, has conquered, so that he can open the scroll and its seven seals."
Romans 11:26
And in this way all Israel will be saved, as it is written, "The Deliverer will come from Zion, he will banish ungodliness from Jacob."
More Bible Verses that Will Move You
50 Most Powerful Scriptures on Faith
60 Transcendent Verses on Trust
50 Strong Scriptures on Perseverance
68 Powerful Verses on Forgiveness
40 Uplifting Scriptures on Patience
Add Our Infographic Below to Your Pinterest Board
Hit the pin button below to add our infographic, with all the verses, to one of your Pinterest boards.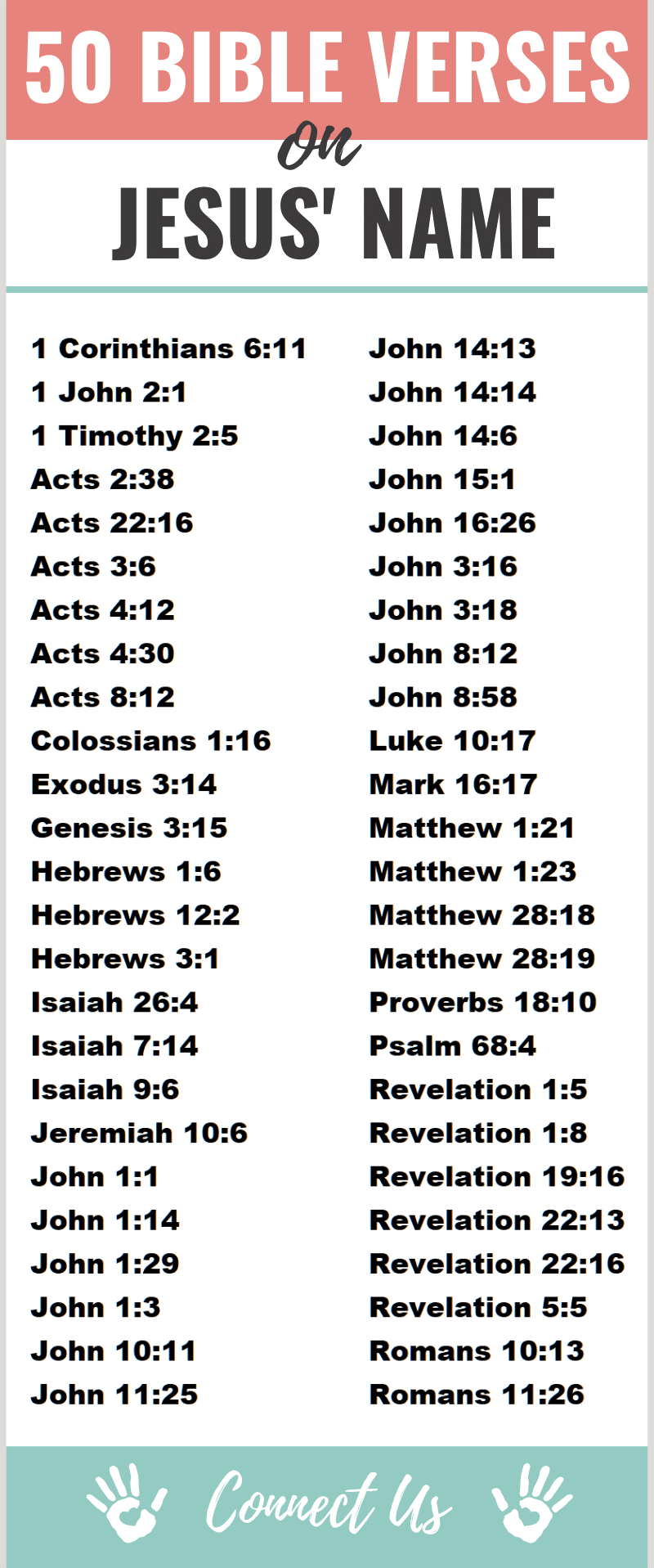 Author Bio
Natalie Regoli is a child of God, devoted wife, and mother of two boys. She has a Master's Degree in Law from The University of Texas. Natalie has been published in several national journals and has been practicing law for 18 years.