The word "tongue" occurs 138 times in the Bible. The infographic below identifies the points of each occurrence. This graphic presentation starts with Genesis in the top left and concludes with Revelation in the bottom right.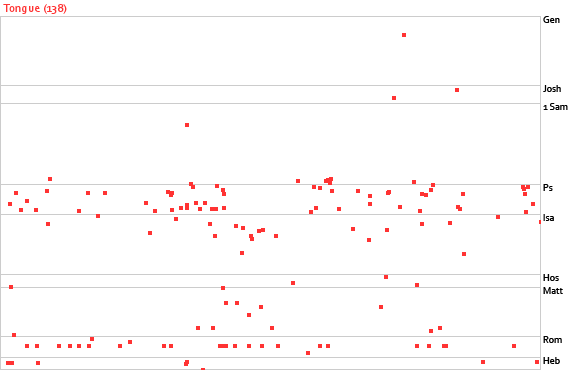 Here are the 50 most transcendent Bible scriptures on the tongue.
Proverbs 18:21
Death and life are in the power of the tongue, and those who love it will eat its fruits.
James 1:26
If anyone thinks he is religious and does not bridle his tongue but deceives his heart, this person's religion is worthless.
Proverbs 21:23
Whoever keeps his mouth and his tongue keeps himself out of trouble.
Proverbs 12:18
There is one whose rash words are like sword thrusts, but the tongue of the wise brings healing.
1 Peter 3:10
For "Whoever desires to love life and see good days, let him keep his tongue from evil and his lips from speaking deceit."
Acts 2:4
And they were all filled with the Holy Spirit and began to speak in other tongues as the Spirit gave them utterance.
Colossians 4:6
Let your speech always be gracious, seasoned with salt, so that you may know how you ought to answer each person.
Ecclesiastes 3:7
A time to tear, and a time to sew; a time to keep silence, and a time to speak.
Ephesians 4:29
Let no corrupting talk come out of your mouths, but only such as is good for building up, as fits the occasion, that it may give grace to those who hear.
Isaiah 54:17
No weapon that is fashioned against you shall succeed, and you shall confute every tongue that rises against you in judgment. This is the heritage of the servants of the Lord and their vindication from me, declares the Lord.
James 1:19
Know this, my beloved brothers: let every person be quick to hear, slow to speak, slow to anger.
James 3:1
Not many of you should become teachers, my brothers, for you know that we who teach will be judged with greater strictness.
James 3:2
For we all stumble in many ways. And if anyone does not stumble in what he says, he is a perfect man, able also to bridle his whole body.
James 3:5
So also the tongue is a small member, yet it boasts of great things. How great a forest is set ablaze by such a small fire!
James 3:6
And the tongue is a fire, a world of unrighteousness. The tongue is set among our members, staining the whole body, setting on fire the entire course of life, and set on fire by hell.
James 3:8
But no human being can tame the tongue. It is a restless evil, full of deadly poison.
James 3:9
With it we bless our Lord and Father, and with it we curse people who are made in the likeness of God.
Job 27:4
My lips will not speak falsehood, and my tongue will not utter deceit.
Matthew 12:34
"You brood of vipers! How can you speak good, when you are evil? For out of the abundance of the heart the mouth speaks."
Matthew 12:36
"I tell you, on the day of judgment people will give account for every careless word they speak."
Matthew 15:11
"It is not what goes into the mouth that defiles a person, but what comes out of the mouth; this defiles a person."
Matthew 15:18
"But what comes out of the mouth proceeds from the heart, and this defiles a person."
Proverbs 10:19
When words are many, transgression is not lacking, but whoever restrains his lips is prudent.
Proverbs 10:31
The mouth of the righteous brings forth wisdom, but the perverse tongue will be cut off.
Proverbs 13:3
Whoever guards his mouth preserves his life; he who opens wide his lips comes to ruin.
Proverbs 15:1
A soft answer turns away wrath, but a harsh word stirs up anger.
Proverbs 15:28
The heart of the righteous ponders how to answer, but the mouth of the wicked pours out evil things.
Proverbs 15:4
A gentle tongue is a tree of life, but perverseness in it breaks the spirit.
Proverbs 17:27
Whoever restrains his words has knowledge, and he who has a cool spirit is a man of understanding.
Proverbs 17:28
Even a fool who keeps silent is considered wise; when he closes his lips, he is deemed intelligent.
Proverbs 17:9
Whoever covers an offense seeks love, but he who repeats a matter separates close friends.
Proverbs 18:8
The words of a whisperer are like delicious morsels; they go down into the inner parts of the body.
Proverbs 25:15
With patience a ruler may be persuaded, and a soft tongue will break a bone.
Proverbs 25:23
The north wind brings forth rain, and a backbiting tongue, angry looks.
Proverbs 26:20
For lack of wood the fire goes out, and where there is no whisperer, quarreling ceases.
Proverbs 29:20
Do you see a man who is hasty in his words? There is more hope for a fool than for him.
Proverbs 31:26
She opens her mouth with wisdom, and the teaching of kindness is on her tongue.
Proverbs 6:17
Haughty eyes, a lying tongue, and hands that shed innocent blood.
Psalm 12:4
Those who say, "With our tongue we will prevail, our lips are with us; who is master over us?"
Psalm 141:3
Set a guard, O Lord, over my mouth; keep watch over the door of my lips!
Psalm 15:3
Who does not slander with his tongue and does no evil to his neighbor, nor takes up a reproach against his friend.
Psalm 19:14
Let the words of my mouth and the meditation of my heart be acceptable in your sight, O Lord, my rock and my redeemer.
Psalm 34:13
Keep your tongue from evil and your lips from speaking deceit.
Psalm 35:28
Then my tongue shall tell of your righteousness and of your praise all the day long.
Psalm 37:30
The mouth of the righteous utters wisdom, and his tongue speaks justice.
Psalm 39:1
To the choirmaster: to Jeduthun. A Psalm of David. I said, "I will guard my ways, that I may not sin with my tongue; I will guard my mouth with a muzzle, so long as the wicked are in my presence."
Psalm 5:9
For there is no truth in their mouth; their inmost self is destruction; their throat is an open grave; they flatter with their tongue.
Psalm 52:2
Your tongue plots destruction, like a sharp razor, you worker of deceit.
Revelation 21:8
"But as for the cowardly, the faithless, the detestable, as for murderers, the sexually immoral, sorcerers, idolaters, and all liars, their portion will be in the lake that burns with fire and sulfur, which is the second death."
Romans 3:13
"Their throat is an open grave; they use their tongues to deceive." "The venom of asps is under their lips."
More Bible Verses that Will Move You
50 Most Powerful Scriptures on Faith
60 Transcendent Verses on Trust
50 Strong Scriptures on Perseverance
68 Powerful Verses on Forgiveness
40 Uplifting Scriptures on Patience
Add Our Infographic Below to Your Pinterest Board
Hit the pin button below to add our infographic, with all the verses, to one of your Pinterest boards.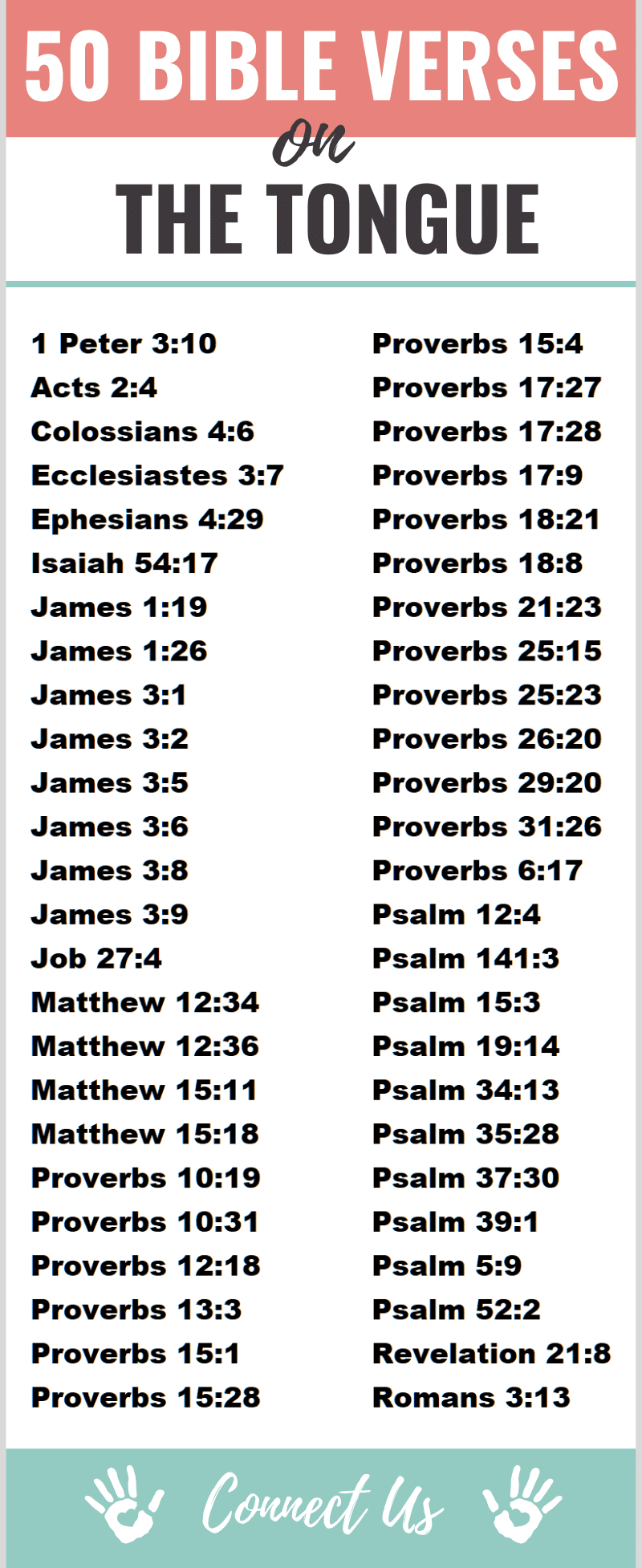 Author Bio
Natalie Regoli is a child of God, devoted wife, and mother of two boys. She has a Master's Degree in Law from The University of Texas. Natalie has been published in several national journals and has been practicing law for 18 years.