Here are the 50 most uplifting Bible scriptures on happiness.
Psalm 37:4
Delight yourself in the Lord, and he will give you the desires of your heart.
Ecclesiastes 3:12
I perceived that there is nothing better for them than to be joyful and to do good as long as they live.
Philippians 4:4
Rejoice in the Lord always; again I will say, Rejoice.
Isaiah 12:2
Behold, God is my salvation; I will trust, and will not be afraid; for the Lord God is my strength and my song, and he has become my salvation.
Proverbs 14:13
Even in laughter the heart may ache, and the end of joy may be grief.
1 John 3:18
Little children, let us not love in word or talk but in deed and in truth.
1 Peter 3:14
But even if you should suffer for righteousness' sake, you will be blessed. Have no fear of them, nor be troubled.
1 Peter 4:12
Beloved, do not be surprised at the fiery trial when it comes upon you to test you, as though something strange were happening to you.
1 Peter 4:13
But rejoice insofar as you share Christ's sufferings, that you may also rejoice and be glad when his glory is revealed.
1 Thessalonians 3:9
For what thanksgiving can we return to God for you, for all the joy that we feel for your sake before our God.
2 Corinthians 12:10
For the sake of Christ, then, I am content with weaknesses, insults, hardships, persecutions, and calamities. For when I am weak, then I am strong.
2 Corinthians 4:18
As we look not to the things that are seen but to the things that are unseen. For the things that are seen are transient, but the things that are unseen are eternal.
Deuteronomy 24:5
"When a man is newly married, he shall not go out with the army or be liable for any other public duty. He shall be free at home one year to be happy with his wife whom he has taken."
Ecclesiastes 2:26
For to the one who pleases him God has given wisdom and knowledge and joy, but to the sinner he has given the business of gathering and collecting, only to give to one who pleases God. This also is vanity and a striving after wind.
Ecclesiastes 3:13
Also that everyone should eat and drink and take pleasure in all his toil—this is God's gift to man.
Ecclesiastes 3:22
So I saw that there is nothing better than that a man should rejoice in his work, for that is his lot. Who can bring him to see what will be after him?
Ecclesiastes 7:14
In the day of prosperity be joyful, and in the day of adversity consider: God has made the one as well as the other, so that man may not find out anything that will be after him.
Esther 8:16
The Jews had light and gladness and joy and honor.
Galatians 5:22
But the fruit of the Spirit is love, joy, peace, patience, kindness, goodness, faithfulness.
Hebrews 11:1
Now faith is the assurance of things hoped for, the conviction of things not seen.
Isaiah 12:3
With joy you will draw water from the wells of salvation.
James 4:2
You desire and do not have, so you murder. You covet and cannot obtain, so you fight and quarrel. You do not have, because you do not ask.
James 5:13
Is anyone among you suffering? Let him pray. Is anyone cheerful? Let him sing praise.
John 10:10
"The thief comes only to steal and kill and destroy. I came that they may have life and have it abundantly."
John 15:11
"These things I have spoken to you, that my joy may be in you, and that your joy may be full."
John 16:22
"So also you have sorrow now, but I will see you again, and your hearts will rejoice, and no one will take your joy from you."
John 16:24
"Until now you have asked nothing in my name. Ask, and you will receive, that your joy may be full."
Luke 16:25
"But Abraham said, 'Child, remember that you in your lifetime received your good things, and Lazarus in like manner bad things; but now he is comforted here, and you are in anguish.'"
Matthew 25:21
"His master said to him, 'Well done, good and faithful servant. You have been faithful over a little; I will set you over much. Enter into the joy of your master.'"
Matthew 5:5
"Blessed are the meek, for they shall inherit the earth."
Matthew 5:8
"Blessed are the pure in heart, for they shall see God."
Matthew 5:9
"Blessed are the peacemakers, for they shall be called sons of God."
Philippians 4:7
And the peace of God, which surpasses all understanding, will guard your hearts and your minds in Christ Jesus.
Proverbs 14:21
Whoever despises his neighbor is a sinner, but blessed is he who is generous to the poor.
Proverbs 15:13
A glad heart makes a cheerful face, but by sorrow of heart the spirit is crushed.
Proverbs 16:20
Whoever gives thought to the word will discover good, and blessed is he who trusts in the Lord.
Proverbs 17:22
A joyful heart is good medicine, but a crushed spirit dries up the bones.
Proverbs 28:14
Blessed is the one who fears the Lord always, but whoever hardens his heart will fall into calamity.
Proverbs 29:18
Where there is no prophetic vision the people cast off restraint, but blessed is he who keeps the law.
Psalm 128:2
You shall eat the fruit of the labor of your hands; you shall be blessed, and it shall be well with you.
Psalm 144:15
Blessed are the people to whom such blessings fall! Blessed are the people whose God is the Lord!
Psalm 146:5
Blessed is he whose help is the God of Jacob, whose hope is in the Lord his God.
Psalm 16:11
You make known to me the path of life; in your presence there is fullness of joy; at your right hand are pleasures forevermore.
Psalm 16:9
Therefore my heart is glad, and my whole being rejoices; my flesh also dwells secure.
Psalm 34:8
Oh, taste and see that the Lord is good! Blessed is the man who takes refuge in him!
Psalm 37:3
Trust in the Lord, and do good; dwell in the land and befriend faithfulness.
Psalm 37:7
Be still before the Lord and wait patiently for him; fret not yourself over the one who prospers in his way, over the man who carries out evil devices!
Psalm 40:8
I delight to do your will, O my God; your law is within my heart.
Psalm 68:3
But the righteous shall be glad; they shall exult before God; they shall be jubilant with joy!
Romans 5:2
Through him we have also obtained access by faith into this grace in which we stand, and we rejoice in hope of the glory of God.
More Bible Verses that Will Move You
50 Most Powerful Scriptures on Faith
60 Transcendent Verses on Trust
50 Strong Scriptures on Perseverance
68 Powerful Verses on Forgiveness
40 Uplifting Scriptures on Patience
Add Our Infographic Below to Your Pinterest Board
Hit the pin button below to add our infographic, with all the verses, to one of your Pinterest boards.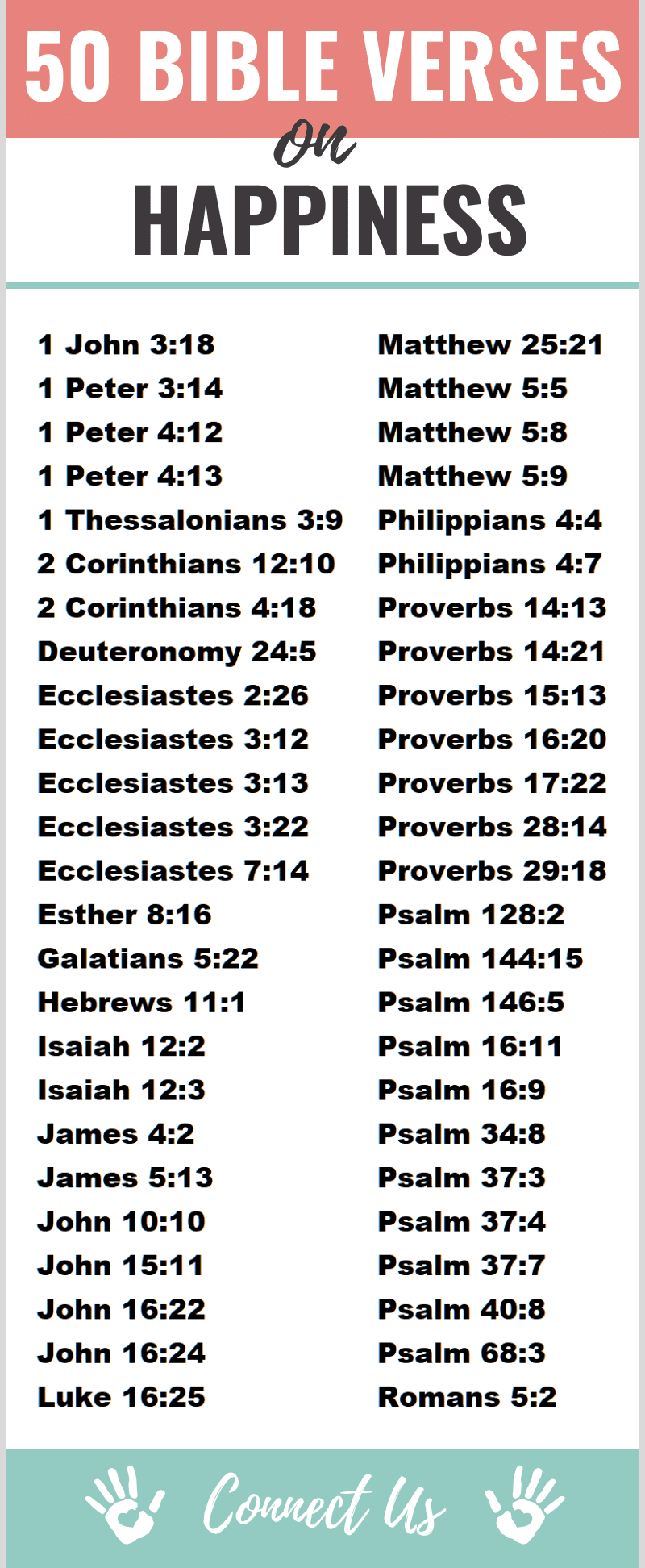 Author Bio
Natalie Regoli is a child of God, devoted wife, and mother of two boys. She has a Master's Degree in Law from The University of Texas. Natalie has been published in several national journals and has been practicing law for 18 years.