Seeking a new job can be an exciting time, but it can also bring feelings of anxiety and doubt when finding the perfect job does not happen as fast as you think it should. Here are 10 powerful prayers for a new job. Along with the prayers are printable images for you to use or share.
Prayer for Restoration of Employment
God of Loving Devotion, I ask that You lead me to a new job that will bring in a good income and utilize the abilities and experience with which You have blessed me. I trust in Your provision and wait for Your guidance. I praise You because I know You will do this. You will restore me to employment, with an even better job than before. I will rejoice and be glad in Your gracious work on my behalf. Amen.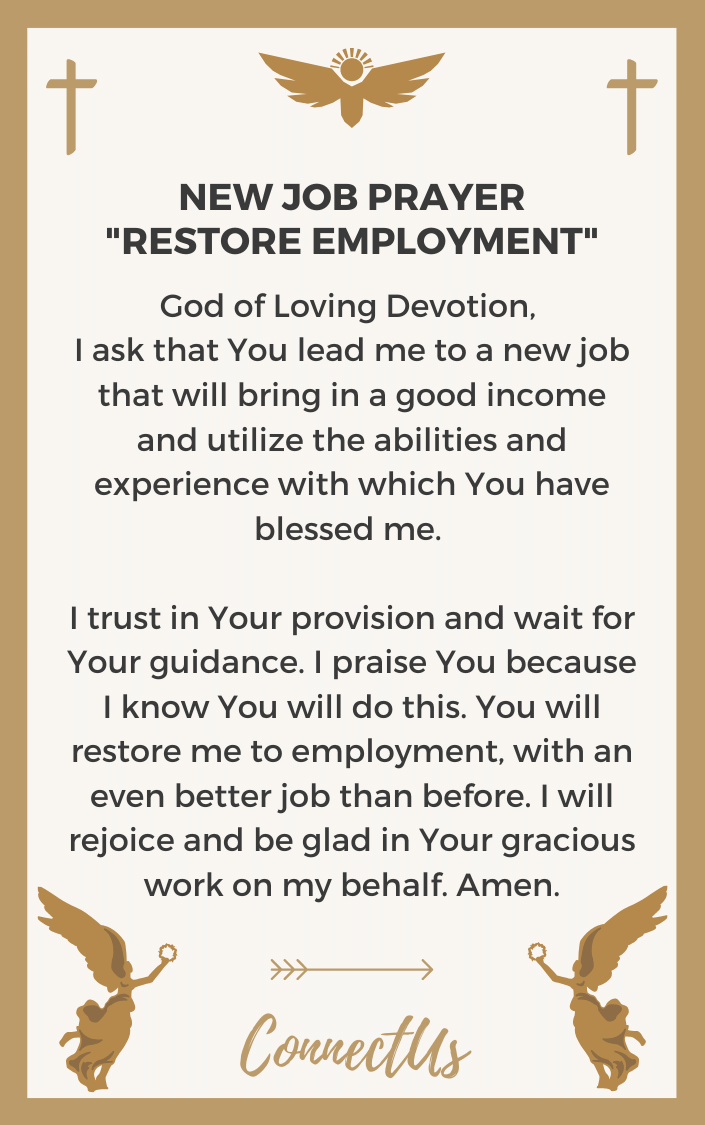 Prayer for a Job to Fit New Circumstances
God my Gracious Provider, You know that recent circumstances have prevented me from continuing in my employment and that now I have no income. Lord, please lead me to work that I can do within these new restrictions. Help me find a job that will provide a steady and good income, and which will use my skills and bring a sense of fulfillment. Surely You are my helper and the sustainer of my soul. Amen.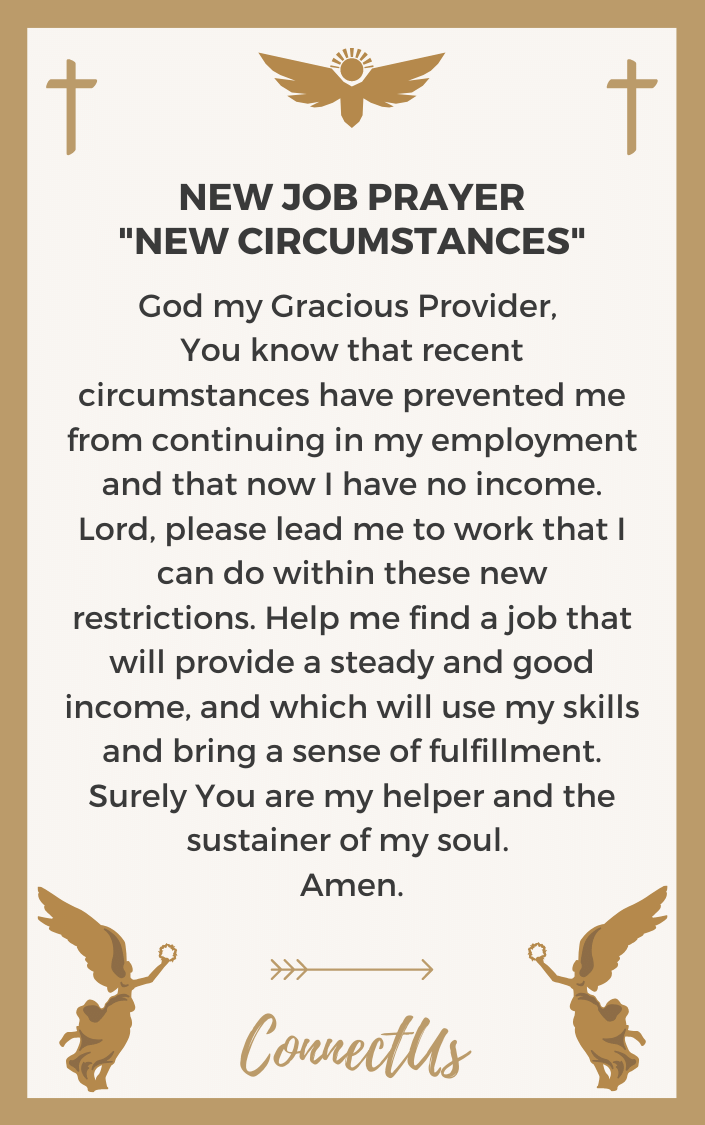 Prayer for a Better Job
Lord of Lights, I am not happy in this present position. I don't feel comfortable with some of the things I have to do, and there is a sense of oppression in this workplace. Father, please lead me to employment where I don't need to compromise my standards. Lead me to a place that is fair to workers, and where there is a sense of camaraderie and support among the employees and supervisors. Amen.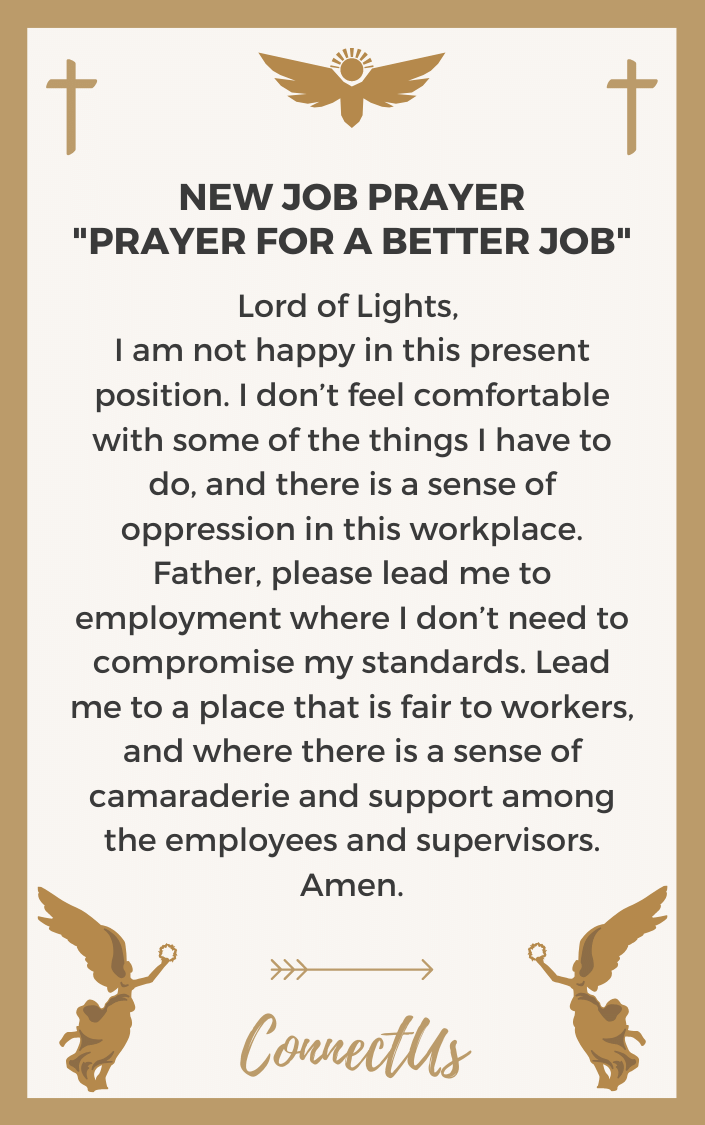 Prayer for Replacement Job
Heavenly Father, my company has closed and now I'm unemployed. As I prepare my resume and begin to track down job leads, let my endeavors be guided by You, every step of the way. Point out where I should be submitting an application, show me how to make my resume stand out among all the others, help me to be articulate and to demonstrate my competence in interviews, and give me favor in this job search. Amen.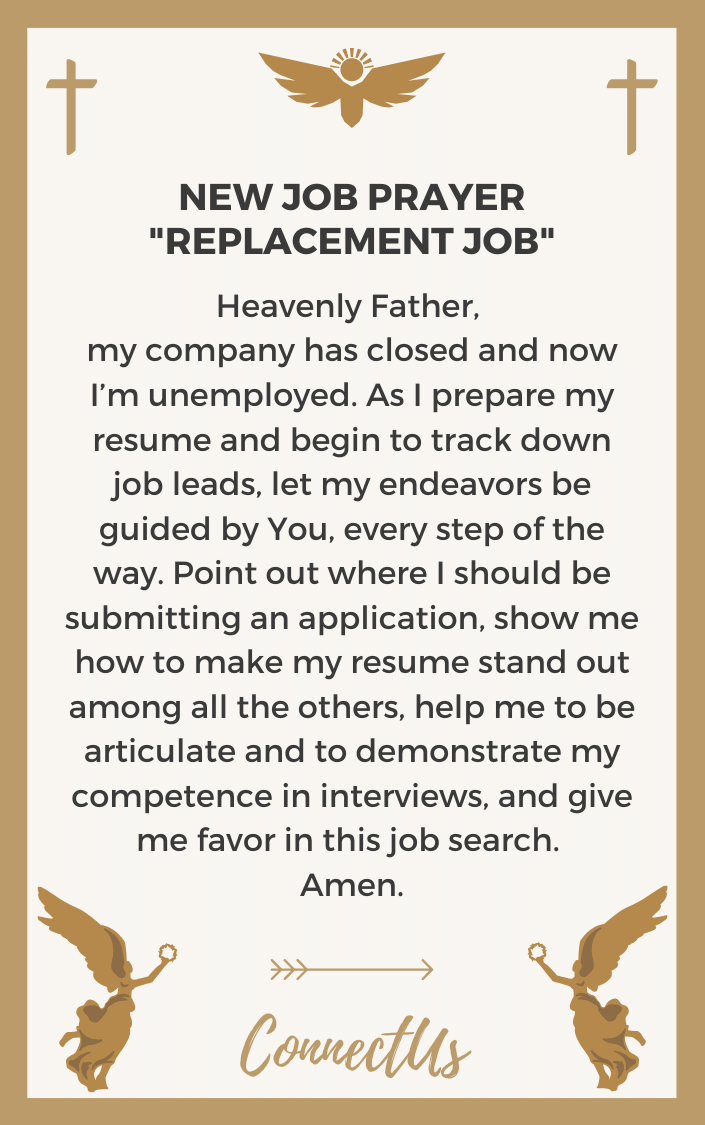 Prayer for Work in a New Field
Loving God, You know that I've been working in this one area for several years, but now that I've finished my degree, I am looking for a position in a new area that will fit my education. Help me in this transition, Lord. I'm asking that You will lead me to a job that will use my education but also use the skills and knowledge that I've acquired in my current job. Thank You for Your guidance. Amen.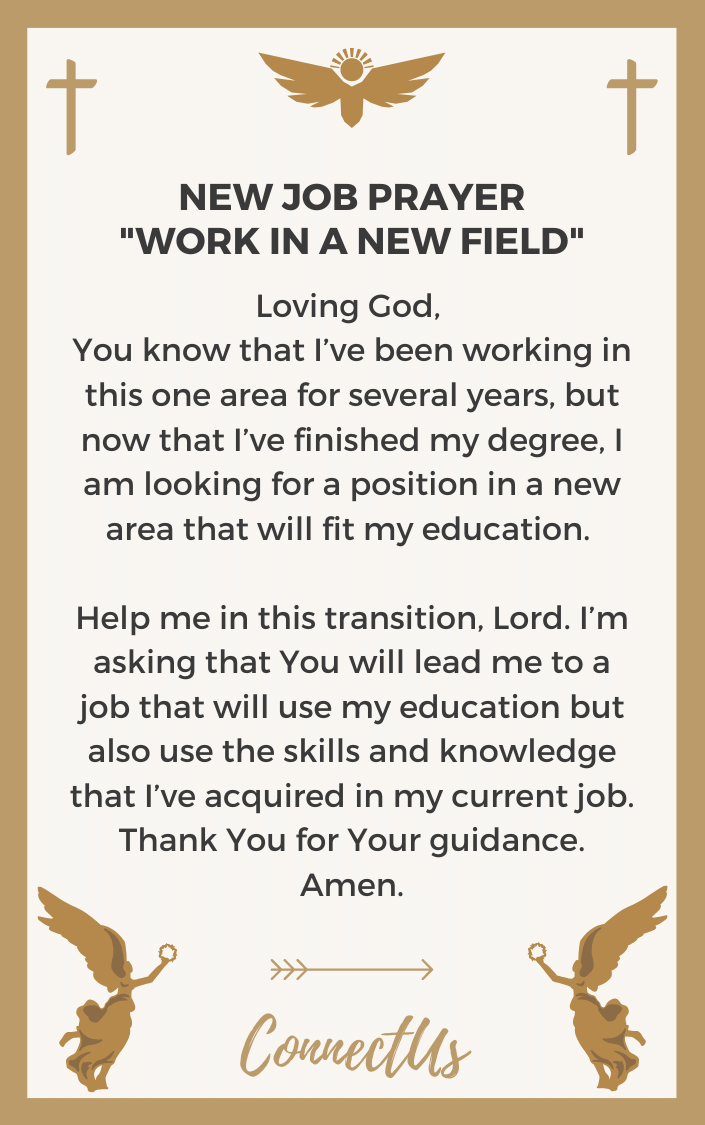 Prayer for a New Position
Lord of Wisdom, please help me in this search for new employment. You know that I worked for the same company for many years, and I'm a bit overwhelmed now with how to go about finding new work. Help me to devise an eye-catching resume that will highlight my experience and expertise, and to get references that will showcase my work ethic and contributions. May my age not work against me in this search, but may my acquired knowledge over the years be considered an asset. Amen.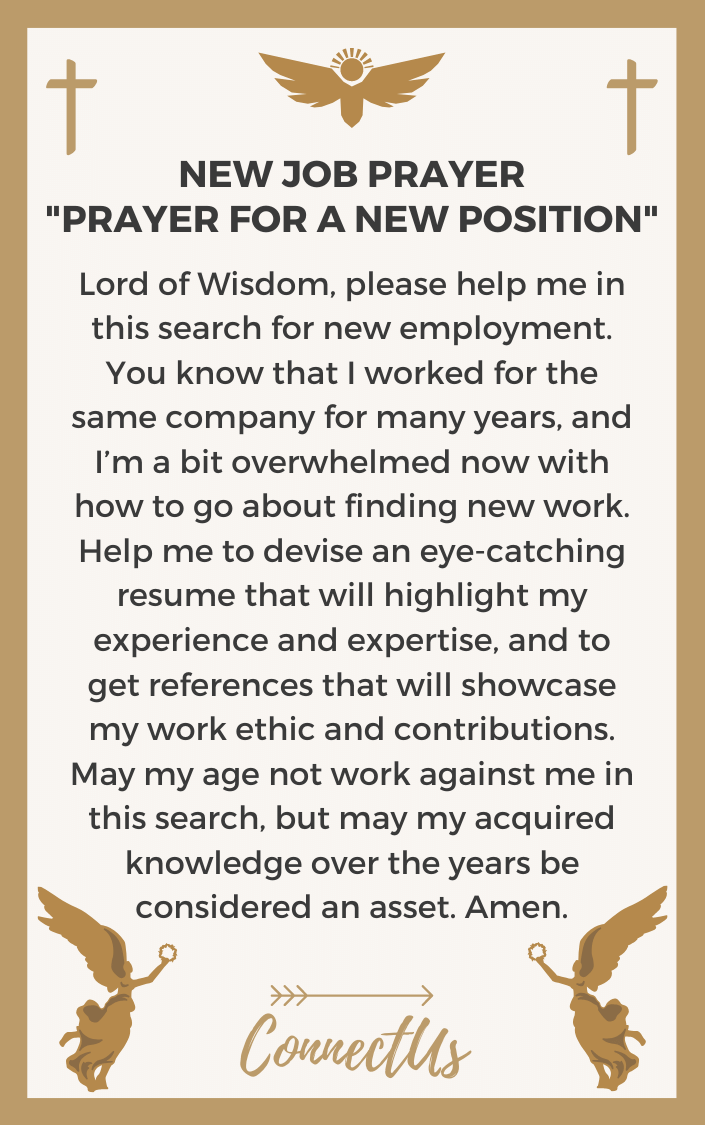 Prayer for a Great Job to Find Me
God of Wonders, I'm asking that as I post my resume on this job-hunting site that it will quickly catch the attention of recruiters and potential employees. May the right job for me quickly fall into place, and please provide for my financial needs in the meantime. Lord, I pray that You will guard me against chasing down leads that won't go anywhere or spending copious amounts of time responding to queries that are dead-ends. May this search be efficient and quickly land me in a new position that is a great fit. Amen.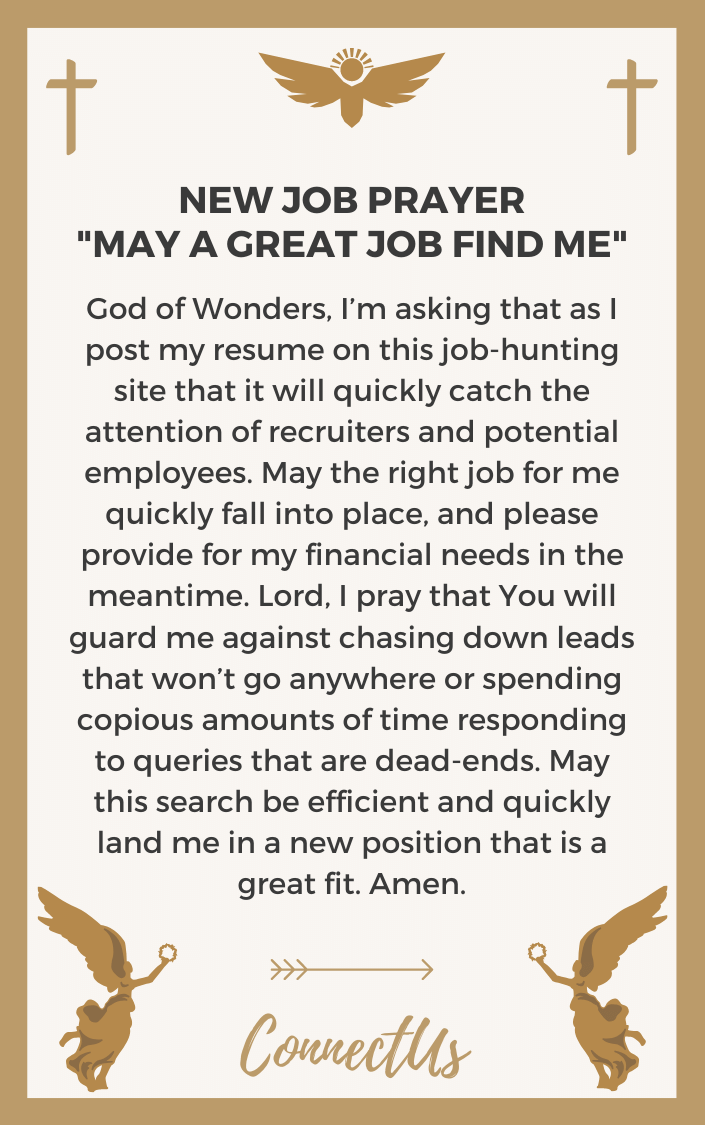 Prayer for New Position after Relocating
Lord my Sustainer, please lead me to a wonderful job in this new place. Guide me to the best job-search strategies. Help me to tap into the connections I already have here and am in the process of forming, so I can receive tips about job leads. Help me to be strategically proactive in contacting companies that will be a good fit and getting noticed by them. Lord, lead me to a job that will utilize my skills to the fullest and that will provide ample pay. Amen.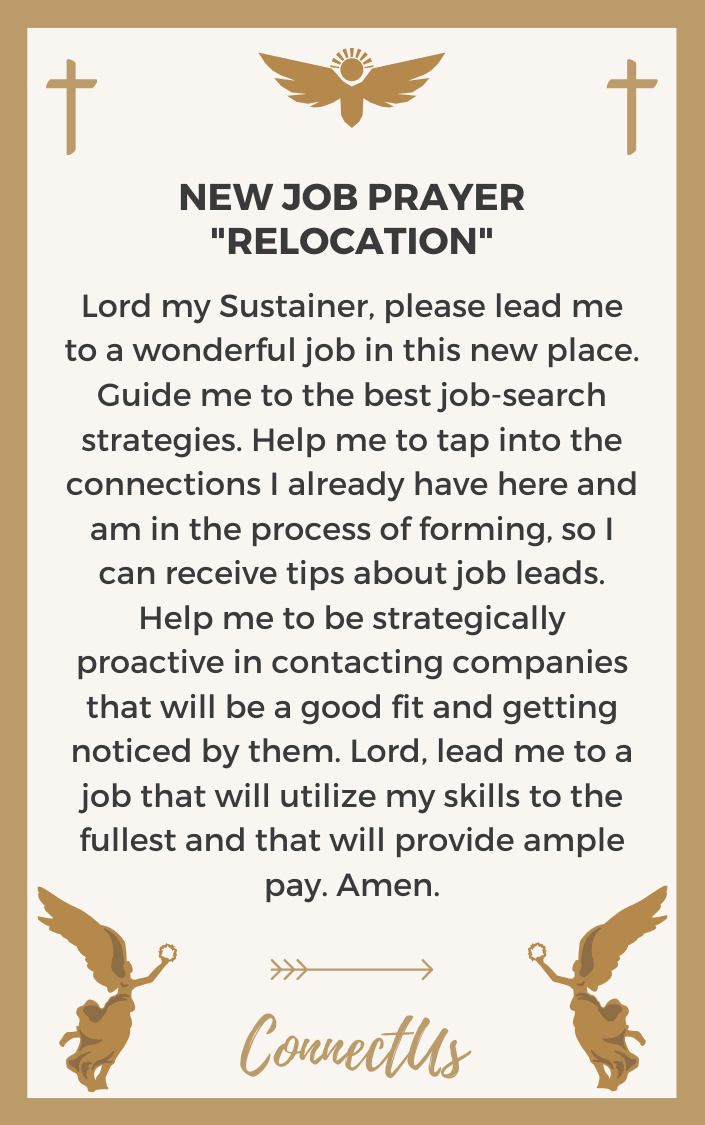 Prayer for an Excellent Interview
Faithful Father, I thank You for what You've already done for me. You've guided me through the process, and now I've landed a job interview for a great position. And now, Lord, help me prepare well, and to make an excellent impression on those who are interviewing me. Help me to be likable, to demonstrate my abilities, and to show how I can contribute to this company. If this is the right job for me, help me to land this job. Thank You for Your guidance. Amen.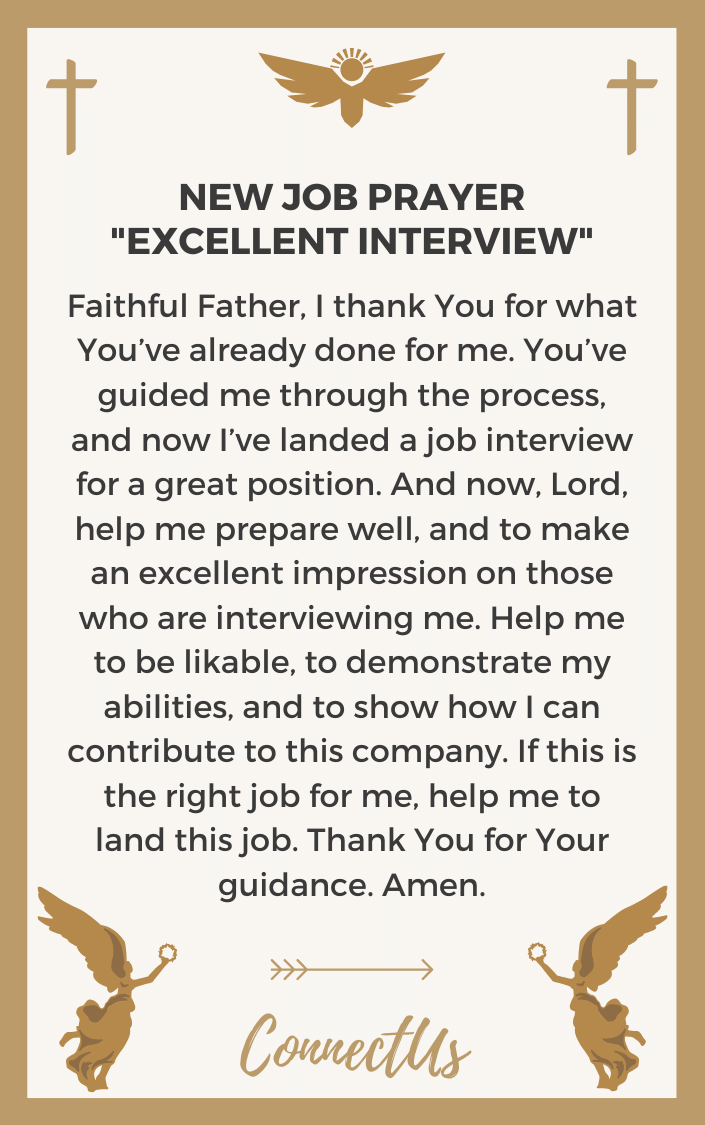 Prayer for Advancement in My Career
Lord, my Rock, I thank You that You have provided for me through my training and through providing great employment. And now I'm looking to advance to that next step in my career. Please guide me in this process, whether with my current employer or elsewhere. Help me to clearly outline what I've accomplished so far and what I can bring to the table in the future. Lord, please give me favor in seeking advancement. Amen.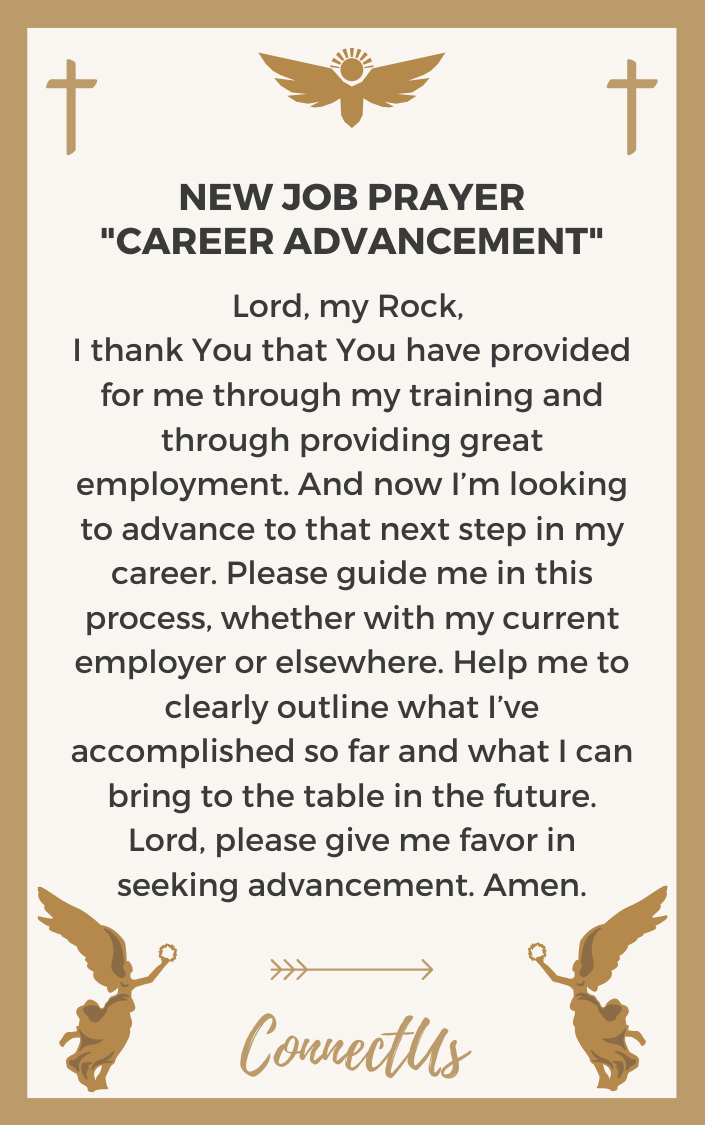 Most Popular Prayers by Topic
For Hard Times
For Financial Prosperity
For Physical Health
For Emotional Health
For Protection
For a Marriage
For Babies and Pregnancy
For Family
For Spiritual Warfare
For Spiritual Health
For a Death
For the Workplace
For Bedtime
Our 10 week prayer journal will guide you through your daily prayers and help you plan out your prayer week. It is completely free. You can
click here to get it now
.

Author Bio
Natalie Regoli is a child of God, devoted wife, and mother of two boys. She has a Master's Degree in Law from The University of Texas. Natalie has been published in several national journals and has been practicing law for 18 years.