Wanting to lose weight to improve your health and feel better about yourself overall is a great first step, but changing the way you eat can be a difficult process. Here are 10 powerful prayers for dieting. Along with the prayers are printable images for you to use or share.
Prayer for Diligence
Jesus, my Savior, I need Your help with my weight. Please give me unwavering determination to get down to a healthy weight. Help me reach my goals with Your surrounding strength and diligence. I know that I can do all things through You. May this be a reminder every day. Give me the resolve to persevere, knowing that You are with me. Thank You for teaching me the power of conviction. I pray that Your lessons and love can keep me on track with my goals. In Your powerful name, Amen.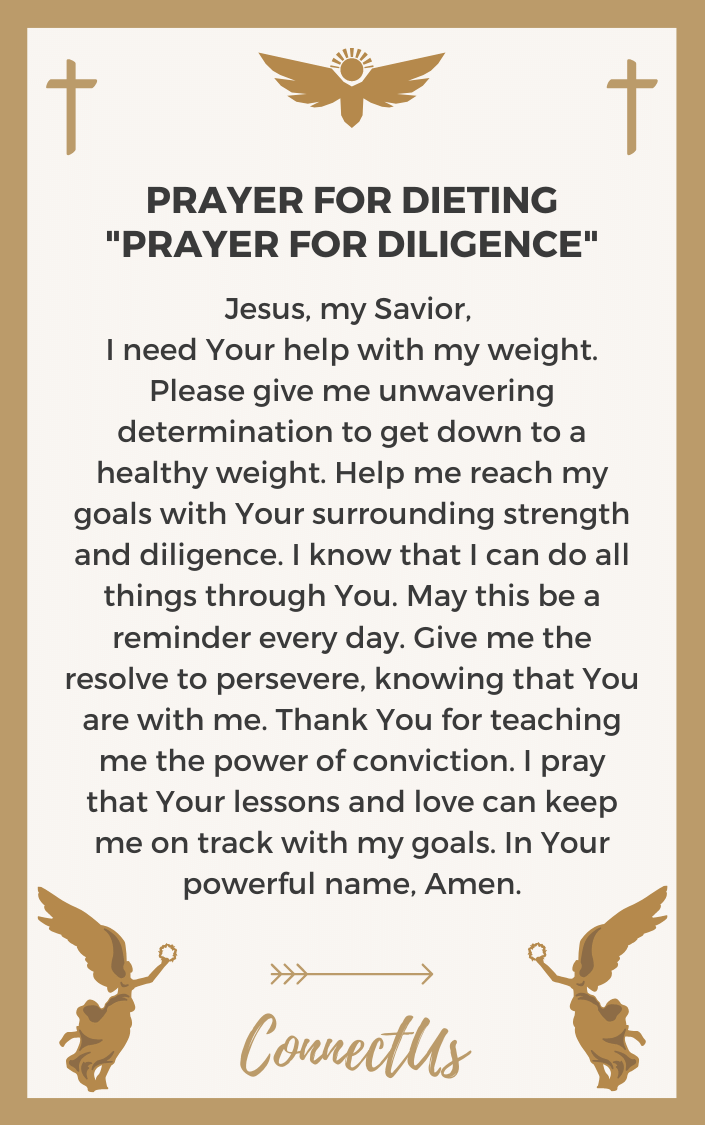 Prayer for Health
Jehovah Rapha, my Healer, I ask for Your goodness right now. As I start on my new weight loss challenge, please keep my body strong and healthy. Although I will push myself, help me to remember to be kind to myself. Maintain health in my body, mind, and spirit, Lord. Provide peace to my mind as my body adapts to its new weighty. I pray that with Your almighty hand near, I will remain healthy and strong during this dieting process. Amen.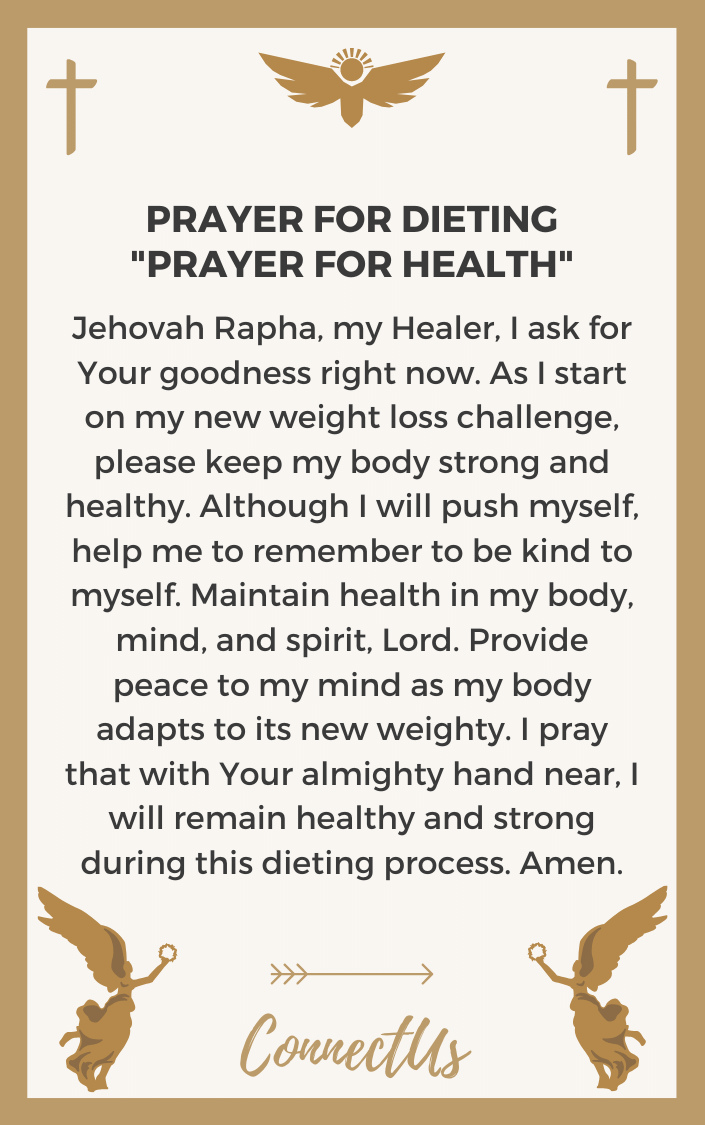 Prayer of Hope
Father, my Miracle-Worker, please keep my eyes on You. When my mind and heart are focused on Your love, I have a hopeful spirit. I believe wholeheartedly that I can achieve my weight loss goals and that I can be a healthier version of myself. I need You by my side to do this, God. Please walk with me through this difficult process. Please keep this hope that I will reach my target weight alive in my soul. Remind me of Your continued glory and support. Remind me of the light that always exists in darkness. Amen.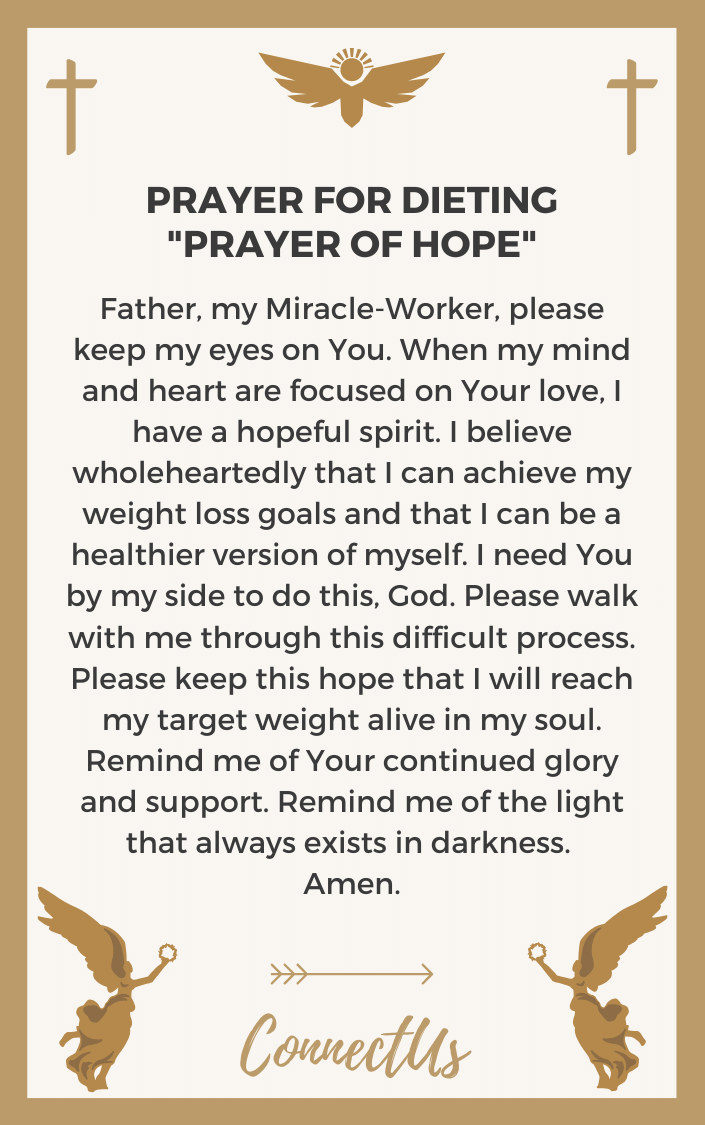 Prayer of God's Companionship
Lord of Unfailing Love, as I endure this dieting process, please be near me. Erase worry from my mind. Strengthen my resolve to stick to my diet. Make Your almighty presence known. As I rise every morning and sleep every night, please fill me with Your overwhelming light and love. I know that when we walk together, my challenges are small and my opportunities are limitless. Through everything that is to come, hold my hand, and be by my side. Fill me with the warmth of Your presence. I love You so much. Amen.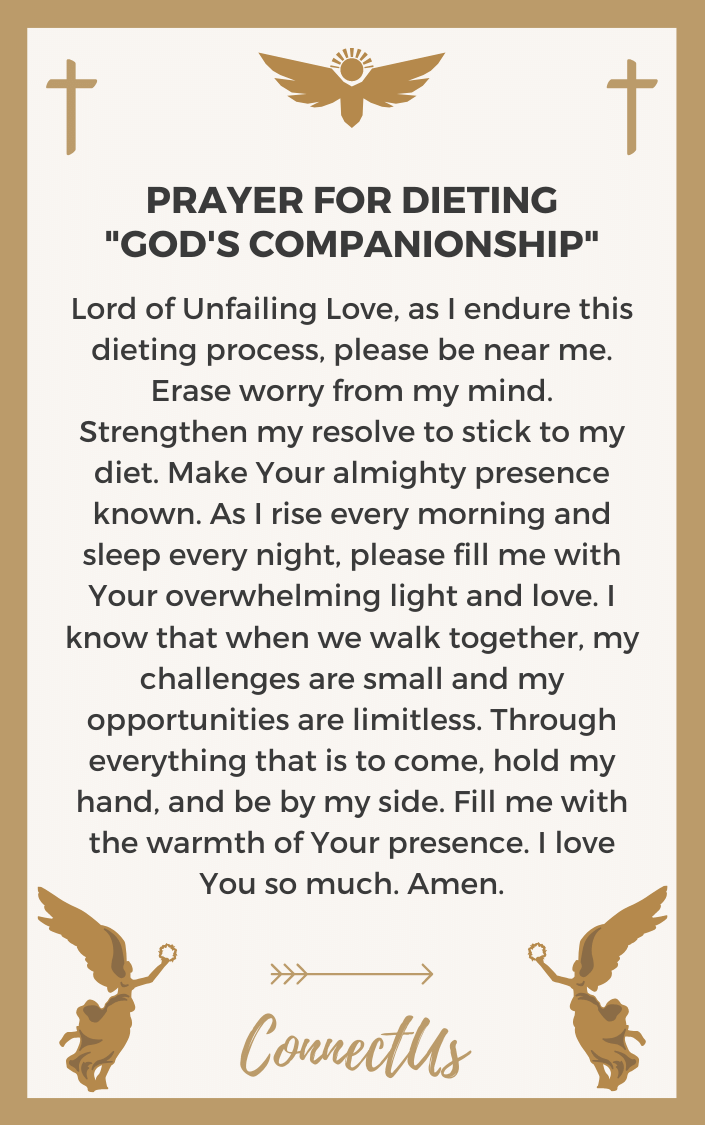 Prayer of Nourishment
God my Great Provider, please bless the food in front of me. It is not what I am used to eating, but I need to change my eating habits to lose weight. May this food nourish my body and give me the energy to go about my day with vitality. May it elevate my mood so I can praise You from the highest. May it give me a positive outlook on this blessed time. May it overwhelm me in the goodness of Your gifts. Thank You for this food, God. Amen.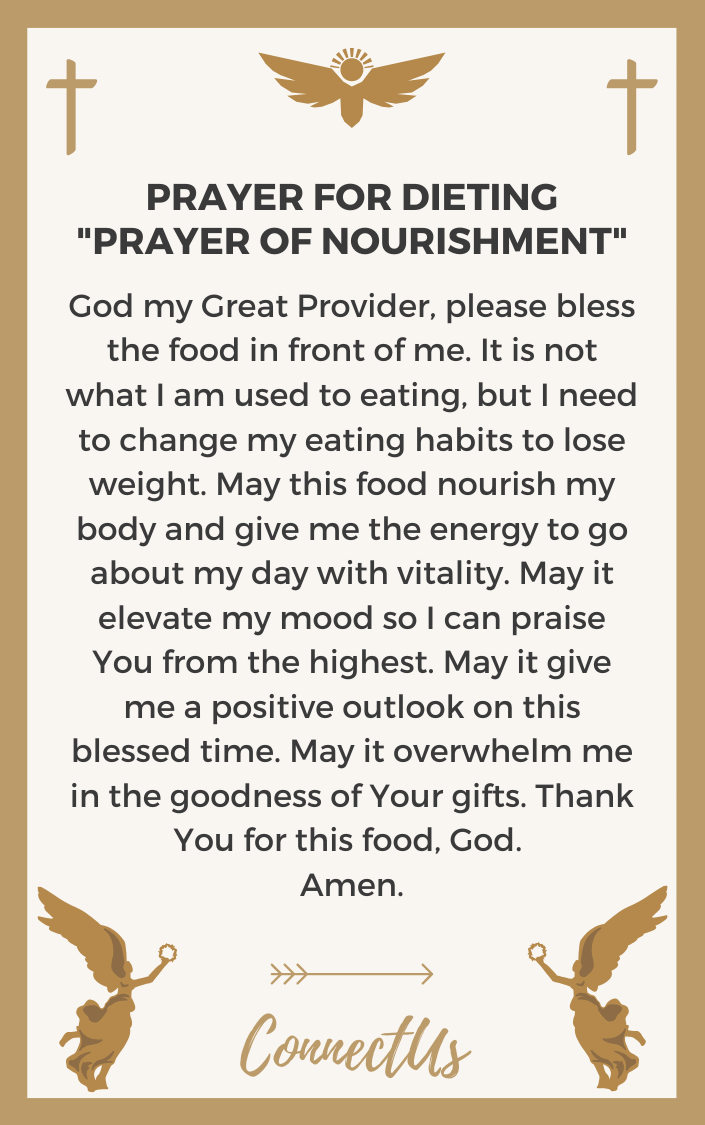 Prayer for Faith
God of Enduring Faithfulness, please give me faith to believe that I can reach my goal. Fill me with divine strength and determination to hit my target weight. Strengthen my trust that You are with me in this battle with my body. Give me peace of mind that You will guide me. May faith be the core of my thoughts and actions. As I undergo this challenging process, I pray that You surround me in Your love. That way, my faith can remain alive and a steering force for my life. Amen.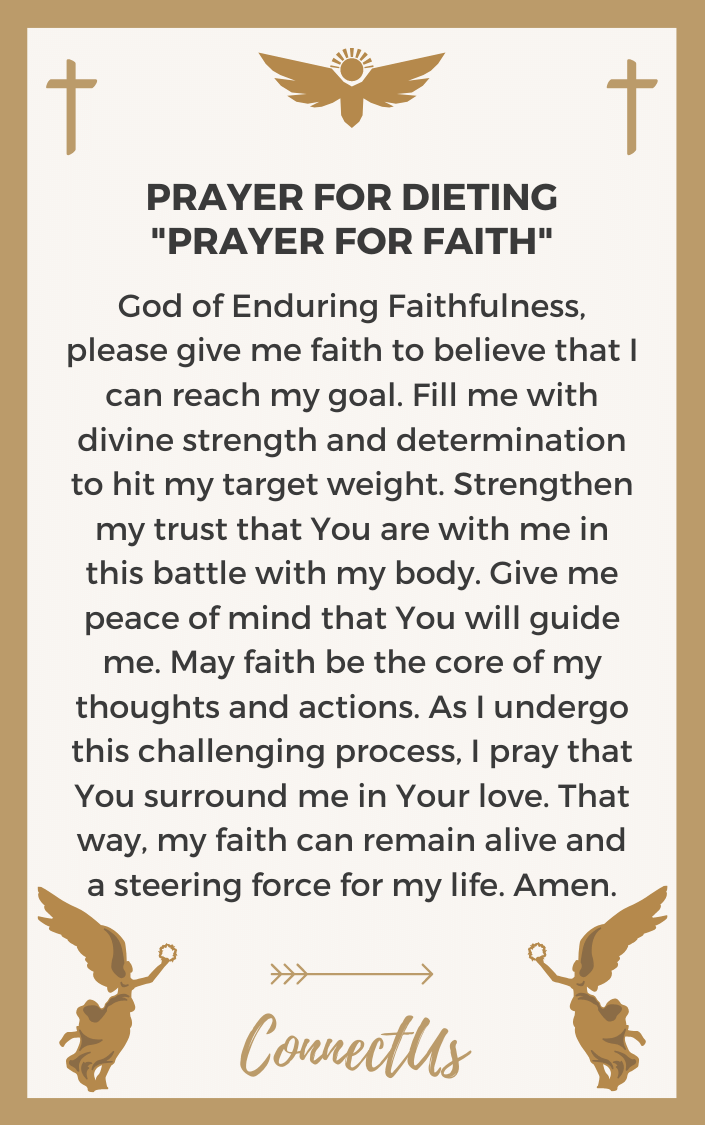 Prayer for Self-Love
God of Mercy and Love, please teach me to be kind and loving to myself during my diet. I am trying to make healthier eating and exercise choices and get to a healthy weight. I want to feel comfortable in my skin again. Help me celebrate and love myself right now, even though I am not where I need to be. If I cheat, help me forgive myself and keep moving forward without disgrace. Please remind me that I am confident in who I am, I am grateful for the opportunity to be healthier, and I will always honor myself as a child of God. Amen.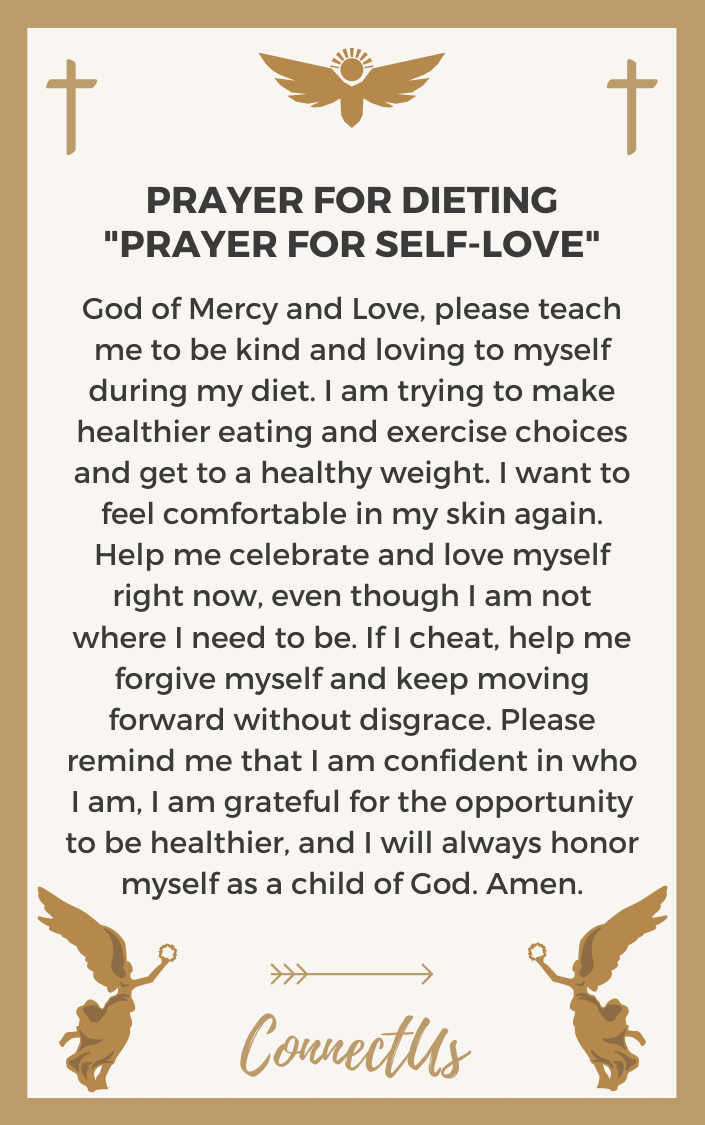 Prayer of Mindfulness
Lord of the Highest Heavens, I am embarking on a new challenge. I want to lose weight and be confident in who I am. Throughout this journey, please help me make mindful choices. As I wake up each morning, may my thoughts be peaceful and centered. As I undergo hardship or self-doubt, please bring me back to a place of mindful peace. I know that through the power and discipline of my mind, I can find comfort and joy in this journey. Please take me to this place, Lord. I ask this with a dire heart. Amen.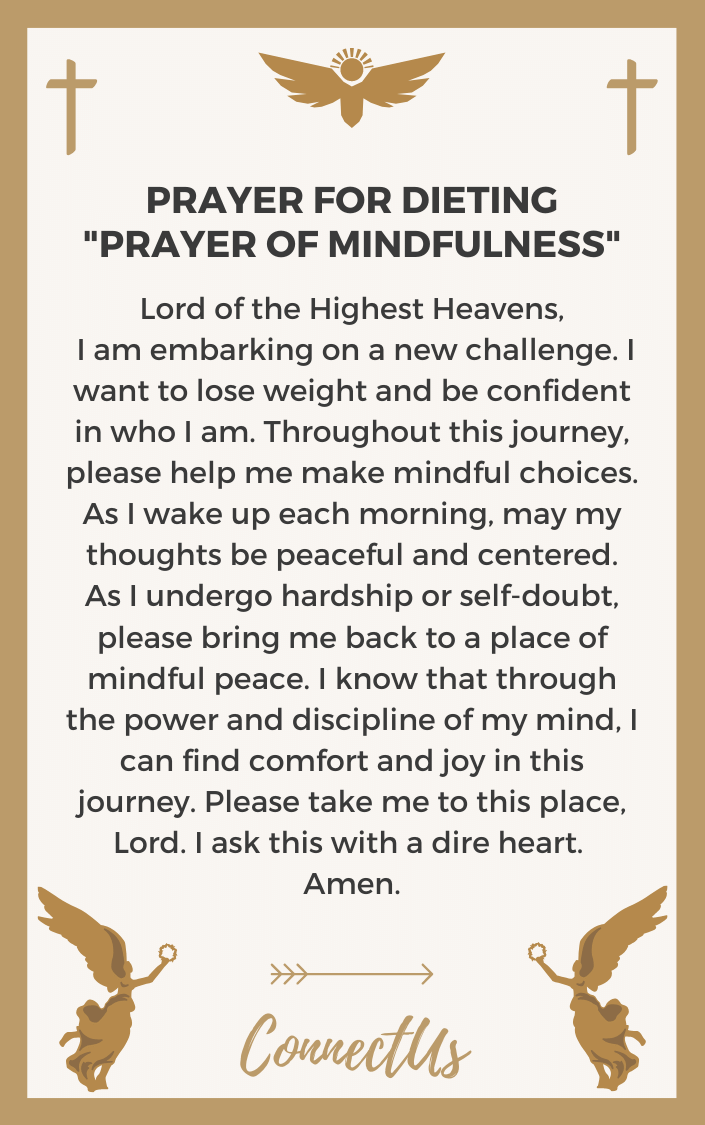 Gratitude Prayer
Abba, Father, I am so grateful for You. Thank You for giving my body and mind this transformative opportunity to be healthier. Thank You for nourishing food and exercise that will cleanse and build my body into a restorative state. Thank You for the determination and faith that You have taught me. Those values will guide me through the highs and lows of this weight loss journey. And thank You for Your overwhelming presence. I know that through You, I can do anything I set my heart and mind to. Amen.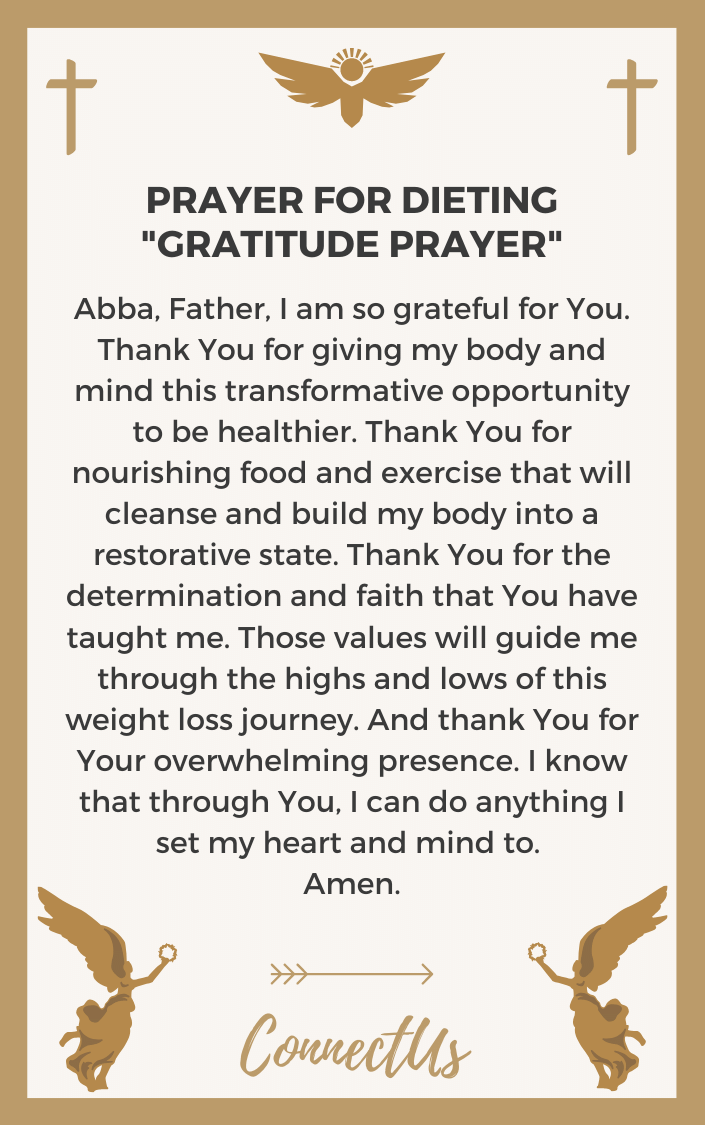 Celebration Prayer
God of Light, please join me in praising my achievements. Through You, I see progress and improvement every day. Through You, I feel healthier and more confident. May this be a reminder that I can overcome all challenges with Your guidance and love. May this be a reminder that You are always near, Lord, to help and support me. Today I rejoice in my weight loss progress and my relationship with You. Thank You for Your light, dear God. Amen.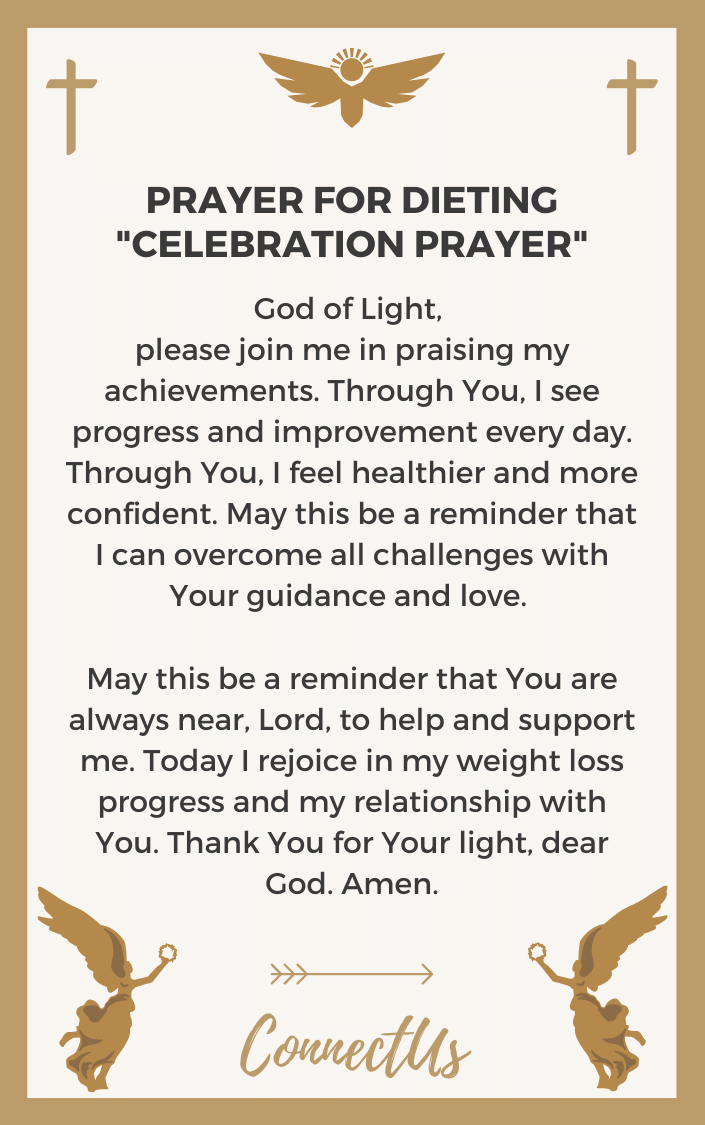 Our 10 week prayer journal will guide you through your daily prayers and help you plan out your prayer week. It is completely free. You can
click here to get it now
.

125 Most Powerful Prayers to Use in Times of Need
25 Powerful Prayers for Healing
25 Uplifting Prayers for Anxiety
25 Strong Prayers for Financial Stability
25 Encouraging Prayers for Peace of Mind
25 Powerful Prayers for Perseverance
20 Most Famous Prayers in the History of the World
Author Bio
Natalie Regoli is a child of God, devoted wife, and mother of two boys. She has a Masters Degree in Law from The University of Texas. Natalie has been published in several national journals and has been practicing law for 18 years. If you would like to reach out to contact Natalie, then go here to
send her a message
.