Mothers often carry the weight of the world on their shoulders, so we pray to God to ease their burden. Here are 10 powerful prayers for mothers. Along with the prayers are printable images for you to use or share.
Prayer for My Mother
All-sufficient One, I come to You in intercession for my sweet mother. She has poured out her life to love and nurture others. I pray that You would pour out a special measure of love and provision for all her needs. Help me and my siblings and my father to honor her and care for her. May she experience great joy and intimacy in her relationship with You. Be her rock of refuge, where she can always go. Amen.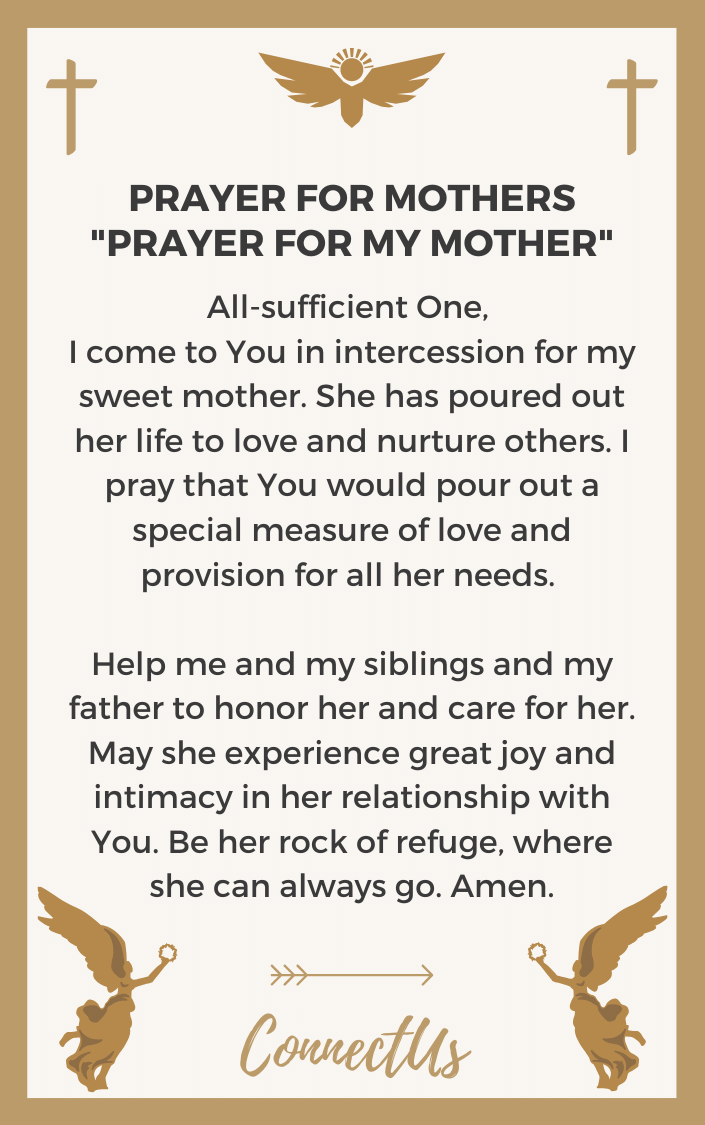 Prayer to Have Peace of Mind
O God who gives songs in the night, I pray that You will touch my mother when she lies awake, worrying. May she cast all her cares on You, for You care for her. May these anxieties be banished from her heart. May she know that You sustain her, and You will never let her be shaken. As she trusts in You and commits her way to You, may all her plans be achieved. Amen.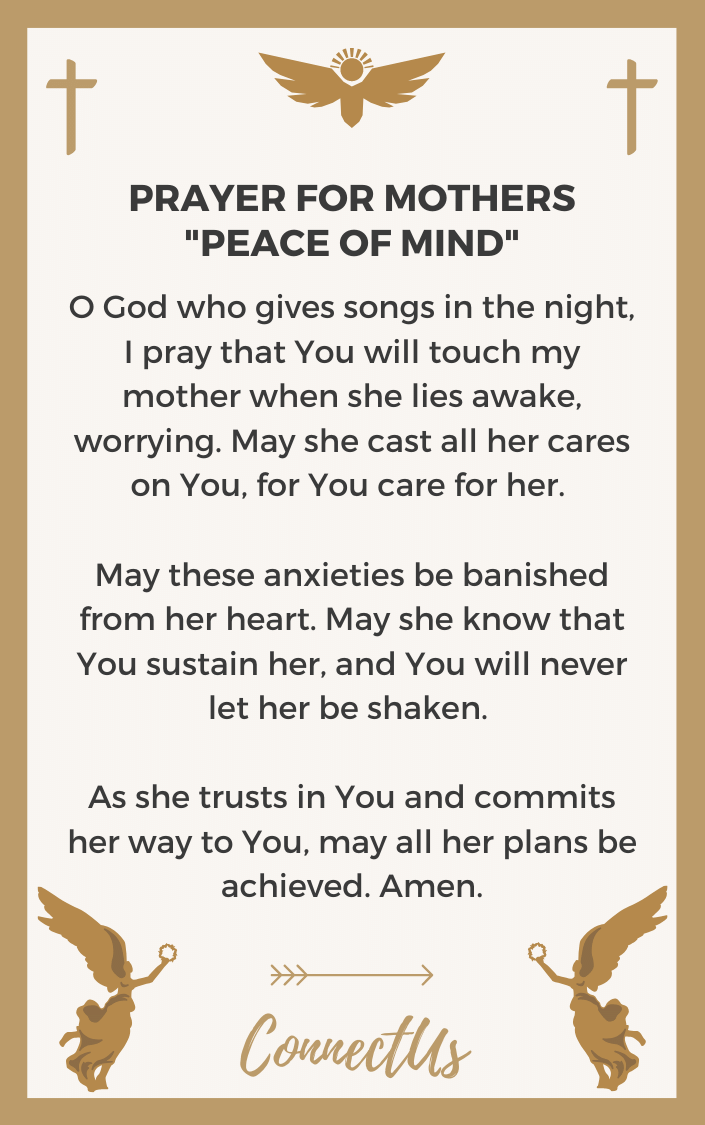 Prayer for My Mother to be Healthy
Author of Life, I pray that You would bless my mother with divine health. May You give her new strength and sustain her all through her days. Renew her youth like the eagle, as she trusts in You. I pray that You give her long life with plenty of energy and no aches and pains. I also pray that she will be emotionally and spiritually healthy so that she has inner strength and confidence and peace. Amen.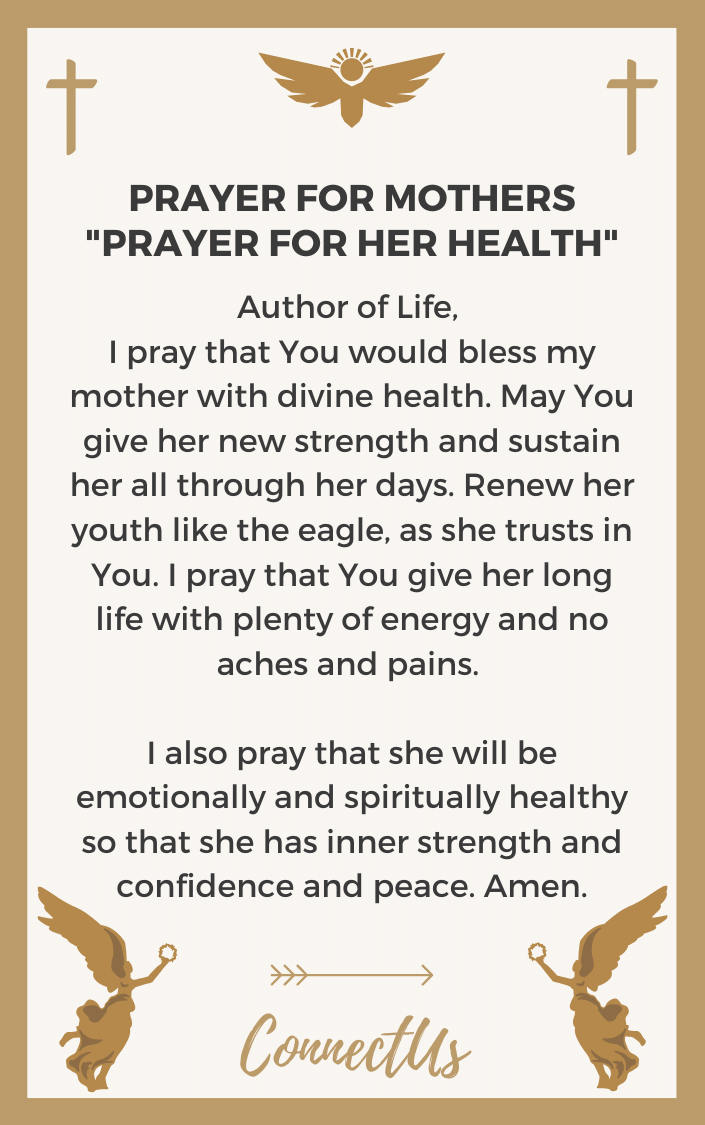 Prayer for Blessings on My Mother
My God who satisfies with good things, I pray You would pour out blessings over my mother. Bless her home and all that takes place in it. Bless her kitchen and all the food she prepares in it. Wherever she goes and whatever she does, may she be blessed. If anything comes up against her, come to her defense and scatter troubles away from her. Giver her prosperity in all ways. Bless her with love and sweet companionship in all her relationships. Amen.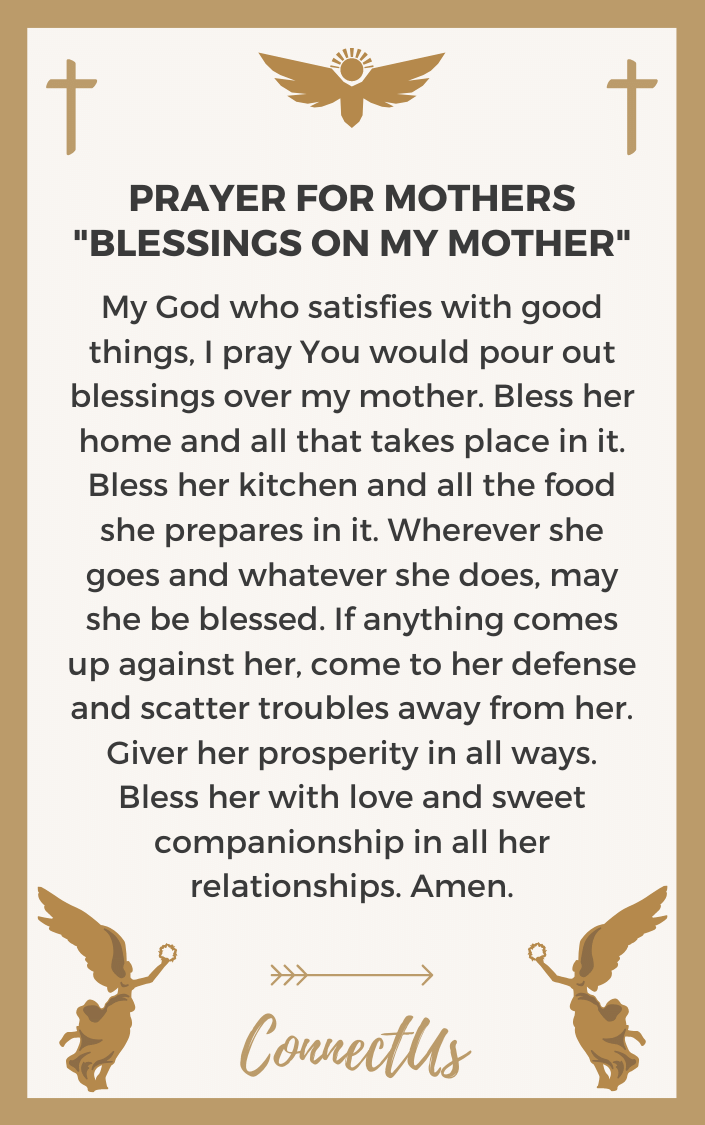 Prayer of Gratitude for My Mother
Wonderful Lord, I thank You for my beautiful, compassionate, and devout mother. I thank You that she is diligent and capable in all she does, and she enriches the lives of her husband and children. I thank You for her energy and strength, and how she models a strong work ethic. I thank You that she opens her arms to all in need. I thank You that she laughs without fear of the future. Reward her for all she has done, I pray. Amen.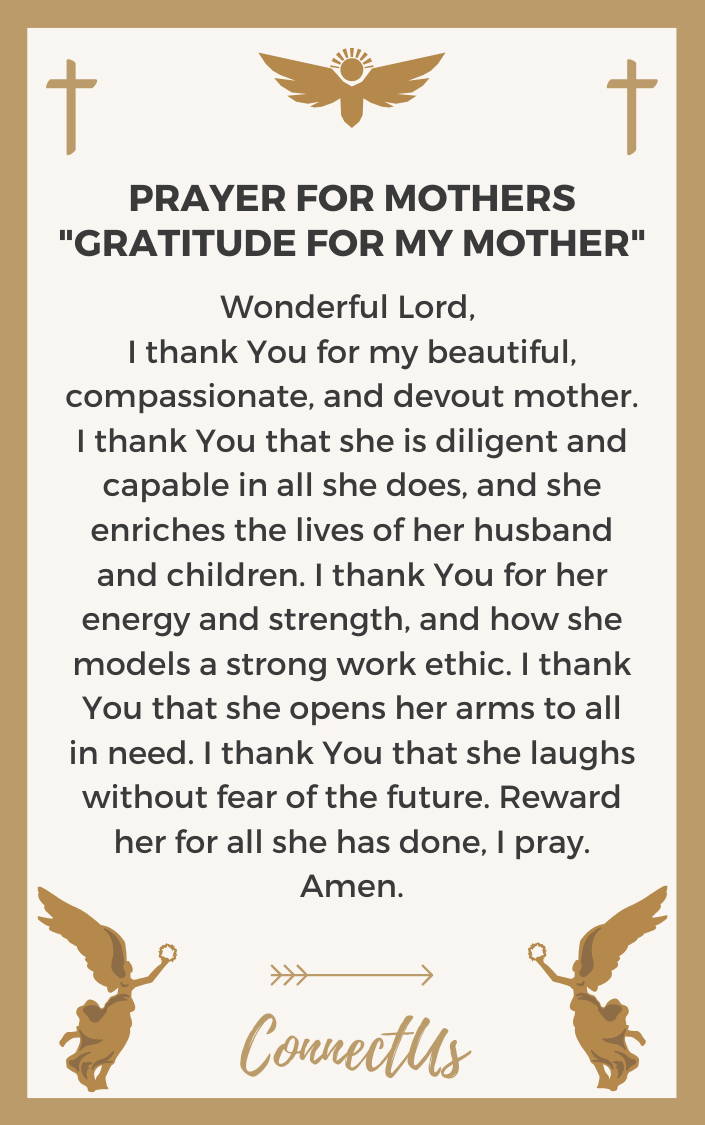 Prayer for Encouragement
God of Confidence, I pray that You will encourage my mother in all ways. I pray that You will build her up, just as You are already doing. Support her and cheer her when she is disheartened. Inspire her to press forward in doing the work You have called her to do. Invigorate her when she is weary. Counsel her when she is uncertain and fill her with Your confidence. Fortify her resolve and champion her cause. Amen.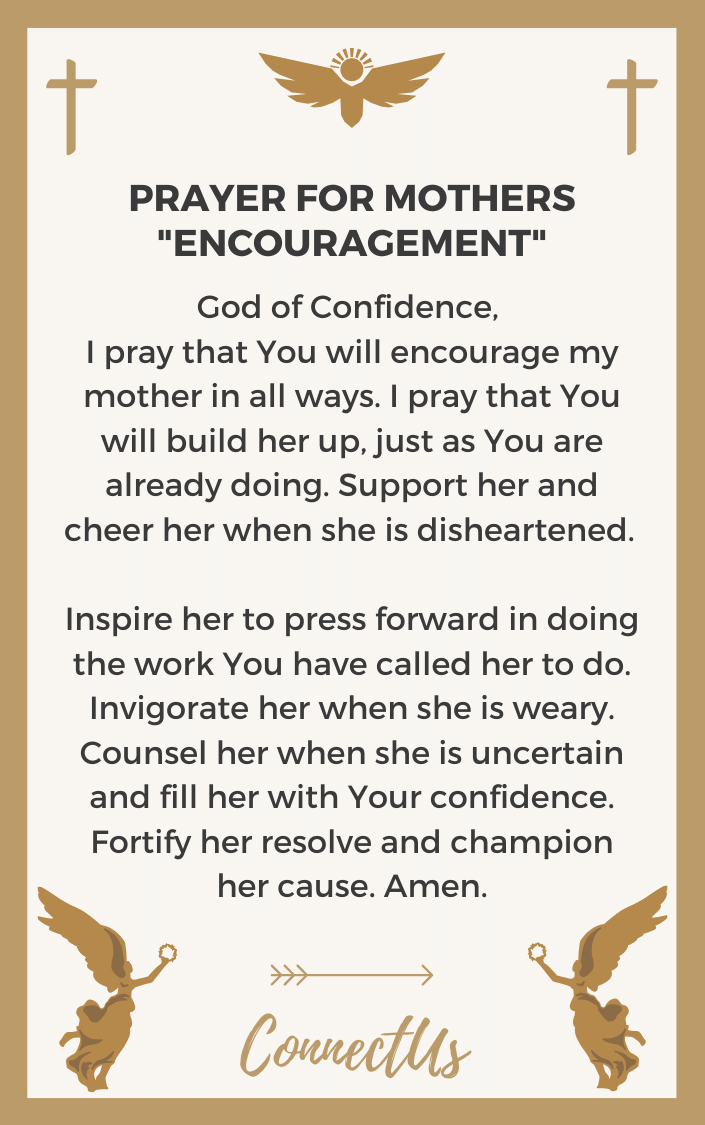 Prayer to Ease Stress
Lord who daily bears our burdens, I lift up my mother who is enduring much tension from the demanding circumstances of her life. I pray that You would ease her stress and show her a way through the adverse situations she encounters. May she turn to You for guidance and wisdom when she needs to make important decisions. May I and my siblings do what we can to help relieve her of the things that are pressuring her. Amen.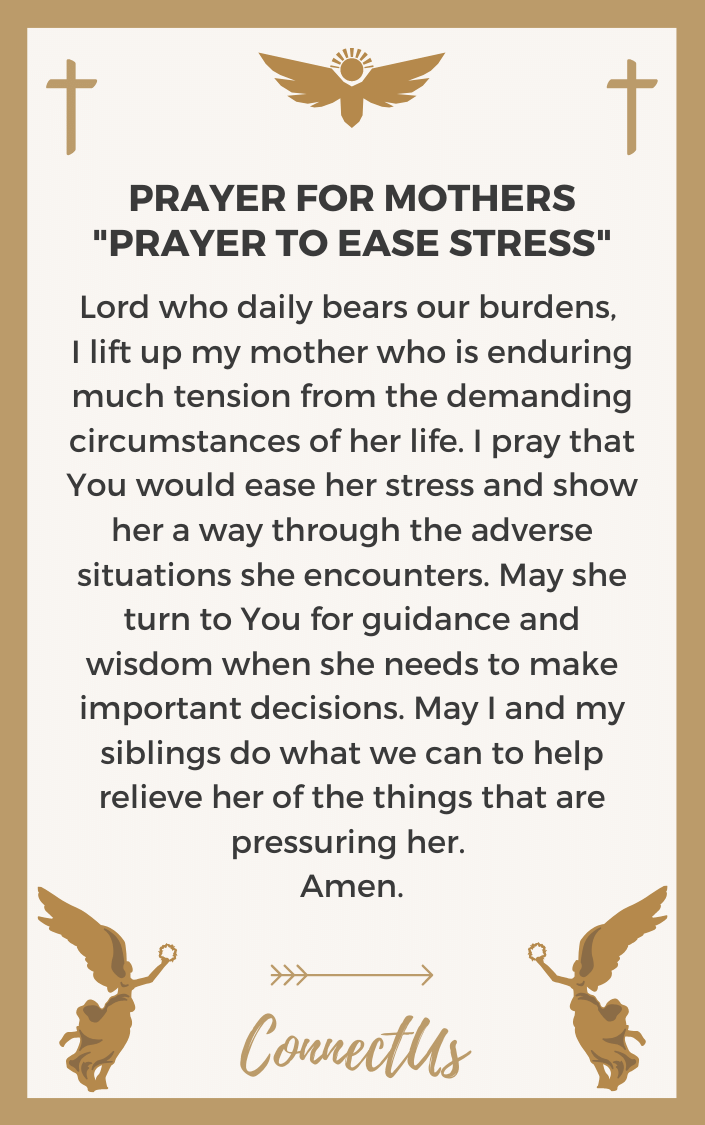 Prayer for My Single Mother
Lord our blessed hope, I pray You will strengthen and bless my mother as she is both a mother and a father to us. Help her as she works long hours to provide for our family, and then comes home to care for us. Bless her financially – may she never worry about the bills. Help us and others to give her the companionship and support she needs and keep her from feeling alone. Amen.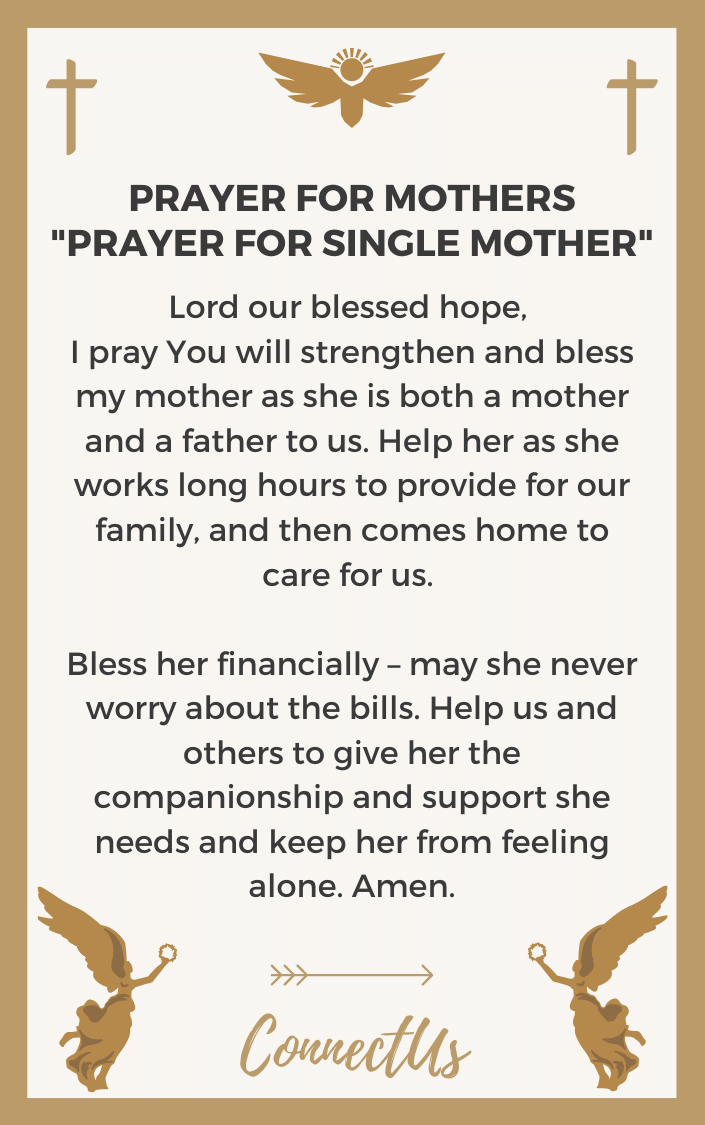 Prayer to Replace Anxiety with Peace
God of Wonders, I pray for my mother, who often feels anxious and uncertain. I pray that You would flood her with the peace that passes understanding. When she is worried about money, her job, her health, or us, I pray You would come alongside her. Help her know that You are right there with her, working on her behalf. Help her remember to not try to do everything on her own, but to give You sovereignty over her circumstances. Amen.
Prayer to Bless Mother's Work
Lord rich in mercies, please shower my mother with Your blessings over her work. May she excel in her career, find favor with her superiors, and receive a good income. I also pray for her work as a mother and wife. Bless her as she cares for all of us and maintains a serene home. Bless her work in the ministry of our church. As she teaches and prays for others, empower her with Your Spirit, and make her fruitful. Amen.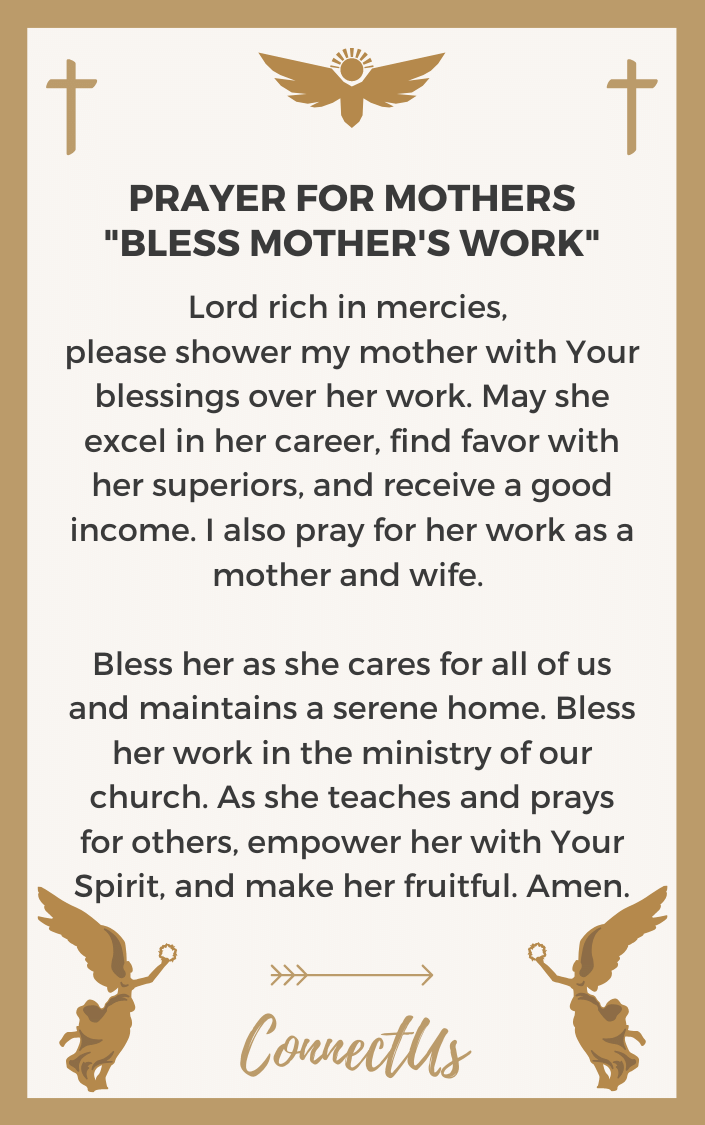 Our 10 week prayer journal will guide you through your daily prayers and help you plan out your prayer week. It is completely free. You can
click here to get it now
.

125 Most Powerful Prayers to Use in Times of Need
25 Powerful Prayers for Healing
25 Uplifting Prayers for Anxiety
25 Strong Prayers for Financial Stability
25 Encouraging Prayers for Peace of Mind
25 Powerful Prayers for Perseverance
20 Most Famous Prayers in the History of the World
Author Bio
Natalie Regoli is a child of God, devoted wife, and mother of two boys. She has a Masters Degree in Law from The University of Texas. Natalie has been published in several national journals and has been practicing law for 18 years. If you would like to reach out to contact Natalie, then go here to
send her a message
.