Giving our lives to Christ is an act of obedience and says we are giving up our sinful ways to follow Him, but that does not mean that the temptation to sin is not still there. Here are 10 powerful prayers for obedience, including images you can print to use and share.
Prayer for Obedience
Lord Jesus, You have proclaimed that if we love You, we will keep Your commandments. To walk with You is to avoid sin. We must always be killing sin, lest it rises and kills us. Therefore, give me a willing and able desire to follow You. Wherever it may take me, let me follow You as a lamb follows his/her shepherd. In Your holy name, I pray. Amen.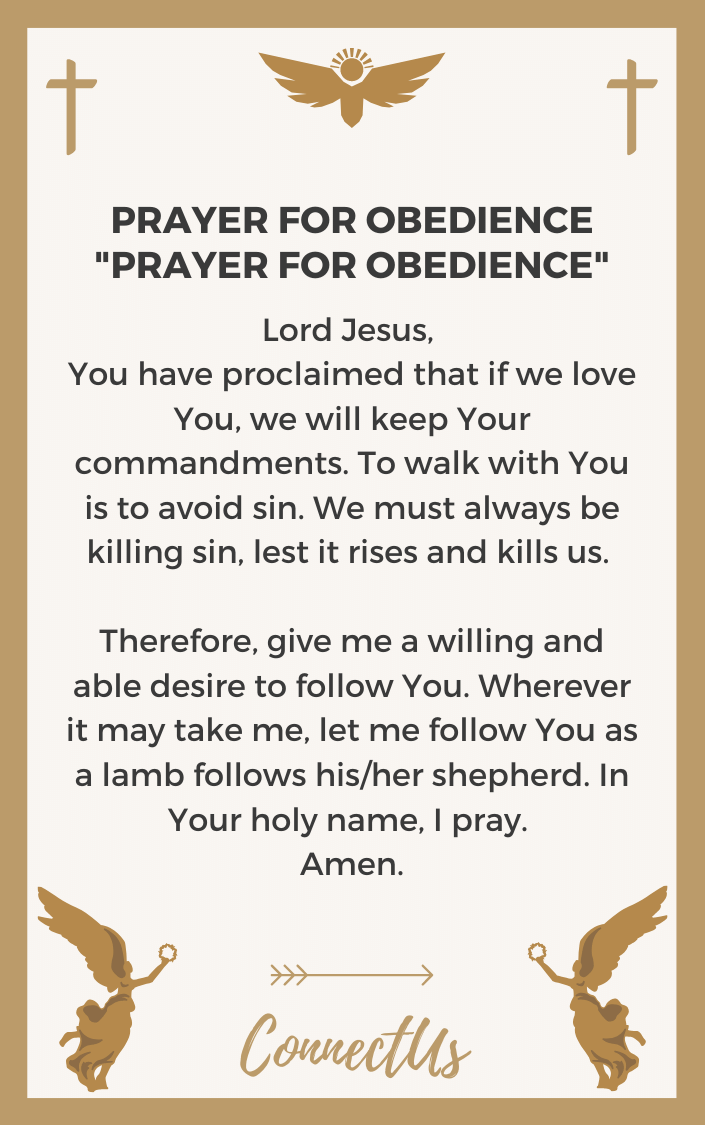 Prayer for Faithfulness
Oh God of my Salvation, even though I prove time and time again to be disloyal, sinful, and faithless, You are always faithful. You remember the covenant You made with Your servant Israel, and You will not forsake her. Therefore, help me to walk faithfully toward You. Even if I do not want to, change my heart so that my desires are only to know You more. Amen.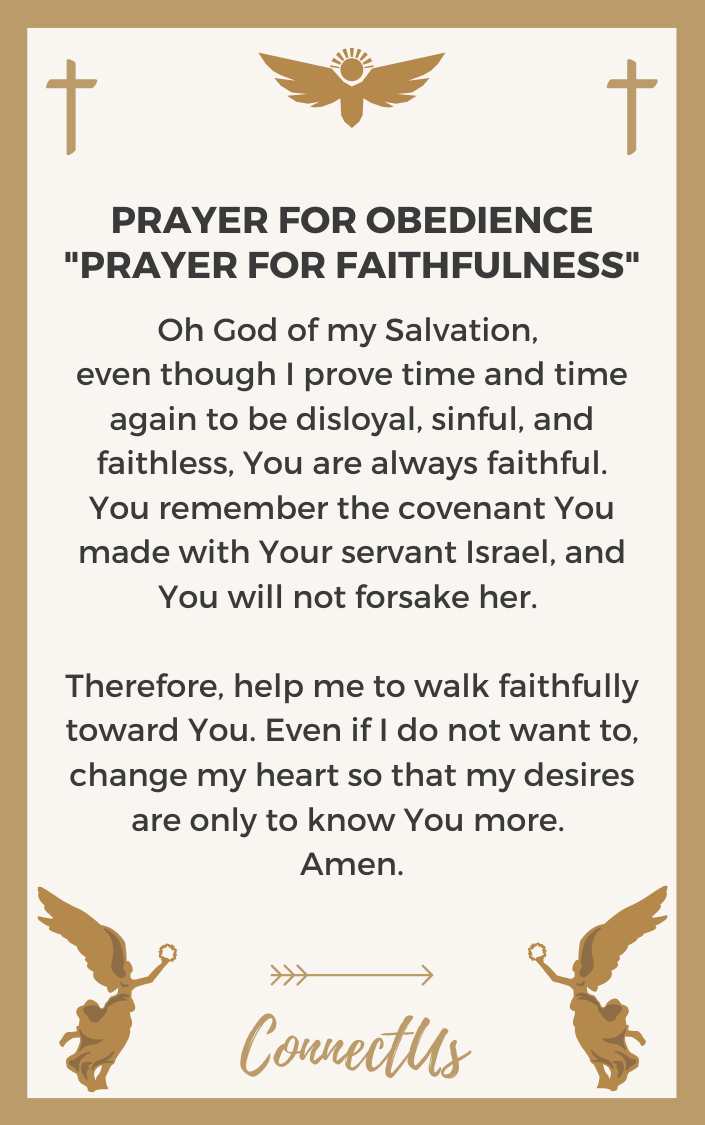 Prayer to be Humbly Submissive
Jesus, our Great Redeemer, when You came into our flesh to take our place upon the cross, You did so not to be served, but to serve. I long so much to love in this perfect way. Take my heart and cleanse it of all sin. Make it completely new. Mold me into a humble servant and make me a slave unto Your righteousness. In Your precious name. Amen.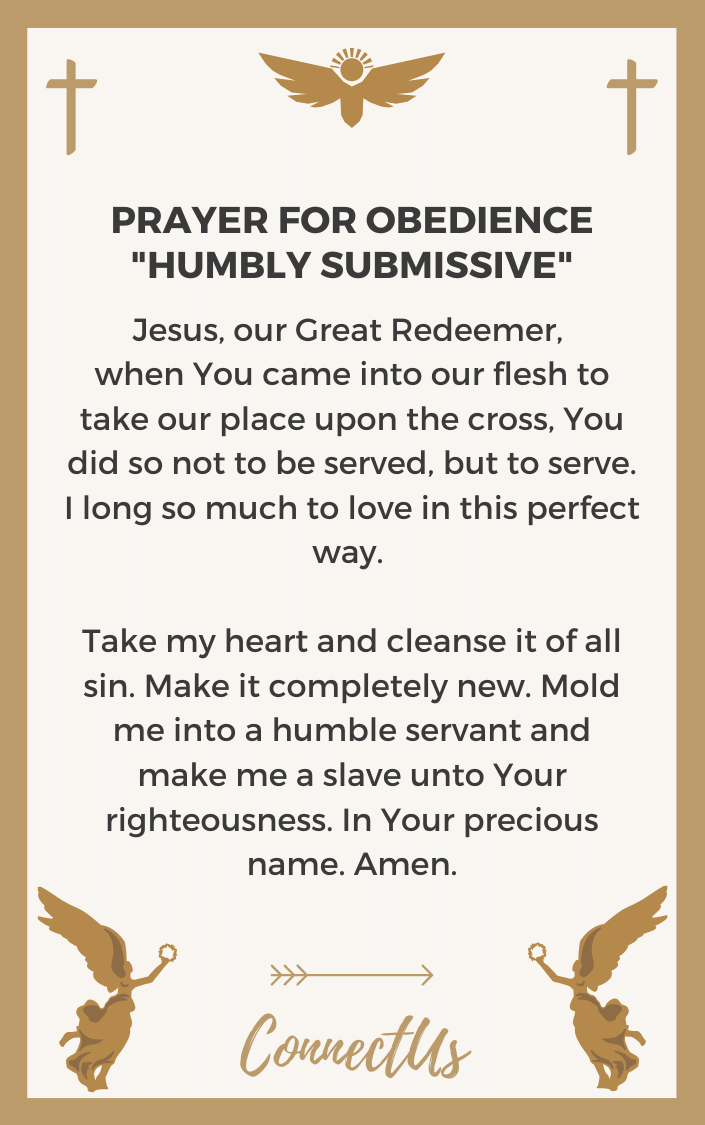 Prayer for Increased Humility
Righteous Savior, I struggle so much with pride. My arrogance is my biggest downfall, and I know not what to do about it. I want to swallow my pride and to become more like You. Bring me a newfound humility. Let the scales fall from my heart so that I can keep my pride in check. Lord, in Your mercy, hear my prayer. Amen.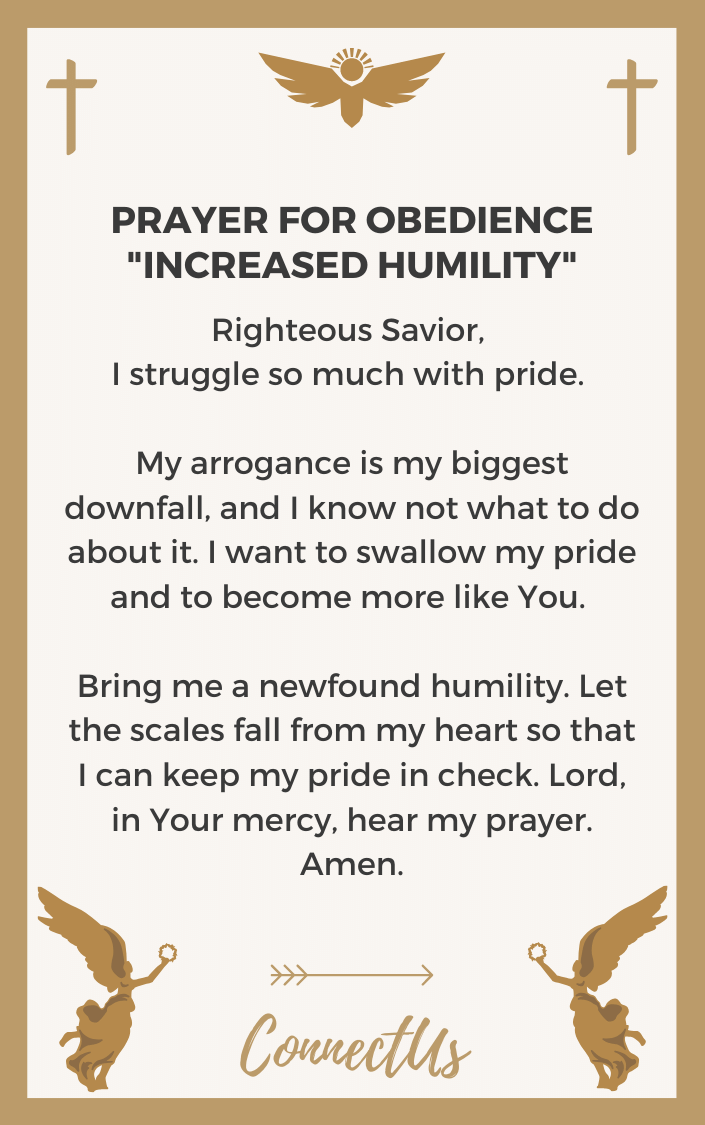 Prayer to Obey Parents
O God of Loving Devotion, among Your Ten Commandments, is the instruction to honor our Mother and Father. Yet so many today do not give their parents their due honor. I want to bring glory to Your name, so I humbly beseech You to help me to submit to my parents. Help me to recognize their authority over me. Let me return their love to them through being obedient. Amen.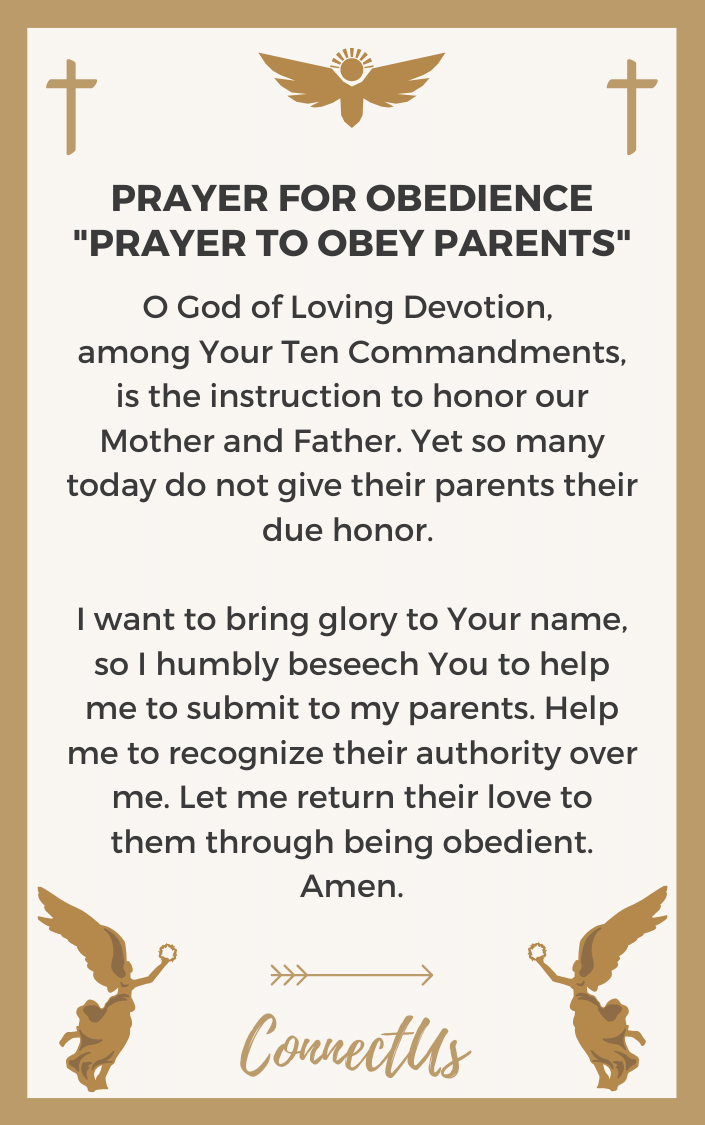 Prayer to Submit to Authority
Most Merciful Lord, You have established rulers and authority to maintain good order and uphold virtue. Through them, You keep this world going. Help me to be a good and conscientious member of society. Let me be an obedient contributor in public life, helping to add to the public good. Help me to be a servant of all, bringing the honor due to Your name. Amen.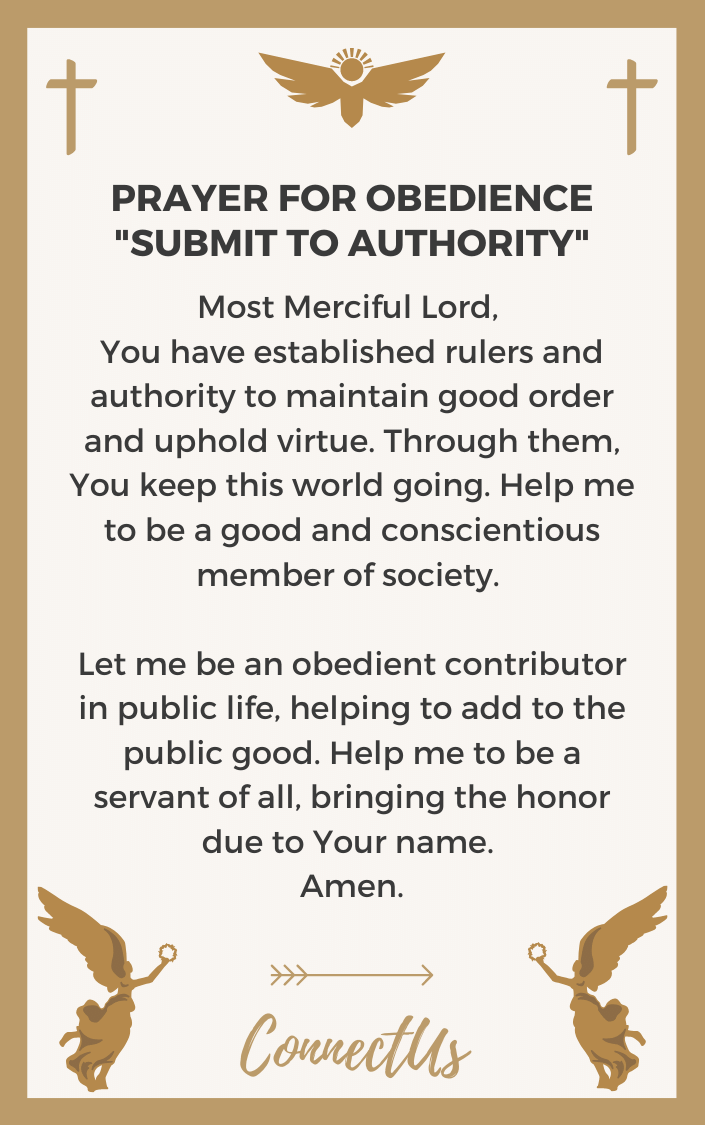 Prayer for Discernment
Almighty and Everlasting God, far be it from me to want to fall into sin. I would rather keep doors for You than to dwell in the tents of the wicked. Yet, there are often times where it is unclear what it means to be obedient. In these moments, I ask that You impart to me Your wisdom. Let Your Holy Spirit enlighten me with his gifts so that I can execute Your will in my life. Amen.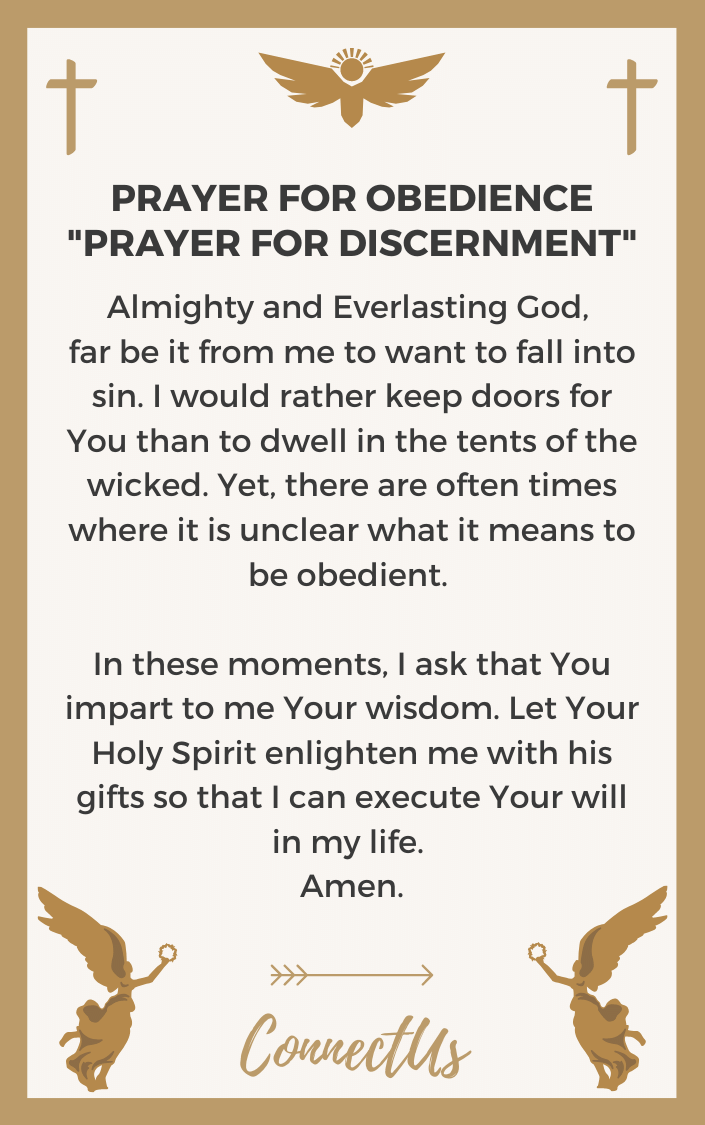 Prayer for Acceptance of God's Will
O Lord, Mighty in Power, obedience to Your word can be a tough pill to swallow. Being a faithful servant means that I must be all-in, for You will not tolerate us to be lukewarm. Therefore, let me not waste any time in accepting Your will and commands. Let me be zealous for Your righteous law, and quick to put Your statutes into practice. Amen.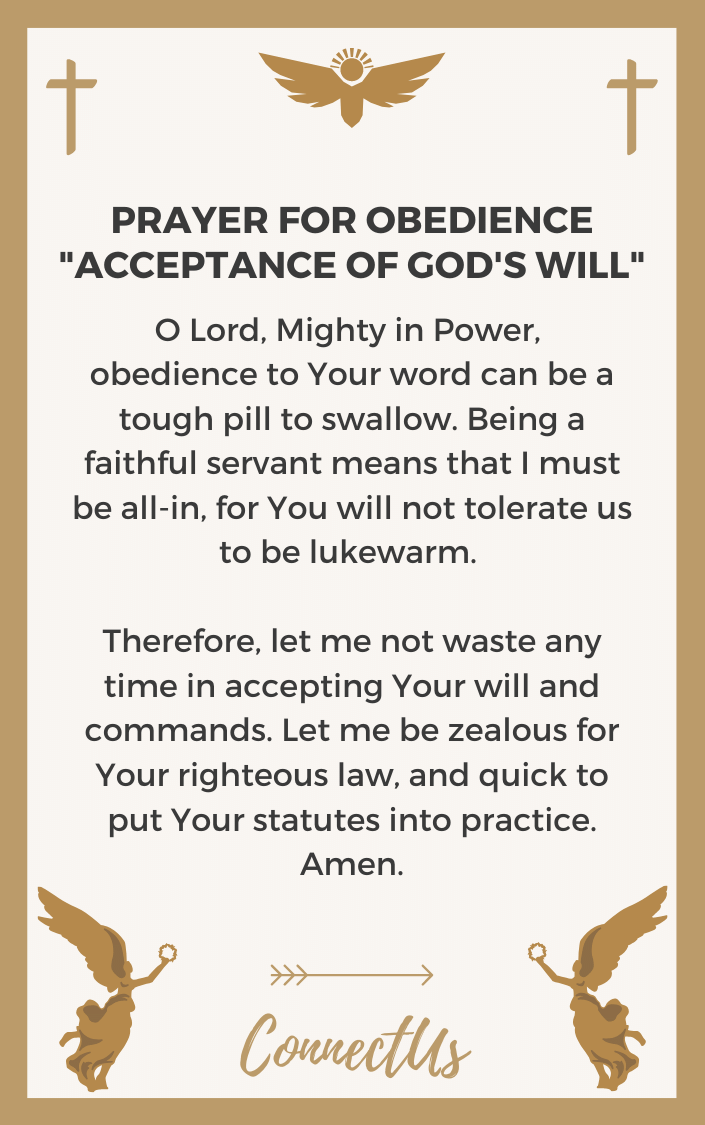 Prayer for Obedient Trust
Lord Jesus, Your sheep know Your voice. I am Your little lamb, and I will follow You wherever You go. Increase my trust in You and Your commands. Let my ears ever be listening for Your voice, so that I can come running to Your side. Help me to trust You as my only shepherd, confident that You will keep me from all harm and danger. In Your faithful name, I pray. Amen.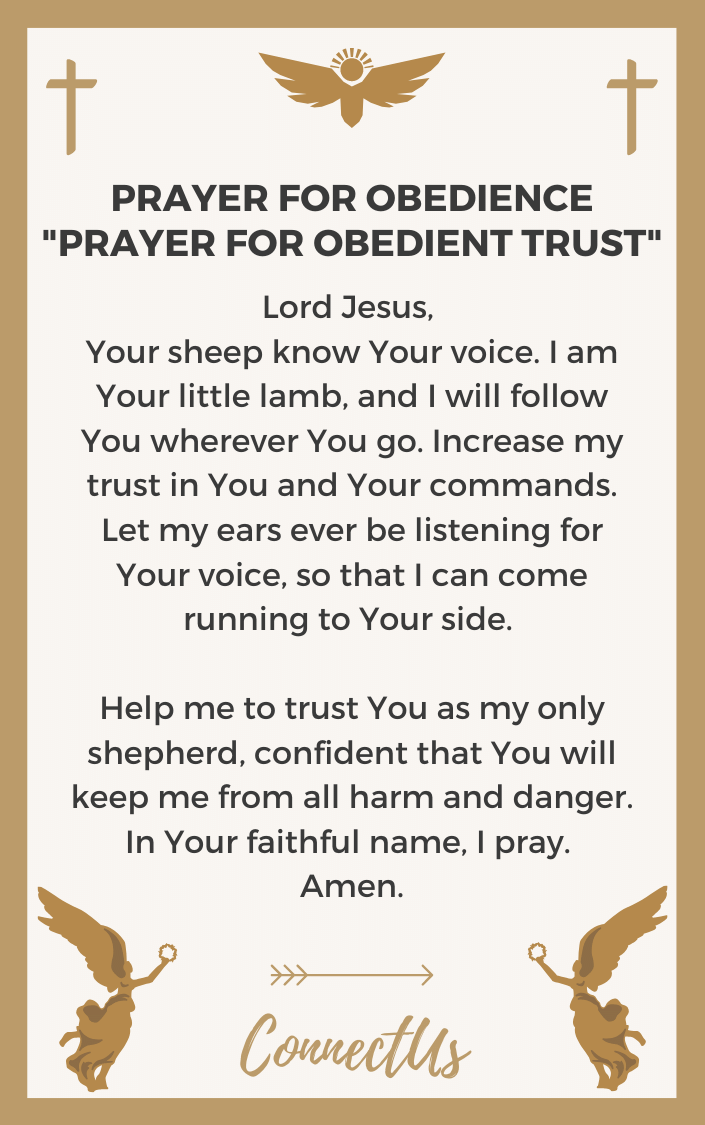 Prayer for Strength to Walk in God's Ways
All-Powerful Father, the ways of the world have crushed my soul. All the days of my life, I look to the heavens. I want to know why You allow Your servant to suffer in this way. Lest I lose my faith, I ask for strength to continue to trust You and walk in Your ways. Speak life into my heart with Your healing words so that my heart yearns for truth and righteousness. Let Your will be second nature so that all my actions are pleasing to You. Amen.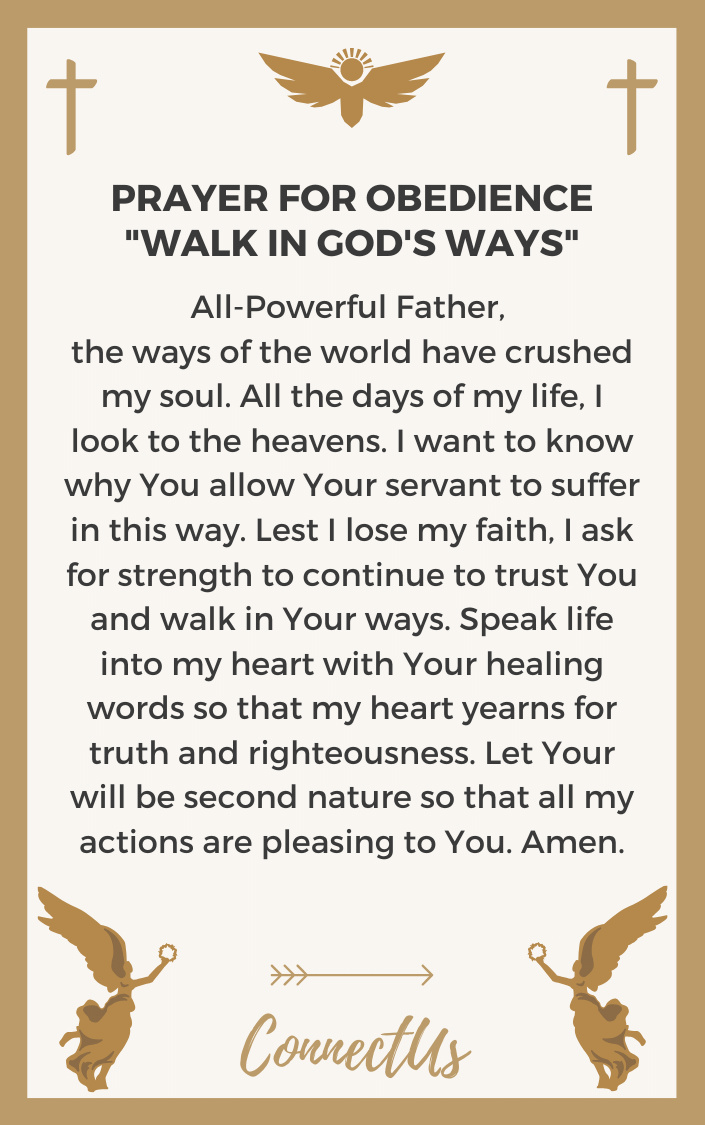 Most Popular Prayers by Topic
For Hard Times
For Financial Prosperity
For Physical Health
For Emotional Health
For Protection
For a Marriage
For Babies and Pregnancy
For Family
For Spiritual Warfare
For Spiritual Health
For a Death
For the Workplace
For Bedtime
Our 10 week prayer journal will guide you through your daily prayers and help you plan out your prayer week. It is completely free. You can
click here to get it now
.

Author Bio
Natalie Regoli is a child of God, devoted wife, and mother of two boys. She has a Master's Degree in Law from The University of Texas. Natalie has been published in several national journals and has been practicing law for 18 years.