One of the most powerful things we can do for someone who is dying is to pray for their peace, comfort, and salvation in Jesus Christ. Here are 10 powerful prayers for someone dying. Along with the prayers are printable images for you to use or share.
Prayer for Last Days
Lord of our salvation, as our loved one nears the end of his life, we pray You would give him freedom from pain. Because he trusts in Jesus, give him confidence that to be absent from the body is to be present with You. Help him with wrapping up financial and other concerns while he is able. Help him to enjoy sweet time with family and friends in these last days. Amen.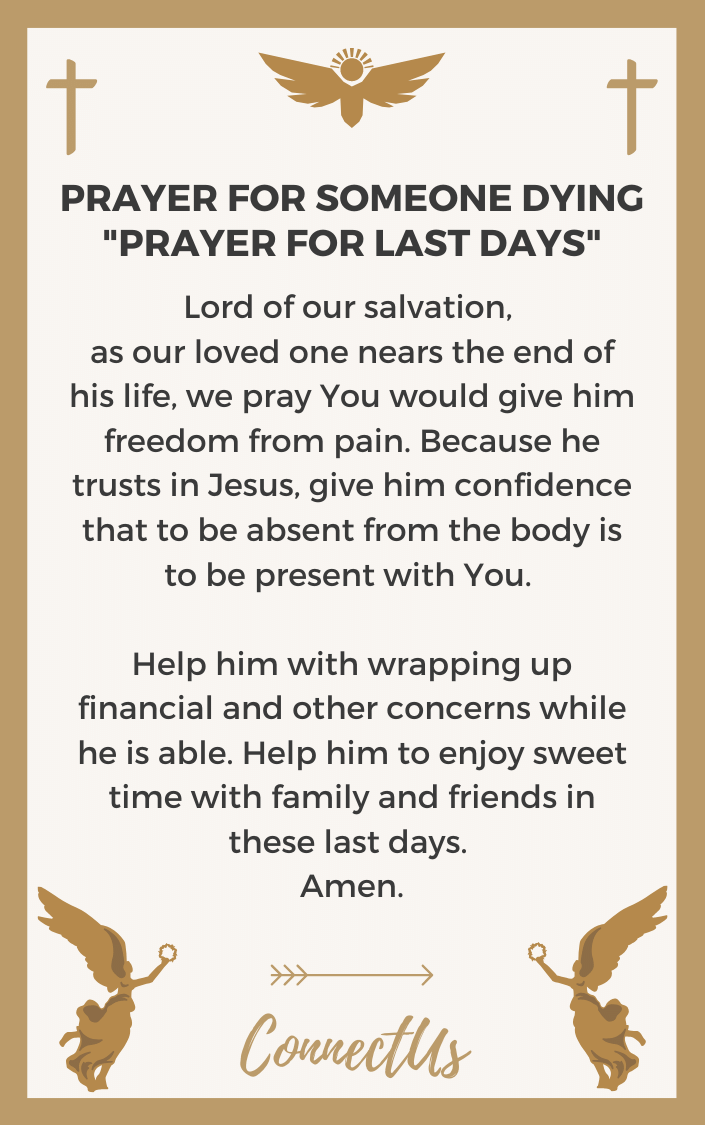 Prayer for Loved One with End-stage Cancer
Most Compassionate Lord, I pray for my loved one who is at the end stage of cancer. Help her know that she has not lost this battle, for she will soon be with You in Paradise. May she lift her eyes up to You for help in these final days. If she needs to make anything right with someone, may she do that now. Help her to prepare her heart for eternity with You, and to be able to share her faith with others. Amen.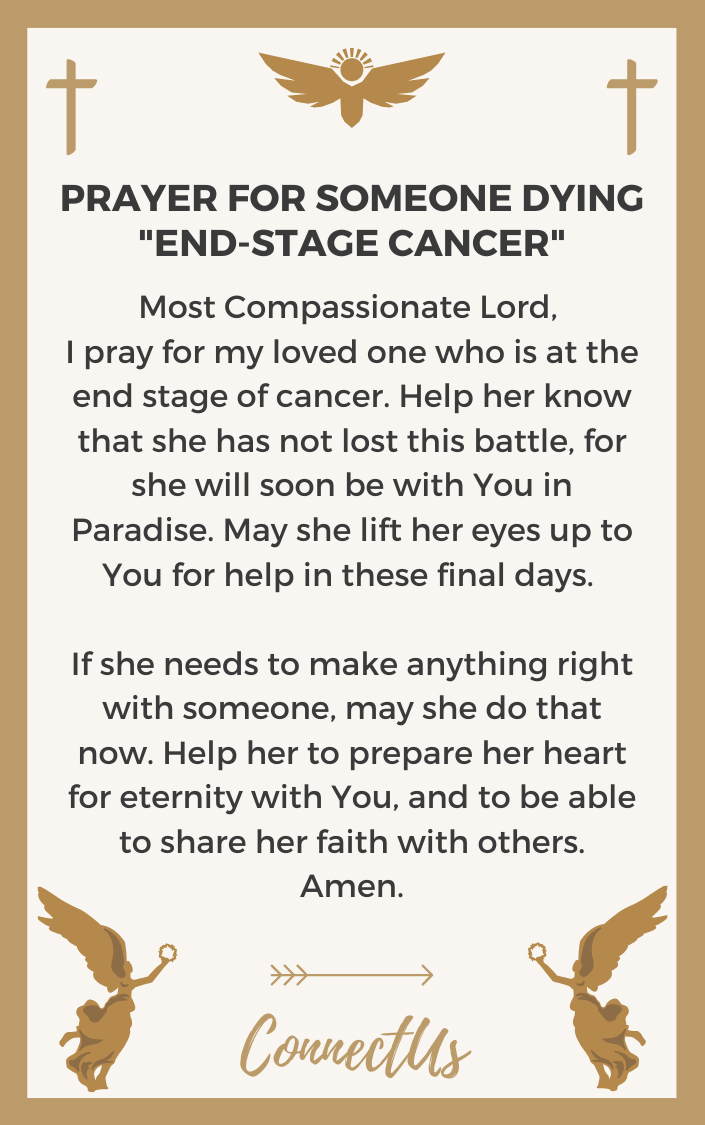 Prayer for Peaceful Death
Giver of peace, I intercede for this dear one, asking that You would grant him a peaceful death. Give him comfort in his soul that You will raise him up in the last days. Ease his fears of death and ease any pain he might have. Ease his concerns for those he is leaving behind. May he know that his help is in Your name, Maker of heaven and earth. Remind him that those who trust in You will abide with You forever. Amen.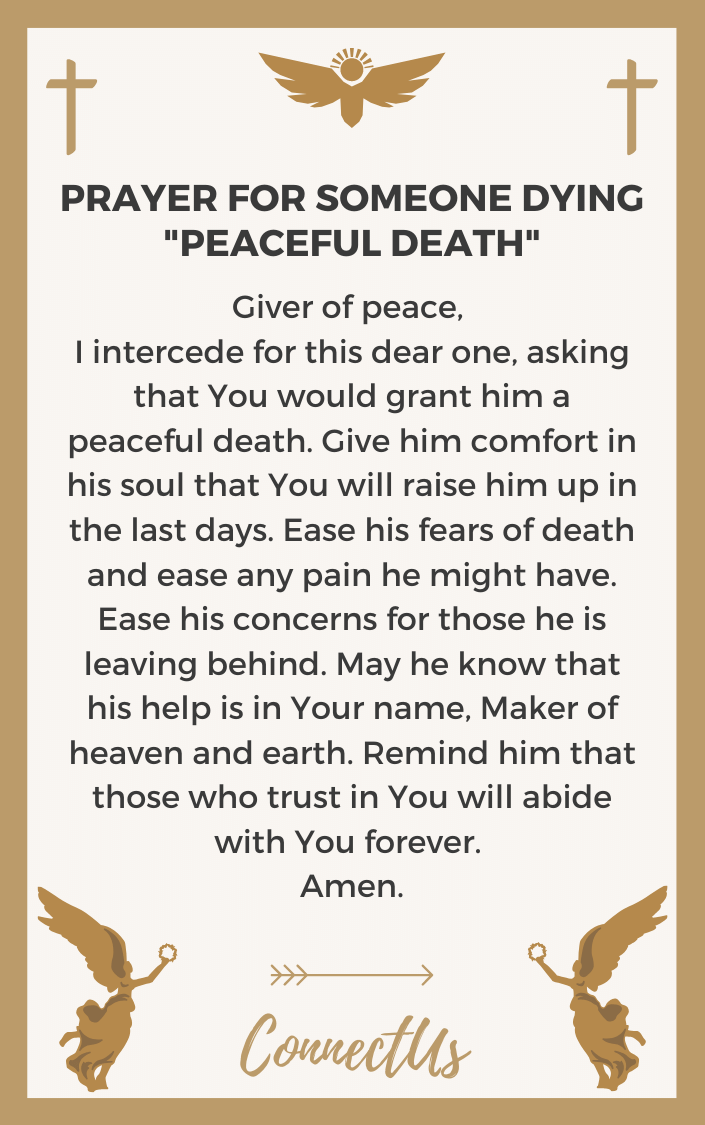 Prayer for Comfort
God our Helper, we bring to You our loved one who is near death. We pray that You will bring an anointing of comfort to her and her family. Let them know that with You there is forgiveness. May they be comforted that with You is loving devotion and with You is redemption in abundance. May our loved one receive the comfort of knowing she is at peace with You, and that her family is at peace with her and with one another. Amen.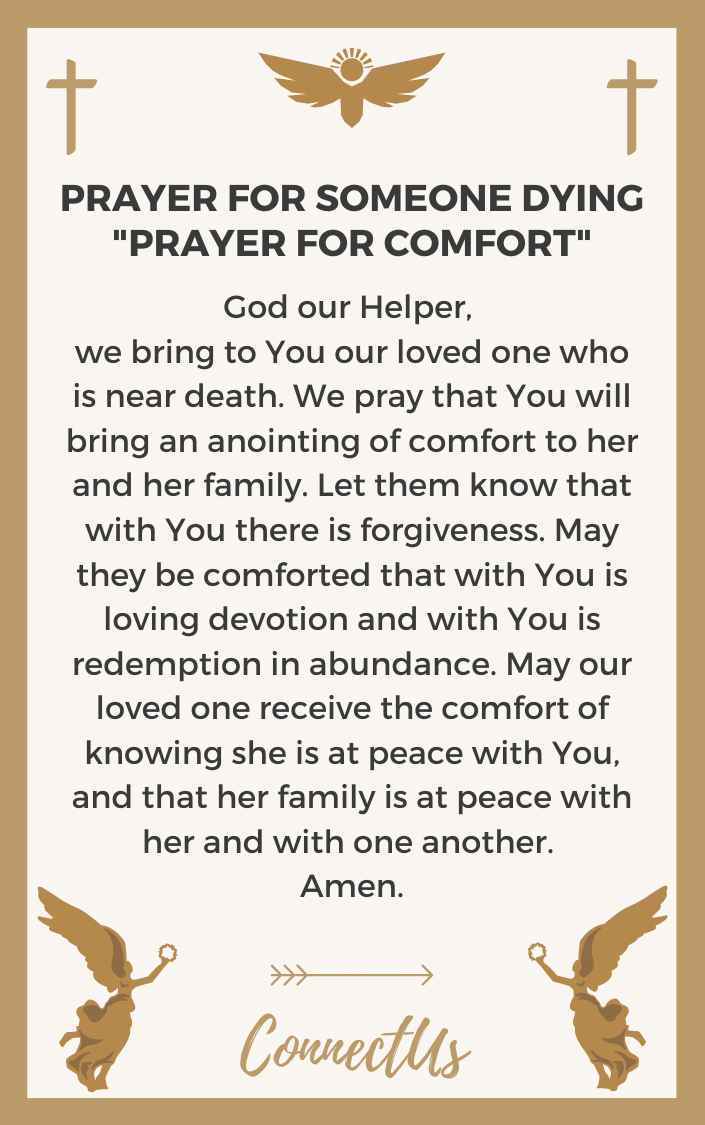 Prayer for Hope
Faithful Father, we pray that You would infuse our loved one with hope as she has received a grim prognosis. Remind her that there is no condemnation for those who are in Christ Jesus. May she set her mind on the things of the Spirit. Give her hope that when her body is dead, her spirit is alive because of the righteousness Jesus purchased on the cross. Help her to patiently wait for the hope that is set before her. Amen.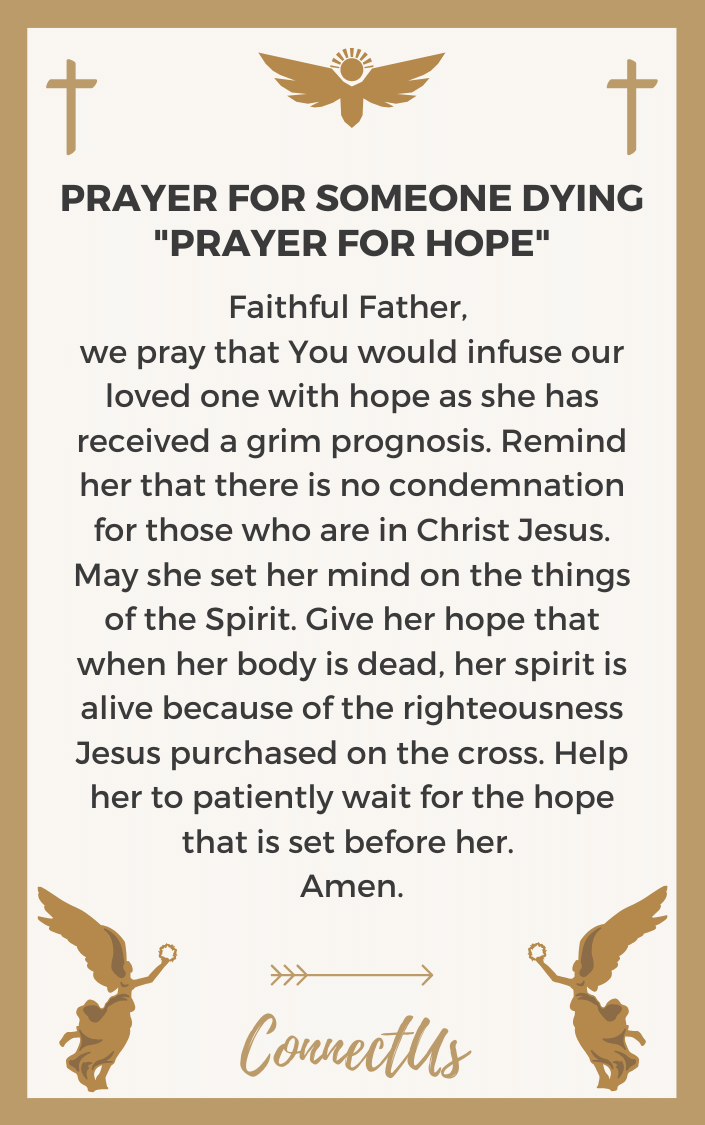 Prayer for Salvation
Merciful One, we plead for the salvation of our loved one who is close to death. As he faces his mortality, may he turn to You, Immortal One. Help us to guide him to the truth and be a witness of the eternal life that awaits those who call on Your name. May he confess and receive forgiveness for his sins. May he believe in his heart that Your death and resurrection have made a way for him to live forever with You. Amen.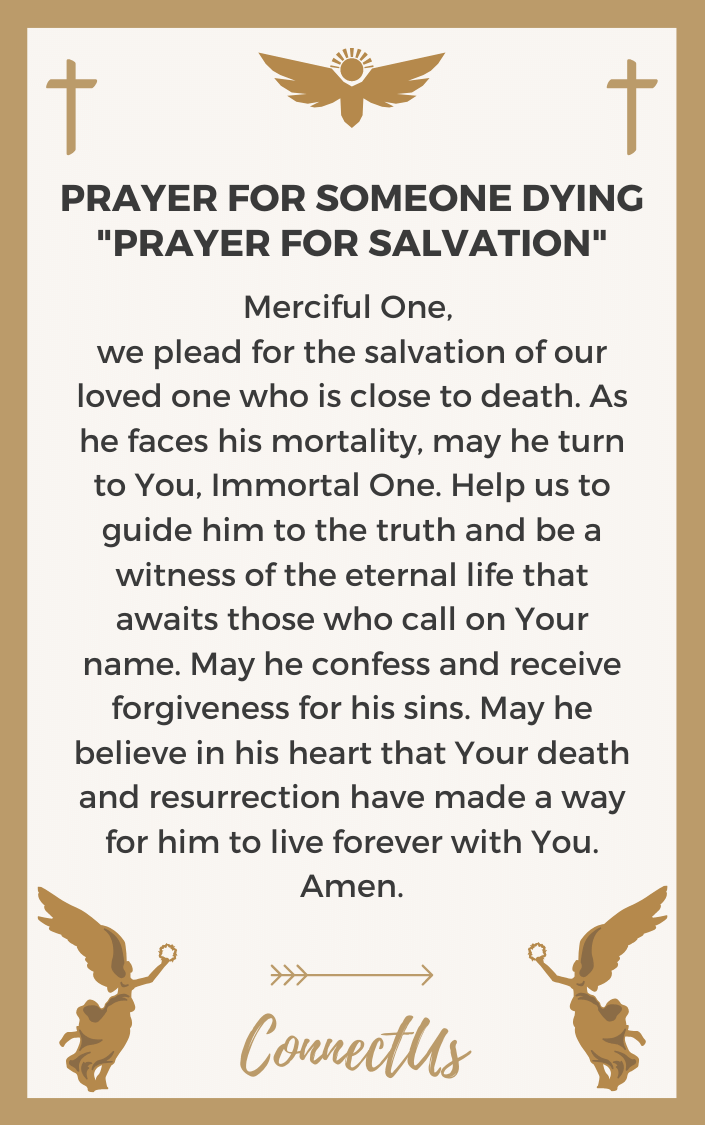 Prayer for Mercy
God our Refuge, we intercede for our loved one who is in her last days. We pray that You would grant her mercy. We pray that You would take away this pain that she is experiencing in her body. And we pray that her heart will be prepared to meet You soon. Remind her that mercy triumphs over judgment for those who are in Christ. May she keep herself in the love of God as she awaits the mercy of our Lord Jesus Christ to bring her eternal life. Amen.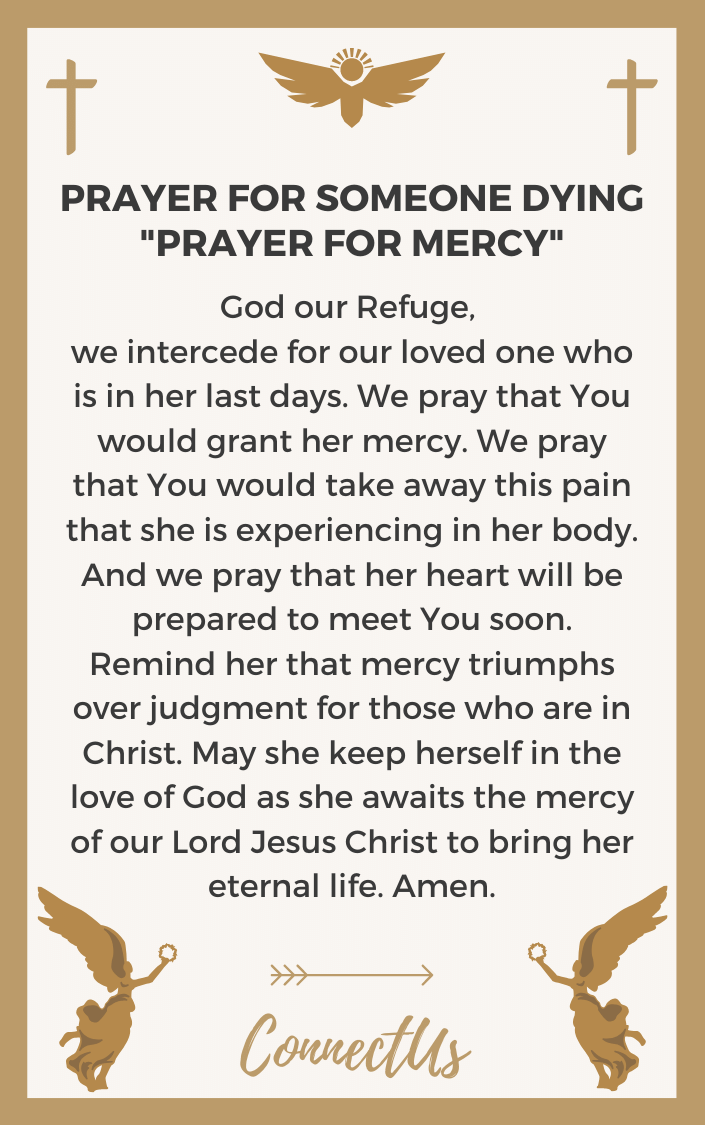 Prayer for Loved One in Hospice Care
God our Stronghold, we lift our dear one who has been admitted into hospice care. May You bring comfort to her body, and kind caregivers to help her. May you console her family and bless them with sweet memories of these final days. May she put her confidence in Jesus who is able to keep her from faltering and to present her blameless before Your glorious presence, with great joy. Amen.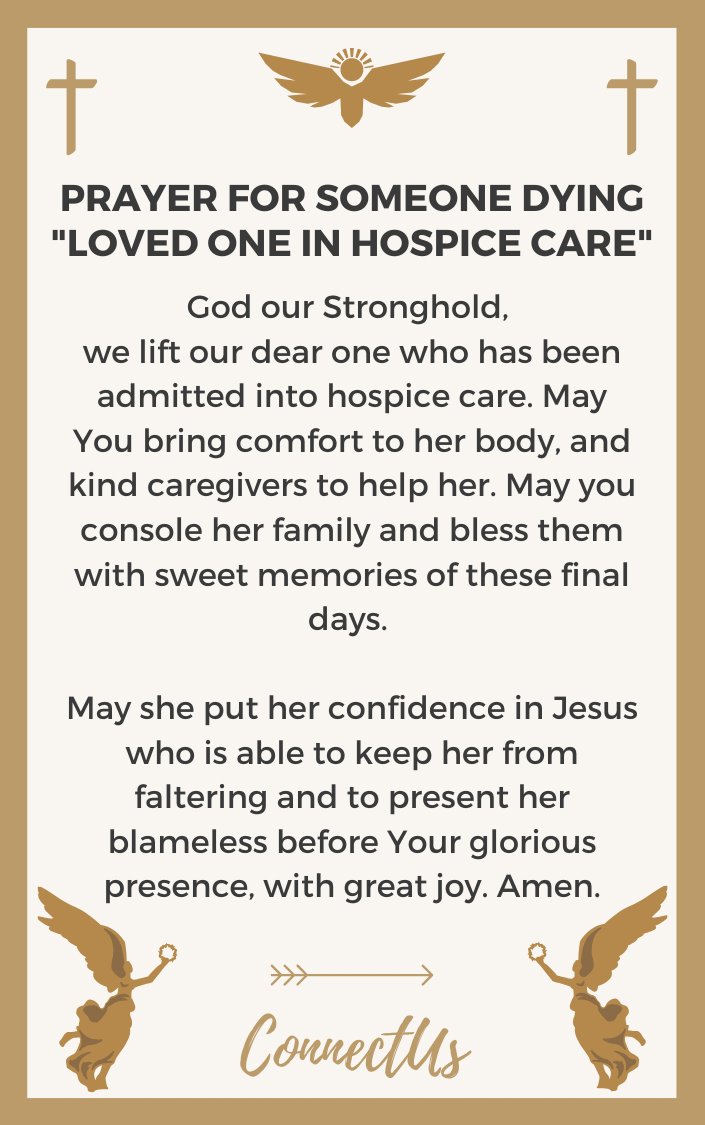 Prayer for Loss of Loved One
God of Consolation, we pray that Your loving arms will be around the family and friends of this loved one who has just died. We pray that You will ease their pain and feelings of loss. As they go through the grieving process, may they be comforted by You. Surely You are close to the brokenhearted and You help those whose spirit is crushed. When they miss the companionship of their loved one, may they feel Your presence with them. Amen.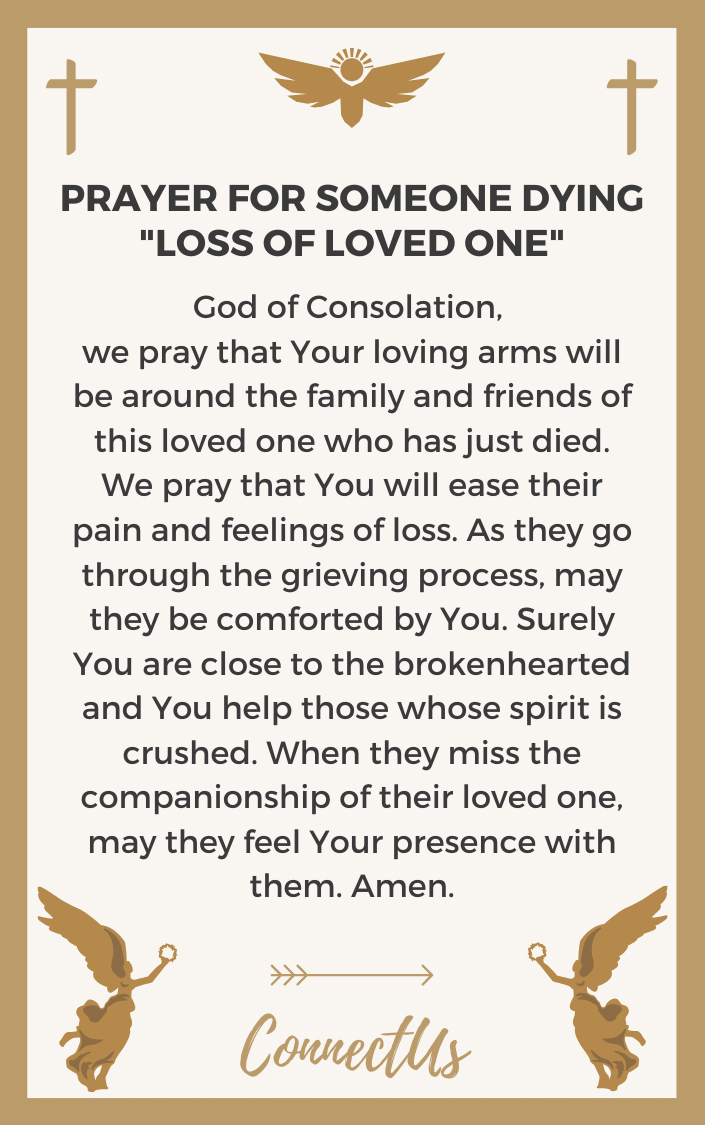 Prayer for Anxiety and Uncertainty of Bereaved
Lord our Comfort, we intercede for this family who has lost their loved one. We pray that You will ease any anxiety or uncertainty they are feeling. Give them comfort that their loved one is now face-to-face with You. Relieve the stress they may have about finances and may these matters soon be settled. Ease their apprehension of life without their loved one. Help them through all the tasks that need to be tended to in the next days, weeks, and months. Amen.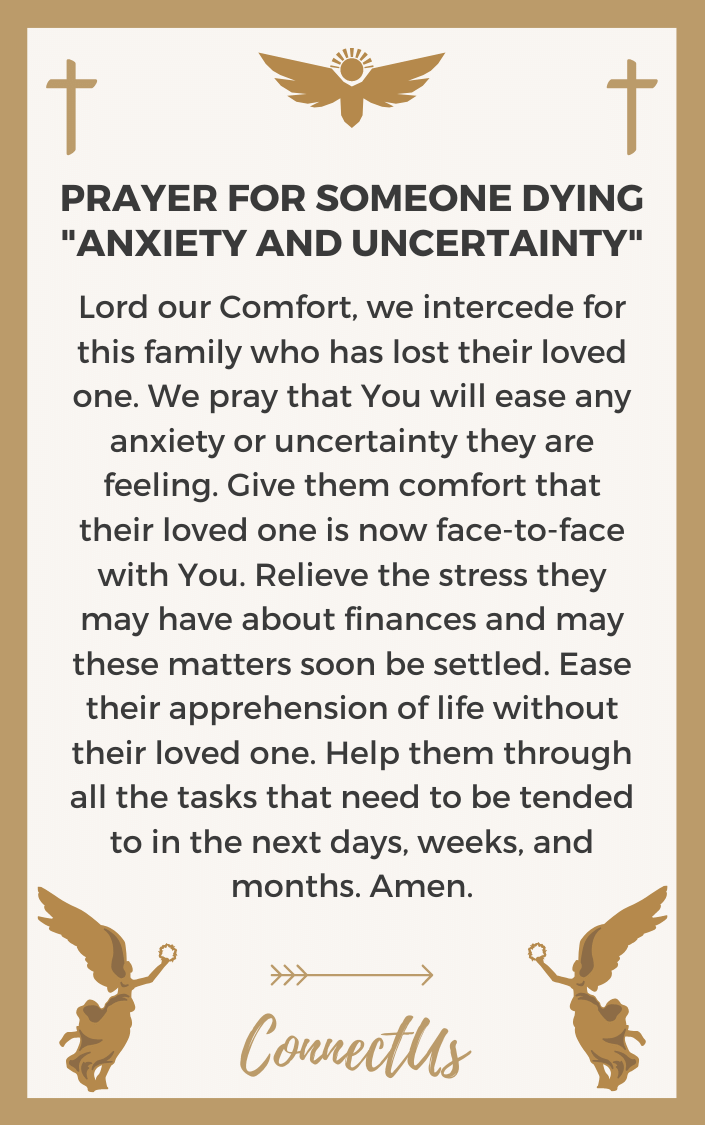 Most Popular Prayers by Topic
For Hard Times
For Financial Prosperity
For Physical Health
For Emotional Health
For Protection
For a Marriage
For Babies and Pregnancy
For Family
For Spiritual Warfare
For Spiritual Health
For a Death
For the Workplace
For Bedtime
Our 10 week prayer journal will guide you through your daily prayers and help you plan out your prayer week. It is completely free. You can
click here to get it now
.

Author Bio
Natalie Regoli is a child of God, devoted wife, and mother of two boys. She has a Master's Degree in Law from The University of Texas. Natalie has been published in several national journals and has been practicing law for 18 years.