The gathering of family and friends to celebrate the season of Advent is a special time to anticipate the birth of Jesus. Here are 10 strong prayers for Advent along with printable images to use or share.
Prayer for a Holy Advent
Lord, another year has passed, and it is time for us to take stock of our spiritual strengths and weaknesses, our faith and where we lacked it, the times we loved You fully, and the times we lacked that focus and dependence on You. Advent is a double expectation. While we are preparing to commemorate Your Blessed Incarnation so many years ago, we are, with Saint John the Baptist, also preparing for when You come again. We ask You, sanctify this Advent so that by Christmas, You may find us more worthy of Your mercy and Your love. Amen.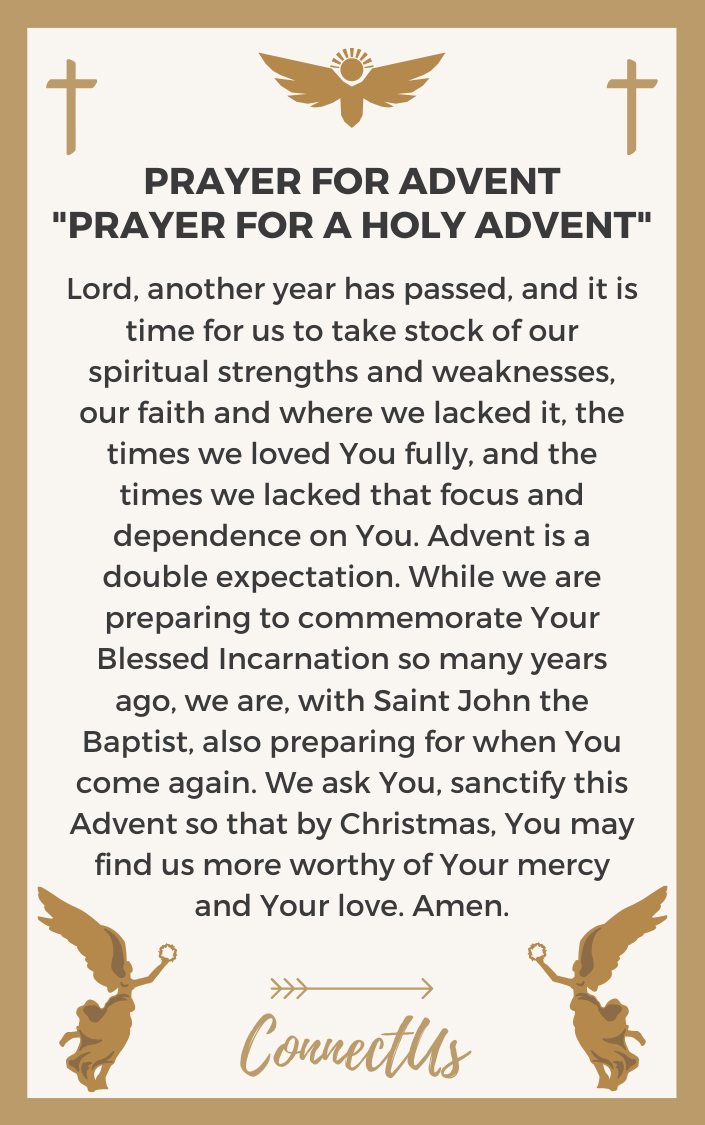 Penitential Prayer for Advent
Almighty and eternal God, You gave us seasons of penance so that we may recognize our weaknesses, and, having been purified by the medicine of prayers, fasting, and abstinence, we may approach Your Sacred Mysteries more worthily. As we are waiting for Christmas, that great feast of Your humility and mercy, when You saw fit to sanctify our bodies by coming down to and becoming one of us, let us not forget that You became men ultimately to give Your life for us on the cross. Was not the rough hay You were laid on as a newborn like Your crown of thorns? Your hard crib like the wood You would be nailed to? Lord, as You Yourself have given Yourself over to suffering to win for us eternal life, let us also now bear ills patiently and do penance, to prepare Your ways. Amen.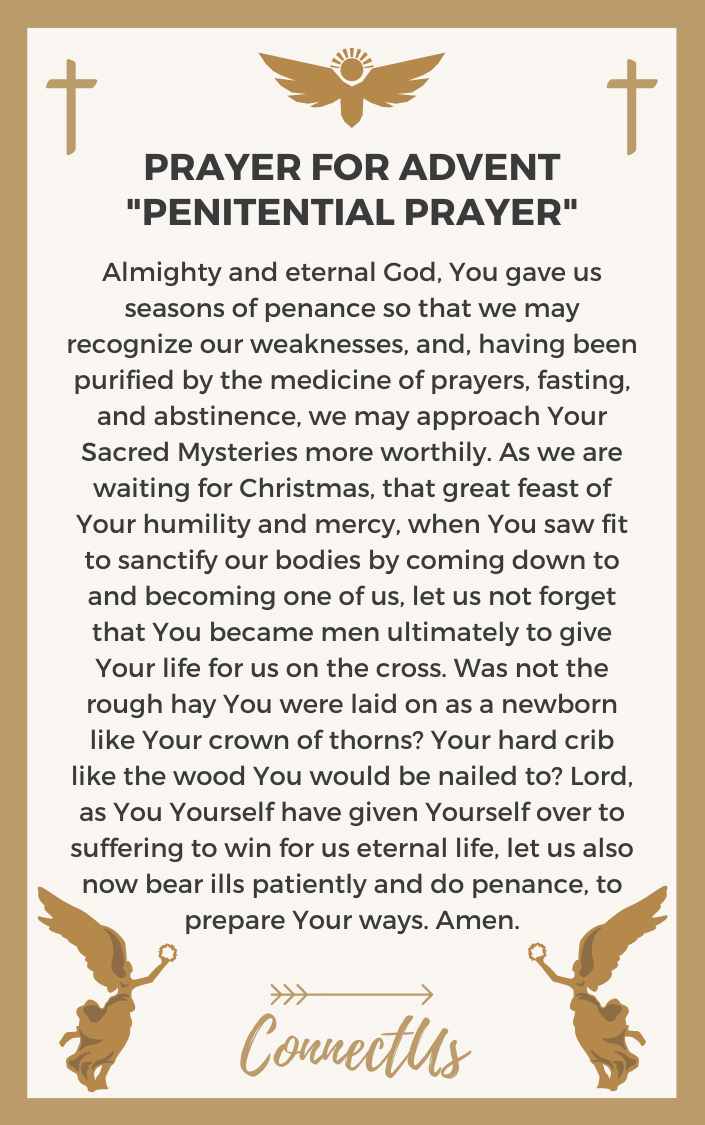 Prayer in Preparation for the Second Coming
Lord Jesus, You once came into this world to humbly submit Yourself to all manners of violence and shame and were obedient even to death on a cross. Now that You have ascended into Heaven, we are waiting for Your second coming which You have told us about by Your prophets' writings and Your own preaching. You are already King of the whole world through Your Church, but the time will come when everybody will know Your name and must give account to You according to their works. Dear Lord, let me accept all the grace You give me while I can, and never miss a chance to make use of sacramental confession and holy communion, so that, whatever time You choose to call me to You, I am ready. Amen.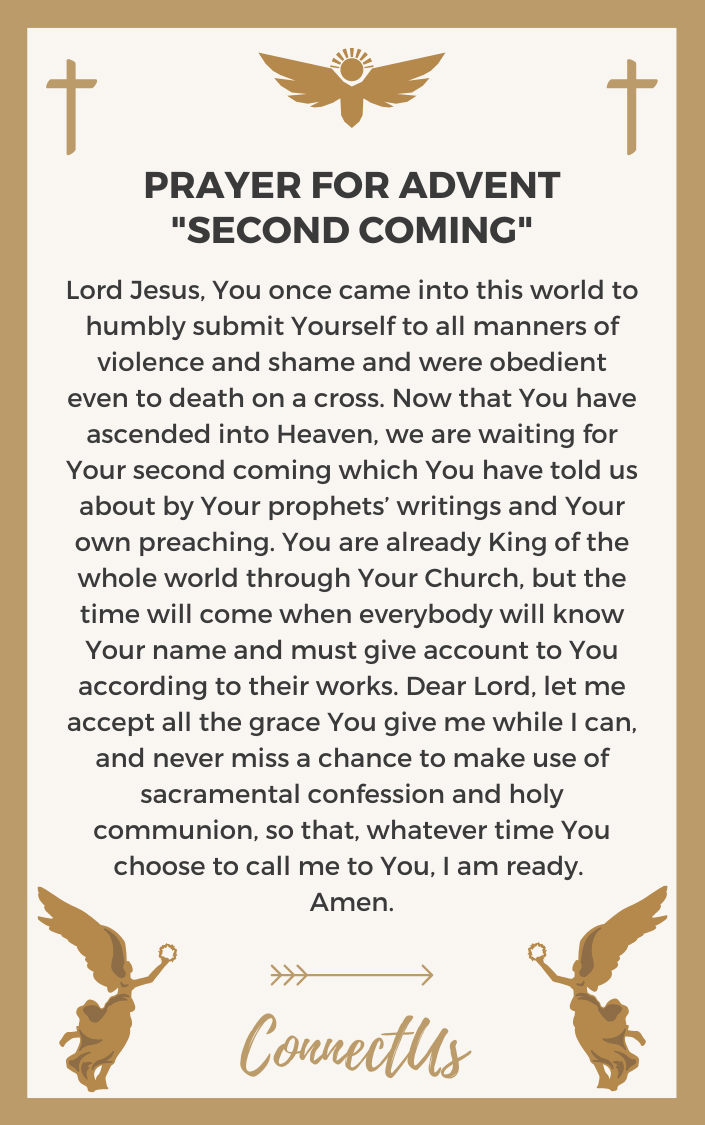 Prayer for Virtues in Advent
Lord Jesus, at this time of Advent, when the whole world is busily preparing for the imminent festivities, Your words come into my mind from the Scriptures: "When the Son of Man comes, will He find faith on earth?" You once came into our midst in humility and mercy, and You will come once more in glory and justice, to try the whole world. I pray that when the day comes to meet You, You will find me with strong faith, a persistent hope and fervent love first of all for You and also for my neighbor. Inspire me and grant me holy adherence to all You have revealed to us. Amen.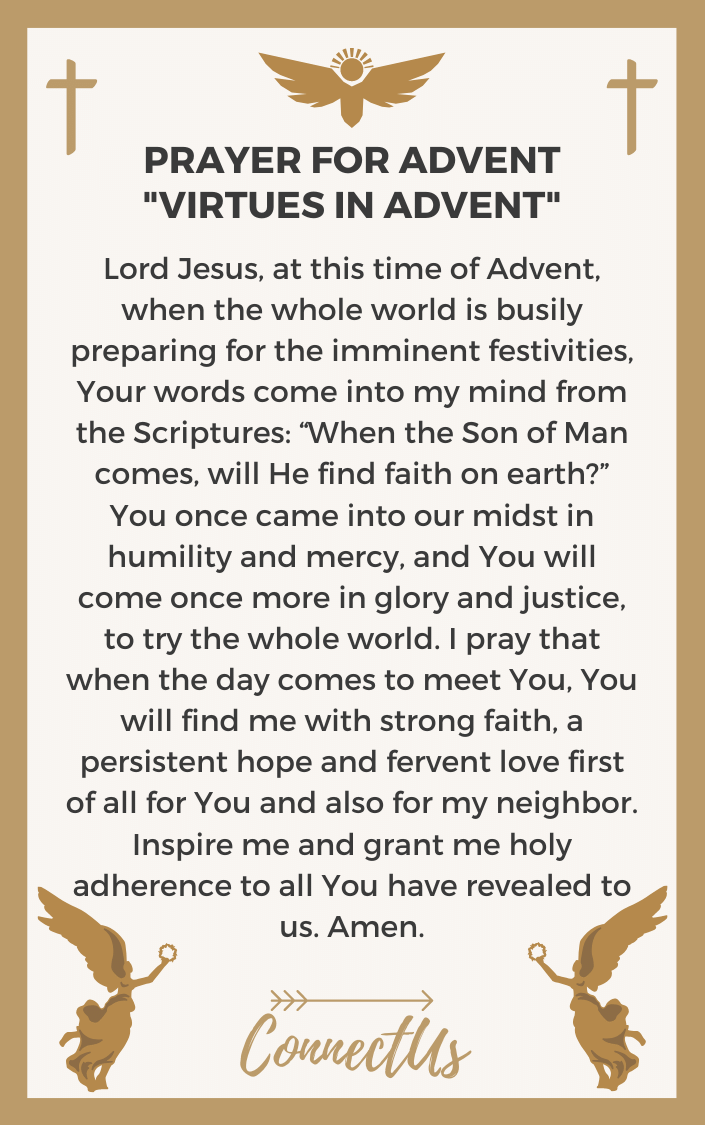 Thanksgiving for Revelation
My God, the Church You gave us begins the new year on the First Sunday of Advent in her wisdom. As we follow annually the mystery of salvation, Your birth, ministry, passion, death, resurrection, and glorious ascension, it seems fitting that our starting point would be the long and dark times when You have not yet fully manifested Yourself to us. You raised up in this time holy patriarchs and prophets that could not see or touch You. They died in the hope that one day, they would be able to meet the God of their salvation. How unworthy am I, compared to them, and yet You were pleased to have me born in the time of revelation's fullness! Allow me, my God, to unite myself in expectation, loyal faith, and inexhaustible hope to You! I give You thanks that You have chosen me to live in a time when I can know You and sacramentally receive You. Grant that this great gift may bring me closer and closer to You. Amen.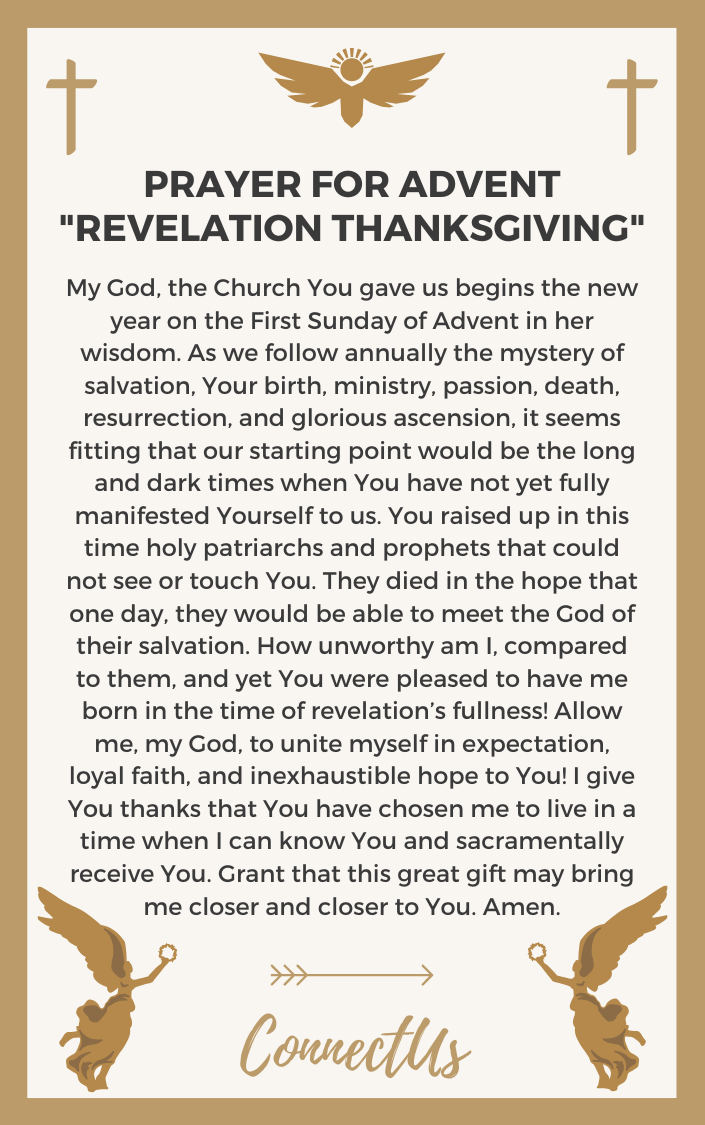 Prayers in Reparation for Blasphemy and Sacrilege
My Jesus, who became flesh to trample down death and to open Heaven to all sons and daughters of Adam, I ask You to hear my prayer and to have mercy on us all, who daily cause You great offense with our sin. The last prophet born before You, Saint John the Baptist, preached repentance and baptism for the forgiveness of sin. He himself suffered persecution and death for the truth. And yet, humanity continues in sin and in ignorance of You, even after having heard the message of salvation from Your own mouth. Before enjoying the sweetness of the Christmas mysteries, sanctify my penance in this time of Advent, especially those committed against the Blessed Sacrament. Amen.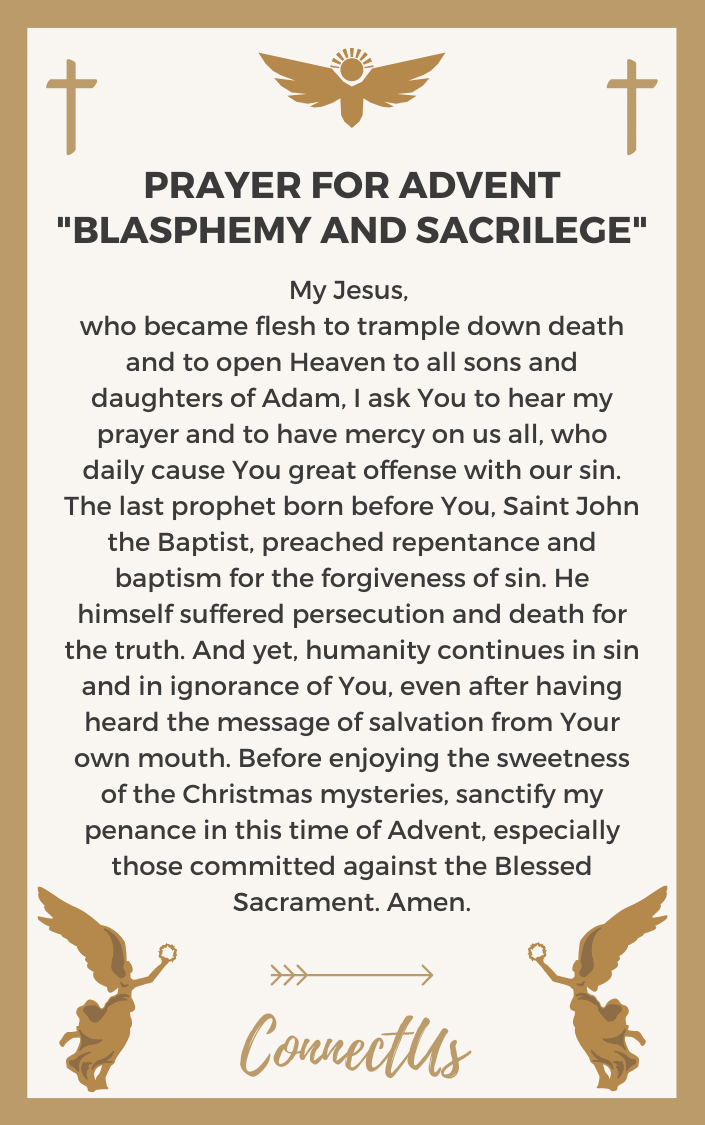 Prayer to Mary in Advent
Immaculate Mary, mother of my Savior and Queen of Heaven, I ask you to strengthen my faith this Advent. The Lord's coming found you ready: the angel that announced His coming received a decisive and courageous "yes" from you: "Be it done to me according to Thy word." It was thus that the Word became flesh in your womb. I ask you that you pray to your Divine Son so that He may come into the heart of all Christians now waiting in darkness. Give us that same obedience, humility, and trust with which you offered yourself to God, so that we may share in that eternal happiness which you now experience. Amen.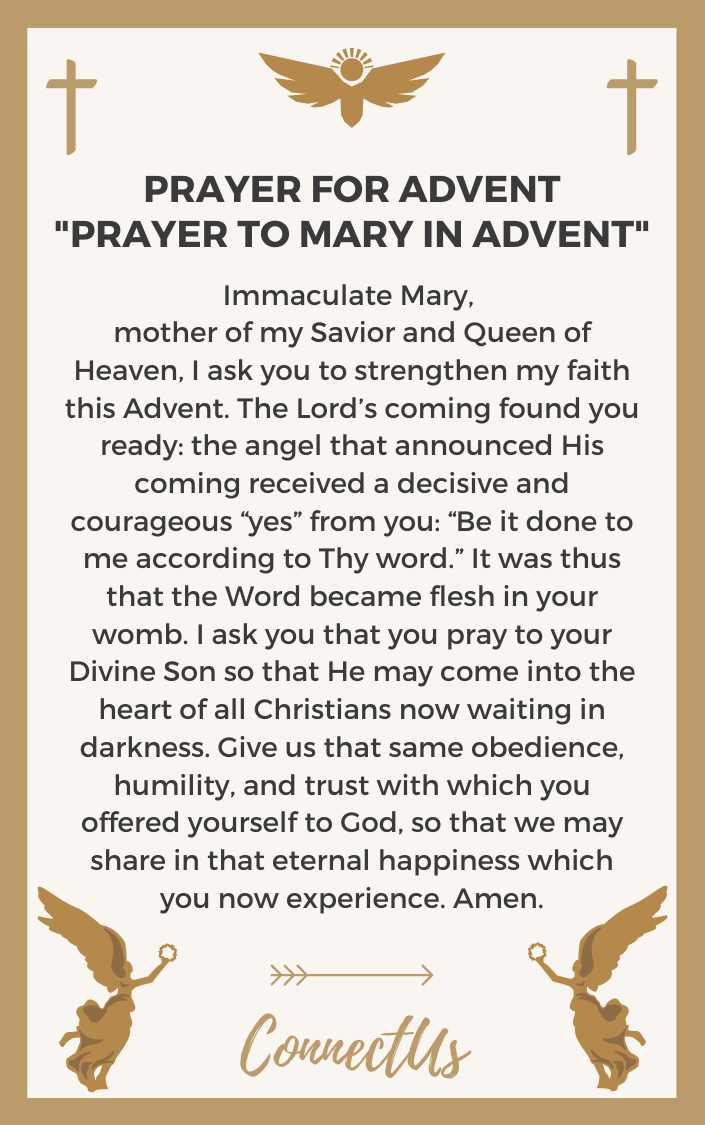 Prayer to Saint Joseph in Advent
Pure and gentle Saint Joseph, I ask you to intercede for me this Advent. The Gospels tell us that you entered that first-ever Advent downcast and confused. It was then that an angel of the Lord appeared to you in your sleep, telling you to take Mary as your wife, and that her Son was conceived by the Holy Spirit. When you woke up, you did everything just as you heard from the messenger in your dream. I aspire to be like you. How many times do I fail to listen to the Lord! How many times am I sluggish to perform good works, or to sacrifice goods, time, or effort! Dear Saint Joseph, pray to your foster Son for me so that I too may become a humble and obedient servant in this life, and that I may receive a crown of glory in the next. Amen.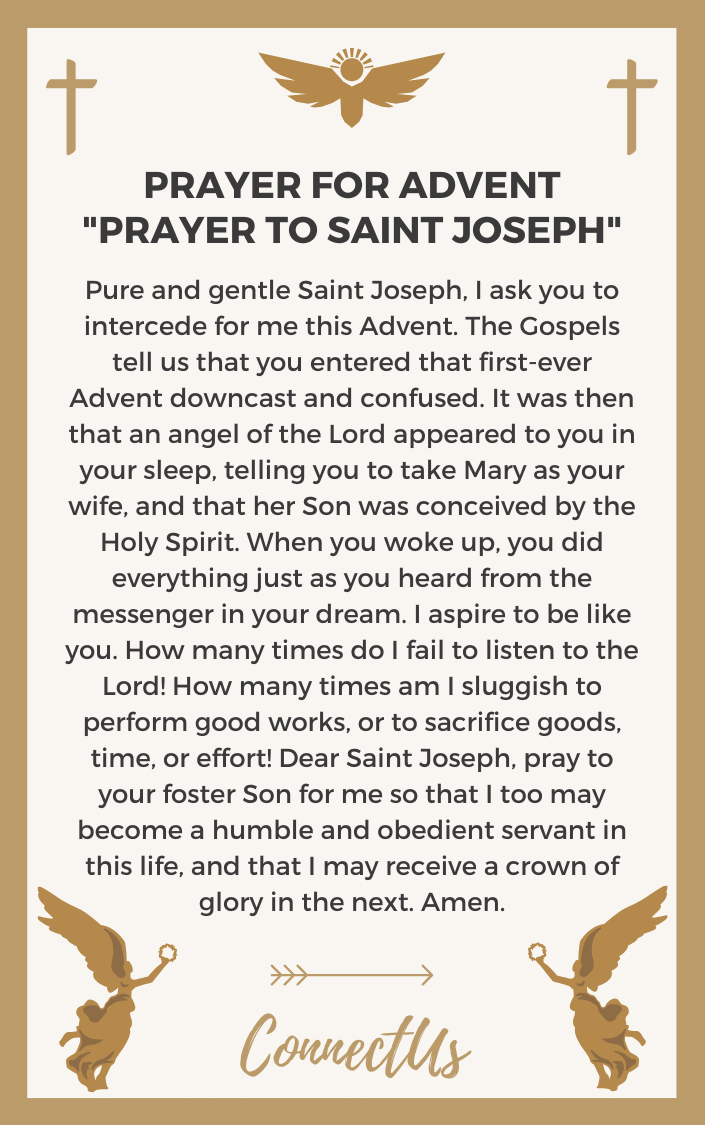 Prayer for Sanctity
O my God, allow me to marvel at Your sanctity for a moment. Just like we sing at mass, You alone are the Holy One, You alone are the Lord, You alone are the Most High. What we call this sanctity is a way of trying to express Your transcendence – how You are not creation, You're not the universe, You alone call things into existence and everything we have is thanks to You. Even so, You are not far from us: in Your incarnation, which we will be celebrating soon, You came as close to humankind as possible, and You gave the Holy Eucharist so that we may see You and receive You until the end of time. I thank You for everything, most of all for Your gift of life and of salvation. Glory to You for it all. Amen.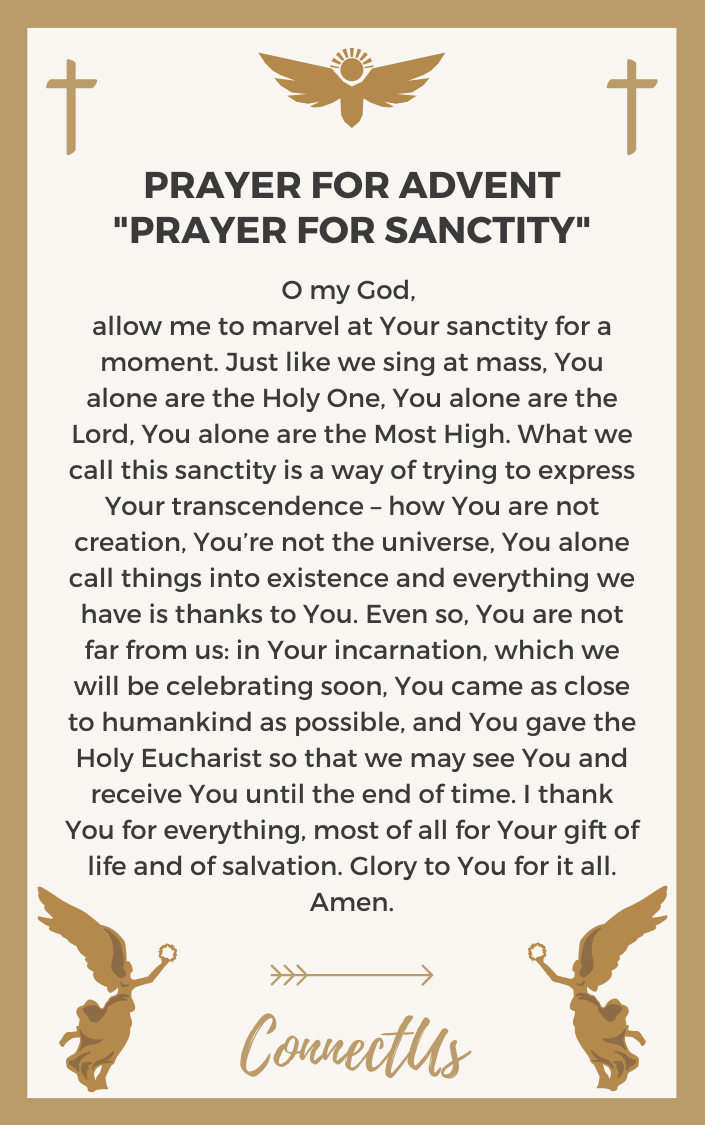 Prayer for Joy
Lord Jesus, Your light shines through the darkness even in this penitential season. Although we try to imagine a time when You were not yet known to all, we cannot help but rejoice as Saint Paul commands us because we know You are close. Even the prophet of the desert, John the Baptist, said that his ministry needs to be brief, because the Savior is already among us, though hidden. O True Light, who enlightens everyone coming into this world, listen as the whole world cries to You: come! Amen.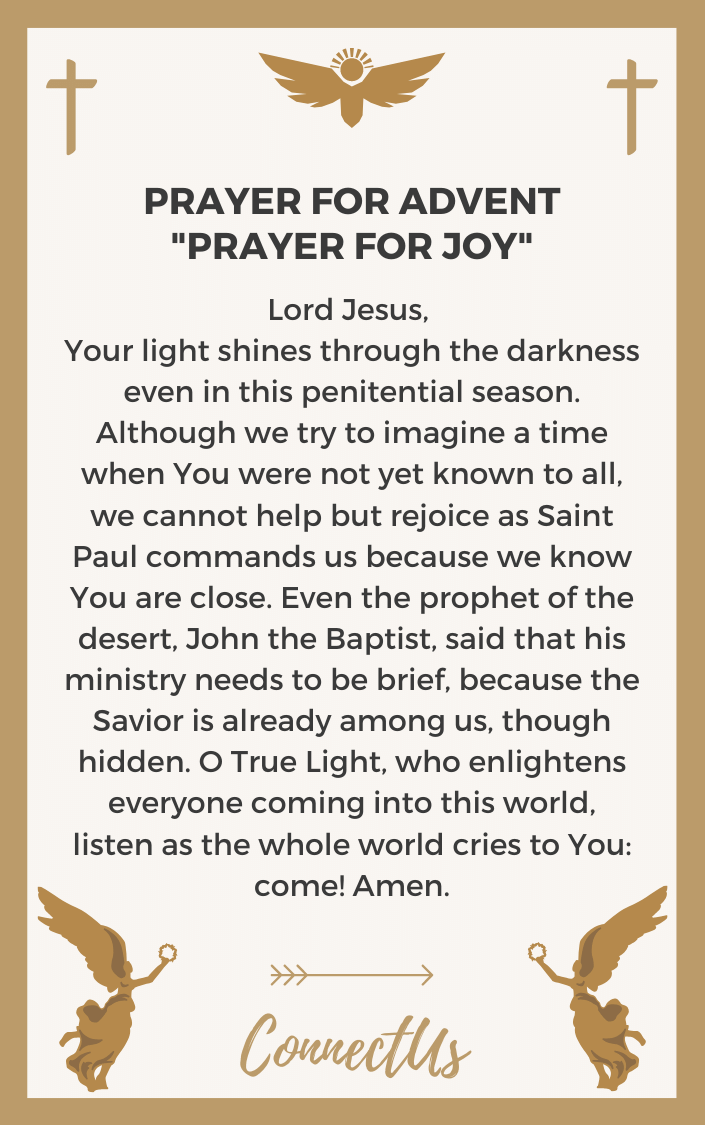 Most Popular Prayers by Topic
For Hard Times
For Financial Prosperity
For Physical Health
For Emotional Health
For Protection
For a Marriage
For Babies and Pregnancy
For Family
For Spiritual Warfare
For Spiritual Health
For a Death
For the Workplace
For Bedtime
Our 10 week prayer journal will guide you through your daily prayers and help you plan out your prayer week. It is completely free. You can
click here to get it now
.

Author Bio
Natalie Regoli is a child of God, devoted wife, and mother of two boys. She has a Masters Degree in Law from The University of Texas. Natalie has been published in several national journals and has been practicing law for 18 years. If you would like to reach out to contact Natalie, then go here to
send her a message
.