Here are the 40 most encouraging Bible scriptures on doing your best.
2 Timothy 2:15
Do your best to present yourself to God as one approved, a worker who has no need to be ashamed, rightly handling the word of truth.
Colossians 3:17
And whatever you do, in word or deed, do everything in the name of the Lord Jesus, giving thanks to God the Father through him.
Proverbs 13:4
The soul of the sluggard craves and gets nothing, while the soul of the diligent is richly supplied.
1 Corinthians 10:31
So, whether you eat or drink, or whatever you do, do all to the glory of God.
Ecclesiastes 9:10
Whatever your hand finds to do, do it with your might, for there is no work or thought or knowledge or wisdom in Sheol, to which you are going.
1 Corinthians 10:13
No temptation has overtaken you that is not common to man. God is faithful, and he will not let you be tempted beyond your ability, but with the temptation he will also provide the way of escape, that you may be able to endure it.
1 Corinthians 16:14
Let all that you do be done in love.
1 Timothy 4:10
For to this end we toil and strive, because we have our hope set on the living God, who is the Savior of all people, especially of those who believe.
2 Corinthians 5:17
Therefore, if anyone is in Christ, he is a new creation. The old has passed away; behold, the new has come.
2 Timothy 1:7
For God gave us a spirit not of fear but of power and love and self-control.
Acts 1:8
"But you will receive power when the Holy Spirit has come upon you, and you will be my witnesses in Jerusalem and in all Judea and Samaria, and to the end of the earth."
Colossians 3:23
Whatever you do, work heartily, as for the Lord and not for men.
Colossians 3:24
Knowing that from the Lord you will receive the inheritance as your reward. You are serving the Lord Christ.
Ephesians 2:10
For we are his workmanship, created in Christ Jesus for good works, which God prepared beforehand, that we should walk in them.
Ephesians 2:8
For by grace you have been saved through faith. And this is not your own doing; it is the gift of God.
Galatians 6:4
But let each one test his own work, and then his reason to boast will be in himself alone and not in his neighbor.
Galatians 6:9
And let us not grow weary of doing good, for in due season we will reap, if we do not give up.
Genesis 2:15
The Lord God took the man and put him in the garden of Eden to work it and keep it.
Hebrews 12:14
Strive for peace with everyone, and for the holiness without which no one will see the Lord.
Isaiah 40:31
But they who wait for the Lord shall renew their strength; they shall mount up with wings like eagles; they shall run and not be weary; they shall walk and not faint.
Isaiah 41:10
"Fear not, for I am with you; be not dismayed, for I am your God; I will strengthen you, I will help you, I will uphold you with my righteous right hand."
Jeremiah 29:11
"For I know the plans I have for you," declares the Lord, "plans for welfare and not for evil, to give you a future and a hope."
John 1:1
In the beginning was the Word, and the Word was with God, and the Word was God.
John 3:16
For God so loved the world, that he gave his only Son, that whoever believes in him should not perish but have eternal life.
John 7:38
"Whoever believes in me, as the Scripture has said, 'Out of his heart will flow rivers of living water.'"
Joshua 1:9
"Have I not commanded you? Be strong and courageous. Do not be frightened, and do not be dismayed, for the Lord your God is with you wherever you go."
Luke 6:31
"And as you wish that others would do to you, do so to them."
Luke 6:46
"Why do you call me 'Lord, Lord,' and not do what I tell you?"
Matthew 19:26
But Jesus looked at them and said, "With man this is impossible, but with God all things are possible."
Philippians 4:13
I can do all things through him who strengthens me.
Proverbs 12:11
Whoever works his land will have plenty of bread, but he who follows worthless pursuits lacks sense.
Proverbs 12:24
The hand of the diligent will rule, while the slothful will be put to forced labor.
Proverbs 14:23
In all toil there is profit, but mere talk tends only to poverty.
Proverbs 16:3
Commit your work to the Lord, and your plans will be established.
Psalm 90:17
Let the favor of the Lord our God be upon us, and establish the work of our hands upon us; yes, establish the work of our hands!
Romans 12:2
Do not be conformed to this world, but be transformed by the renewal of your mind, that by testing you may discern what is the will of God, what is good and acceptable and perfect.
Romans 2:6
He will render to each one according to his works.
Romans 8:28
And we know that for those who love God all things work together for good, for those who are called according to his purpose.
Titus 2:7
Show yourself in all respects to be a model of good works, and in your teaching show integrity, dignity.
Zephaniah 3:17
The Lord your God is in your midst, a mighty one who will save; he will rejoice over you with gladness; he will quiet you by his love; he will exult over you with loud singing.
More Bible Verses that Will Move You
50 Most Powerful Scriptures on Faith
60 Transcendent Verses on Trust
50 Strong Scriptures on Perseverance
68 Powerful Verses on Forgiveness
40 Uplifting Scriptures on Patience
Add Our Infographic Below to Your Pinterest Board
Hit the pin button below to add our infographic, with all the verses, to one of your Pinterest boards.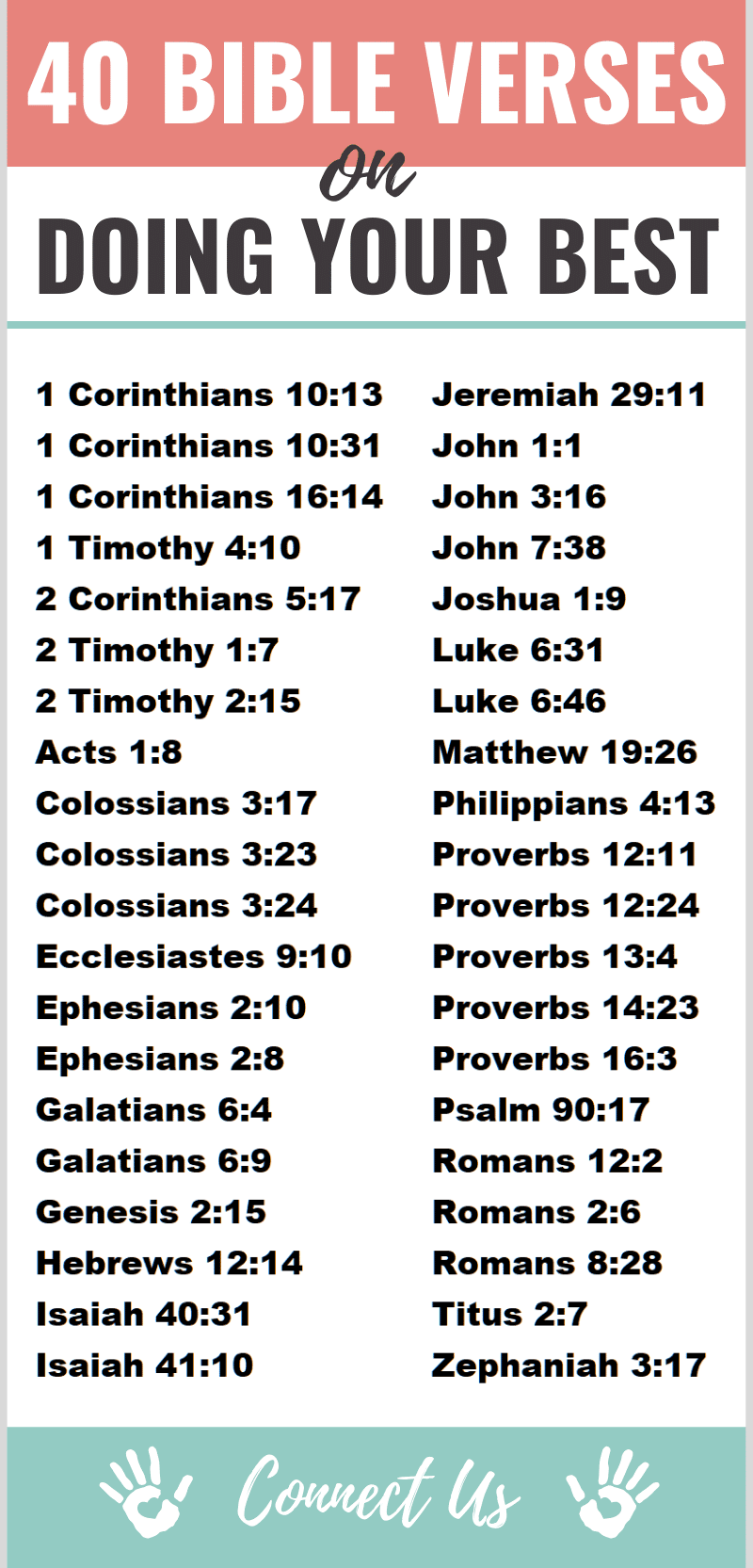 Author Bio
Natalie Regoli is a child of God, devoted wife, and mother of two boys. She has a Masters Degree in Law from The University of Texas. Natalie has been published in several national journals and has been practicing law for 18 years. If you would like to reach out to contact Natalie, then go here to
send her a message
.