Here are 10 of the strongest prayers for good health. Along with the prayers are printable images for you to use or share.
Prayer for a Strong Body
Lord, You are my Strength, and all power belongs to You. I pray for a strong and vigorous body that can easily do hard work, engage in exercise, and has a strong resistance against illness. I thank You that as I trust in You, I find new strength, and soar high like an eagle. I will run and not get weary, I will walk and not faint. I thank You that I am Your creation, and You watch over me. Amen.
Prayer for a Strong Immune System
All-Powerful Lord, I pray that You would bless me with a strong immune system so that I have a powerful defense against bacterial and viral infections. I thank You that when You created me, You put this system within me to protect me from illness. Help me be diligent to promote a strong immune system through healthy habits and to avoid habits that compromise it. Amen.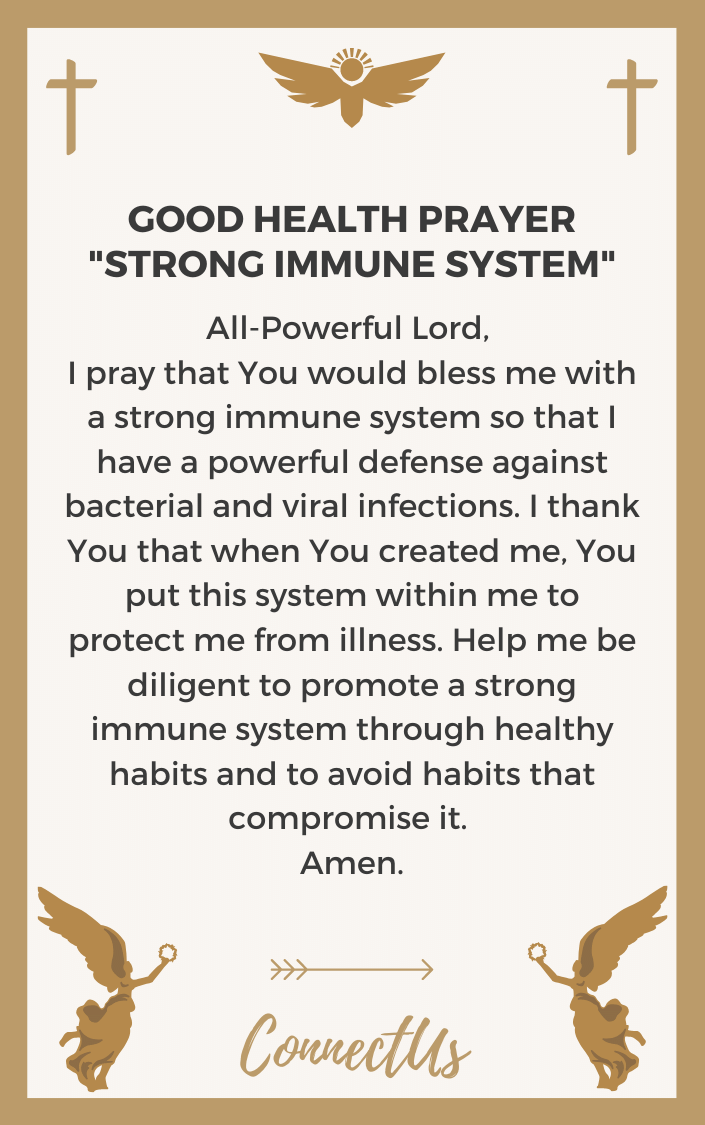 Prayer for Defense Against Viral Illness
O God, my Salvation, I pray that You will be my strong defense against this virus that is devastating the health of so many and even bringing death to thousands. I stand on Your Word that as I trust in You, the Sun of Righteousness will arise with healing in His wings. Set a guard around me and my loved ones, and give us immunity to this dread disease as we delight in You. Amen.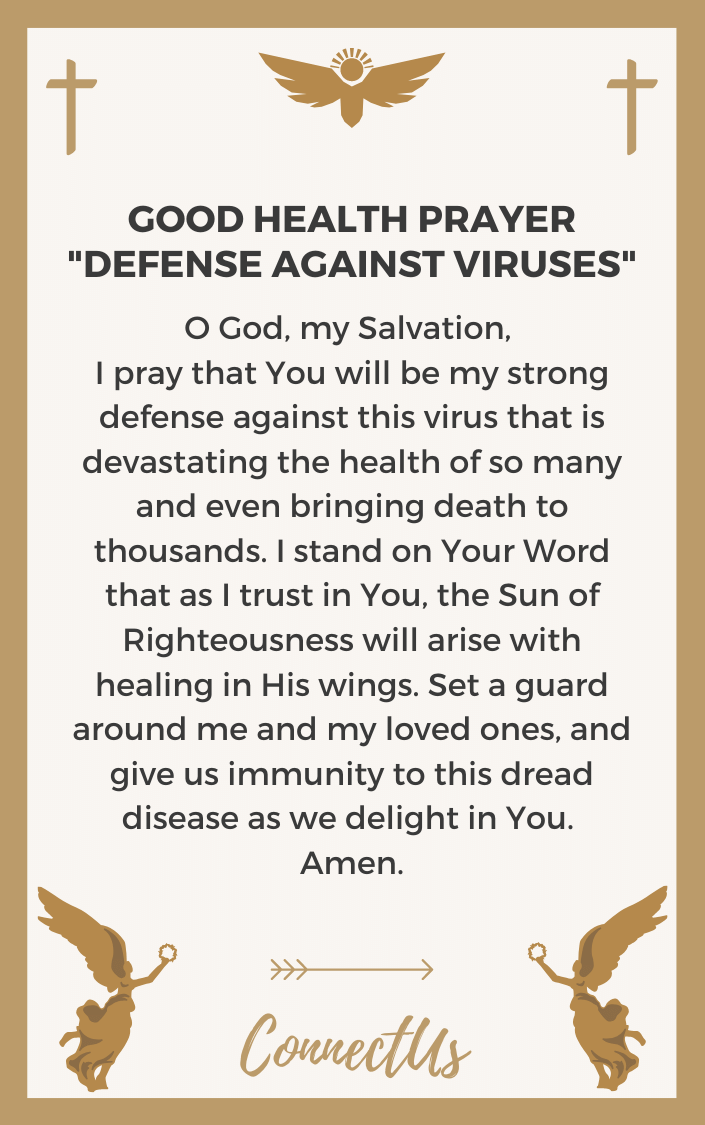 Prayer for a Healthy Cardiovascular and Respiratory System
God of Might, please give me a healthy cardiovascular and respiratory system, so that I don't have any circulation or breathing issues that would damage my well-being. I pray that You will contend with any inherited propensities to heart or lung disease and help me make important changes to my lifestyle to promote healthy circulation and respiration. I praise You for splendid and majestic is Your work, O Lord. Amen.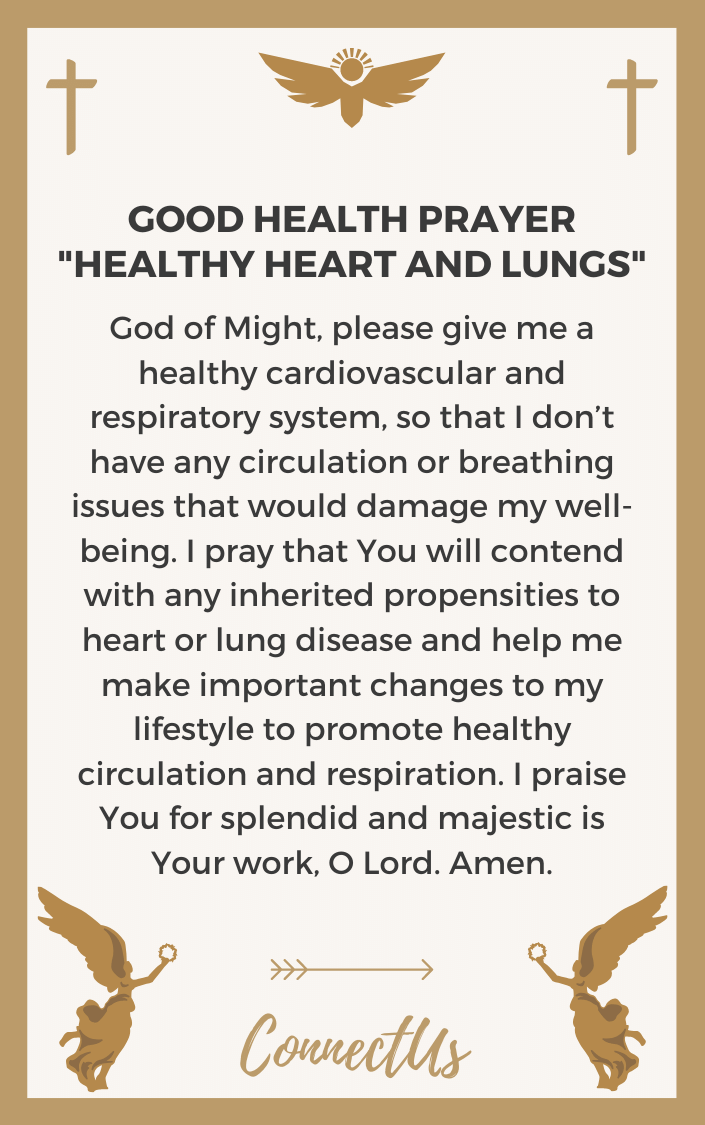 Prayer for Prosperity of Health
Highly Exalted Lord, I ask for prosperity for my body. Please grant me many years of life, a sound mind, strength to my muscles, bones, heart, and lungs, a powerful immune system, and excellent agility. The healthier I am, the more thoroughly I can do Your work. Lord, I thank You that when I pay attention to Your words and keep them within my heart that they bring health to my whole body. Amen.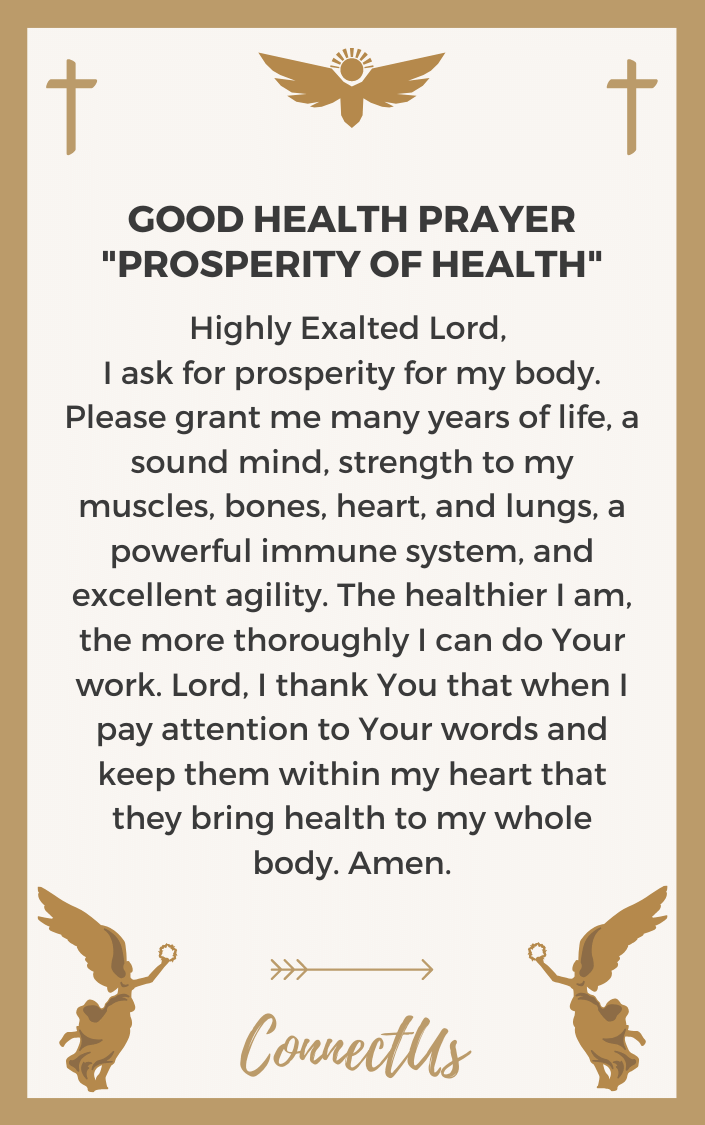 Prayer for Energy
God, my Strength and Song, I come to You today asking for energy for my body and my mind. Please bless my body with the power and vitality I need to accomplish all that You have set before me to do, and grant that my mind can focus and think clearly and quickly. I thank You for supplying me with the strength and energy to do my work and bring glory to Your Name. Amen.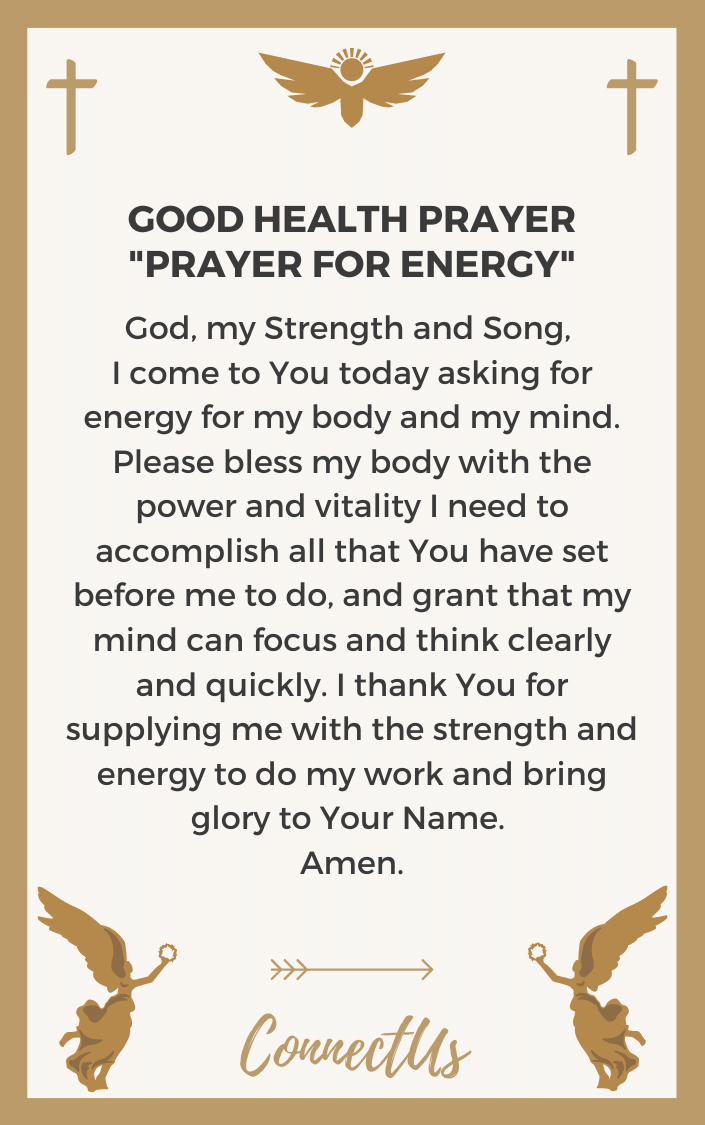 Prayer for Protection from Injury
God my Stronghold, I pray that Your angels will encamp around me and protect me from any injury from falls or accidents. I pray that You give me a good sense of balance, good focus on what I'm doing, and good spatial awareness so that I operate well in the environment around me. I am so grateful, wonderful Savior, that You go before and behind me and keep me safe with Your loving hand. Amen.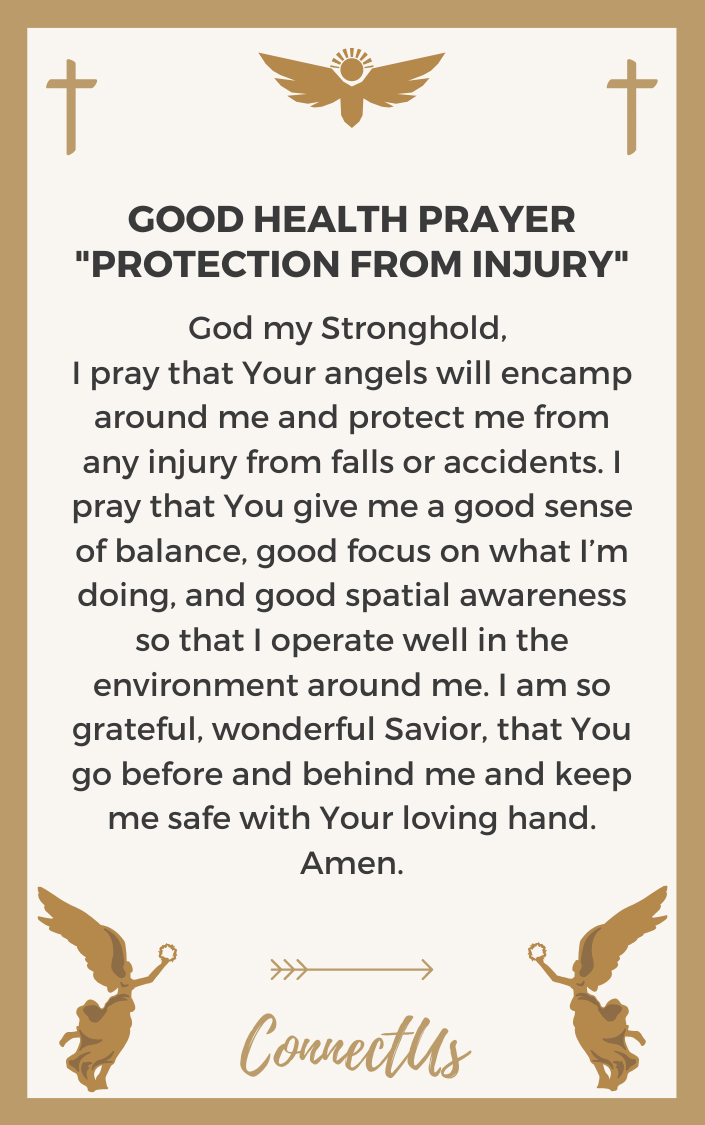 Prayer for Developing Good Health Habits
My Lord of Victory, I pray that You would make me victorious in developing lifelong habits that promote good health, and help me overcome habits that harm my health, such as overeating, smoking, drinking too much, or being too sedentary. Help me cultivate good habits such as exercising, eating plenty of healthy vegetables and fruit, and limiting the consumption of unhealthy foods. May the godly virtues of self-control and discipline keep me on the right track. Amen.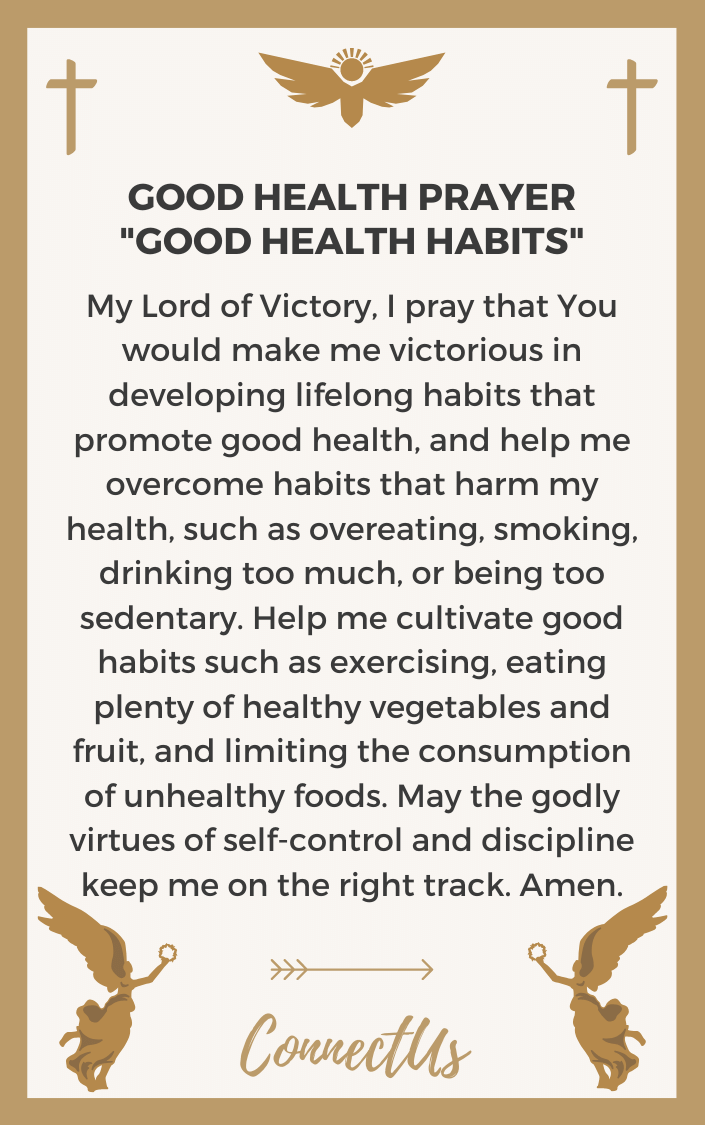 Prayer for Divine Health
Jehovah Rapha, my Healer, I pray that I might walk in divine health, free of disease and disability. I know it is Your will that I be healthy. I thank You that when my heart takes hold of Your words, and I keep Your commands, I will live the abundant life You meant for me to live. I thank You that when I receive Your words I will have a long life. Lord, make me like a tree planted by the water, whose leaves do not wither. Amen.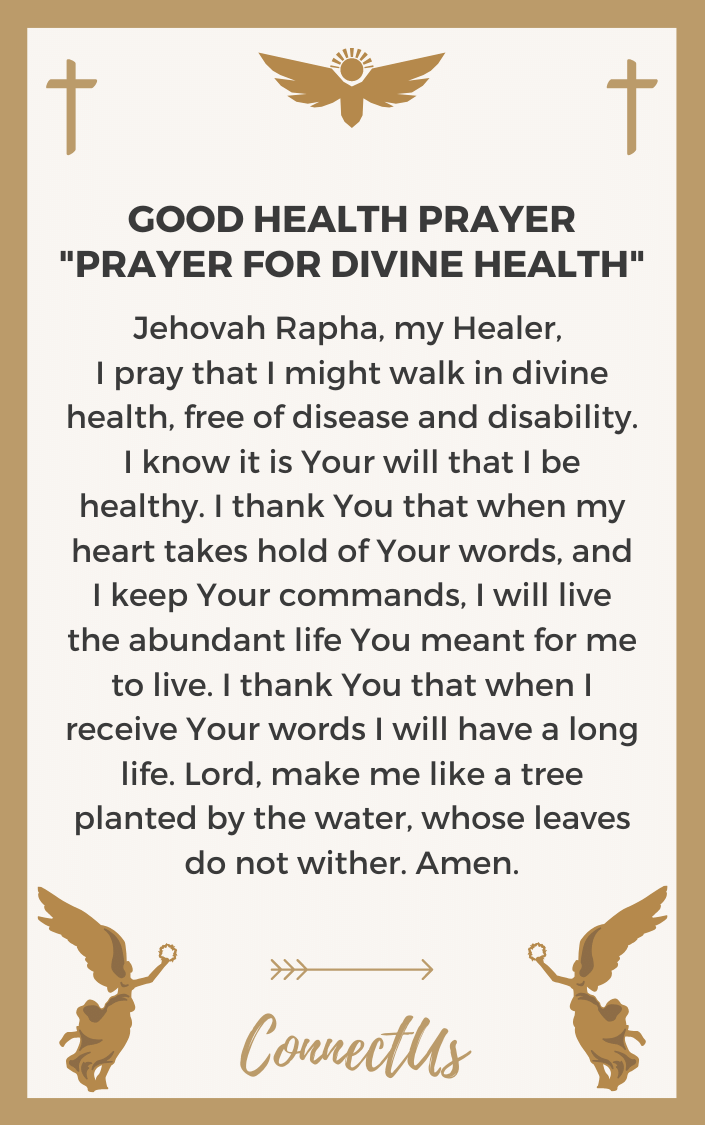 Prayer for Good Mental Health
God my Deliverer, please rescue me from dysfunctional thought patterns and bless me with good mental health. May I not be held captive by feelings of anxiety or fear or anger or sadness, and may my brain function with order and control. I am blessed when I take refuge in You. I am so thankful that You sustain me and You are the lifter of my head. I can rest and enjoy Your peace that passes understanding. Amen.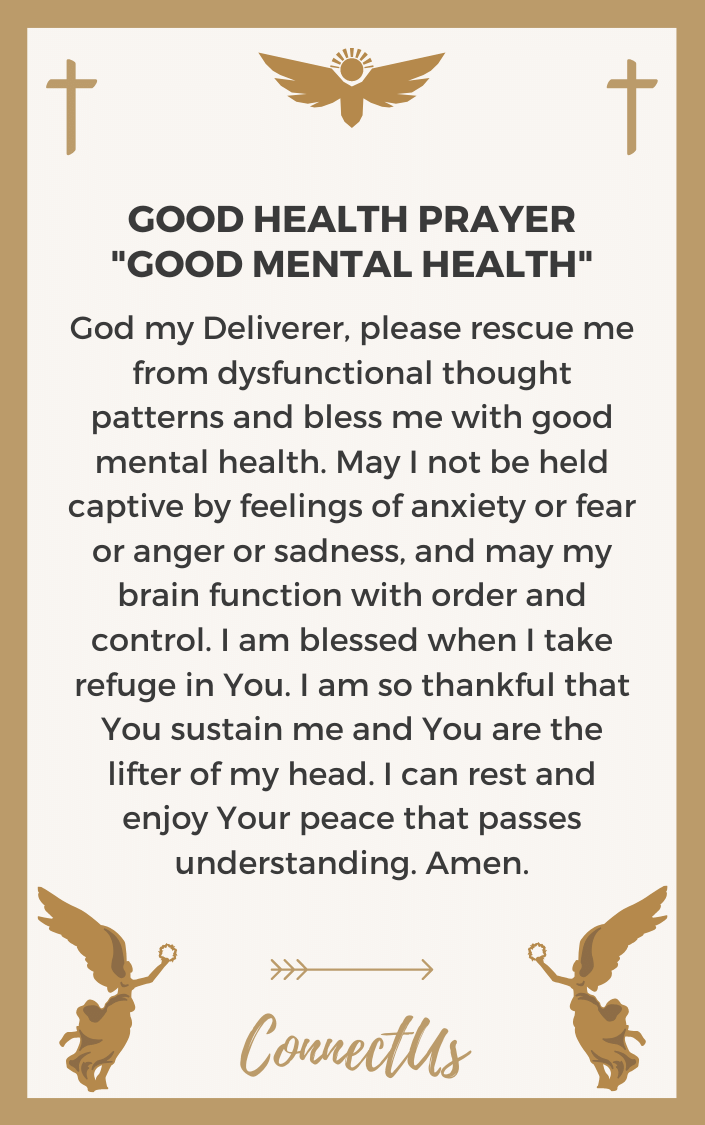 Most Popular Prayers by Topic
For Hard Times
For Financial Prosperity
For Physical Health
For Emotional Health
For Protection
For a Marriage
For Babies and Pregnancy
For Family
For Spiritual Warfare
For Spiritual Health
For a Death
For the Workplace
For Bedtime
Our 10 week prayer journal will guide you through your daily prayers and help you plan out your prayer week. It is completely free. You can
click here to get it now
.

Author Bio
Natalie Regoli is a child of God, devoted wife, and mother of two boys. She has a Master's Degree in Law from The University of Texas. Natalie has been published in several national journals and has been practicing law for 18 years.