The word "serve" appears 309 times throughout the books of the Bible. The graph below shows the locations of each appearance. It begins with Genesis in the top left and concludes with Revelation in the bottom right.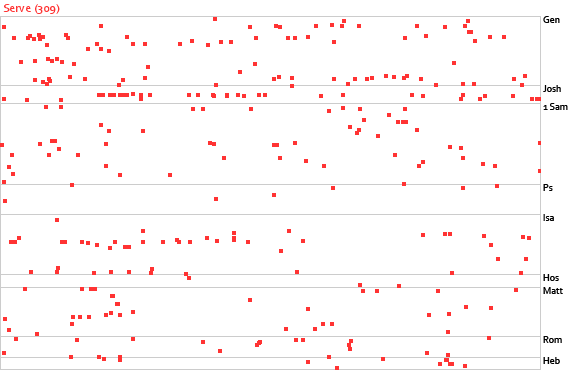 Here are the 30 most important Bible scriptures on serving God.
1 Samuel 12:24
Only fear the Lord and serve him faithfully with all your heart. For consider what great things he has done for you.
1 Corinthians 15:58
Therefore, my beloved brothers, be steadfast, immovable, always abounding in the work of the Lord, knowing that in the Lord your labor is not in vain.
Romans 12:1
I appeal to you therefore, brothers, by the mercies of God, to present your bodies as a living sacrifice, holy and acceptable to God, which is your spiritual worship.
Matthew 6:24
"No one can serve two masters, for either he will hate the one and love the other, or he will be devoted to the one and despise the other. You cannot serve God and money."
Mark 10:45
"For even the Son of Man came not to be served but to serve, and to give his life as a ransom for many."
1 Chronicles 28:9
And you, Solomon my son, know the God of your father and serve him with a whole heart and with a willing mind, for the Lord searches all hearts and understands every plan and thought. If you seek him, he will be found by you, but if you forsake him, he will cast you off forever.
1 Peter 2:9
But you are a chosen race, a royal priesthood, a holy nation, a people for his own possession, that you may proclaim the excellencies of him who called you out of darkness into his marvelous light.
1 Peter 4:10
As each has received a gift, use it to serve one another, as good stewards of God's varied grace.
1 Timothy 1:12
I thank him who has given me strength, Christ Jesus our Lord, because he judged me faithful, appointing me to his service.
1 Timothy 4:12
Let no one despise you for your youth, but set the believers an example in speech, in conduct, in love, in faith, in purity.
2 Corinthians 9:7
Each one must give as he has decided in his heart, not reluctantly or under compulsion, for God loves a cheerful giver.
Colossians 3:17
And whatever you do, in word or deed, do everything in the name of the Lord Jesus, giving thanks to God the Father through him.
Colossians 3:23
Whatever you do, work heartily, as for the Lord and not for men.
Deuteronomy 13:4
You shall walk after the Lord your God and fear him and keep his commandments and obey his voice, and you shall serve him and hold fast to him.
Ephesians 6:7
Rendering service with a good will as to the Lord and not to man.
Galatians 5:13
For you were called to freedom, brothers. Only do not use your freedom as an opportunity for the flesh, but through love serve one another.
Hebrews 6:10
For God is not unjust so as to overlook your work and the love that you have shown for his name in serving the saints, as you still do.
Hebrews 9:14
How much more will the blood of Christ, who through the eternal Spirit offered himself without blemish to God, purify our conscience from dead works to serve the living God.
James 1:27
Religion that is pure and undefiled before God, the Father, is this: to visit orphans and widows in their affliction, and to keep oneself unstained from the world.
John 12:26
"If anyone serves me, he must follow me; and where I am, there will my servant be also. If anyone serves me, the Father will honor him."
Joshua 22:5
Only be very careful to observe the commandment and the law that Moses the servant of the Lord commanded you, to love the Lord your God, and to walk in all his ways and to keep his commandments and to cling to him and to serve him with all your heart and with all your soul.
Joshua 24:15
And if it is evil in your eyes to serve the Lord, choose this day whom you will serve, whether the gods your fathers served in the region beyond the River, or the gods of the Amorites in whose land you dwell. But as for me and my house, we will serve the Lord.
Luke 6:38
"Give, and it will be given to you. Good measure, pressed down, shaken together, running over, will be put into your lap. For with the measure you use it will be measured back to you."
Malachi 3:18
Then once more you shall see the distinction between the righteous and the wicked, between one who serves God and one who does not serve him.
Mark 9:35
And he sat down and called the twelve. And he said to them, "If anyone would be first, he must be last of all and servant of all."
Matthew 20:28
"Even as the Son of Man came not to be served but to serve, and to give his life as a ransom for many."
Matthew 23:11
"The greatest among you shall be your servant."
Matthew 25:40
"And the King will answer them, 'Truly, I say to you, as you did it to one of the least of these my brothers, you did it to me.'"
Psalm 27:5
For he will hide me in his shelter in the day of trouble; he will conceal me under the cover of his tent; he will lift me high upon a rock.
Romans 12:11
Do not be slothful in zeal, be fervent in spirit, serve the Lord.
More Bible Verses that Will Move You
50 Most Powerful Scriptures on Faith
60 Transcendent Verses on Trust
50 Strong Scriptures on Perseverance
68 Powerful Verses on Forgiveness
40 Uplifting Scriptures on Patience
Add Our Infographic Below to Your Pinterest Board
Hit the pin button below to add our infographic, with all the verses, to one of your Pinterest boards.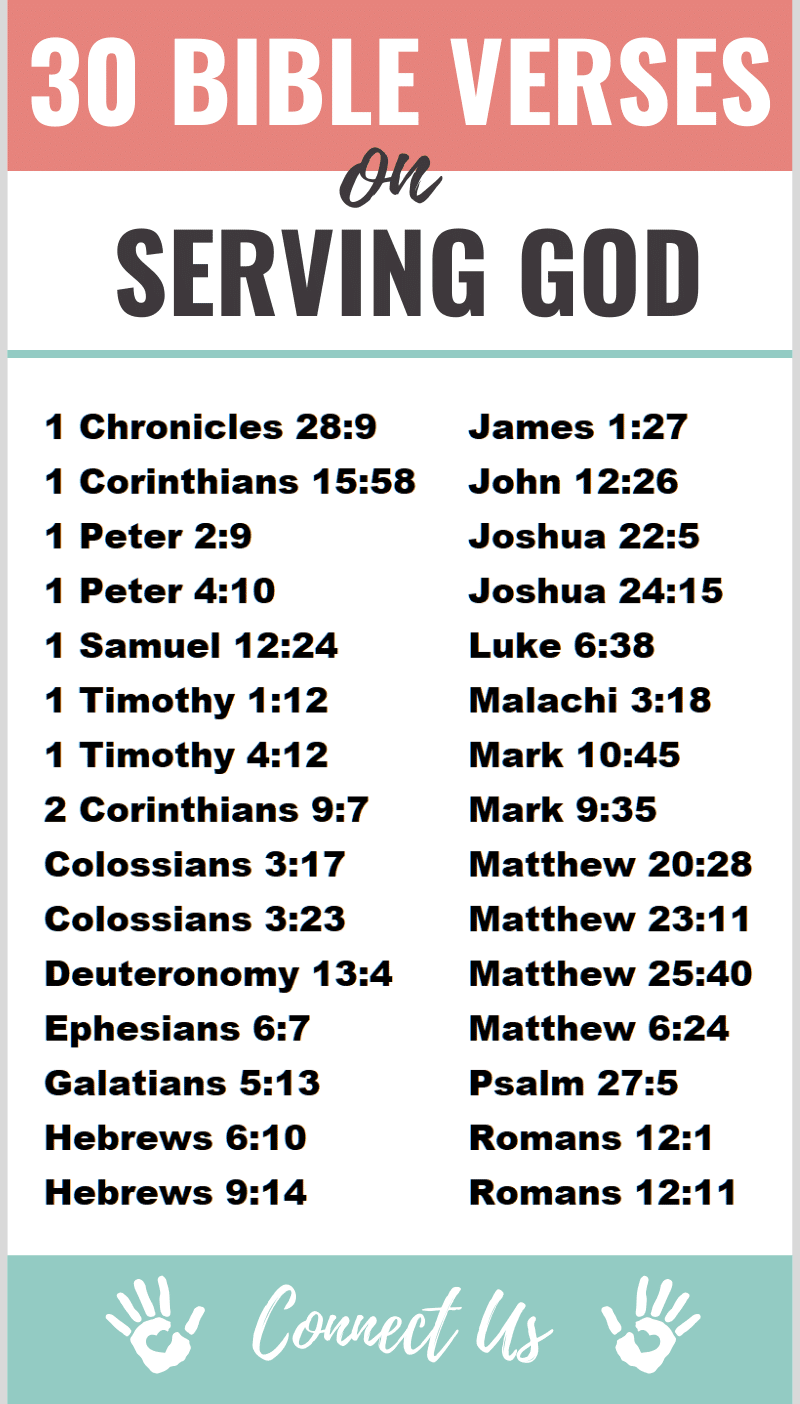 Author Bio
Natalie Regoli is a child of God, devoted wife, and mother of two boys. She has a Master's Degree in Law from The University of Texas. Natalie has been published in several national journals and has been practicing law for 18 years.