Pets become our family, and when they reach the end of their life, the grief that comes with their absence is undeniable. Here are 10 uplifting prayers for the death of a pet along with printable images to use or share.
A Prayer for Healing
Jesus, the Great Physician, You have blessed me as a steward of my beloved pet for many years. Through Your grace, I have made many memories and have greatly enjoyed my time with them. Yet, You give and You take away. You are good in all things, and so I give thanks and praise to You, O Lord. Bring healing to my broken heart and help me to get through this season of grief. Amen.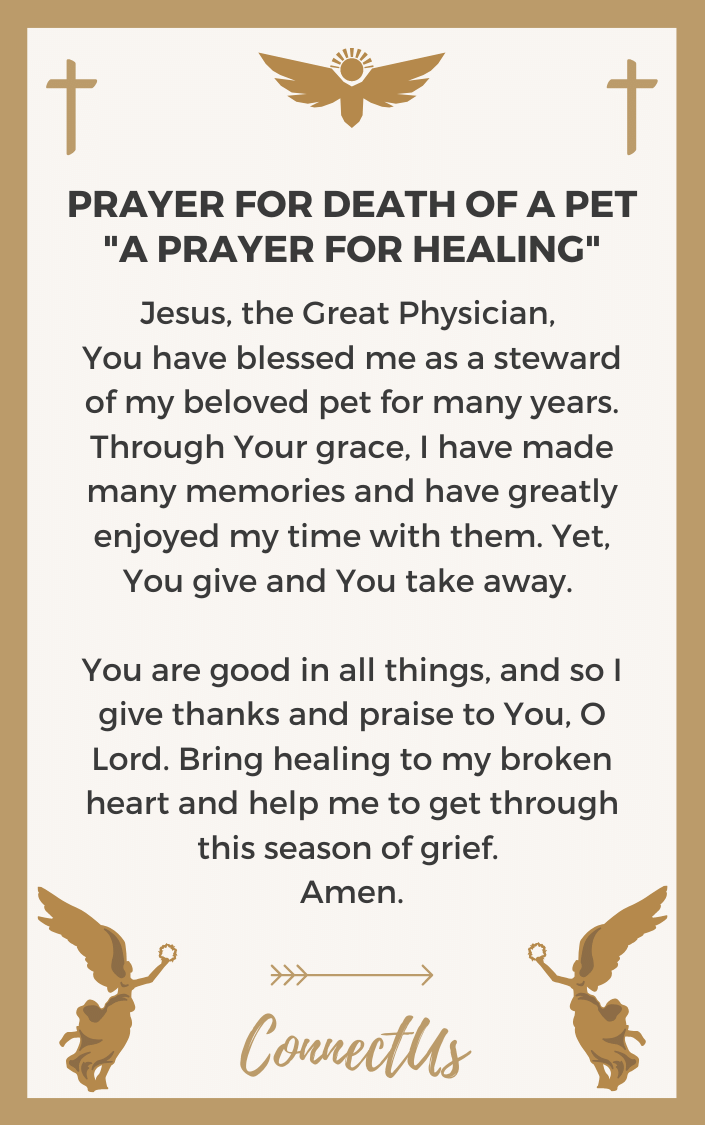 Blessed Memory Prayer
Creator and Sustainer, I cannot fathom a more incredible gift than what You have given me in the life of my pet. As they have now moved on from this life, help me to know how to cope with the shock of this loss. Help me to adjust my life to account for his/her absence with courage and humility. For I know that You will deliver me from my suffering. I know that even in death, there is hope. Relieve me of my grief, Lord Jesus. Amen.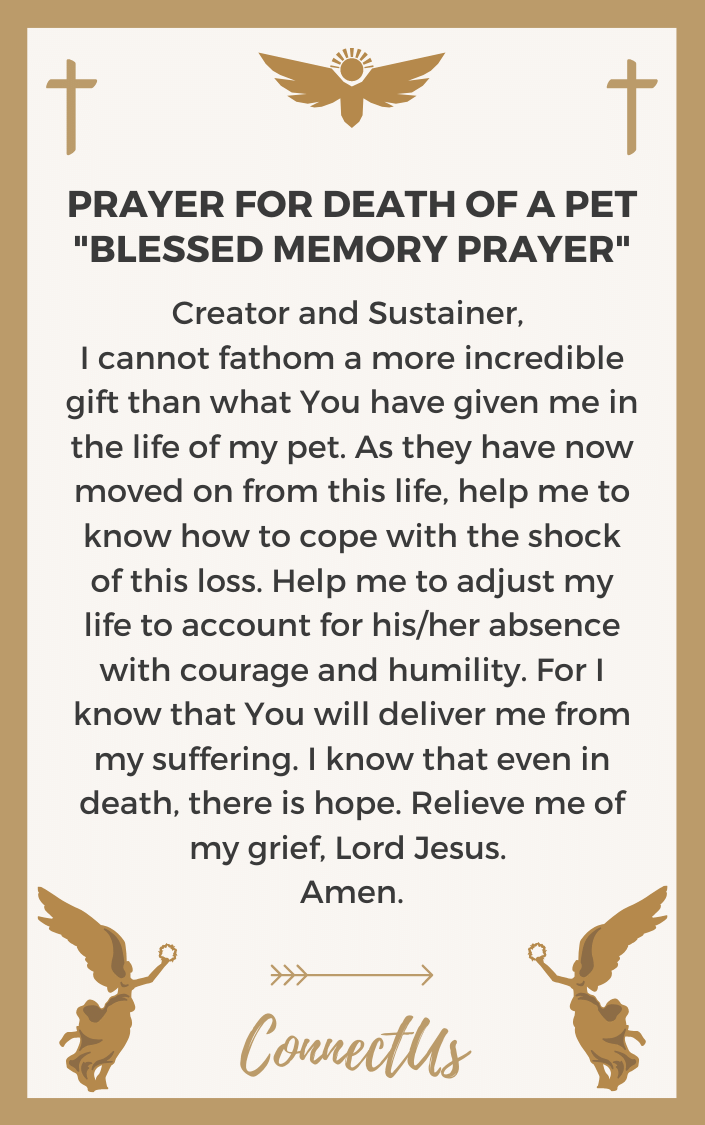 A Prayer for Comfort
God of All Mercy, it is by Your divine will that life is given. You have also said in Your word that You desire to comfort Your people in all things. Turn a compassionate ear to me, Lord, for I am heartbroken. My pet has passed away, and I am stricken with grief. Send Your comforting Spirit to soothe my sad soul. Give me the strength to endure. Amen.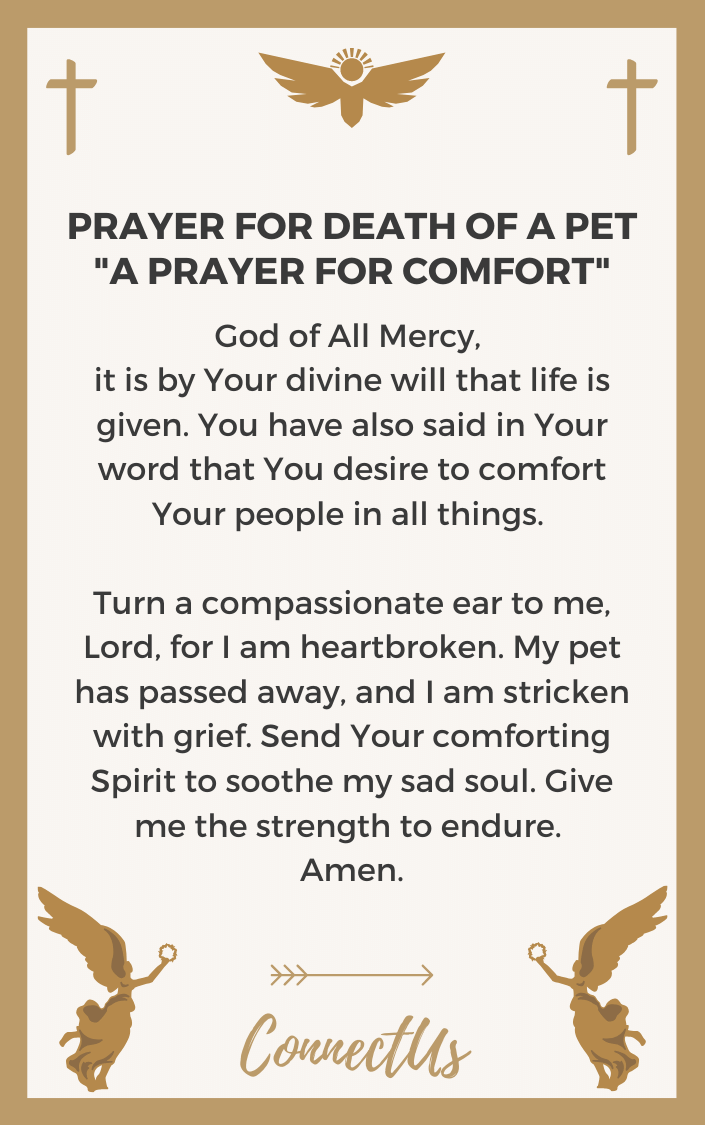 Best Friend Prayer
God of Loving Devotion, You created the animals so that they, in some way, might serve people. In Your love, You allowed human beings to befriend other creatures. By Your wise design, You made us work together in this life. Yet, at the end of this relationship is death. My pet is now deceased. He/she was my best friend. Come and dwell within me as I grieve this loss. Let the memories I have of him/her be happy times. Amen.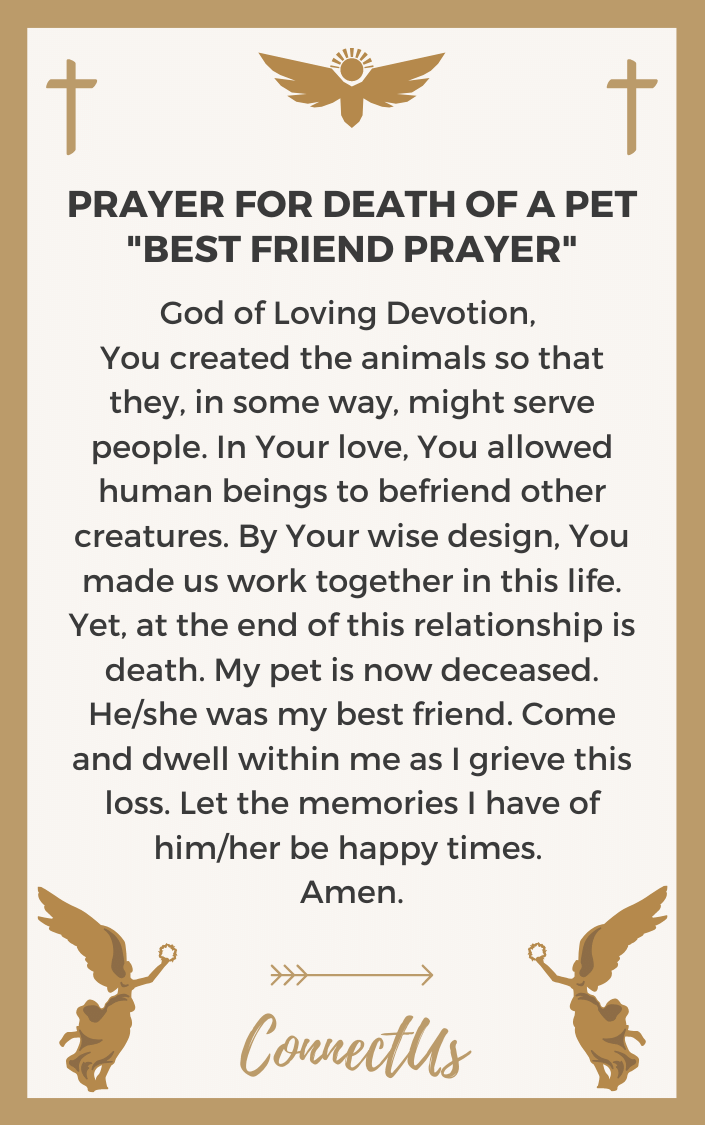 Into Your Hands Prayer
Sovereign Lord, how much more difficult this life would be were it not for our pets. Their companionship and love are sometimes all we have. When I had no place to turn, my pet was there with unconditional love. Lord, I am struggling with his/her death. I do not see how I can go on without him/her. I must place my trust into Your hands, God, for You uphold all things. Amen.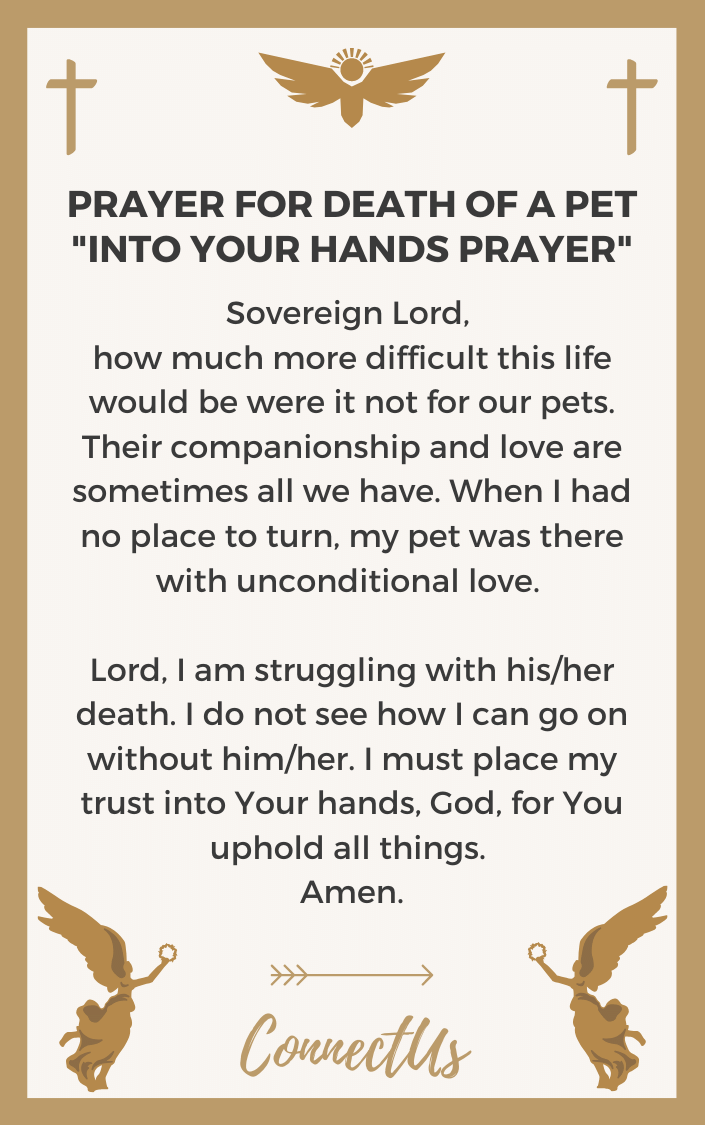 Thankful for Companion Prayer
Compassionate Father, how well You know the longing of our hearts that You even create for us companions in animals. The most wonderful companion I have ever known is now gone, and my grief has overtaken me. Yet, through the tears, I can see Your goodness in the way that You have blessed me. Lord, I thank You for letting me experience the love of this great companion. Help me to honor him/her in my life. Amen.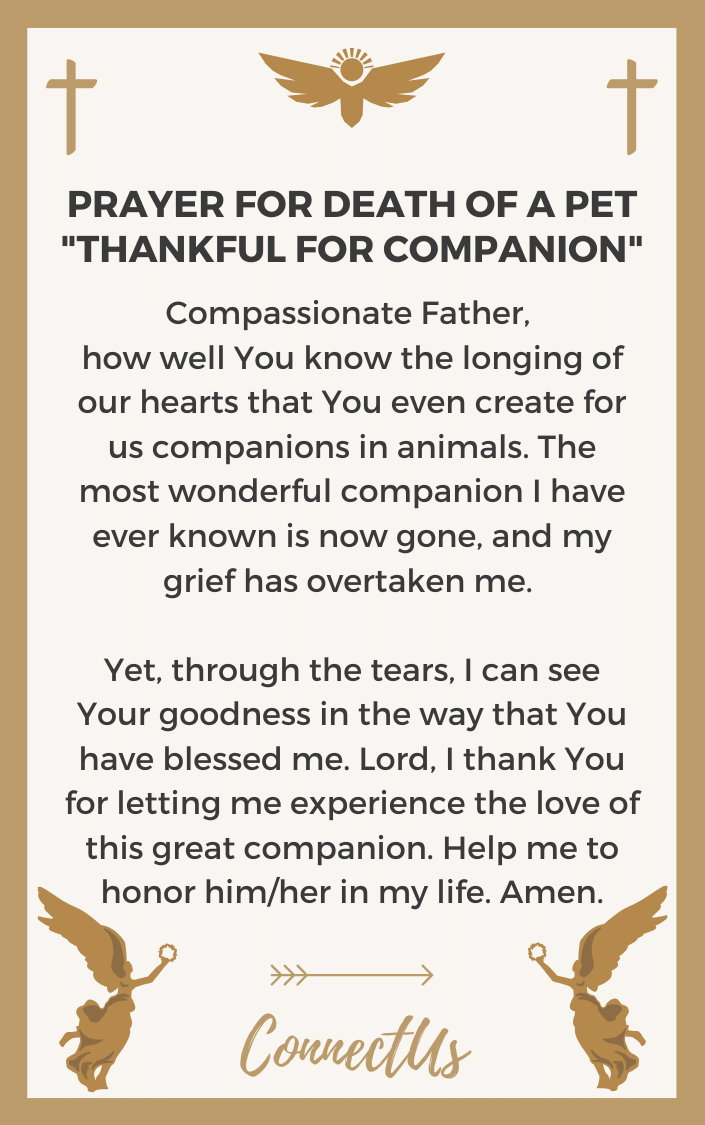 Bring Peace Prayer
Precious Holy Spirit, I enjoyed many years with my pet who You gave to me in Your goodness. I have long dreaded this day, and I knew it would be difficult to say goodbye. Holy Spirit, help my family and me through this time of mourning. We miss his/her companionship already. Help us to preserve the wonderful memories we have made with him/her and help us to live grateful that we had the opportunity to care for him/her. Please hear my prayer. Amen.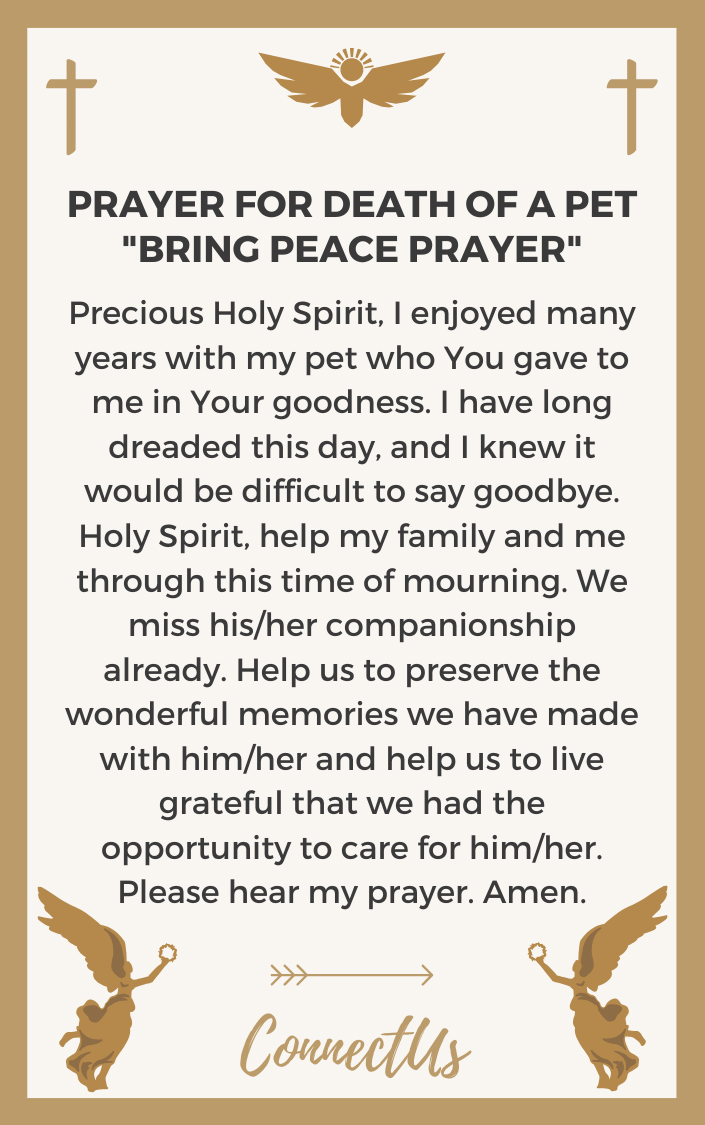 Hole in My Heart Prayer
God of Mercy and Love, do not delay in sending Your Spirit of comfort. I am in dire need of Your transcendent peace, as there is now a giant hole in my heart and my life. My pet was my best friend. My strength. My confidante. And now they are no more. Lord, bind up my wounded soul and dry my tears. Help me to endure this time of tribulation as I start to heal. Help me to move forward courageously, ever thankful for the blessing of allowing me to know him/her. You provide us with all glorious things. Amen.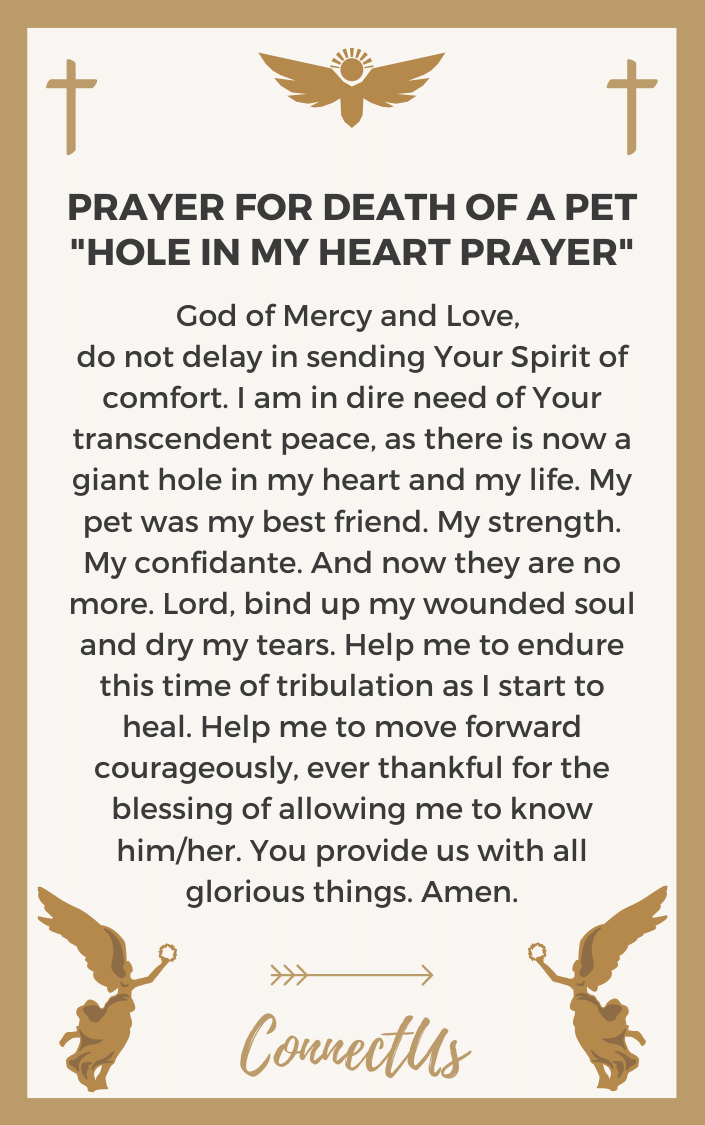 Uphold Me Prayer
Jesus, my Savior, I approach Your throne with grief upon my shoulders. It weighs me down, and I cannot bear it. My pet has passed on. I am having a difficult time keeping everything together. And yet, as I remember the love that You gave to us through him/her, I am encouraged and thankful. Uphold me by Your gracious and loving Spirit, that I may make it through this refining trial. Amen.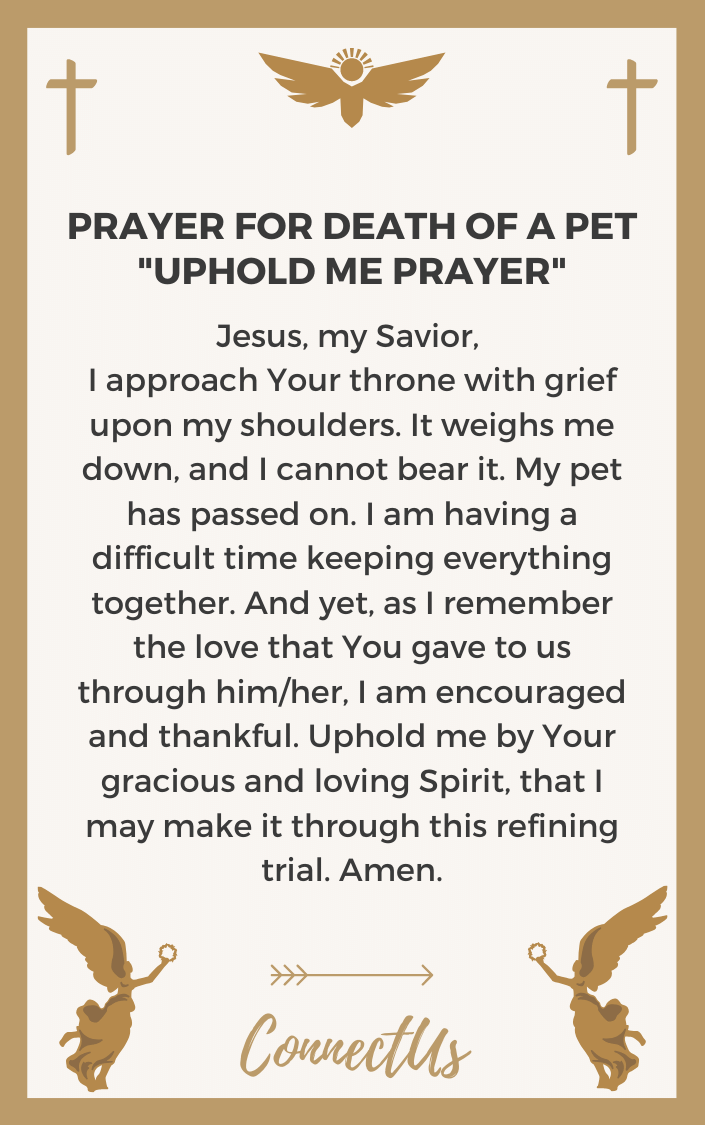 A Prayer for Pet's Repose
Lord of Unfailing Love, it is by Your gracious hand that all creatures are sustained in this life. They do not ask, and yet You ensure they are fed and kept safe. Though our beloved friend has departed this life, we can see Your purpose woven throughout the memories we made. Lord, let our pet and friend rest in blessed peace. Give them a gracious repose and let us grieve with comforting memories. Amen.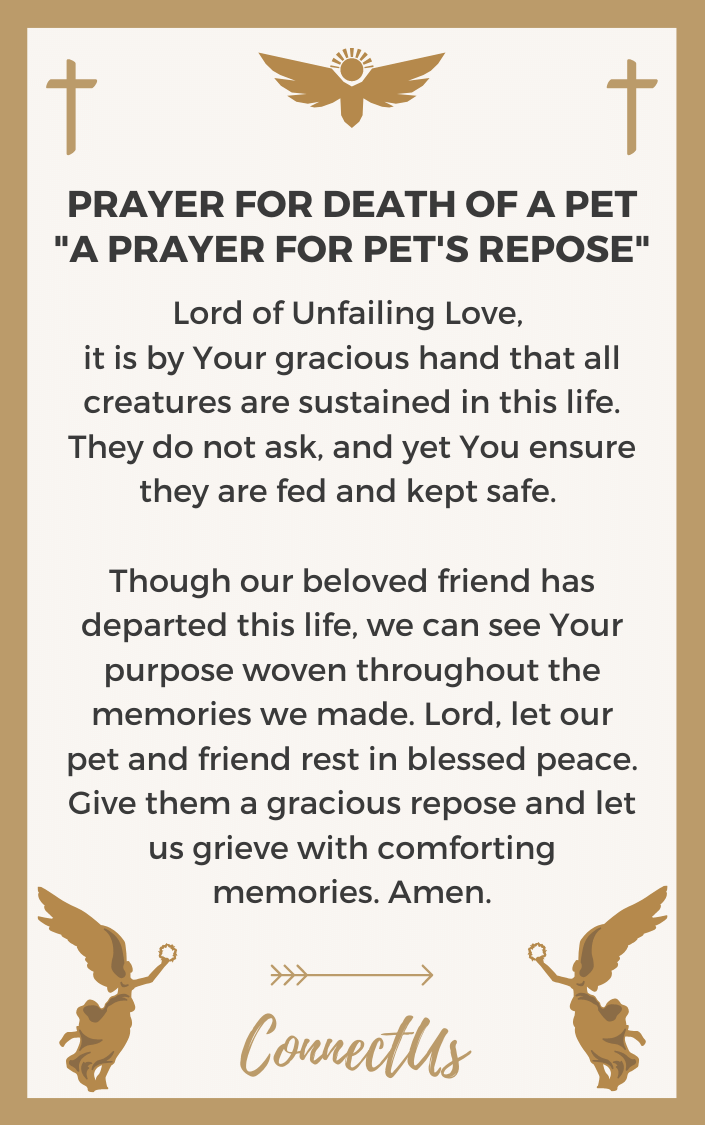 Most Popular Prayers by Topic
For Hard Times
For Financial Prosperity
For Physical Health
For Emotional Health
For Protection
For a Marriage
For Babies and Pregnancy
For Family
For Spiritual Warfare
For Spiritual Health
For a Death
For the Workplace
For Bedtime
Our 10 week prayer journal will guide you through your daily prayers and help you plan out your prayer week. It is completely free. You can
click here to get it now
.

Author Bio
Natalie Regoli is a child of God, devoted wife, and mother of two boys. She has a Master's Degree in Law from The University of Texas. Natalie has been published in several national journals and has been practicing law for 18 years.