Here are the 40 most powerful Bible scriptures on God's will.
Romans 12:2
Do not be conformed to this world, but be transformed by the renewal of your mind, that by testing you may discern what is the will of God, what is good and acceptable and perfect.
1 Peter 2:15
For this is the will of God, that by doing good you should put to silence the ignorance of foolish people.
1 Thessalonians 5:18
Give thanks in all circumstances; for this is the will of God in Christ Jesus for you.
Jeremiah 29:11
For I know the plans I have for you, declares the Lord, plans for welfare and not for evil, to give you a future and a hope.
Matthew 6:10
"Your kingdom come, your will be done, on earth as it is in heaven."
1 Chronicles 16:11
Seek the Lord and his strength; seek his presence continually!
1 John 1:9
If we confess our sins, he is faithful and just to forgive us our sins and to cleanse us from all unrighteousness.
1 John 2:17
And the world is passing away along with its desires, but whoever does the will of God abides forever.
1 Peter 3:17
For it is better to suffer for doing good, if that should be God's will, than for doing evil.
1 Peter 4:19
Therefore let those who suffer according to God's will entrust their souls to a faithful Creator while doing good.
1 Thessalonians 4:3
For this is the will of God, your sanctification: that you abstain from sexual immorality.
1 Timothy 2:4
Who desires all people to be saved and to come to the knowledge of the truth.
2 Peter 3:9
The Lord is not slow to fulfill his promise as some count slowness, but is patient toward you, not wishing that any should perish, but that all should reach repentance.
Ephesians 2:10
For we are his workmanship, created in Christ Jesus for good works, which God prepared beforehand, that we should walk in them.
Ephesians 5:17
Therefore do not be foolish, but understand what the will of the Lord is.
Hebrews 10:36
For you have need of endurance, so that when you have done the will of God you may receive what is promised.
Hebrews 4:12
For the word of God is living and active, sharper than any two-edged sword, piercing to the division of soul and of spirit, of joints and of marrow, and discerning the thoughts and intentions of the heart.
Isaiah 41:10
"Fear not, for I am with you; be not dismayed, for I am your God; I will strengthen you, I will help you, I will uphold you with my righteous right hand."
James 1:5
If any of you lacks wisdom, let him ask God, who gives generously to all without reproach, and it will be given him.
James 4:15
Instead you ought to say, "If the Lord wills, we will live and do this or that."
John 16:33
"I have said these things to you, that in me you may have peace. In the world you will have tribulation. But take heart; I have overcome the world."
John 3:16
For God so loved the world, that he gave his only Son, that whoever believes in him should not perish but have eternal life.
John 6:40
"For this is the will of my Father, that everyone who looks on the Son and believes in him should have eternal life, and I will raise him up on the last day."
John 7:17
"If anyone's will is to do God's will, he will know whether the teaching is from God or whether I am speaking on my own authority."
Joshua 1:9
"Have I not commanded you? Be strong and courageous. Do not be frightened, and do not be dismayed, for the Lord your God is with you wherever you go."
Luke 22:42
Saying, "Father, if you are willing, remove this cup from me. Nevertheless, not my will, but yours, be done."
Mark 3:35
"For whoever does the will of God, he is my brother and sister and mother."
Matthew 6:33
"But seek first the kingdom of God and his righteousness, and all these things will be added to you."
Micah 6:8
He has told you, O man, what is good; and what does the Lord require of you but to do justice, and to love kindness, and to walk humbly with your God?
Philippians 4:13
I can do all things through him who strengthens me.
Philippians 4:19
And my God will supply every need of yours according to his riches in glory in Christ Jesus.
Psalm 119:105
Your word is a lamp to my feet and a light to my path.
Psalm 143:10
Teach me to do your will, for you are my God! Let your good Spirit lead me on level ground!
Psalm 37:4
Delight yourself in the Lord, and he will give you the desires of your heart.
Romans 12:1
I appeal to you therefore, brothers, by the mercies of God, to present your bodies as a living sacrifice, holy and acceptable to God, which is your spiritual worship.
Romans 5:8
But God shows his love for us in that while we were still sinners, Christ died for us.
Romans 6:23
For the wages of sin is death, but the free gift of God is eternal life in Christ Jesus our Lord.
Romans 8:27
And he who searches hearts knows what is the mind of the Spirit, because the Spirit intercedes for the saints according to the will of God.
Romans 8:28
And we know that for those who love God all things work together for good, for those who are called according to his purpose.
Zephaniah 3:17
The Lord your God is in your midst, a mighty one who will save; he will rejoice over you with gladness; he will quiet you by his love; he will exult over you with loud singing.
More Bible Verses that Will Move You
50 Most Powerful Scriptures on Faith
60 Transcendent Verses on Trust
50 Strong Scriptures on Perseverance
68 Powerful Verses on Forgiveness
40 Uplifting Scriptures on Patience
Add Our Infographic Below to Your Pinterest Board
Hit the pin button below to add our infographic, with all the verses, to one of your Pinterest boards.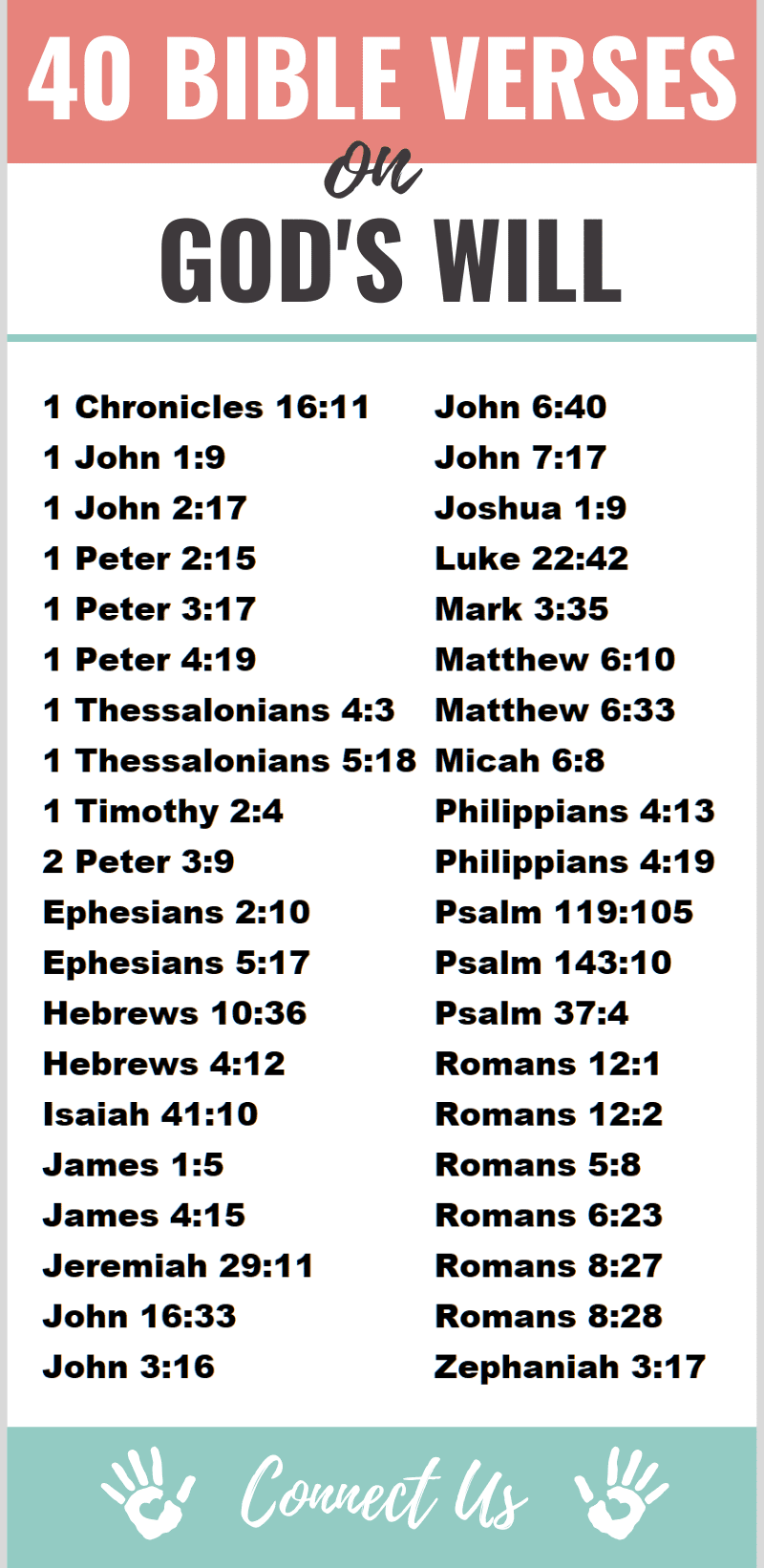 Author Bio
Natalie Regoli is a child of God, devoted wife, and mother of two boys. She has a Master's Degree in Law from The University of Texas. Natalie has been published in several national journals and has been practicing law for 18 years.