Being a doctor is one of the noblest professions someone can choose to work in. Doctors are there to help us, whether it be relieving the common cold or saving our life when severe illness or injury strikes. Christ is our ultimate Healer, and He works through doctors to help restore our health here on Earth. Here are the 11 most inspiring prayers for doctors along with printable images to use or share.
Guide Them Prayer
Mighty Healer, I bring our doctors before you. They are our earthly healers. Thank you for the good work they do and the sacrifices they make for the sake of the patients. Bless the work of their hands. You are the ultimate healer and through them, we receive our physical healing. Guide them in making the correct diagnosis and in the treatment of their patients. Let their successful treatments and patient satisfaction bring glory to you. Amen.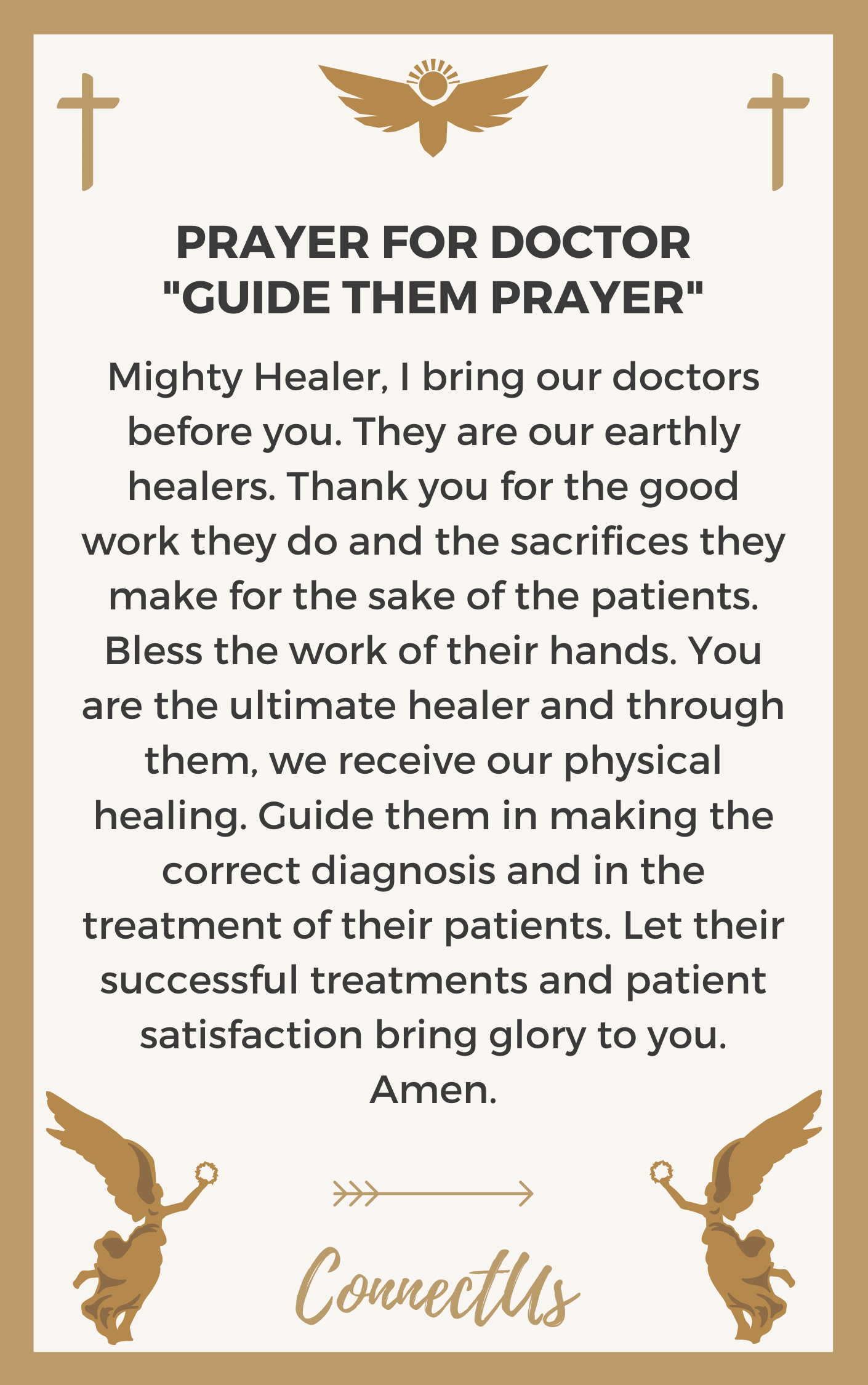 Protect Them Prayer
Father, I bow before you on behalf of the doctors all over the world. They do amazing work preventing and treating diseases of all kinds. They get exposed to danger every day in their line of duty. I ask that you protect them from violent patients, contagious diseases, and manipulations from cunning patients or family members. Help them to be firm in their principles regarding patient care despite the crossroads they encounter every day. Let their patients come first before anything else. Amen.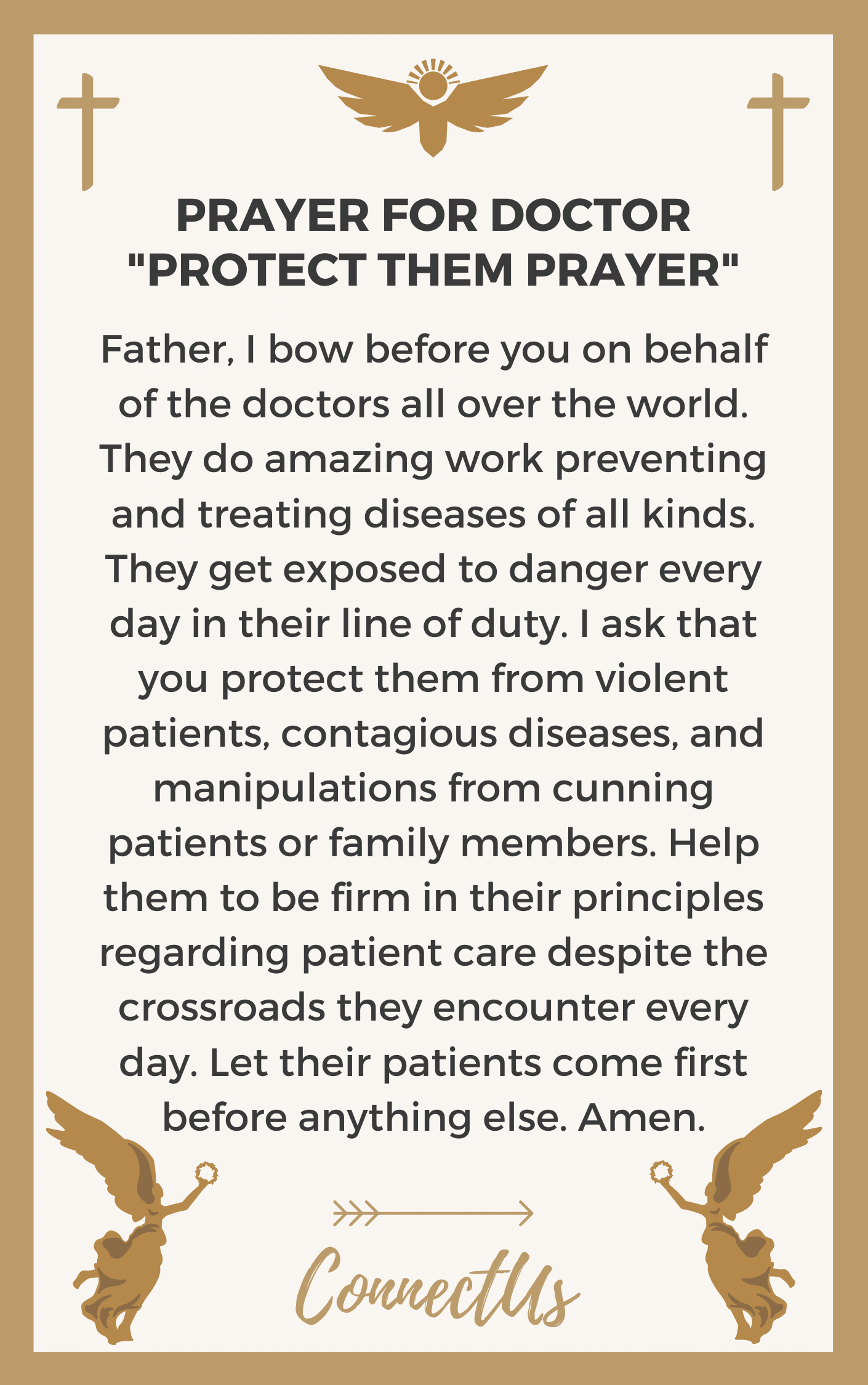 Bless Them Prayer
Everlasting God, I am on my knees with thanksgiving for giving us doctors who, not only cure diseases but also advise us in making the right health choices. They share in our pain, fears, and grief. We open our hearts to them and they listen to us without judging us. Bless them. Increase their territories. Give them the desires of their hearts. Give them peace. Let their service to your people be service to you. Amen.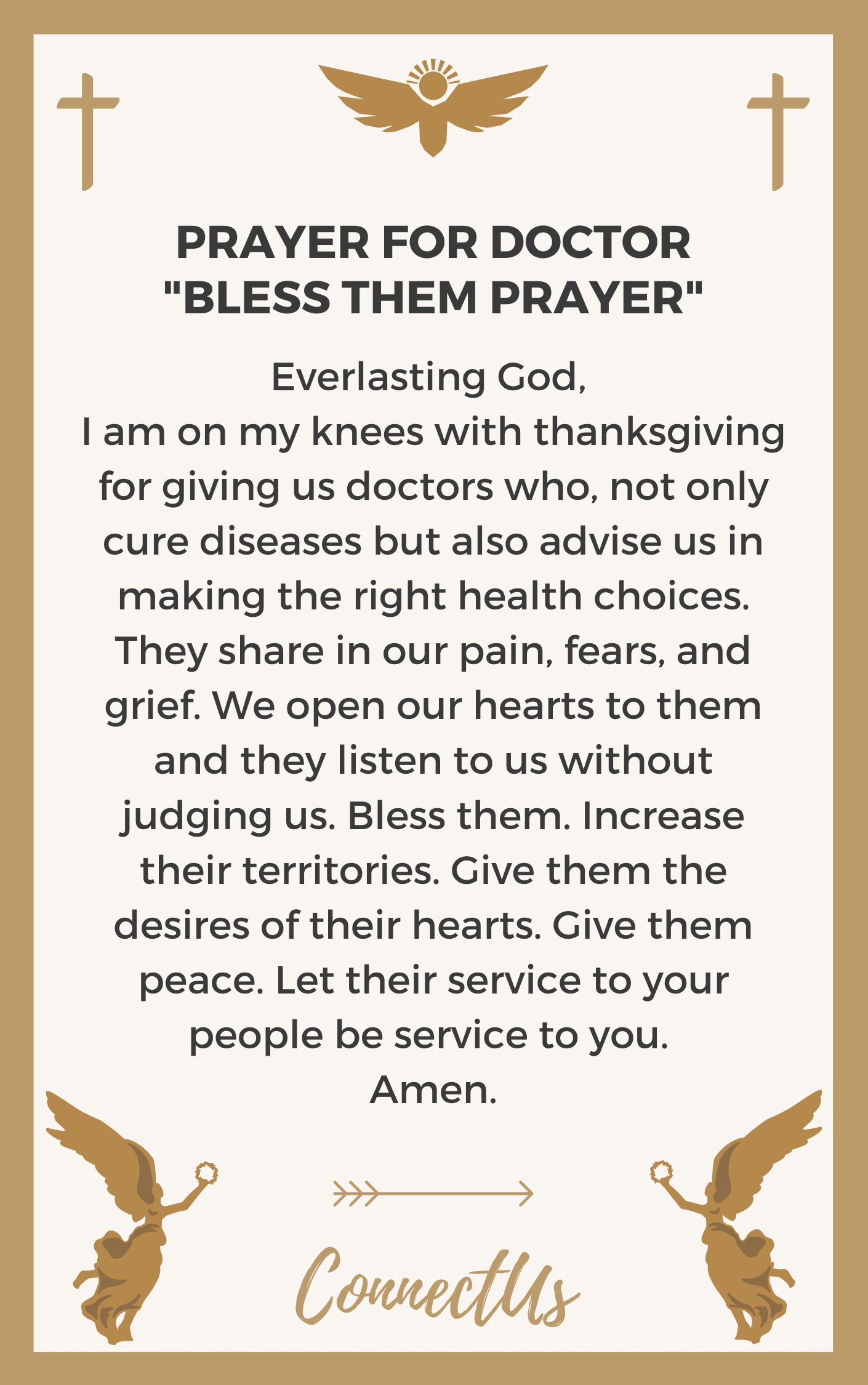 Give Them Peace Prayer
Lord, Life brings us ups and downs every day and for our doctors, it's no different. Apart from the successful stories, they also watch their patients take their last breath, they break the bad news to loved ones, and they give discouraging reports to patients. I pray that you may give them the strength to deal with the emotional roller-coaster. Give them peace. Give them hope despite the failed treatment options they offer. Let them face the next day with smiles on their faces. Amen.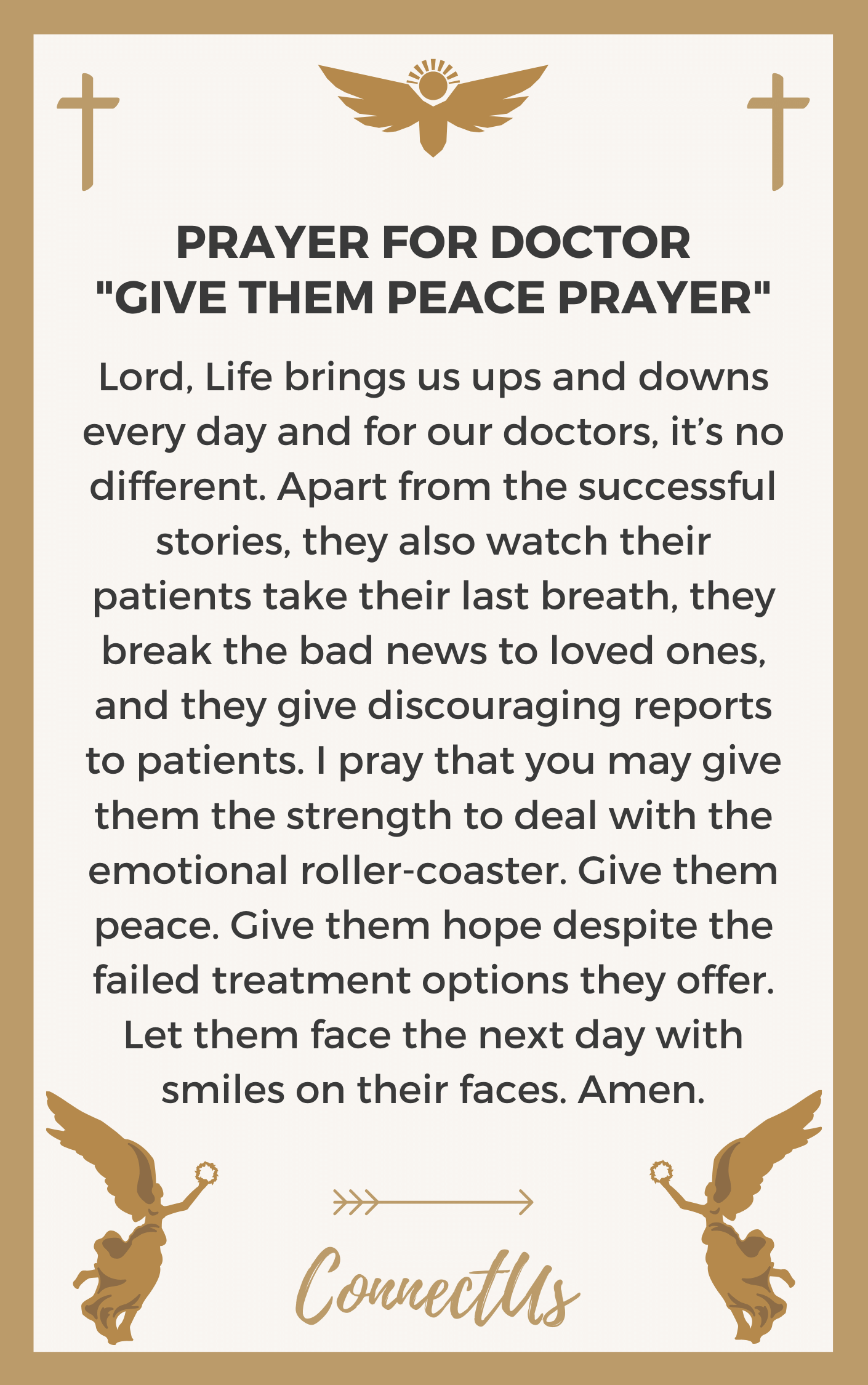 Give Them Patience Prayer
Mighty King, Thank you for our doctors. They work tirelessly to restore our health. The healing comes from you through them. Let them make the right decisions in every patient they handle. Let them focus on the safety of the patient. Guide their hand when they are in surgery. Guide their words when they are offering psychological therapy. Give them patience when doing physiotherapy. Let their ears and eyes be alert when in consultation. Give them wisdom without finding fault. Amen.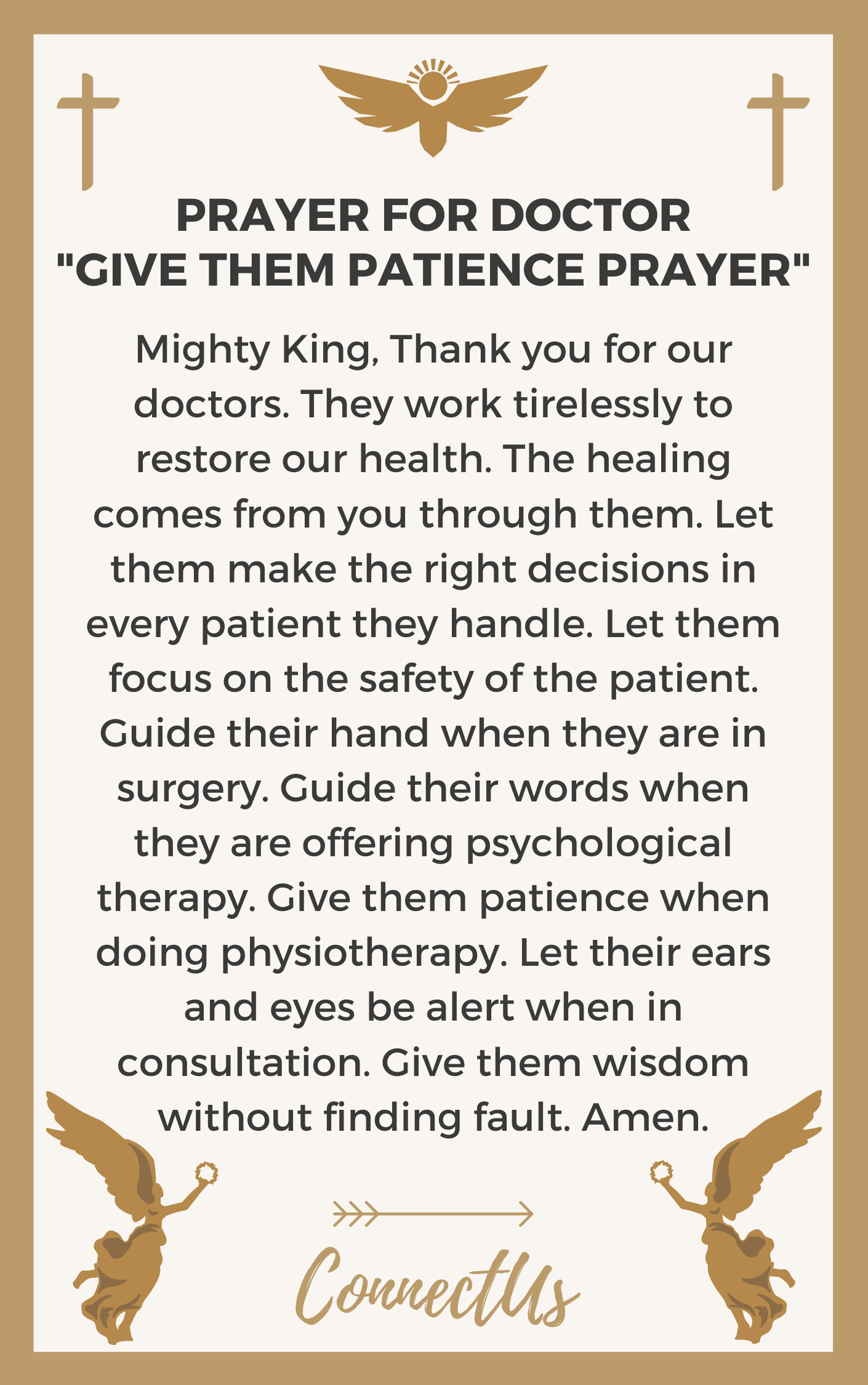 Give Them Strength Prayer
Our Father, I stand before you for the sake of our doctors. They work long hours attending to patients and are faced with tough decisions to make in matters of life and death. Give them strength. Let your Holy Spirit comfort them and guide every decision they make. Let their hearts desire to please you in every aspect of their work as the source of healing. Let them see you in everything they do. Amen.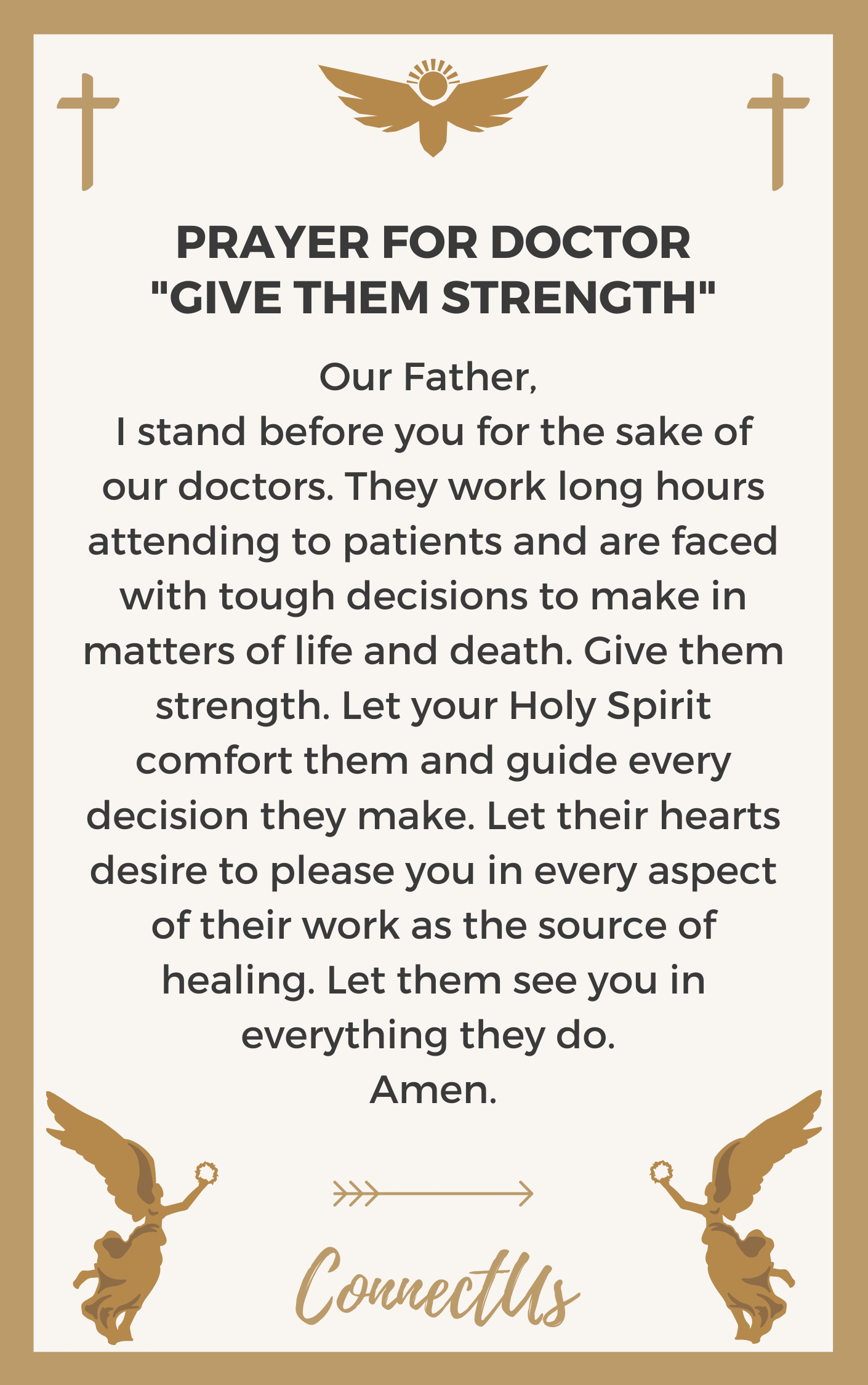 Help Them Understand Prayer
King of kings, You are the source of life. You give and you take life. My heart goes out to the doctors who blame themselves when things don't go their way. Help them understand that everything happens according to your will. Let them do the best they can and leave the rest to you because you are the tree of life. Bless their hands, their minds, and their hearts. Amen.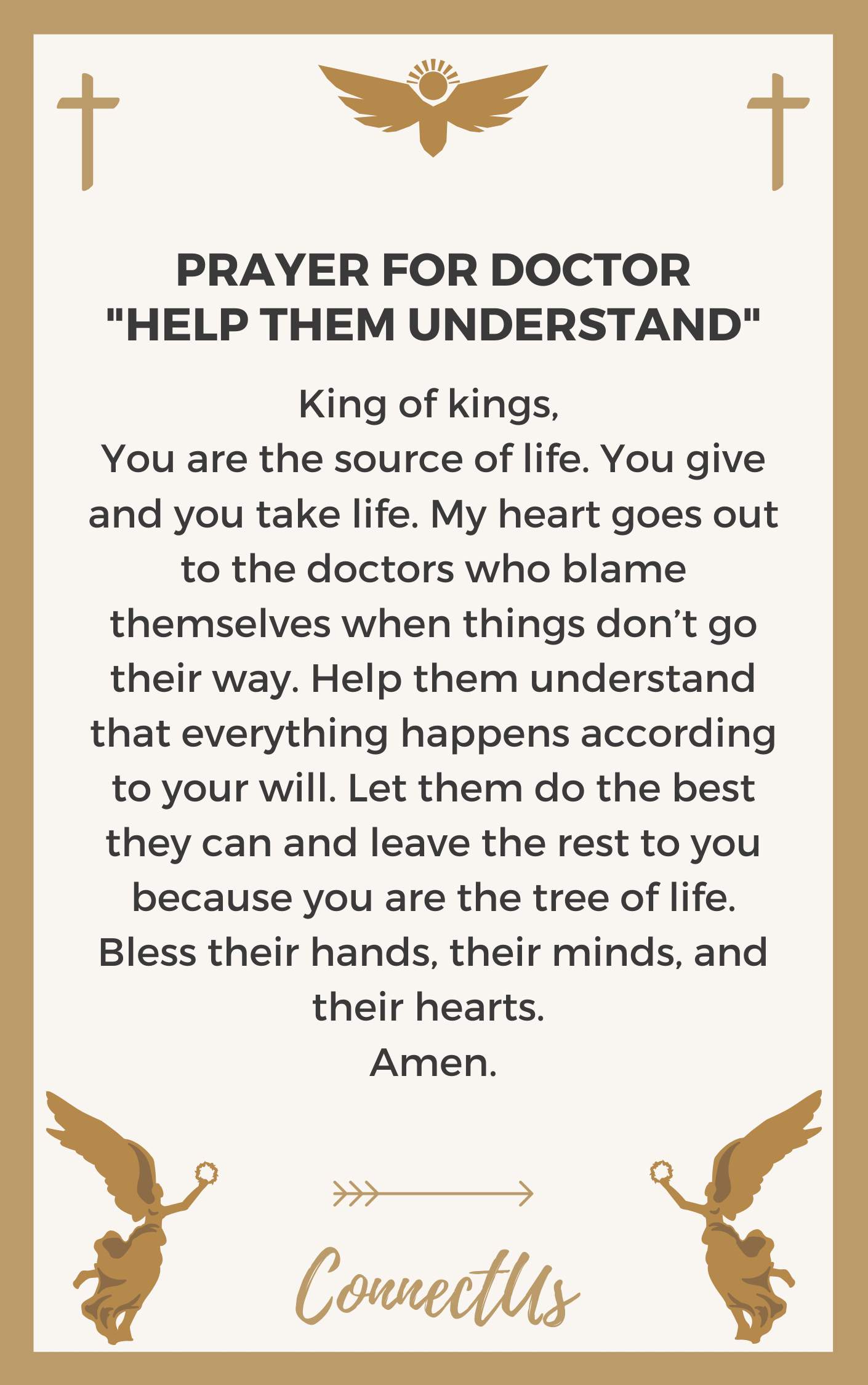 Boost Their Memory Prayer
Lord in heaven, I humble myself before you praying for our doctors. They are your vessels. They deliver your healing to us according to your will. Give them the necessary skills needed in their day to day work. Make their minds learn fast so that they can improve their knowledge and expertise. Boost their memory to remember every little detail needed to save lives. Let their hands be fast to resuscitate patients in emergency cases. Make them be the servants you've called them to be. Amen.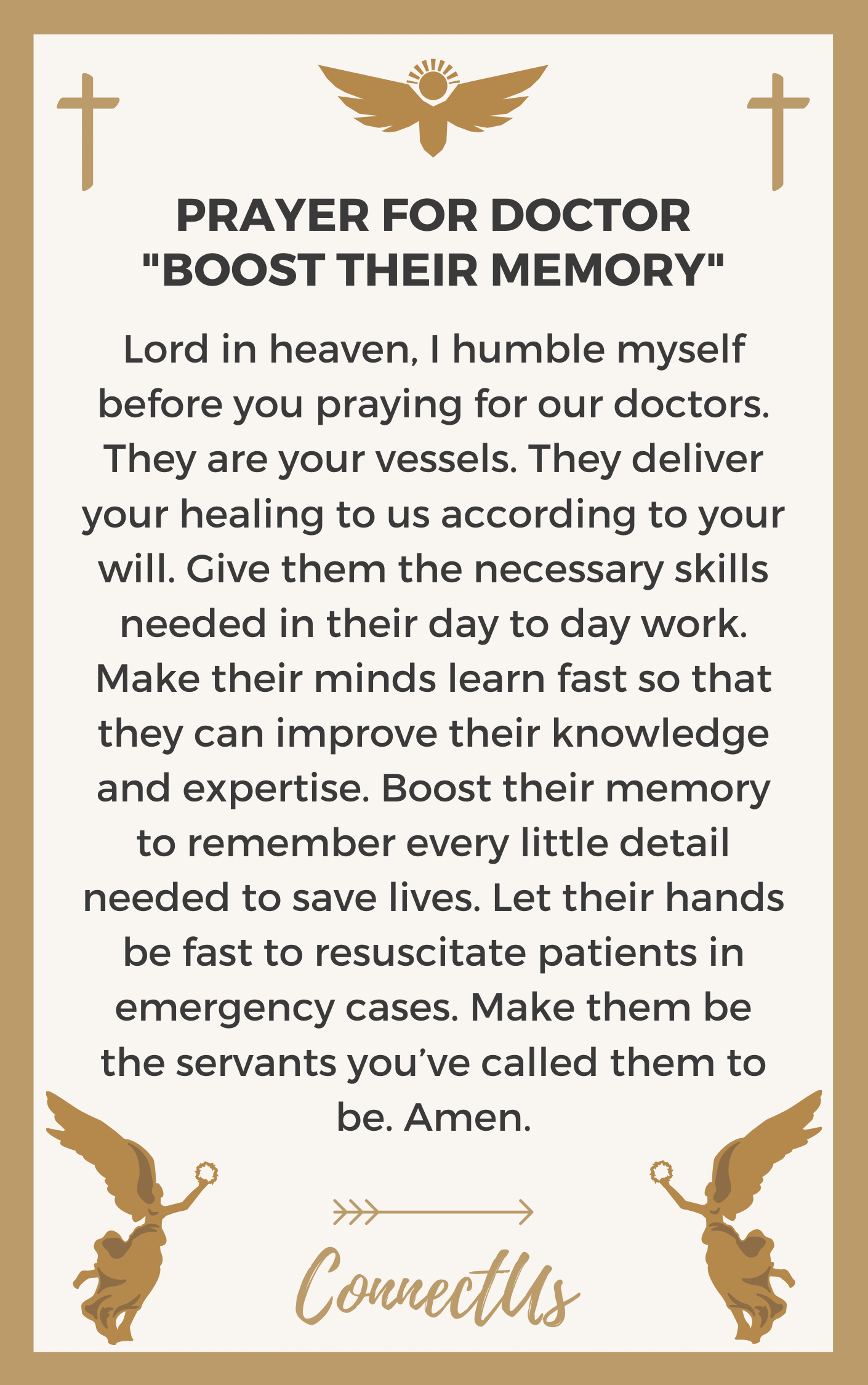 Give Them Compassion Prayer
Mighty God, I kneel in front of you with requests concerning all doctors. You are the great physician and they are your servants. Give them obedience to follow your guide in their line of duty. Let them treat all patients with the same zeal and effort without being biased. Give them compassion in their work and let them have empathy for their patients. Let their hearts be pure in serving you through their patients. Amen.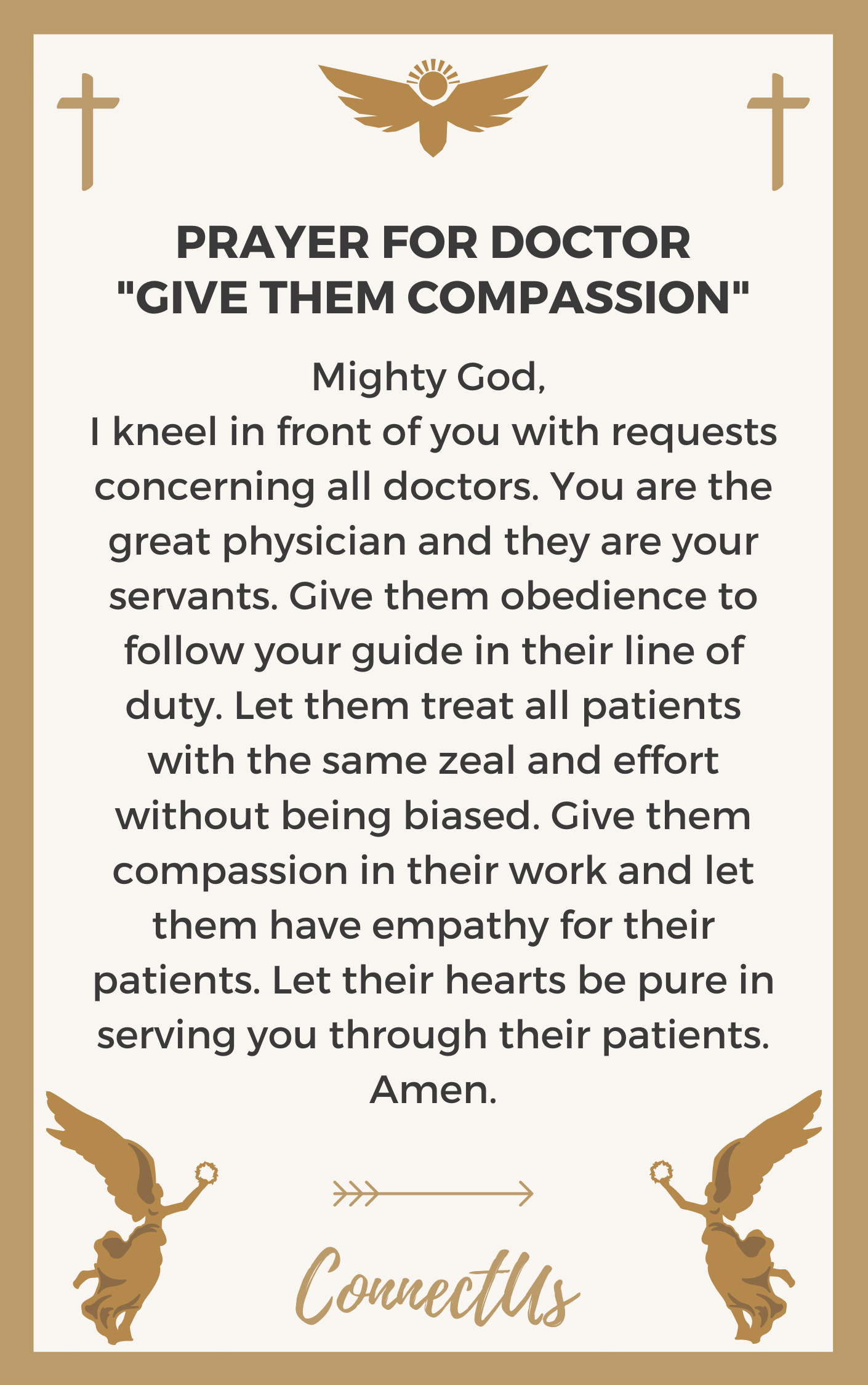 Let Them Rely on You Prayer
God Almighty, I pray for all doctors to always look up to for wisdom when handling those under their care. Let them rely on you but not on their understanding all through their career. You called them to be our earthly physicians, be their guide. When their strength runs slow, renew it. When their faith is shaken, renew it. Let them draw their confidence in your healing power. Amen.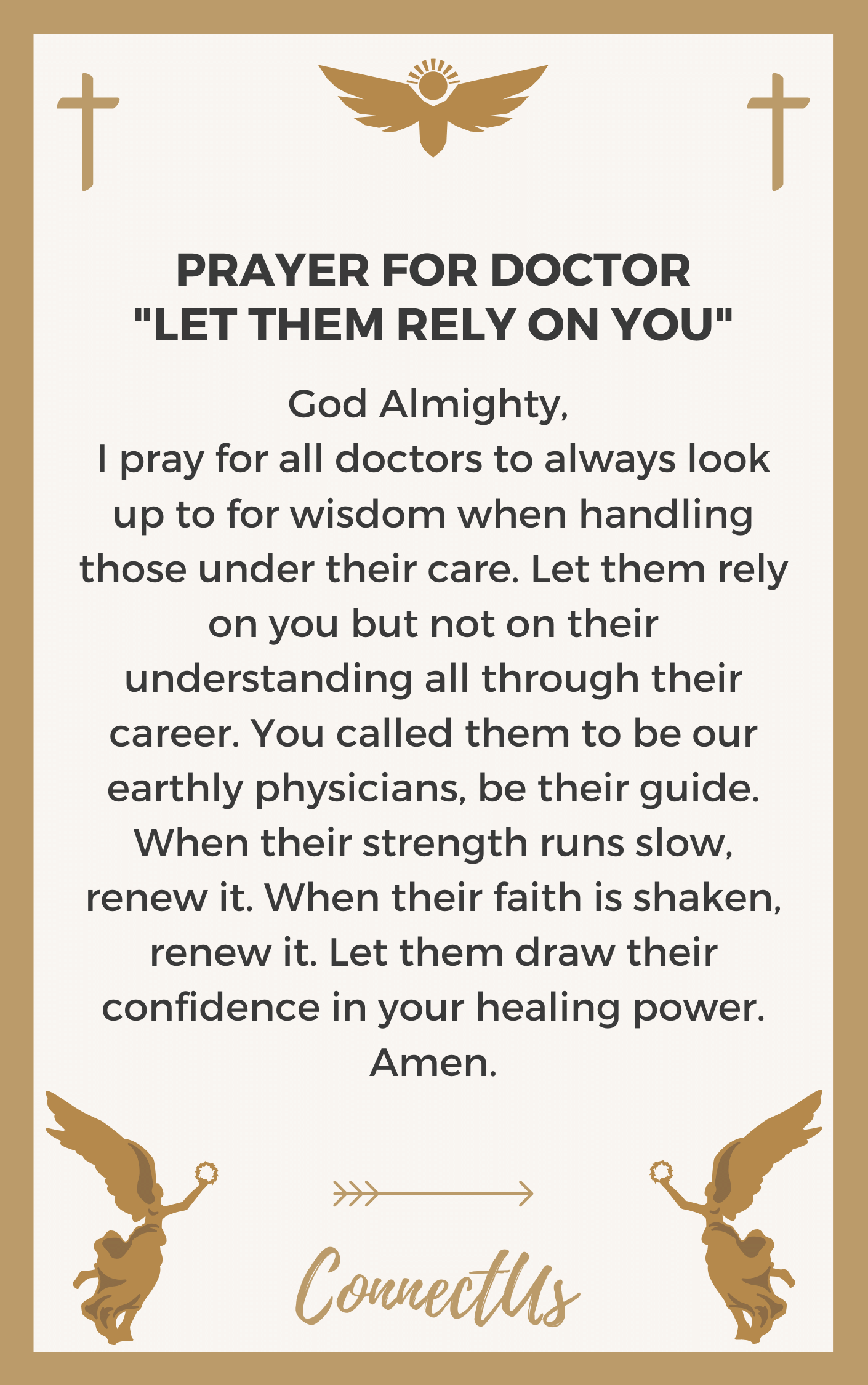 Touch Their Staff Prayer
Lord Almighty, We thank you for your healing through our doctors. Thank you for their obedience to you. Thank you because their work is purely directed by you. I pray that you protect them and their families. Guide their lives outside the hospitals. Let them know you and desire to serve you with their hearts. Touch their fellow staff in hospitals like the nurses, Laboratory personnel, security guards, and other department members to support them. Let their hearts be open to helping people without expecting anything in return. Amen.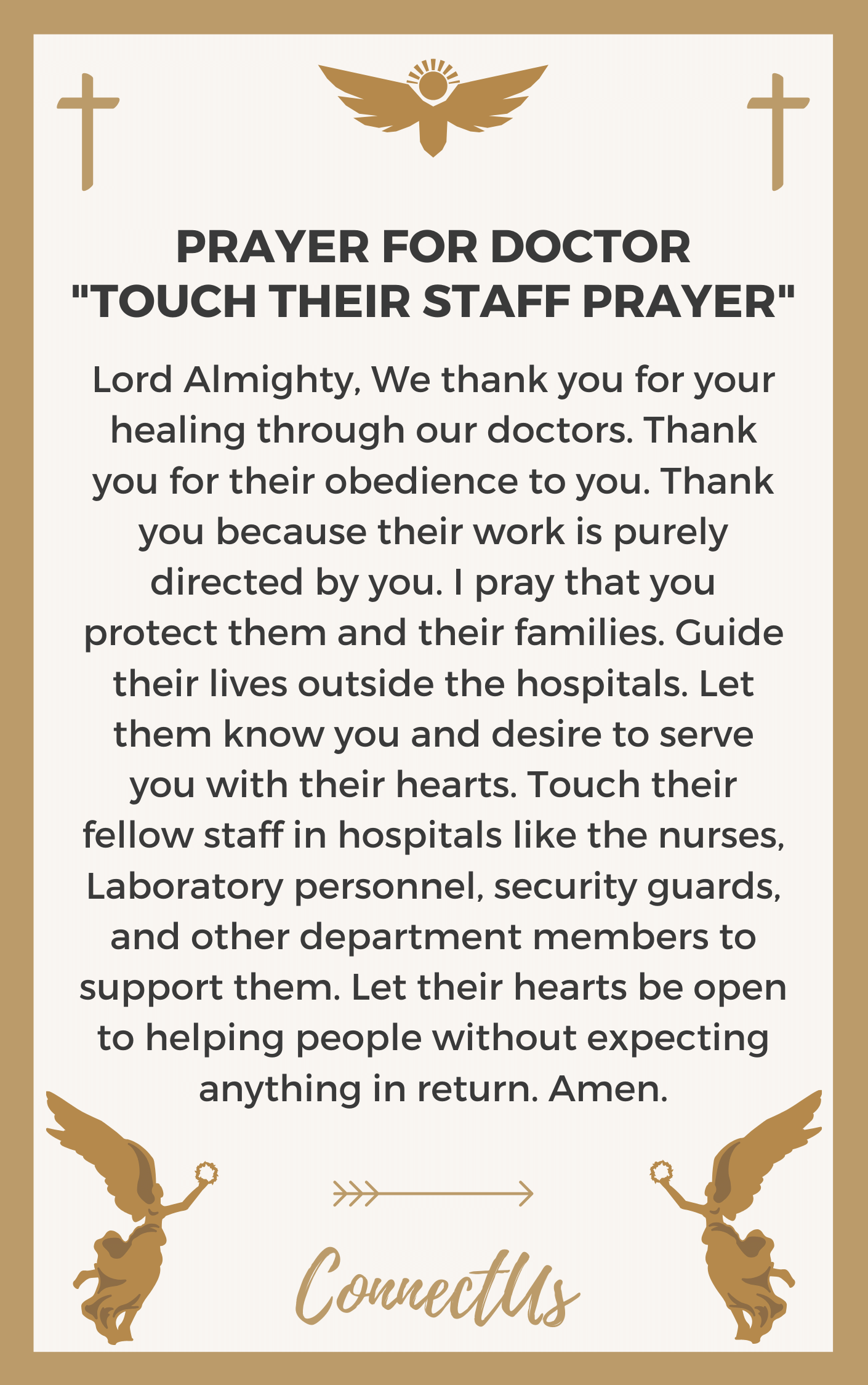 Most Popular Prayers by Topic
For Hard Times
For Financial Prosperity
For Physical Health
For Emotional Health
For Protection
For a Marriage
For Babies and Pregnancy
For Family
For Spiritual Warfare
For Spiritual Health
For a Death
For the Workplace
For Bedtime
Our 10 week prayer journal will guide you through your daily prayers and help you plan out your prayer week. It is completely free. You can
click here to get it now
.

Author Bio
Natalie Regoli is a child of God, devoted wife, and mother of two boys. She has a Master's Degree in Law from The University of Texas. Natalie has been published in several national journals and has been practicing law for 18 years.