The word "plan" appears 205 times throughout the books of the Bible. The graph below shows the locations of each appearance. It begins with Genesis in the top left and concludes with Revelation in the bottom right.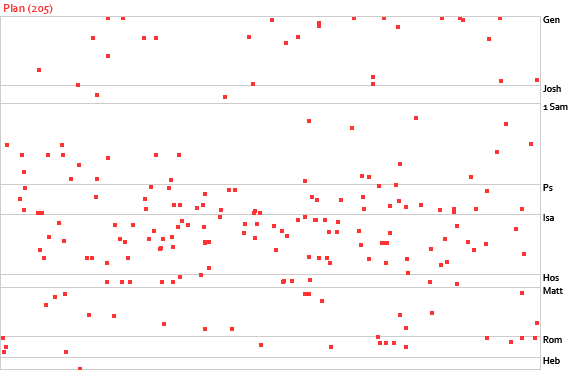 Here are the 40 most powerful Bible scriptures on planning.
Proverbs 21:5
The plans of the diligent lead surely to abundance, but everyone who is hasty comes only to poverty.
Luke 14:28
"For which of you, desiring to build a tower, does not first sit down and count the cost, whether he has enough to complete it?"
Proverbs 16:3
Commit your work to the Lord, and your plans will be established.
Jeremiah 29:11
"For I know the plans I have for you," declares the Lord, "plans for welfare and not for evil, to give you a future and a hope."
Proverbs 19:21
Many are the plans in the mind of a man, but it is the purpose of the Lord that will stand.
1 Corinthians 14:12
So with yourselves, since you are eager for manifestations of the Spirit, strive to excel in building up the church.
1 Corinthians 14:40
But all things should be done decently and in order.
1 Timothy 4:7
Have nothing to do with irreverent, silly myths. Rather train yourself for godliness.
Amos 3:7
For the Lord God does nothing without revealing his secret to his servants the prophets.
Ecclesiastes 3:1
For everything there is a season, and a time for every matter under heaven.
Isaiah 28:29
This also comes from the Lord of hosts; he is wonderful in counsel and excellent in wisdom.
Isaiah 32:8
But he who is noble plans noble things, and on noble things he stands.
Isaiah 55:8
"For my thoughts are not your thoughts, neither are your ways my ways," declares the Lord.
Isaiah 55:9
"For as the heavens are higher than the earth, so are my ways higher than your ways and my thoughts than your thoughts."
Job 42:2
I know that you can do all things, and that no purpose of yours can be thwarted.
John 14:6
Jesus said to him, "I am the way, and the truth, and the life. No one comes to the Father except through me."
John 3:16
For God so loved the world, that he gave his only Son, that whoever believes in him should not perish but have eternal life.
Matthew 6:33
"But seek first the kingdom of God and his righteousness, and all these things will be added to you."
Matthew 6:34
"Therefore do not be anxious about tomorrow, for tomorrow will be anxious for itself. Sufficient for the day is its own trouble."
Philippians 4:6
Do not be anxious about anything, but in everything by prayer and supplication with thanksgiving let your requests be made known to God.
Proverbs 11:14
Where there is no guidance, a people falls, but in an abundance of counselors there is safety.
Proverbs 13:16
In everything the prudent acts with knowledge, but a fool flaunts his folly.
Proverbs 15:22
Without counsel plans fail, but with many advisers they succeed.
Proverbs 16:1
The plans of the heart belong to man, but the answer of the tongue is from the Lord.
Proverbs 16:9
The heart of man plans his way, but the Lord establishes his steps.
Proverbs 19:2
Desire without knowledge is not good, and whoever makes haste with his feet misses his way.
Proverbs 20:18
Plans are established by counsel; by wise guidance wage war.
Proverbs 21:20
Precious treasure and oil are in a wise man's dwelling, but a foolish man devours it.
Proverbs 23:4
Do not toil to acquire wealth; be discerning enough to desist.
Proverbs 24:27
Prepare your work outside; get everything ready for yourself in the field, and after that build your house.
Proverbs 27:12
The prudent sees danger and hides himself, but the simple go on and suffer for it.
Proverbs 27:23
Know well the condition of your flocks, and give attention to your herds.
Proverbs 3:5
Trust in the Lord with all your heart, and do not lean on your own understanding.
Proverbs 3:6
In all your ways acknowledge him, and he will make straight your paths.
Psalm 127:1
A Song of Ascents. Of Solomon. Unless the Lord builds the house, those who build it labor in vain. Unless the Lord watches over the city, the watchman stays awake in vain.
Psalm 143:8
Let me hear in the morning of your steadfast love, for in you I trust. Make me know the way I should go, for to you I lift up my soul.
Psalm 20:4
May he grant you your heart's desire and fulfill all your plans!
Psalm 90:12
So teach us to number our days that we may get a heart of wisdom.
Romans 12:2
Do not be conformed to this world, but be transformed by the renewal of your mind, that by testing you may discern what is the will of God, what is good and acceptable and perfect.
Romans 8:28
And we know that for those who love God all things work together for good, for those who are called according to his purpose.
More Bible Verses that Will Move You
50 Most Powerful Scriptures on Faith
60 Transcendent Verses on Trust
50 Strong Scriptures on Perseverance
68 Powerful Verses on Forgiveness
40 Uplifting Scriptures on Patience
Add Our Infographic Below to Your Pinterest Board
Hit the pin button below to add our infographic, with all the verses, to one of your Pinterest boards.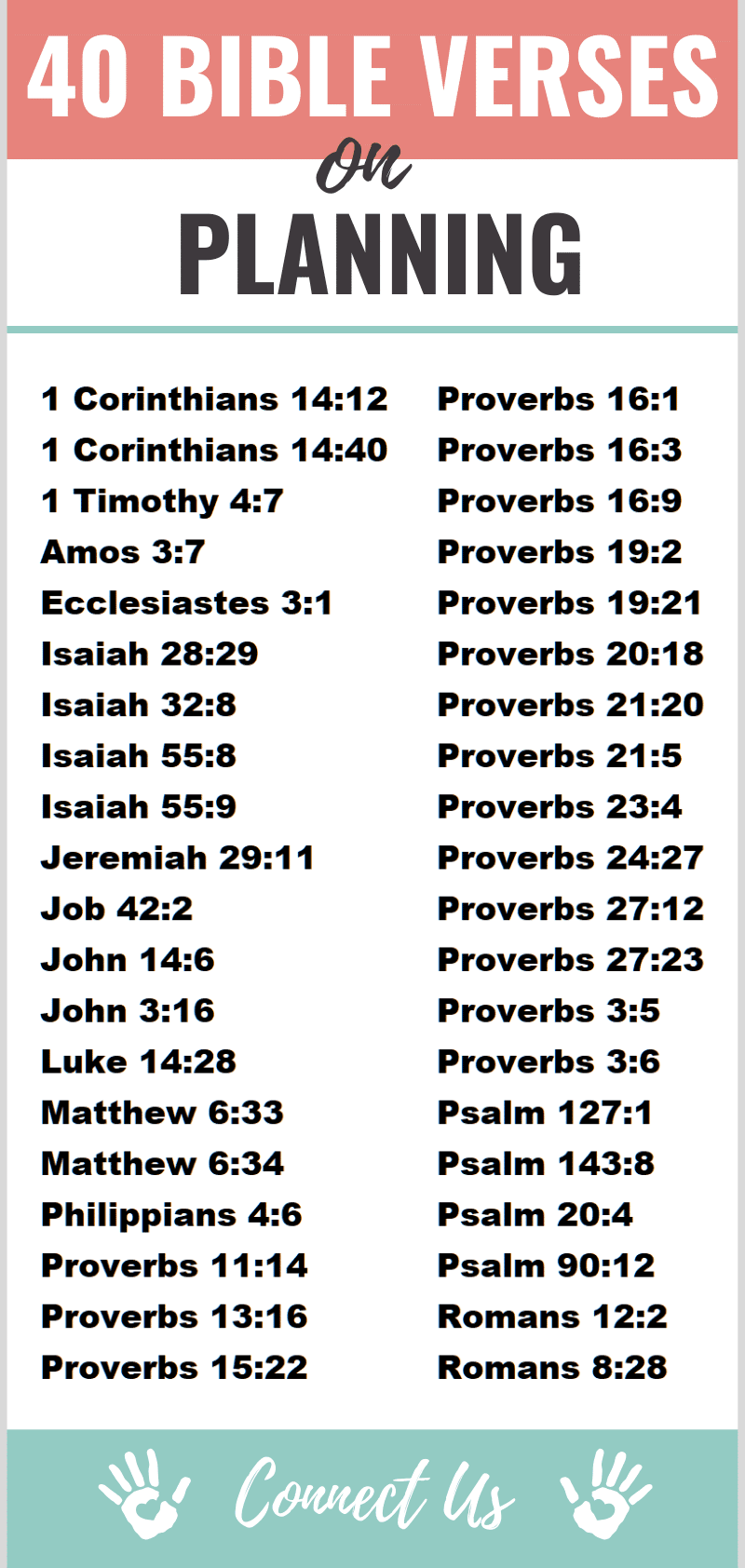 Author Bio
Natalie Regoli is a child of God, devoted wife, and mother of two boys. She has a Master's Degree in Law from The University of Texas. Natalie has been published in several national journals and has been practicing law for 18 years.