Exam time can bring stress and anxiety, but turning to God can ease your worry and bring peace which will lead to better understanding. Here are 11 powerful prayers for studying for exams along with printable images to use or share.
Cleansing of Worry Prayer
All-Powerful Father, as I prepare for my upcoming exams, please take away my worry. You have taught me to give all my worries to You. I know You will take care of me and be with me. As I cleanse my mind of worry, I pray that I focus on more important values like my love for You. Turn my worry into power, Lord. Give me the confidence to succeed and faith in myself to do well. In Jesus' comforting name, Amen.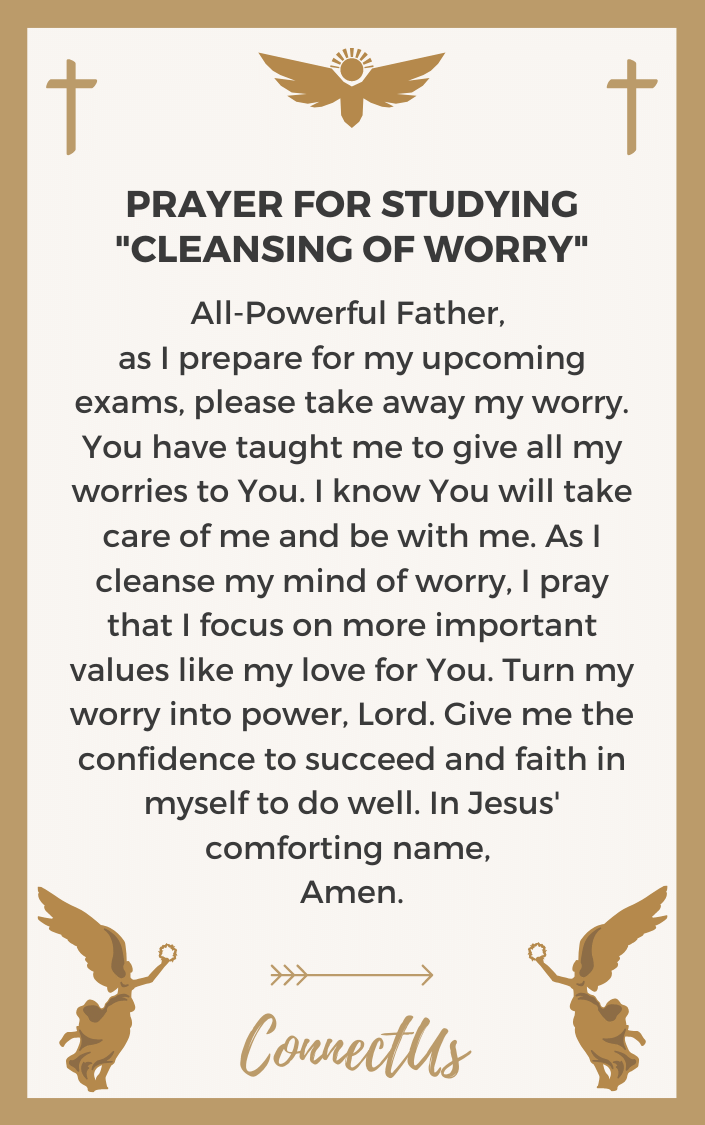 Success Prayer
Almighty and Everlasting God, I have worked diligently for my upcoming exams. I pray that my hard work pays off in the form of good grades and success. Please guide me towards this success. Continue to nurture my mind so I can work hard and do well. As I trek towards success please keep my eyes focused on what really matters, Your love. Keep me humble and faithful. Amen.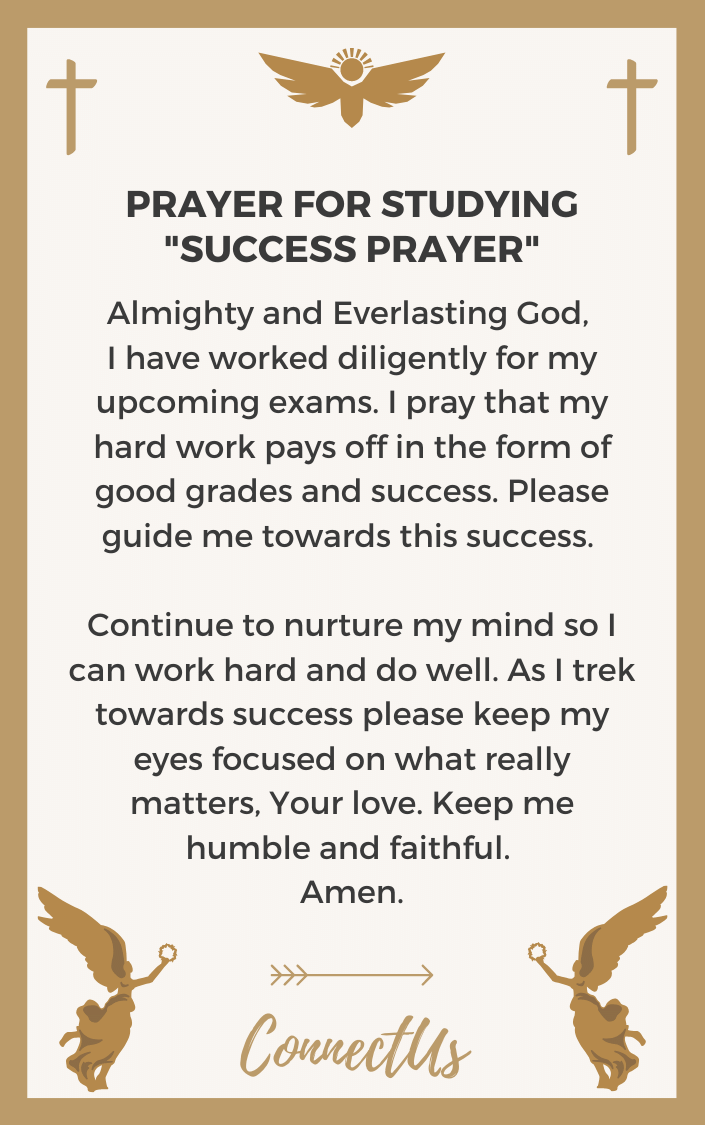 Godly Grit Prayer
God, my Fortress, my Strength, my Shield, You are so good. You have taught me Your values that guide me through this life. One of those that rings most true today in my life is perseverance. Please keep this value at the center of my thoughts and actions. As I study for my exams, keep me diligent and fixated on my goals. When I feel challenged, may I look to You for a reminder of almighty grit. Just as You never give up on me, I will never give up on my goals. Thank You for these lessons, Lord. In Jesus' all-powerful name, Amen.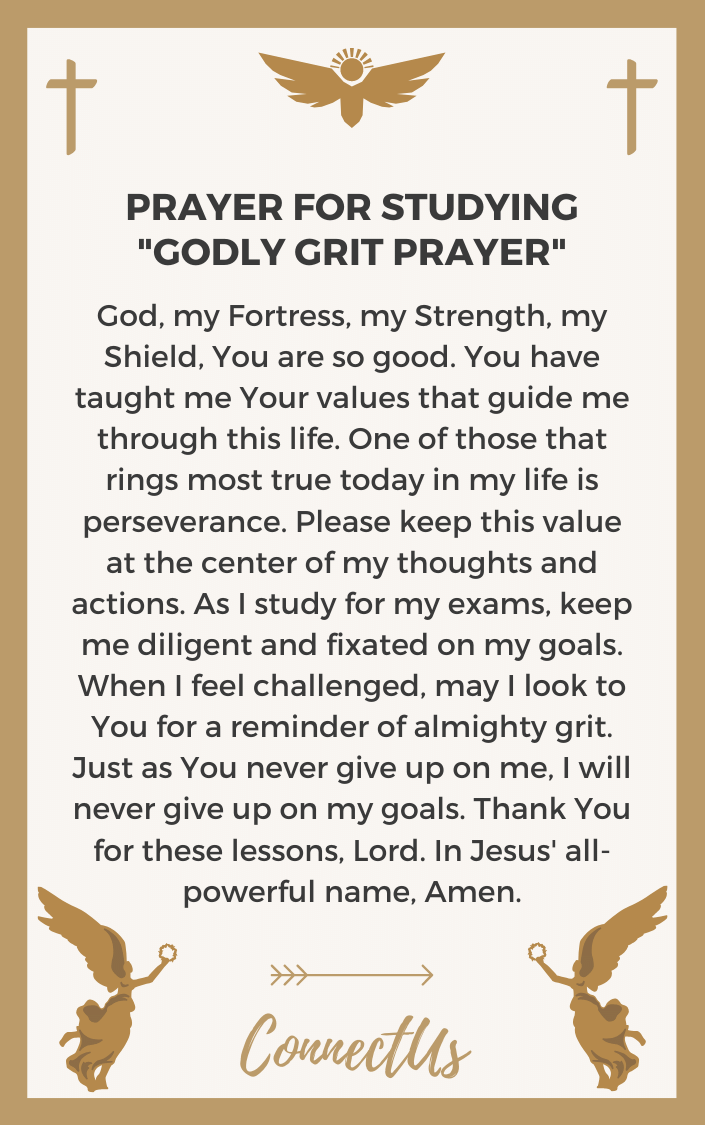 Diligence Prayer
O Lord, Mighty in Power, please bless my mind with diligence to study for my upcoming exams. May I use my time well, as a precious gift. Please focus my mind on my classes. Please cleanse my mind of outside distractions and worries. Please center my thoughts. Help me set goals and stick to them using the discipline and perseverance You have taught me. Please remind me of all these things and more, Lord. In Jesus' all-knowing name, Amen.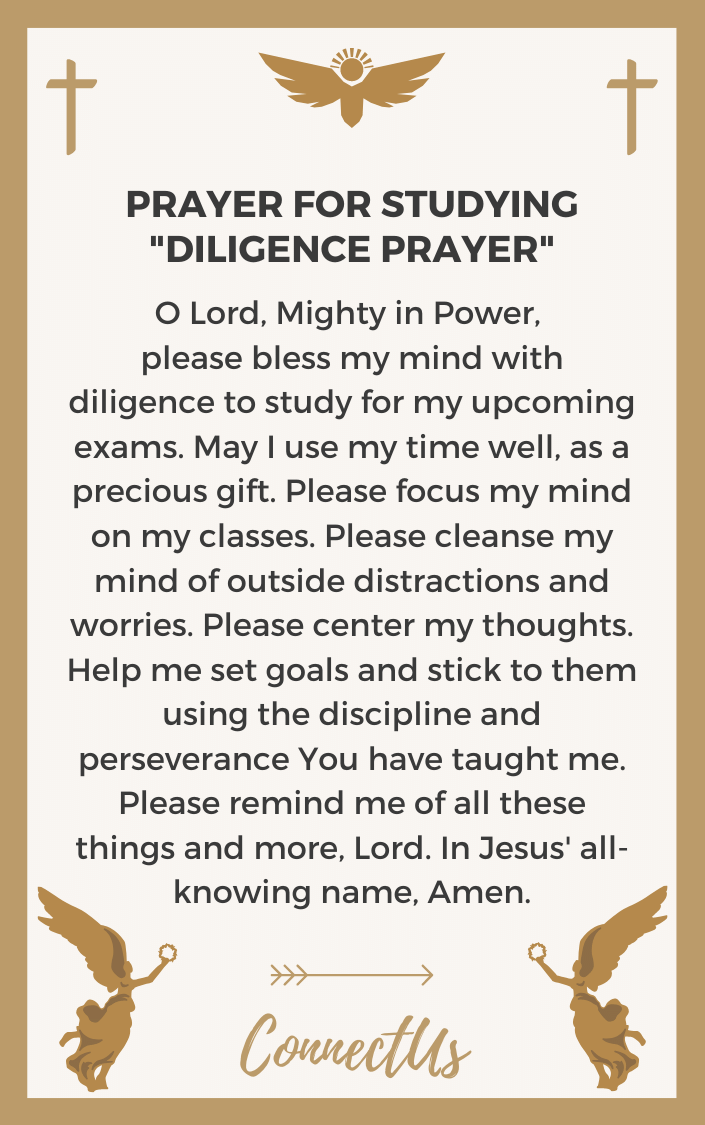 Hope Prayer
God of Miracles, I have many fears and doubts as I approach my exams. Please take away these negative thoughts and fill my soul with hope. I have worked hard and studied hard. I have walked with You during this preparatory journey. I have trained my mind diligently. I have said no to distractions and doubtful feelings. Please remind me that I am capable and hopeful of the outcome of these exams. I know that through hope I can find success in these exams. In Jesus' compassionate name, Amen.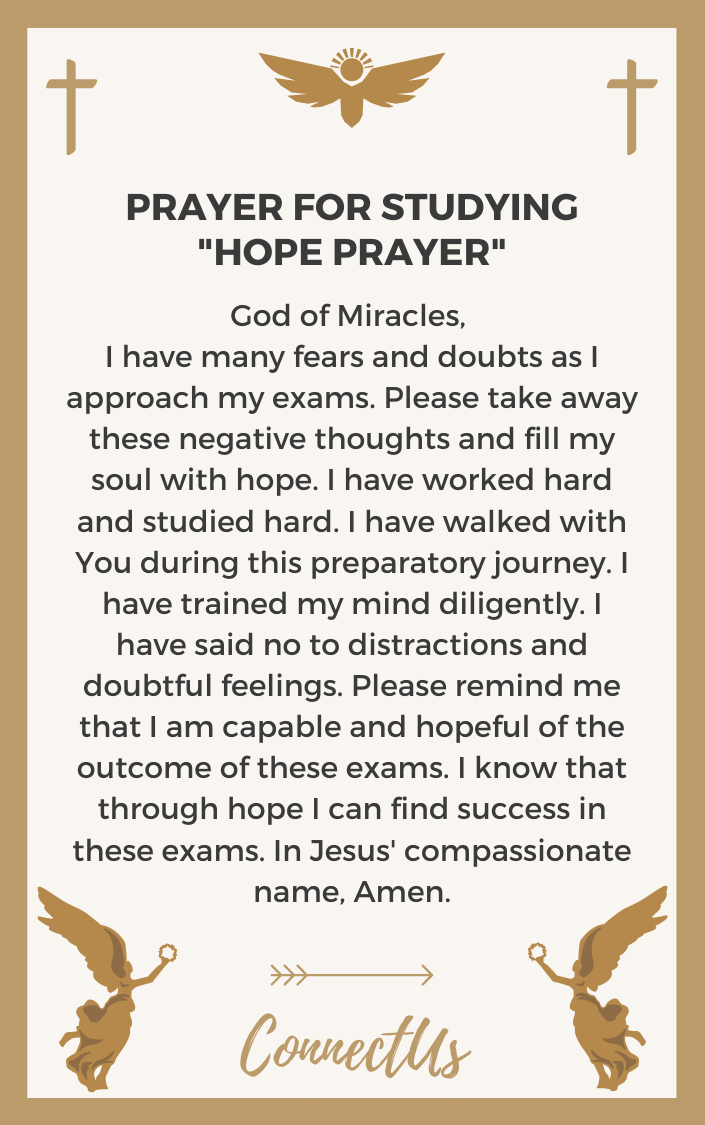 Support Prayer
Compassionate and Gracious God, I need Your support during this testing time. Please give my mind ease as I prepare for my exams. Show me Your support and goodness. Remind me that You are always near. When I feel doubtful or tired, please shift my attention to You. Lift me from the challenges of this time and remind me that I am doing good and diligent work. Through Your support, I will feel prepared for these exams. Amen.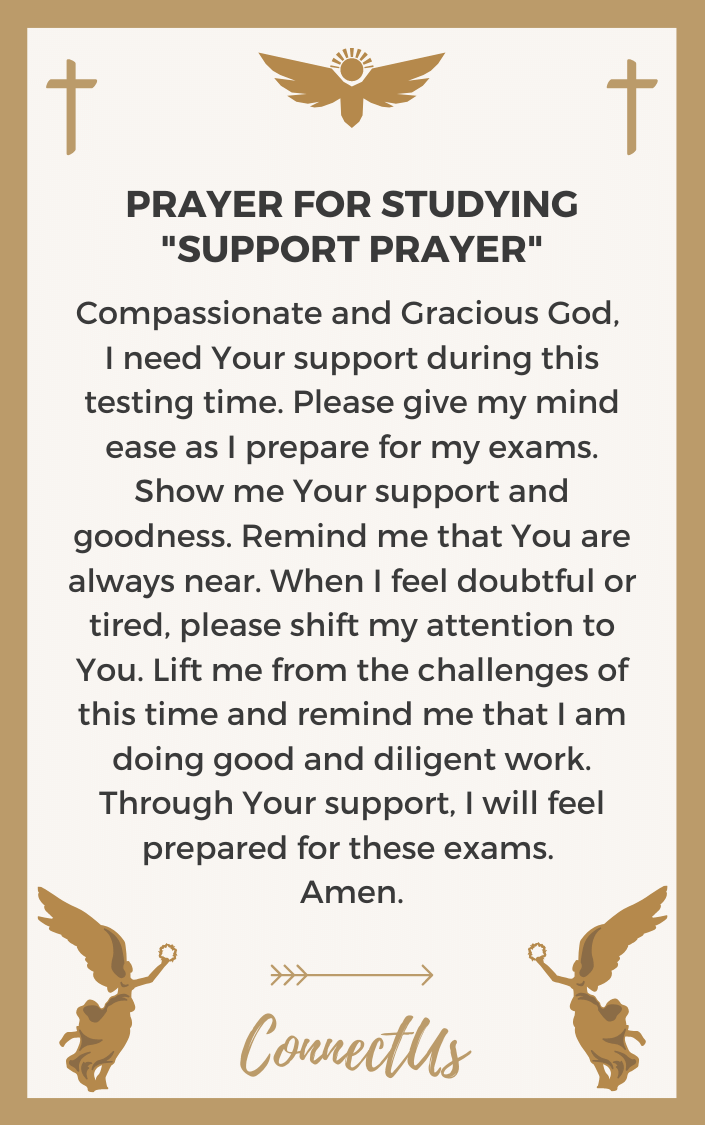 Mind over Matter Prayer
Waymaker, Miracle-Worker, please center my mind. Please keep me focused on my studies as I get closer to my exams. I know that my mind is a powerful tool. Please train me to use it well and abundantly. Teach me that the concept of mind over matter. If I rehearse my mind to think successful and positive thoughts, that will be the outcome. If I center my brain around Your guidance, I will feel secure during my exams. Please help me through this journey, Lord. In Jesus' name, Amen.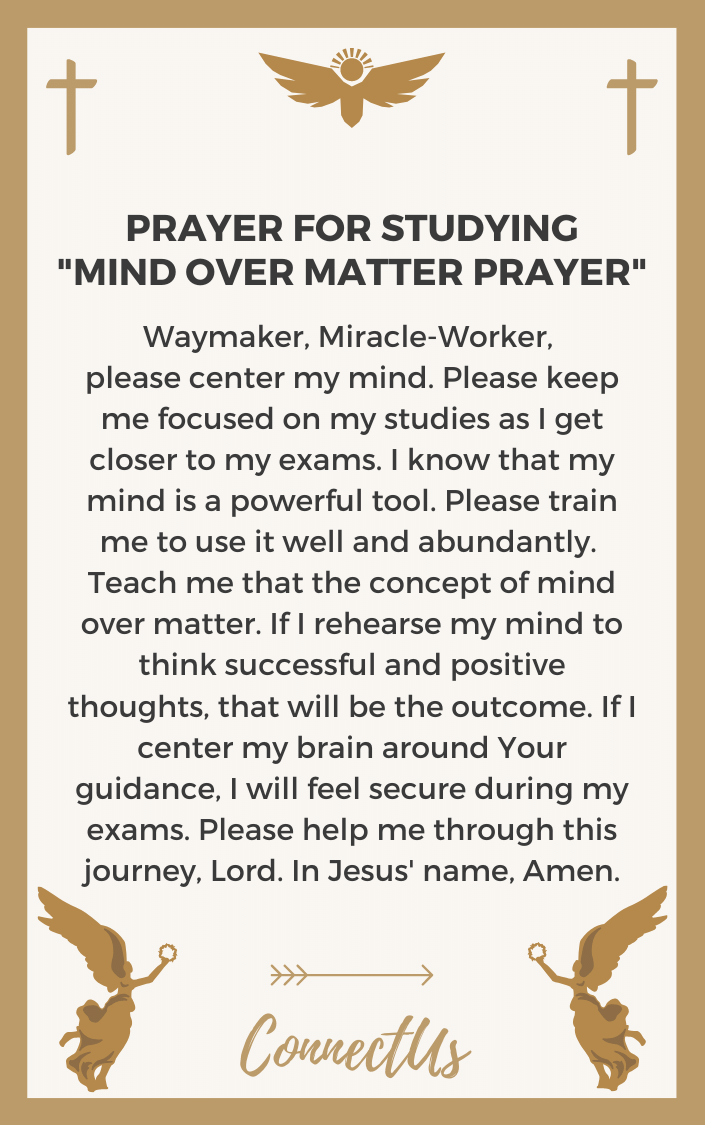 Your Love Prayer
Lord of Unfailing Love, I know that above all my worries and fears, You are superior. Your love can move mountains. I pray that this is a recurring mantra as I prepare for my academic exams. I have worked diligently and tirelessly, but whatever happens, I know Your love is unwavering and good. You will always love me as Your child. Please guide me, Lord. Please remind me of Your never-ending and amazing love. Even if I don't succeed, You will be my heavenly Father. In Jesus' precious name, Amen.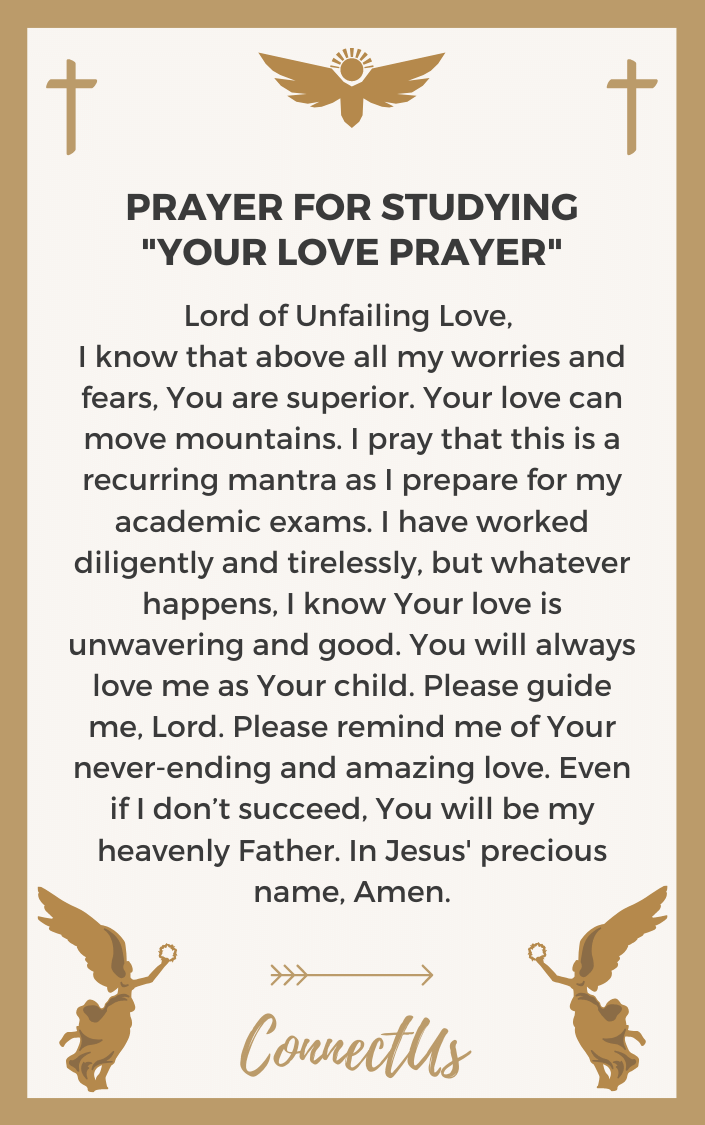 Anticipation Prayer
Jesus, my Savior, soon I will be taking my academic exams. I find myself worrying more and more about the results of these exams. As I undergo this anxious anticipation, please be with me. Please help me persevere and continue to push through studying. Please turn my anticipation into positive energy that will equip me for these exams. I know You will help me, Jesus. Thank You for being with me. I love You. In Your glorious name, Amen.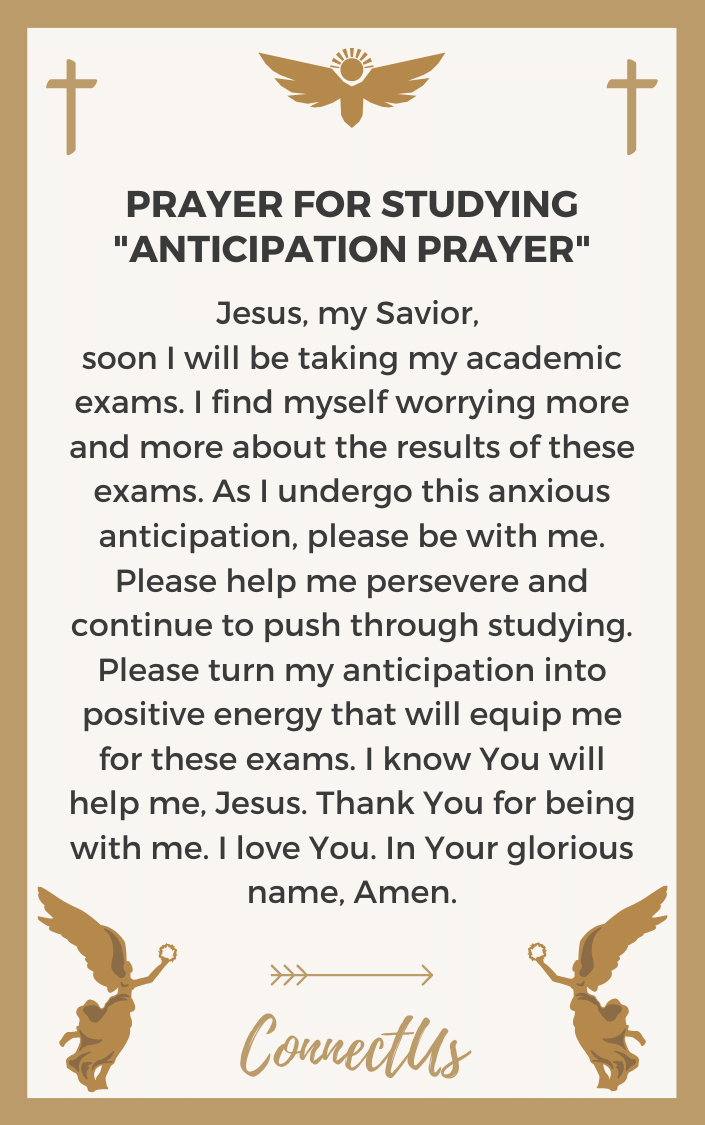 Your Good Plan Prayer
Heavenly Father, I have faith in Your plan. Please set me on the path You desire and see for myself. As I prepare for my academic exams, may I stay aligned with Your plan. I hear You and feel You all around me. Please center my choices around my relationship with You. I have faith in Your almighty path, Lord. Amen.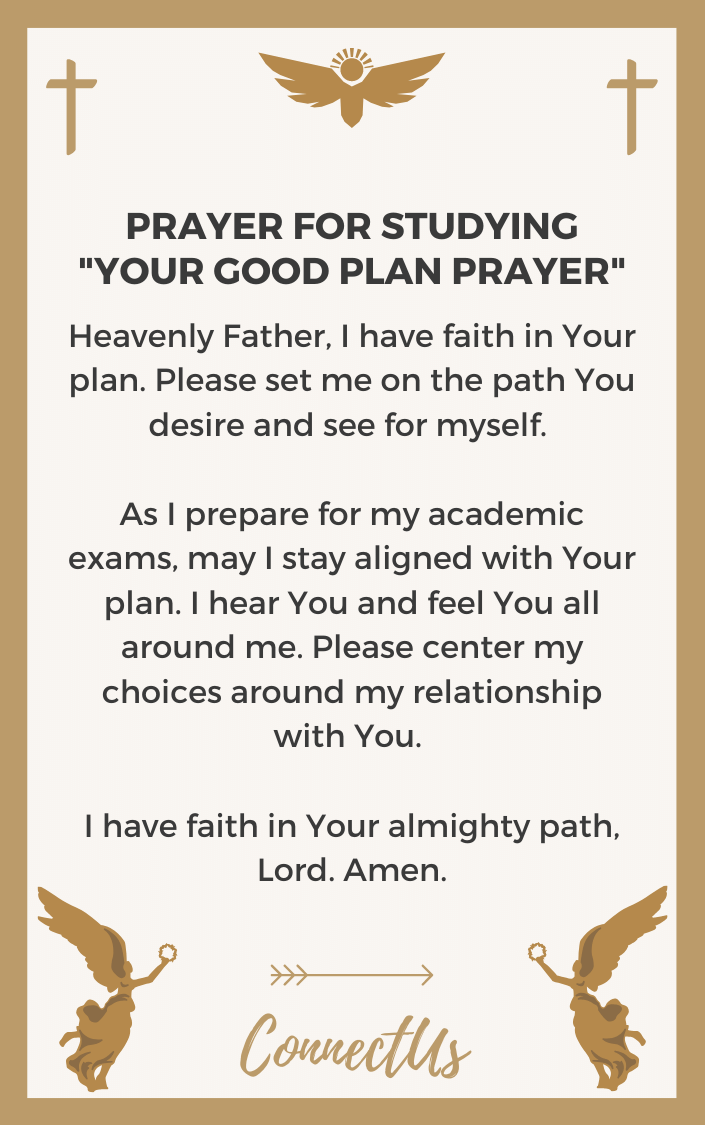 Achievement Through You Prayer
God of Victory, I know I can achieve glorious things through You. I know You will lead me into wonderful achievements in my studies. You will be with me during this time of studying and preparing. Please help me reach my goals and the standards I have set for myself. Lead me towards excelling on my exams. Please make these things known to me, Lord. In Jesus' everlasting name, Amen.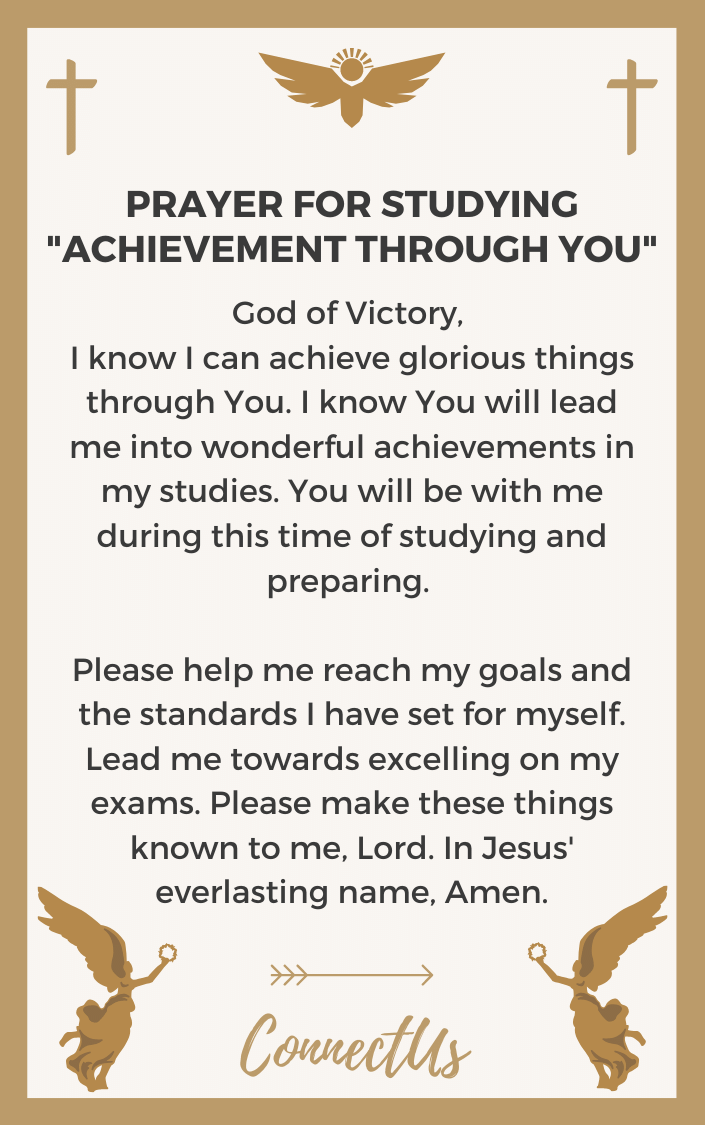 Most Popular Prayers by Topic
For Hard Times
For Financial Prosperity
For Physical Health
For Emotional Health
For Protection
For a Marriage
For Babies and Pregnancy
For Family
For Spiritual Warfare
For Spiritual Health
For a Death
For the Workplace
For Bedtime
Our 10 week prayer journal will guide you through your daily prayers and help you plan out your prayer week. It is completely free. You can
click here to get it now
.

Author Bio
Natalie Regoli is a child of God, devoted wife, and mother of two boys. She has a Master's Degree in Law from The University of Texas. Natalie has been published in several national journals and has been practicing law for 18 years.