Hard times and stressful situations in our lives can be draining, but it is during these times when our energy and spirit are depleted that we can look to the Lord and ask for His divine strength and power to enter our life and keep us moving forward. Here are the 15 most encouraging prayers for endurance, including images you can print to use and share.
Renew My Strength Prayer
Heavenly King, I come before you seeking your strength during these hard times. Renew my strength. Let my heart find comfort in you because you are the giver of patience and endurance. Without you, I will crush. I will give up; I will not reach the finish line. Hold my hand, Lord. Let your grace help me go through this peacefully. I know I will come out victorious because you are with me. Amen.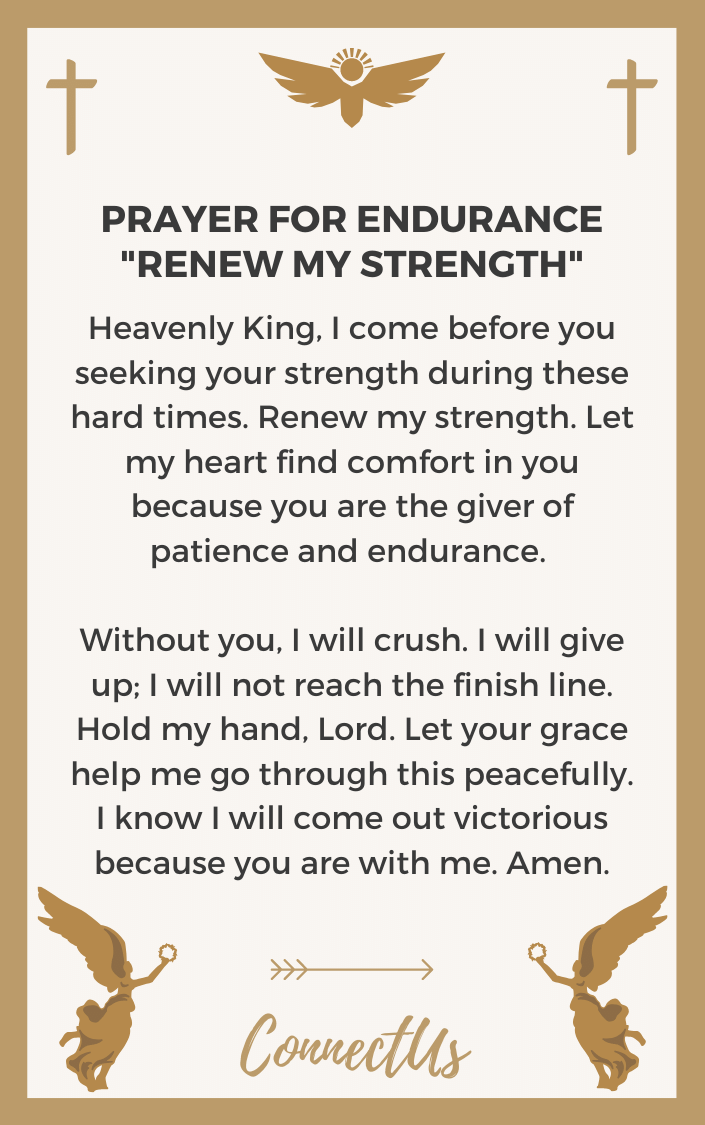 Let My Heart Rejoice Prayer
Faithful God, I count it a blessing when I go through trials and temptations because I know my faith is being tested to produce perseverance. Therefore, let my heart rejoice and put its full trust in you. I am not alone in these tough times; you are with me. I will endure till the end through your grace and your wisdom. Thank you for being my tower of strength. Amen.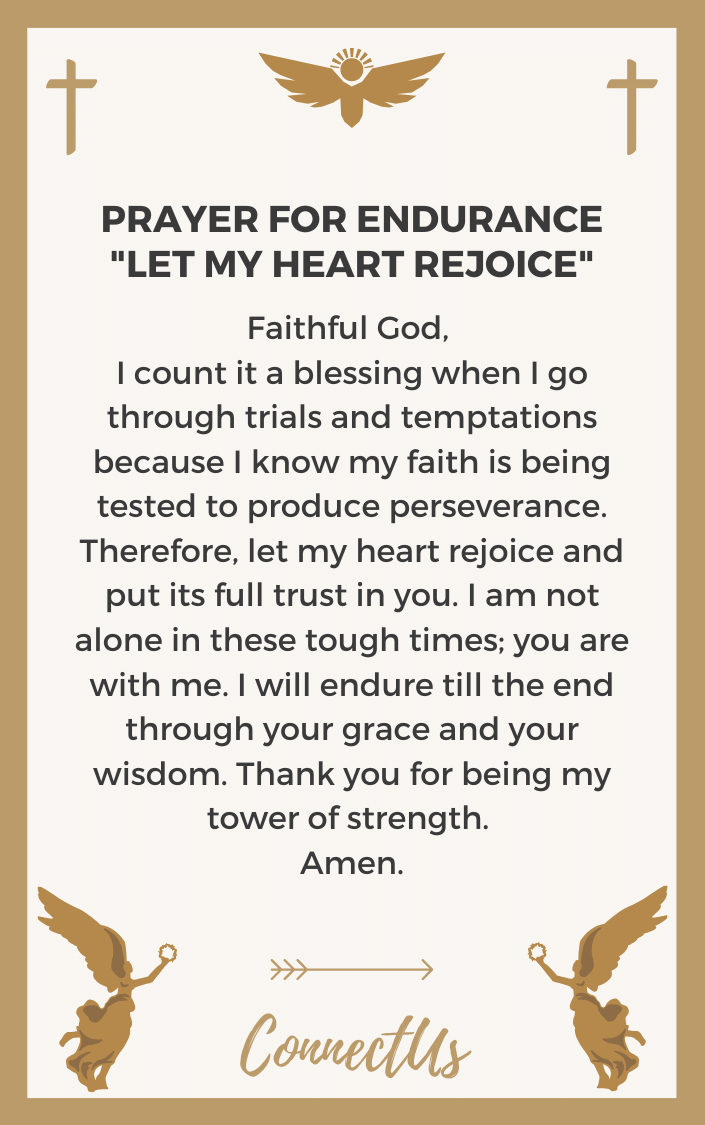 Let My Faith Be Unshaken Prayer
Father, I am in a difficult phase in my life and I need you more and than never. You understand all my struggles and you have reasons why I should go through them. I am weak and on the verge of giving up. Renew my strength and let my faith be unshaken. Let my eyes be blinded from seeing other easier options of handling this and focus on your finished work on the cross. Let my ears deafen from hearing the ridicule from enemies. I look up to you for endurance. Amen.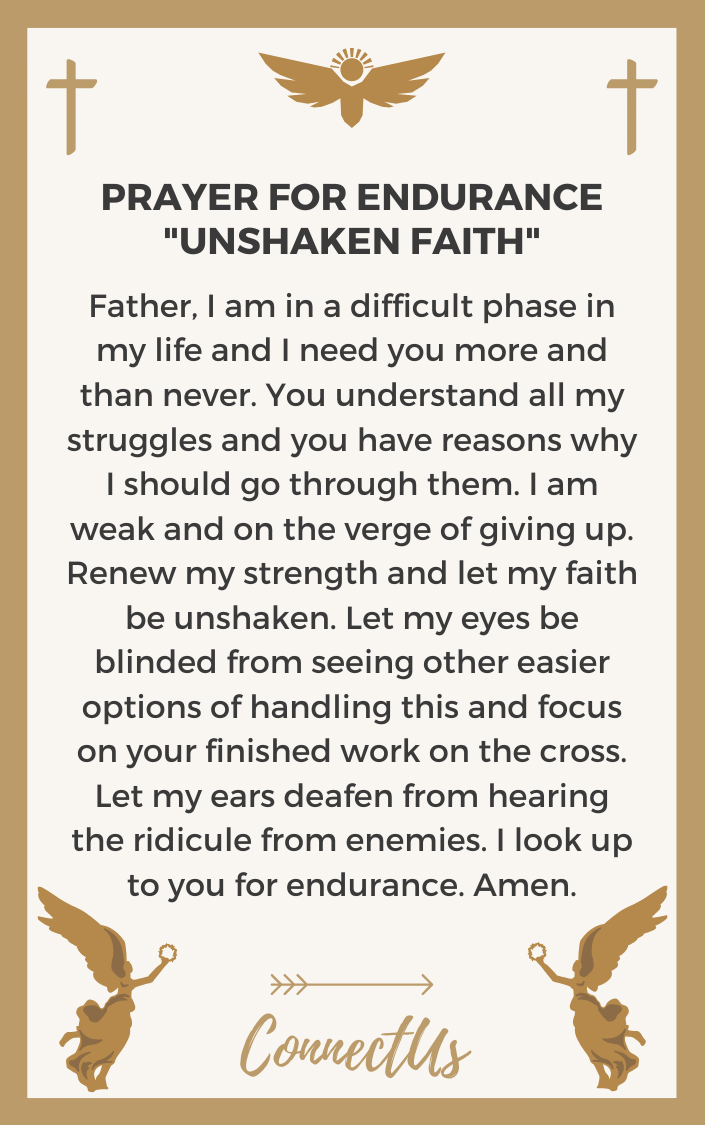 Let Your Love Free Me Prayer
Everlasting Father, I bow down before you in these times dominated by fear. Let your love free me from the fear brewing in me; Fear of not trusting you fully. Fear of giving up along the way. Fear of being worthless before you. Help me grow in faith and draw me close to you. You are my only source of endurance and encouragement. I count on you and you alone to overcome this difficult season for you promised to be with me all the way. Amen.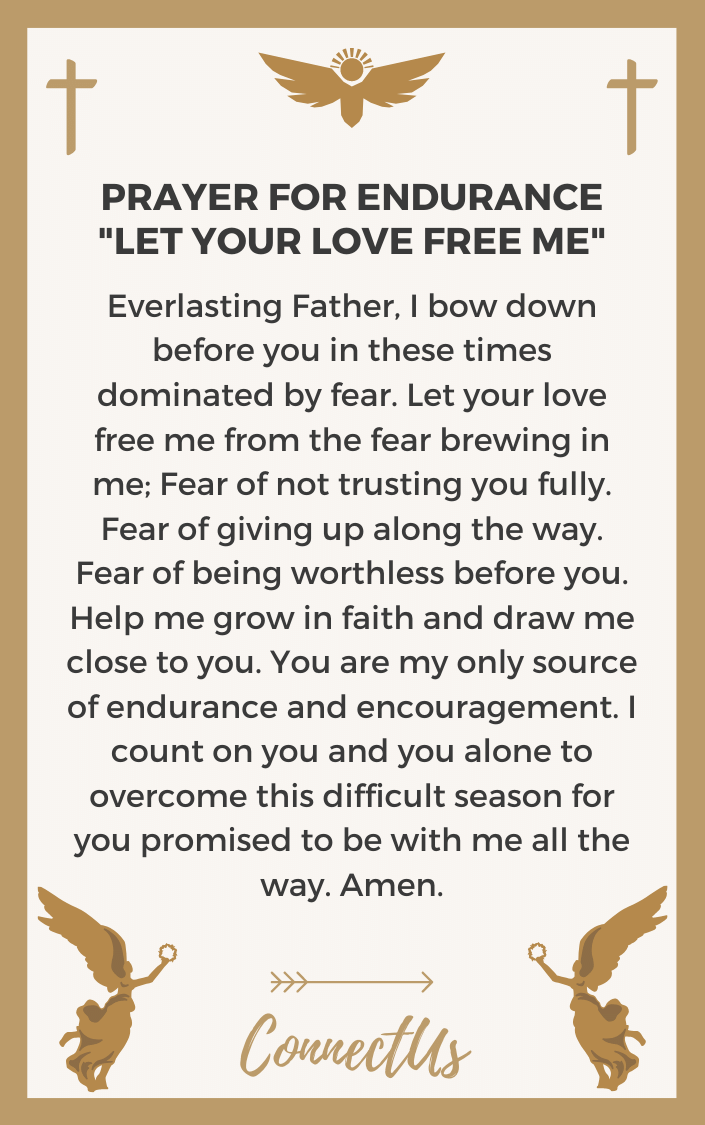 Strengthen My Walk Prayer
Lord in heaven, I kneel before your Holy throne, testifying that despite the hard times I am going through, I know that this is your perfect will in my life. It is a season you've prepared for me to teach me how to depend completely on you, to glorify you when things aren't going my way, and to strengthen my walk in faith. My heart is cheerful that after I have persevered and have done your will, I will receive what you have promised. Amen.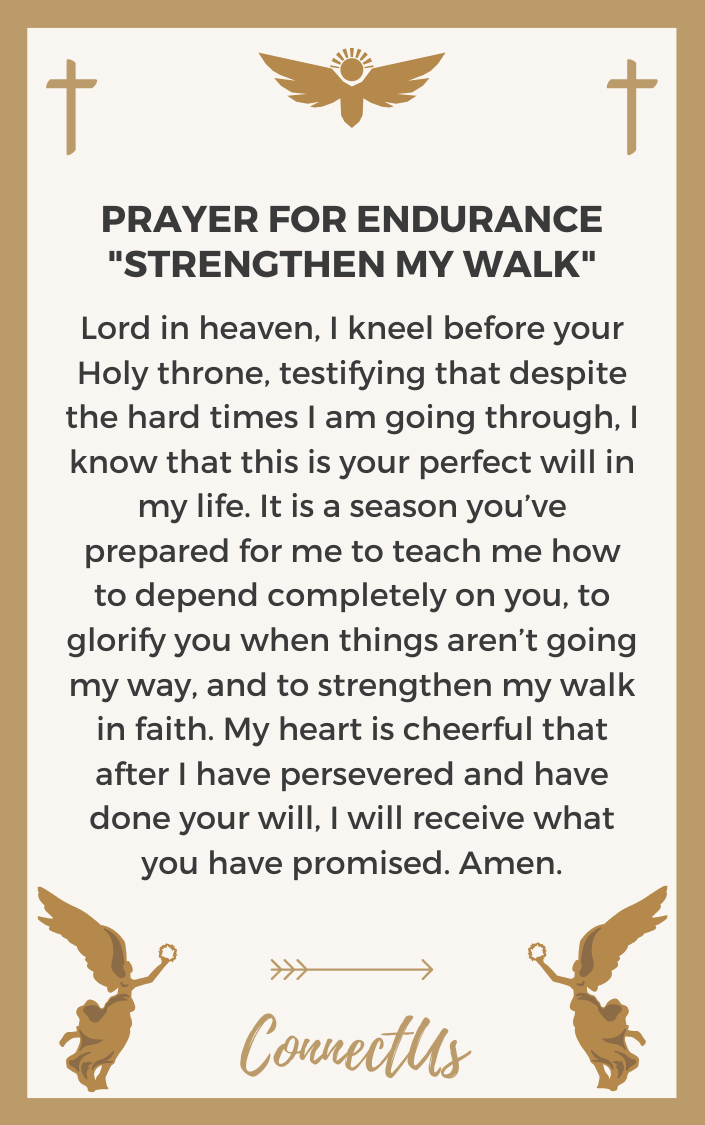 Your Grace Guides Me Prayer
Mighty God, I count on your promise that you will never leave me nor forsake me during these exhausting times of my life. The devil is trying to use my anguish to weaken my faith in you but he can't succeed. My heart meditates on your word and knows that you can never tempt me beyond my ability to handle. Your grace guides me through it to the end. You are my endurance, Lord. Amen.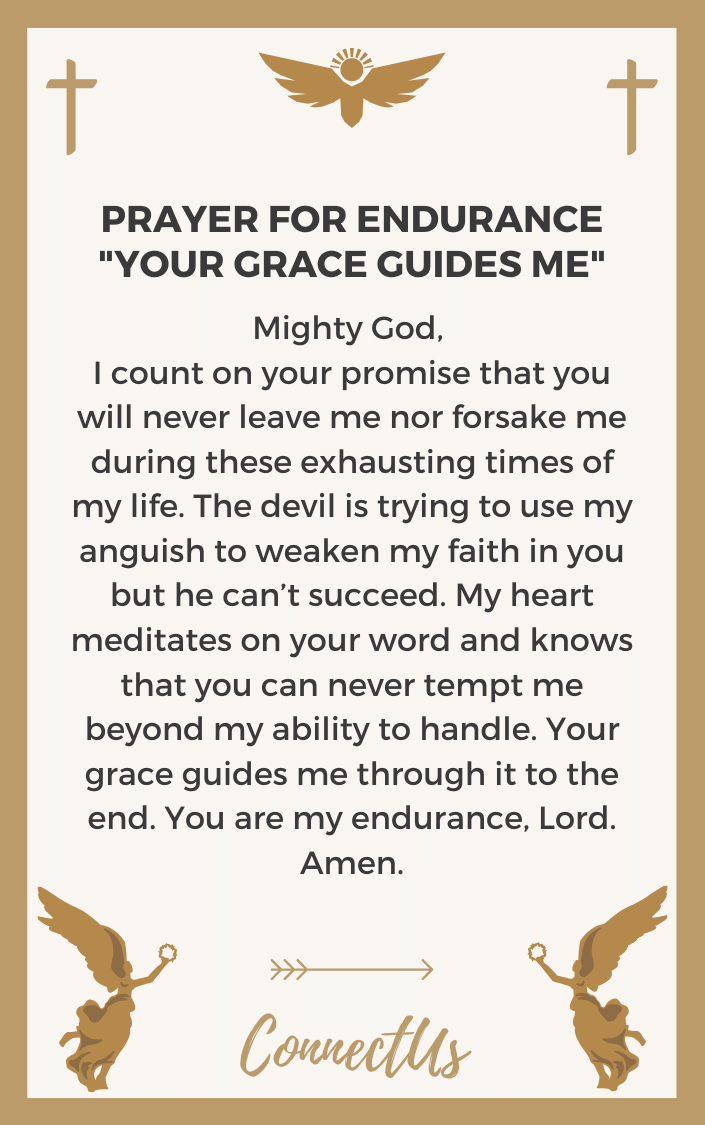 Help Me Put on Your Full Armor Prayer
Lord, I know that I'm the target of the devil because of my strong faith in you; he will use my current situation to try to bring me down and make me give up but your angels surround me. Help me put on your full armor that I will stand against his evil schemes. In the name of Jesus, he won't stand a chance with me. Let your love overflow in my life that I may see beyond my troubles and aim for the end of the race where I will receive what you've promised. Amen.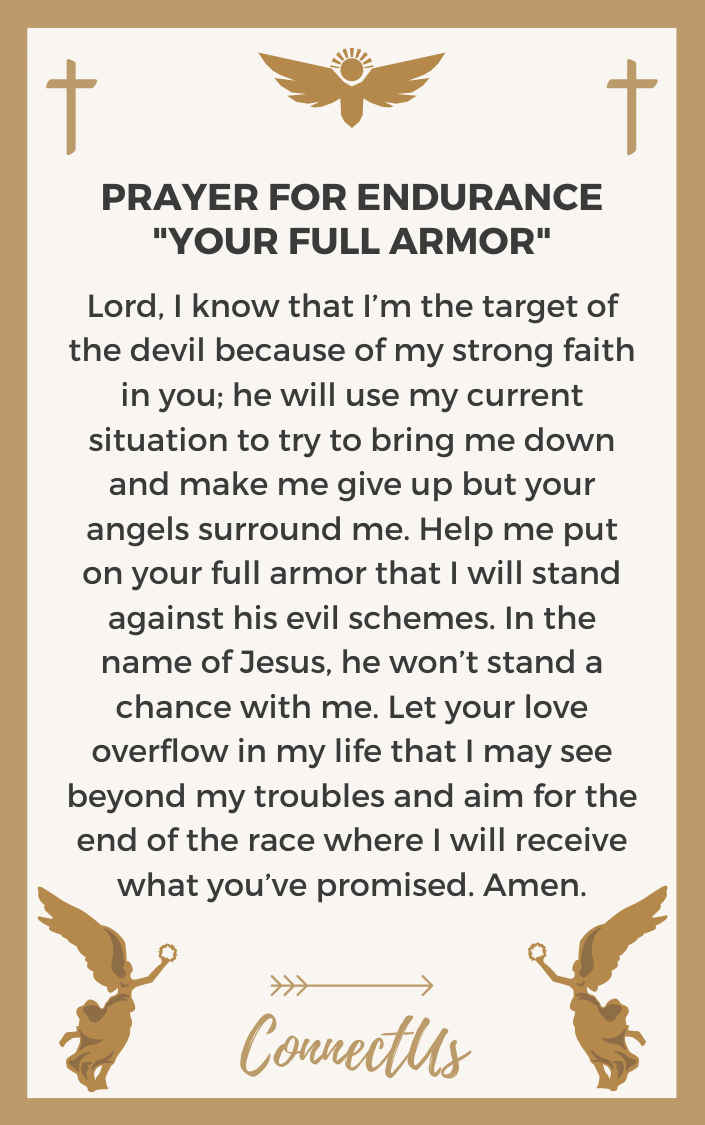 Encourage Me to Press On Prayer
Glorious Lord, I kneel before you with a heavy heart. I am weak and weary. I am almost giving up. My struggles have taken over my peace and joy. Renew my strength. Let your Holy Spirit comfort and encourage me to press on. Let me focus on the unseen purpose of my situation because it is eternal. Let my heart find rest in you. Amen.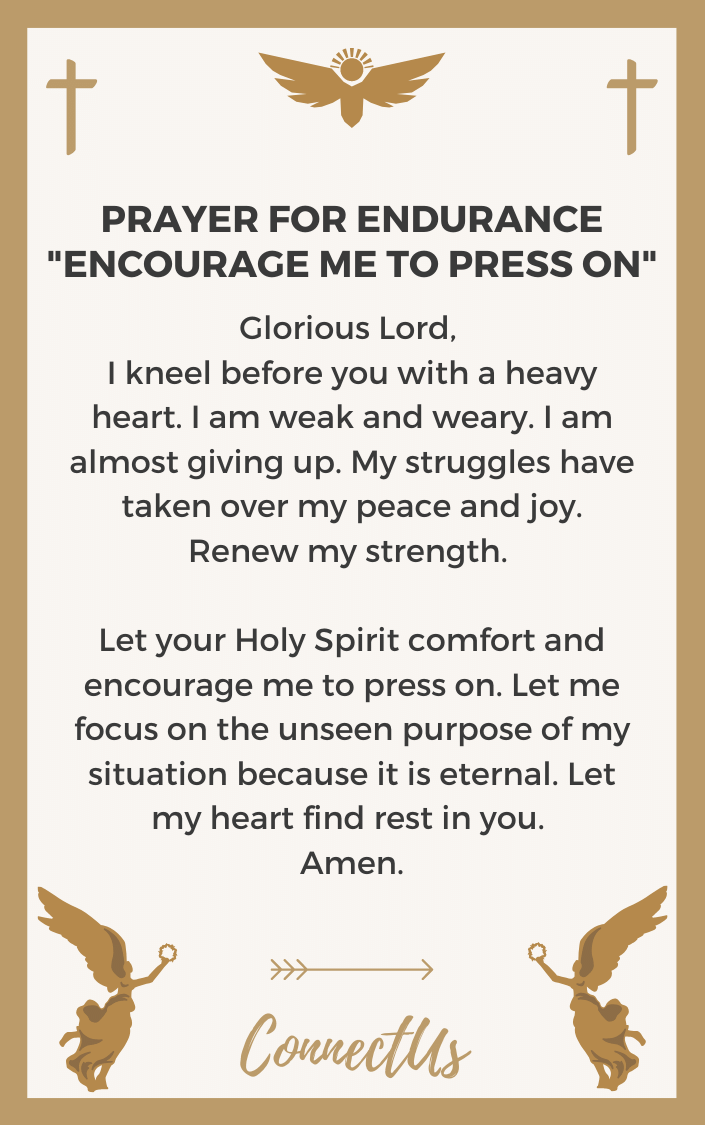 Let My Heart Be Receptive Prayer
Sovereign God, I have peace within me that my situation is for good and is according to your purpose for your word tells us that all happens for good for those who love you and are called to your purpose. I may not understand the good in it but I trust you. Let my heart be receptive to the lessons in my struggles and may my faith be grounded in you. Give me the strength to persevere to the end. Amen.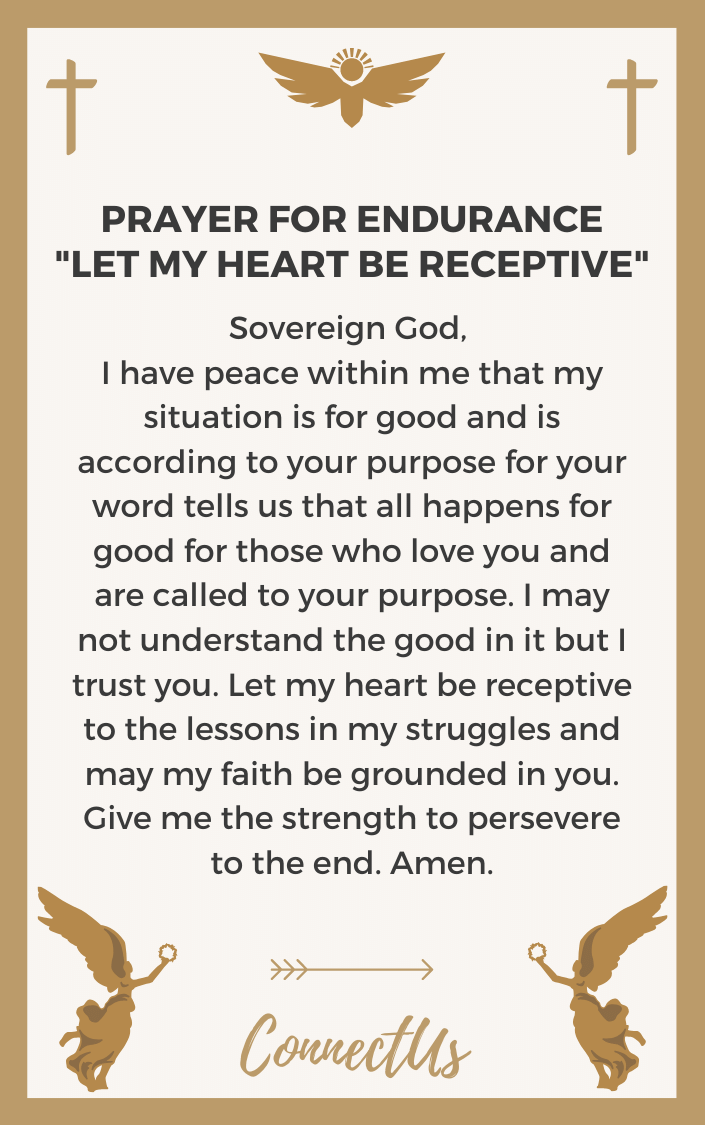 Keep Me Close to You Prayer
Dear God, No matter how tough my life gets, my trust is in your mighty power. My hope is in you. I know that though I am wasting on the outside, you renew me, the inner me, day by day. You strengthen me. You will never abandon me. Keep me close to you. Let my heart find rest in the resurrection of your son. Through him, I became your child and as a good father, you give us what we ask for. I, therefore, ask for your wisdom to help me endure these hard times. Amen.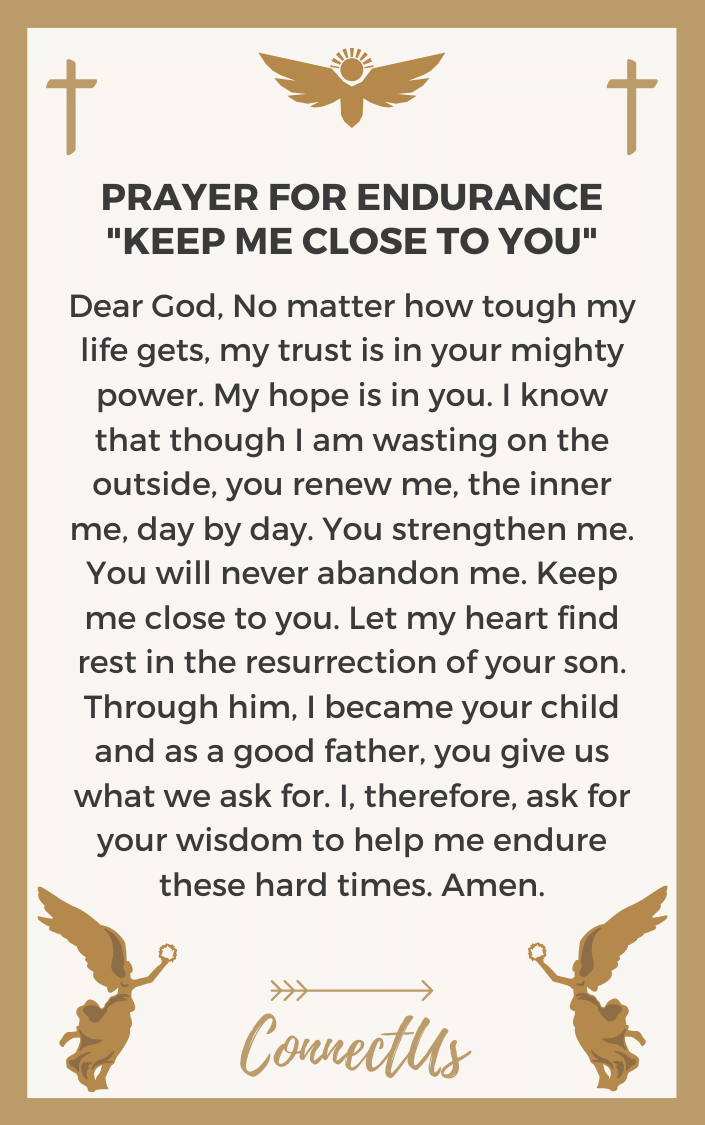 Bring Order to My Life Prayer
God, I come before you asking for your guidance during these confusing times in my life. Touch me with your mighty hand and bring order to my life. Help me stay in faith despite the turmoil within me. Though my faith is as a small mustard seed, I believe that it will help me endure till the end of this phase. Be my strength. Amen.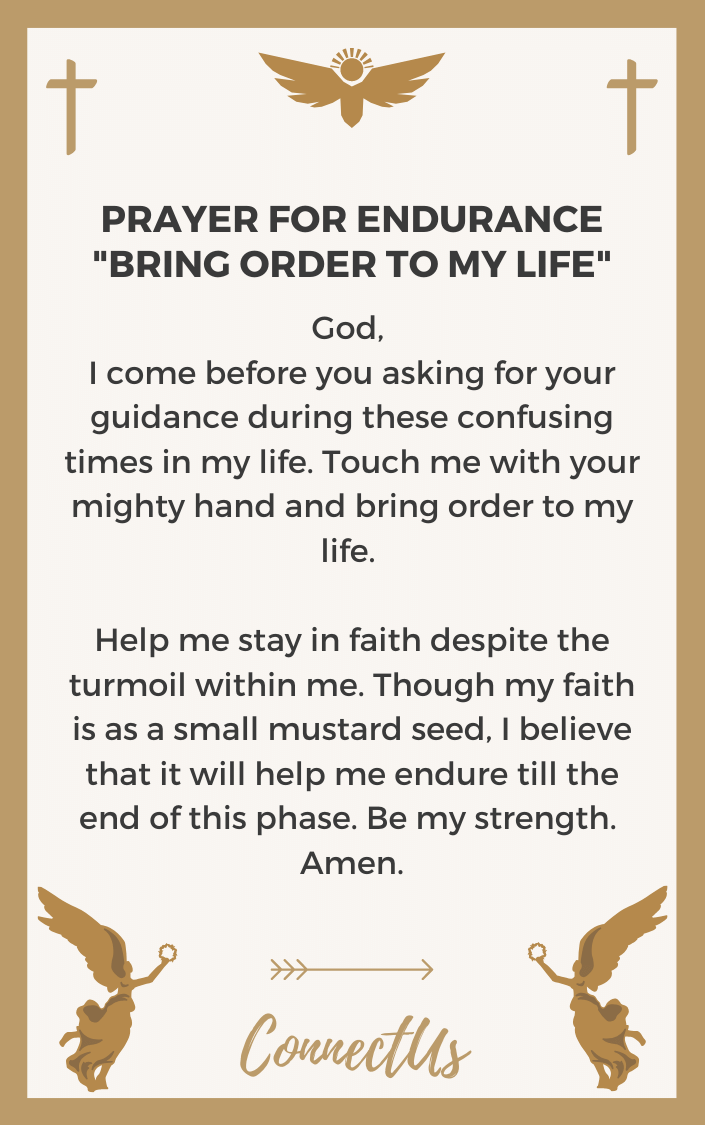 Restore Tranquility Prayer
God, Everything seems confusing. I don't know what to do. I need you. Restore peace and tranquility in my life. You told us that you will give us your divine wisdom without finding fault so I am asking for the wisdom to handle these hardships. I am thankful that I will endure these uncertainties and come out strong because you are with me. You go before me to level down mountains. Your grace is sufficient. Amen.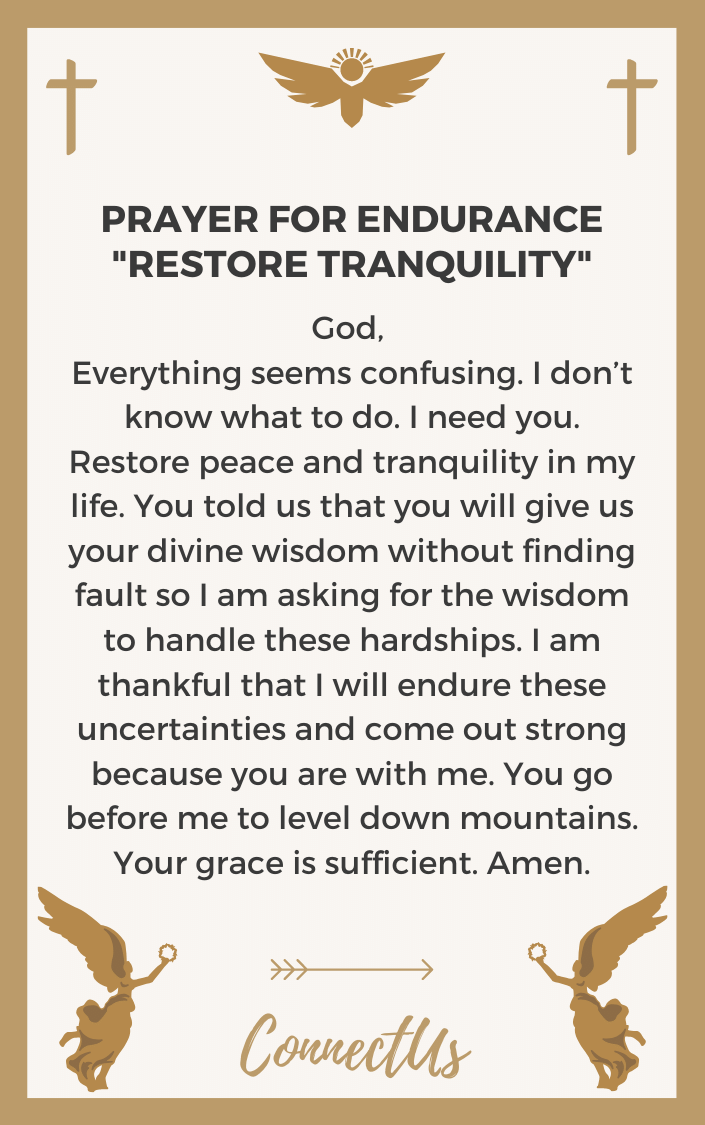 Be My Hope Prayer
Jesus Christ, Teach me obedience during rough times as you were obedient to God all your life to crucifixion. Let my faith be firm in you. Let my heart celebrate and look up to as an example of how God rewards perseverance in hard and painful times. You were humiliated, spat on and hanged on the cross but you never complained, you let the will of your father be done. Be my hope and give me the endurance to finish the race you've laid out for me. Amen.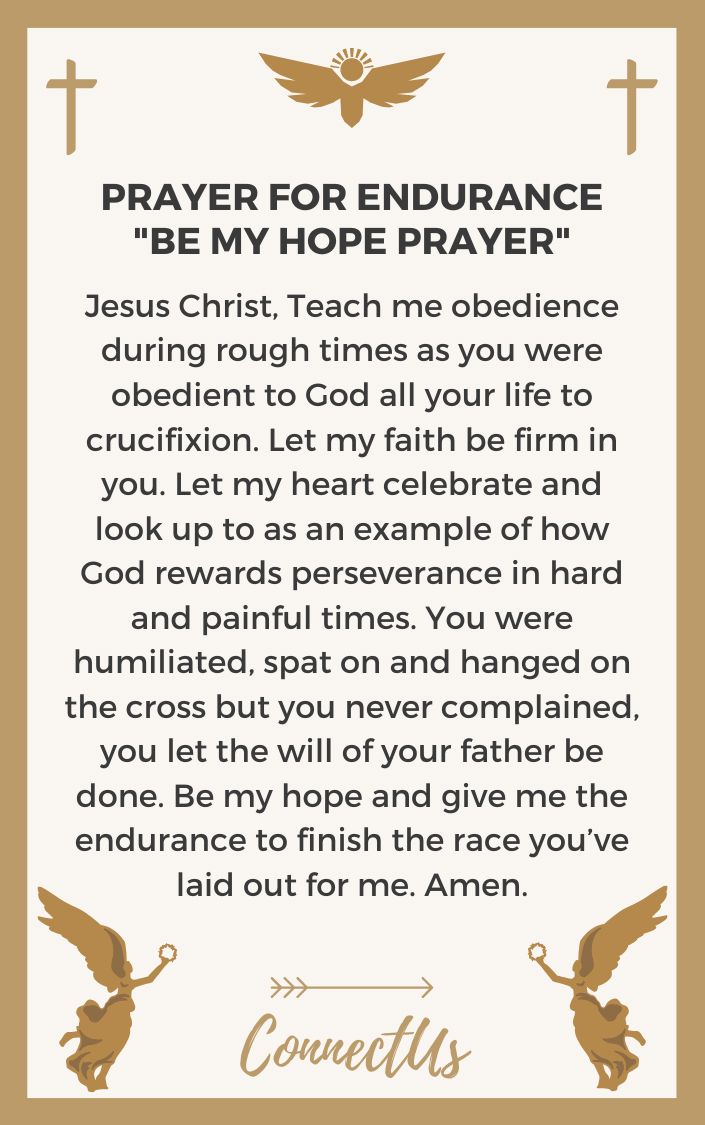 Be My Assurance Prayer
Holy Spirit, Search through my heart and erase any fears and doubts during these hurtful times. Infuse me with the undeserved love of the Lord that I may not forget his presence in my life. Be my assurance that God knows the desires of my heart and will answer me according to His will. Comfort me and guide all my ways. Encourage me to stay strong and focused until the finish line. Amen.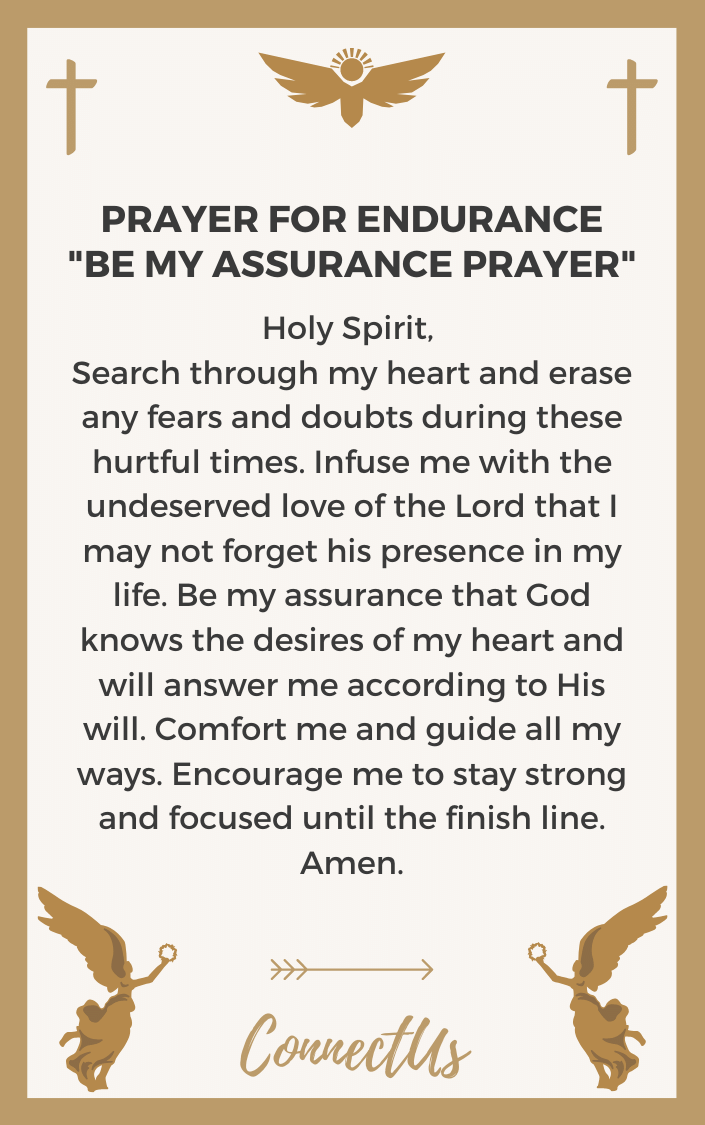 I Can't Do It on My Own Prayer
Father in heaven, Thank you for always being with me. Your eyes are on me. My hope is in your steadfast love. Be my strength during these difficult times. I am trusting in your amazing grace to take me through this rough patch and come out stronger. My encouragement and endurance come from you. I can't do it on my own. Amen.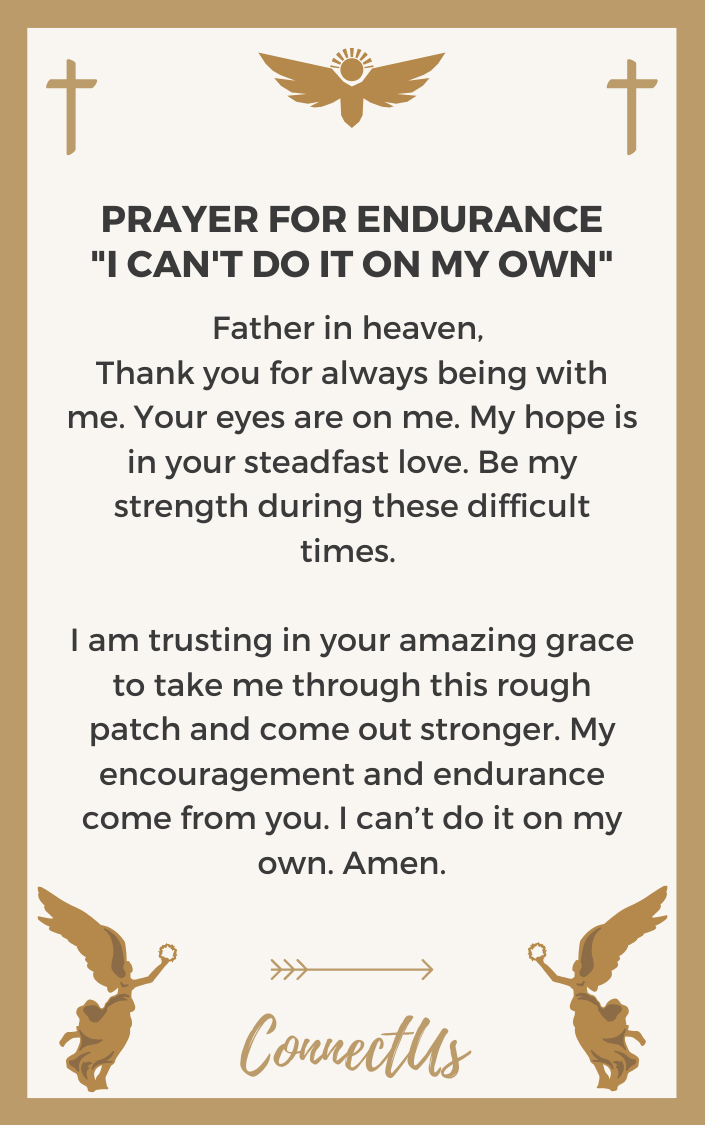 Most Popular Prayers by Topic
For Hard Times
For Financial Prosperity
For Physical Health
For Emotional Health
For Protection
For a Marriage
For Babies and Pregnancy
For Family
For Spiritual Warfare
For Spiritual Health
For a Death
For the Workplace
For Bedtime
Our 10 week prayer journal will guide you through your daily prayers and help you plan out your prayer week. It is completely free. You can
click here to get it now
.

Author Bio
Natalie Regoli is a child of God, devoted wife, and mother of two boys. She has a Master's Degree in Law from The University of Texas. Natalie has been published in several national journals and has been practicing law for 18 years.