There are situations in life that put fear and doubt into our hearts, but if we look to our Heavenly Father, he makes us brave. Here are the 15 most inspiring prayers for courage, including images you can print to use and share.
Grant Me Peace Prayer
Dear Lord, I have gone against your will and continued to live in fear of doing what I am supposed to do. This fear cripples me. It causes me anxiety. My fear and anxiety have now affected my social life. Lord, I am praying for your strength and courage. Your promise is that you are always here with me and I should not fear anything, even if I walk through the shadows of the valley of the dead. Grant me the peace to stop worrying and courageously live the way you want me to live. Amen.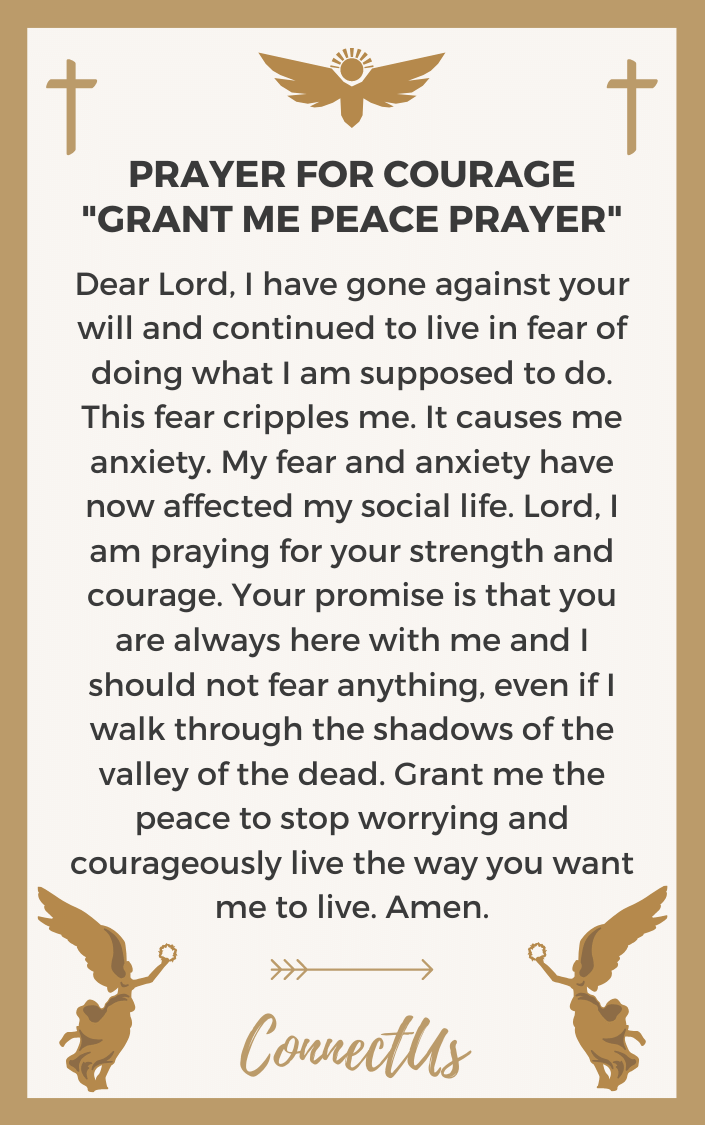 Give Me Strength Prayer
Dear God, I have many situations in my life that make me afraid, including my relationships, my job, my family, and personal projects. I have the desire to make things work out well and be happy. I fear that things will not turn out well. Lord, I pray that you give me the strength to pursue whatever it is I need to. Assure me that, for better for worse, you will always be with me. I need this courage to find happiness. I cannot do it without you, God. Please come to my rescue. Amen.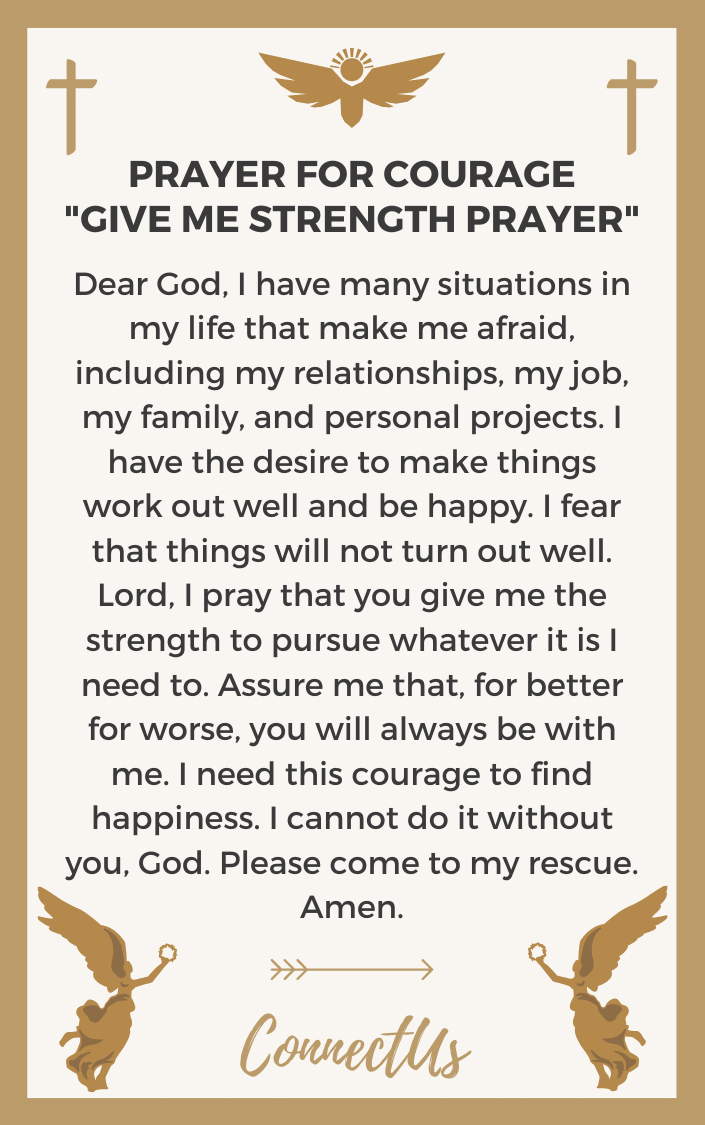 Stand Firm Prayer
Oh Father in heaven, you sit on your throne, crowned in all majesty and glory. Your face shines on me and your hand touches me every day. You stand in courage. You crush evil and uphold righteousness. Lord, I pray that you bless me with the courage to do what is right in your eyes. May I never shake in the face of temptation, but instead, stand firm in your word and make you proud. Amen.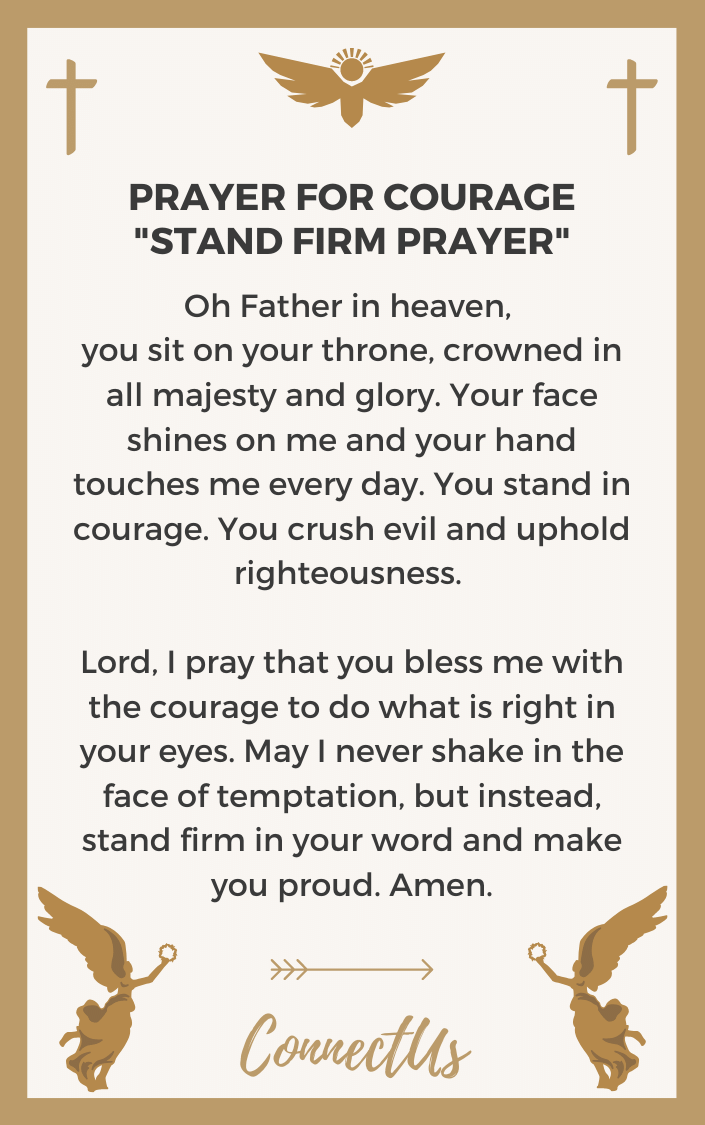 Do Not Worry Prayer
Jesus, you were courageous and did not worry about what those who hated you would do to you. You only met them with love and with courage. You proclaimed that your father was the only one with the final say. Jesus, I ask you to help me develop the same courage that will help me be assertive in my decisions. May I say what I need to say without worrying that I would be judged or punished for it. You are my Lord who conquered it all. Amen.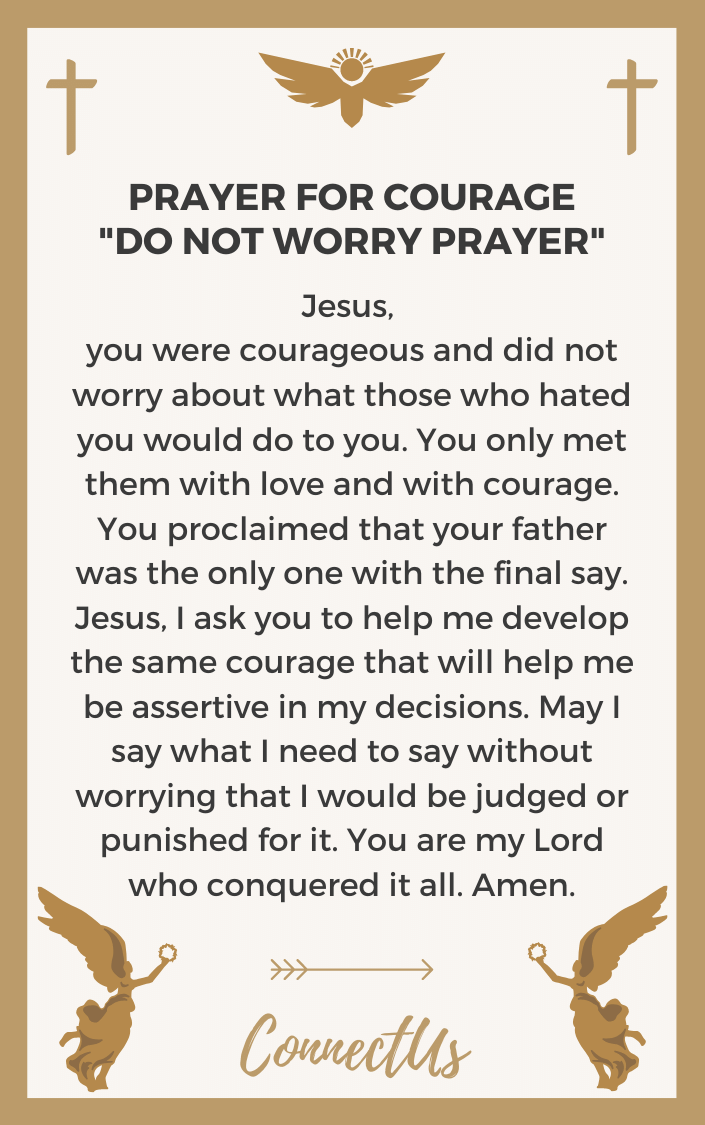 Guide Me Prayer
Dear heavenly Father, as life has become unpredictable and there are many ways to earn or lose in my business, I ask that you bless me with the same courage you gave to David. David went out to fight the giant because he knew that, as a child of God, you were in control of the situation. I ask, Lord, that you guide me as I take risks in my business and try new strategies. Help me be successful because you are my Lord. Amen.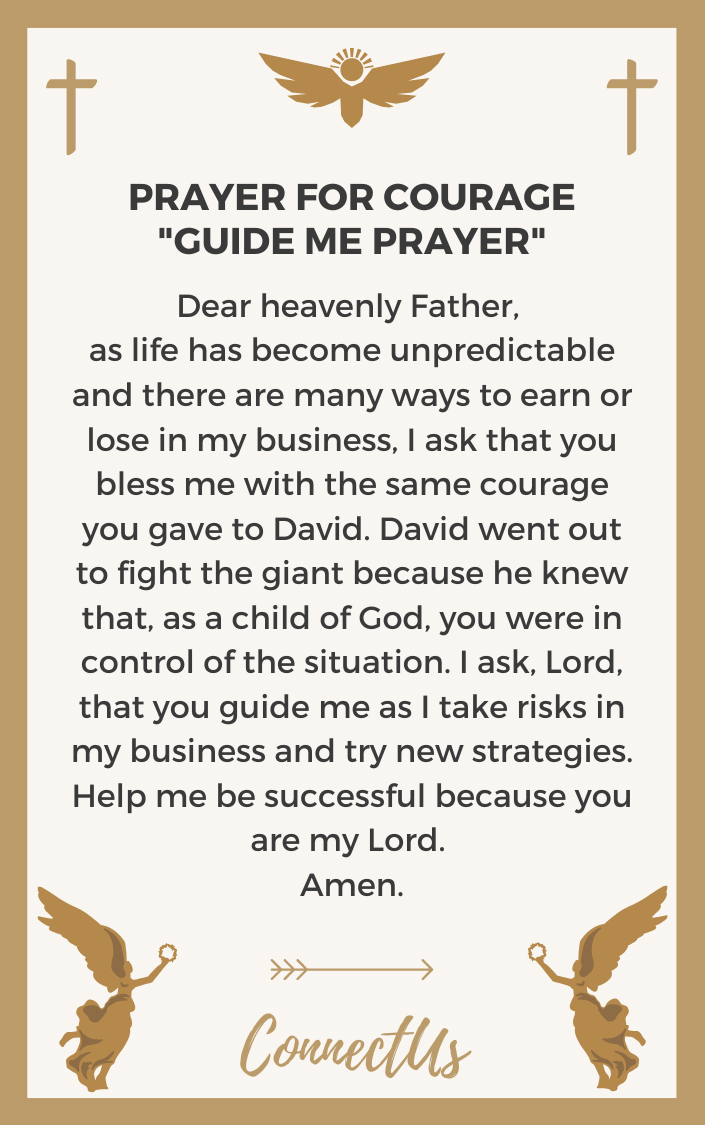 Calm My Fears Prayer
Dear Lord, I have a longing for a life filled with adventure and friends who love to do things together. Lord, I am afraid of many places, including dark forests and caves, big crowds, and other fun adventurous activities that bring us together. Please give me the strength and courage to take risks and have fun in my life. Calm my fears and make my mind at peace during my adventures. Amen.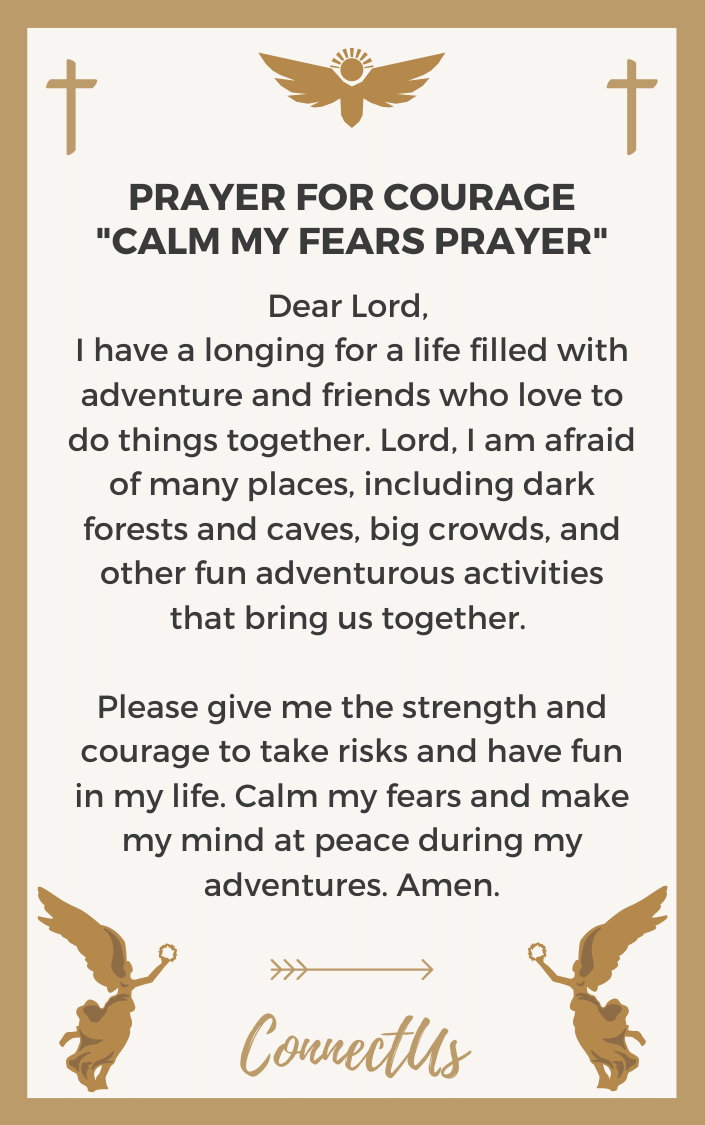 Friendship Prayer
Heavenly Father, I am troubled when I think of interacting with my coworkers and their friends. Most times, I feel like I do not fit in. I feel scared to meet them even when I want to. Bless me so that I may gather the social courage to interact with important people in my life. May I never be afraid that I will be excluded or rejected. Give me the strength to ignore whether people think I am popular or not. Give me the courage to share myself with other people, and bond in friendship. Amen.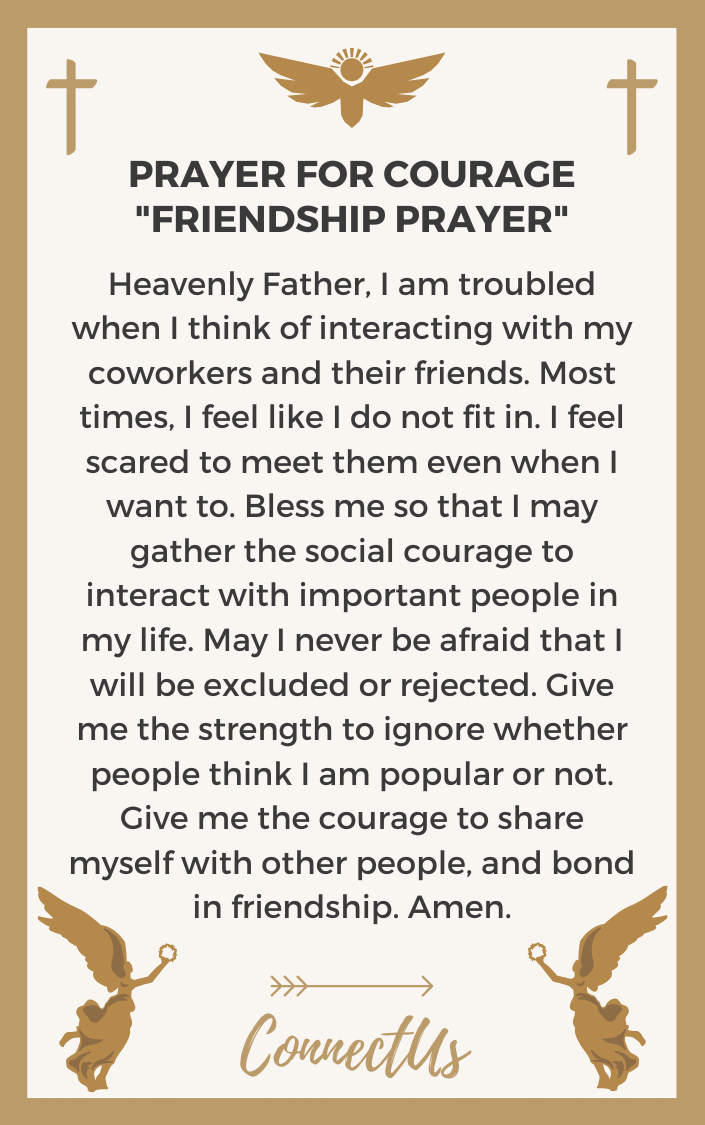 Speak Up Prayer
Lord, thank you for the wonderful things you have done in my life. You have granted me many opportunities, loving people, good health, and your salvation. In these opportunities, Lord, I often have ideas and opinions for improvement, but I am afraid to express them. I am afraid to challenge the status quo. Lord, I am praying for your help in speaking up courageously. Please also grant me the strength to positively challenge tradition and make improvements to the lives of others. Amen.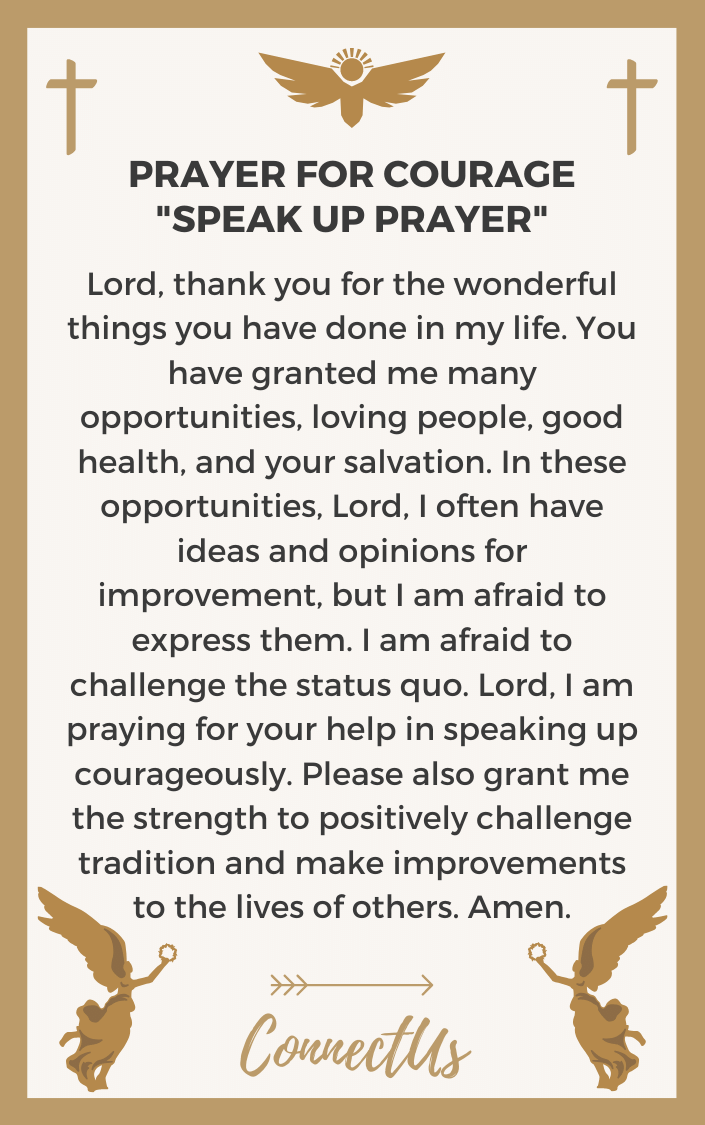 Fear of Disapproval Prayer
Dear Lord, you have taught us to do the right thing at all times. You have taught us not to be afraid of those who doubt you and shame us. It is difficult to do the right thing and to be ethical when everybody else thinks you are wrong. I am praying that you pour upon me your gift of courage, that I may not fear the disapproval or shame that comes with doing the right thing. Help my heart to rejoice and find happiness in being kind and doing good things for others. Amen.
Leadership Prayer
Jesus, you successfully led your disciples and helped them understand what your mission was. In return, they followed you and preached with you because they trusted you. As a leader, I am praying for the courage that will help me guide people to achieve certain goals. Give me the confidence to press forward even when I face opposition or failure. I pray that I stand firm, as you did, and have the courage to make positive changes in this world. I trust and believe in you. Amen.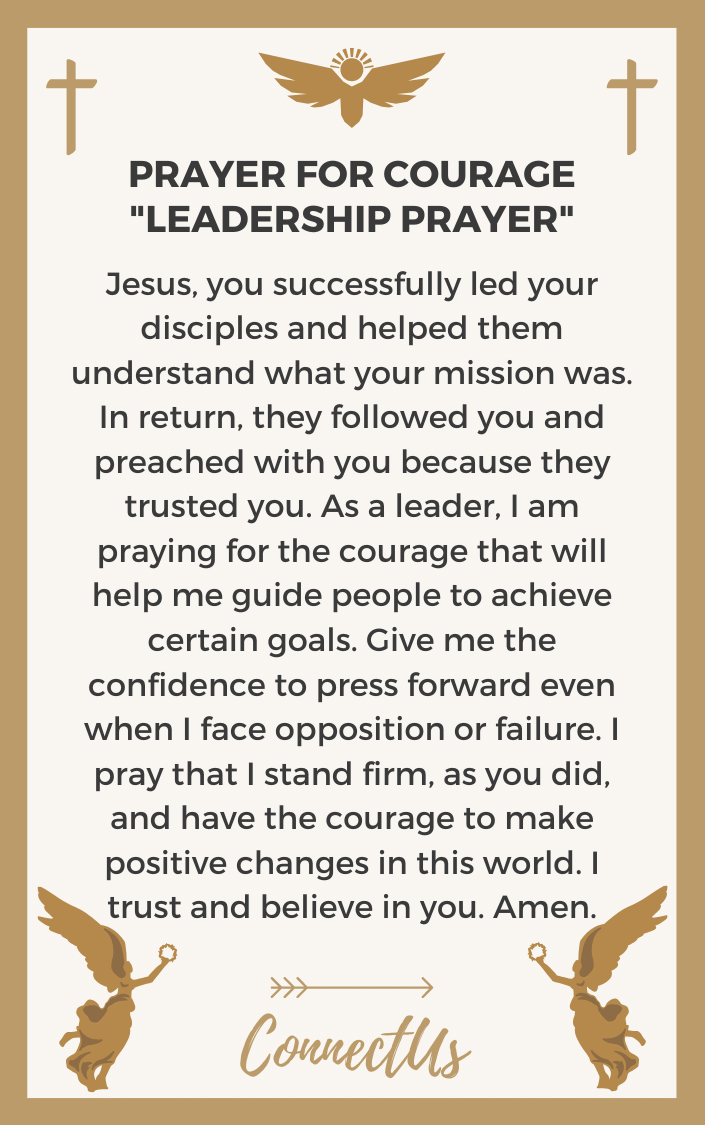 Decision Making Prayer
Christ our Father, there are many times that this world presents obstacles in our way. Sometimes I feel like giving up. Help me be calm, rational, and carefully consider all consequences before I make any decision. Help me overcome my fear of making the wrong decision. Bless me with the strength to move forward and make a decision. I pray for your courage, now and forever. Amen.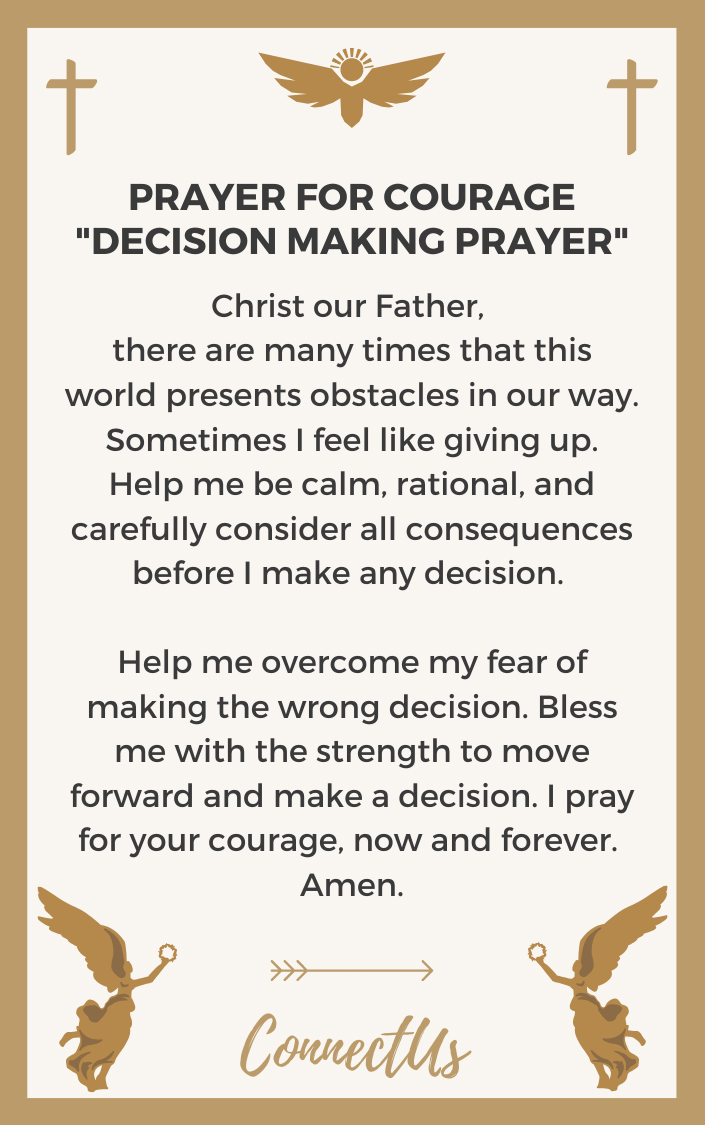 Walk With the Spirit Prayer
Loving Jesus, I believe in you. I believe in the Holy Spirit, who you sent to us to be our helper. Bless me with your Spirit so I am full of self-control, love, courage, and power. I pray that I always walk with this Spirit wherever I go and in whatever I do. Use your Spirit to wash the distractions and troubling thoughts from my mind. Make me calm and confident in my ability to succeed. I pray that I will be filled with the spirit of courage. Amen.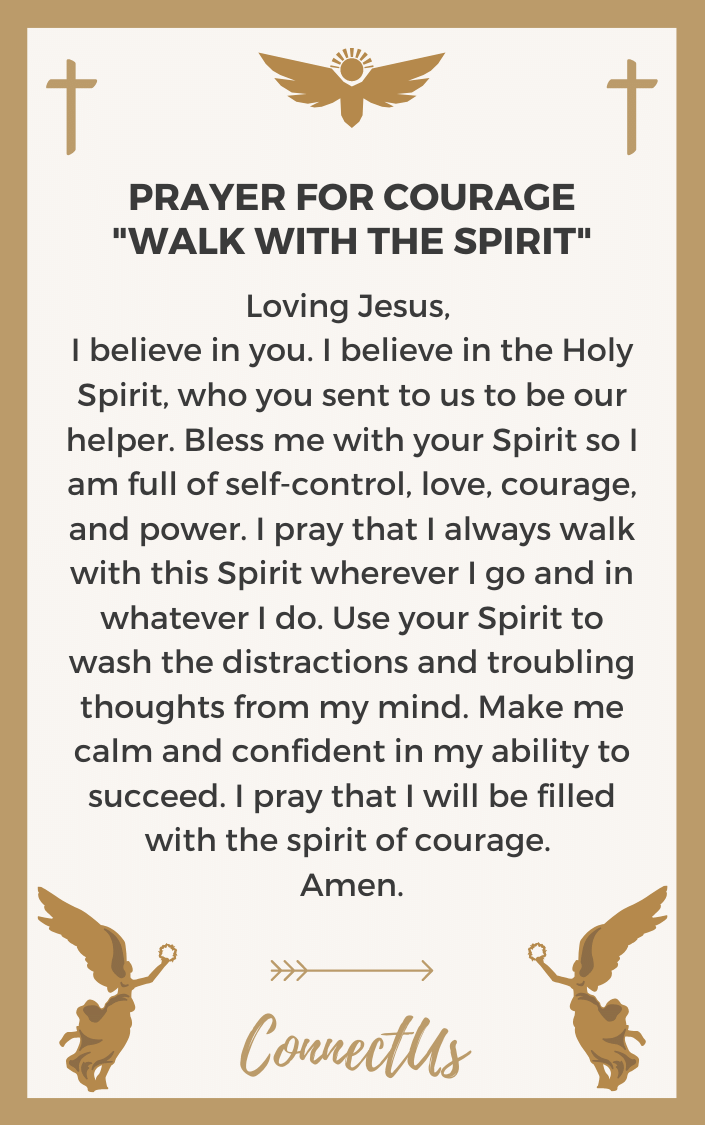 Protect Me Prayer
Dear Lord, you are glorified and your name is above all names. You know the desires of my heart, you know my intentions and goals. Please be with me today as I go about my day. Give me the courage to work through obstacles to accomplish everything I have planned. Protect me in my encounters and bring me back home safely at the end of the day for a restful night. Amen.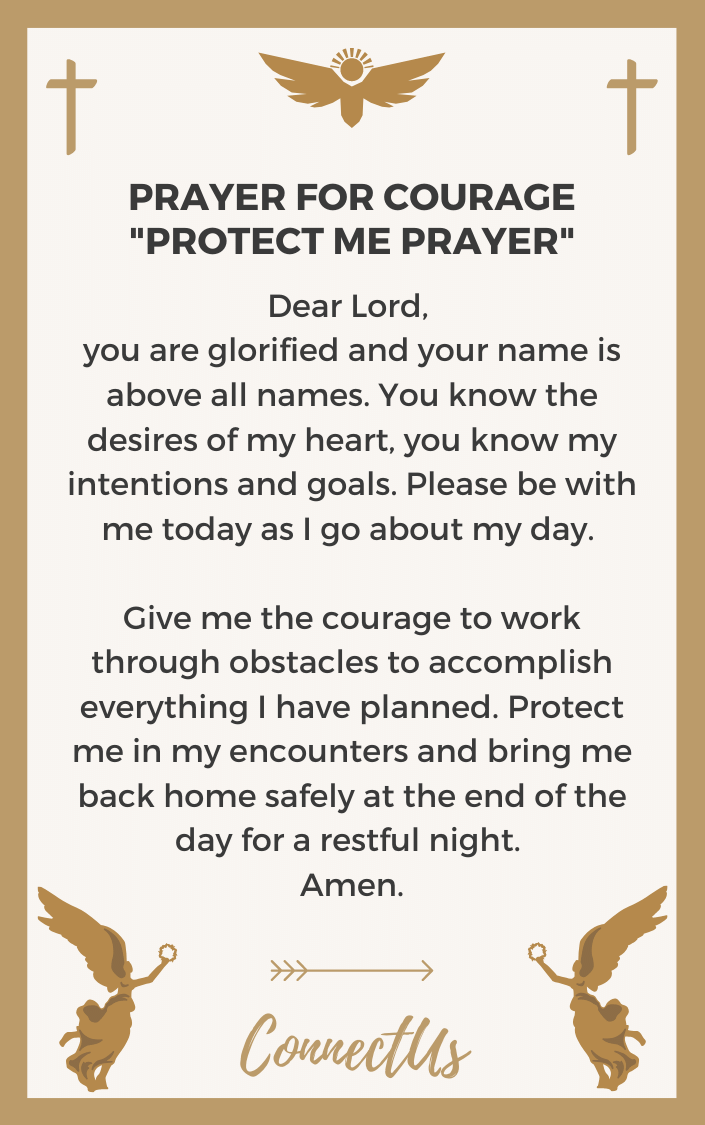 Child of God Prayer
Heavenly Father, you were there for Jacob when he sought help from you. Jacob feared to face his brother Esau, who was looking for him with hundreds of men beside him. I know you are ever-powerful and faithful. You blessed Jacob with courage. You promised to do good things for us, Lord, and I am here praying to you about my fears. I am afraid of many things and people because I am not sure how they will perceive me. Lord, give me the courage that you gave Jacob. Assure me even if I am treated unkindly, that I am a child of God. Let my heart understand that the hate of others is insignificant compared to the love I have from you. Amen.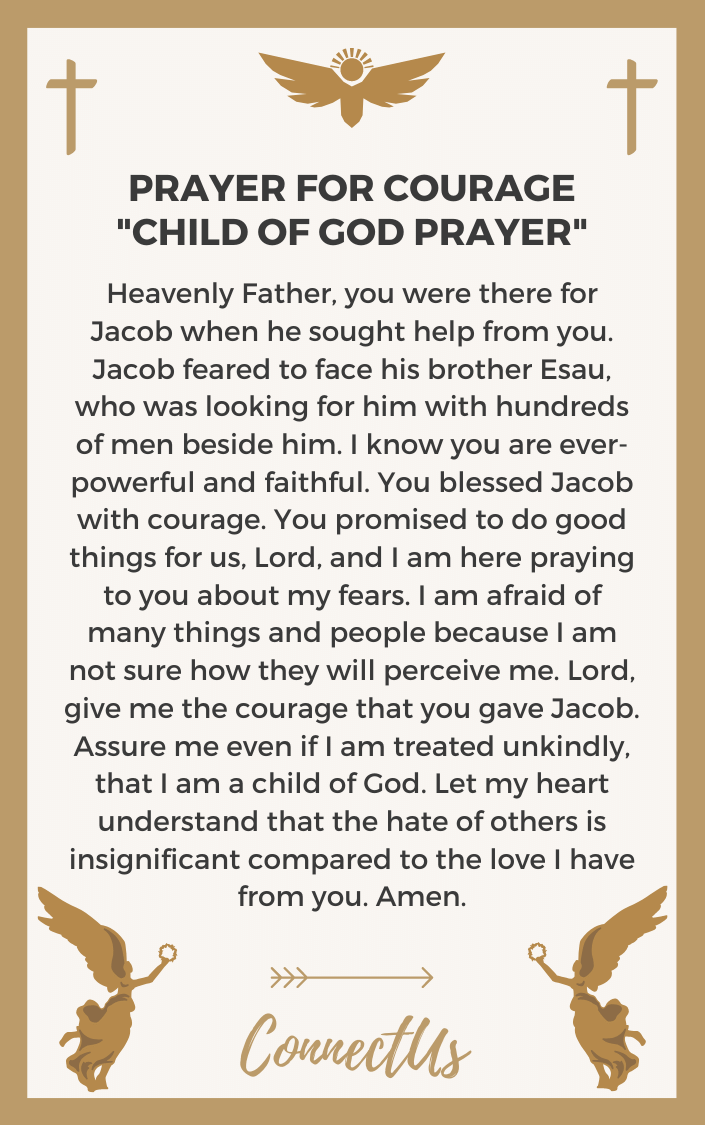 Hold onto Your Word Prayer
Dear God, our Lord, you have commanded us to be courageous and full of strength. You tell us to neither be terrified nor be discouraged, for wherever we go, you are with us. Help me to hold onto your word and be calm in your promise. Make my faith in you continue to grow so I cannot be shaken by any situation. I need courage, I need the strength. I need you, God. Amen.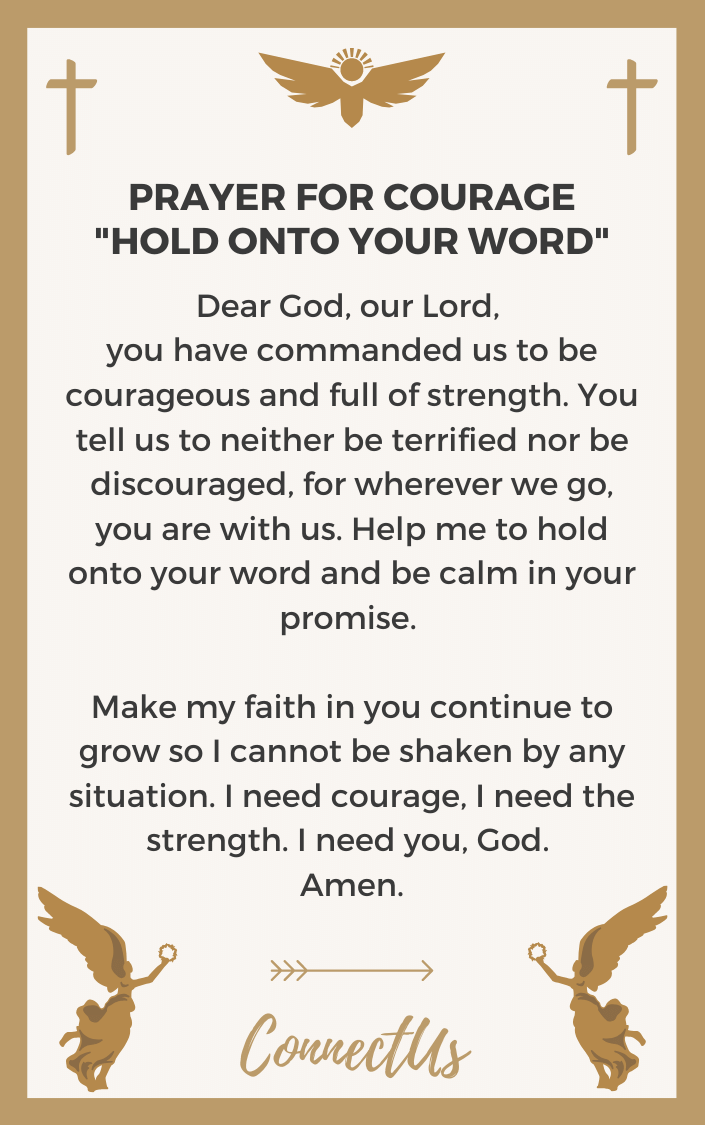 Most Popular Prayers by Topic
For Hard Times
For Financial Prosperity
For Physical Health
For Emotional Health
For Protection
For a Marriage
For Babies and Pregnancy
For Family
For Spiritual Warfare
For Spiritual Health
For a Death
For the Workplace
For Bedtime
Our 10 week prayer journal will guide you through your daily prayers and help you plan out your prayer week. It is completely free. You can
click here to get it now
.

Author Bio
Natalie Regoli is a child of God, devoted wife, and mother of two boys. She has a Master's Degree in Law from The University of Texas. Natalie has been published in several national journals and has been practicing law for 18 years.