Caregivers are some of the most selfless people you will ever meet, taking on one of the hardest jobs in the world. Here are 15 strong prayers for caregivers along with printable images to use or share.
Prayer for Burnout Protection
Light in the Darkness, being a caregiver is an enormous privilege, thank You. Many times the duties take all I have, and there is nothing left to give. I feel discouraged until I remember that You are the one who placed me here in this home and have given me this responsibility. Holy Spirit, please prompt me daily to seek all I need from the Lord. I do not want to burn out because the road back is hard. Help me not to work only with my abilities, but keep me, Lord, in Your perfect strength. Amen.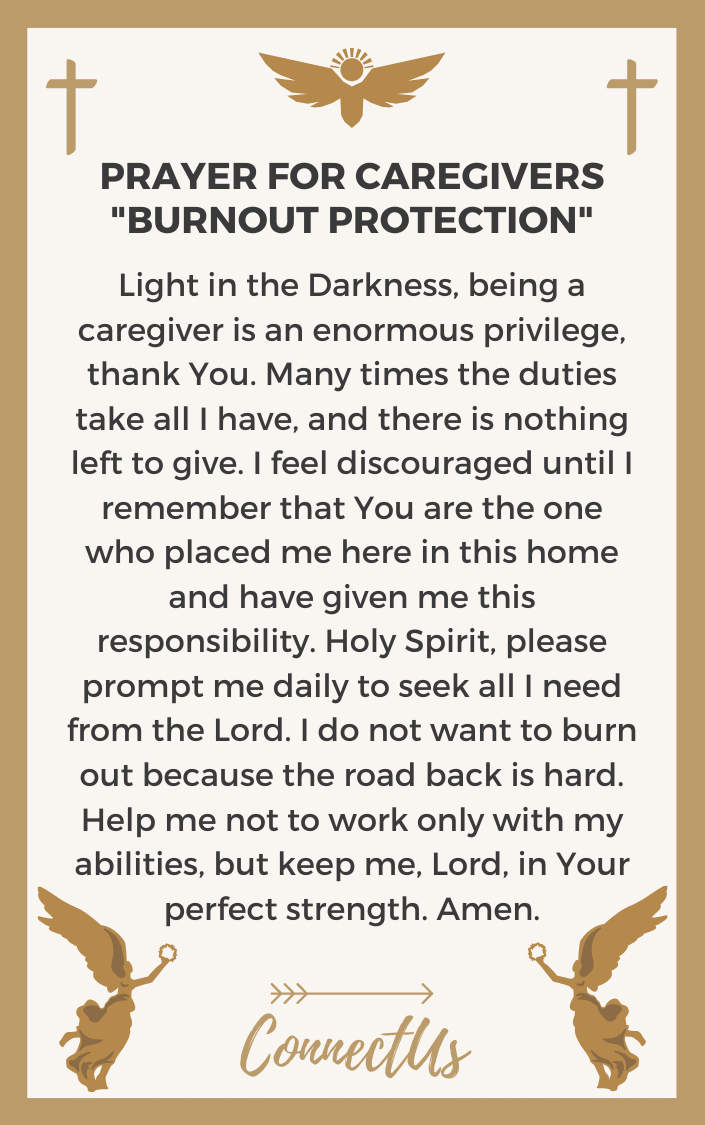 Prayer for Peace in Troubling Times
God of Comfort, I am struggling to hold onto peace when faced with struggles, so I come to You because You are my Peace. Without You, I won't be able to succeed on this caregiver roller coaster ride. Regularly there are falls, injuries, emergencies, and more. These situations sometimes steal my peace. Help me to be mindful that as I serve my loved one, You are with me every step of the way. When circumstances are robbing me of my peace, Holy Spirit, please whisper to my spirit and remind me that You are here with me. Amen.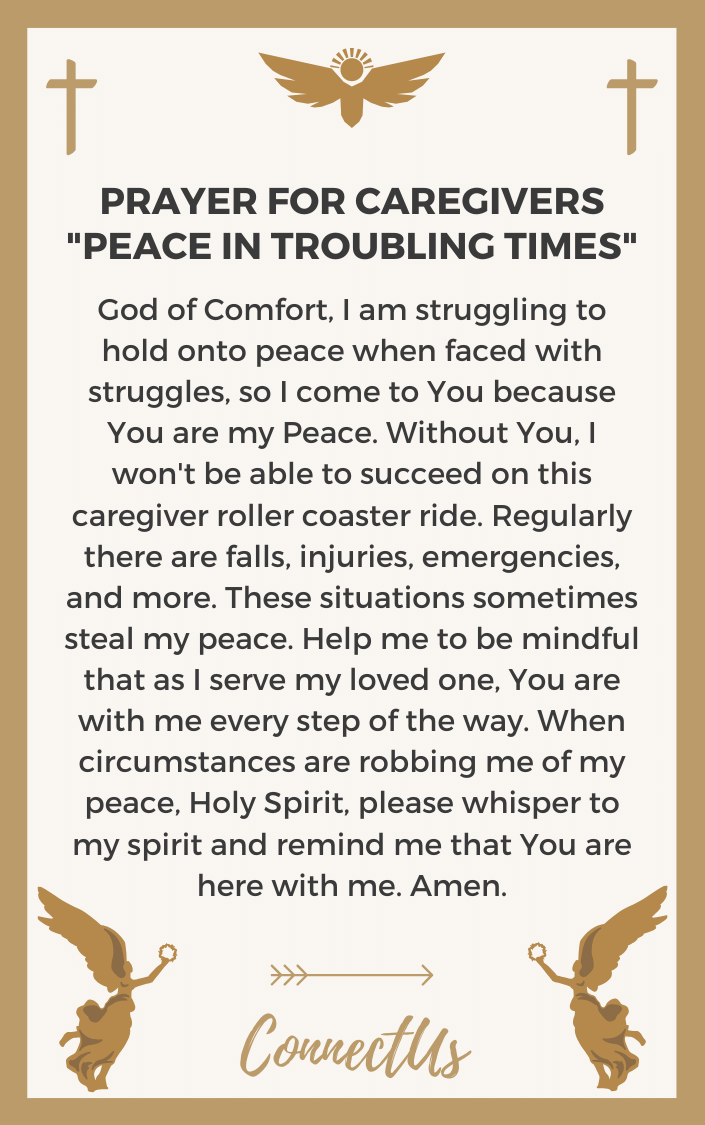 Prayer for Tranquility in a Hopeless Situation
God of all Hope, I come to You now seeking tranquility to help carry on in my duties as a caregiver. My loved one's health situation looks hopeless, and it is an overwhelming burden. I pray You will fill me with Your peace and give me a steadfast hope. My soul seems easily crushed by hopelessness when I see my loved one in their sad condition day after day. Lord, You spoke, and the waves had no choice but to obey You. Please speak to my spirit now and grant me the tranquility that only comes from You. Amen.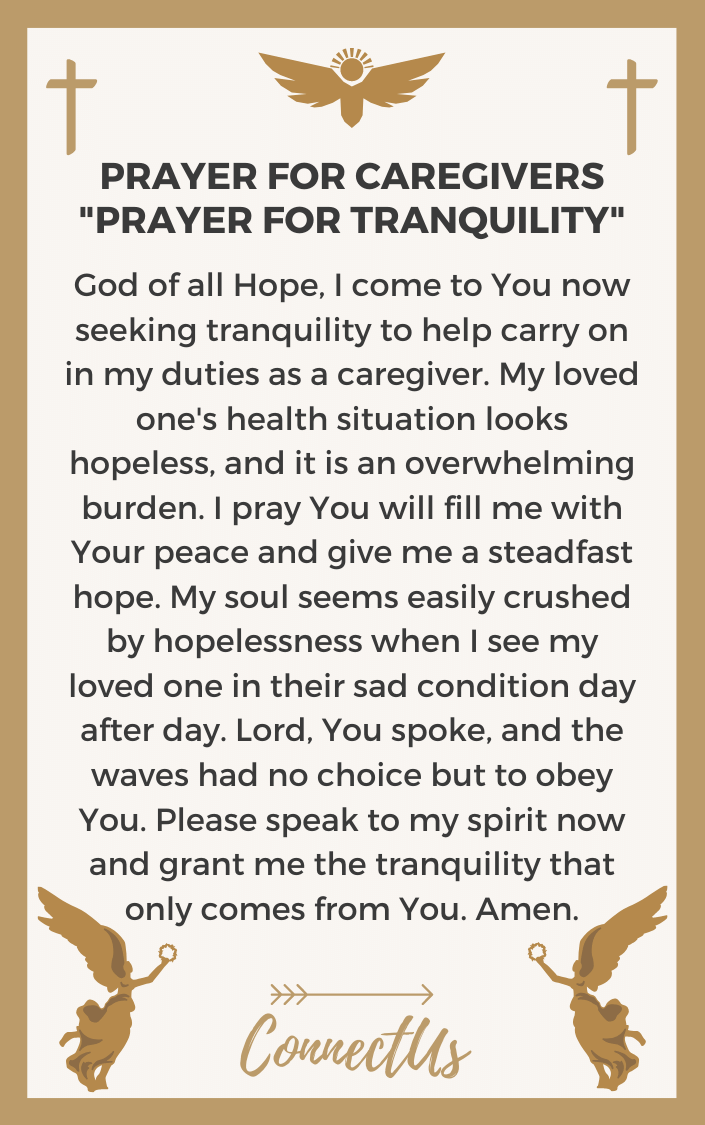 Prayer for His Blessings on Quality of Care
God of Blessing, I come seeking Your blessing on my responsibility of being a caregiver. Most days are full of important life decisions, and often I am not entirely sure what to do. There are conversations, medicines to administer, and more. Please provide me with discernment, and prompt me if I am about to make a mistake. Honestly, please just help me not to mess up. Another person is dependent upon me for help with almost all aspects of their life, and it can be overwhelming. Lord, I know that I need Your blessings in every responsibility to get me and my loved one through each day unscathed. Amen.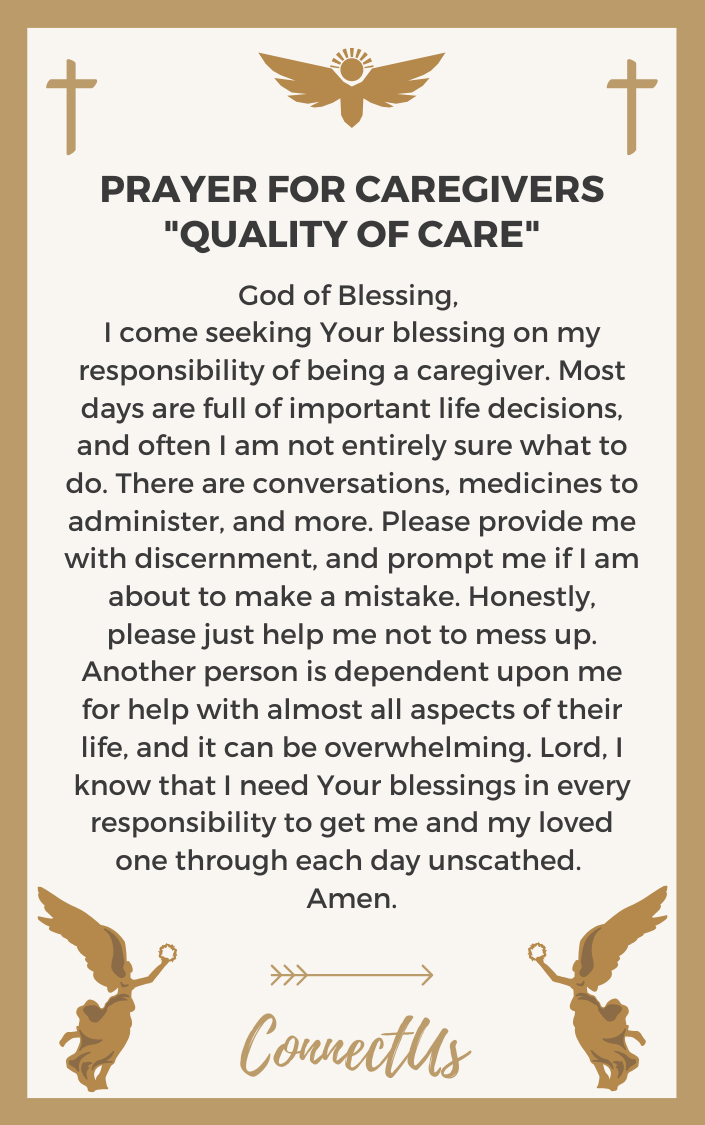 Prayer to Start Your Day with God
God, my Great Provider, before I step out to fulfill Your purpose for my life today, I want to dwell in Your presence for a while before I do anything. You know all that I will need to make through this day, and I ask for all You have set apart for me. Lord, I need You to go with me and prepare my path. Grant me words to speak, strength to serve, and love to reflect You in all I do today. You have called me out for Your purpose this day, and in Your power, I will rise to every challenge that comes my way. Amen.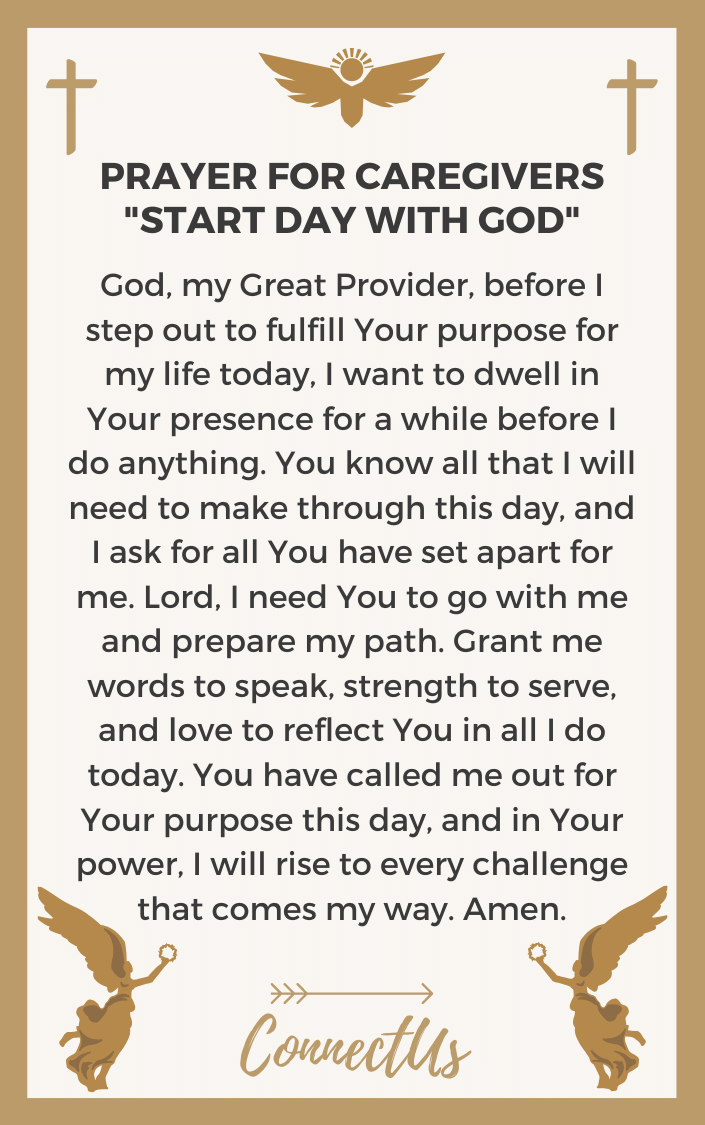 Prayer for Christ-like Love at All Times
God of Enduring Faithfulness, it is hard to see my loved one deteriorate before my eyes. I can only imagine how I would feel in their condition. There are times when they react out of their pain or frustration. Please give me the patience to love them no matter what, help me always to be Christ-like. I need Your touch on my spirit, so I will always react out of love and empathy, not from my flesh. Holy Spirit, please take control of my flesh and lead out in love through me. Amen.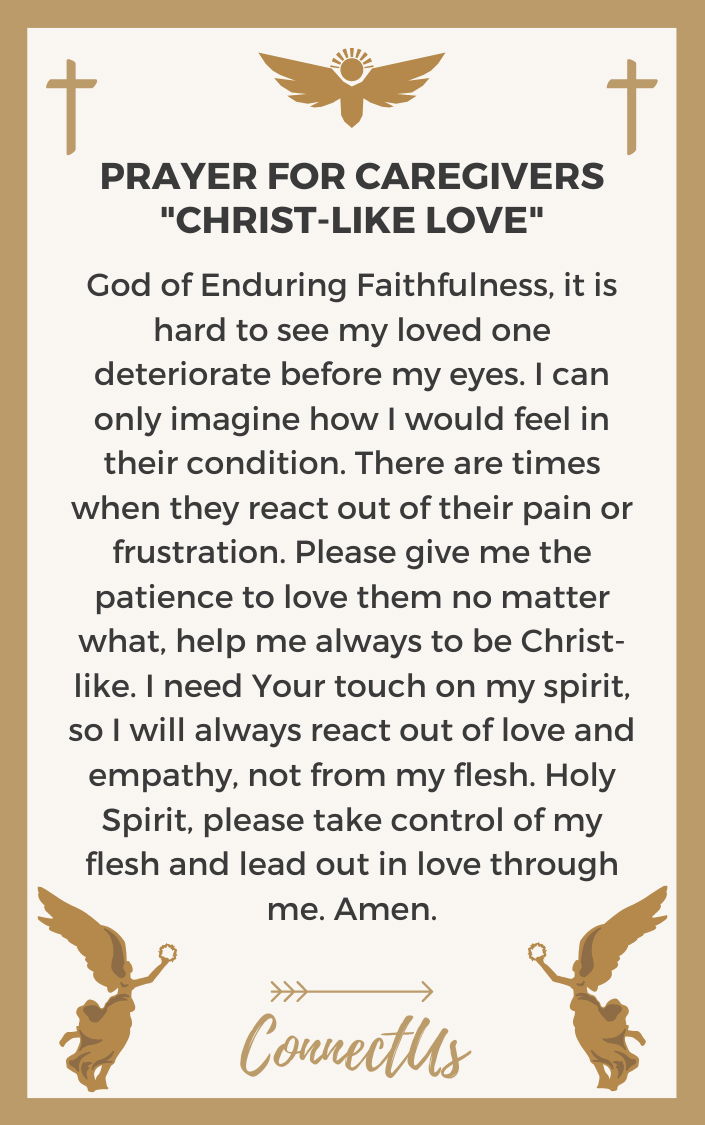 Prayer for Divine Understanding
Living God, You are aware of every tear my loved one cries and the pain they live with daily. I can only imagine what they are experiencing, but You Lord can feel their pain and suffering. Grant me a divine understanding so I can anticipate all of their needs. A deeper understanding will also help me to love just as they are, just as You love me, unconditionally. Provide me a window into their life, Lord, so that I can serve them in the best possible way. Amen.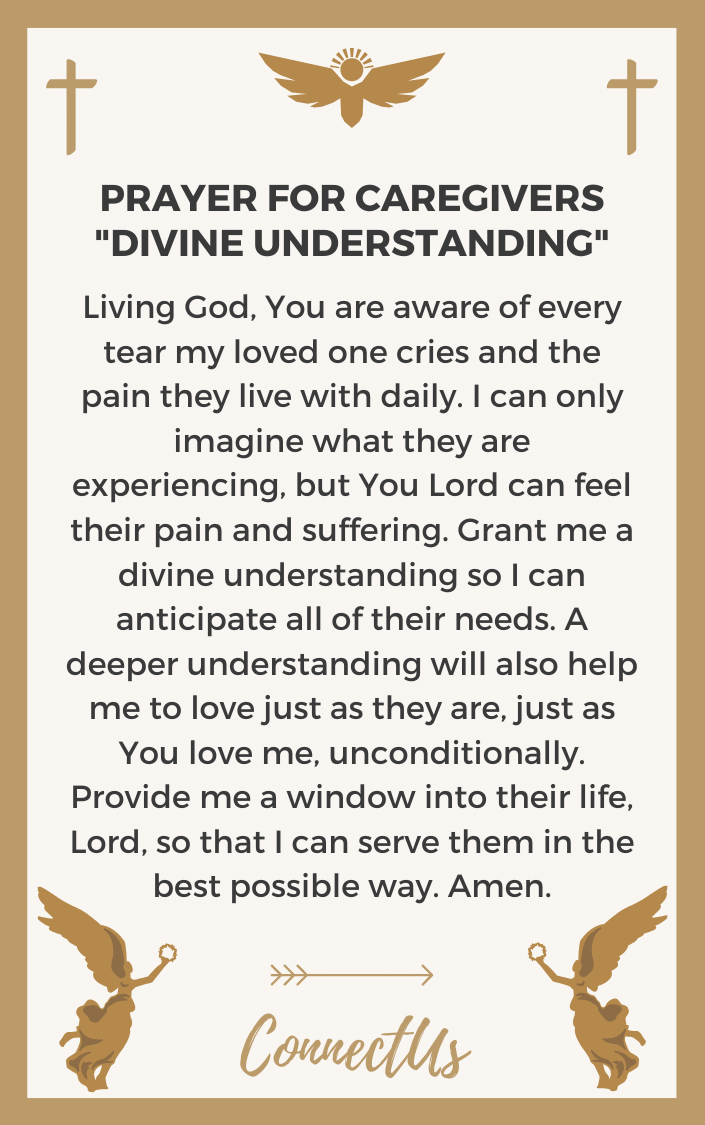 Pray to Love at All Times
Loving God, I come before You frustrated because I feel like I am not demonstrating Your love as well as I should. It is challenging to be a caregiver at times, primarily because the people we are caring for are usually living in horrible situations. There are days when my loved one seems to take their frustrations out on me. I pray for an extra measure of divine grace so I can remain unaffected by their hurtful actions. I pray You will help me to focus on loving them and looking past their actions and seeing the cause, pain, and suffering. Help me never to grow tired of doing good for them. Amen.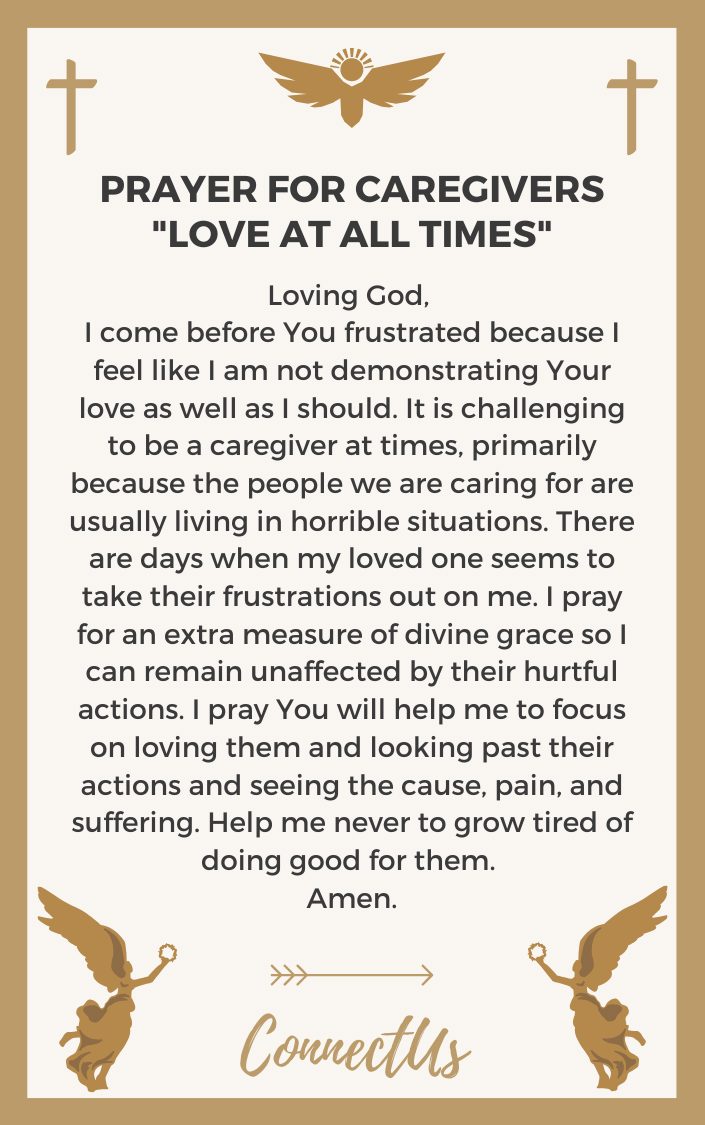 Prayer for Blessed Sleep
Precious Shepherd, You promised to lead us to green pastures and rest. Green meadows, rest, and You watching over me is a soothing promise to my weary soul. Honestly, right now, rested is the opposite of how I feel. Being a caregiver is demanding, and most days, my time is not my own. What little time I have to sleep is often interrupted. Lord, I ask for You to take what limited time I have for sleep and bless it so it is all I need to serve my loved one well. Amen.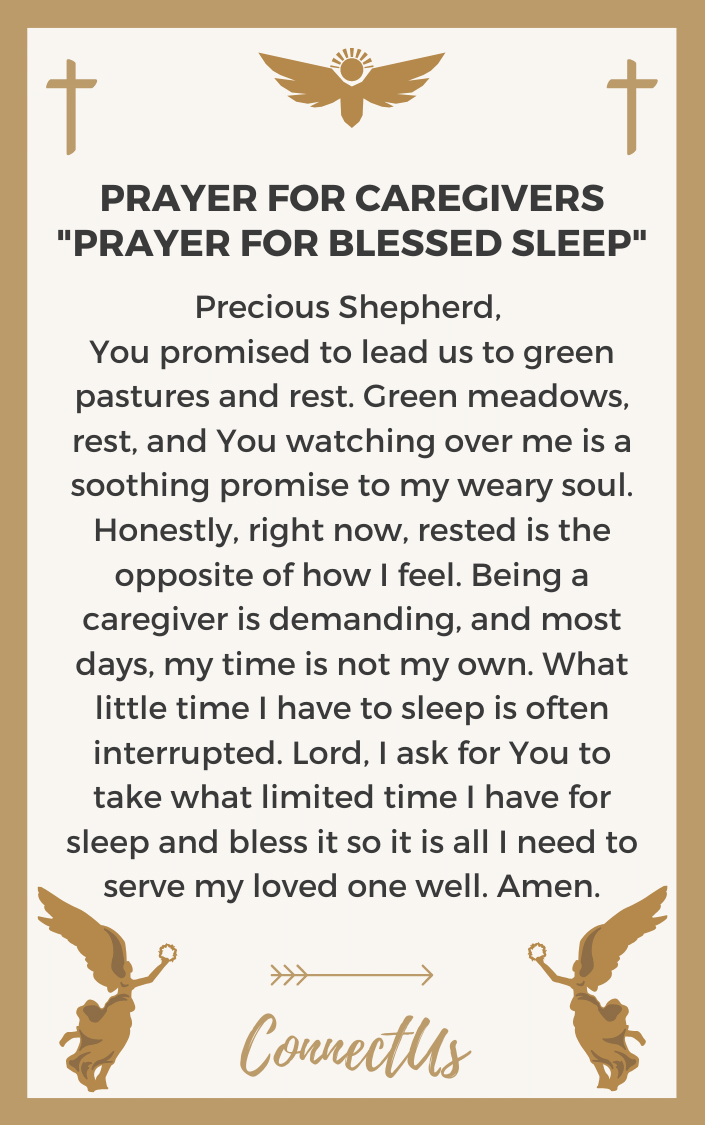 Prayer for Physical Strength
All-powerful God, I come before You exhausted. I never imagined being a caregiver for another human would be so much work. Honestly, there are days where I feel like I will not be able to make it until bedtime. Today is one of those days. I am relying on Your promise to be my strength. Lord, I need Your blessing right now, please come and grant me an extra measure of Your strength to make it through this day. Go before me and make the rest of my day peaceful. Amen.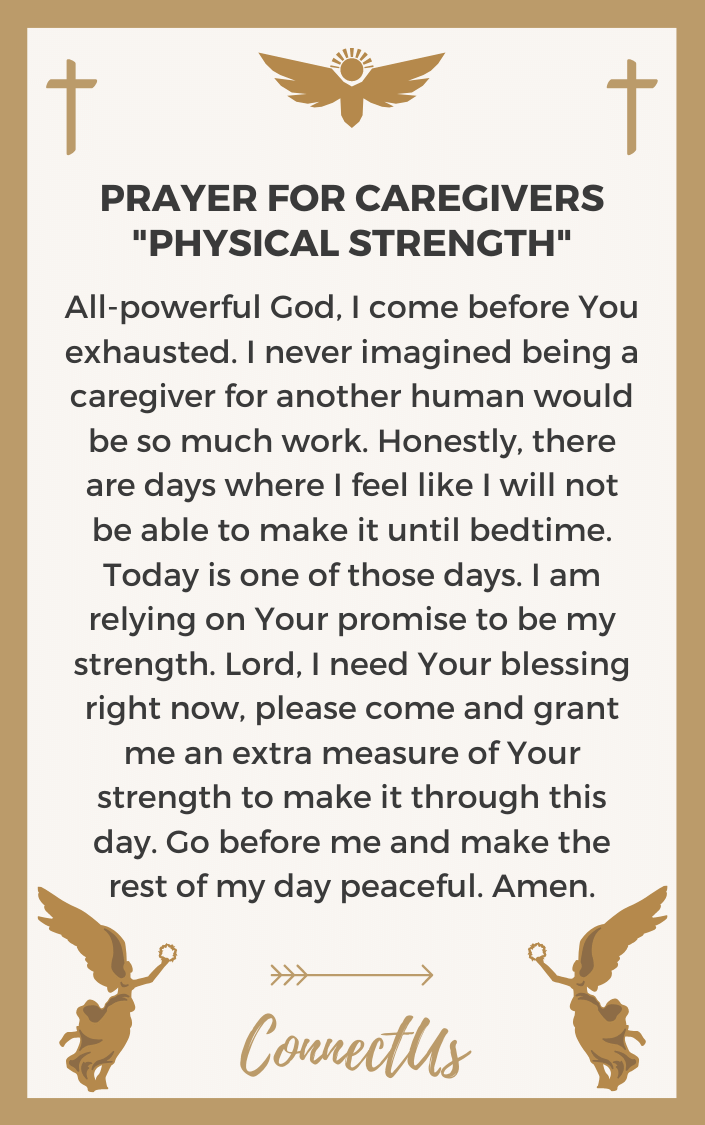 Prayer for God's Help to Serve Well
All-knowing Father, I come feeling utterly inadequate for the responsibility You have set before me. I bring my feelings of inadequacy to the foot of the cross and leave them in Your capable hands. My feelings are valid because my efforts will never accomplish all You want them to unless I learn to do it all through You. I know You have placed me here to help my loved one for Your purpose. Please grant me the guidance I need to fulfill Your purpose in and through me. Amen.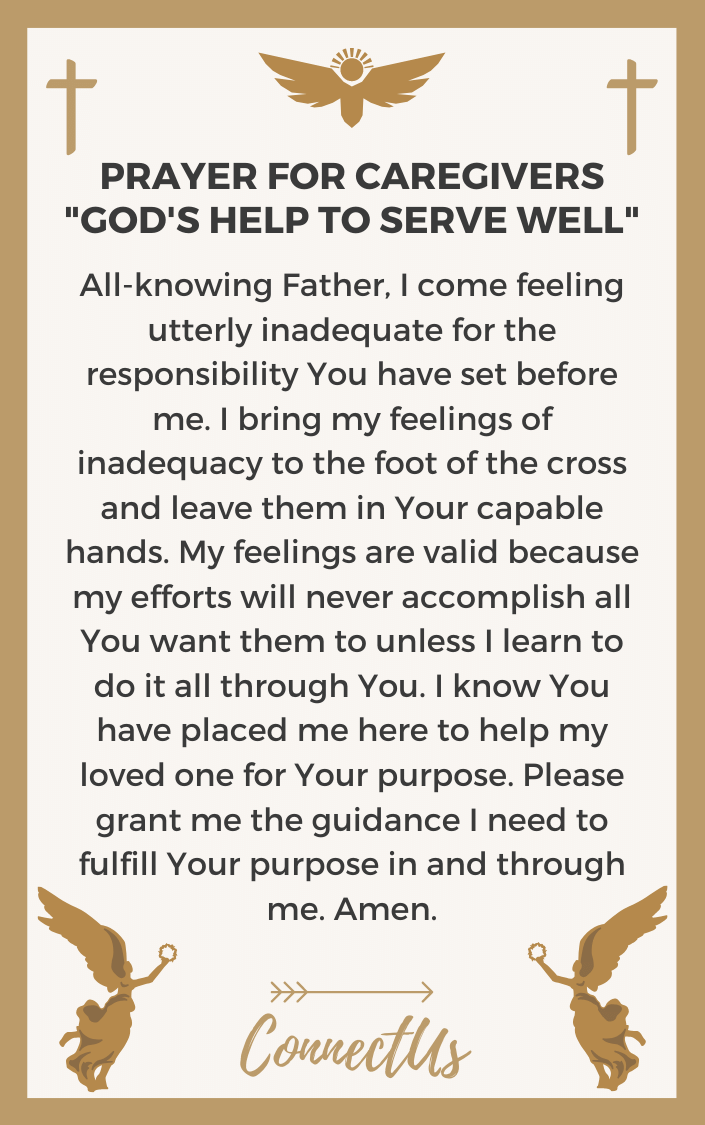 Prayer for His Wisdom for Decisions
All-knowing God, I come seeking Your wisdom to help with the decisions I have to make as a caregiver. Please guide me to correct responses and prompt me if there are things I need to do differently. Honestly, I feel I need Your guidance just to keep me from messing up. Another human is completely reliant on me for help with protection over their life, and it can be overwhelming. I am not a medical professional, so I feel I need Your guidance to get me and my loved one through each day unscathed. Amen.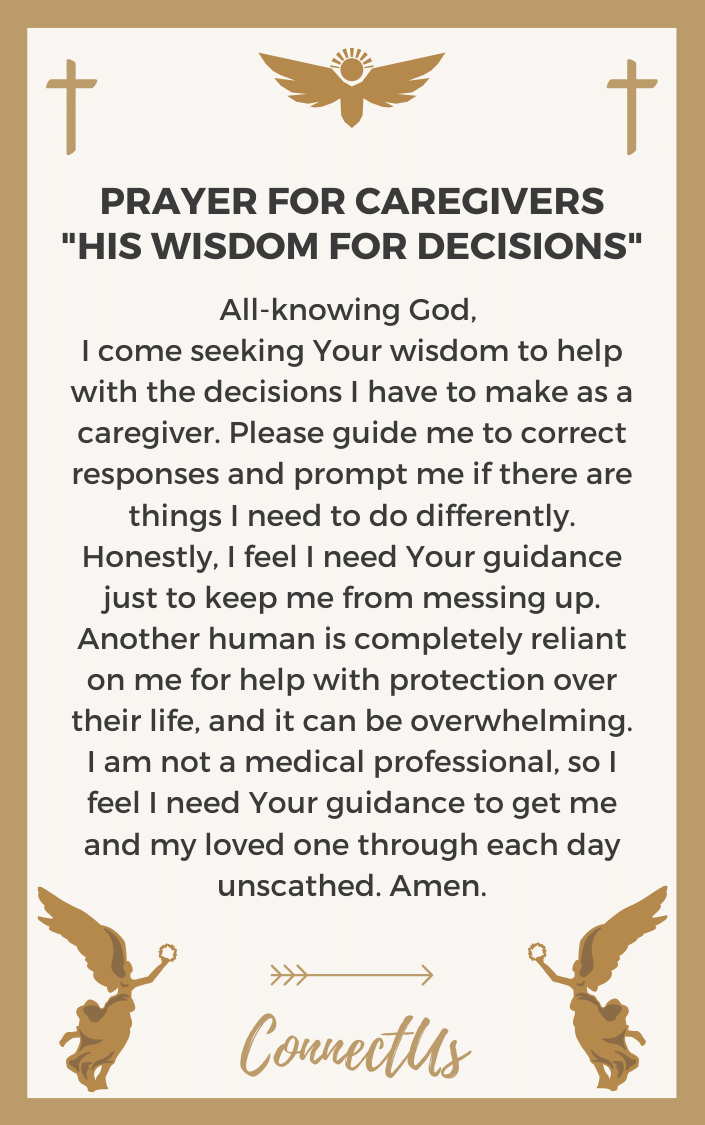 Prayer to be His Instrument of Care
Everlasting God, thank You for entrusting me with the responsibility of being a caregiver. The daily work can drag me down and cause me to lose sight of the honor You have given me. You promised me that You would not forsake me when I am old, and You will take care of me. I tremble with gratitude and awe at the thought of being an instrument of Your hands as You fulfill these promises for my loved one. Grant me, Lord, all I need to care for my loved one with the love and dignity You desire. Amen.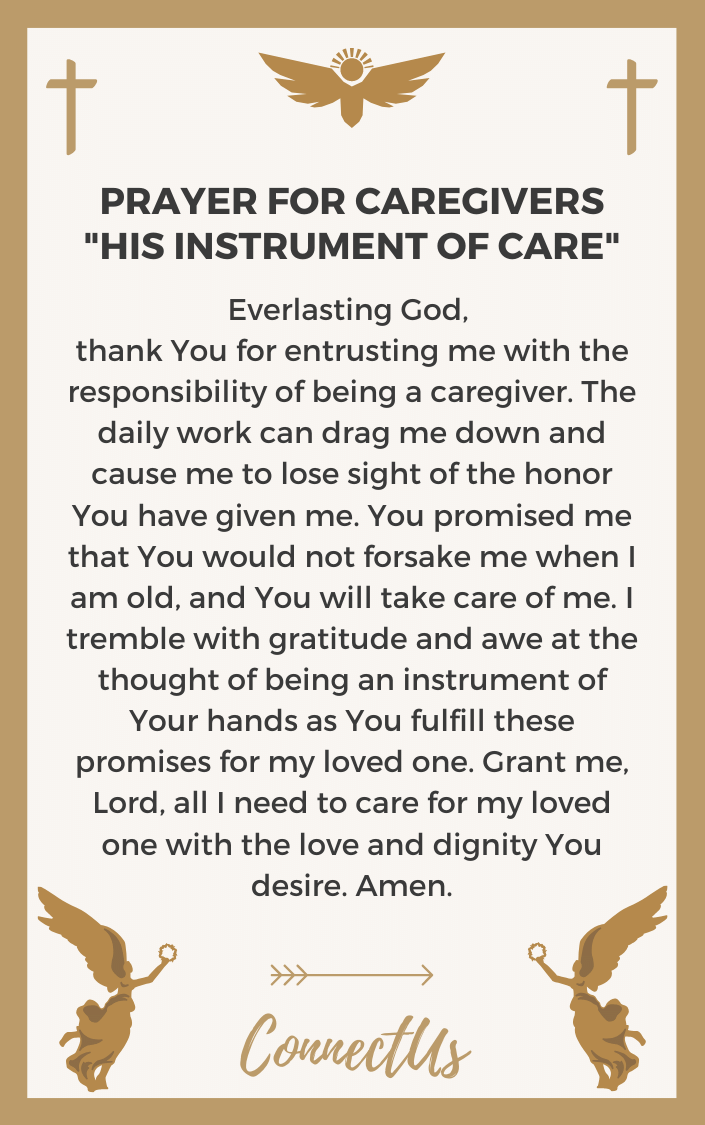 Prayer to Conquer Anxiety and Fears
God of my Peace, as I watch my loved one, I have many fears and anxieties that well up within me. How to care for them, what I will do when they are gone, what will happen next, and the list goes on. Only You can conquer my anxieties and fears, so I bring every single one in my heart to You. I pray You would lead me to Your Word and calm my spirit. Holy Spirit, teach me what to pray so I can be a caregiver who inspires peace and confidence in the Lord, not in the circumstances. Amen.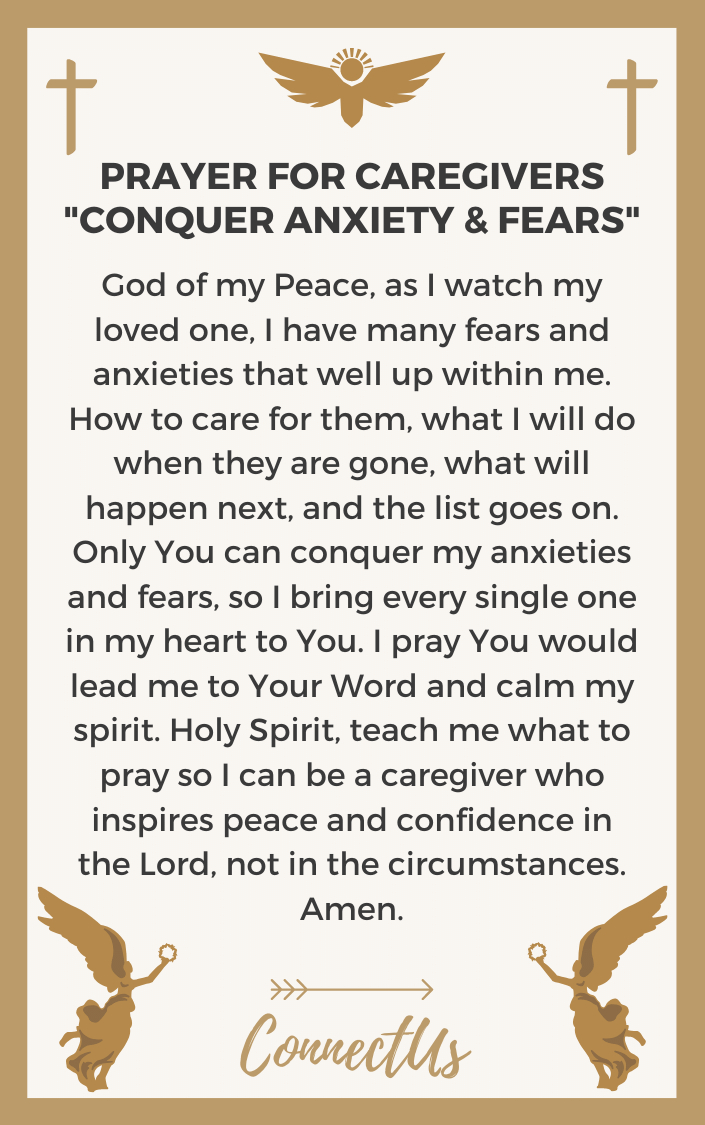 Prayer to Trust in His Love
God of Mercy and Love, daily, I am confronted by the vision of the suffering of my loved one. I honestly do not know why they have to go through this suffering. While I can't pretend to understand, I do know that I can trust You. Knowing why they are like they are will not change their circumstances. Therefore, I won't ask You why. Instead, I will ask You to fill me with Your abundant hope. I know that You are love; therefore, You must have a loving purpose in their suffering. Help me to trust in Your unfailing love and purposes. Amen.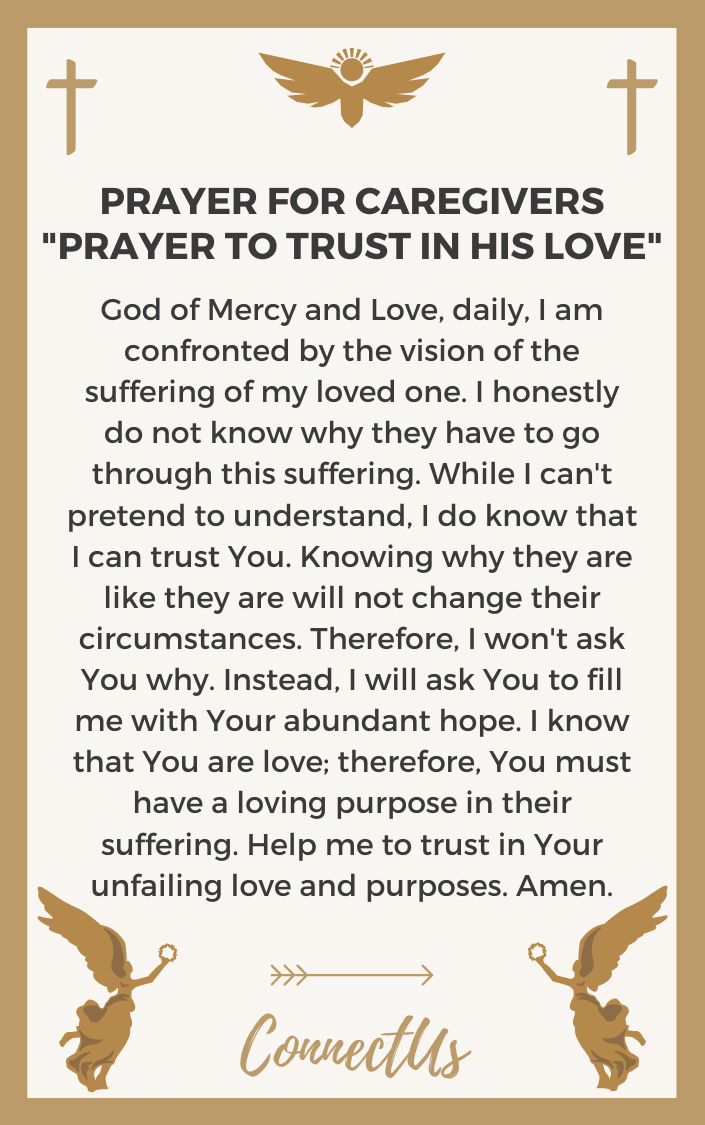 Most Popular Prayers by Topic
For Hard Times
For Financial Prosperity
For Physical Health
For Emotional Health
For Protection
For a Marriage
For Babies and Pregnancy
For Family
For Spiritual Warfare
For Spiritual Health
For a Death
For the Workplace
For Bedtime
Our 10 week prayer journal will guide you through your daily prayers and help you plan out your prayer week. It is completely free. You can
click here to get it now
.

Author Bio
Natalie Regoli is a child of God, devoted wife, and mother of two boys. She has a Master's Degree in Law from The University of Texas. Natalie has been published in several national journals and has been practicing law for 18 years.