The word "wait" appears 139 times throughout the books of the Bible. The graph below shows the locations of each appearance. It begins with Genesis in the top left and concludes with Revelation in the bottom right.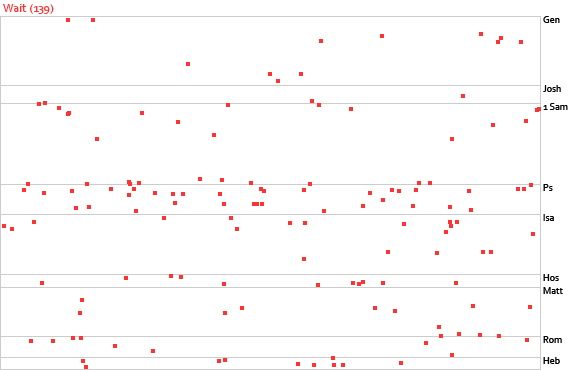 Here are the 40 most encouraging Bible scriptures on waiting.
Lamentations 3:25
The Lord is good to those who wait for him, to the soul who seeks him.
Psalm 27:14
Wait for the Lord; be strong, and let your heart take courage; wait for the Lord!
Habakkuk 2:3
For still the vision awaits its appointed time; it hastens to the end—it will not lie. If it seems slow, wait for it; it will surely come; it will not delay.
Isaiah 40:31
But they who wait for the Lord shall renew their strength; they shall mount up with wings like eagles; they shall run and not be weary; they shall walk and not faint.
Psalm 37:7
Be still before the Lord and wait patiently for him; fret not yourself over the one who prospers in his way, over the man who carries out evil devices!
1 Corinthians 1:7
So that you are not lacking in any spiritual gift, as you wait for the revealing of our Lord Jesus Christ.
Acts 1:4
And while staying with them he ordered them not to depart from Jerusalem, but to wait for the promise of the Father, which, he said, "you heard from me."
Galatians 5:5
For through the Spirit, by faith, we ourselves eagerly wait for the hope of righteousness.
Galatians 6:9
And let us not grow weary of doing good, for in due season we will reap, if we do not give up.
Genesis 49:18
I wait for your salvation, O Lord.
Hosea 12:6
So you, by the help of your God, return, hold fast to love and justice, and wait continually for your God.
Isaiah 25:9
It will be said on that day, "Behold, this is our God; we have waited for him, that he might save us. This is the Lord; we have waited for him; let us be glad and rejoice in his salvation."
Isaiah 30:18
Therefore the Lord waits to be gracious to you, and therefore he exalts himself to show mercy to you. For the Lord is a God of justice; blessed are all those who wait for him.
Isaiah 33:2
O Lord, be gracious to us; we wait for you. Be our arm every morning, our salvation in the time of trouble.
Isaiah 49:23
"Kings shall be your foster fathers, and their queens your nursing mothers. With their faces to the ground they shall bow down to you, and lick the dust of your feet. Then you will know that I am the Lord; those who wait for me shall not be put to shame."
Isaiah 64:4
From of old no one has heard or perceived by the ear, no eye has seen a God besides you, who acts for those who wait for him.
Isaiah 8:17
I will wait for the Lord, who is hiding his face from the house of Jacob, and I will hope in him.
James 5:7
Be patient, therefore, brothers, until the coming of the Lord. See how the farmer waits for the precious fruit of the earth, being patient about it, until it receives the early and the late rains.
Lamentations 3:26
It is good that one should wait quietly for the salvation of the Lord.
Luke 12:36
"And be like men who are waiting for their master to come home from the wedding feast, so that they may open the door to him at once when he comes and knocks."
Luke 2:25
Now there was a man in Jerusalem, whose name was Simeon, and this man was righteous and devout, waiting for the consolation of Israel, and the Holy Spirit was upon him.
Micah 7:7
But as for me, I will look to the Lord; I will wait for the God of my salvation; my God will hear me.
Proverbs 20:22
Do not say, "I will repay evil"; wait for the Lord, and he will deliver you.
Psalm 130:5
I wait for the Lord, my soul waits, and in his word I hope.
Psalm 145:15
The eyes of all look to you, and you give them their food in due season.
Psalm 25:21
May integrity and uprightness preserve me, for I wait for you.
Psalm 25:3
Indeed, none who wait for you shall be put to shame; they shall be ashamed who are wantonly treacherous.
Psalm 25:5
Lead me in your truth and teach me, for you are the God of my salvation; for you I wait all the day long.
Psalm 33:20
Our soul waits for the Lord; he is our help and our shield.
Psalm 37:34
Wait for the Lord and keep his way, and he will exalt you to inherit the land; you will look on when the wicked are cut off.
Psalm 37:9
For the evildoers shall be cut off, but those who wait for the Lord shall inherit the land.
Psalm 39:7
And now, O Lord, for what do I wait? My hope is in you.
Psalm 40:1
To the choirmaster. A Psalm of David. I waited patiently for the Lord; he inclined to me and heard my cry.
Psalm 52:9
I will thank you forever, because you have done it. I will wait for your name, for it is good, in the presence of the godly.
Psalm 59:9
O my Strength, I will watch for you, for you, O God, are my fortress.
Psalm 62:1
To the choirmaster: according to Jeduthun. A Psalm of David. For God alone my soul waits in silence; from him comes my salvation.
Psalm 62:2
He only is my rock and my salvation, my fortress; I shall not be greatly shaken.
Psalm 62:5
For God alone, O my soul, wait in silence, for my hope is from him.
Titus 2:13
Waiting for our blessed hope, the appearing of the glory of our great God and Savior Jesus Christ.
Zephaniah 3:8
"Therefore wait for me," declares the Lord, "for the day when I rise up to seize the prey. For my decision is to gather nations, to assemble kingdoms, to pour out upon them my indignation, all my burning anger; for in the fire of my jealousy all the earth shall be consumed."
More Bible Verses that Will Move You
50 Most Powerful Scriptures on Faith
60 Transcendent Verses on Trust
50 Strong Scriptures on Perseverance
68 Powerful Verses on Forgiveness
40 Uplifting Scriptures on Patience
Add Our Infographic Below to Your Pinterest Board
Hit the pin button below to add our infographic, with all the verses, to one of your Pinterest boards.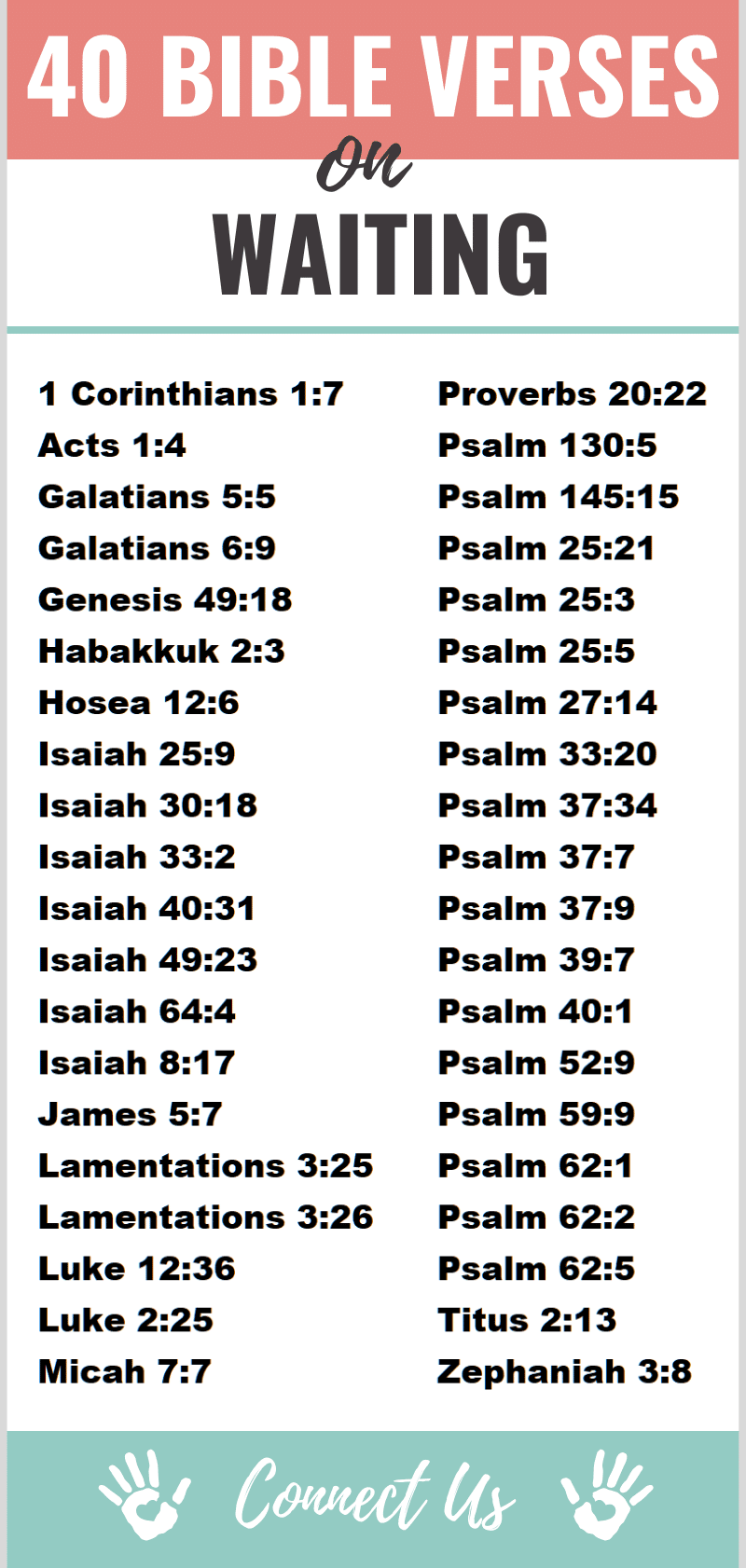 Author Bio
Natalie Regoli is a child of God, devoted wife, and mother of two boys. She has a Master's Degree in Law from The University of Texas. Natalie has been published in several national journals and has been practicing law for 18 years.