The teenage years are full of excitement and change. With these changes come times of uncertainty, and in those times the best thing you can do is turn to God. Here are 15 strong prayers for teenagers. Along with the prayers are printable images for you to use or share.
Studies Prayer
Dear God, Thank You for putting me where I am and for the many opportunities around me. I ask for Your help and guidance, Lord. Be my wisdom and give me the knowledge I need as I approach my studies. Give me a learner's heart. Help me be thorough and let me glorify You with what I learn. Guide my teachers and professors with what they impart to us. Lord, thank you for these people that You put around me to teach and give me lessons. In Your name, I pray. Amen.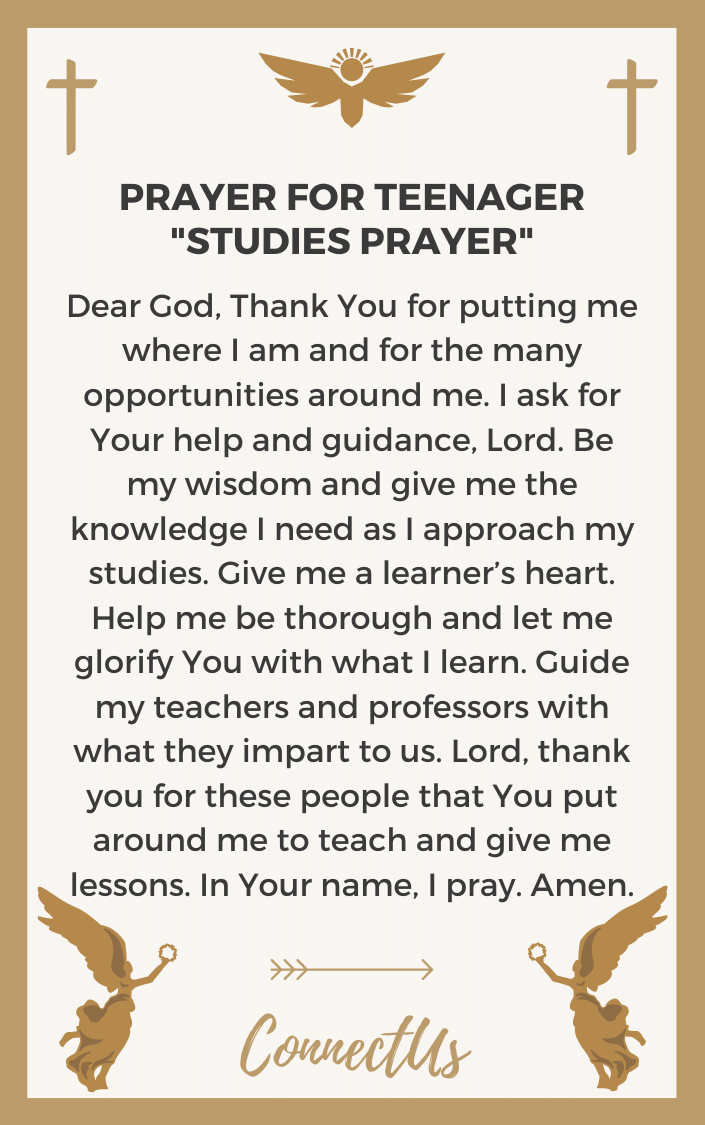 Career Prayer
Lord, Thank You for being a God who provides. Lord, I ask that You open doors for me and give me guidance and clarity as to which path I am to take. Point me towards where You want me to be and show me what it is that You want for me. I ask that You bless me in the career path I choose and that You guide me in which direction to go. Oh Lord, use me in my workplace to be a beacon of Your light to those around me. Amen.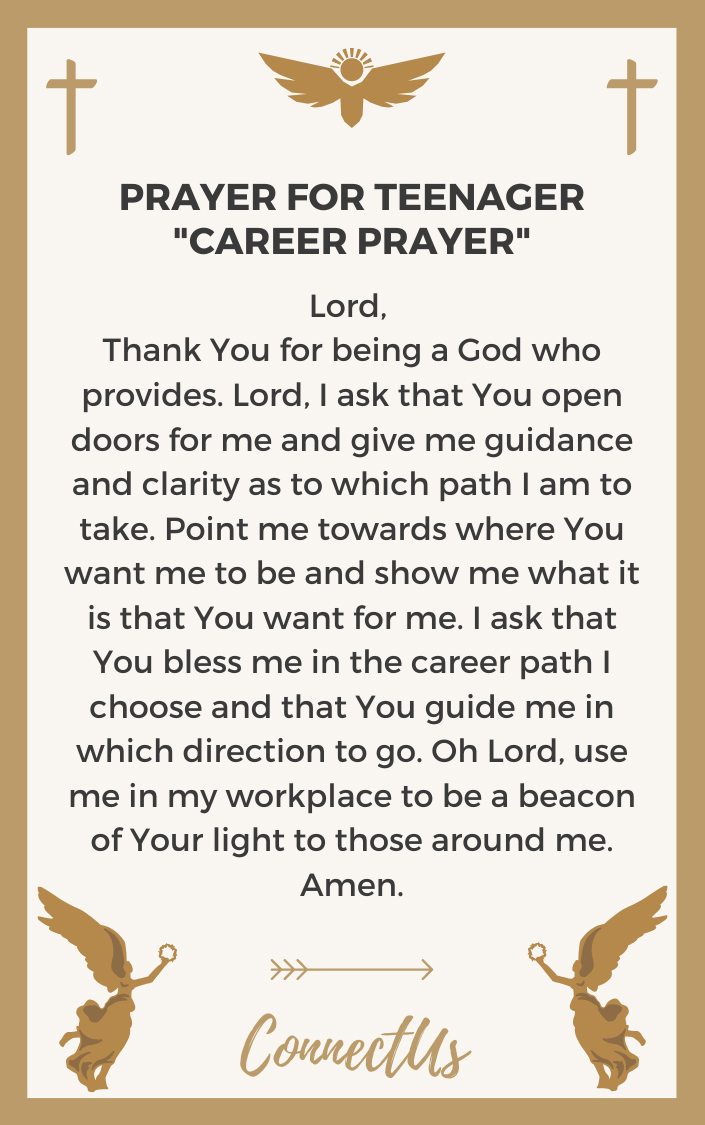 Loneliness Prayer
Hey God, Thank You for being my support and constant comforter. Lord, help me, remind me of Your promises and embrace me with Your soothing presence. Restore and strengthen me, oh Lord. I ask that You put the right people around me to help me through the storms. Help me find the right people that will keep pointing me towards You. I thank You for being my peace and comforter, I thank You for always being there despite my shortcomings. Thank you, Amen.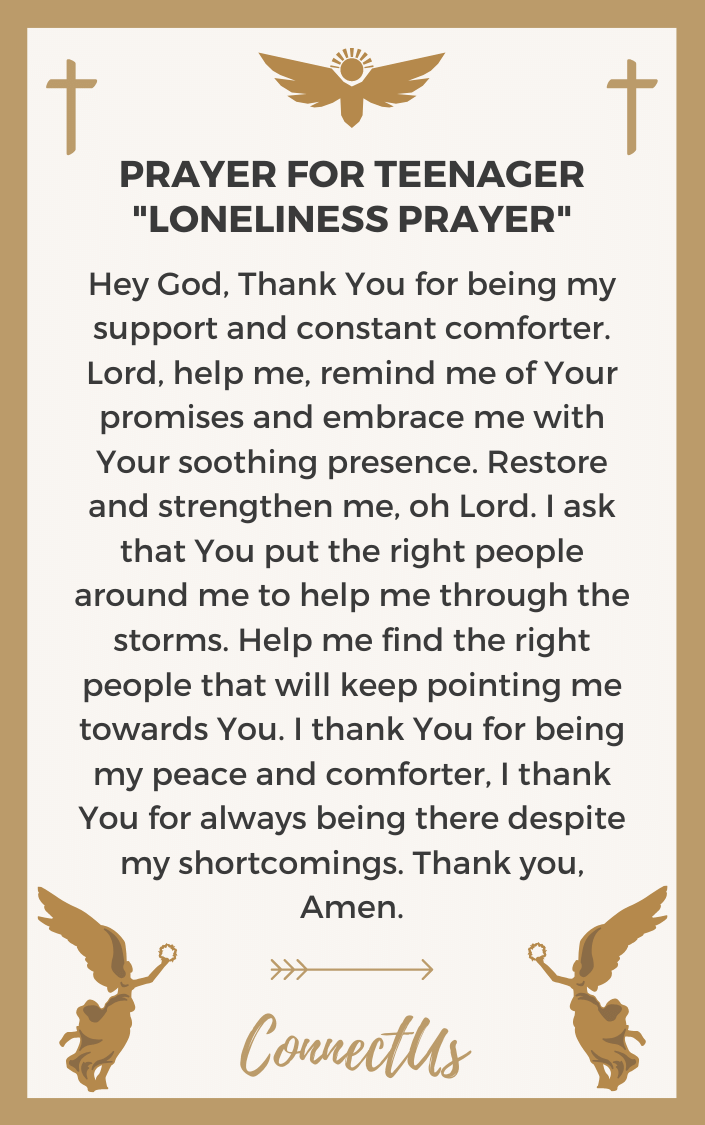 Youth Prayer
Lord, Thank You for this generation. I ask that You put Your hand upon us. Bless us as we go through the storms of life in an ever-changing world. Lord, keep our faith strong in You, keep our convictions firm in Your foundations. Enable our generation to step into what it is that You have in store for us. Lord, use us as beacons of Your light that we may reflect Your glory on those around us. Use us mightily in our schools, workplaces, and homes. In Your mighty name, I pray, Amen.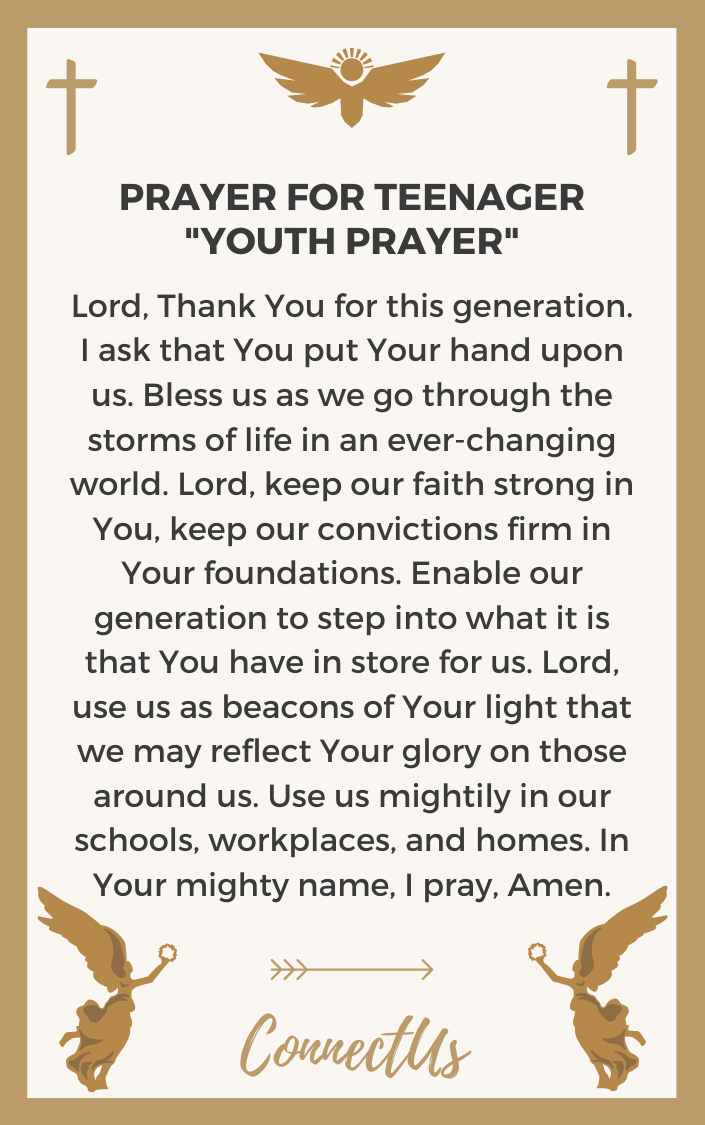 Family Prayer
Hey God, I thank You for my family. Thank you for putting me in this home. Lord, I pray for them that You use me to be a blessing to them and to be able to strengthen the relationships in this family more. I pray also for my parents that You continue to guide and give them wisdom to impart on my siblings and I. I pray also for my siblings that You use us to continue to build them up in the faith and to grow them more and more. Amen.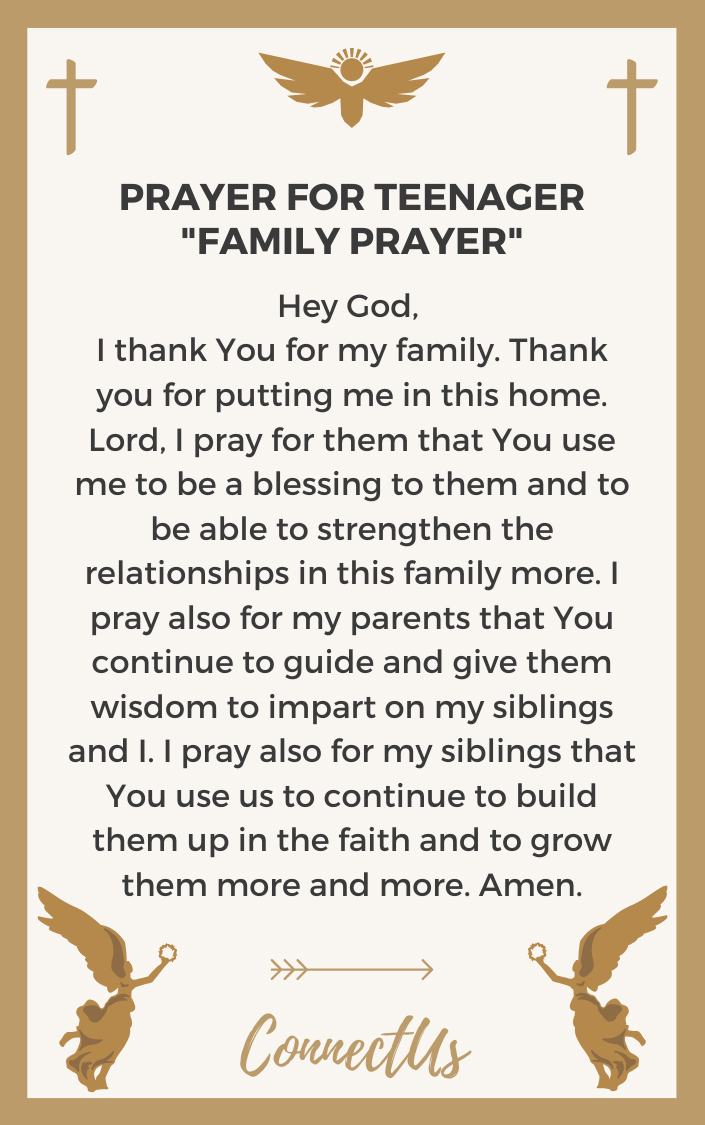 Healing Prayer
Father, Thank You for being a God who heals. I ask for healing Lord. Help ease my pains. Use my pain for your purpose. Please allow the Holy Spirit to work in and through the pain in me. If it is Your will for me to be healed right now, I thank You, Lord. But if You have a purpose for the pain, I thank you. Let Your will be done in my situation. Use my story for Your glory. Thank you, Amen.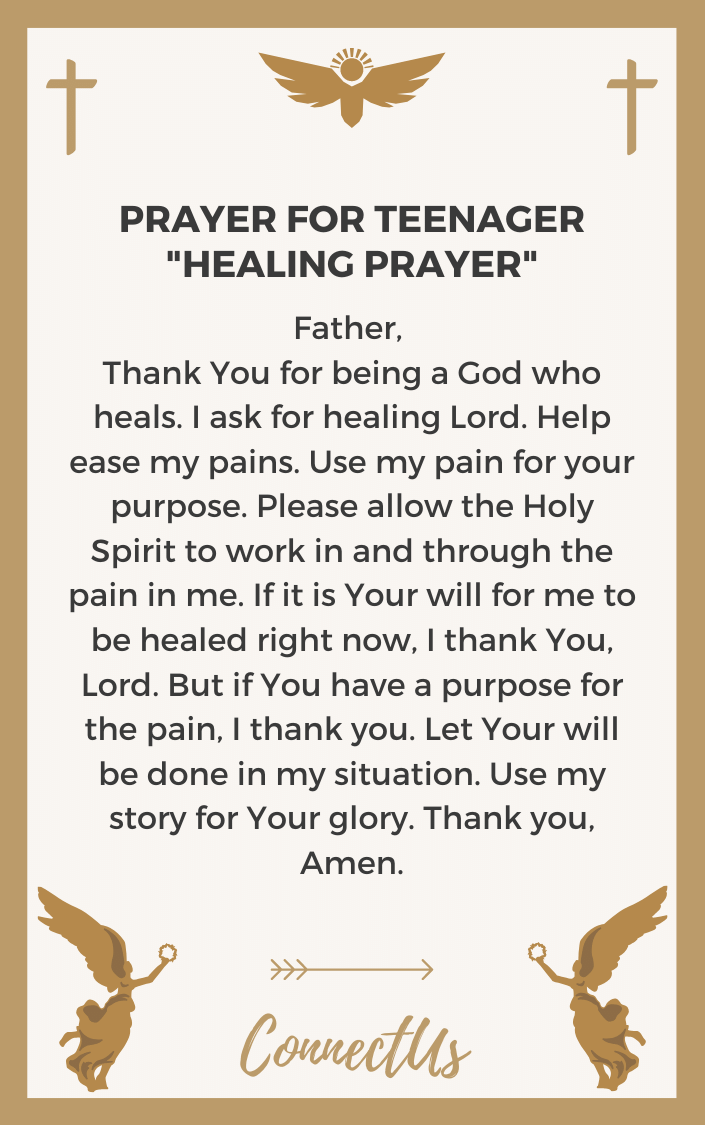 Purpose Prayer
My God, Thank You for the things you have put around me. Renew, refresh and reestablish me, Jesus. Set a fire in my soul for you. Give me purpose, Lord, and remind me of what it is that You have set out for me. Put me in a place where the things and people around me can remind me of Your purpose and that they can keep pointing me towards the path that You have laid out for me. In Your unparalleled name, I pray, Amen.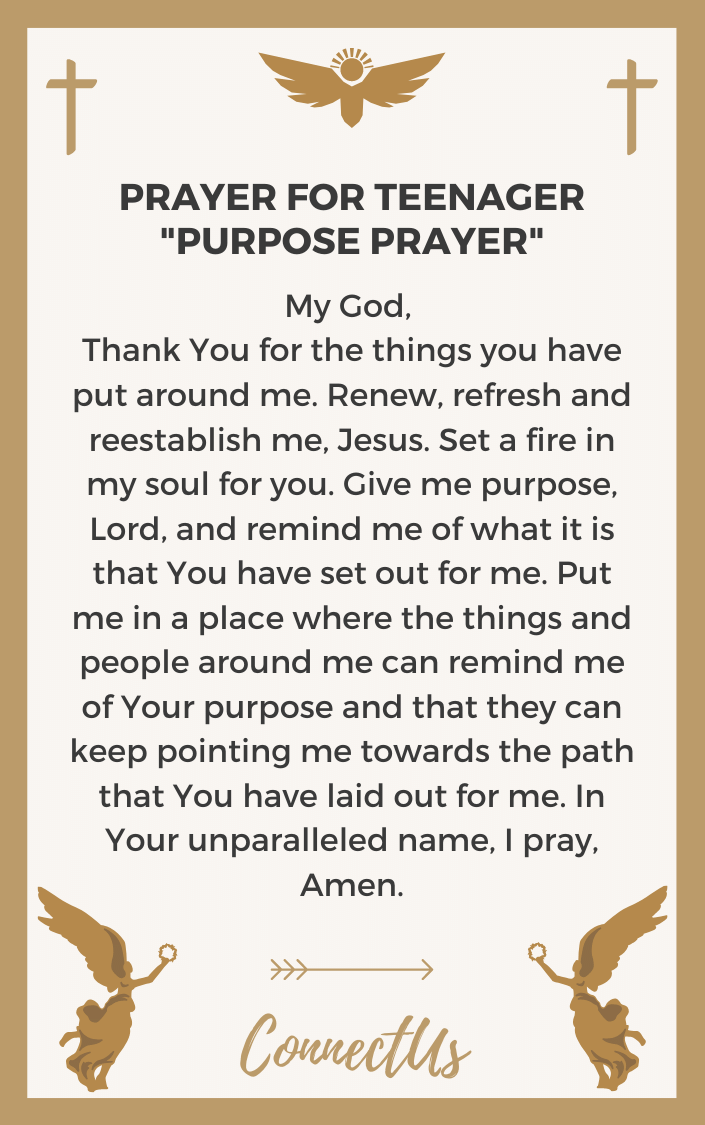 Relationships Prayer
Father God, Thank You for the friendships you have given me. Continue to build and strengthen the relationships I have. Help us keep accountable to each other and to keep pushing each other to strive to know You more and to grow more in Your word. Remind us to keep accountable for what we say and to only pursue the things of You that will help glorify Your purpose in our friendships. Thank You, Lord, for these people You put around me and for the things you have built into our relationships. May we be positive influences over one another. Amen.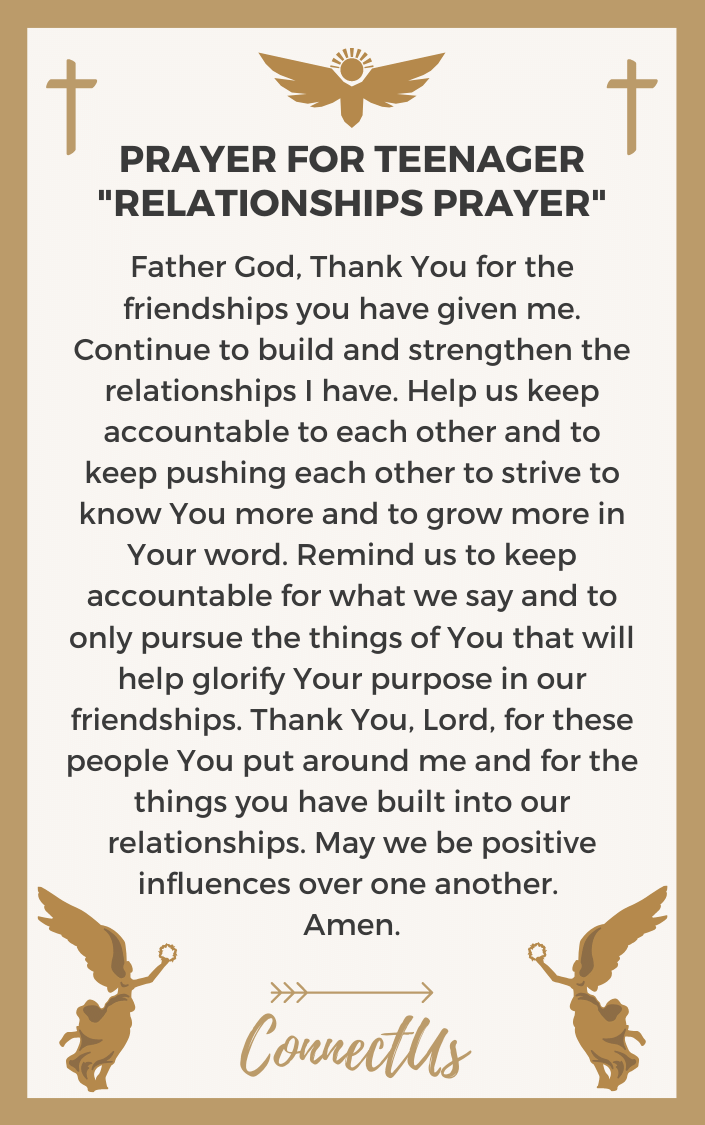 Salvation Prayer
Father, Thank You for Your love, mercy, and grace. Lord, I pray for my friends and family. I pray that You bring them to You, that You show them what You have shown me. Use me that they may experience Your redeeming love and free grace, through me and my actions. Give me wisdom and guide me with what to say and what to do in order to reach my friends and family for You. Use my testimony for Your sake. In Jesus' name, I pray, Amen.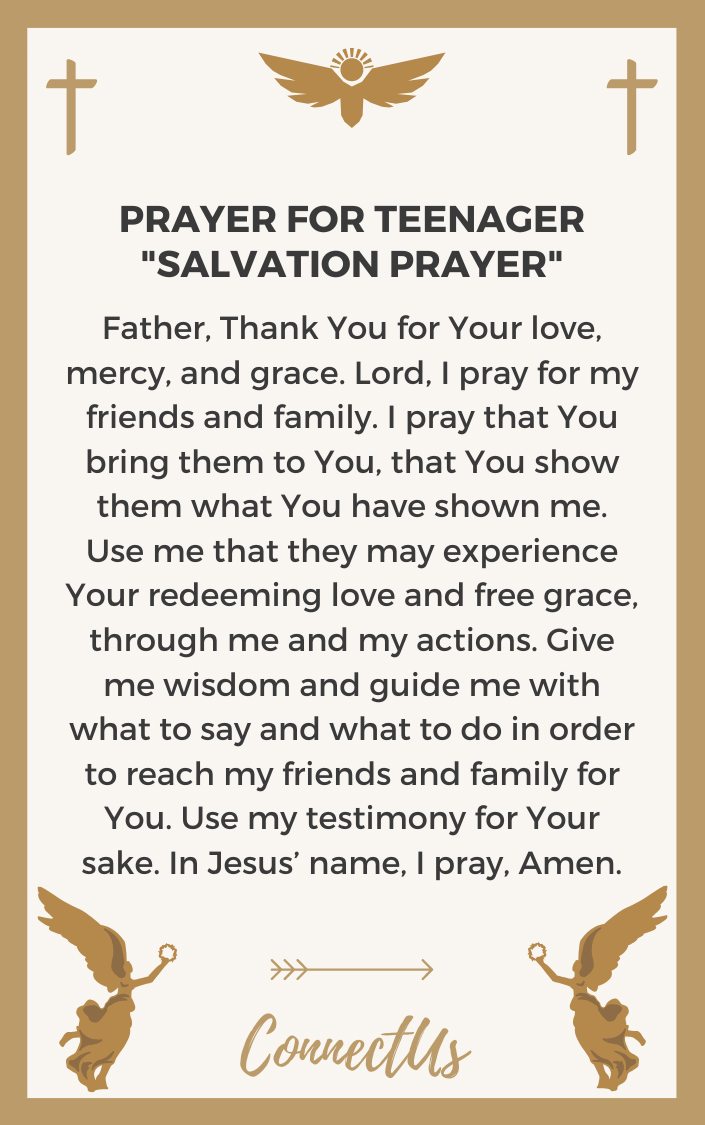 Provision Prayer
Lord, Thank You for being a provider. Jesus, be my provision at this time. Open some doors for me, Lord, and give me opportunities. I ask that You financially and spiritually provide for me in this season. I know that You will deliver because Your promises are steady and true. Time and time again, You have pulled through on our behalf. So I humbly ask that You do it again. Please, I ask again, please do it again! I pray You to keep me steady in these times, Lord. Thank You for Your grace, mercy, and love. Amen.
Safety Prayer
Father God Keep me safe, wrap me in Your protective arms. Thank You, Lord, for being my protector and guardian. Keep us in Your watchful care. Shield us from physical harm and mental attacks that may come. Thank You for keeping us safe, and for the peace and comfort in Your loving protection which is ours in every season. Watch over us and guide us through the battles and even the seemingly trivial stuff. Keep us in Your graceful care. In your name, I pray, Amen.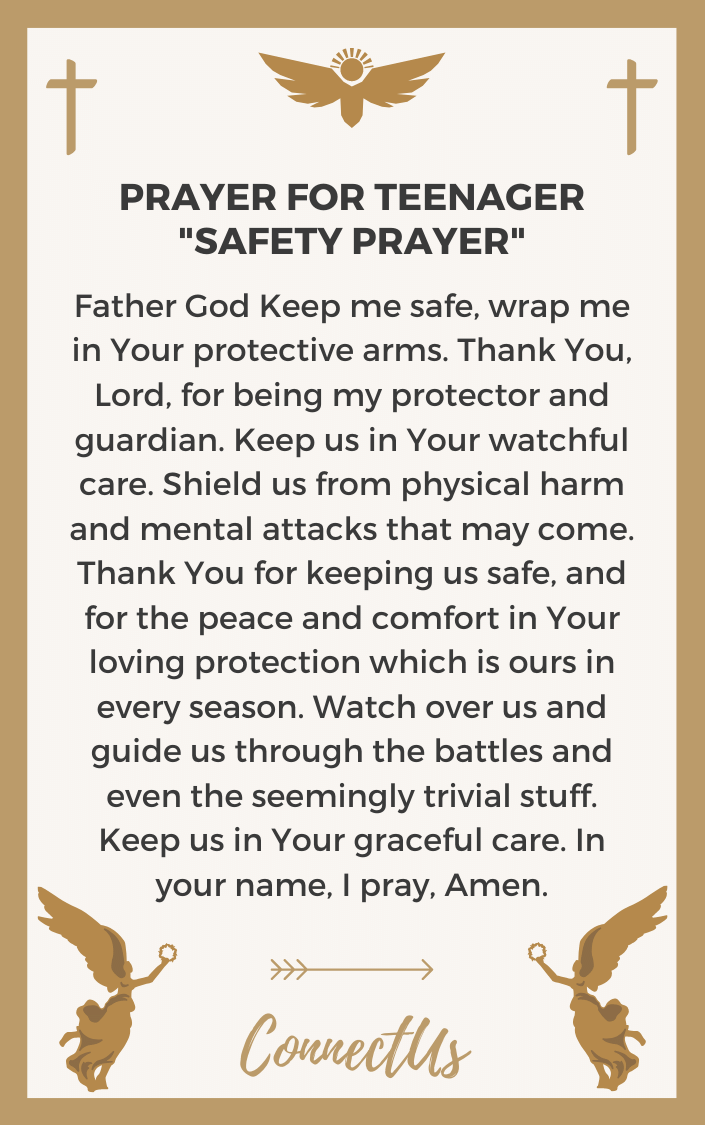 Gifts and Talents Prayer
Lord, Thank You for the gifts and talents that You have given me. I pray, Lord, that You continually work in me. Grow and hone these skills and talents I possess. Use my gifts and talents for Your purpose and glory. Lord, have Your way in me. I pray that in everything I do and that everything I put my hand on, You will bless and prosper for your sake. Keep me straight on Your path for me. Enable me to use my gifts along the way. Remind me always to use them not for my own gain but for Yours ultimately. Amen.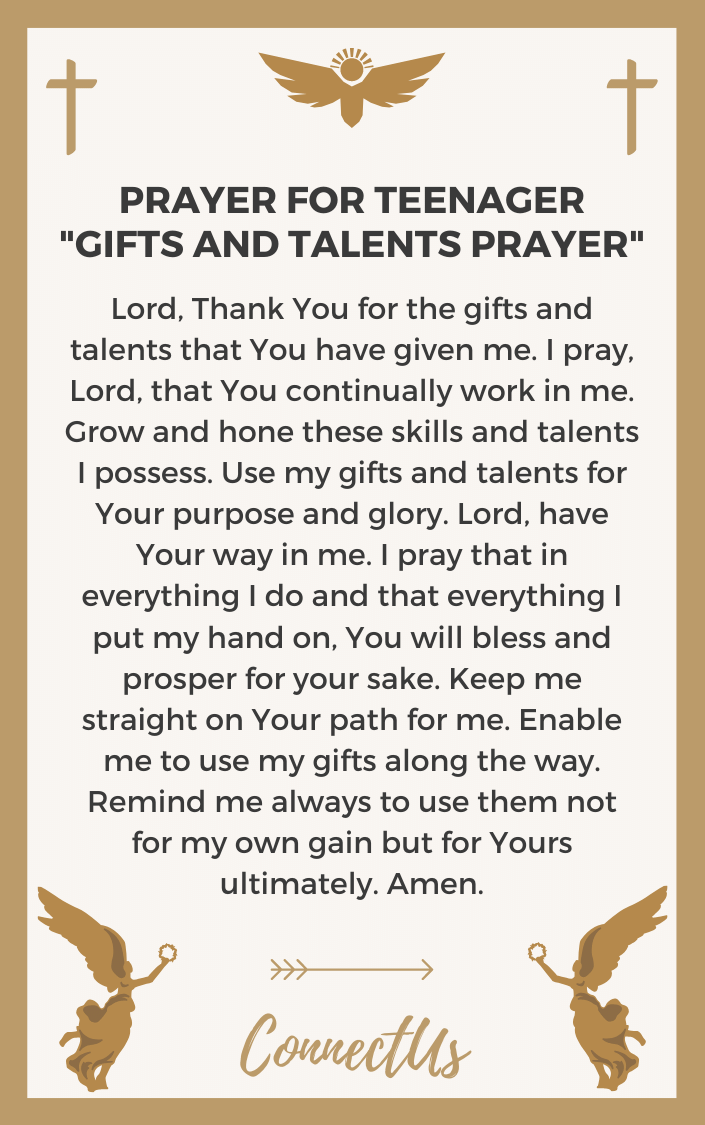 Significant Other Prayer
Lord God, I thank You for my significant other, my beloved. I thank You for using this person to push me to grow more into You and as a better person. Lord, I pray that You be at the center of our relationship. Use both of us to push each other to grow. Lord, I ask that You instill in us a desire to earnestly seek You through this relationship. Use our relationship to bless those around us, that we may become an example of a Godly relationship. Be with us as we face the difficulties of life and love. Strengthen us in love and faith for each other. Amen.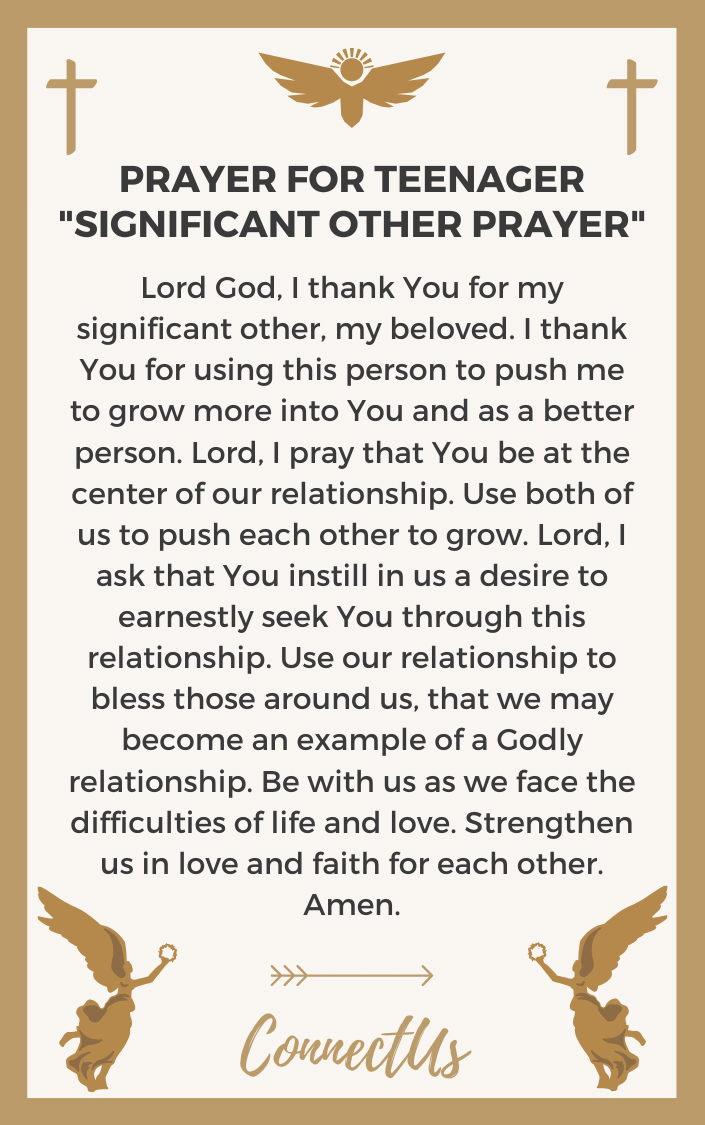 Anxieties and Worries Prayer
Father God, Give me peace right now, oh Lord. Calm the raging storms in my mind, be my lighthouse through the storms of life. I ask, Lord, that You soothe me with your presence, speak truth into my situations and through Your word ease my anxieties and worries. Help me to learn to lean on Your Word and its promises. Put people around me who can keep pointing me to You and Your truth. Thank You for Your unrelenting love and mercy. Amen.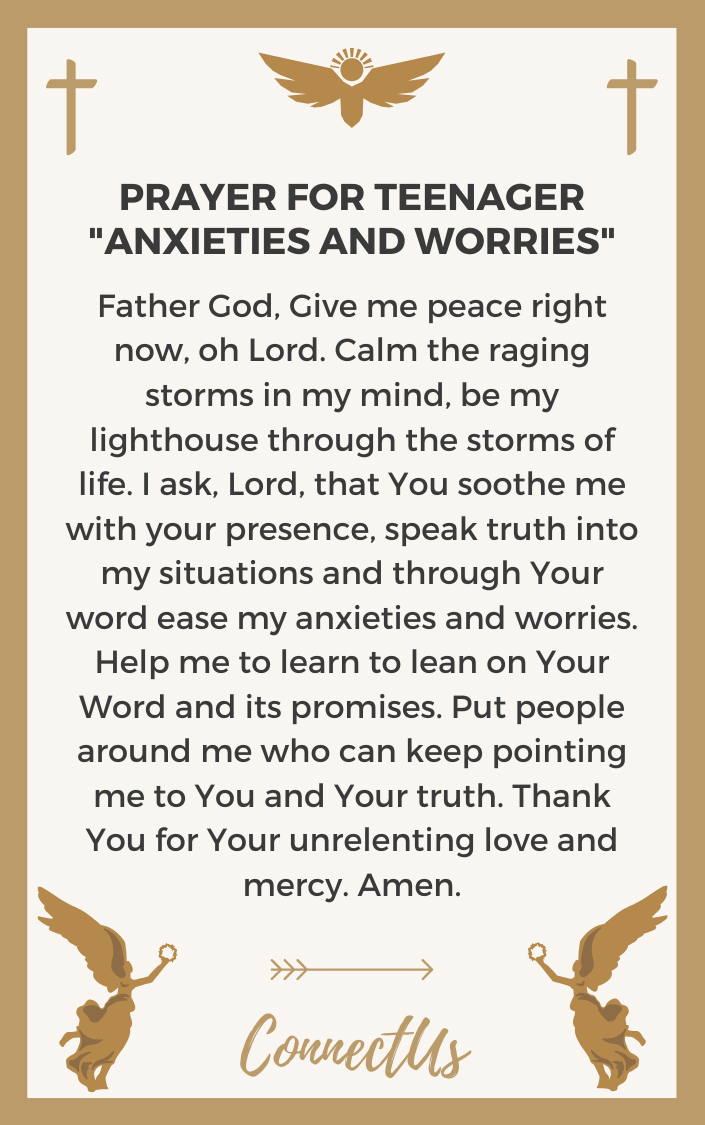 Trials, Tests, and Temptations Prayer
Father God, I thank You for being faithful, true, forgiving and understanding. Preserve me in Your grace. Give me a strong faith and steadfast endurance. Lead me into Your ways and prevent the things around me and my circumstances from hindering my growth and maturity in Your Word. Shield my mind from any hindering thought or practice. Let my life be a testimony and praise to Your everlasting love and grace. Thank You for these trials and temptations You use to build me up. In Your mighty name, I pray Amen.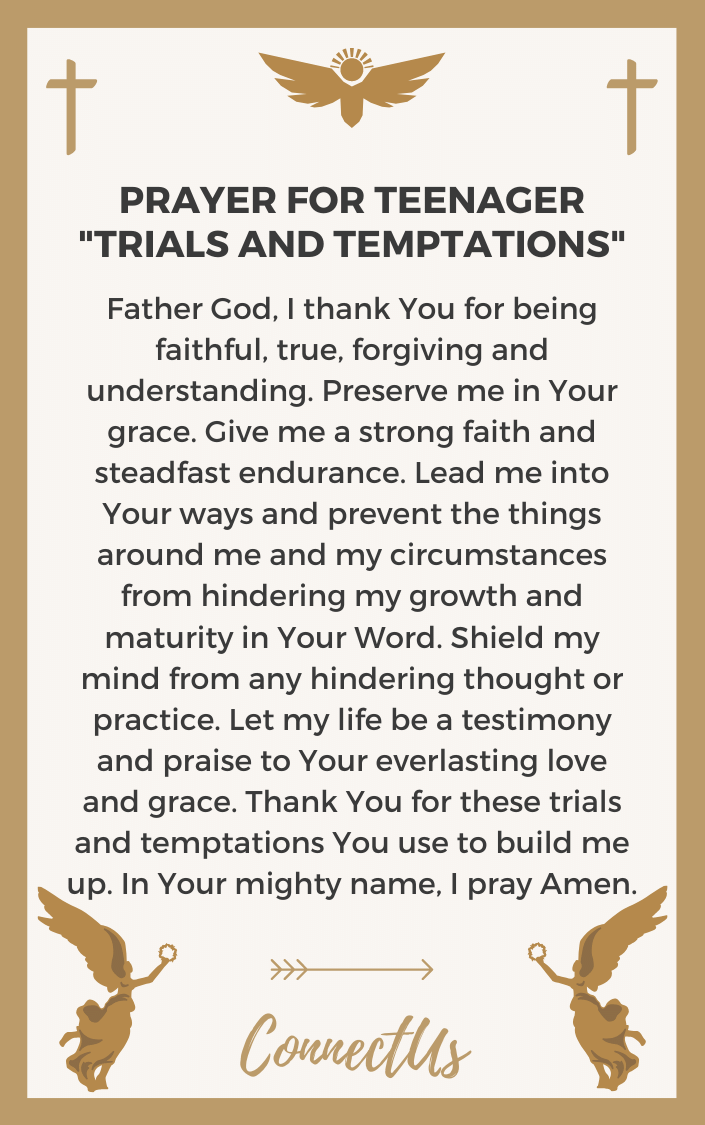 Most Popular Prayers by Topic
For Hard Times
For Financial Prosperity
For Physical Health
For Emotional Health
For Protection
For a Marriage
For Babies and Pregnancy
For Family
For Spiritual Warfare
For Spiritual Health
For a Death
For the Workplace
For Bedtime
Our 10 week prayer journal will guide you through your daily prayers and help you plan out your prayer week. It is completely free. You can
click here to get it now
.

Author Bio
Natalie Regoli is a child of God, devoted wife, and mother of two boys. She has a Master's Degree in Law from The University of Texas. Natalie has been published in several national journals and has been practicing law for 18 years.