Luke 2:14
"Glory to God in the highest heaven, and on earth peace to those on whom his favor rests."
Explanation and Commentary of Luke 2:14
It is difficult to fathom what it would be like to experience what these shepherds experienced. How many angels constitute a multitude? The shepherds were given the profound privilege of being among the first to hear the good news of great joy about the Savior of the world.
When the multitude of the heavenly host sang, "Glory to God in the highest heaven…" they powerfully communicated the end for which God created the world. The Westminster Confession eloquently states, "The chief end of man is to glorify God and enjoy him forever." When we see the world in this context, everything is put into its proper place. Christ was born to glorify God. Christ died to glorify God. Christ saves us to bring glory to God.
When God is glorified by man's willing worship and obedience, then there is peace on earth. True and lasting peace comes from the experience of the favor of God to save us for himself, reconciling us to himself and one another by the sacrifice of his beloved Son.
Breaking Down the Key Parts of Luke 2:14
#1 "Glory to God in the highest heaven,"
On earth, God suffers men to disobey and even deny him, let alone fail to glorify him. In heaven it is impossible. God on his throne is more glorious than even the Bible could adequately describe (Rev 4-5; Isa 6:1-8).
#2 "and on earth peace…"
Indeed, on earth, God's glory must remain partially hidden so that men and women could have peace. Consider Moses' shining face (Ex 34:29-35), or God's care to hide him in the rock as his glory passed by (Ex 33:22). Christ's death for us on the cross was the ultimate protection from the glory that would destroy us (Isa 6:1-8), fitting us with a new spirit that is able to come boldly before him (Heb 4:16). Men and women experience God's peace when they lay down their lives at his feet and accept the free give of salvation in Christ. Life abiding in Christ is a life of peace with God.
#3 "…to those on whom his favor rests."
He has set his favor on you. Genesis 6:8 says, "Noah found favor with God." This meant that though God would destroy the world in rebellion, Noah and his family would be set apart for salvation. This is what it means for Christians as well, salvation from the coming Judgement (Acts 2:40).
Expert Overview of Luke Ch. 1-9
Biblical Translations of Luke 2:14
NIV
Glory to God in the highest heaven, and on earth peace to those on whom his favor rests.
NLT
Glory to God in highest heaven, and peace on earth to those with whom God is pleased.
ESV
Glory to God in the highest, and on earth peace among those with whom he is pleased!
KJV
Glory to God in the highest, and on earth peace, good will toward men.
NKJV
Glory to God in the highest, And on earth peace, goodwill toward men!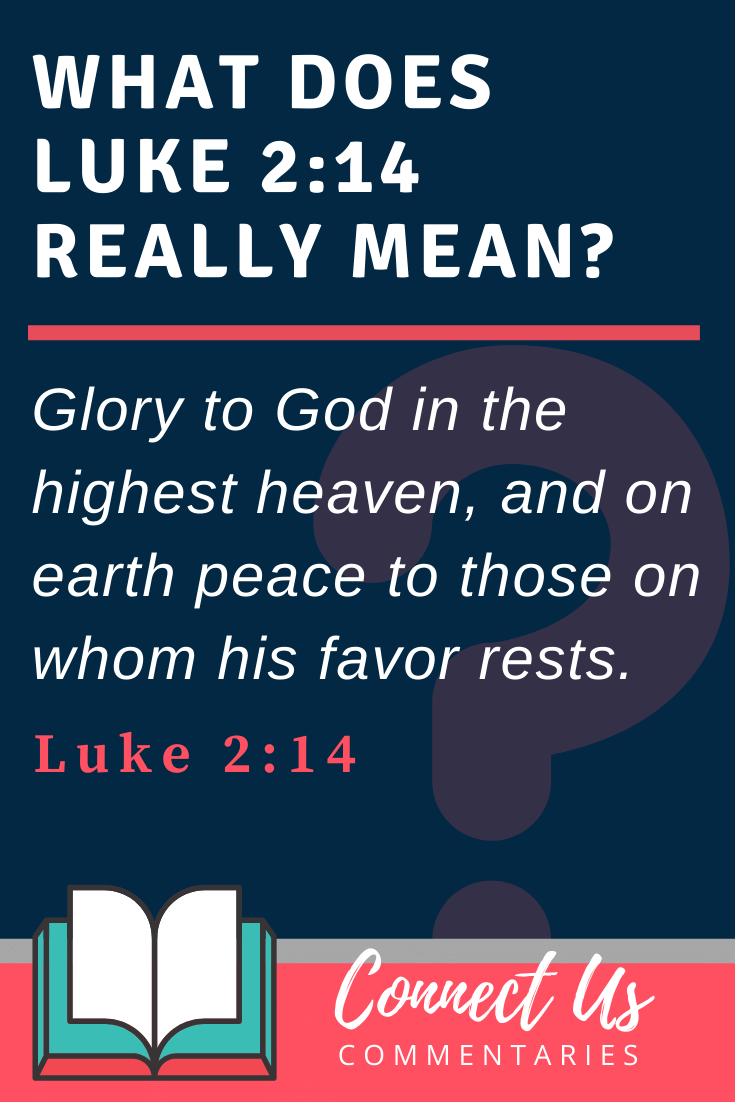 Author Bio
Natalie Regoli is a child of God, devoted wife, and mother of two boys. She has a Master's Degree in Law from The University of Texas. Natalie has been published in several national journals and has been practicing law for 18 years.