The word "wealth" occurs 89 times in the Bible. The infographic below identifies the points of each occurrence. This graphic presentation starts with Genesis in the top left and concludes with Revelation in the bottom right.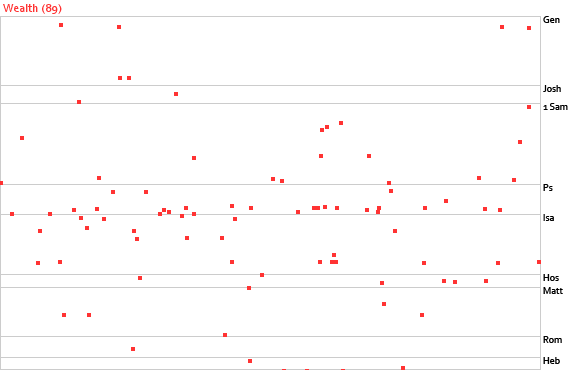 Here are the 40 most powerful Bible scriptures on wealth.
Hebrews 13:5
Keep your life free from love of money, and be content with what you have, for he has said, "I will never leave you nor forsake you."
Matthew 6:24
"No one can serve two masters, for either he will hate the one and love the other, or he will be devoted to the one and despise the other. You cannot serve God and money."
1 Timothy 6:10
For the love of money is a root of all kinds of evils. It is through this craving that some have wandered away from the faith and pierced themselves with many pangs.
Proverbs 13:22
A good man leaves an inheritance to his children's children, but the sinner's wealth is laid up for the righteous.
1 Timothy 5:8
But if anyone does not provide for his relatives, and especially for members of his household, he has denied the faith and is worse than an unbeliever.
1 Samuel 2:7
The Lord makes poor and makes rich; he brings low and he exalts.
1 Samuel 2:8
He raises up the poor from the dust; he lifts the needy from the ash heap to make them sit with princes and inherit a seat of honor. For the pillars of the earth are the Lord's, and on them he has set the world.
2 Corinthians 8:9
For you know the grace of our Lord Jesus Christ, that though he was rich, yet for your sake he became poor, so that you by his poverty might become rich.
2 Corinthians 9:6
The point is this: whoever sows sparingly will also reap sparingly, and whoever sows bountifully will also reap bountifully.
2 Corinthians 9:8
And God is able to make all grace abound to you, so that having all sufficiency in all things at all times, you may abound in every good work.
Acts 20:35
In all things I have shown you that by working hard in this way we must help the weak and remember the words of the Lord Jesus, how he himself said, "It is more blessed to give than to receive."
Deuteronomy 28:11
And the Lord will make you abound in prosperity, in the fruit of your womb and in the fruit of your livestock and in the fruit of your ground, within the land that the Lord swore to your fathers to give you.
Deuteronomy 8:18
You shall remember the Lord your God, for it is he who gives you power to get wealth, that he may confirm his covenant that he swore to your fathers, as it is this day.
Ecclesiastes 5:10
He who loves money will not be satisfied with money, nor he who loves wealth with his income; this also is vanity.
Ephesians 4:28
Let the thief no longer steal, but rather let him labor, doing honest work with his own hands, so that he may have something to share with anyone in need.
Hebrews 11:26
He considered the reproach of Christ greater wealth than the treasures of Egypt, for he was looking to the reward.
Hosea 13:6
"But when they had grazed, they became full, they were filled, and their heart was lifted up; therefore they forgot me."
Isaiah 61:7
Instead of your shame there shall be a double portion; instead of dishonor they shall rejoice in their lot; therefore in their land they shall possess a double portion; they shall have everlasting joy.
John 10:10
"The thief comes only to steal and kill and destroy. I came that they may have life and have it abundantly."
Joshua 1:8
"This Book of the Law shall not depart from your mouth, but you shall meditate on it day and night, so that you may be careful to do according to all that is written in it. For then you will make your way prosperous, and then you will have good success."
Luke 14:28
"For which of you, desiring to build a tower, does not first sit down and count the cost, whether he has enough to complete it?"
Luke 16:11
"If then you have not been faithful in the unrighteous wealth, who will entrust to you the true riches?"
Matthew 25:29
"For to everyone who has will more be given, and he will have an abundance. But from the one who has not, even what he has will be taken away."
Philippians 4:19
And my God will supply every need of yours according to his riches in glory in Christ Jesus.
Proverbs 11:4
Riches do not profit in the day of wrath, but righteousness delivers from death.
Proverbs 13:11
Wealth gained hastily will dwindle, but whoever gathers little by little will increase it.
Proverbs 13:4
The soul of the sluggard craves and gets nothing, while the soul of the diligent is richly supplied.
Proverbs 14:23
In all toil there is profit, but mere talk tends only to poverty.
Proverbs 16:3
Commit your work to the Lord, and your plans will be established.
Proverbs 21:20
Precious treasure and oil are in a wise man's dwelling, but a foolish man devours it.
Proverbs 21:5
The plans of the diligent lead surely to abundance, but everyone who is hasty comes only to poverty.
Proverbs 22:1
A good name is to be chosen rather than great riches, and favor is better than silver or gold.
Proverbs 22:7
The rich rules over the poor, and the borrower is the slave of the lender.
Proverbs 24:3
By wisdom a house is built, and by understanding it is established.
Proverbs 28:22
A stingy man hastens after wealth and does not know that poverty will come upon him.
Proverbs 28:8
Whoever multiplies his wealth by interest and profit gathers it for him who is generous to the poor.
Proverbs 8:18
Riches and honor are with me, enduring wealth and righteousness.
Psalm 112:3
Wealth and riches are in his house, and his righteousness endures forever.
Psalm 128:2
You shall eat the fruit of the labor of your hands; you shall be blessed, and it shall be well with you.
Psalm 37:4
Delight yourself in the Lord, and he will give you the desires of your heart.
More Bible Verses that Will Move You
50 Most Powerful Scriptures on Faith
60 Transcendent Verses on Trust
50 Strong Scriptures on Perseverance
68 Powerful Verses on Forgiveness
40 Uplifting Scriptures on Patience
Add Our Infographic Below to Your Pinterest Board
Hit the pin button below to add our infographic, with all the verses, to one of your Pinterest boards.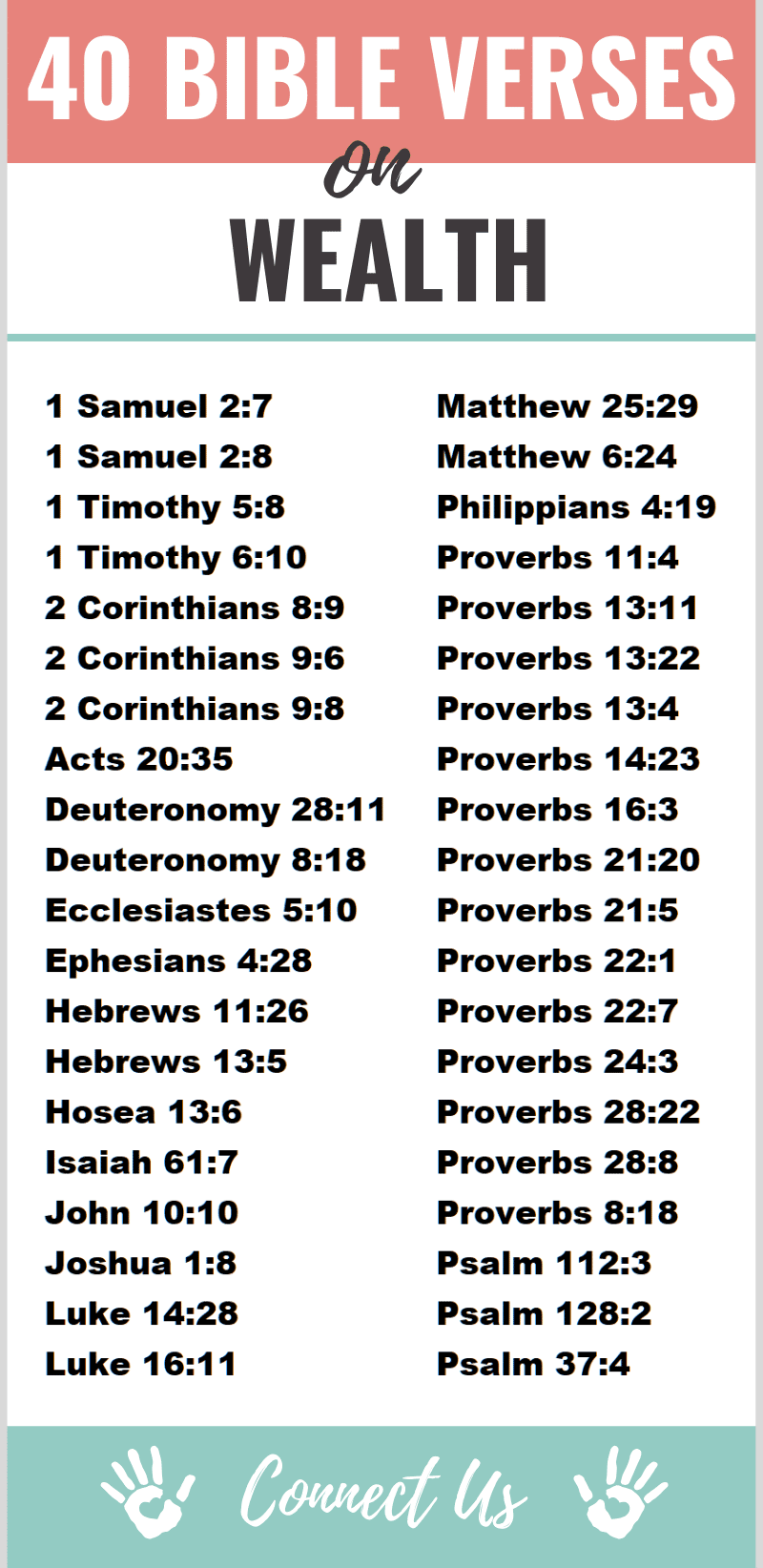 Author Bio
Natalie Regoli is a child of God, devoted wife, and mother of two boys. She has a Master's Degree in Law from The University of Texas. Natalie has been published in several national journals and has been practicing law for 18 years.