We all look for things that will bring us happiness, whether it be material things, places or people, but we know though that true happiness comes from loving the Lord and being forever loved by Him. Here are 15 uplifting prayers for happiness along with printable images to use or share.
Shine in Darkness Prayer
God of Mercy, my world is cast over in the darkness. A cloud follows me every day of my life so that I stumble and fall in blindness. I am overrun with fear and sadness. Send Your spirit to shine in the darkness. Be as a beacon in my life and draw me unto Yourself. Conform us to Your image that we might also become lights in the darkness. In Your son Jesus' name, Amen.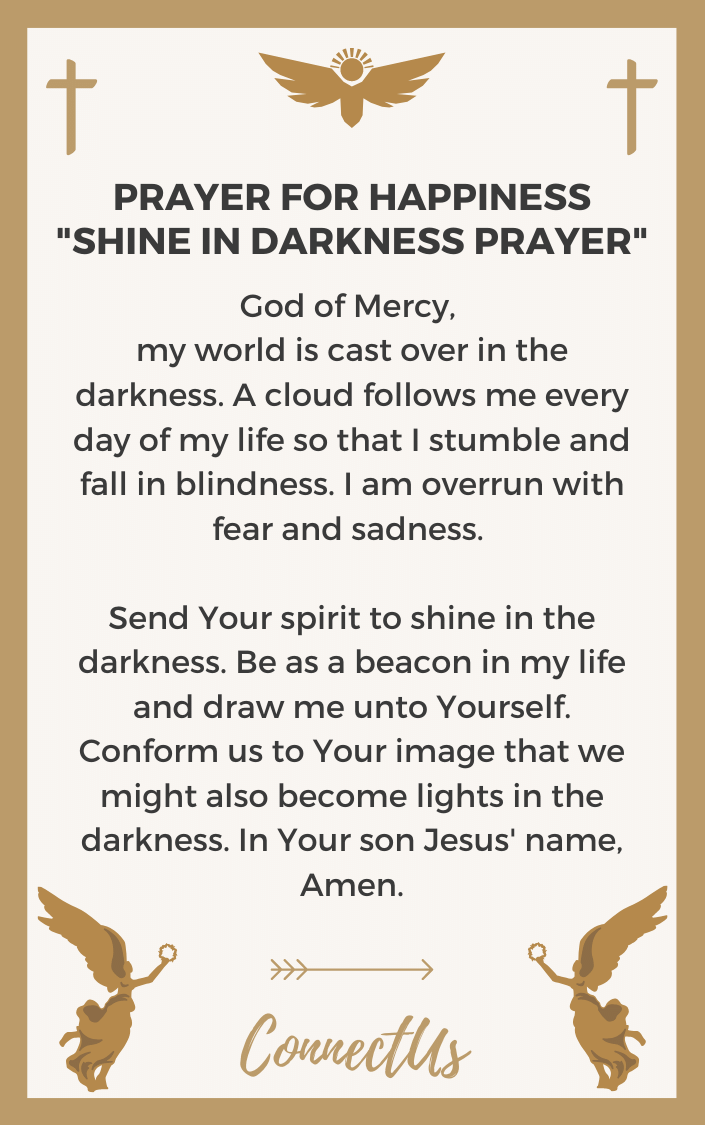 An Uplifting Prayer
Heavenly Father, I look around and find sadness all around. Life is difficult for so many. The wicked prosper, and the righteous suffer. I search for answers, but alas, nothing makes sense of all the sorrow. Comfort my soul, O Lord. Send Your Spirit to impart peace and understanding. Kindle the flame of Your love in my heart, that I might be able to ease the pain of my neighbor and bring glory to Your name. In Your dear Son's name, Amen.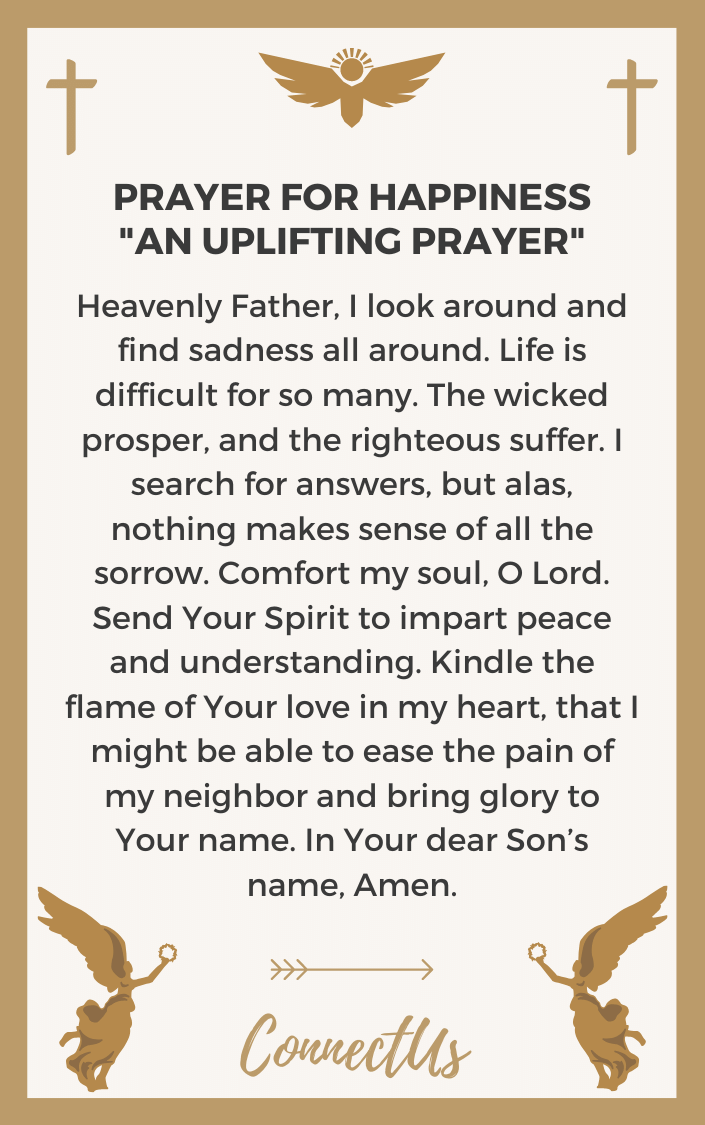 Ease My Sadness Prayer
Holy Lord, I want so bad to be happy. I am heartbroken, and my wick has burned out. There is nothing in my cup, and life feels so empty. My soul is beaten down and I am always tired, not wanting to face the day. Yet, through Your bloodshed on the cross, I know You have won my salvation. Bring gladness and joy to my heart, and restore to me the hope of salvation. In Your name alone, Amen.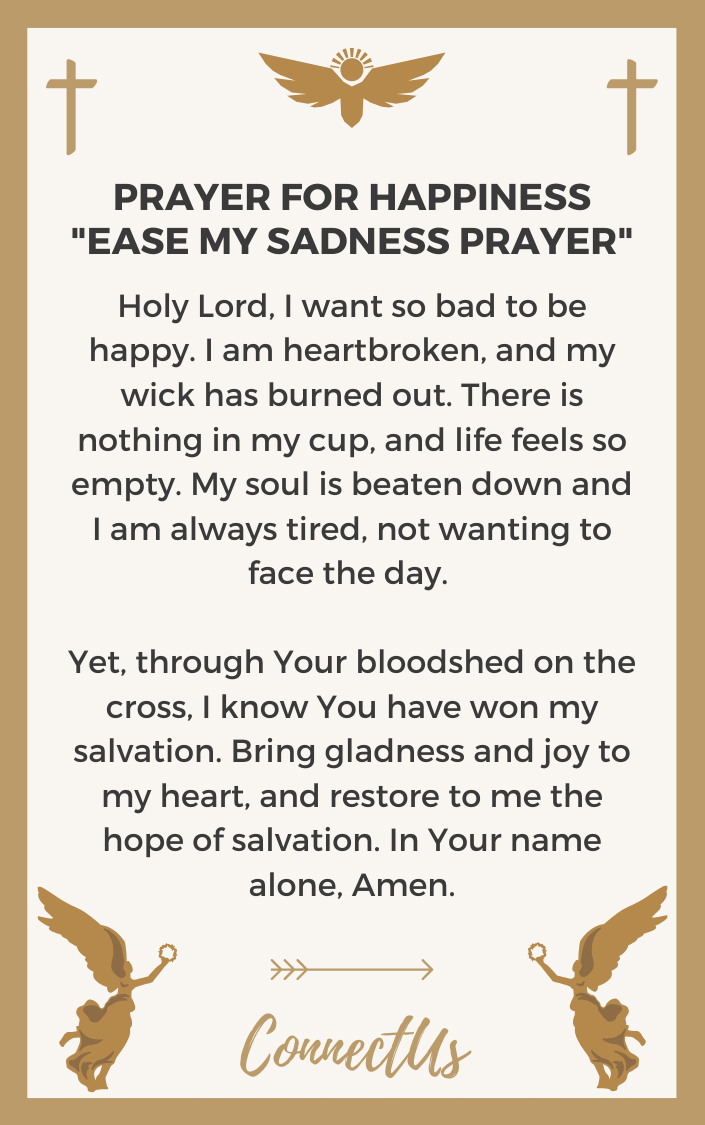 Send Your Spirit Prayer
Dear God, how I long for the joy of Your Spirit. I have sought happiness according to the world. I have chased what they promised would bring me joy and happiness. I have purchased fine things and traveled to far-away places. But all of this is vanity. All of this will perish, but You alone are eternal. Only You can fill the void in our hearts. Help us to rest in Your arms. Amen.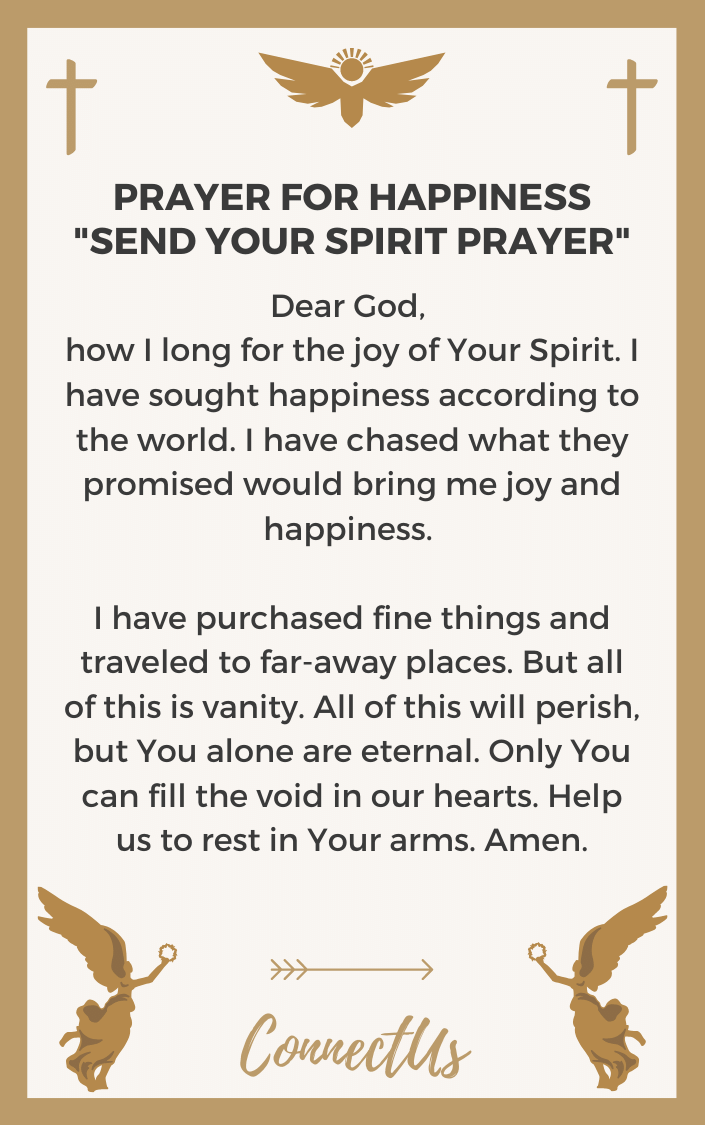 Wipe Away Tears Prayer
Most merciful God, we are by our very nature sinners. We walk in calamity all the days of our lives. Day in and day out, I shed tears. I cannot love or trust anyone as You have called me to do, as I am so upset. Yet with You alone, there is forgiveness for our sins. You have promised to wipe away our tears and make all things new. Help me, O Lord, to love as You have loved, that I too might know the joy of Your Spirit. In Your name, I pray. Amen.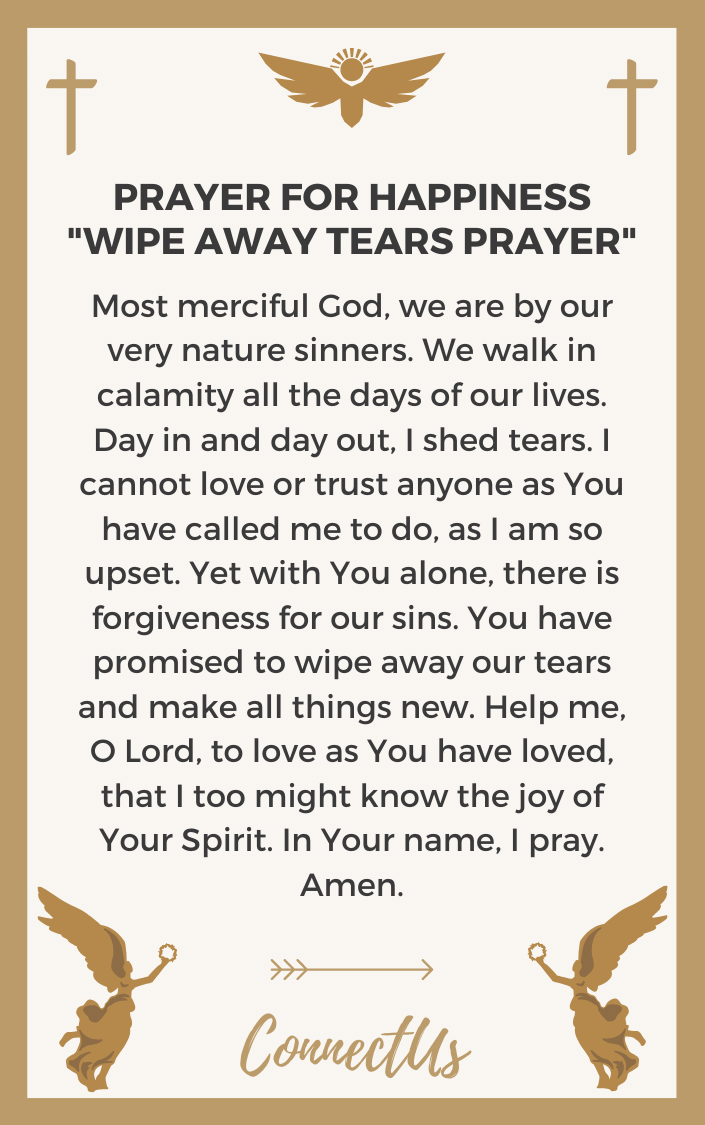 A Prayer for Joy
Lord Jesus, every good gift is given to us by Your hand. Though we are filled with vanity, You alone can take credit for the good that happens in the world. Therefore, magnify Yourself in our lives. Bring to silence those who condemn us for our sins, and turn our eyes upon Your holy cross. Give us the joy only You can grant, O God, and give us a willing spirit to pursue truth and goodness in our lives. Hear my prayer, O Jesus. Amen.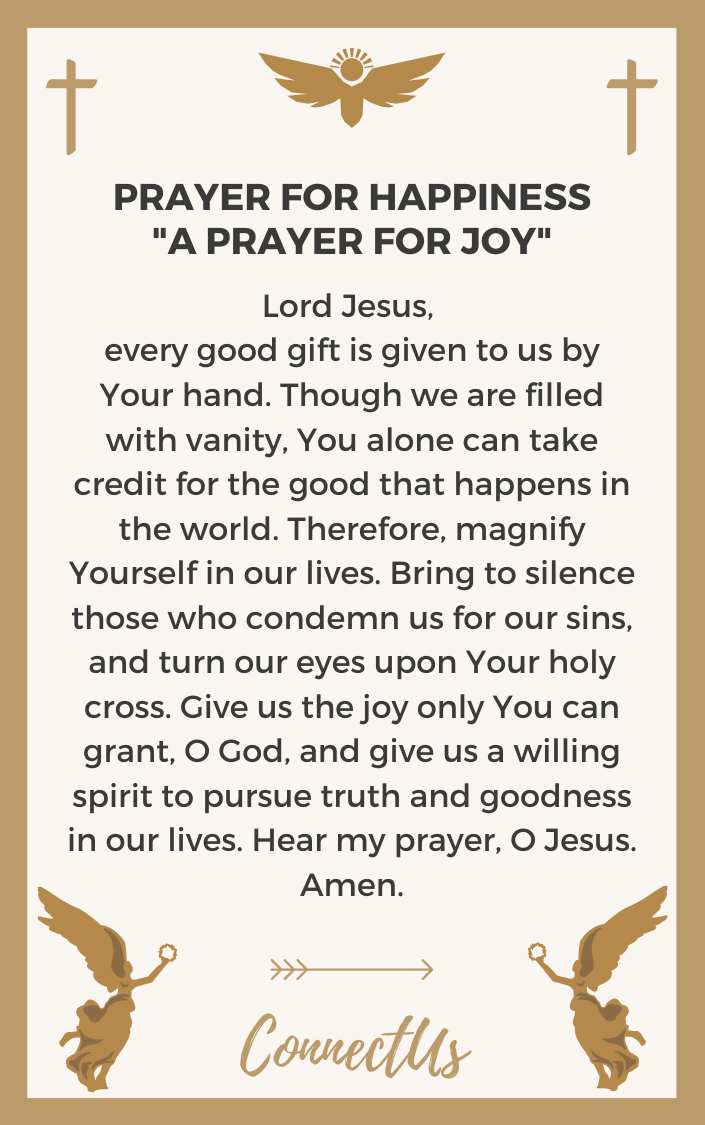 A Prayer for Faith
Almighty God, I know that by the death of Your Son on the cross You have destroyed sin and death. Yet, I am weak in my faith. I want to know the joy You have won for us, but sin weighs me down and I cannot believe in the truth of Your words. Grant me faith by Your mighty power that I might rejoice in the salvation won by Your blood. Let Your good news reverberate in my life and shatter the grip of the Devil. Amen.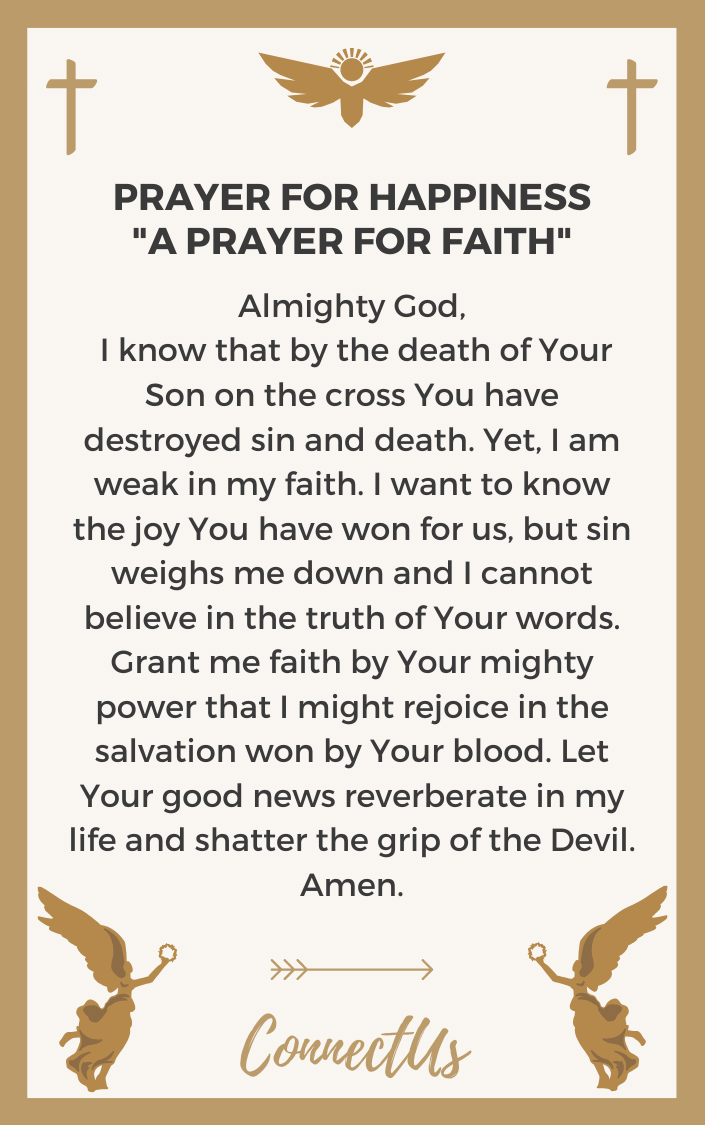 A Prayer for Relief
Lord Jesus Christ, You teach us in Your word to ask and it will be given. I come to You as a gazelle flees from the lion. My enemies pursue me and calamity follows me everywhere. No matter where I hide, they come and find me. All news seems to be bad news, and I have been broken. Be as a fortress for me, good Lord. Hide me behind Your watchful towers, and deliver me from misery. In Your name. Amen.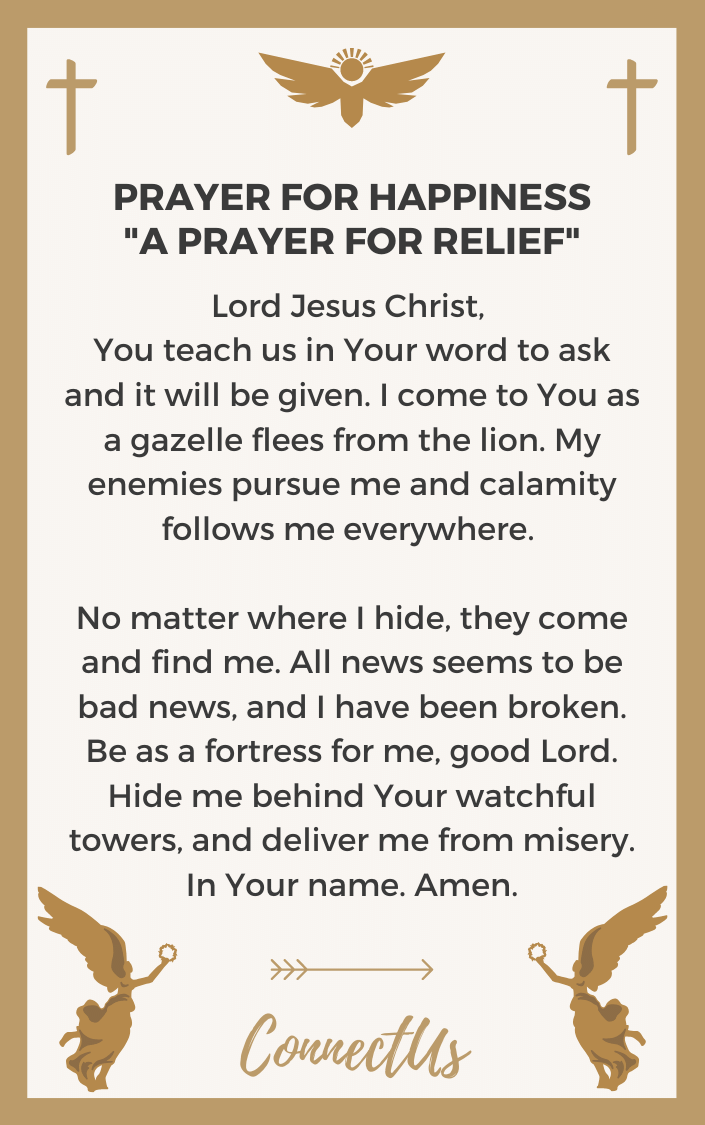 A Prayer to Know Your Love
God of grace, You came to give life in abundance. All of creation knows Your love. The birds of the air are fed by Your hand. You make the skies bring forth water for the fields. You adorn the lilies of the field. Lord, teach me to know this love of Yours. Cast away darkness and vanity from my heart and fill me with Your love. Teach me to walk in Your ways to the glory of Your holy name. Amen.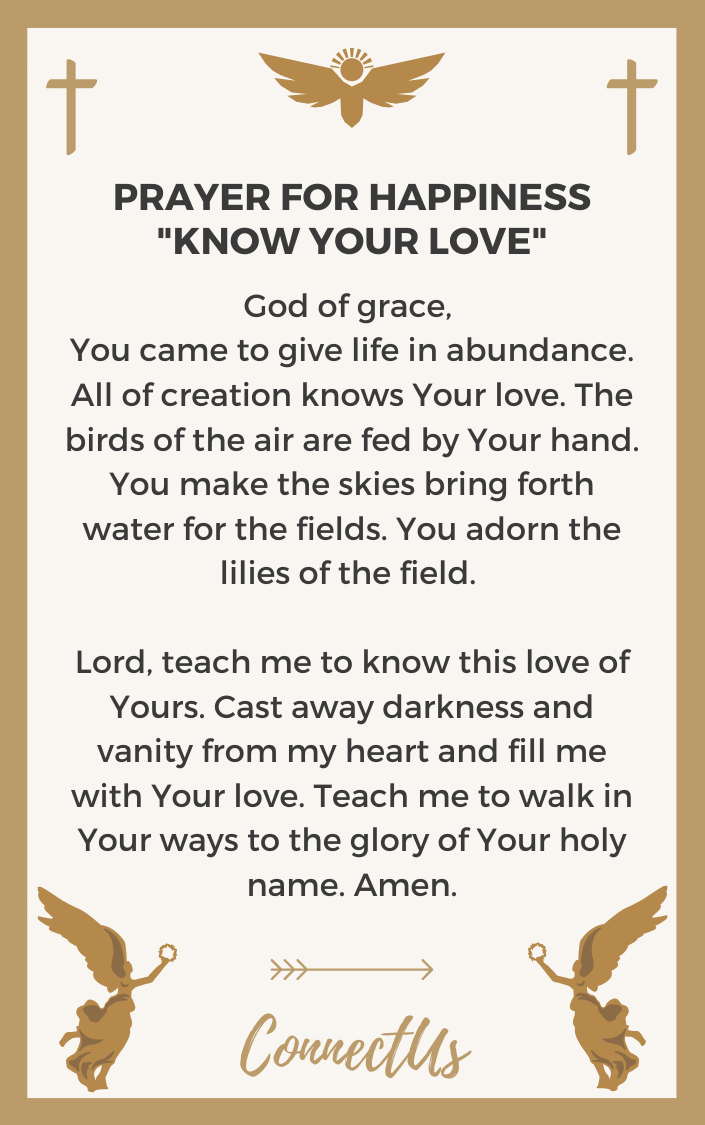 A Prayer for the Right Attitude
Everlasting God, I have noticed that life has taken a toll on my outlook on life. Those who hound and oppress me have embittered me. I have not loved You with the fullness of my heart, nor have I loved my neighbor as You have commanded me. I am all-around a miserable person, lashing out at others. Soften my heart, Lord. Help me to rest in Your finished work, that united to You by faith I might be conformed to Your image. In Jesus' name. Amen.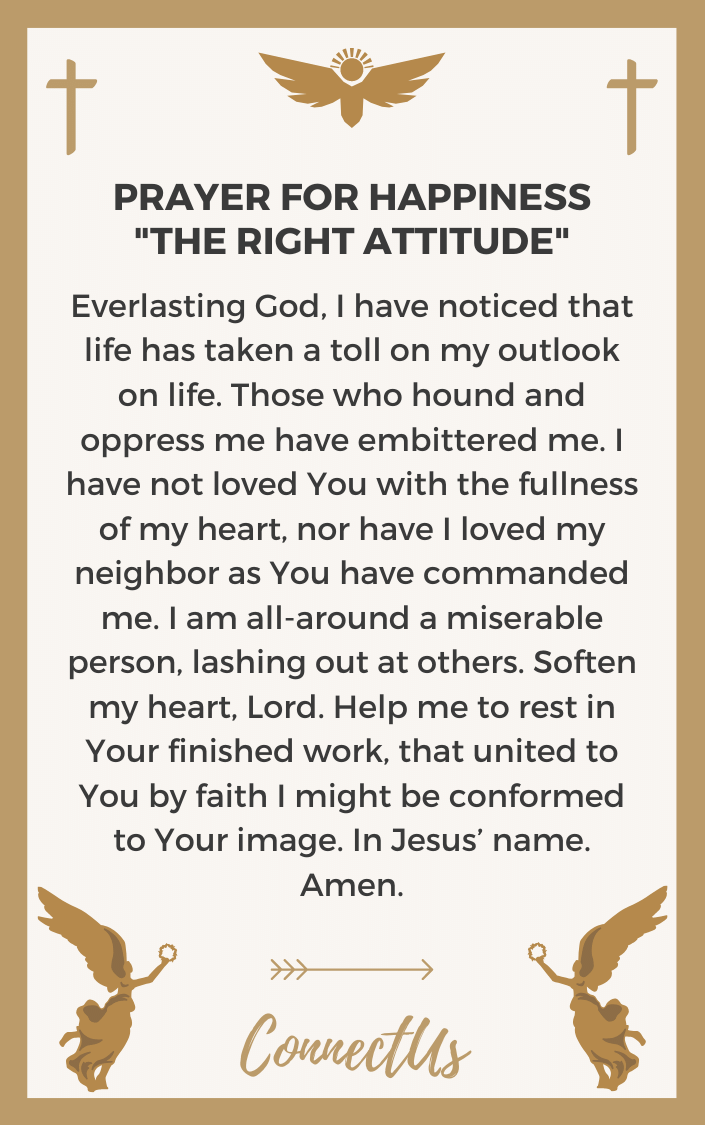 Deliver Me from Heartbreak Prayer
Heavenly Father, my heart has been shattered to pieces. Each day seems impossible to get through. Sunrise to sunset is simply going through the motions. Some days, I don't see the point of it all. You alone, my Lord, are where I find peace. Yet, today You seem so far. Mend my heart, O God. Let me be a branch on Your vine, that I might bring forth fruit in the joy of Your Spirit. Amen.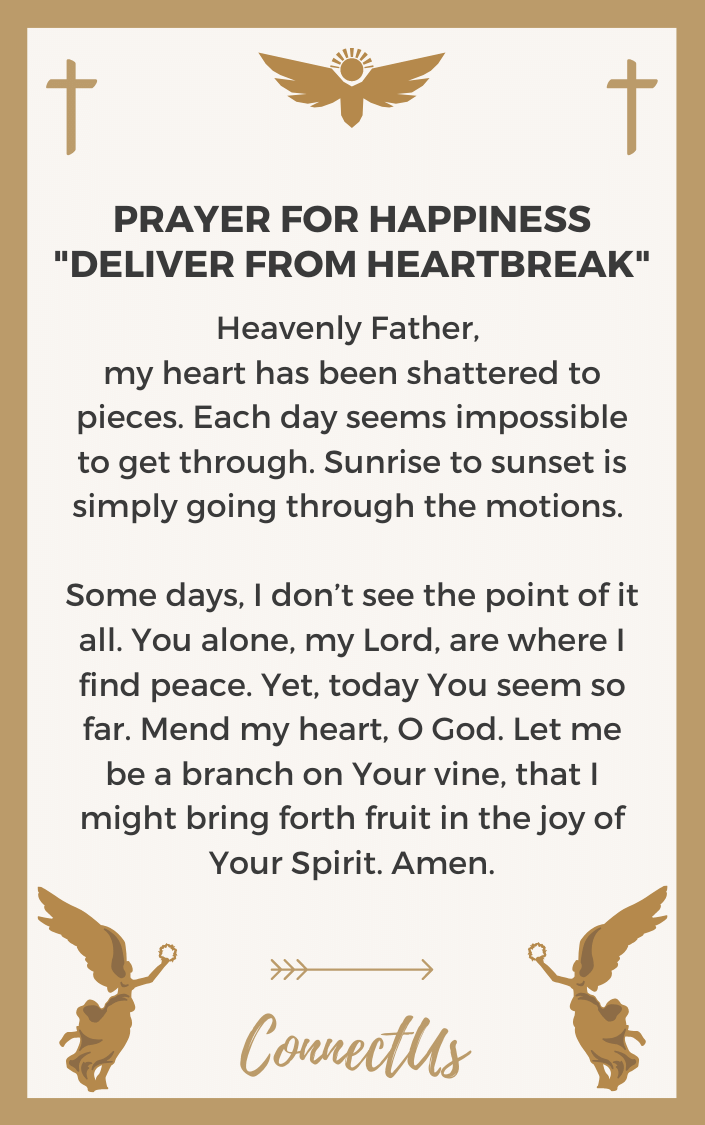 A Prayer to Fill My Heart
Dear God, despite my best efforts, I am unable to be happy. I search the depths and valleys of my heart, but there is nothing there. You feel so far away from me. I search You out in my life, but I cannot find You anywhere. I long for Your loving embrace. I long to see Your face. Break into my life, Lord. Seek out my heart and fill it with Your presence. Fill my soul as You filled the Holy of Holies. Amen.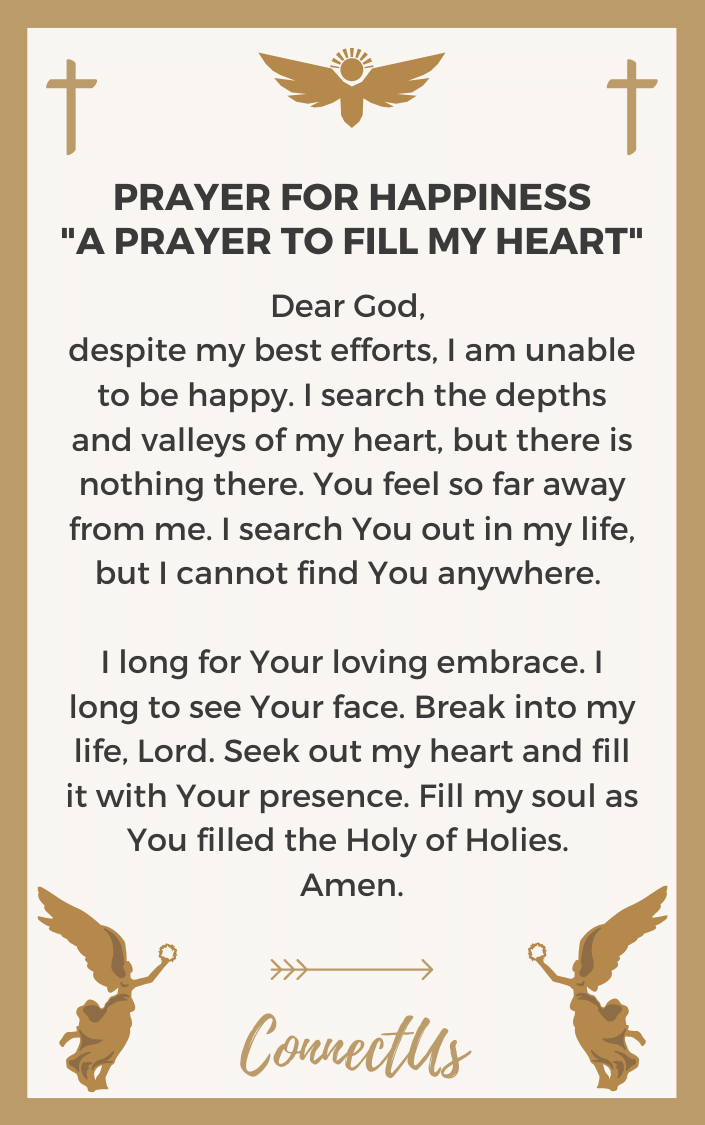 A Comforting Prayer
Heavenly Father, my life is full of difficulties. I am anxious about everything and I am consumed with worry. Even though I know that You always provide, I struggle to apply this to my life. Lord Jesus, in Your earthly ministry You promised to send Your Holy Spirit to bring us comfort and joy. Let Your comforting spirit descend upon me. Let it wash through me so that I might know this comfort and learn to trust in You. Amen.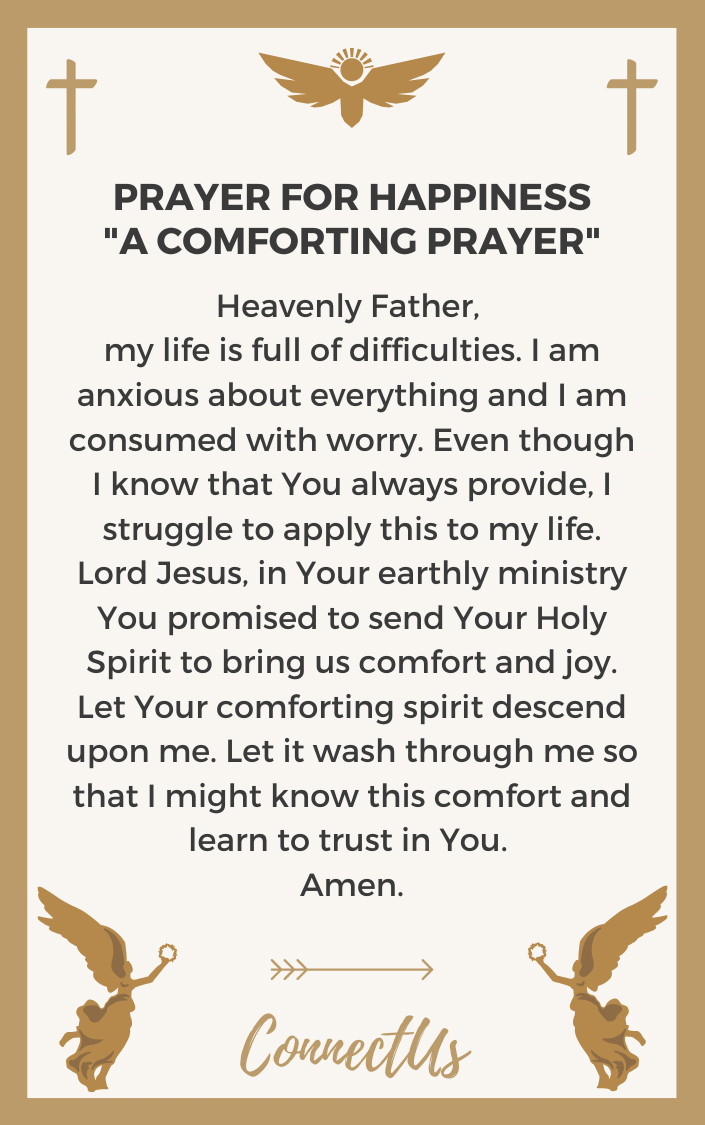 Lend Me Your Hand Prayer
Lord Jesus, it only takes one false step and I become lost. I am like a blind person being led by a blind person, and I have fallen into the pit where there is no light. I am sad and alone and I feel that nobody cares. Everyone walks past me and they show no pity. But You, O Lord, are with me always, even in the depths of the pit. Lend down Your divine hand and pull me out, O Lord. Hear my prayer in Jesus' name. Amen.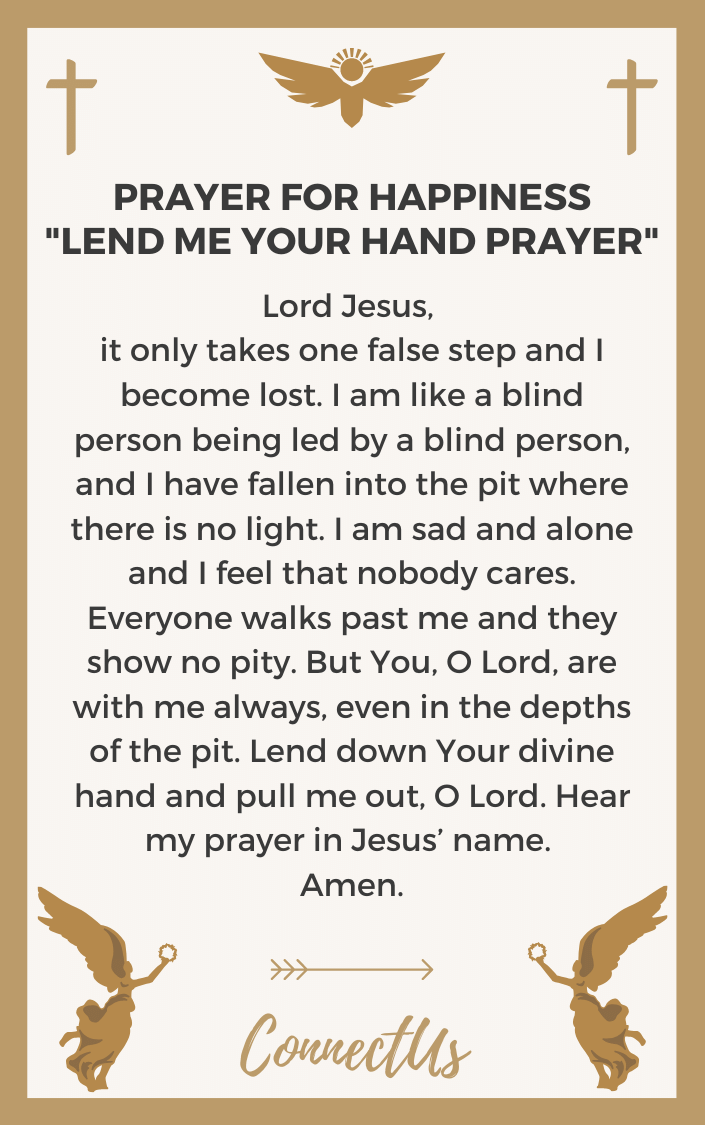 A Prayer for Contentment
Dear Lord, I am constantly tempted by the material things of this world. Everywhere I am encouraged to covet. It has made me envious and jealous of my neighbor and has left me feeling sad and worthless. Yet, I know what You have said. You have marked me by Your blood and claimed me as Your own. Help me to rest in this identity, and take away my covetousness. Amen.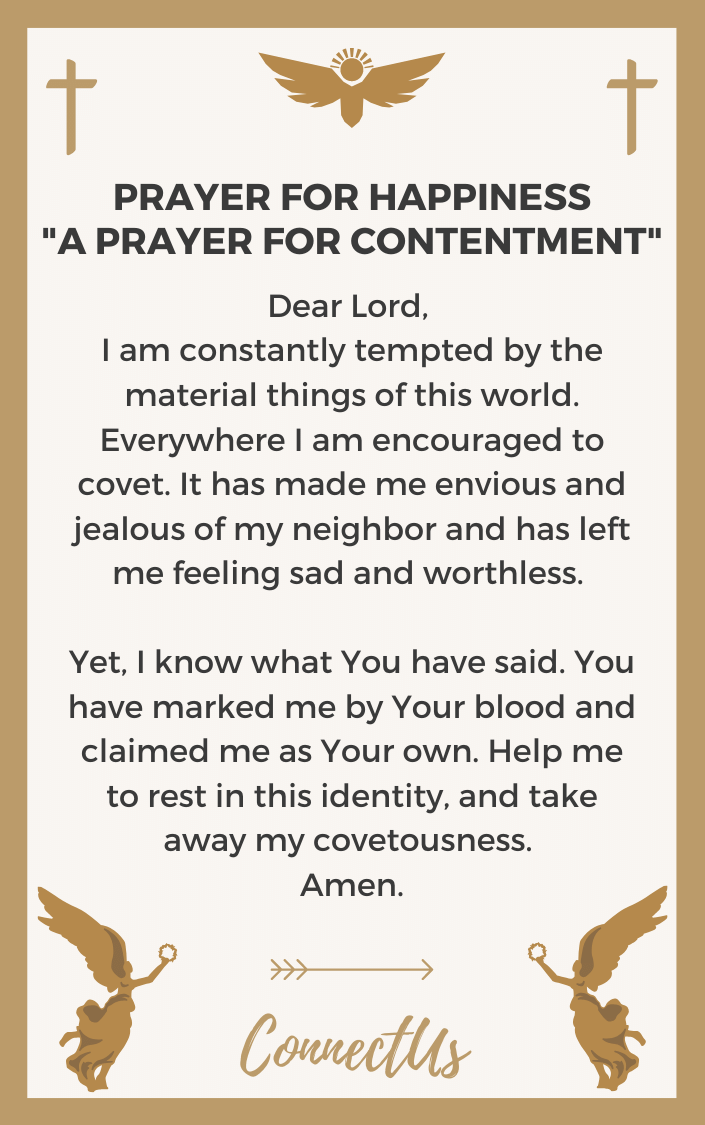 Most Popular Prayers by Topic
For Hard Times
For Financial Prosperity
For Physical Health
For Emotional Health
For Protection
For a Marriage
For Babies and Pregnancy
For Family
For Spiritual Warfare
For Spiritual Health
For a Death
For the Workplace
For Bedtime
Our 10 week prayer journal will guide you through your daily prayers and help you plan out your prayer week. It is completely free. You can
click here to get it now
.

Author Bio
Natalie Regoli is a child of God, devoted wife, and mother of two boys. She has a Master's Degree in Law from The University of Texas. Natalie has been published in several national journals and has been practicing law for 18 years.