Here are the 40 most encouraging Bible scriptures on adversity.
1 Peter 5:10
And after you have suffered a little while, the God of all grace, who has called you to his eternal glory in Christ, will himself restore, confirm, strengthen, and establish you.
Proverbs 24:10
If you faint in the day of adversity, your strength is small.
2 Corinthians 12:9
But he said to me, "My grace is sufficient for you, for my power is made perfect in weakness." Therefore I will boast all the more gladly of my weaknesses, so that the power of Christ may rest upon me.
Joshua 1:9
"Have I not commanded you? Be strong and courageous. Do not be frightened, and do not be dismayed, for the Lord your God is with you wherever you go."
Romans 8:28
And we know that for those who love God all things work together for good, for those who are called according to his purpose.
1 Corinthians 10:13
No temptation has overtaken you that is not common to man. God is faithful, and he will not let you be tempted beyond your ability, but with the temptation he will also provide the way of escape, that you may be able to endure it.
1 Corinthians 14:33
For God is not a God of confusion but of peace. As in all the churches of the saints.
1 Corinthians 15:26
The last enemy to be destroyed is death.
1 Peter 4:1
Since therefore Christ suffered in the flesh, arm yourselves with the same way of thinking, for whoever has suffered in the flesh has ceased from sin.
1 Peter 5:8
Be sober-minded; be watchful. Your adversary the devil prowls around like a roaring lion, seeking someone to devour.
2 Chronicles 15:7
But you, take courage! Do not let your hands be weak, for your work shall be rewarded."
2 Corinthians 1:4
Who comforts us in all our affliction, so that we may be able to comfort those who are in any affliction, with the comfort with which we ourselves are comforted by God.
Colossians 1:24
Now I rejoice in my sufferings for your sake, and in my flesh I am filling up what is lacking in Christ's afflictions for the sake of his body, that is, the church.
Ecclesiastes 10:10
If the iron is blunt, and one does not sharpen the edge, he must use more strength, but wisdom helps one to succeed.
Ecclesiastes 7:14
In the day of prosperity be joyful, and in the day of adversity consider: God has made the one as well as the other, so that man may not find out anything that will be after him.
Ephesians 3:20
Now to him who is able to do far more abundantly than all that we ask or think, according to the power at work within us.
Exodus 14:14
The Lord will fight for you, and you have only to be silent.
Exodus 3:7
Then the Lord said, "I have surely seen the affliction of my people who are in Egypt and have heard their cry because of their taskmasters. I know their sufferings."
Hebrews 11:1
Now faith is the assurance of things hoped for, the conviction of things not seen.
Hebrews 12:2
Looking to Jesus, the founder and perfecter of our faith, who for the joy that was set before him endured the cross, despising the shame, and is seated at the right hand of the throne of God.
Hebrews 9:27
And just as it is appointed for man to die once, and after that comes judgment.
Isaiah 30:20
And though the Lord give you the bread of adversity and the water of affliction, yet your Teacher will not hide himself anymore, but your eyes shall see your Teacher.
Isaiah 35:4
Say to those who have an anxious heart, "Be strong; fear not! Behold, your God will come with vengeance, with the recompense of God. He will come and save you."
Isaiah 40:2
"Speak tenderly to Jerusalem, and cry to her that her warfare is ended, that her iniquity is pardoned, that she has received from the Lord's hand double for all her sins."
Isaiah 43:18
"Remember not the former things, nor consider the things of old."
Isaiah 45:7
"I form light and create darkness, I make well-being and create calamity, I am the Lord, who does all these things."
Isaiah 65:8
Thus says the Lord: "As the new wine is found in the cluster, and they say, 'Do not destroy it, for there is a blessing in it,' so I will do for my servants' sake, and not destroy them all."
James 1:12
Blessed is the man who remains steadfast under trial, for when he has stood the test he will receive the crown of life, which God has promised to those who love him.
James 1:13
Let no one say when he is tempted, "I am being tempted by God," for God cannot be tempted with evil, and he himself tempts no one.
Jeremiah 29:11
"For I know the plans I have for you," declares the Lord, "plans for welfare and not for evil, to give you a future and a hope."
Job 2:10
But he said to her, "You speak as one of the foolish women would speak. Shall we receive good from God, and shall we not receive evil?" In all this Job did not sin with his lips.
Joshua 1:5
"No man shall be able to stand before you all the days of your life. Just as I was with Moses, so I will be with you. I will not leave you or forsake you."
Mark 11:23
"Truly, I say to you, whoever says to this mountain, 'Be taken up and thrown into the sea,' and does not doubt in his heart, but believes that what he says will come to pass, it will be done for him."
Proverbs 15:32
Whoever ignores instruction despises himself, but he who listens to reproof gains intelligence.
Proverbs 17:17
A friend loves at all times, and a brother is born for adversity.
Psalm 119:67
Before I was afflicted I went astray, but now I keep your word.
Psalm 34:19
Many are the afflictions of the righteous, but the Lord delivers him out of them all.
Revelation 21:4
"He will wipe away every tear from their eyes, and death shall be no more, neither shall there be mourning, nor crying, nor pain anymore, for the former things have passed away."
Romans 12:2
Do not be conformed to this world, but be transformed by the renewal of your mind, that by testing you may discern what is the will of God, what is good and acceptable and perfect.
Romans 8:31
What then shall we say to these things? If God is for us, who can be against us?
More Bible Verses that Will Move You
50 Most Powerful Scriptures on Faith
60 Transcendent Verses on Trust
50 Strong Scriptures on Perseverance
68 Powerful Verses on Forgiveness
40 Uplifting Scriptures on Patience
Add Our Infographic Below to Your Pinterest Board
Hit the pin button below to add our infographic, with all the verses, to one of your Pinterest boards.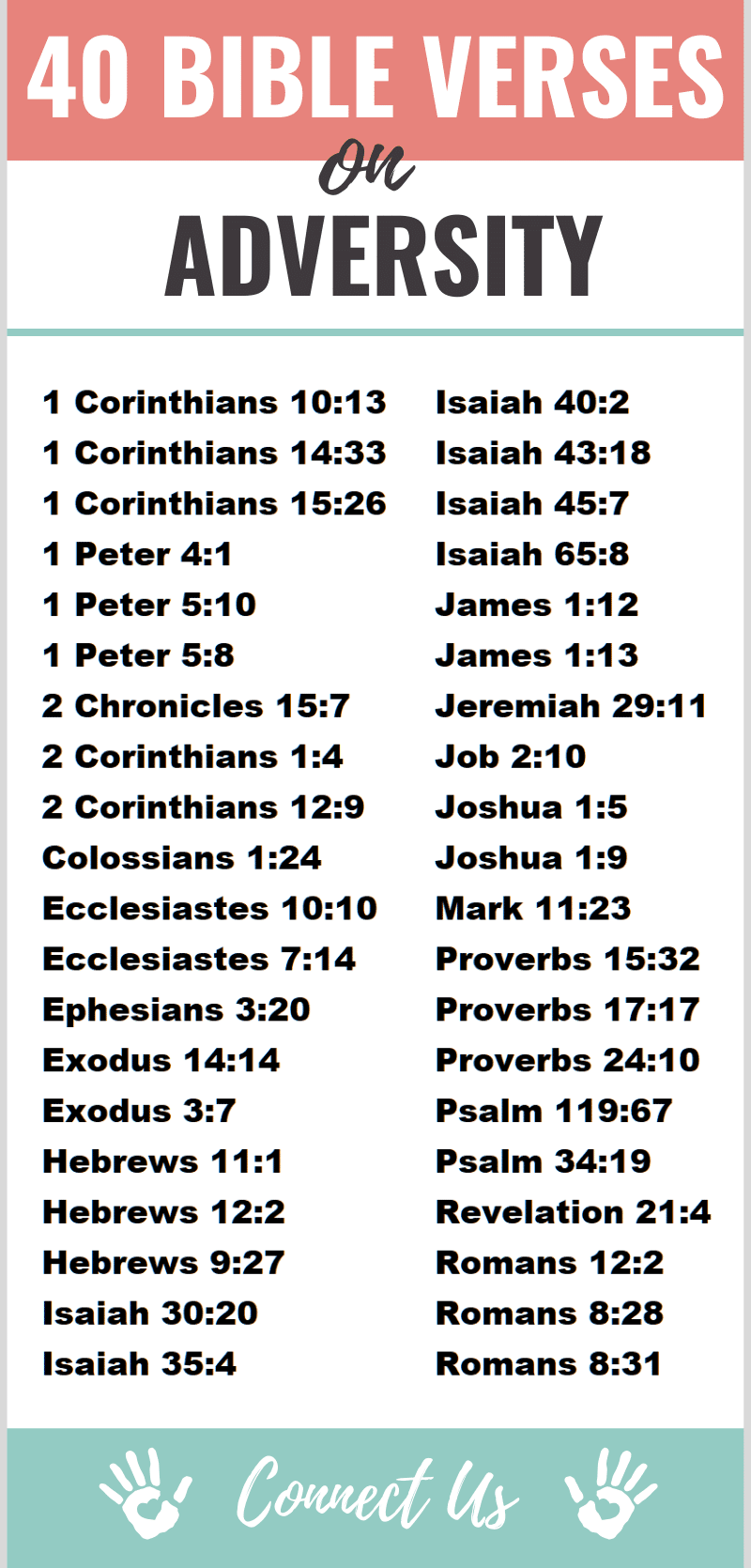 Author Bio
Natalie Regoli is a child of God, devoted wife, and mother of two boys. She has a Master's Degree in Law from The University of Texas. Natalie has been published in several national journals and has been practicing law for 18 years.