God created the Heavens and the Earth, and it is our job as humans who occupy the Earth to keep it beautiful so that we may continue to enjoy His creation. Here are 16 powerful prayers for the Earth, including images you can print to use and share.
Prayer for the Earth
O God, who in six days made Heaven and Earth, and gave Earth to You children for safekeeping, I make my prayer to You to guard, enlighten and inspire our minds and our bodies so that we are fit for this great task. I recognize how often my sins have contributed to the destruction of this wonderful gift that You have given us. Let me now resolve to work to keep my soul, my body, and all that surrounds it unspoiled and a garden worthy of Your majesty. Amen.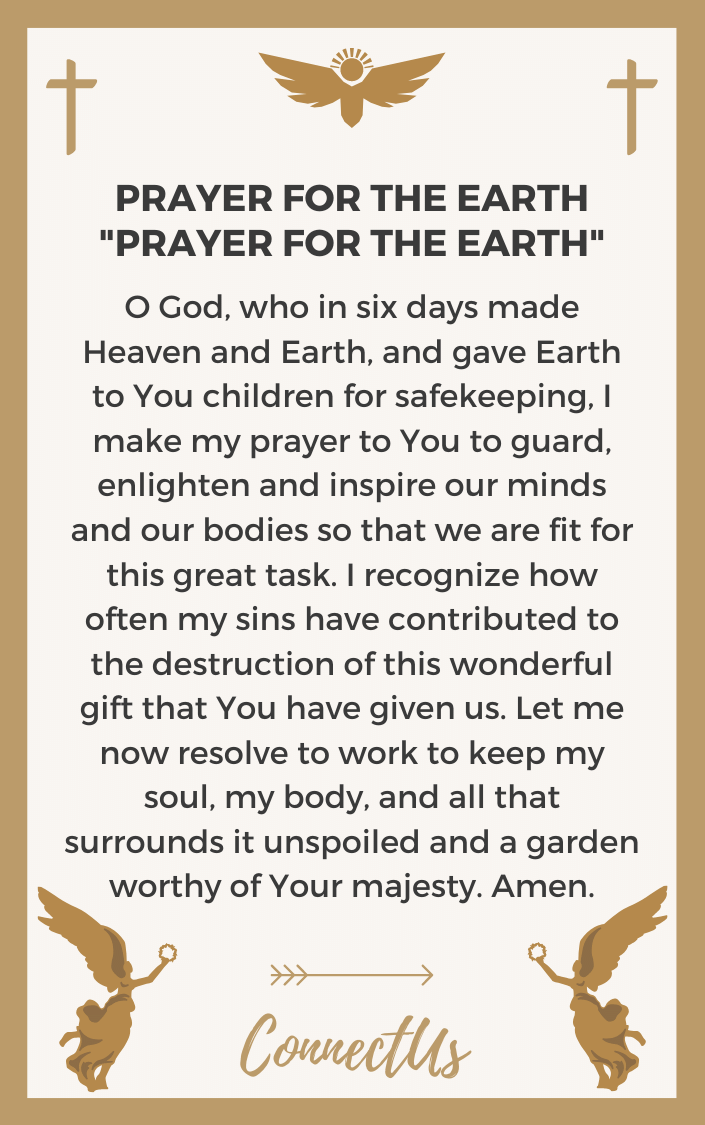 Prayer for Restoration of the Earth
Lord, You gave us a dwelling place that You saw to be good and delighted in it. You made us feel at home, and so even I, when I see Your hand's work in the mighty waves of the ocean, the lofty heights of a mountain, or the wings of a butterfly, rejoice at the sight and recognize the work of Your hands. But sin defiles the beauty of Your creation every time we place material gain or our own comfort above our duty to keep what You have given us. Lord, show us the beauty of Your creation and inspire us to keep it as You intended. Amen.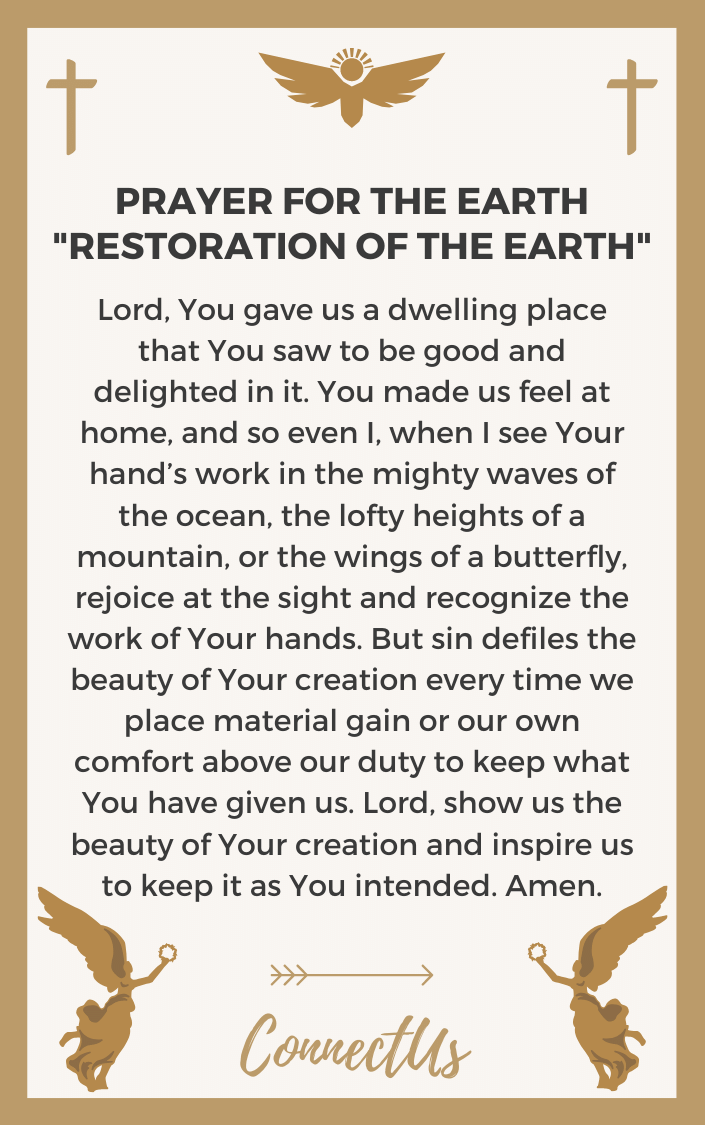 Prayer for Devoted Work
My God, maker of all, You gave me a body and a soul so that I may praise You and love You both with my thoughts and actions. Every transgression rebels against this adoration that we ought to render to You, and pollutes both mind and body. Have mercy on us for all that we have done, and flood our minds with Your light and love so that we cannot help but make present Your redemptive work accomplished within us, and become humble instruments of Yours for the labor You have assigned to us. Amen.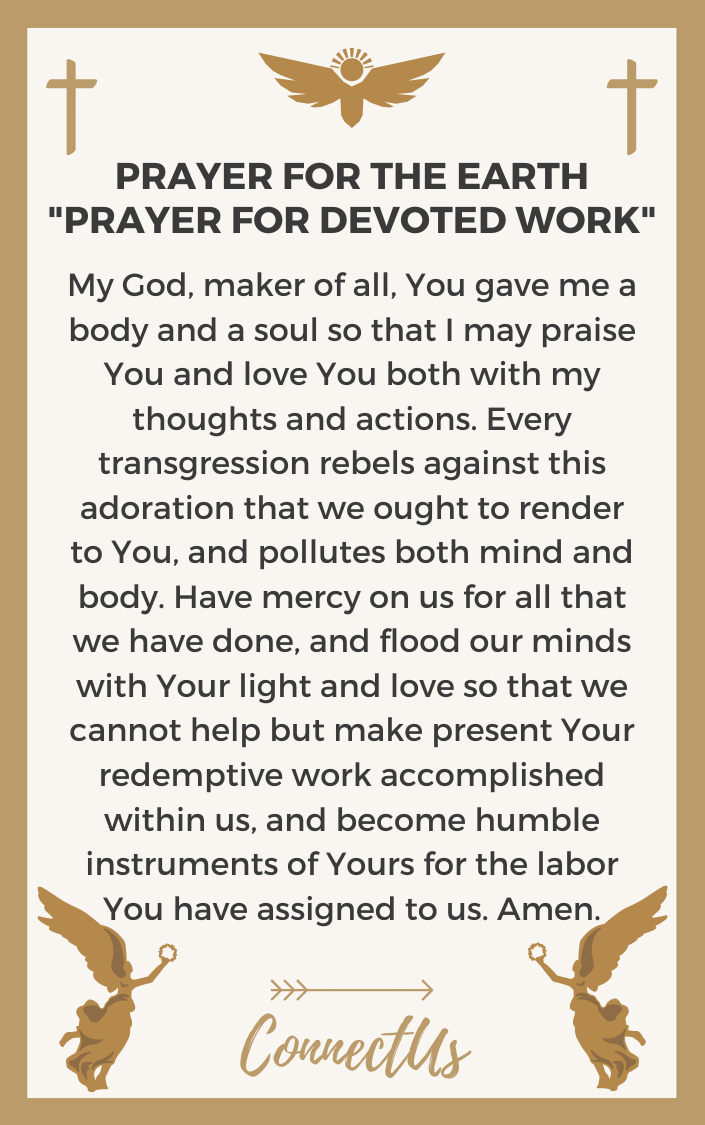 Prayer for Earth Day
Lord, You made all humanity in Your image and made us all guardians of Your creation. I ask You today to send forth Your Spirit and renew Your creation in us and on the face of the Earth. We have not merited our creation or our redemption, but You, Lord, continue to shower us with blessings both natural and supernatural so that Your glory is manifested, and we can turn to You in thanksgiving and adoration. Let us therefore be grateful for all that You have given, and, recognizing our dependence on the sustenance You give us in the form of both earthly and heavenly food, let us never tire protecting what is Yours and watching for You return. Amen.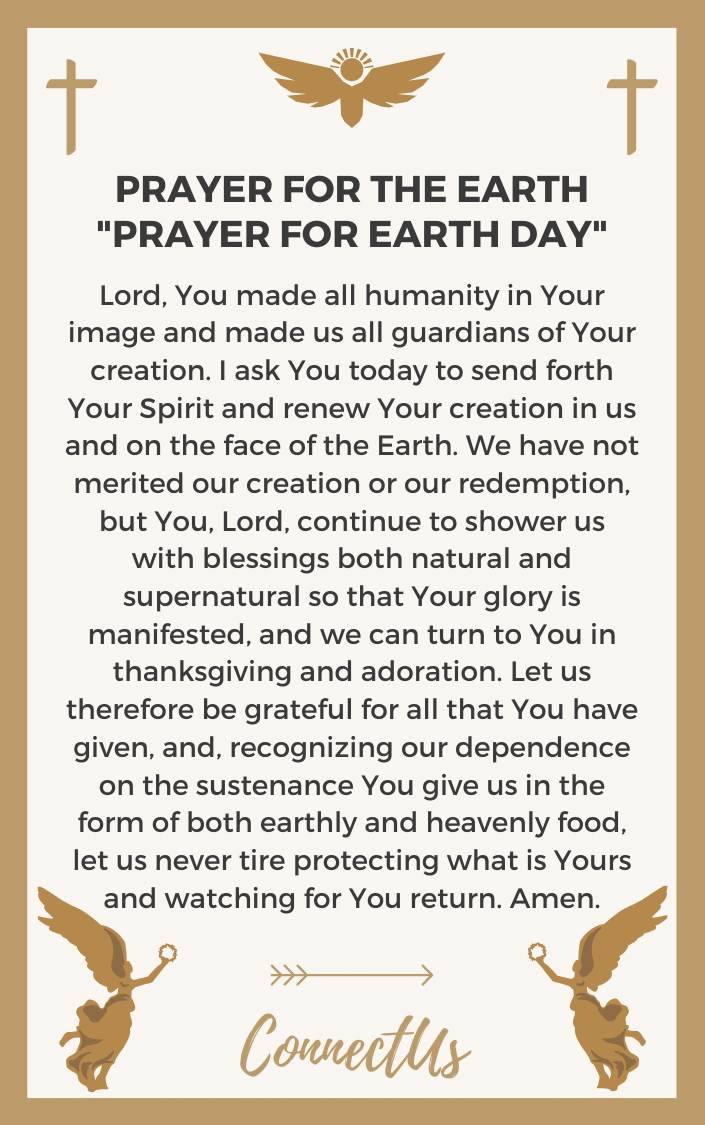 Children's Prayer for the Earth
Jesus, I thank You for giving us all the beautiful things around us. Every time I see the blue of the sky, the brightness of the sun, the beauty of the animals, and the tastiness of the food that You have given us, I am happy that we have such a kind and generous friend in You. Please help me, my friends, and my family, to be good to You and everything that You give us, because You are good. Please help me be more like You! Amen.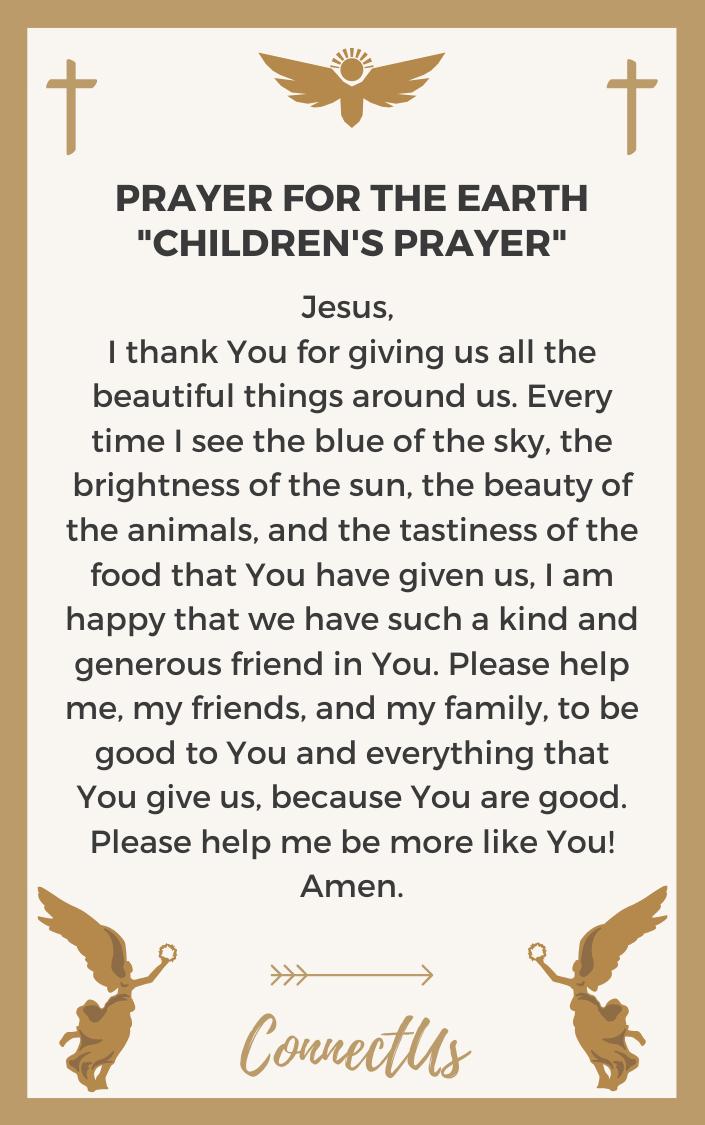 Sunday Prayer for Our Rest
Lord, who instituted a weekly day of rest after Your example, make us participate more fully and more responsibly in Your creation. We read in the Book of Exodus that we have to rest on the seventh day so that our farm animals, our servants, and the strangers staying in our land may rest too. You call us not only to thank You and to repair our relationship with You every week but also command us to stop oppressing our own bodies and those under us with the duties of the rest of the week. How many times are we tempted to exhaust material resources, our time, money, and friendships to maximize gains! My God, inexpressibly holy, and far above Your creation, teach me how not to be tempted to achieve perfection without seeking Your permission first. Gaining the whole world would not be enough if I lost You. Teach me how to only require what I truly need, and to be content in leaving and giving away the rest to those that need it. Amen.
Prayer for Humility
Lord, You made the Earth and appointed the stars, the planets, and everything within these to follow a pattern of Your design. You gave us morning, midday, evening and night, summer and winter, rain and sunshine, and the cyclical nature of time so that we have constant reminders of both birth and death; of times of fasting and times of feasting; of times to toil in tears, and times to harvest with song and joy. Make humanity humble in the face of Your creation. Although You endowed us with such intellect and will that we may harness all-natural forces and transcend the challenges in our way, You have also given us the wisdom to know that Your creation is made to be enjoyed and appreciated, not dominated and changed beyond recognition. Give us the graces necessary to avoid being arrogant and taking Your place in creation for our own convenience and profit, and the humility to be content with whatever You give us. Amen.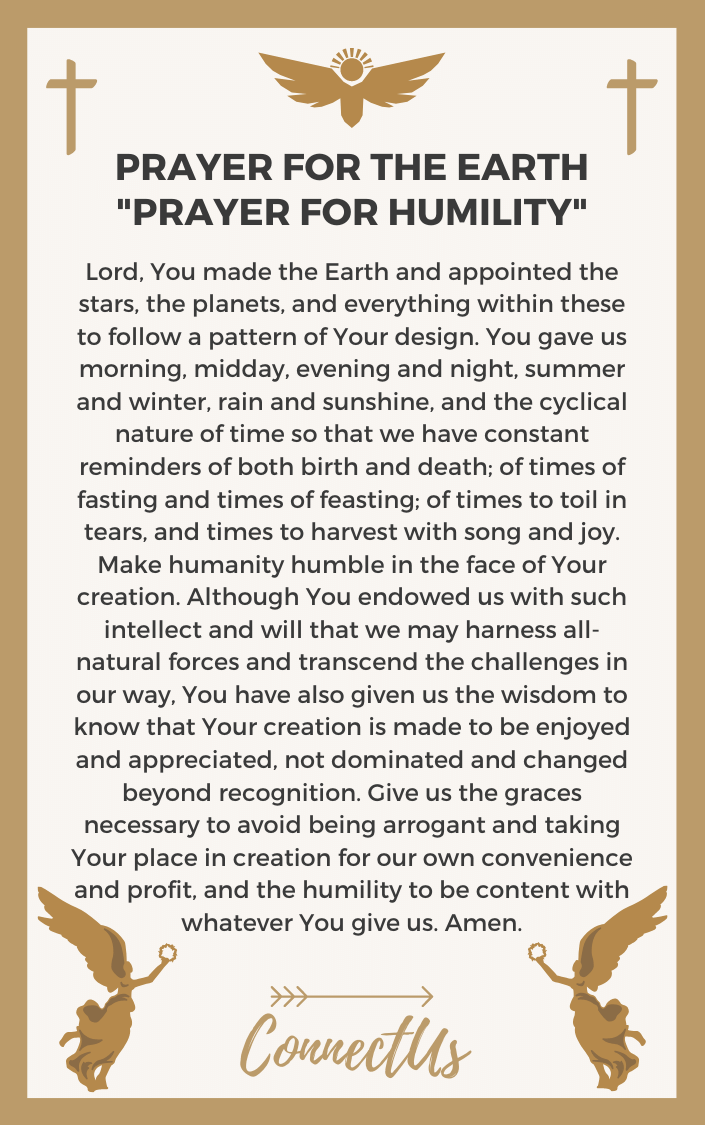 Prayer for Humanity's Collective Care for Creation
My God, Father of all Your children, I ask you to unite all Your sons and daughters by the beauty and goodness of Your creation. You humble us by making us recognize our weakness and helplessness in the face of nature and exalt us by making us guardians of such wonders. Let the recognition of the beauty of what You made and the sorrow caused by our ingratitude and carelessness towards this great gift foster a return to You and a coming together of all the nations in Your name. Amen.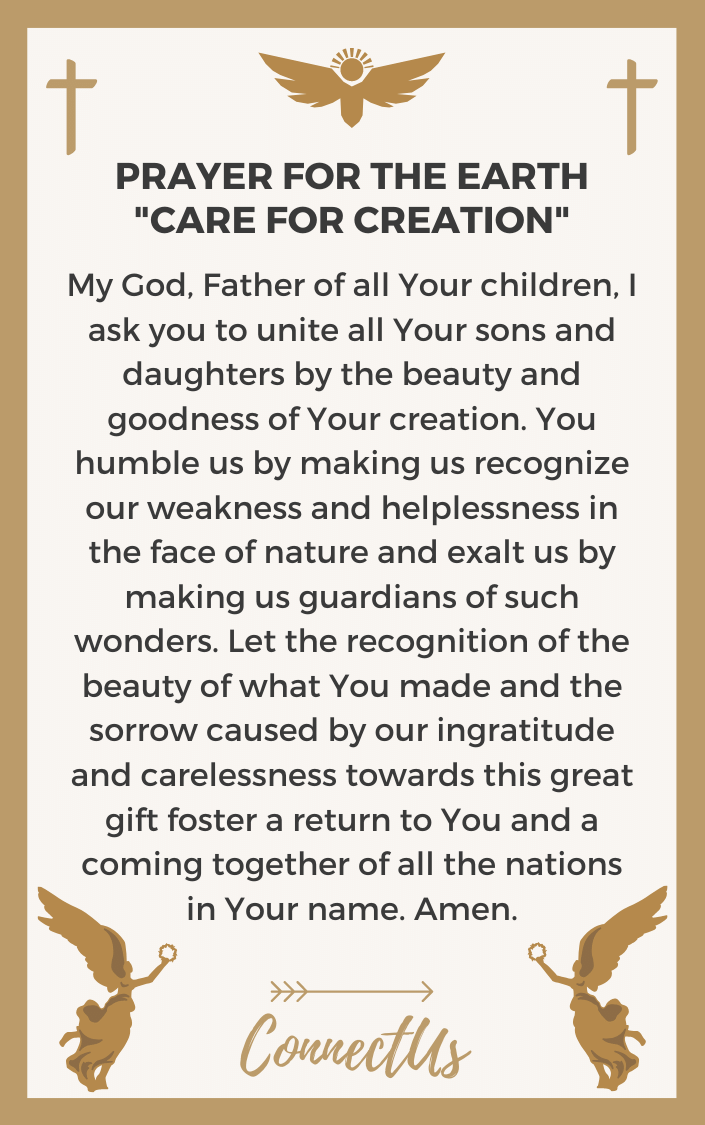 Prayer for the Blessed Virgin Mary's Protection of Nature
I turn to you, Mary, the crown of creation, for your prayers and example in a time when nature is abused, and your dear Son's handiwork is exploited. You shine out like the dawn, beautiful as the moon, bright as the sun, majestic as an army with banners. Your words in the Gospel of Luke teach us that the rich will be sent away empty, the mighty will be cast down, and the proud scattered. Mary, my dear mother, am I one of these? Pray for me that I may choose to dwell on the doorstep of the house of my God rather than in the luxury and riches of those that disrespect Him. Never let me choose earthly pleasure over the glory of eternal life. Mary Queen of Heaven and Earth, New Eve, Mystical Rose, Lily among Thorns, pray for us. Amen.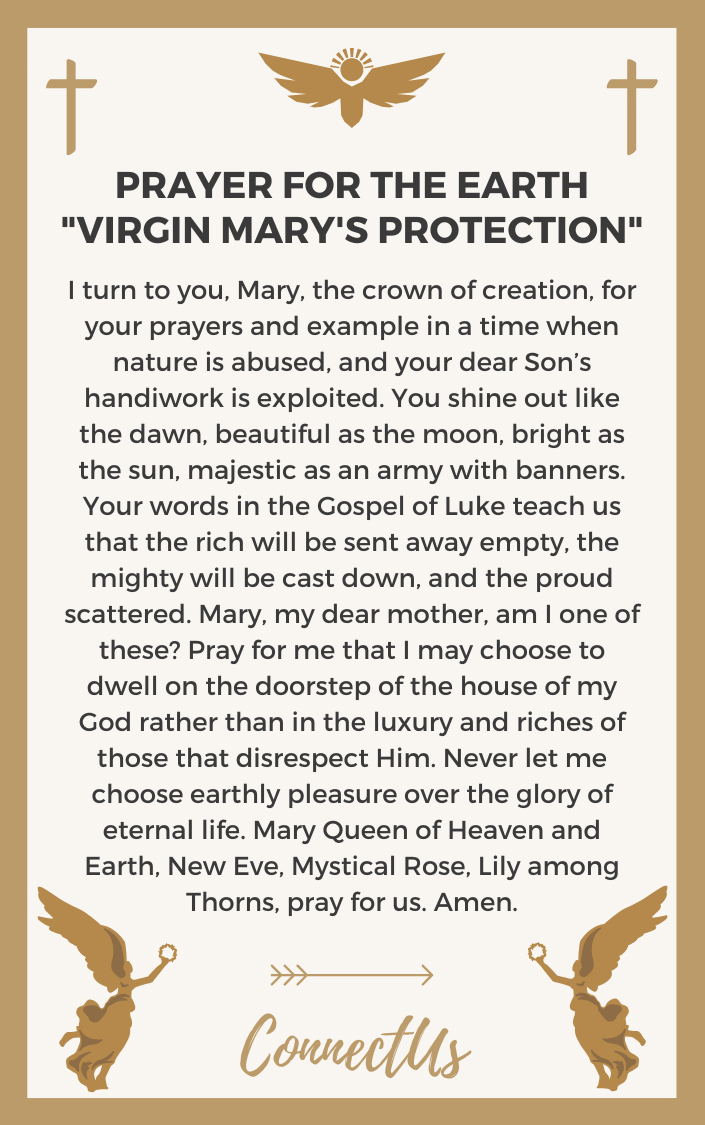 Prayer to Saint Francis of Assisi to Look after Creation
Dear Saint Francis, holy and beloved servant of our God, I ask you to pray for me to recognize His work all around me and to praise Him for it. You preached to the birds and sang about the beauty of flowers, of the sun, the moon, and the wind. You truly followed Christ's call to abandon house, mother, father, and brothers for the sake of His name, and you were provided for all your necessities. Teach us how to be poor for Jesus' sake, and how to be rich in the appreciation of the beauty all around us. Amen.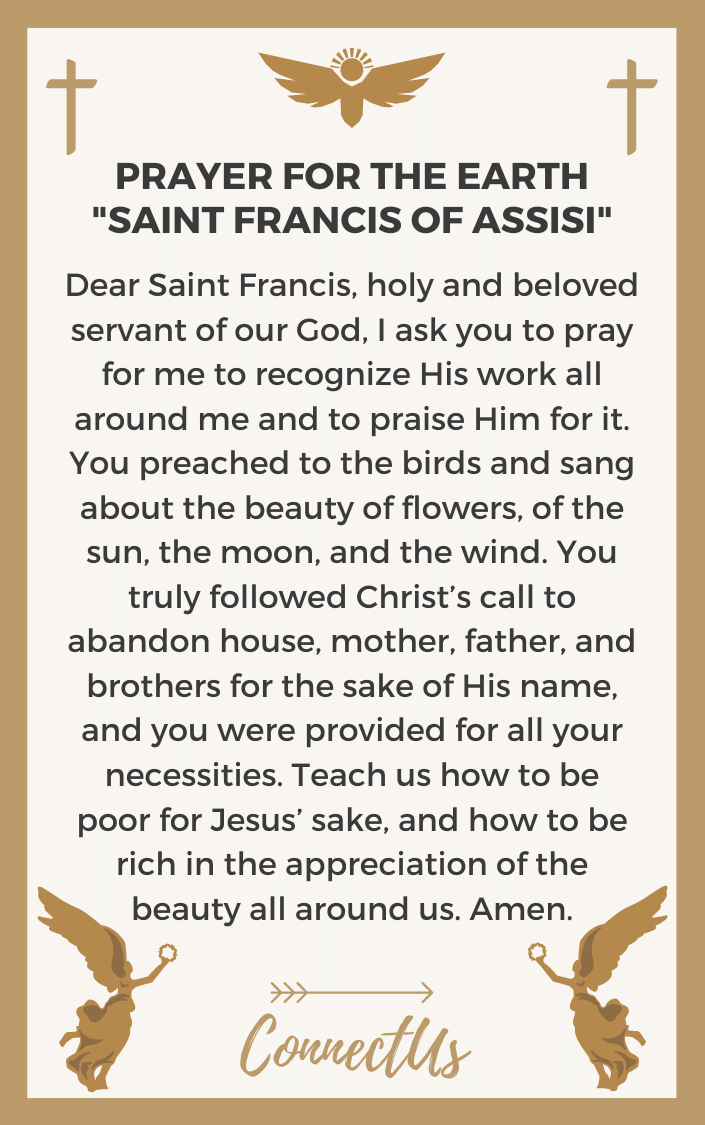 Prayer to Saint Benedict for Gratefulness and Humility
Holy monk, Saint Benedict, I turn to your example of self-restraint, patience, and determination. You consecrated every moment of yours to the glory of God and spent your whole life in work and in prayer. You gave up the wealth and rank of your birth, the pleasures and luxury offered by the cities, and took to the caves and fields where you grew the simple food you ate and drank the water of the stream. I long to be like you. Although not everyone is called to give up everything in life, you understood that what we require for food and health is only good because it gives us more time on Earth to praise and thank God – you did not exploit your surroundings, but collaborated with nature, and took only what you really required. Please pray for me and all around me so that we are more thankful for what we have, and that we too eliminate everything from our lives that distracts from Christ. Amen.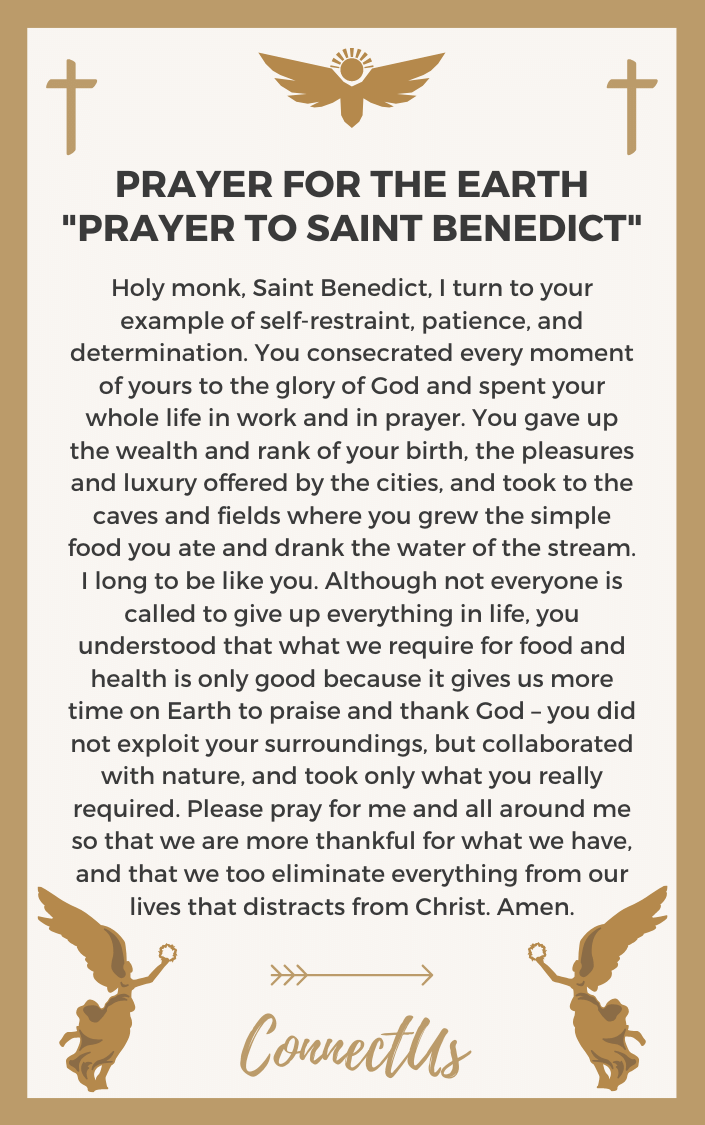 Prayer for Waters
Lord Jesus, living water of eternal life, You quench our thirst and provide us with food by sending down rainfall at the right time. You ennobled and sanctified this element by turning it into wine at Cana and by being baptized in the River Jordan. Lord, we know just as Saint John the Baptist did that You needed no baptism, for there was never any sin in You. But by being submerged in the waters, You gave us an example and blessed all water by Your holy presence in it. Since you willed us to have bodies as well as souls, I ask you to protect and help us preserve this precious resource, so that we may glorify You on Earth in health and gladness. Our Lady, Star of the Sea, pray for us. Amen.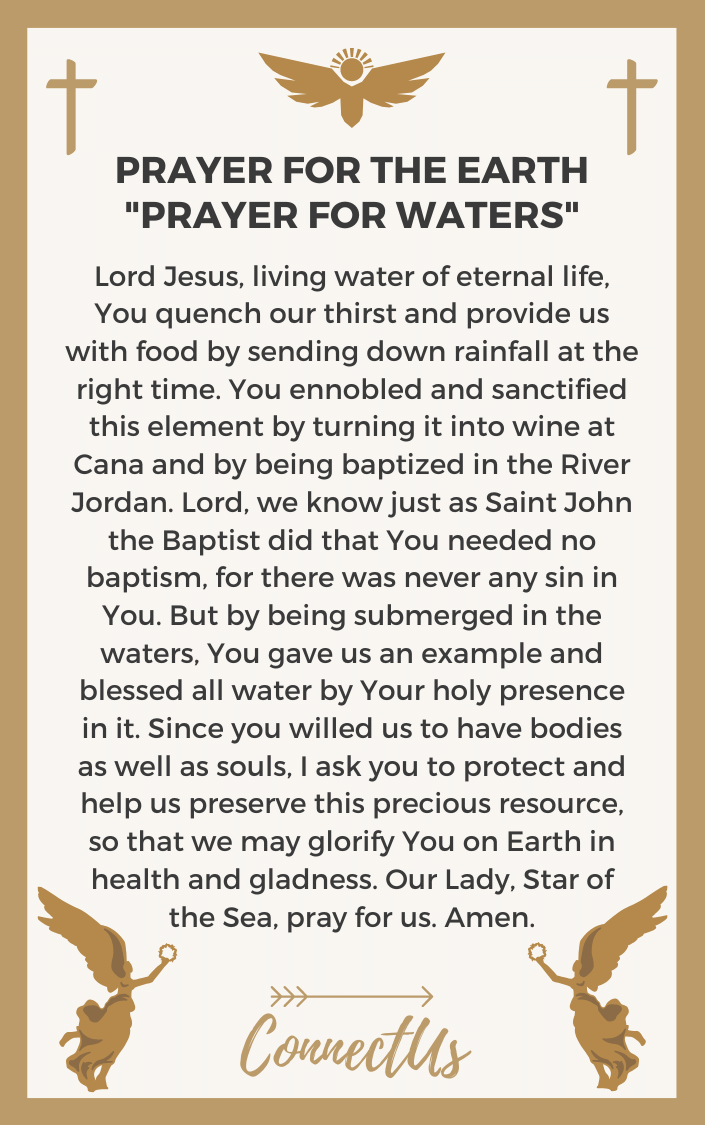 Prayer for the Air
My God, who breathed the breath of life into the nostrils of our first parents and breathed on Your apostles so that they might receive the Spirit and forgive sins, I ask You to protect the air we breathe. Heal the effect of the irresponsible abuses caused by our arrogance, carelessness, and greed, and inspire us to acknowledge our dependence on the simple natural elements that You provide, irreplaceable by human effort. Amen.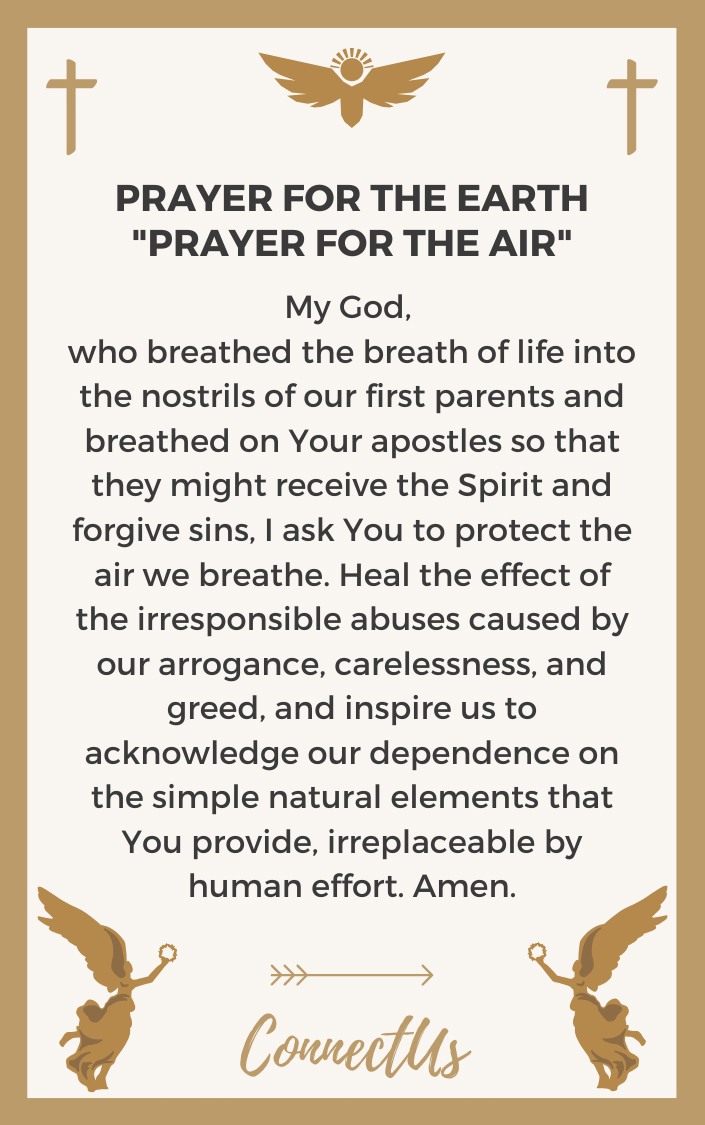 Prayer for Birds
My Jesus, you taught us about the fatherly care of God through your parables about birds. You said that even sparrows, sold for only a few coins, are not forgotten by the Father. You taught us that the Father feeds even them, although they neither sow nor reap. By their diversity and beauty, You help us encounter You, because the universe itself unfolds in You, who made it and fill it completely. Their beauty has inspired many of Your saints, like Saint Francis, to turn to You in praise and thanksgiving. Do not let us destroy this part of creation but multiply them and shine forth Your wisdom and beauty in them. Amen.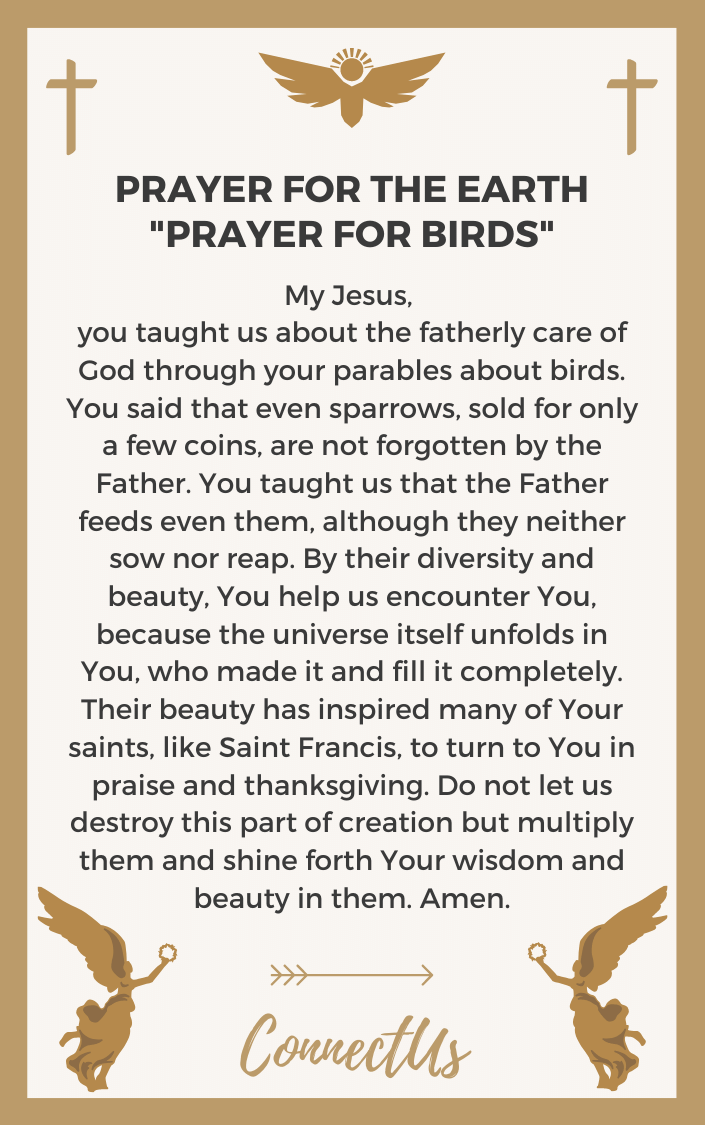 Prayer for Bees
Lord, in bees, You gave us an image of a perfect society. They observe their duties in peaceful order and discipline and work together under the queen to produce sweet scented wax and honey. By their pollination, they make sure that us humans have fruit and grain to harvest, honey to eat, and wax to bring light into our churches. They are workers of eminent virtue and great intelligence, and without them, we might not be able to live. I thank You, my God, for this creation, and pray that You do not allow us to destroy them but keep them and protect them for our sustenance and Your greater glory. Amen.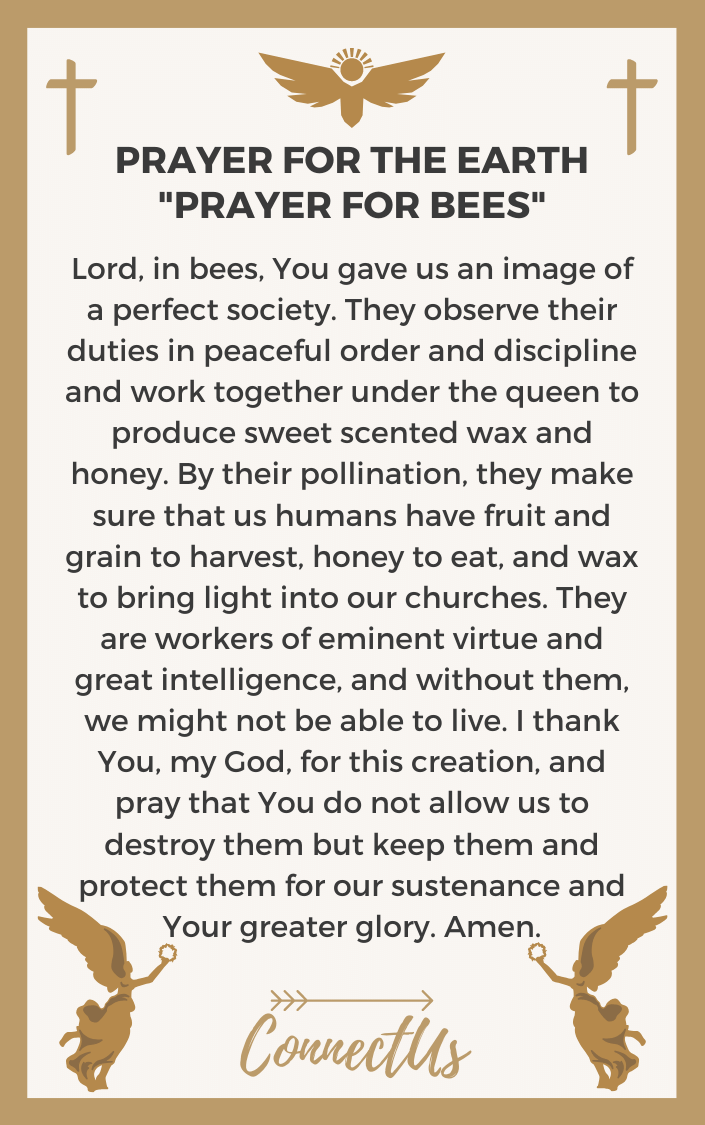 Prayer for Responsible Agriculture
My God, after our expulsion from the garden, You have given us over to a life of toil on Earth. But You were pleased to accept the sacrifice of Abel and promised through Your Prophet Joel that You would send Your people grain, new wine, and olive oil. In the new and eternal covenant, You sanctify oil so that the sick may be anointed and the young strengthened by it, and You allow bread and wine to become Your Most Holy Body and Blood. Spare this wasteful nation, and show us how to live in a way that does not abuse Your creation, but glorifies it, and sustains life, so that after our time of labor here on Earth, receiving our nutrients from the vine that is Jesus our Lord, we may be found worthy and fruitful at the harvest by the Father, the gardener. Amen.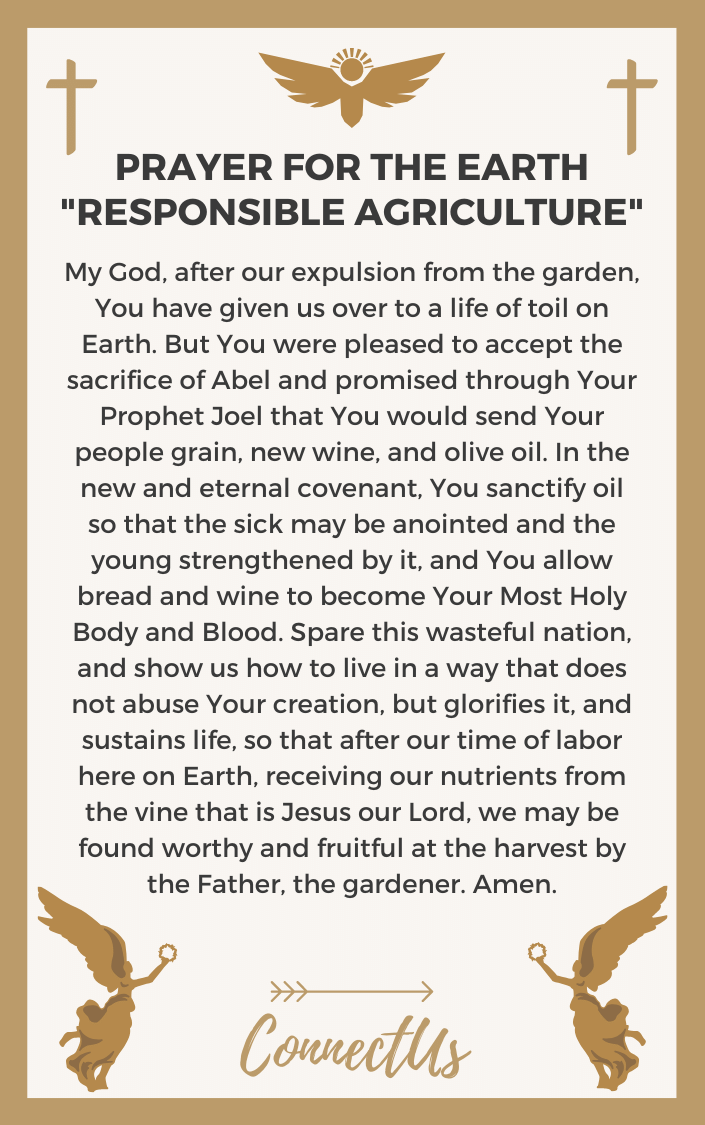 Most Popular Prayers by Topic
For Hard Times
For Financial Prosperity
For Physical Health
For Emotional Health
For Protection
For a Marriage
For Babies and Pregnancy
For Family
For Spiritual Warfare
For Spiritual Health
For a Death
For the Workplace
For Bedtime
Our 10 week prayer journal will guide you through your daily prayers and help you plan out your prayer week. It is completely free. You can
click here to get it now
.

Author Bio
Natalie Regoli is a child of God, devoted wife, and mother of two boys. She has a Master's Degree in Law from The University of Texas. Natalie has been published in several national journals and has been practicing law for 18 years.