The word "evil" appears 579 times throughout the books of the Bible. The graph below shows the locations of each appearance. It begins with Genesis in the top left and concludes with Revelation in the bottom right.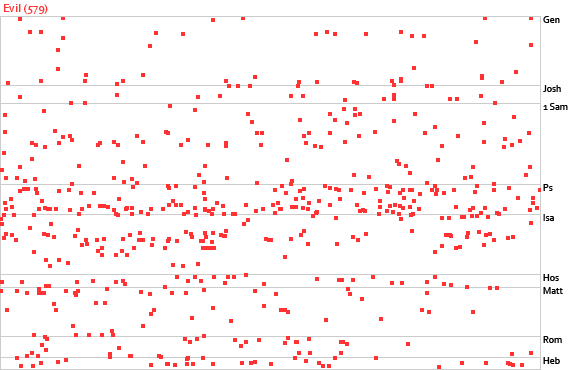 Here are the 30 most powerful Bible scriptures on evil spirits.
1 John 4:1
Beloved, do not believe every spirit, but test the spirits to see whether they are from God, for many false prophets have gone out into the world.
Luke 10:19
"Behold, I have given you authority to tread on serpents and scorpions, and over all the power of the enemy, and nothing shall hurt you."
Romans 12:21
Do not be overcome by evil, but overcome evil with good.
2 Corinthians 11:14
And no wonder, for even Satan disguises himself as an angel of light.
1 John 3:8
Whoever makes a practice of sinning is of the devil, for the devil has been sinning from the beginning. The reason the Son of God appeared was to destroy the works of the devil.
1 Corinthians 6:19
Or do you not know that your body is a temple of the Holy Spirit within you, whom you have from God? You are not your own.
1 John 1:9
If we confess our sins, he is faithful and just to forgive us our sins and to cleanse us from all unrighteousness.
1 John 4:4
Little children, you are from God and have overcome them, for he who is in you is greater than he who is in the world.
1 Peter 5:8
Be sober-minded; be watchful. Your adversary the devil prowls around like a roaring lion, seeking someone to devour.
1 Samuel 16:14
Now the Spirit of the Lord departed from Saul, and a harmful spirit from the Lord tormented him.
1 Timothy 4:1
Now the Spirit expressly says that in later times some will depart from the faith by devoting themselves to deceitful spirits and teachings of demons.
2 Thessalonians 3:3
But the Lord is faithful. He will establish you and guard you against the evil one.
2 Timothy 1:7
For God gave us a spirit not of fear but of power and love and self-control.
Daniel 10:12
Then he said to me, "Fear not, Daniel, for from the first day that you set your heart to understand and humbled yourself before your God, your words have been heard, and I have come because of your words."
Ephesians 6:11
Put on the whole armor of God, that you may be able to stand against the schemes of the devil.
Ephesians 6:12
For we do not wrestle against flesh and blood, but against the rulers, against the authorities, against the cosmic powers over this present darkness, against the spiritual forces of evil in the heavenly places.
Galatians 1:8
But even if we or an angel from heaven should preach to you a gospel contrary to the one we preached to you, let him be accursed.
Hebrews 2:14
Since therefore the children share in flesh and blood, he himself likewise partook of the same things, that through death he might destroy the one who has the power of death, that is, the devil.
James 4:7
Submit yourselves therefore to God. Resist the devil, and he will flee from you.
Jeremiah 23:29
"Is not my word like fire," declares the Lord, "and like a hammer that breaks the rock in pieces?"
John 10:10
"The thief comes only to steal and kill and destroy. I came that they may have life and have it abundantly."
John 3:16
For God so loved the world, that he gave his only Son, that whoever believes in him should not perish but have eternal life.
Jude 1:6
And the angels who did not stay within their own position of authority, but left their proper dwelling, he has kept in eternal chains under gloomy darkness until the judgment of the great day.
Leviticus 19:28
"You shall not make any cuts on your body for the dead or tattoo yourselves: I am the Lord."
Luke 10:17
The seventy-two returned with joy, saying, "Lord, even the demons are subject to us in your name!"
Matthew 12:22
Then a demon-oppressed man who was blind and mute was brought to him, and he healed him, so that the man spoke and saw.
Matthew 6:33
"But seek first the kingdom of God and his righteousness, and all these things will be added to you."
Proverbs 19:23
The fear of the Lord leads to life, and whoever has it rests satisfied; he will not be visited by harm.
Revelation 12:9
And the great dragon was thrown down, that ancient serpent, who is called the devil and Satan, the deceiver of the whole world—he was thrown down to the earth, and his angels were thrown down with him.
Zechariah 4:6
Then he said to me, "This is the word of the Lord to Zerubbabel: 'Not by might, nor by power, but by my Spirit,' says the Lord of hosts."
More Bible Verses that Will Move You
50 Most Powerful Scriptures on Faith
60 Transcendent Verses on Trust
50 Strong Scriptures on Perseverance
68 Powerful Verses on Forgiveness
40 Uplifting Scriptures on Patience
Add Our Infographic Below to Your Pinterest Board
Hit the pin button below to add our infographic, with all the verses, to one of your Pinterest boards.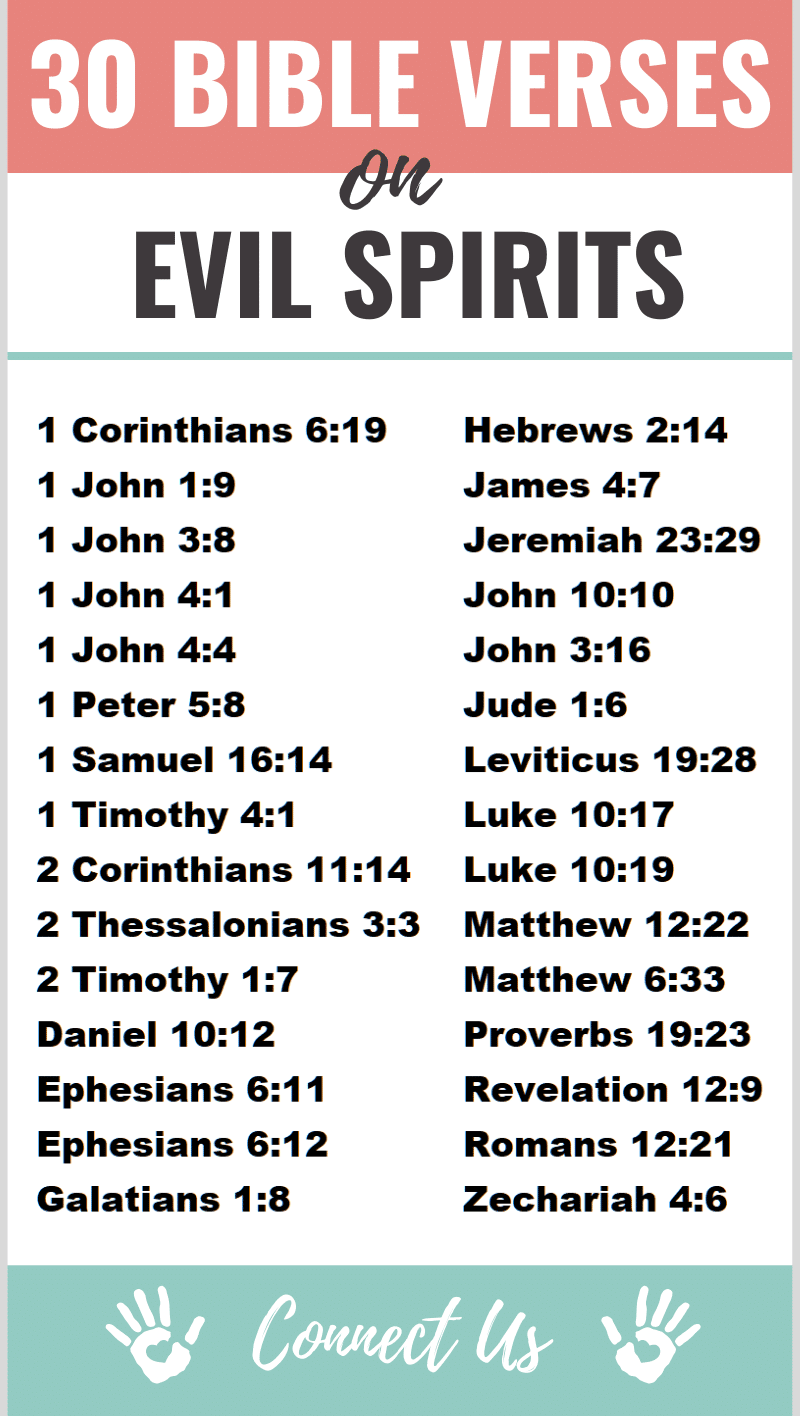 Author Bio
Natalie Regoli is a child of God, devoted wife, and mother of two boys. She has a Master's Degree in Law from The University of Texas. Natalie has been published in several national journals and has been practicing law for 18 years.