Worry can quickly take control of our lives and steal our joy, but looking to the Father to ease our fears and anxieties can bring peace like you have never known. Here are 21 uplifting prayers for worry along with printable images to use or share.
A Prayer to Provide
Lord Jesus, when You taught us to pray, You told us to ask You for our daily bread. Still, each day I find myself worrying about how I will feed my family and myself. Come near to me, Lord, so that I might learn to trust You more. For although heaven and earth pass away, Your words will never pass away. In Jesus' name, Amen.
Calm the Storm Prayer
Most merciful Jesus, like Peter I am sinking quickly in the tumultuous seas of life. Burdens are piling up and they are tossing me about. I constantly worry about drowning in life's demands. Yet You have the authority over the storms of life. You tread upon the waves of the sea. Reach down Your hand and lift me out of the depths, O God. Pull me up unto Yourself, and help me to believe. Ease my worried heart and give me rest. Amen.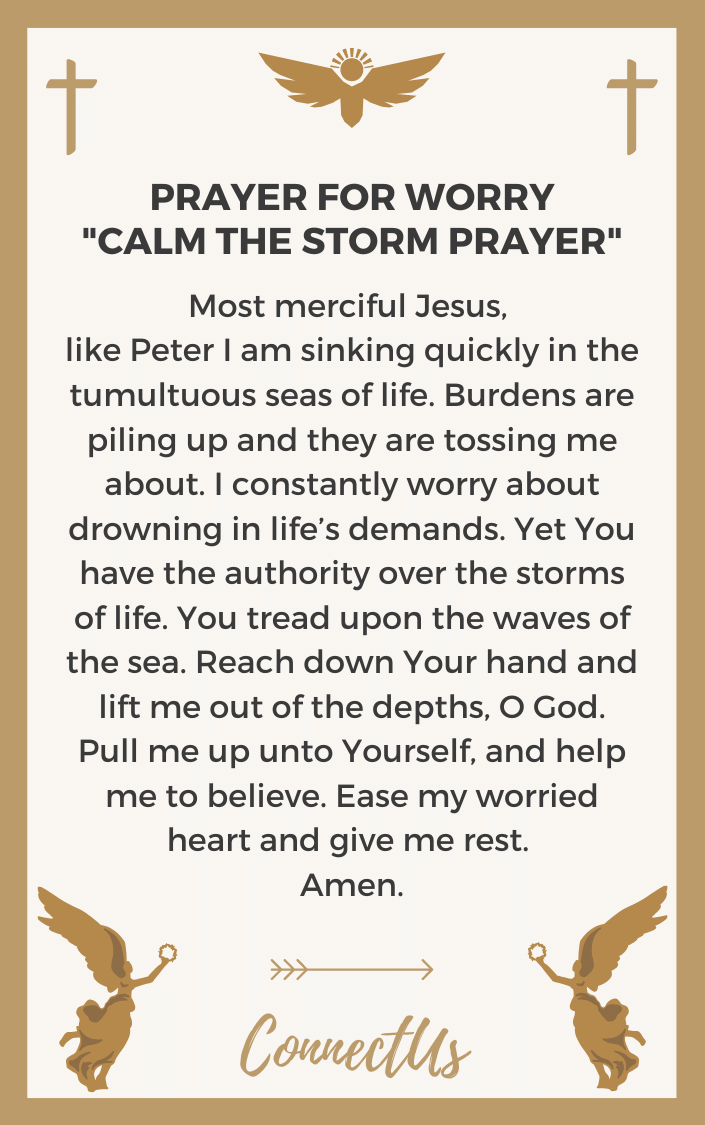 A Prayer against Dread
Father God, You care for all the creatures of the earth. You are the great lover of mankind. With You I know I can get through anything. Yet there is a task before me that I am dreading. It consumes my thoughts and I worry all the hours of the day. I am scared of facing this task, and I need Your comfort. Grant me Your peace, Lord Jesus. Give me the strength to face the day so that I might bring glory to Your name. Amen.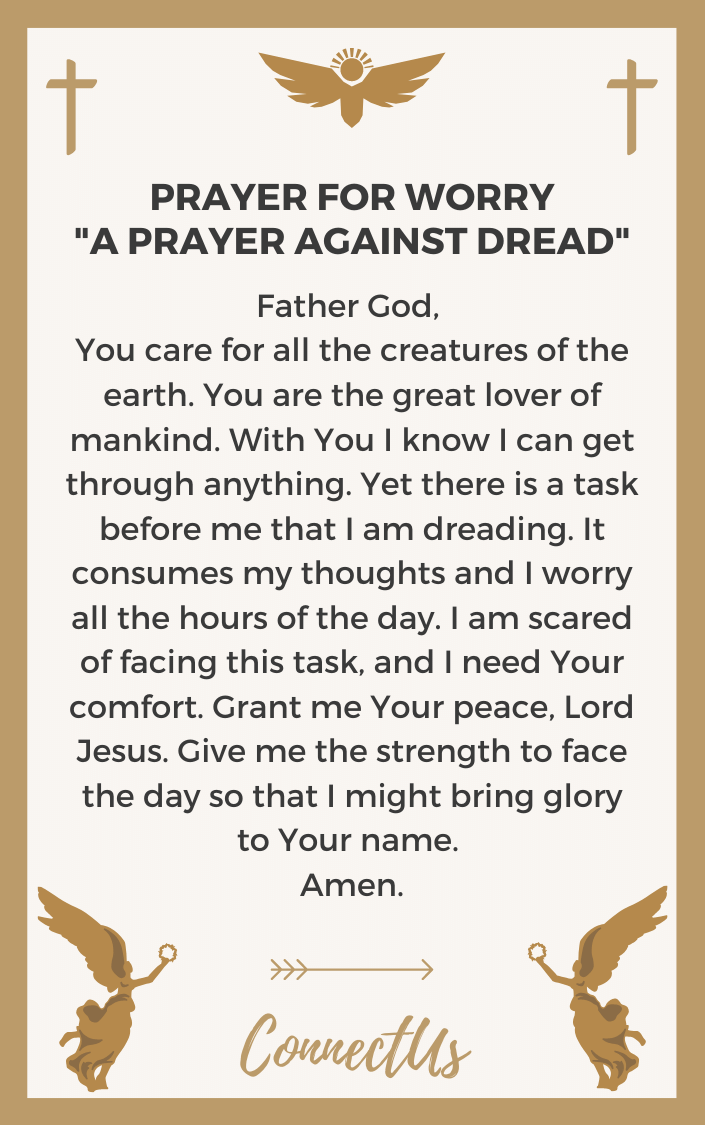 A Prayer to Just Breathe
Lord Jesus, You teach us in Your word to be still and know that You are God. Yet as of late I have been anything but still. Every worst scenario runs through my mind as I think of the challenges before me. As much as I want to surrender my all to You, I struggle to do so. Lord, help me to just breathe. Let Your love wash over me, and help me to know that You are God. Amen.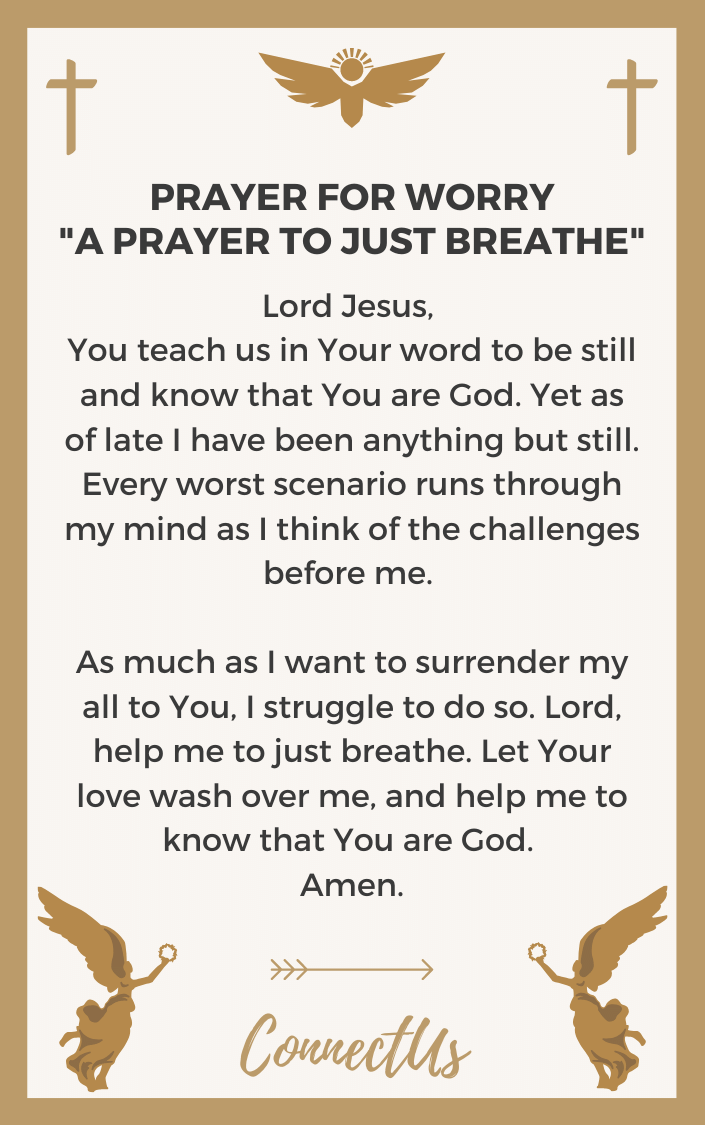 Balance Me Out Prayer
Heavenly Father, I feel as though I am pulled in every direction. My anxiety is off the charts as people are demanding so much from me. Instead of fearing You, I fear the approval of mere mortals. It is them whom I have sought to please and I am being trampled underfoot. Lord, be the rudder on the ship of my life. Keep me afloat on the high seas. Teach me to live a balanced life, and to say "no" when I am amid temptation. In Your son's name, I pray. Amen.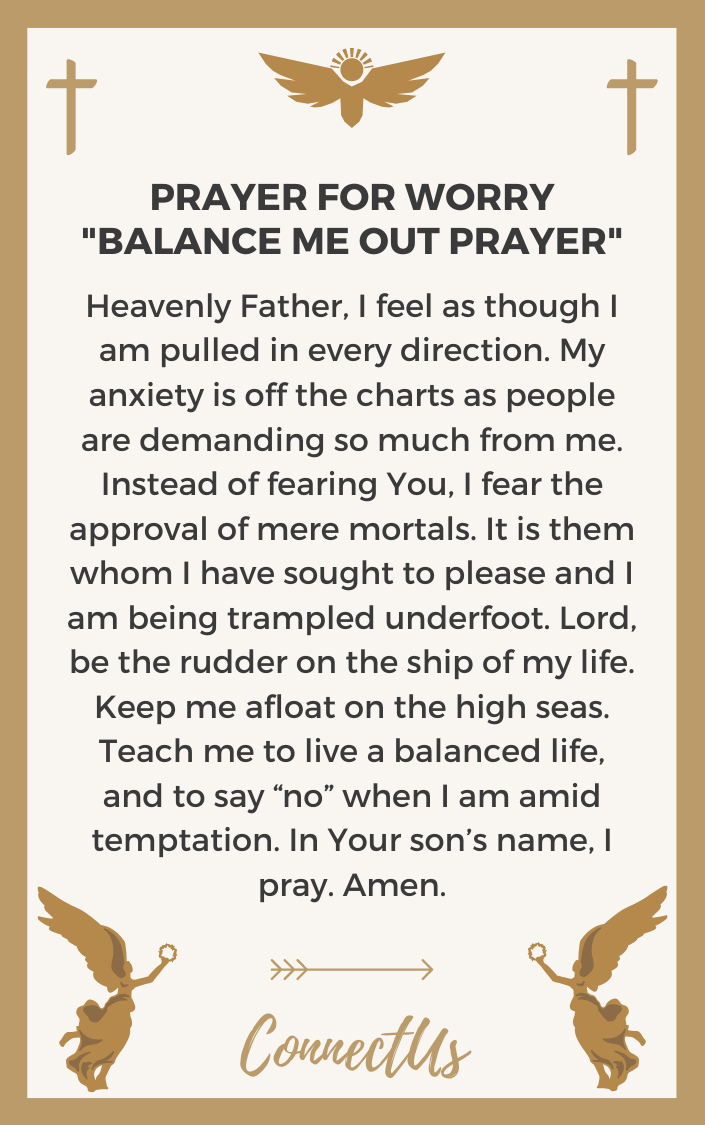 A Prayer for Peace of Mind
Forgive me, Father, for I have neglected to turn over control of my life to You. I have not sought first Your kingdom, and therefore I have numerous idols in my life. They promise me things only You can grant. Destroy these idols in my life, God. Remove my concern for them that I might not worry about things. Even if I do not want to, I beg You to remove the stumbling blocks that keep me away from You. Lord, in Your mercy, hear my prayer. Amen.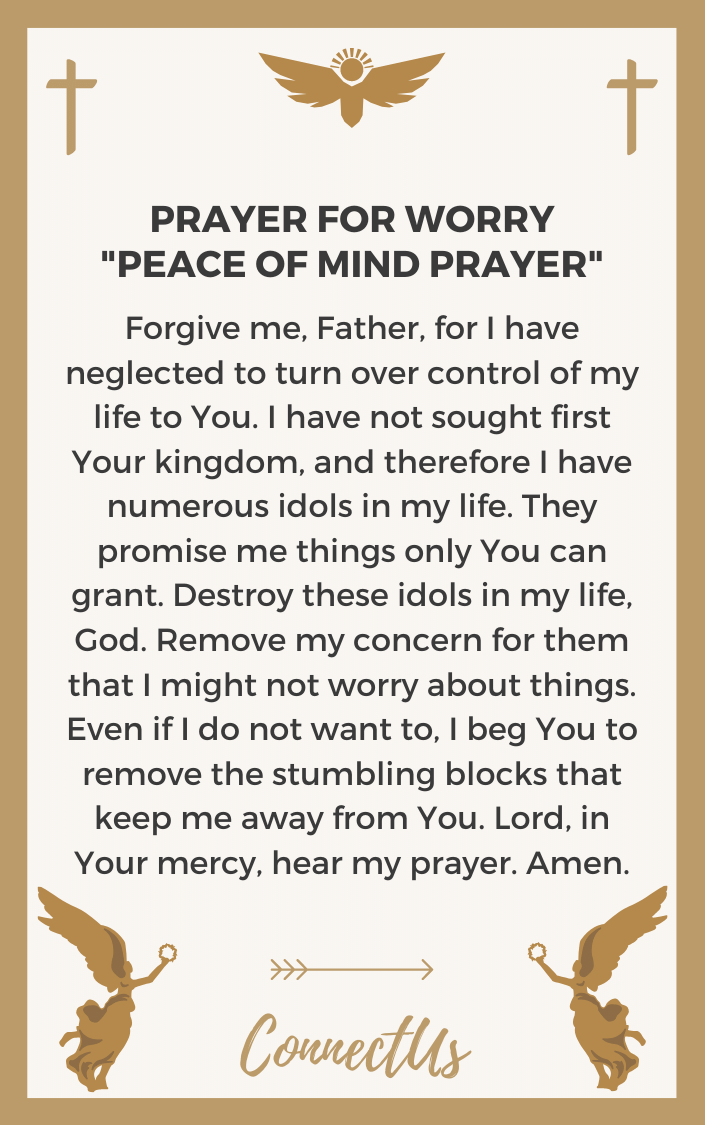 A Prayer to Relieve Stress
Father God, I come to You as someone who is run down and tired. The pressures and stress of life have worn greatly on my mind and soul. I find it difficult to be motivated or even get out of bed. Some days I spend alone without any support and closed off from the world. Lord, speak light into my life. Illuminate my path, so that I can see my way out of the darkness. You live and reign forever as the one true God. Amen.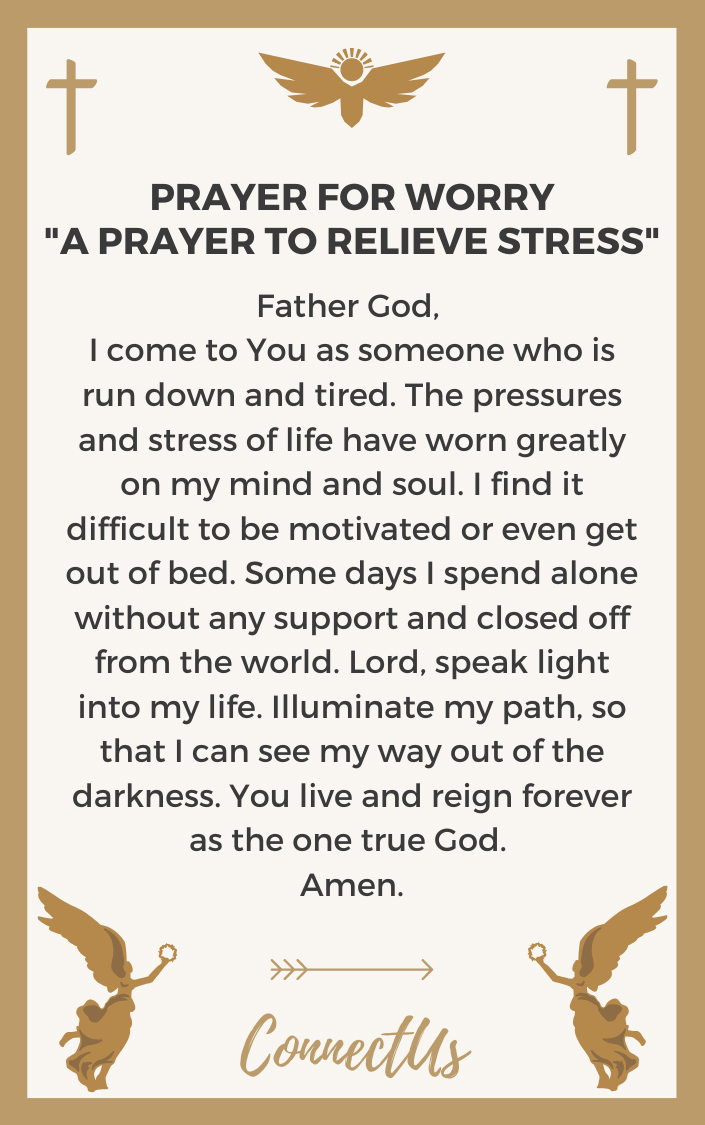 A Prayer to Provide Financially
God of grace, I know that You teach us not to worry about money. Nevertheless, it seems to consume my entire life. I am constantly preoccupied with finances. I worry about job security, insurance, bills – I feel as though I am drowning. Lord, You teach us to render unto Caesar that which belongs to him. Help me to know the proper place of money in my life. Break me of my dependence on it, and draw me unto Yourself. In Your holy name. Amen.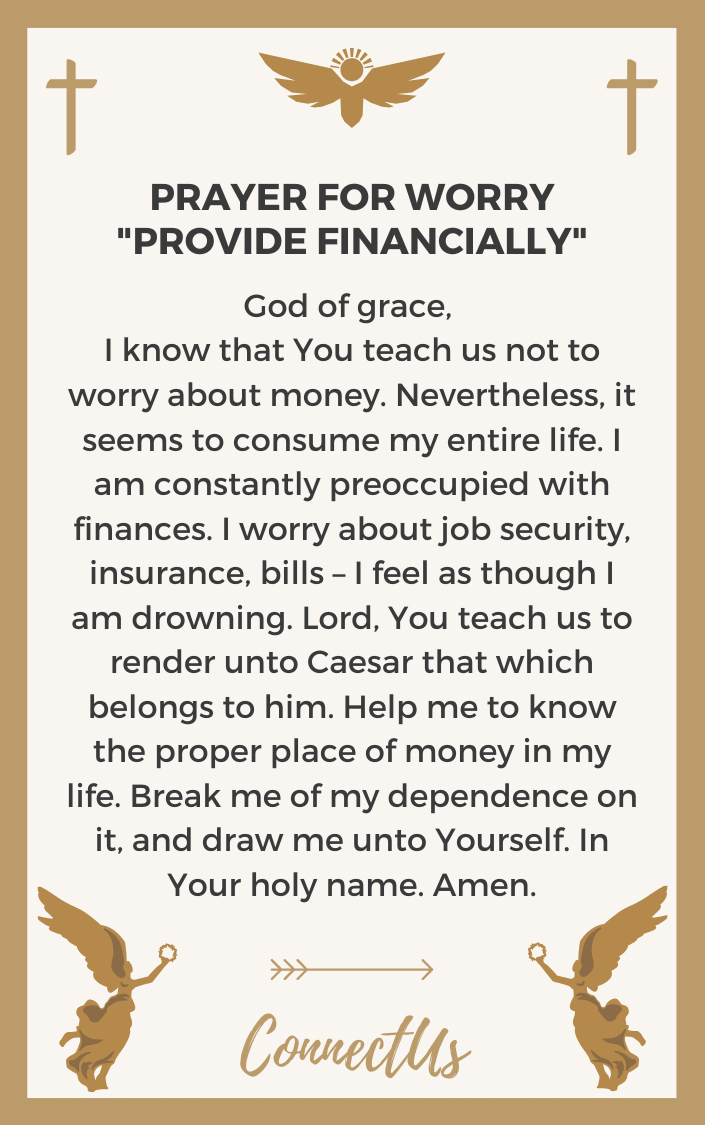 A Prayer for Business
Lord God, the heart can hide nothing from You. Despite my best efforts to hide them from You, You know my fears and my struggles. You understand my anxious and worrisome nature and how I tend to get overwhelmed by life's demands. I promise too many things to too many people, and I know that it hurts my relationship with You. Lord Jesus, lighten my load and deliver me from the business that keeps me from turning to You. In Your Holy Son's name. Amen.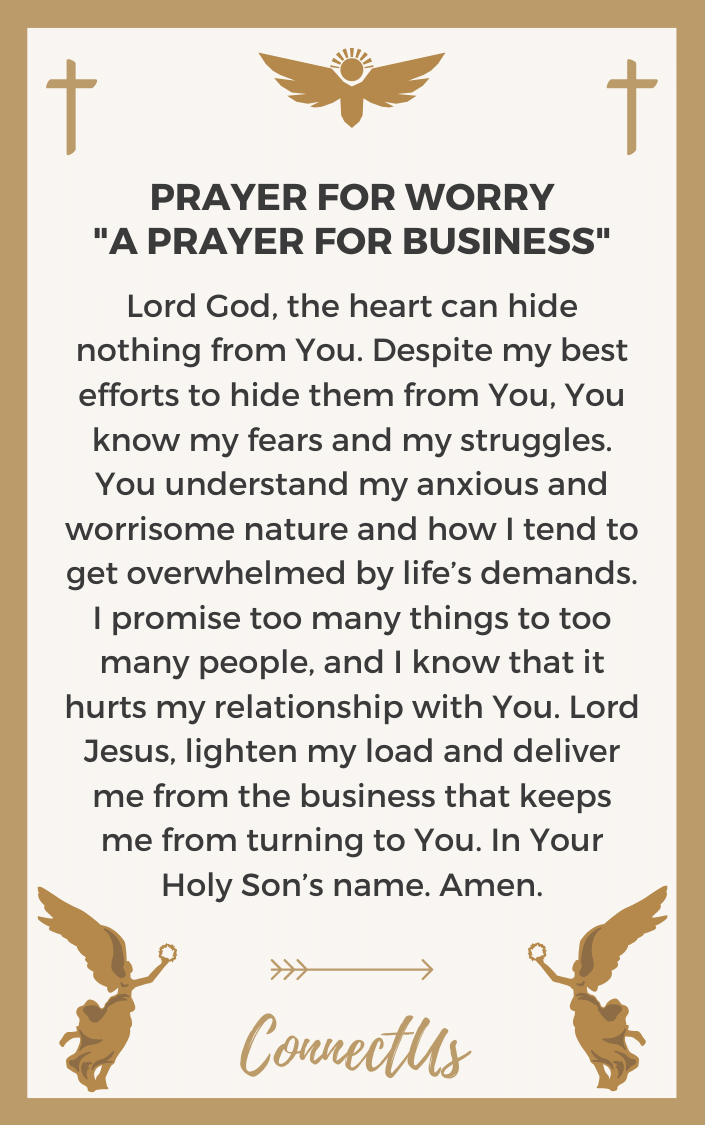 A Panic Attack Prayer
Everlasting God, I come to You in desperation. My heart is racing and I find it difficult to breathe. My soul is in panic, and I am broken with worry. Defend me, O Lord, by Your mighty power. Wash over me with the grace of Your spirit and calm my nerves. Send Your Holy Angels to protect me from the snares of the evil one. Shield my vulnerable heart from those who would take advantage of me. For I commit myself, body and soul, completely unto You. Amen.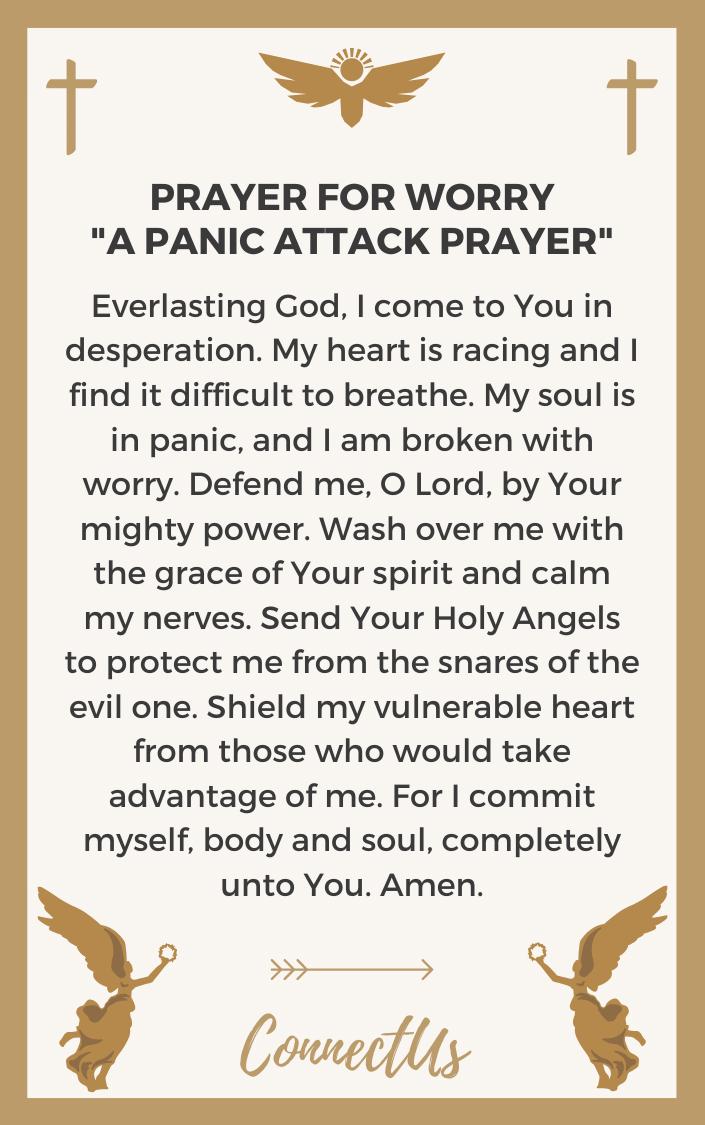 An Endurance Prayer
Faithful God, I find myself running very short of patience. Each problem is just replaced with something new. I trade one misfortune for another, all the days of my life. Problems seek me out and I cannot catch a break from the fear and worries that come along with it. Lord, give me an enduring spirit so that I might deal with my problems in a way that brings glory and honor to You. Uphold me with a willing spirit. Amen.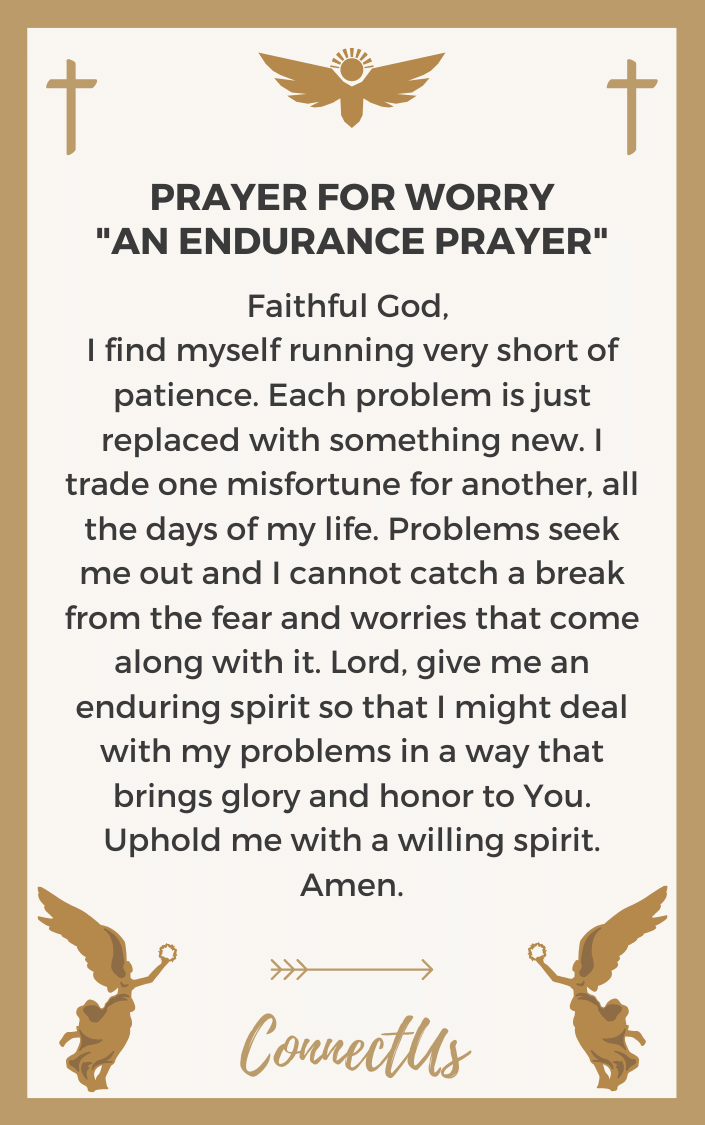 A Prayer for Childlike Faith
Dear Father, You teach us to adopt the faith of a little child. Like children, You desire us to depend wholly upon You to provide for us. As hard as it is for me to give up control, I ask that You help soften my heart so that I might learn to depend upon You. Help me to leave worries and anxieties behind as they keep me from fully embracing You. Lord, care for us as a father cares for his child. Amen.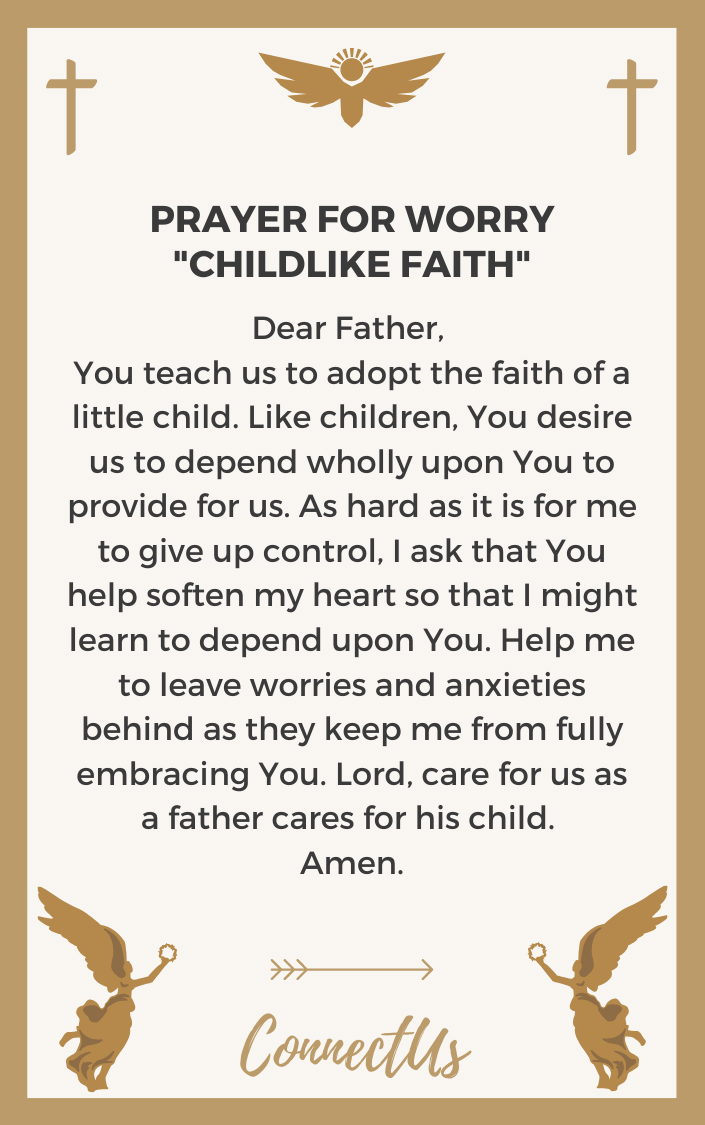 A Prayer for Direction
Lord Jesus Christ, You proclaim through Your holy prophets that You will come with a vengeance to deliver us. I come to You tonight to beg for this deliverance, for I am worried about many things. No matter what I do, I cannot leave behind this sense of despair. I feel as if the walls are closing in on me. Deliver me, Lord. Mend my broken heart and bind all of my wounds. Shepherd me out of this dark valley and into Your green pasture. Amen.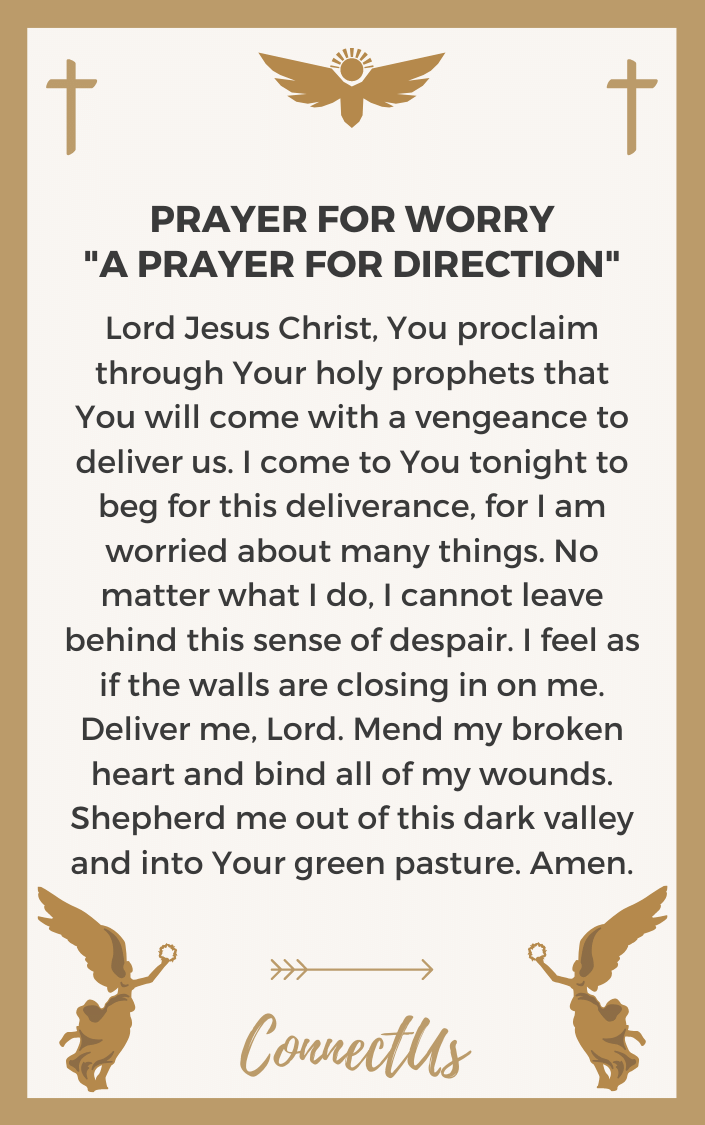 Good Shepherd Prayer
Lord Jesus, You are the good shepherd, and Your sheep know Your voice. Behold, I am like the one who has gone astray, and now I am in danger. I am caught up in thorns and thistles. Wolves and foxes prowl around waiting for a time to strike. I am filled with fear and worries. Hear my cry, Good Shepherd. Come and rescue me. Drive away the beasts in the wilderness who seek to devour me. Bring me back into Your fold. Amen.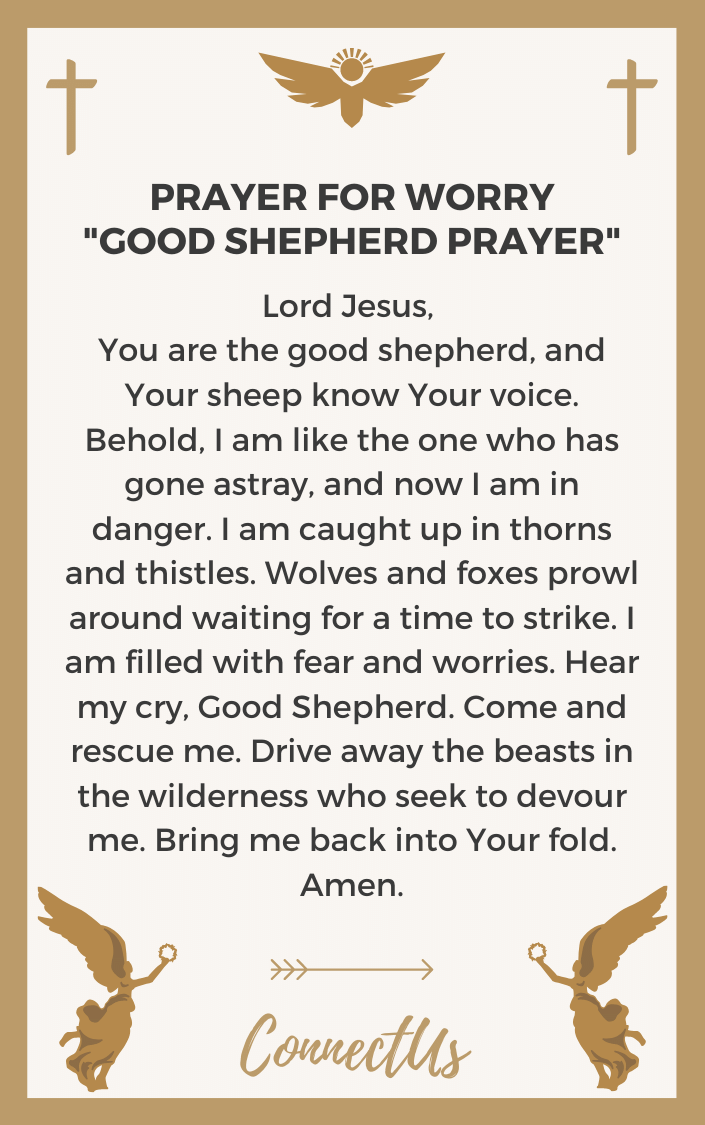 A Prayer for New Endeavors
Father, when Moses died, You saw to it that Joshua was to lead the Israelites into the dangerous land of Canaan. In his new mission, You implored him to cast aside his doubts and worries. You told him to be courageous and strong, for You would be with them always. Lord, I also am facing new endeavors in my life that intimidate and worry me. Do unto me as You did to Joshua. Calm my nerves and worries by Your imminent presence and be with me also wherever I go. Amen.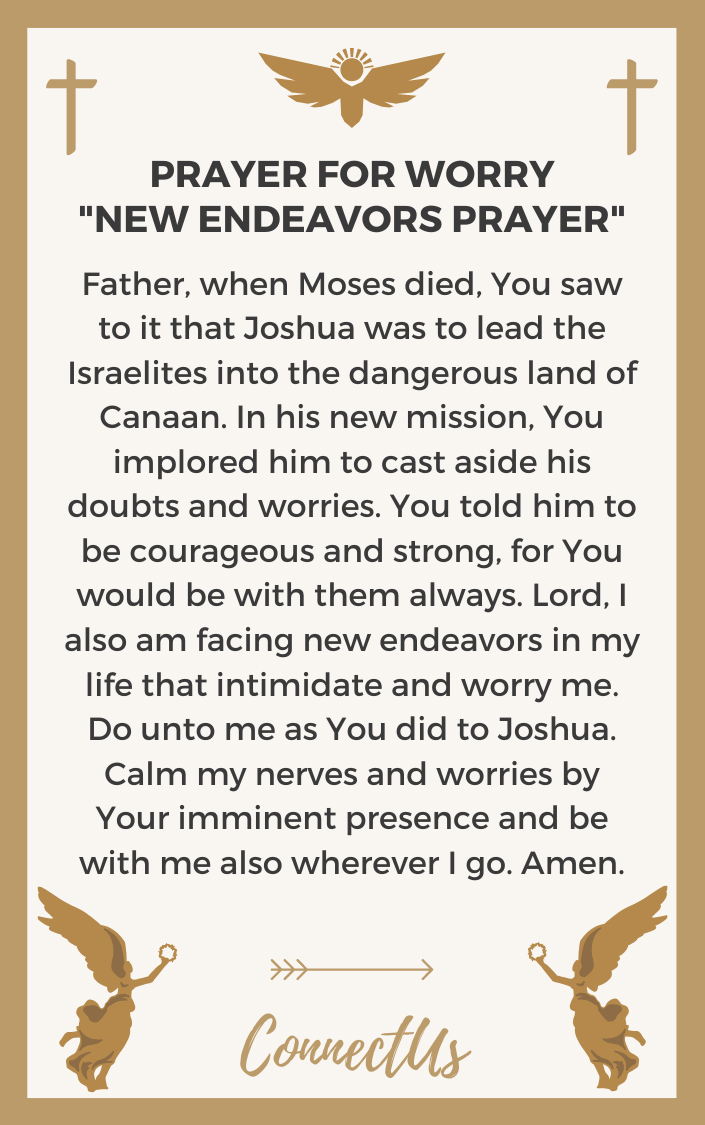 A Prayer for Vindication
Lord, I am frustrated and discouraged at this point in my life. My enemies mock me, and I sometimes worry that they are right about me. Father, settle the shouts and voices of those who hate me. Calm the worries and nerves that come to the surface of my heart. Help me to rest knowing that You are watching over me. Thwart my desire for revenge and instead let me rest in the hope of Your vindication. In Jesus' name, Amen.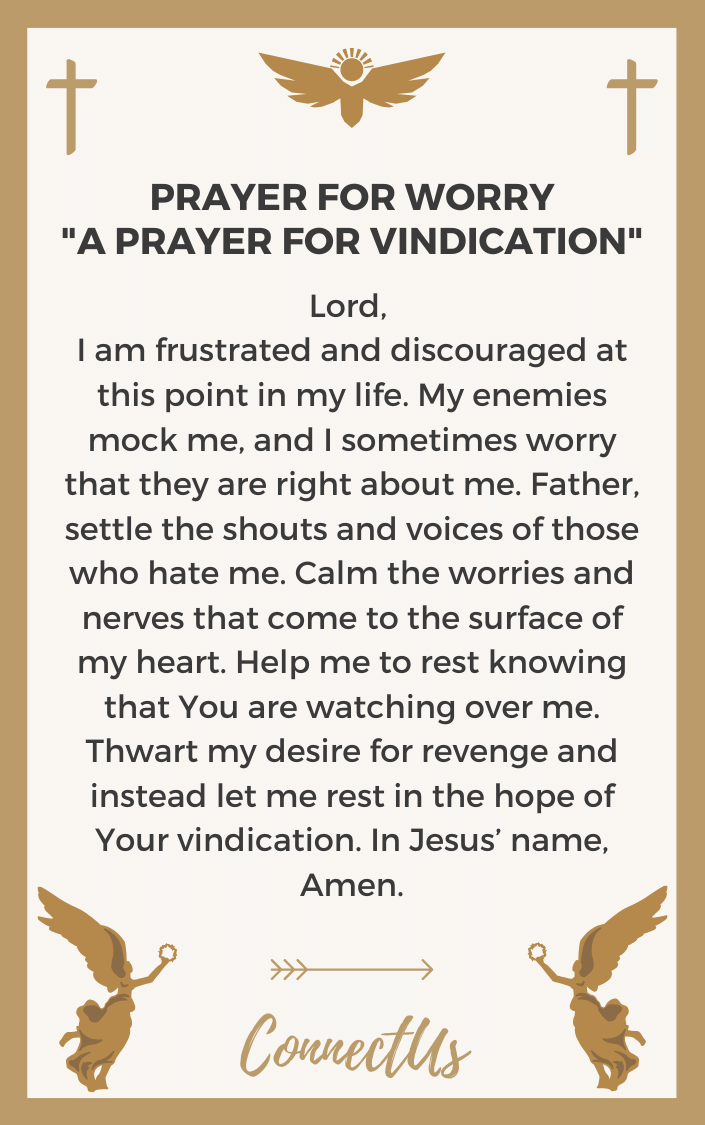 A Prayer for Help
Dear Lord, if I could stop worrying through my willpower I would have stopped long ago. Yet my heart is wicked and deceitful. I cannot help but constantly worry about everything all the time. Re-orient my heart, Lord Jesus. Forgive me of my sins which always accuse me. Help me to see Your guiding hand in my life and to trust in the guidance and perfection of Your word. Help my unbelief, Lord, and lead me into Your holy and everlasting kingdom. Amen.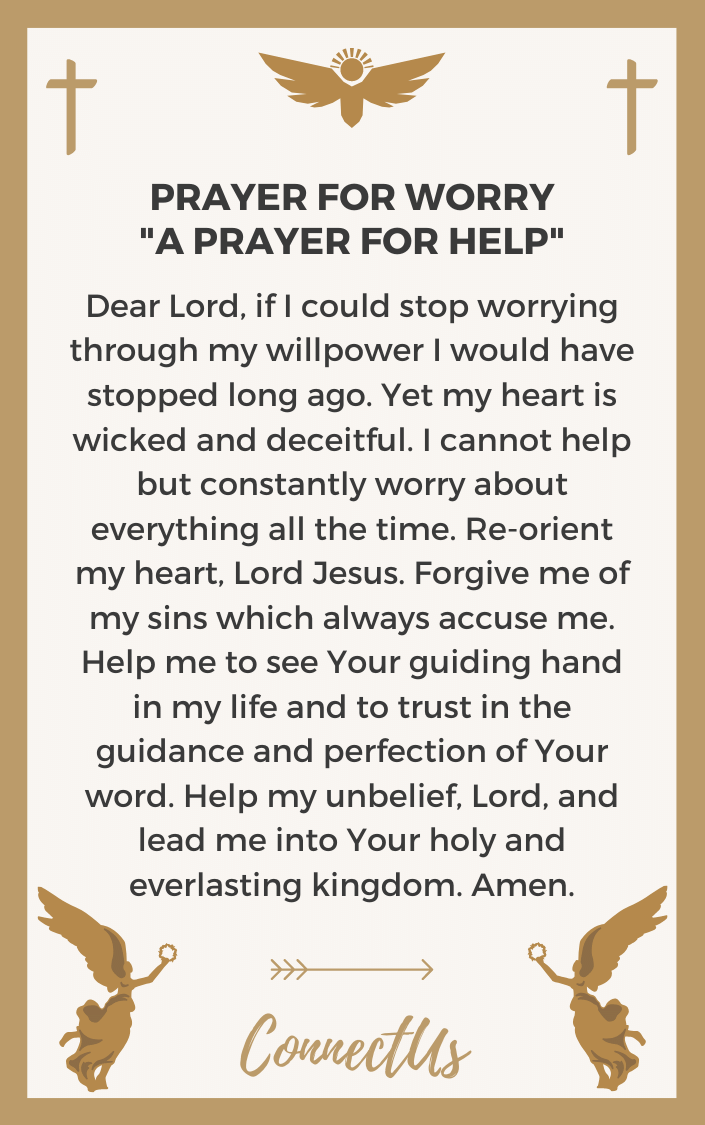 Teach Me to Pray
God of all creation, I am by no means a good communicator. It is a challenge to speak to others, much less to You. I fear the scorn of men and women, and I shy away from social interaction. I worry what others think, and how I come across. Lord, teach me to have a heart for people. Help me to keep communication with You open – to pray unceasingly as Paul teaches us to pray. Fill my heart with trust and joy. In Jesus' name. Amen.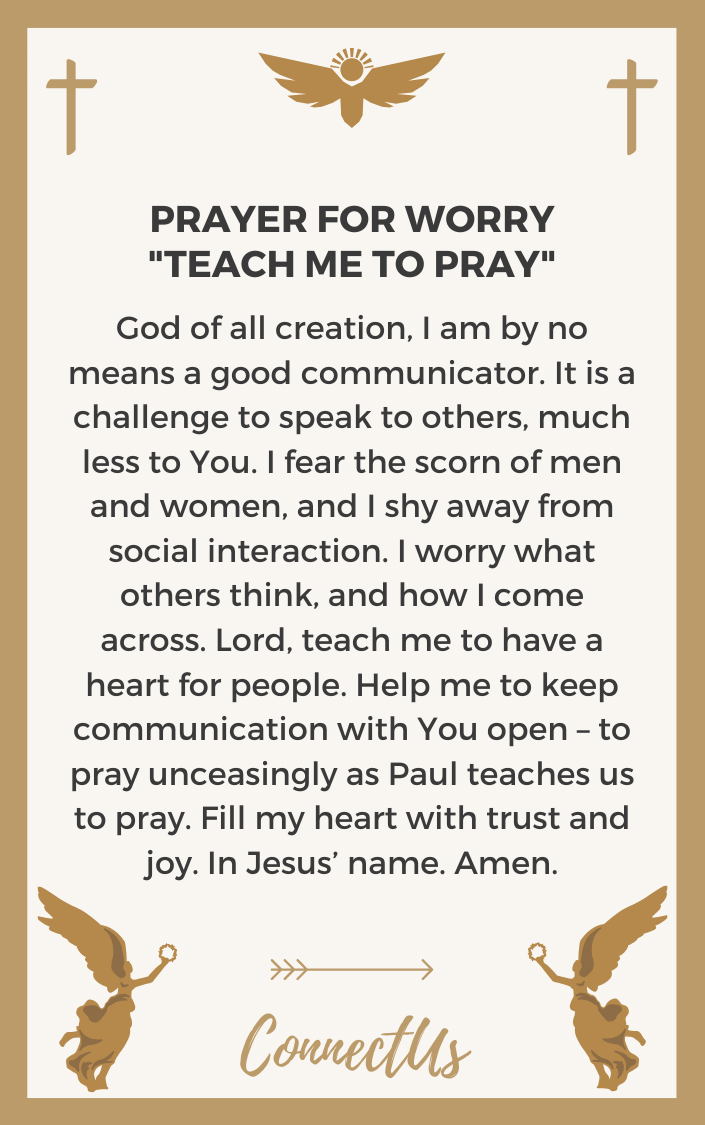 A Prayer for Confidence
Merciful God, You teach us that Your children are like a tree firmly planted by a river. I am anything but a mighty oak. I blow about like the grasses in the field. Wherever the wind blows, I go. I worry about what this means in my life. I lack conviction. I fear that I live for the mortals that roam the earth, and not for God. Calm my fears, Lord. Give me boldness and confidence to live my life in the midst of the ungodly. Reassure my weary soul that You reign forever, unto ages and ages. Amen.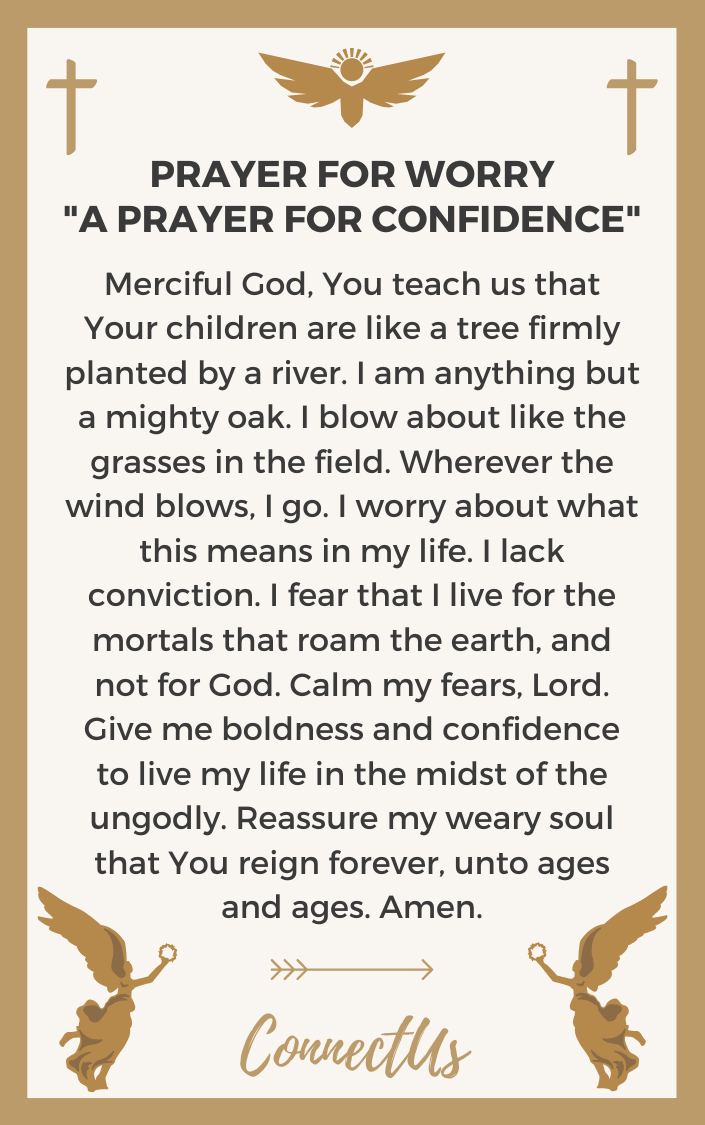 Cease Worry Prayer
God of love and joy, I have become but a hollow shell. My fears and worries have eaten me alive, and I lay here with a sense that things will not get better. I have been robbed of hope and my spirit is broken. Lord, You promise us that You will not despise a broken and contrite spirit. Turn not Your eye from me, O Lord. Instead, give me a new heart so that I might once again live as You intend. Amen.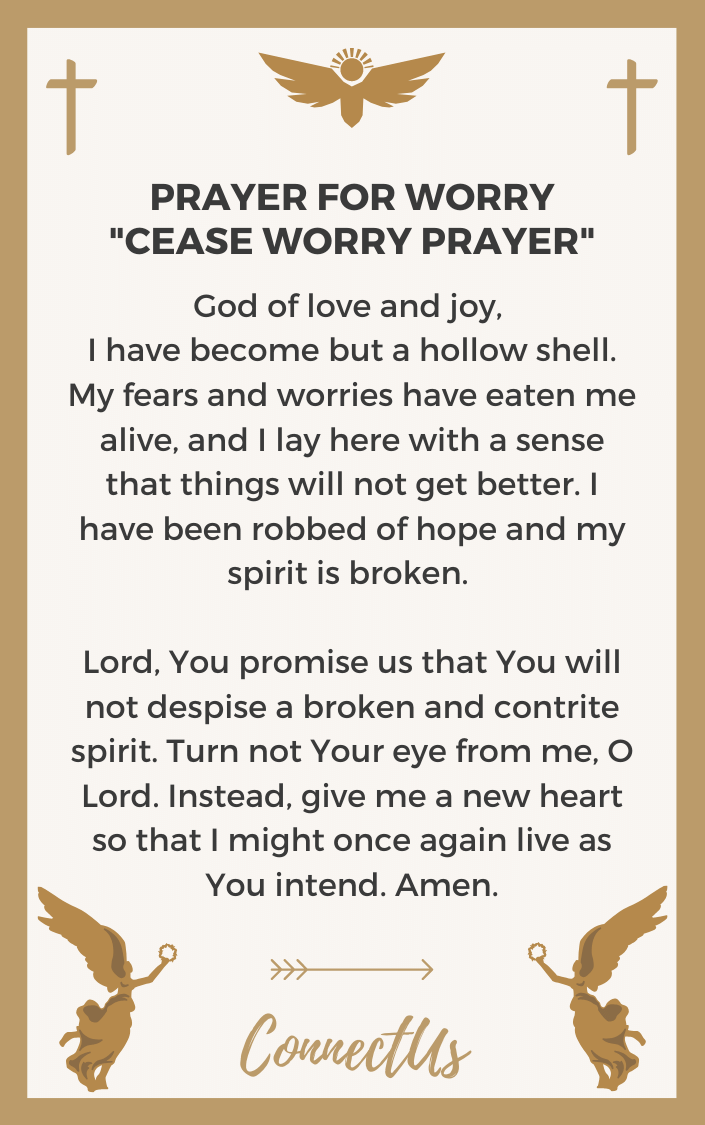 Strengthen Me Prayer
Holy Lord, I know the tendencies of my heart. I am weak in constitution. The flesh leads me astray and I chase after things that will lead to my destruction. The spirit is willing, but my flesh is weak. I worry that I will not recover. Lord, strengthen my resolve. Give me a clean heart, and restore to me the peace which surpasses all understanding. In Your holy name. Amen.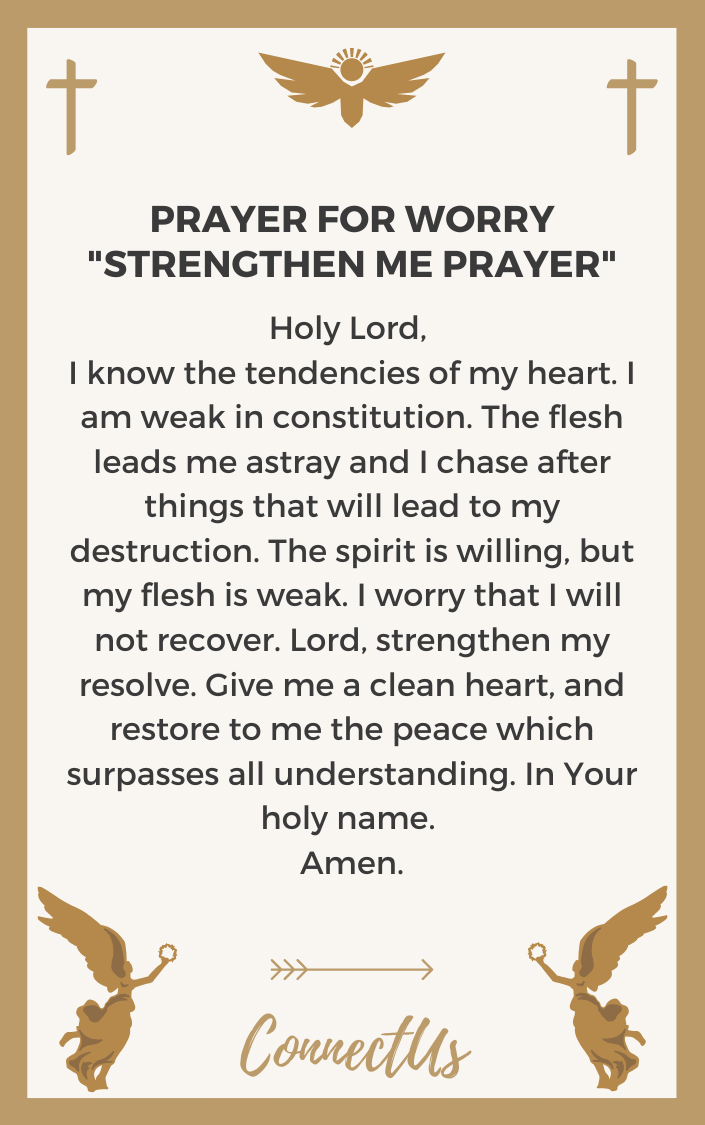 Most Popular Prayers by Topic
For Hard Times
For Financial Prosperity
For Physical Health
For Emotional Health
For Protection
For a Marriage
For Babies and Pregnancy
For Family
For Spiritual Warfare
For Spiritual Health
For a Death
For the Workplace
For Bedtime
Our 10 week prayer journal will guide you through your daily prayers and help you plan out your prayer week. It is completely free. You can
click here to get it now
.

Author Bio
Natalie Regoli is a child of God, devoted wife, and mother of two boys. She has a Master's Degree in Law from The University of Texas. Natalie has been published in several national journals and has been practicing law for 18 years.